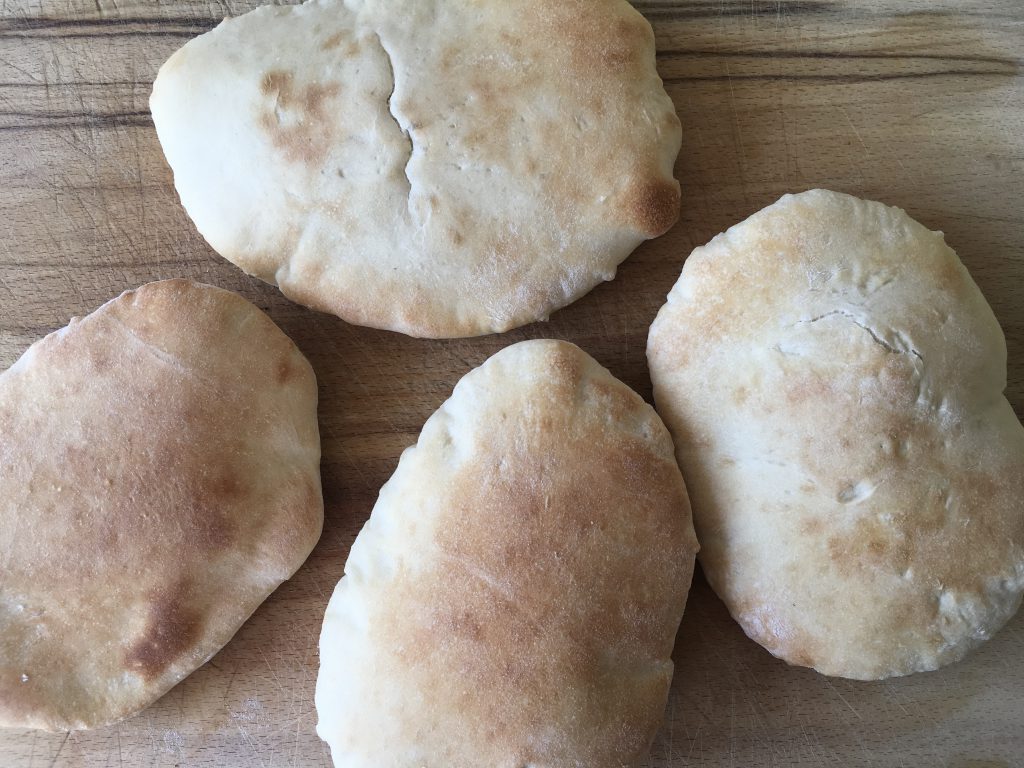 Life in lockdown London is quiet except for the two major sounds I hear with increasing frequency: of ambulances roaring down Adelaide Road (the Royal Free Hospital is just up the road from our house) and of helicopters hovering above Primrose Hill. Embarrassingly, our nearest park has been featured in the national news as a site where people gather in contravention of the social distancing rules.
The weather has been extremely sunny the past two days. This is a shame because, as everyone knows, it almost always rains in the UK when there is a bank holiday weekend. However the daily death toll here in the UK has been nearly a thousand for the past few days, so we do understand the need to stay at home as much as we can.
Easter has started well with some very welcome sunny weather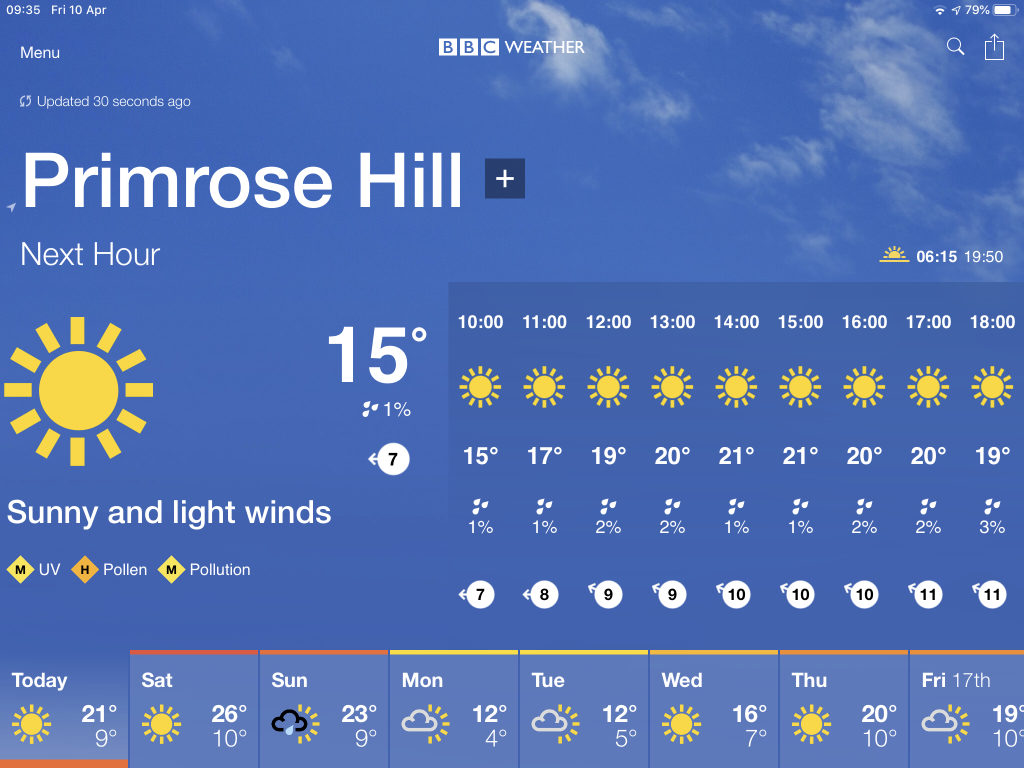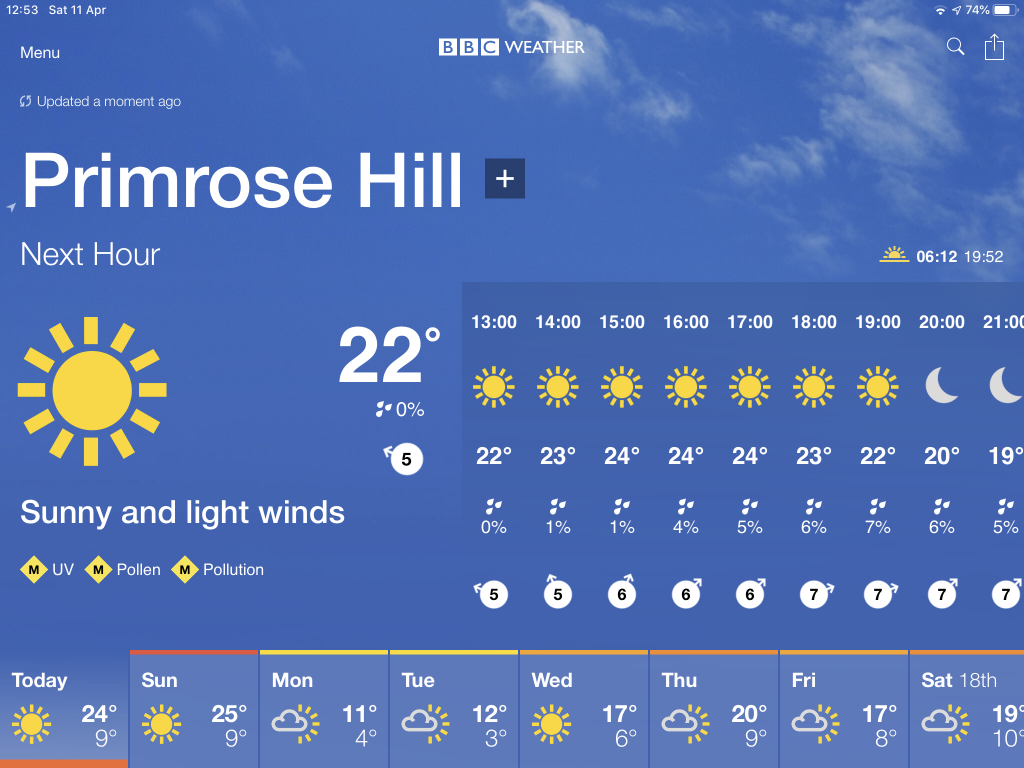 Such warm weather brings to mind bread, salads and dips, and so I made some pitta bread. Flour is in demand but short in supply and here is the reason why. Juniors 1 and 2 went to our local Japanese-French patisserie for some cake and cleverly noticed they had small 500 g bags of flour for sale. When they presented me with two bags I felt like it was my birthday.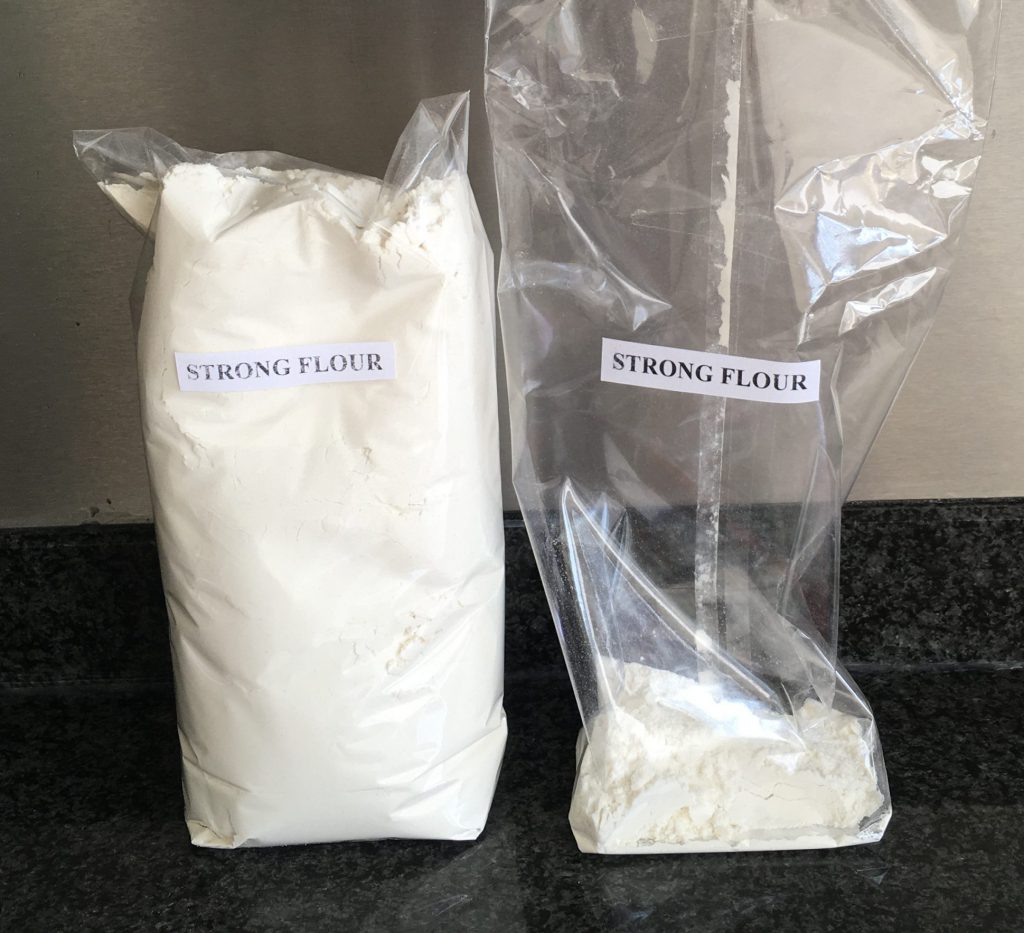 Having made the pitta bread three times, we have observed that using fresh yeast yields a fluffier and spongier bread. The first time I made it, using dried instant yeast, the bread seemed drier inside but then it puffed up so beautifully when baked, giving the classic interior split of shop-bought pitta. So the advice is that if you want a bread to tear and eat with dips, then using fresh yeast is better, and if you want a drier bread which you can split and fill, using dried instant yeast is better. Of course, at the moment, any yeast is hard to come by so we are working with what we have.
This recipe makes 8 pittas. I used my Thermomix to make the dough, but you can use any bread-making method you are used to i.e. by hand, in a food processor or with an attached dough hook in the KitchenAid. Just be aware that because the volume of water is around 20% less than a normal bread loaf recipe, the dough will be harder to knead. The Thermomix heats the water to a precise 37 C to activate the yeast and this is why I am confident enough to use fresh and dried active yeasts in my bread making.
For the Bread:
270 g water
1 teaspoons dried instant yeast OR 10 g fresh yeast
1 teaspoon unrefined caster sugar
500 g strong white bread flour
1 tablespoon olive oil
1 teaspoon fine sea salt
How to Make:
Lightly oil a large mixing bowl and a large piece of cling film then set aside.
Place the water, yeast and sugar in the Thermomix bowl. Warm 2 minutes / 37 C / speed 2.
Add the flour, olive oil and salt.
Knead 3 minutes / dough function.
Transfer the dough to the oiled bowl and cover with the cling film.
Leave the dough to prove until it has doubled in size, which takes around 45 minutes to 1 hour depending on the kitchen temperature.
At the end of the rising time, divide the dough into 8 equal portions of around 100 g each.
Form rolls out of each dough portion by flattening it out into circle, then gathering the edges towards the centre. Make a twist, then turn the dough ball around, leaving the twisted end underneath. Finish by smoothing and shaping the dough further by cupping it in your palm on a flat surface whilst rolling it around gently. The idea is to form a ball.
Place the rolls on a lined baking tray. Cover with cling film and leave for 15 minutes.
After this time, roll each ball into a circle or oval, using a small rolling pin to flatten the dough.
Place the rolled out dough on a lined baking tray. Cover with cling film and leave for another 15 minutes.
Meanwhile, preheat the oven and a baking tray to 250°C.
Place 2 – 4 dough discs on the preheated baking tray and bake for  4 – 5 minutes until puffed and golden brown. Repeat with the remaining dough.
Transfer the hot pitta breads to a plate and serve immediately or leave to cool before serving. The bread reheats very well in a toaster.
The stages of making the bread: the dough as it comes out of the Thermomix, after an hour, made into rolls and flattened for baking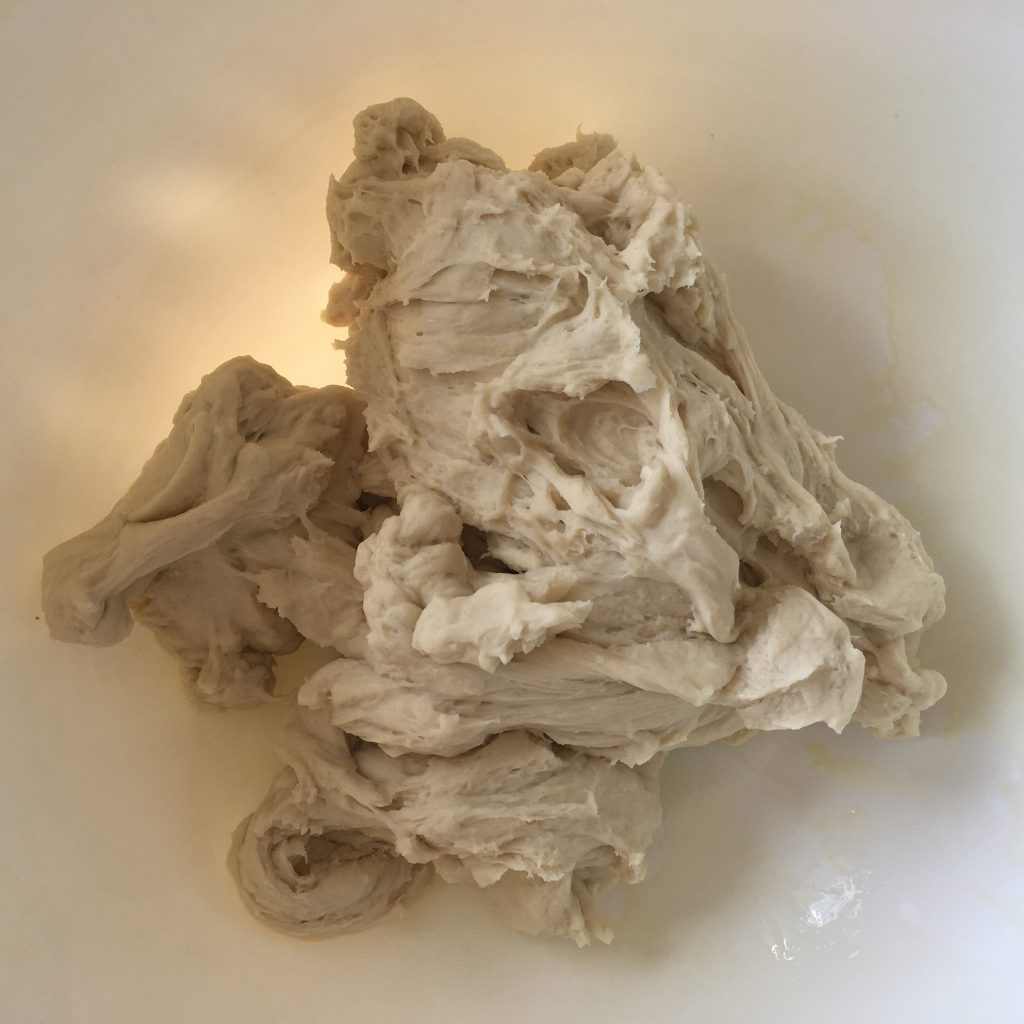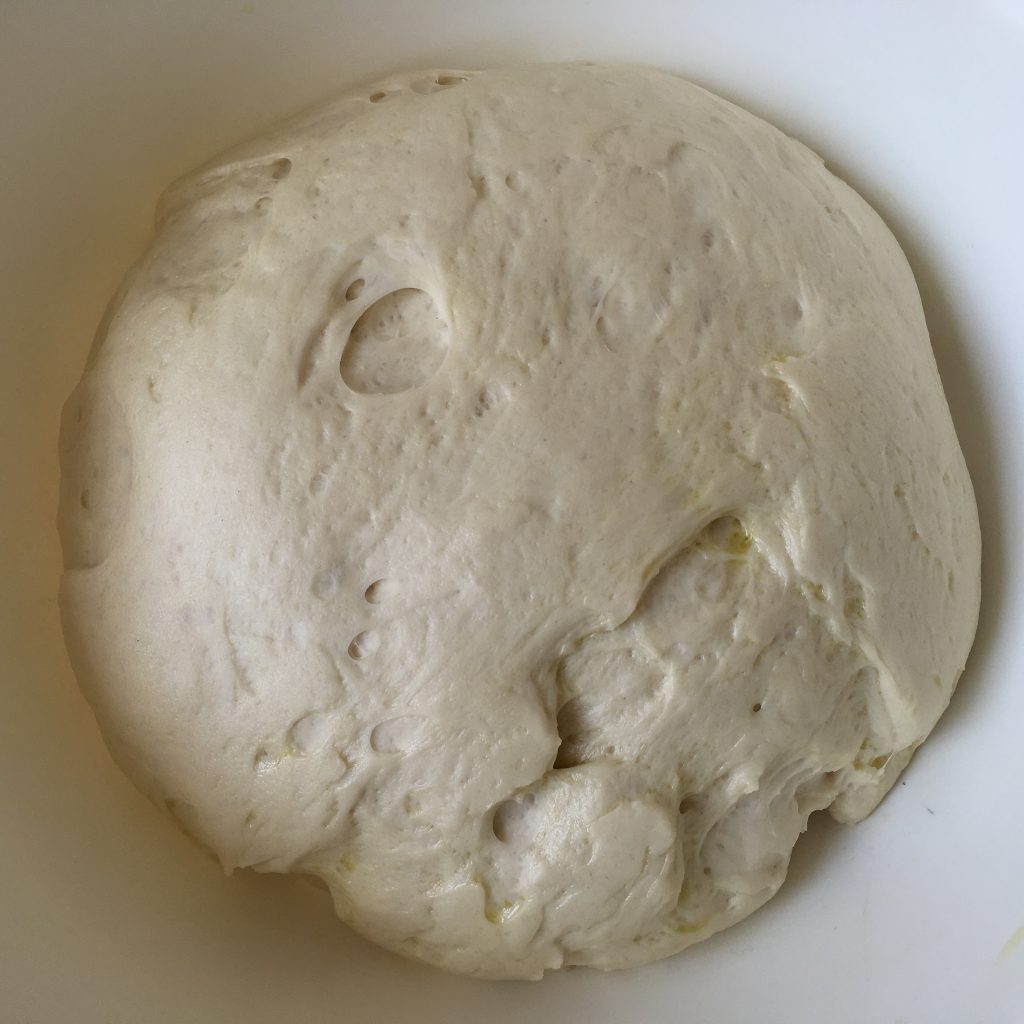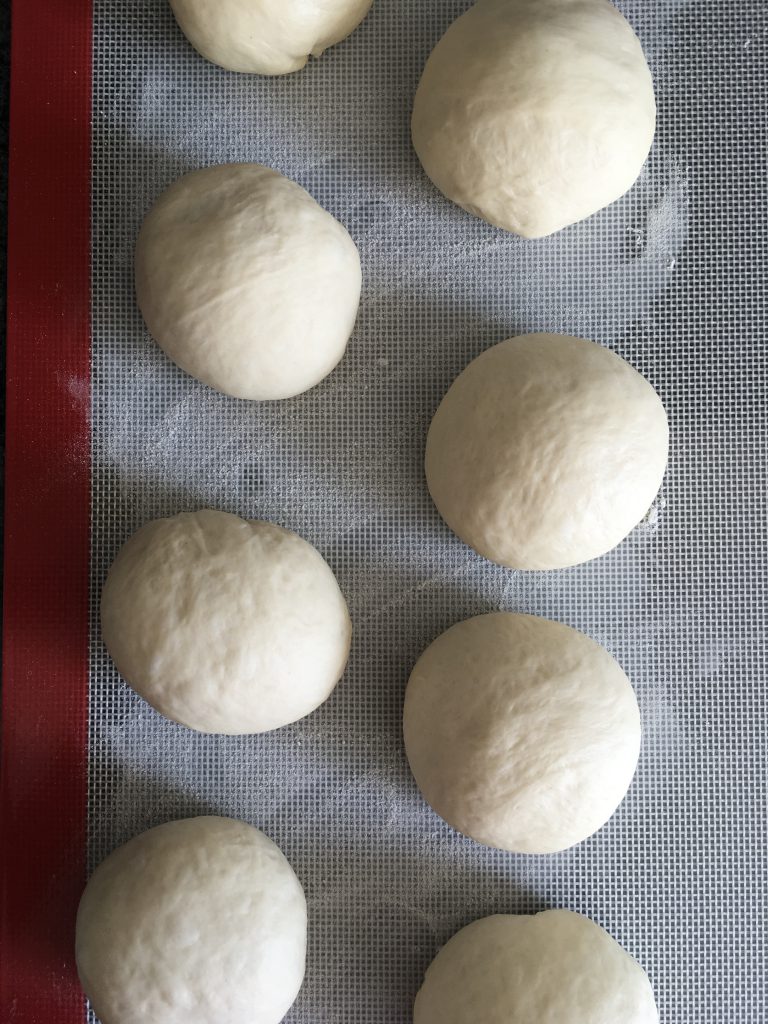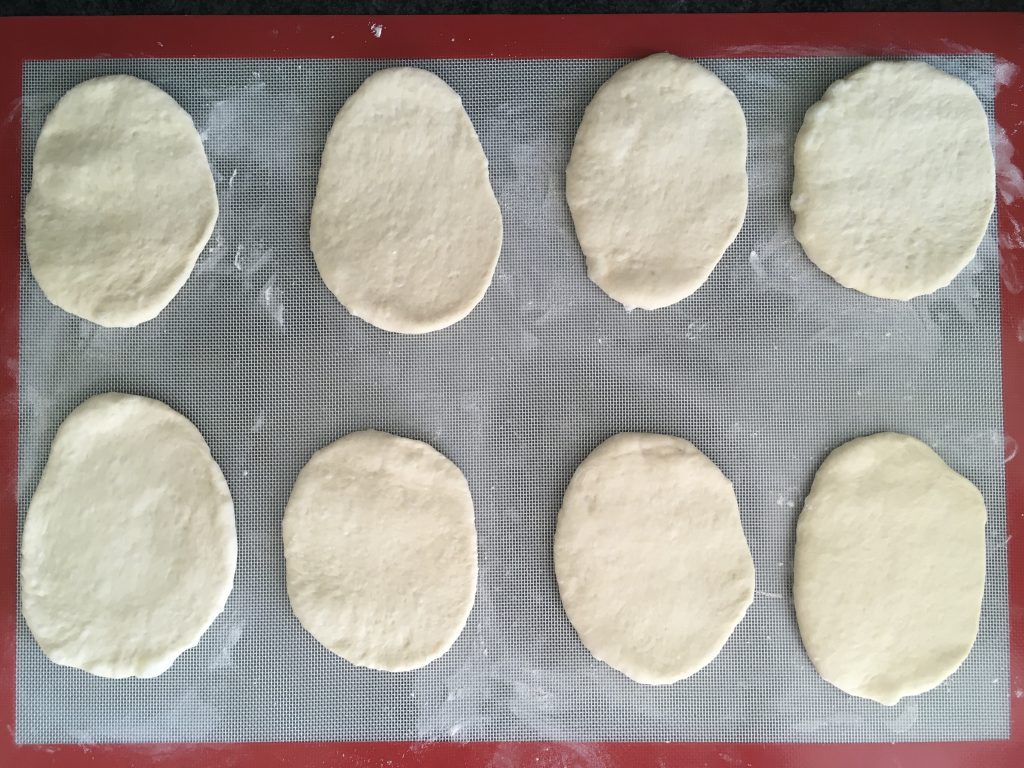 The baked pitta bread is slightly crisp on the outside but soft on the inside. It is nothing like the commercial bought pittas which can be dry and hard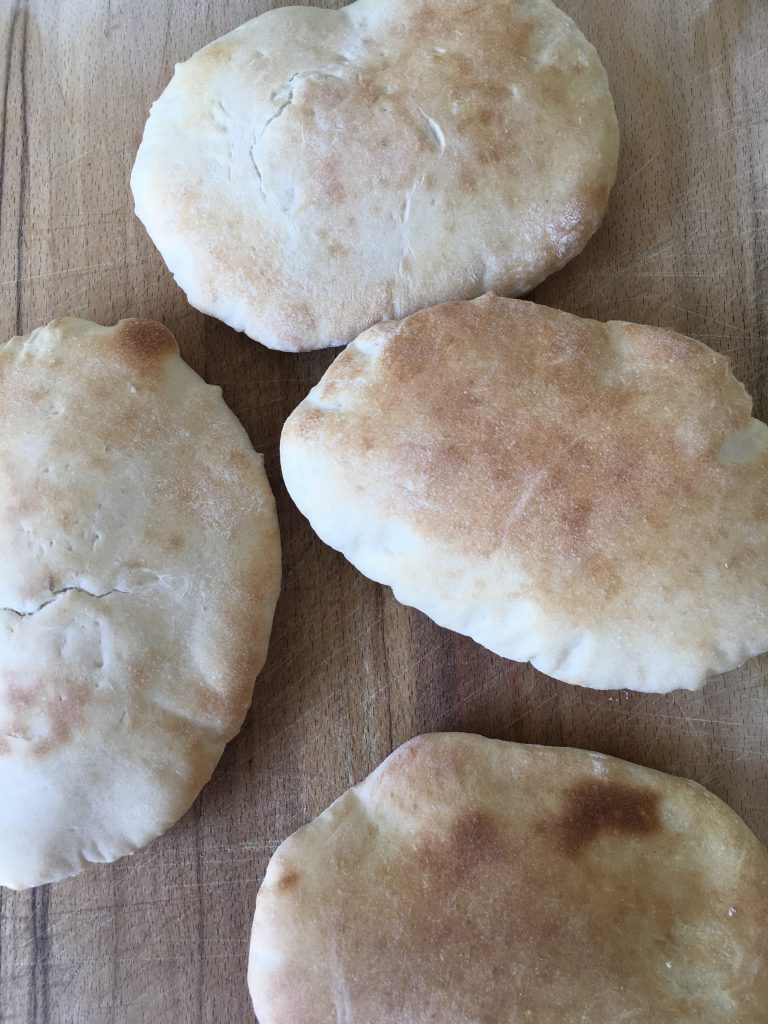 On the first day we ate the pitta bread with: smoked aubergines with tahini, potato salad, red pepper and walnut dip, olives, halloumi, hummus and simple carrot and cucumber sticks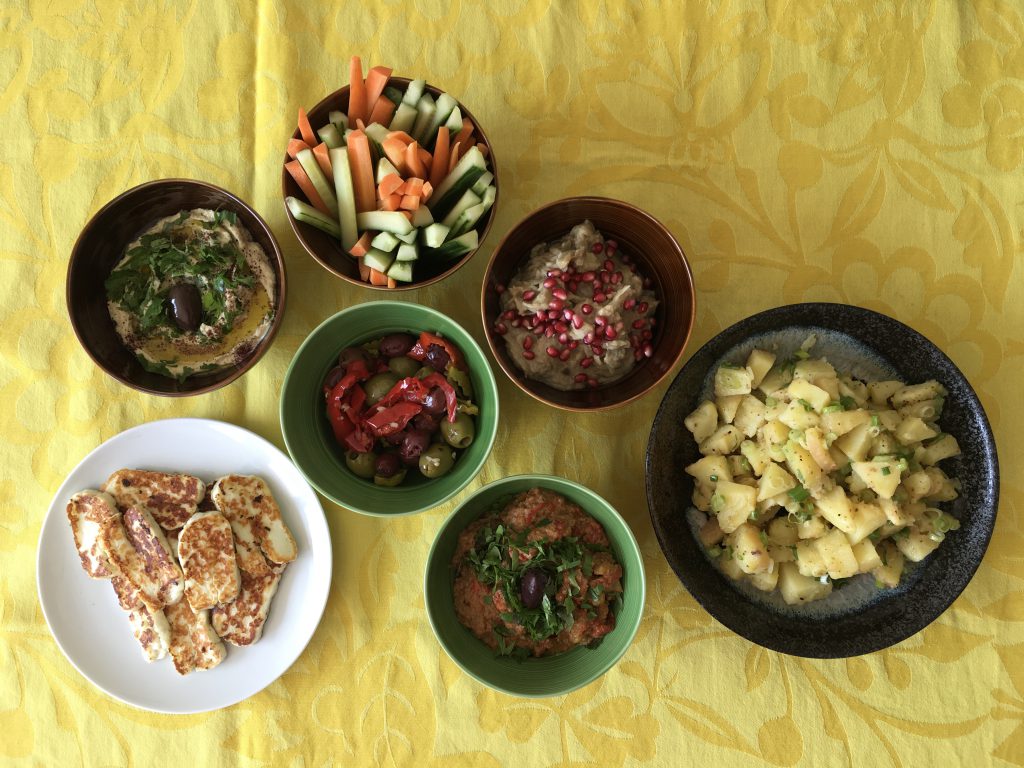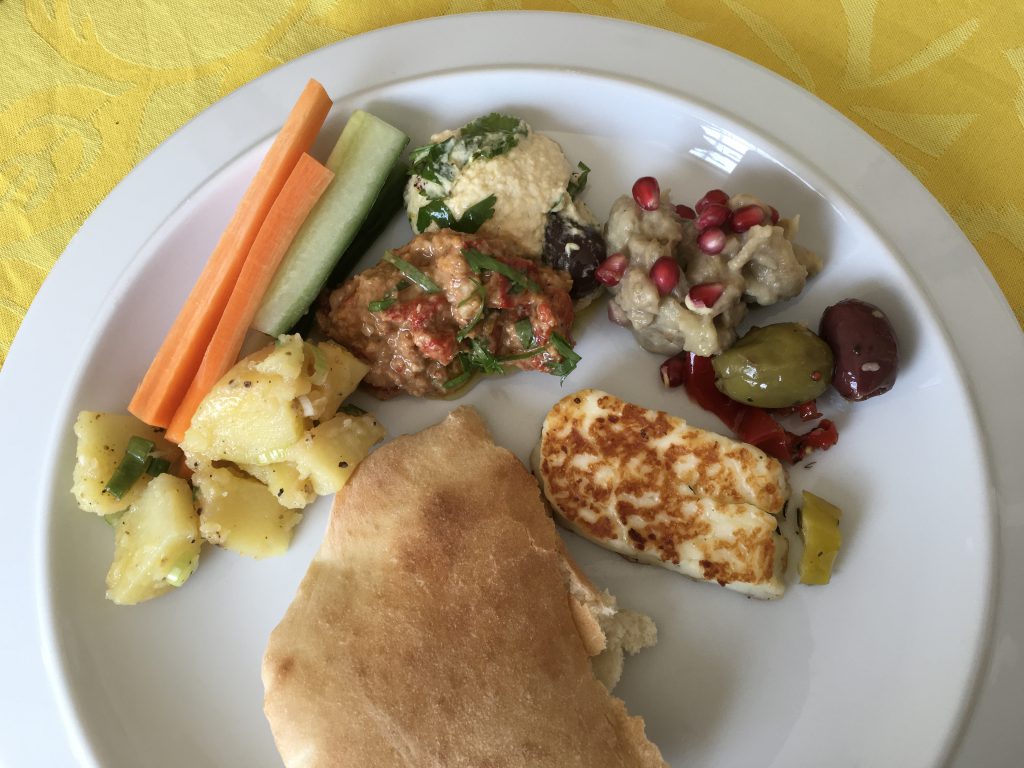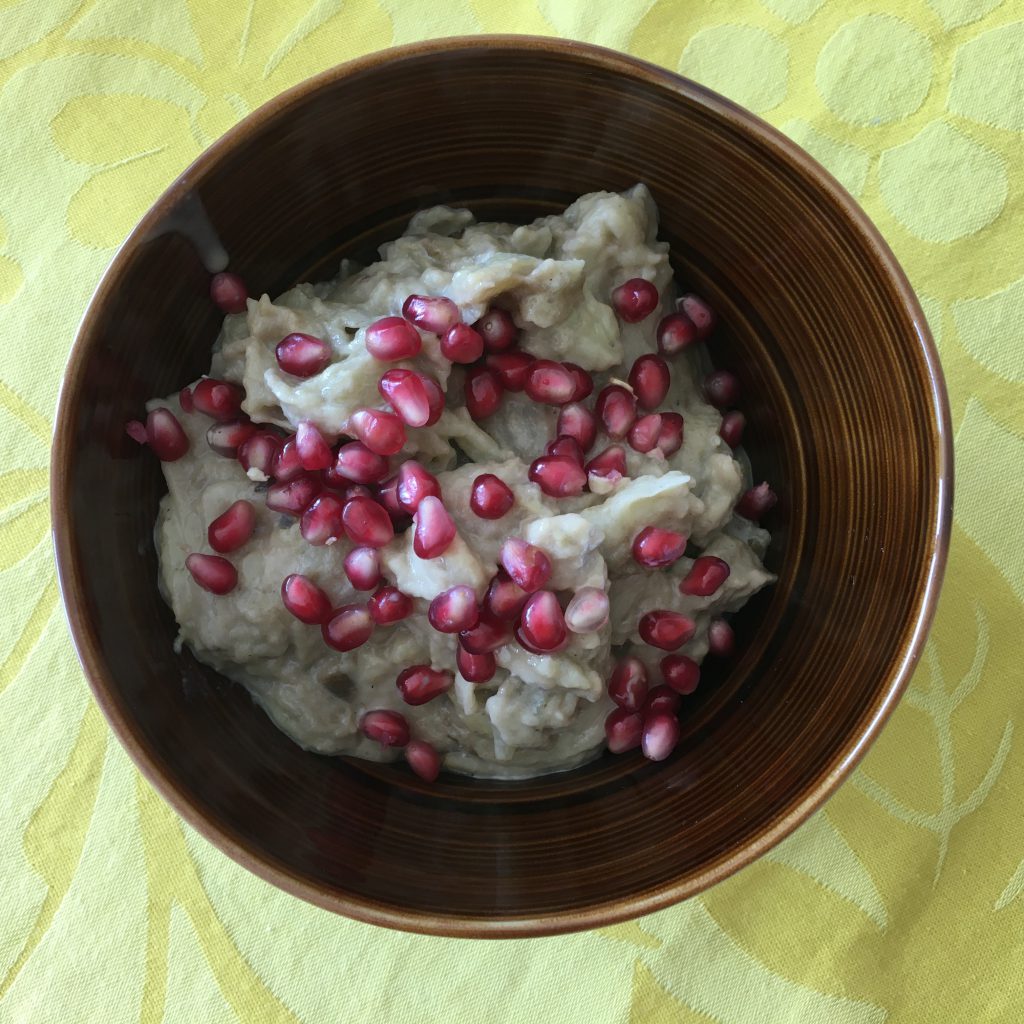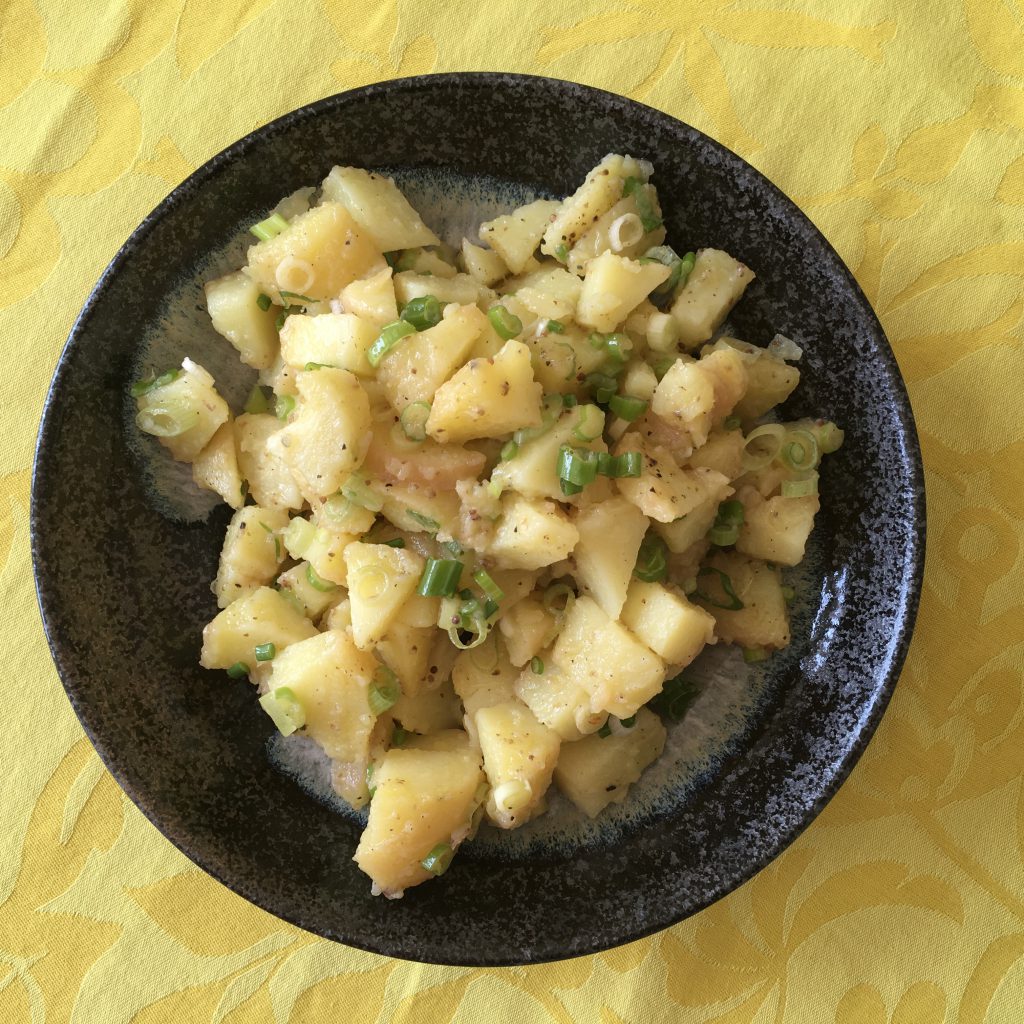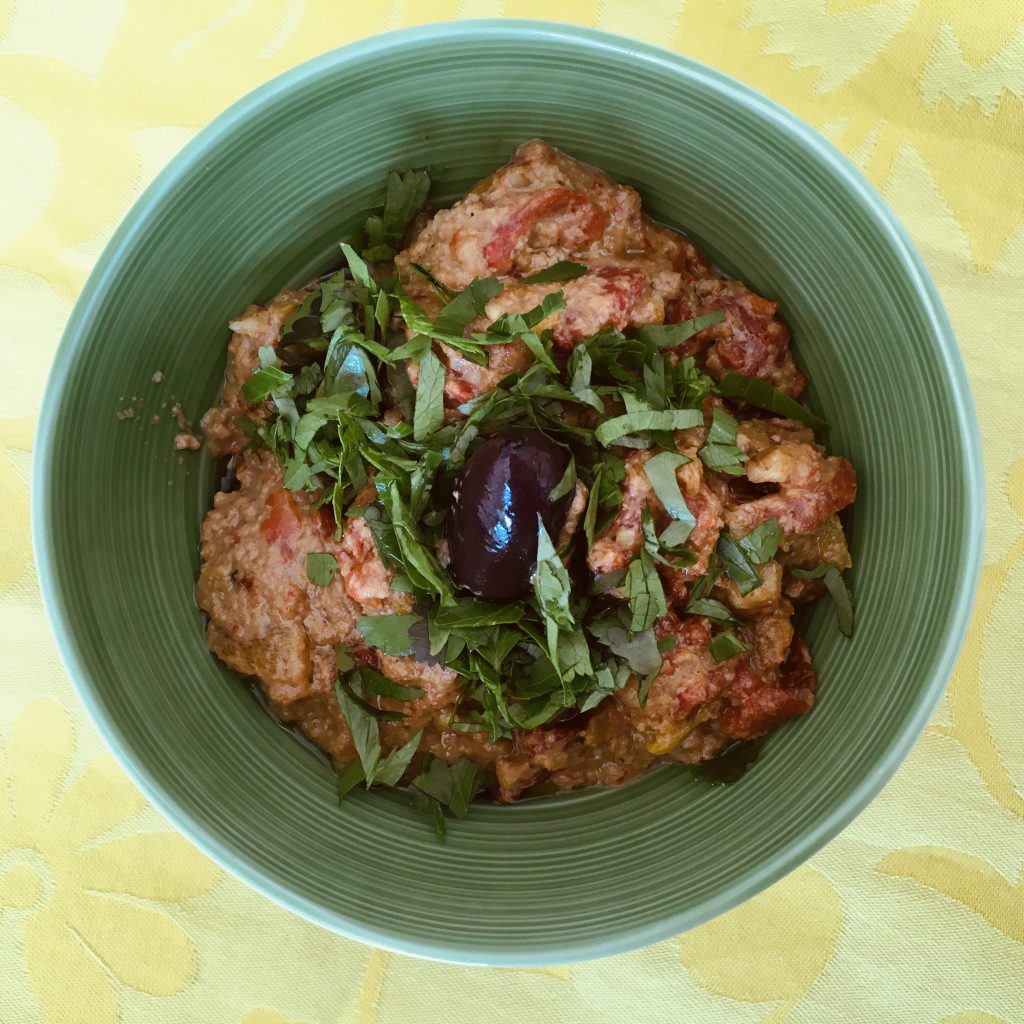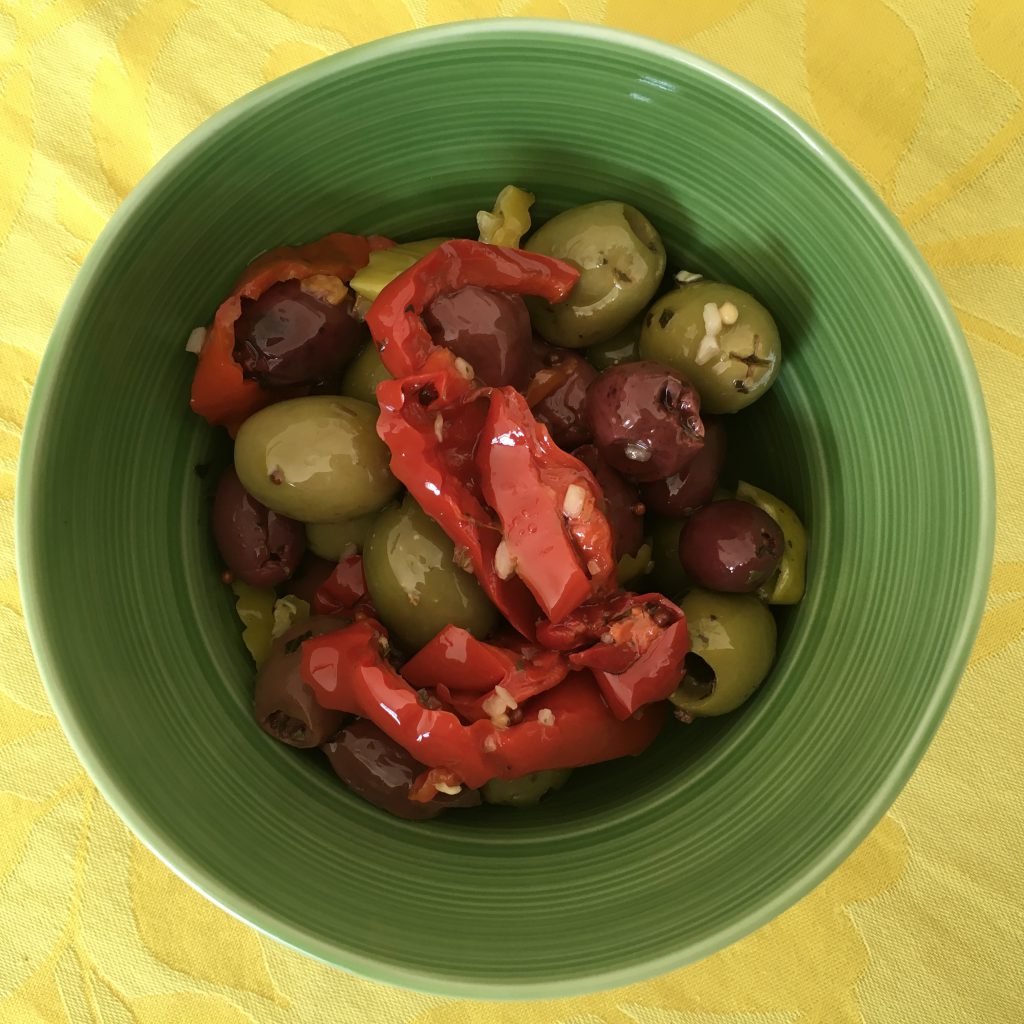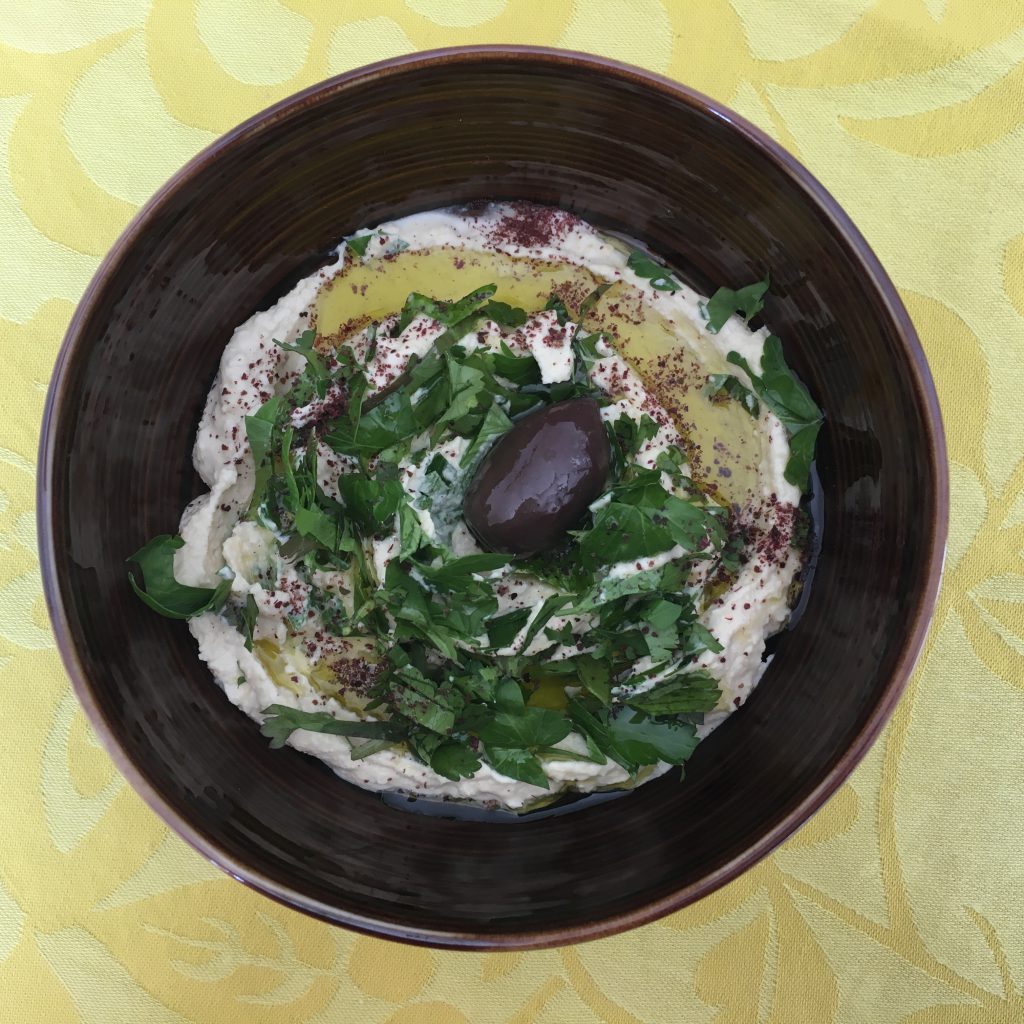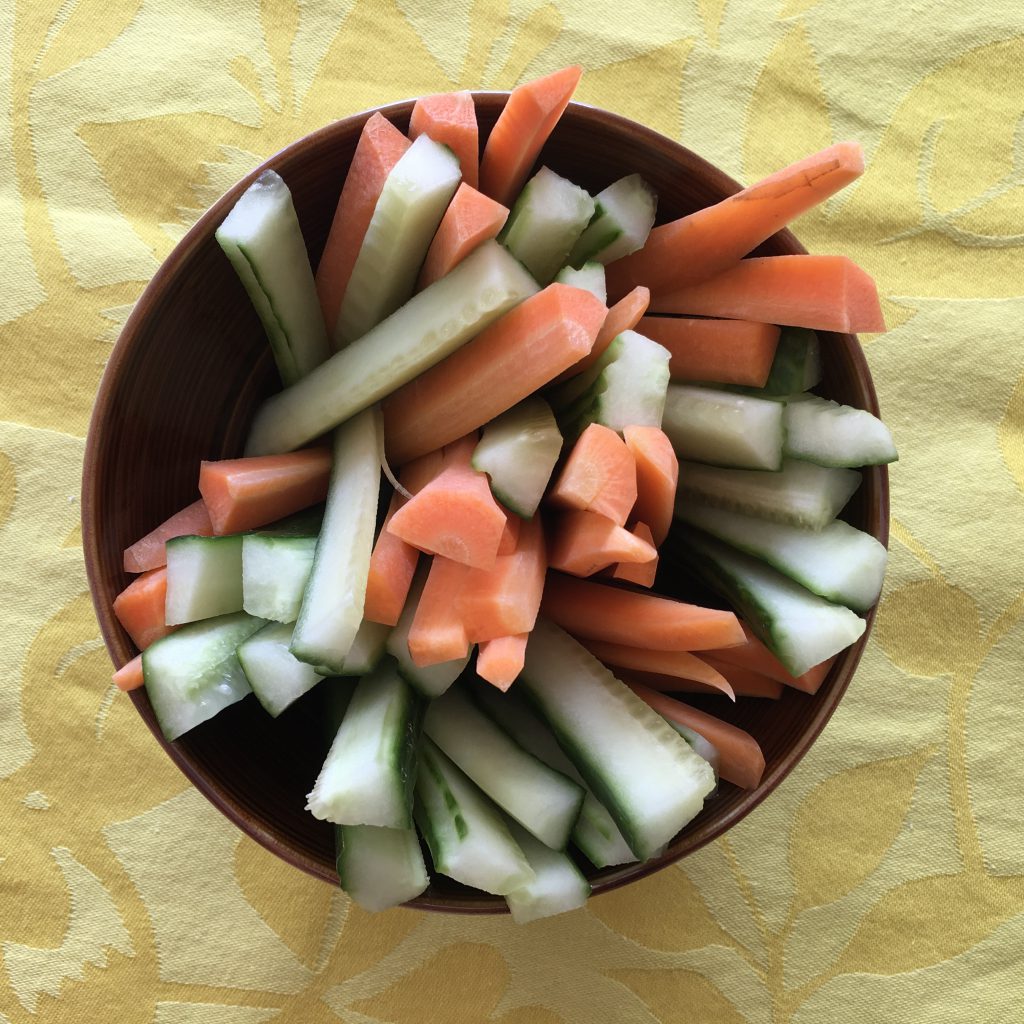 The next day we toasted the pitta and ate it with some barbecued chicken, sausages and salads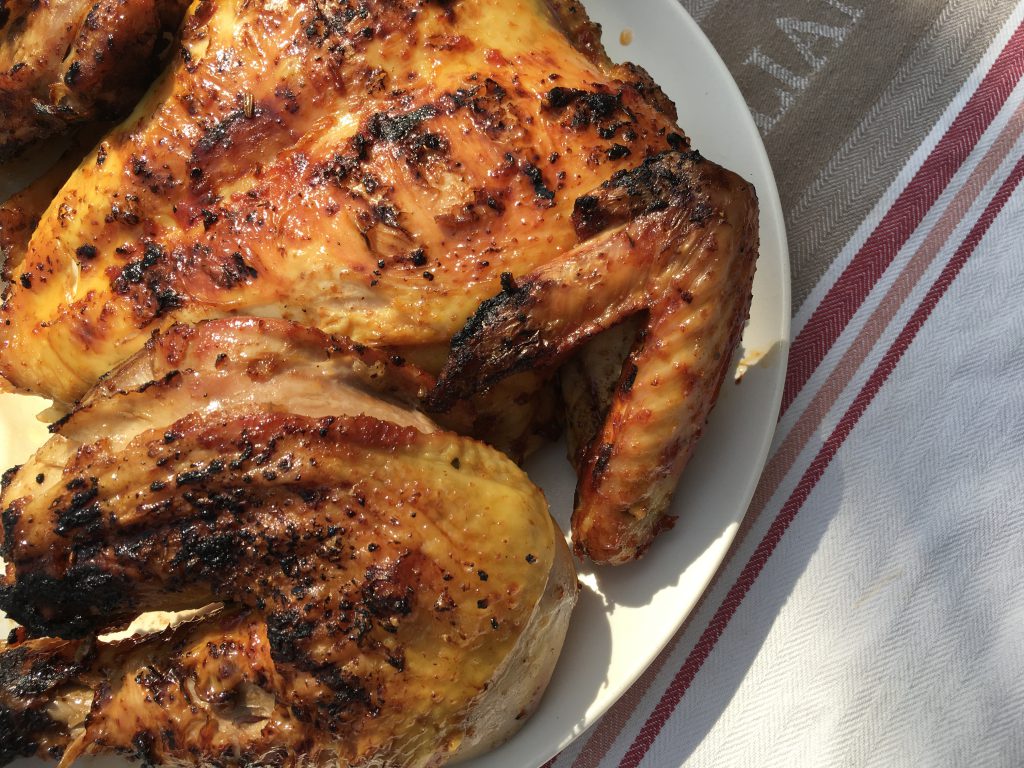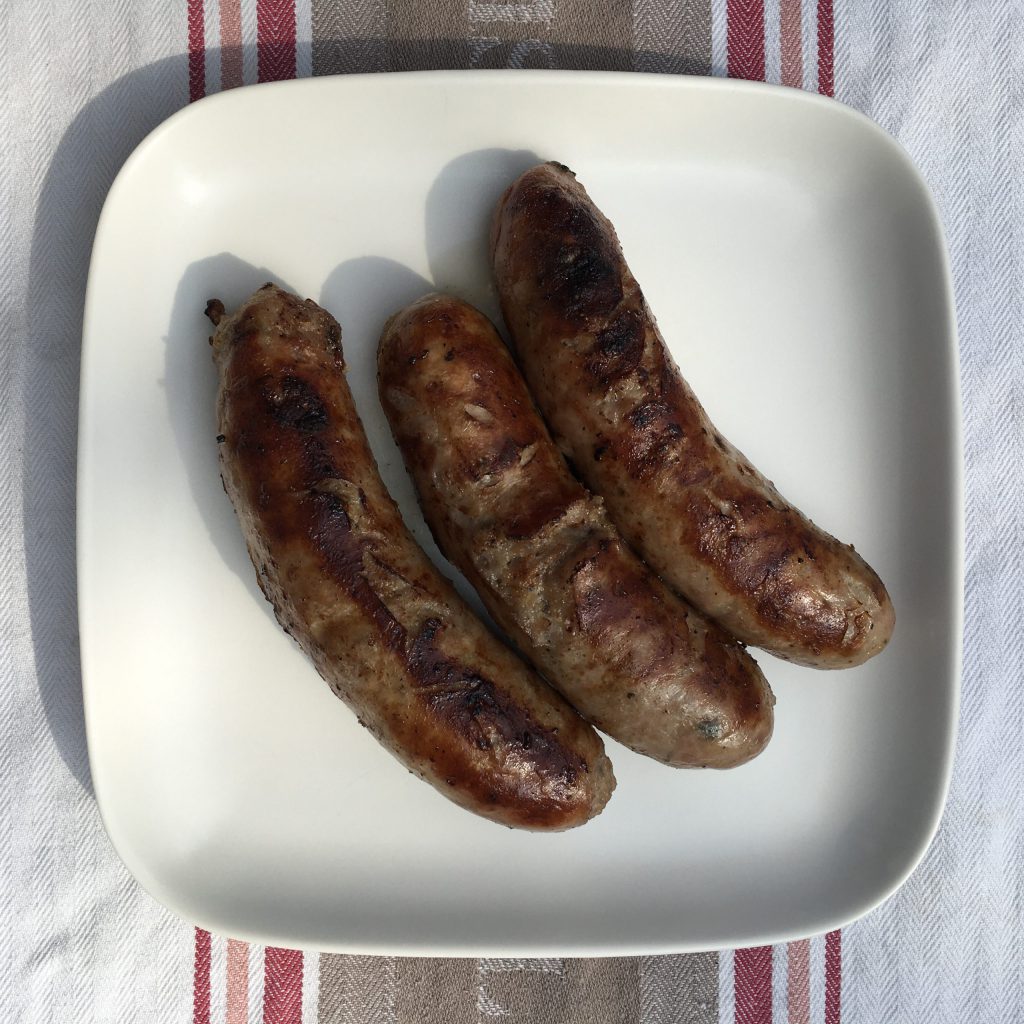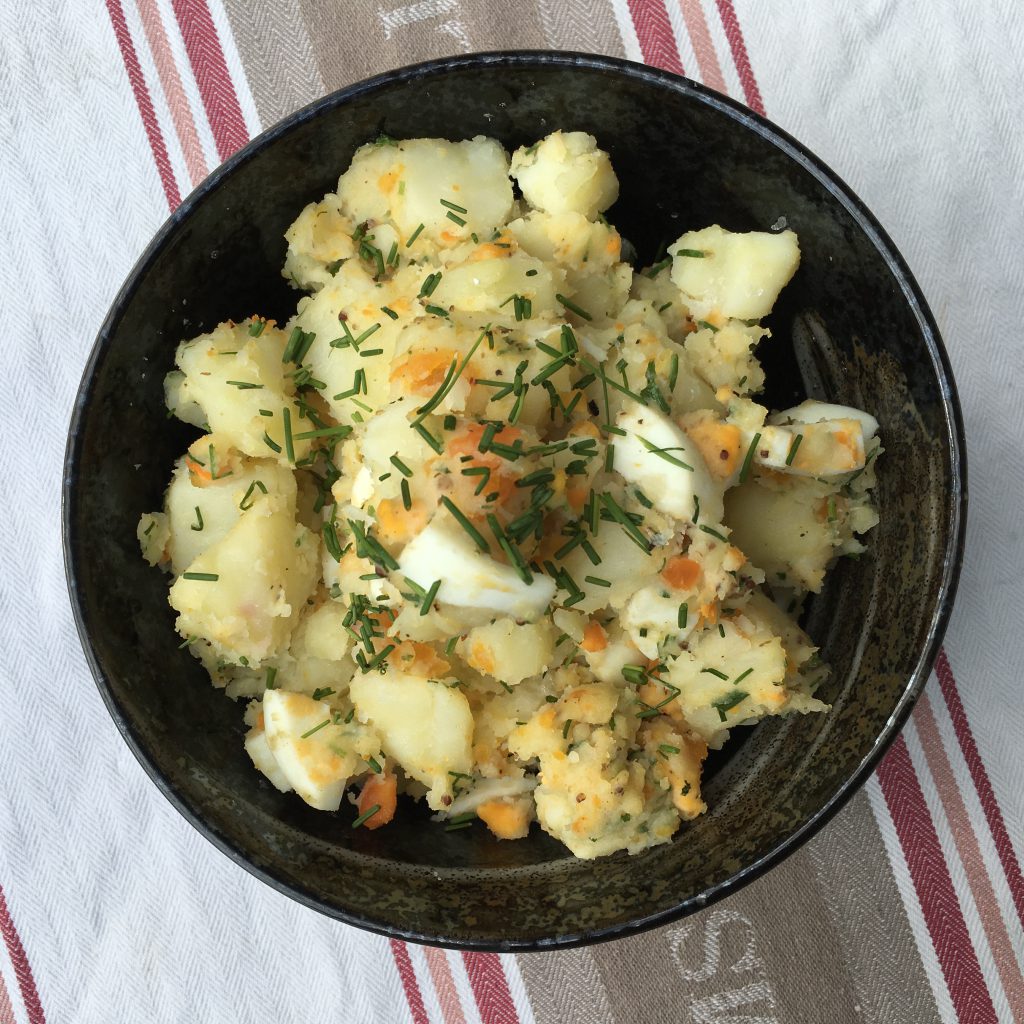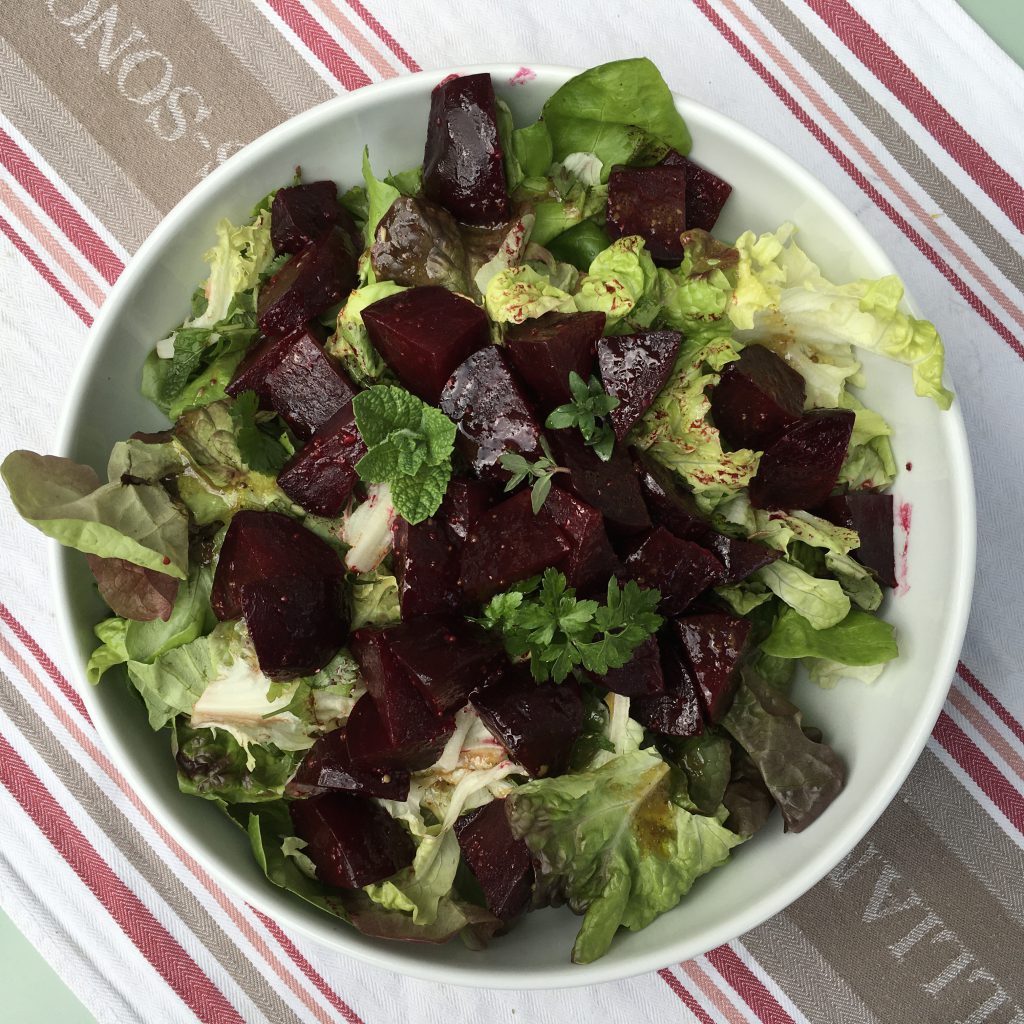 It seems like we are spending a lot of time in the kitchen but actually, since we are all at home, we share the cooking and washing up. It is a bit like going to Scout camp, something we have a lot of experience with. All the skills I learnt as a Scout Leader have been really useful here especially how to keep a small space continually clean and clutter free, and how to live with the same group of people 24/7 without falling out.
As for activities, this is in complete opposite to camp which is always about enjoying the outdoors. This time, we are keeping ourselves occupied with 'wet weather games' which has been quite fun, except I had largely forgotten how competitive the children and Mr Gochugaru are. Regardless of whether it is a word game or cards, they are always trying to be the best. I have in the past two days resorted to clearing out and cleaning the bathroom cabinets and household drawers, a job which does not interest anyone else. There I have complete freedom to work without anyone trying to do better than me in toilet roll stacking, washing hairbrushes and combs, cleaning out near-empty shampoo bottles. Doing a stock-take of our kitchen utensils, crockery and cutlery, and updating some old pots and pans has also been very satisfying.