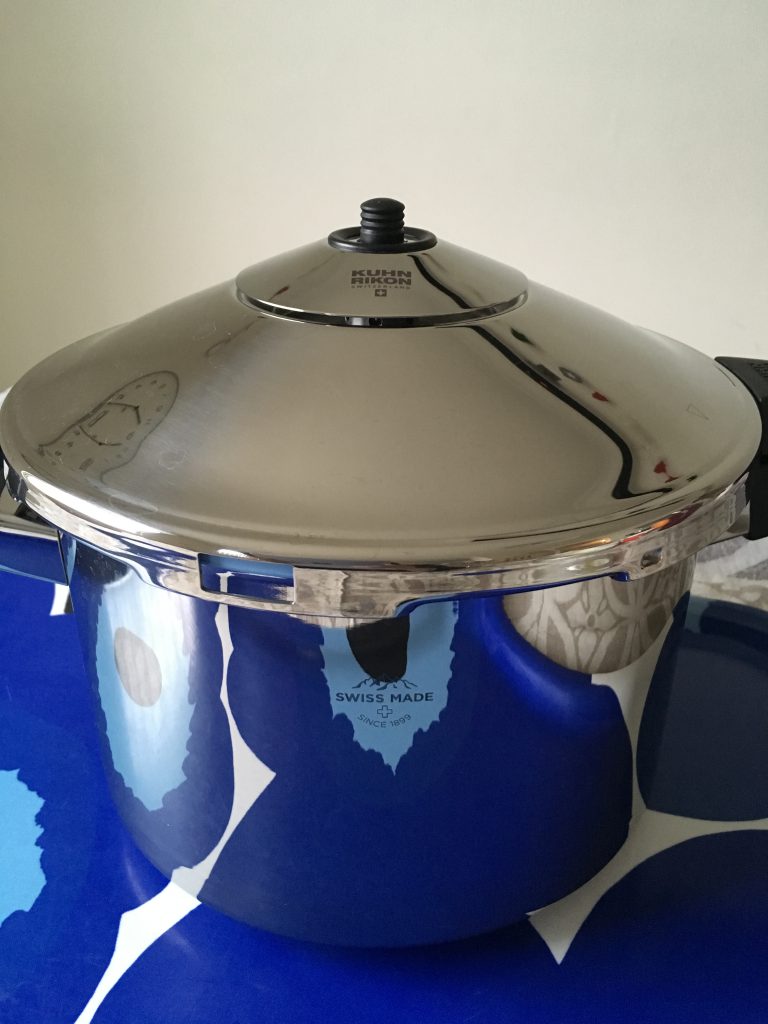 I was about to make a joke post-Christmas about the origins of Boxing Day: families get so wound up at Christmas they need to have a good fight afterwards. Then I thought this is not funny because back home in Kuala Lumpur a storm is brewing about the state of the maids' employment. It is a pain to think about the disruption this has caused.
When I am distressed I always turn to the kitchen.
As you get older you receive fewer Christmas presents, but they are better presents. This year the children thought I should have a pressure cooker. I am huge fan of my Thermomix but thought why not give it a go?
24 hours in and I have used it four times. I hand wash it, hand dry it and almost caress it with the tenderness I feel for it.
For tenderness is the thing that pressure cookers are good at. The beef short ribs I cooked in an hour were so meltingly gorgeous I instantly thought of all the other meaty dishes that deserve such treatment: pork rib bak kut teh, beef rendang, lamb tagine.
But there is a lack of enthusiasm for meat after Christmas so I made a mushroom risotto in the pressure cooker. Prior to this I made my risotto in the Thermomix and prior to that, I hardly made risotto at all because of the constant standing and stirring. Yet this is something I love to eat.
Pressure cooker or Thermomix? Both actually make very good risottos so it is a matter of preference if you have a choice. Since I had a new toy to play with I used the pressure cooker this time. I now wonder how many professional chefs really make their risotto by standing over a pot, lading hot stock stock into the rice whilst stirring continuously? I know I will never do that again.
For recipes relating to pressure cookers, Junior 1 suggests typing in 'pressure cooker + type of food' into a search engine, which will return recipes. I did this with 'pressure cooker risotto' and found a Mushroom Risotto from Serious Eats which I have adapted below, using the ingredients I had.
All in, the lunch took around half an hour to cook, including time for preparation, setting the table and washing up.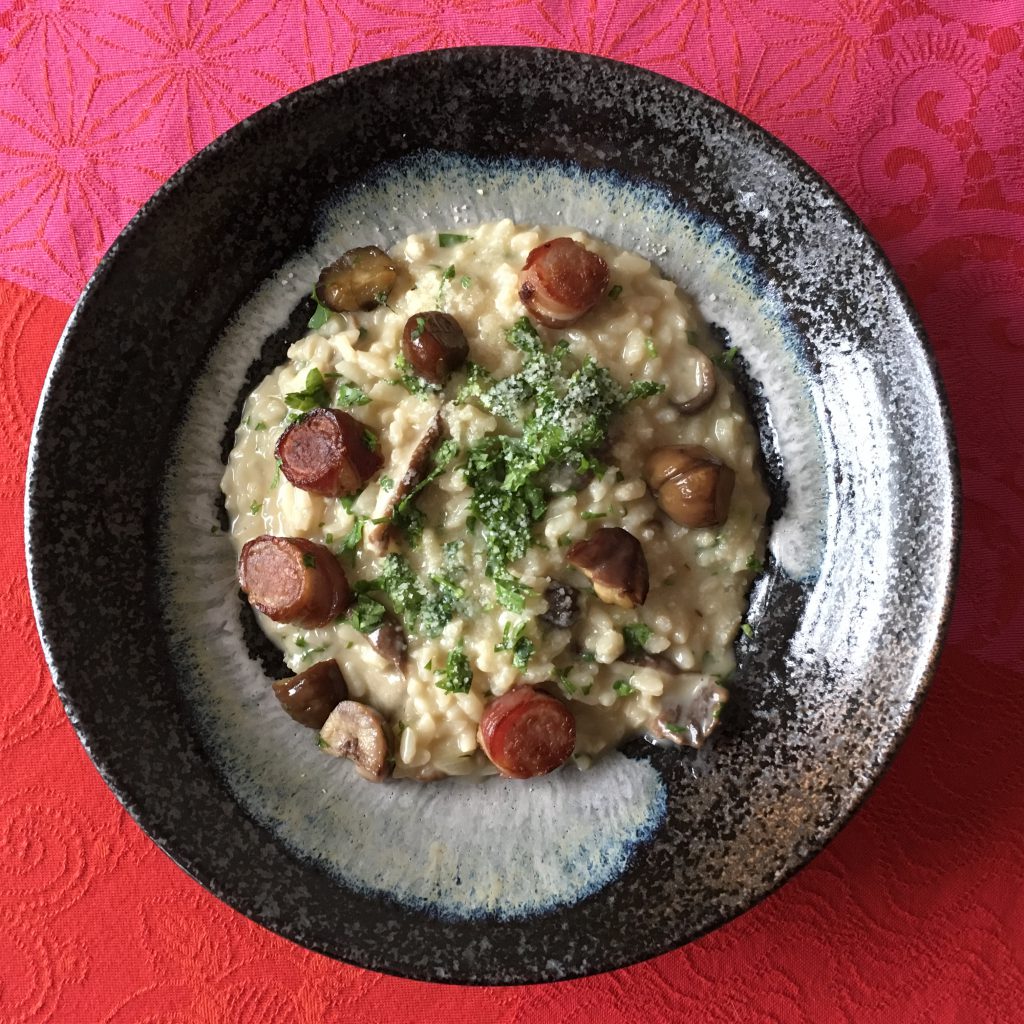 For the Risotto (serves 4)
150 g white onion, finely chopped
10 g garlic, crushed
4 tablespoons olive oil
20 g unsalted butter
500 g mixed mushrooms, sliced into uniform pieces (any of chestnut, shiitake, oyster and shimeji will do, please avoid enoki as it is too fine)
300 g risotto rice, such as arborio, carnaroli or vialone nano 
175 ml dry white wine
900 g vegetable or chicken stock
½ teaspoon fine sea salt or 1 teaspoon porcini salt (dried porcini ground with coarse sea salt)
Ground black pepper
4 tablespoons double cream
4 tablespoons finely grated Parmigiano-Reggiano cheese, plus more for serving
4 tablespoons finely chopped parsley
For this recipe, you will also need a pressure cooker. Mine is a Kuhn Rikon Duromatic Inox 22 cm / 5 litre pot, and I used it on a gas hob.
How to Make:
Heat the vegetable or chicken stock in a pot and keep it simmering on a low temperature.
Heat the oil and butter in the pressure cooker pot. Add the onion and garlic and stir until lightly browned.
Add the mushrooms, salt and pepper. Stir until the mushrooms have shrunk a little, losing some of its excess moisture.
Add the rice and stir through.
Add the wine and let this reduce until nearly evaporated.
Add the stock and lock the pressure cooker lid firmly in place. Bring the pot up to low pressure (the first red bar on the pressure valve) and cook for 12 minutes.
Depressurize the cooker, either by running the pot under cold water or by pressing on the steam-release valve (as a precaution cover your hand with an oven glove).
Unlock the pressure cooker lid and give the risotto a stir or two. Add the cream, cheese and parsley. Using a wooden spoon, stir for a more few more minutes if you feel the risotto is too wet. If it looks too thick, add a bit of hot water or stock.
Check for seasoning, adding a touch more salt and pepper if necessary. Serve immediately on warm plates.
There were some leftover chipolata sausages wrapped in bacon aka pigs in blankets which I sliced and fried along with some cooked chestnuts, and this I placed on top of the risotto before serving. I would also consider adding chopped cooked turkey at the beginning stages of cooking, or serving the risotto with a piece of grilled fish by the side.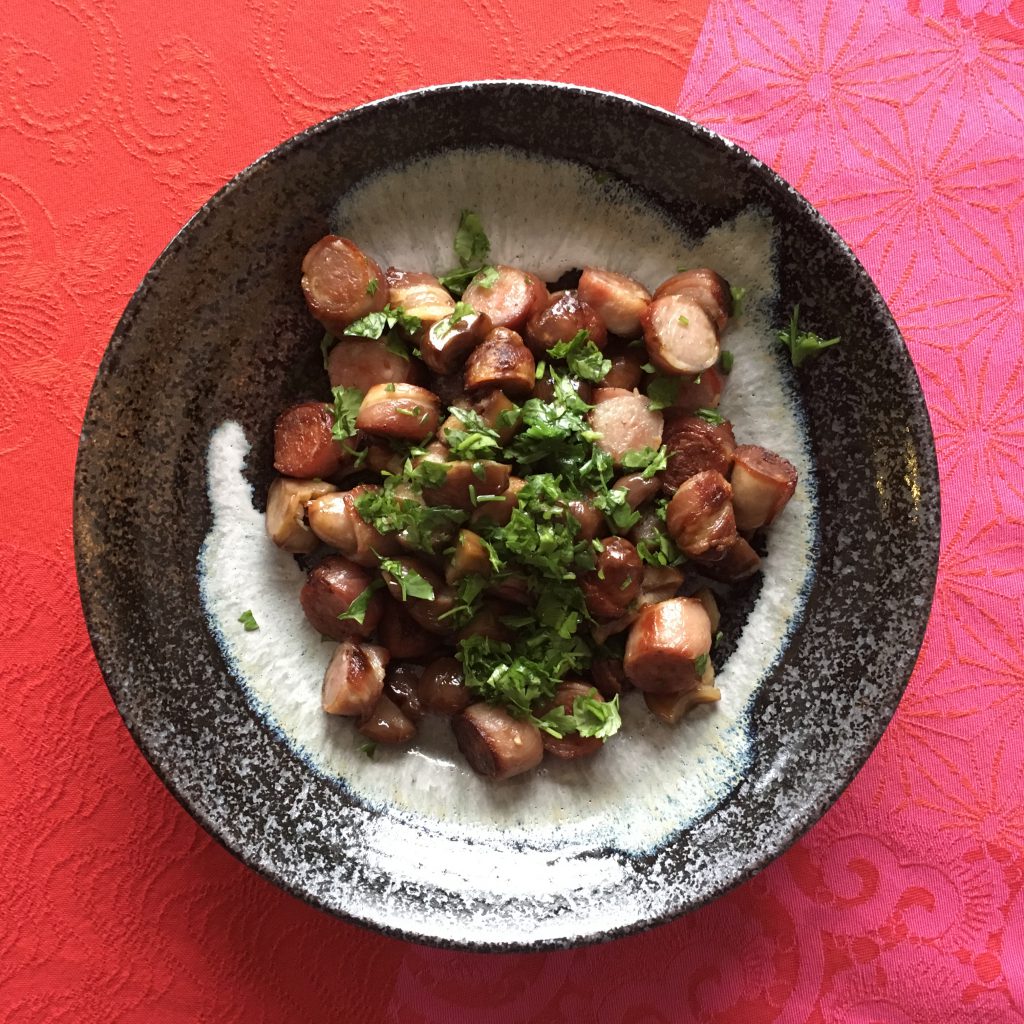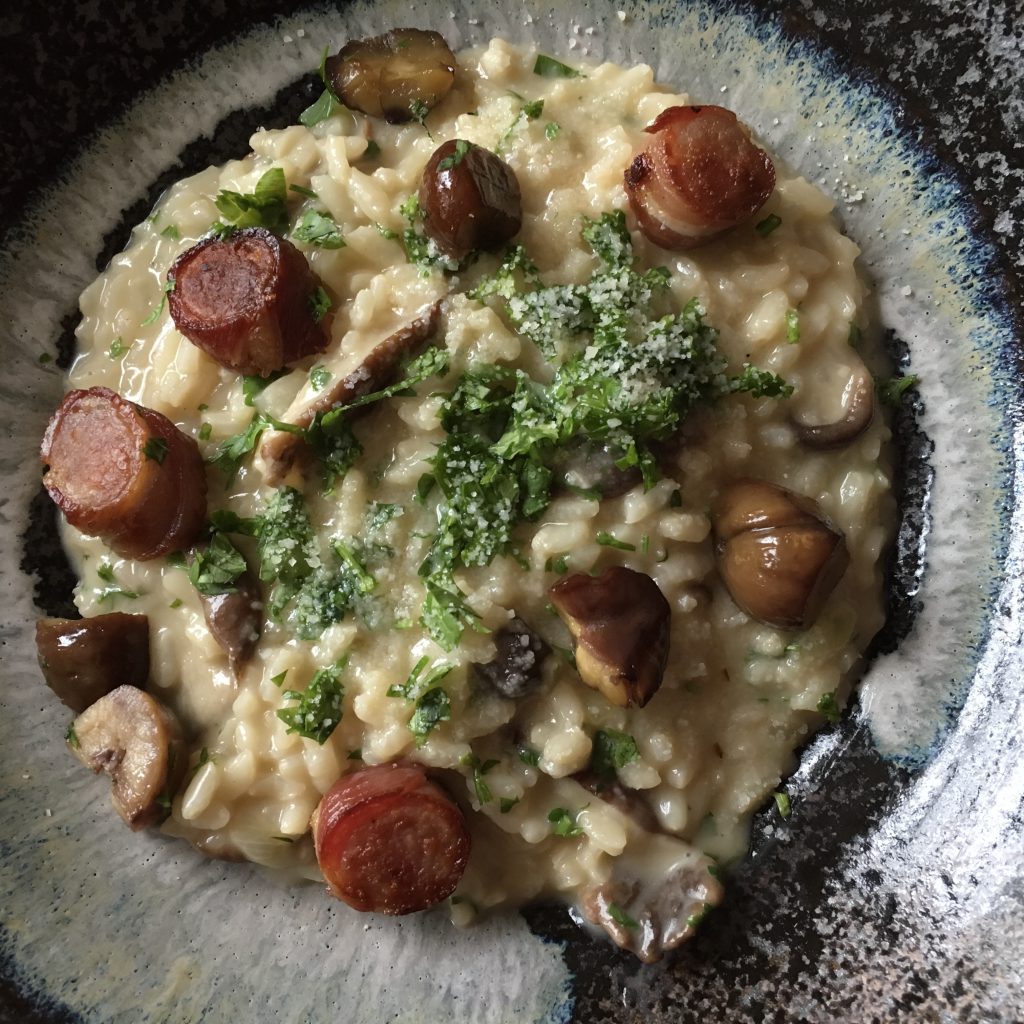 Cooking with the pressure cooker takes on average one third the time of conventional cooking. This is a real plus when you are short of time, as I am at the moment. Think positive, I tell myself. Maybe I too can work faster and more efficiently under pressure.
The problem is that this pressure is external and not of my own making. And it is not as if I have this special valve I can press to release it. Worse, I fear that this pressure is not making me tender at all so I need to manage it somehow. I am working on a solution that can hopefully please all the parties involved.