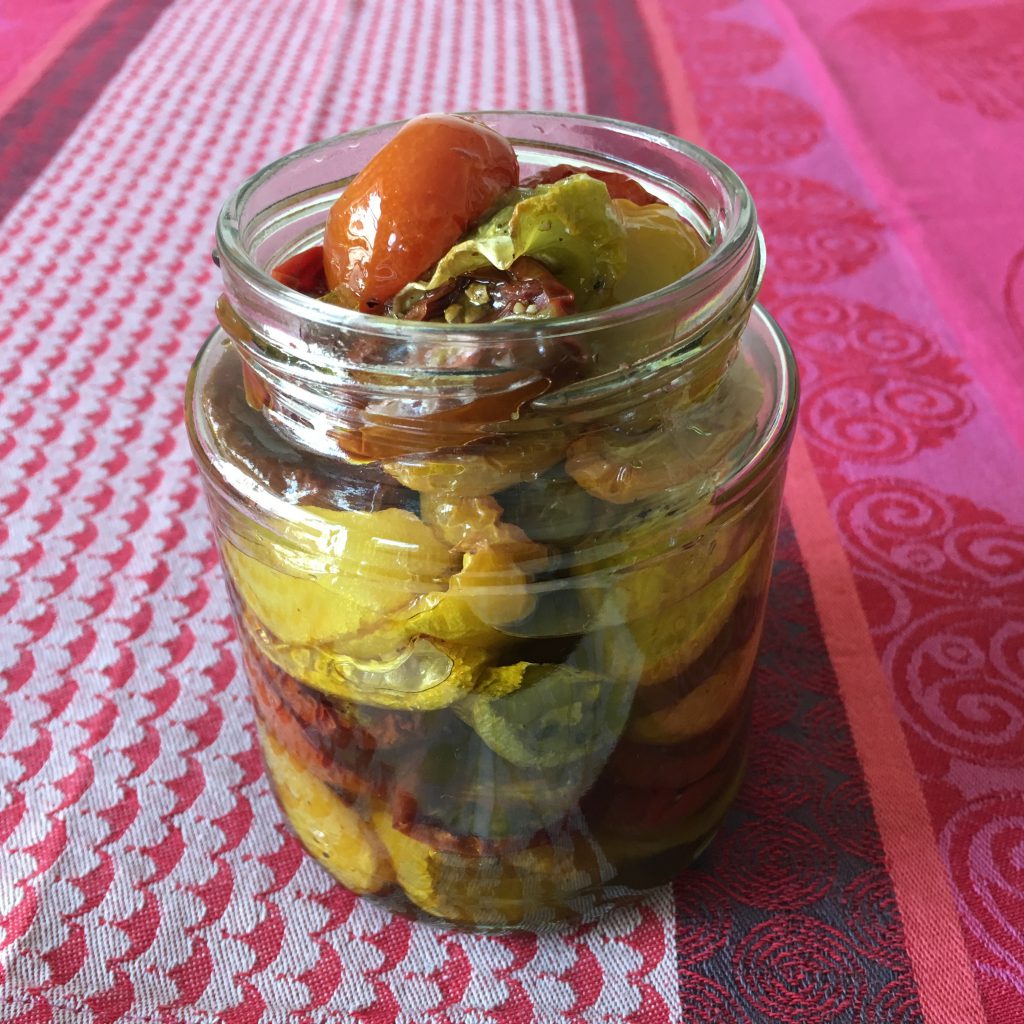 I have been trying to write up this simple recipe for awhile but things keep popping up that take up my time. The latest distraction was that I finally tried to make a soufflé. If it worked I would have written about it, since this is a first for me. But the failure was spectacular and had I not had the Thermomix to blame I would have lost a lot of culinary confidence.
Actually the Thermomix is not to blame but its recipe platform called Cookidoo. Some people at Thermomix HQ have decided that they would no longer publish paper recipe books but instead put lots and lots of recipes online. They entice you with promises like 40,000 triple-tested recipes.
Well, if only that one passion fruit soufflé recipe worked, I would have been impressed. There is absolutely no way that recipe was triple-tested. This confirms what I have been thinking for some time, that Cookidoo is a good place for ideas but you still need a basic understanding of how food is prepared and cooked. The Thermomix is a good helper but a lousy teacher.
Totally lousy, as Mr Gochugaru reflected when he looked at the more than sunken blob of cooked egg in his ramekin.
Never mind, next time I am going the old-fashioned way and attempt Pierre Koffmann's Pistachio Soufflé which I know must work. By way of comfort we have the final two episodes of Goblin which we are re-watching. Any new Korean drama would generate too much excitement and we need to keep calm and cool in this current hot weather.
The tomatoes for this recipe were from my local farmers' market. This time of the year there are many colours and sizes to choose from.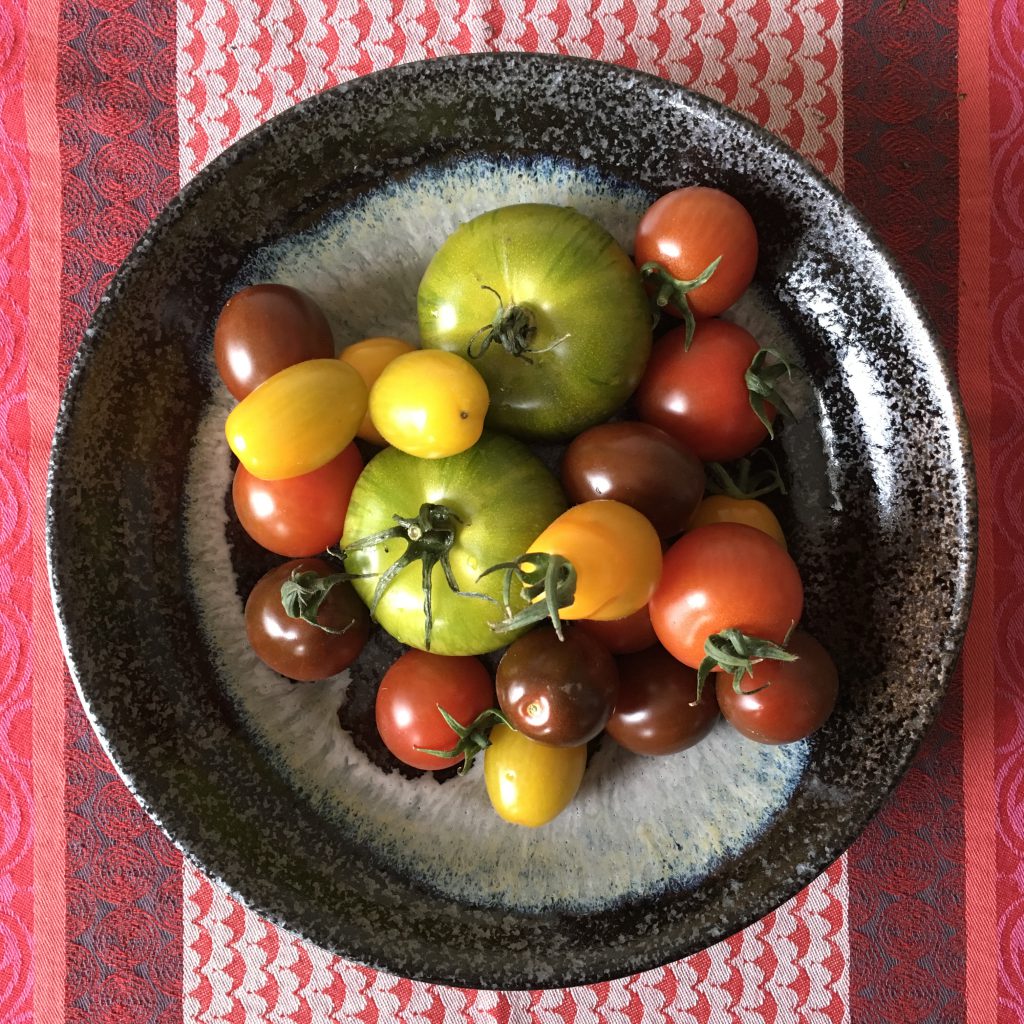 One interesting tomato was a Mexican variety called a tomatillo, which comes wrapped in its own paper skin like that of a physallis. I heard from another customer, a Mexican lady, that the skin protects the tomato from the fierce heat of the sun. When I protested that England is not as hot as Mexico, and our tomatoes have no hope of being sunburned, the stall holder informed us that the tomatoes were in fact grown in hothouses where the internal temperature reaches 50 C!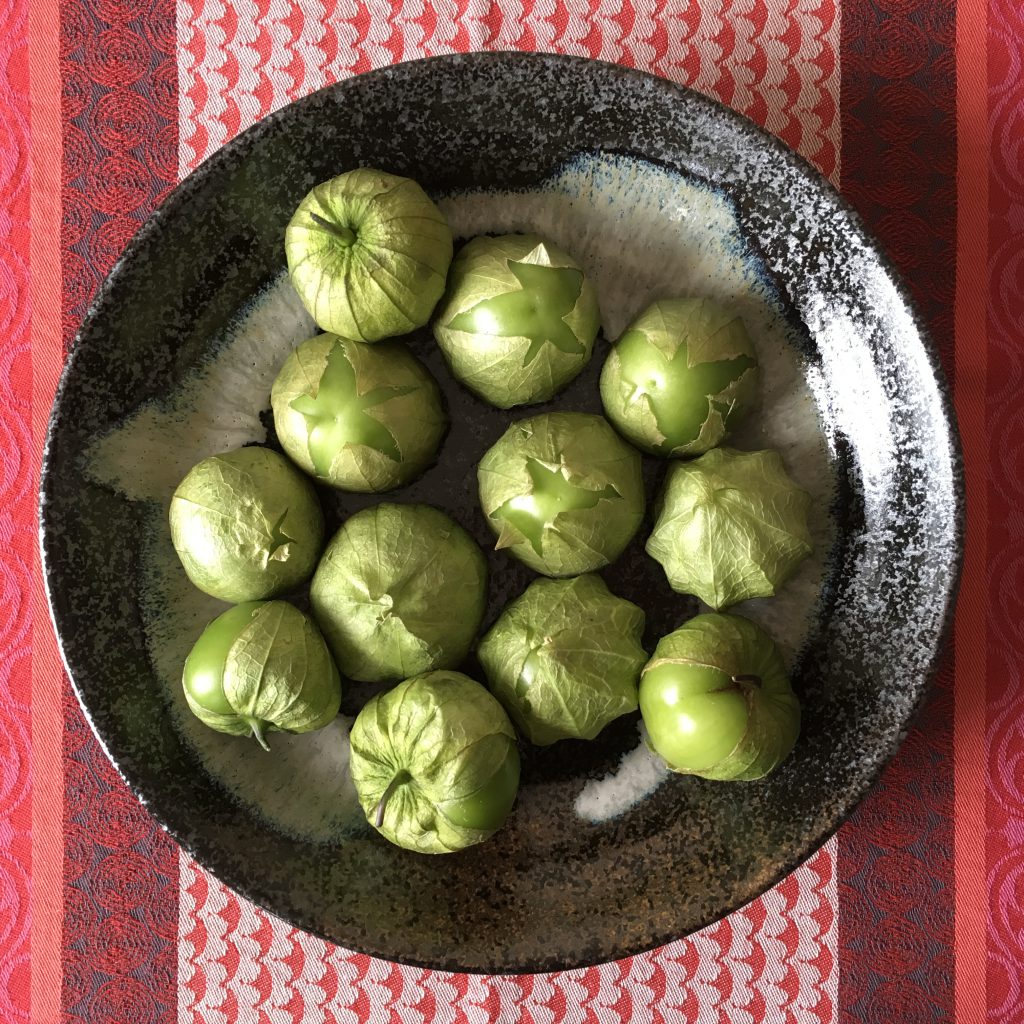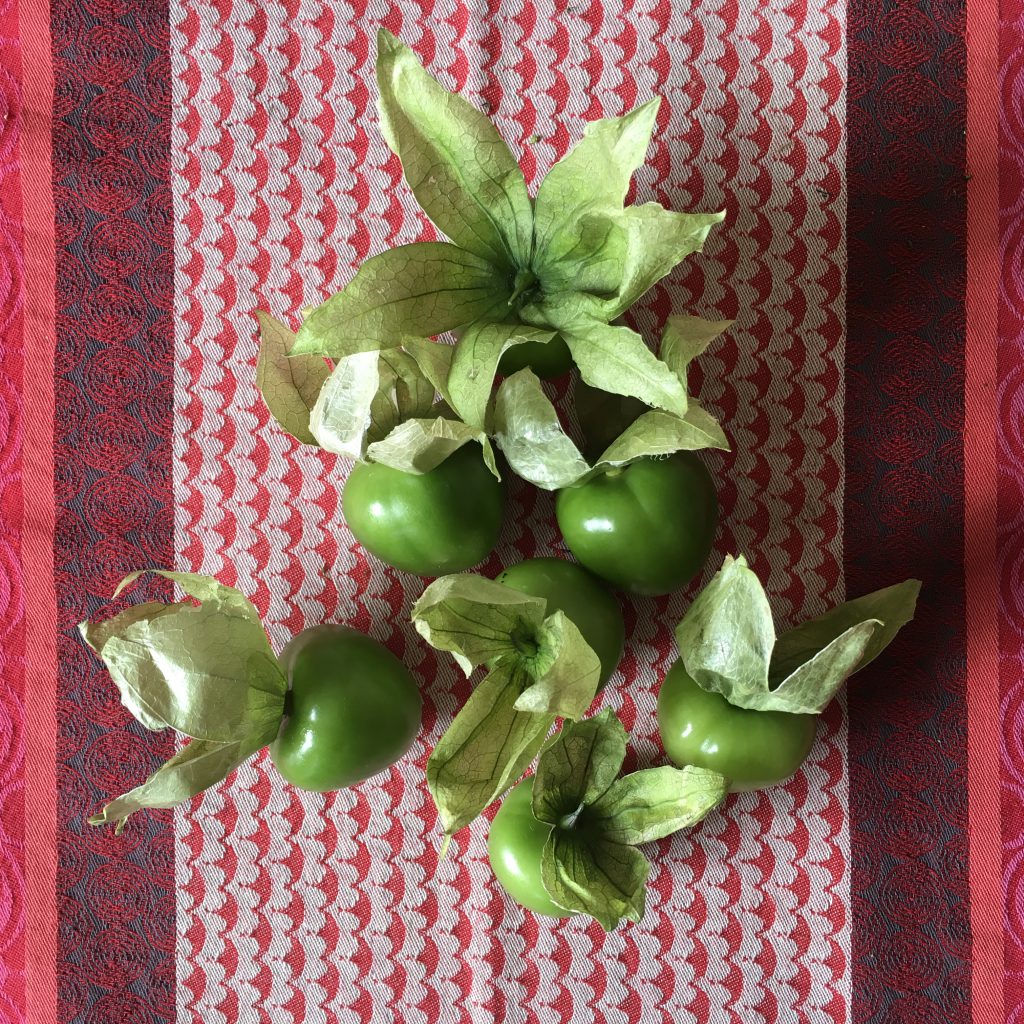 It is very easy to slow-roast tomatoes and all you need is a large baking tray and some patience as it takes up to two hours to shrink in order to intensify its flavours. I guess that would give me time to research more soufflé recipes…
For the Tomatoes:
As many varieties and sizes of tomatoes as you like. The only additions are olive oil, fine sea salt and ground black pepper.
How to Make:
Preheat the oven to 120 C. Line a large baking tray with baking parchment. Halve each small tomato and quarter the larger ones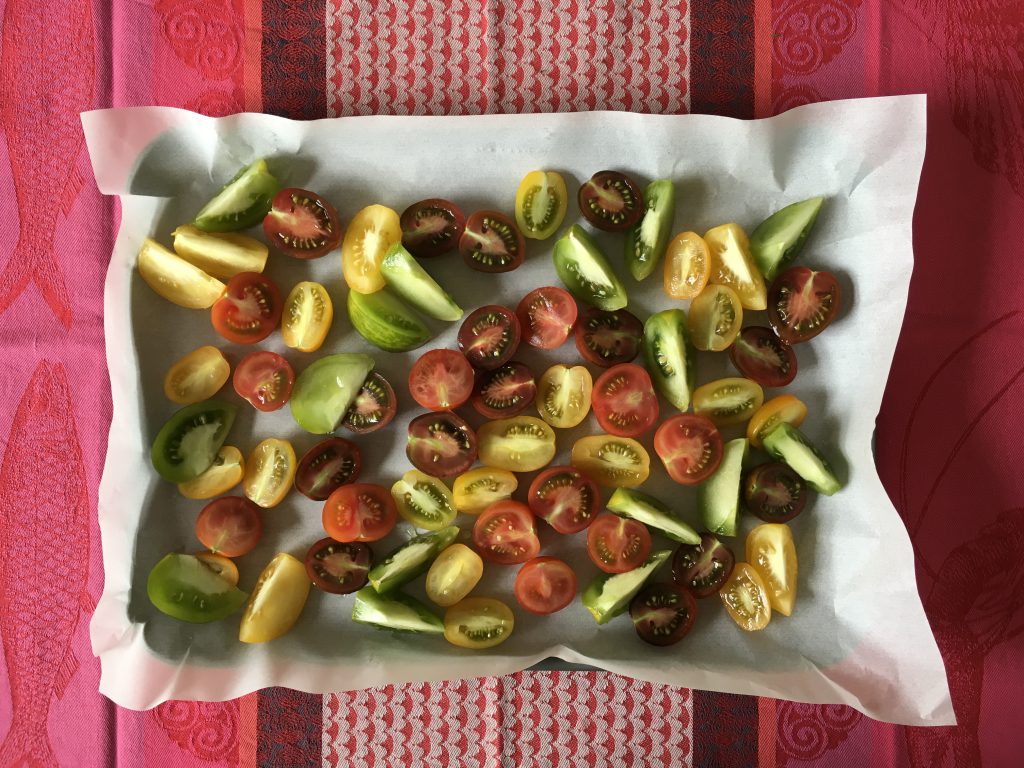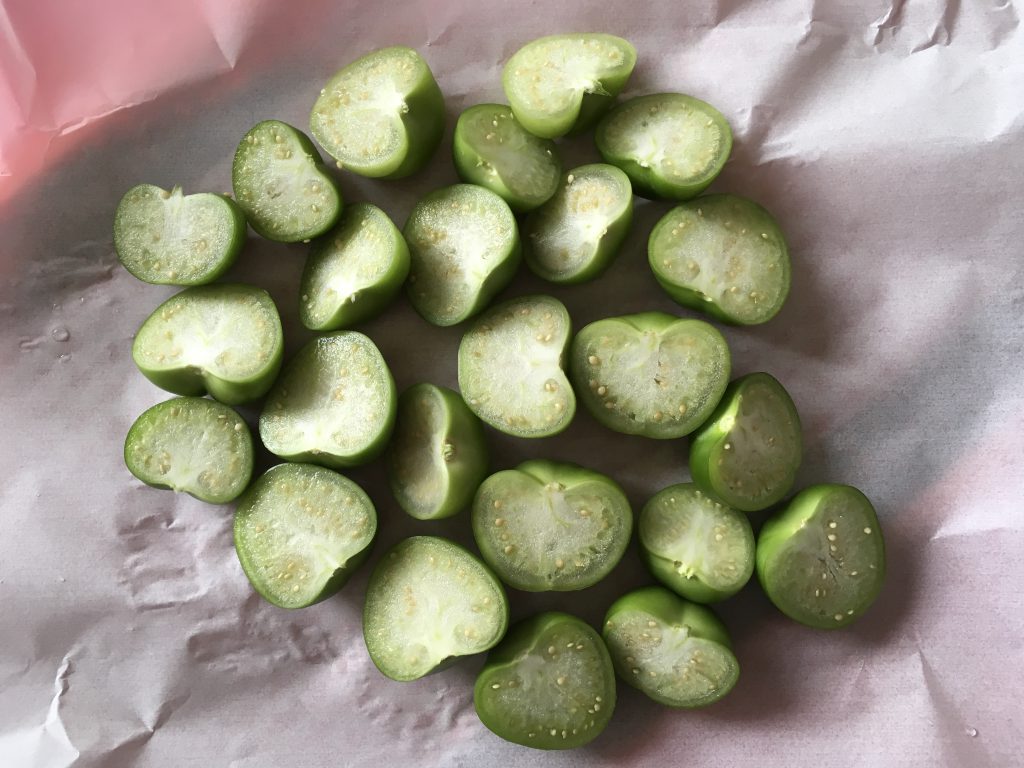 Place the cut tomatoes on the baking tray. Drizzle over some olive oil and sprinkle on some fine sea salt and ground pepper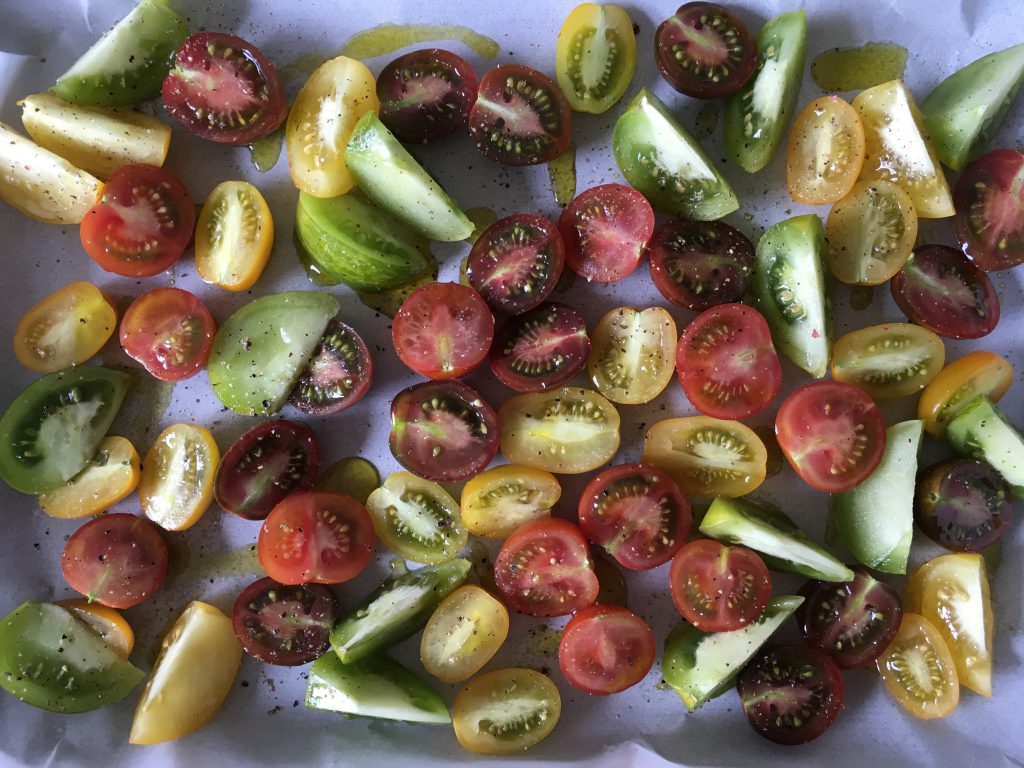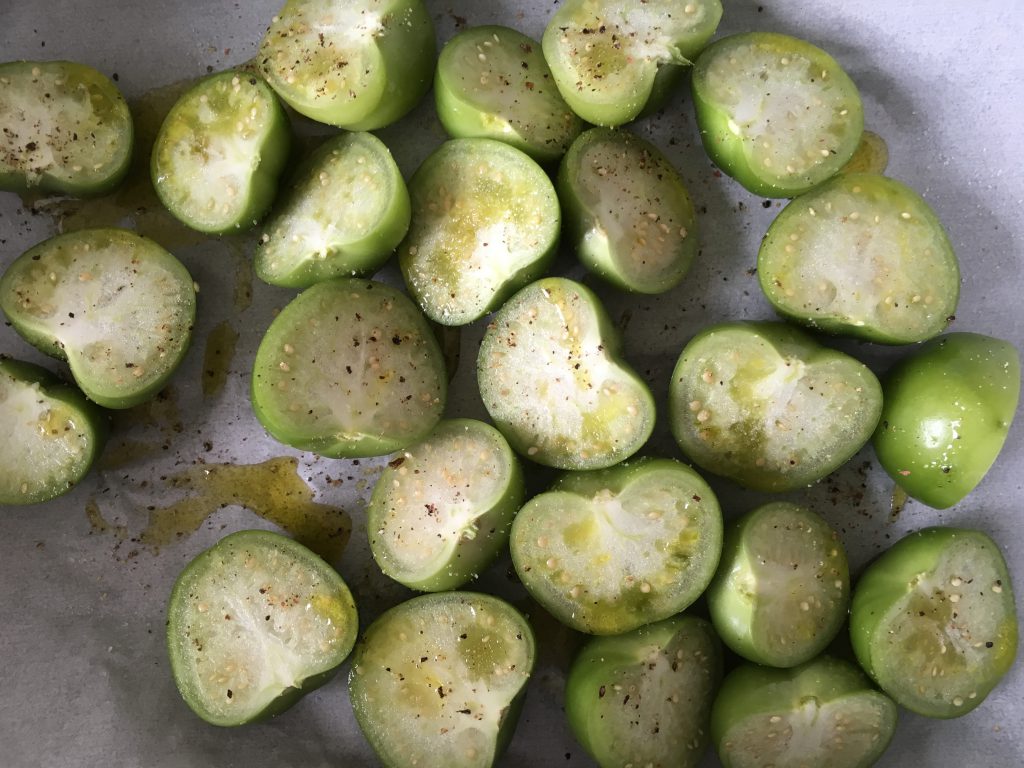 Roast for two hours but check after 1½ hours. The tomatoes should have shrunk but still retain its shape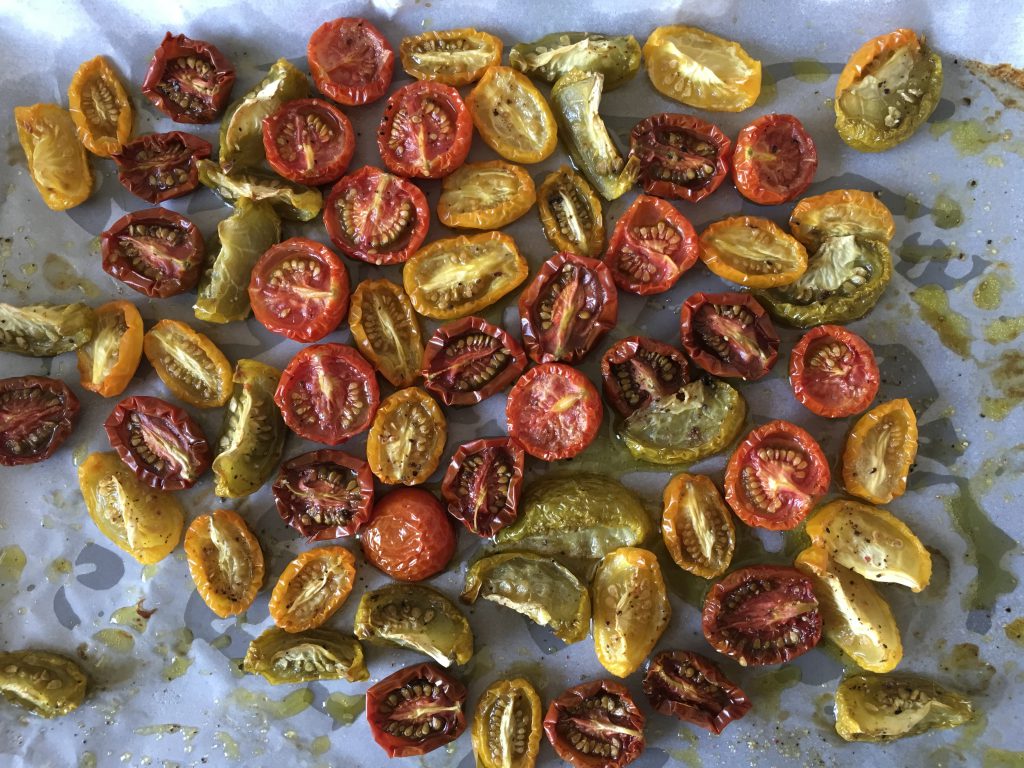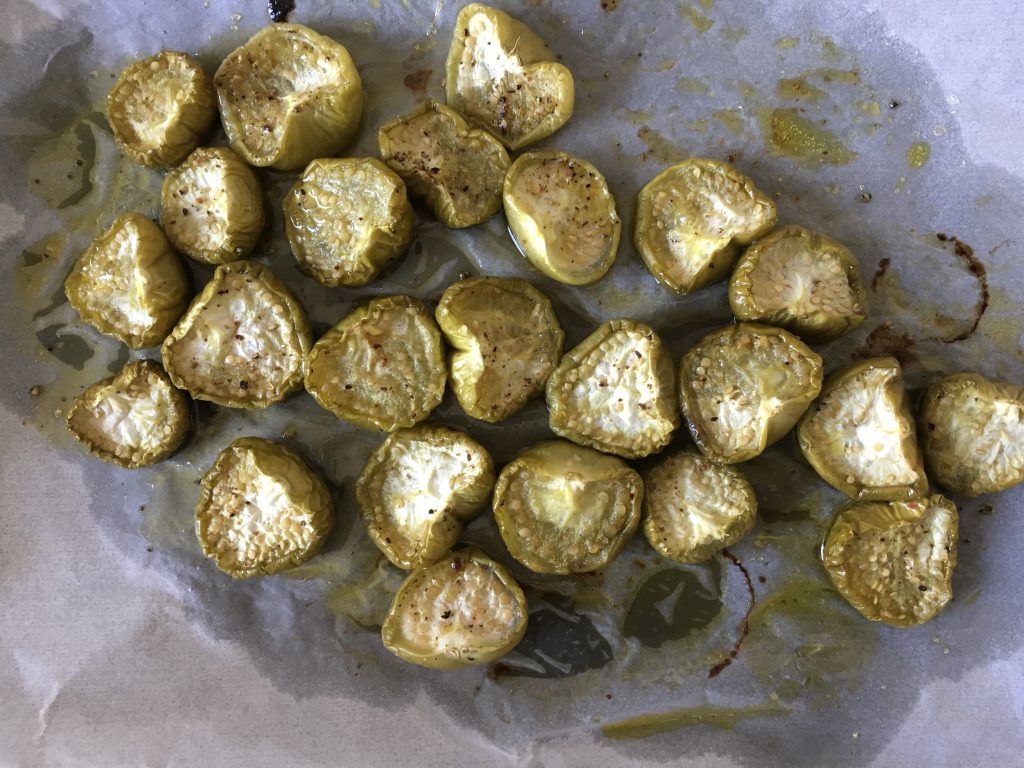 Remove the tomatoes from the oven. Cool, then place in a clean bottle and top up with olive oil (I used the oil from some confit garlic I made earlier)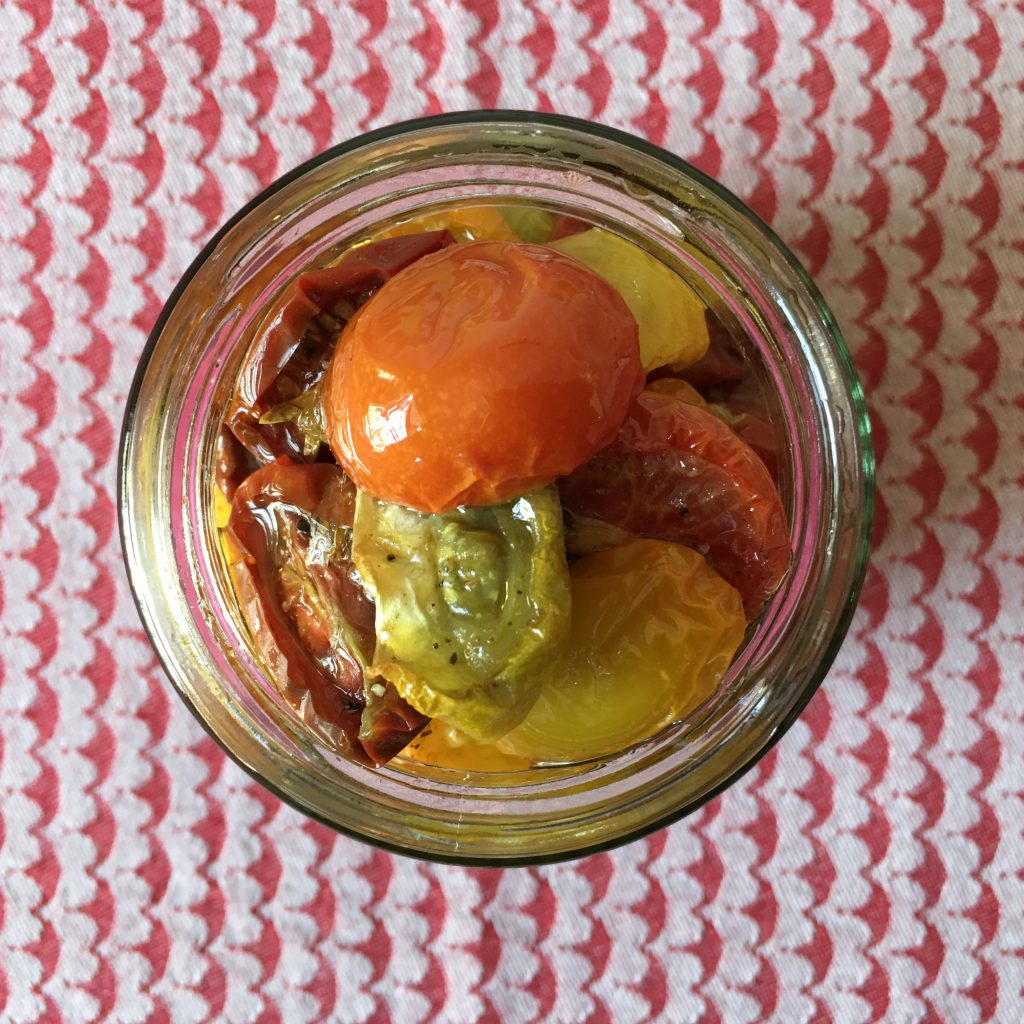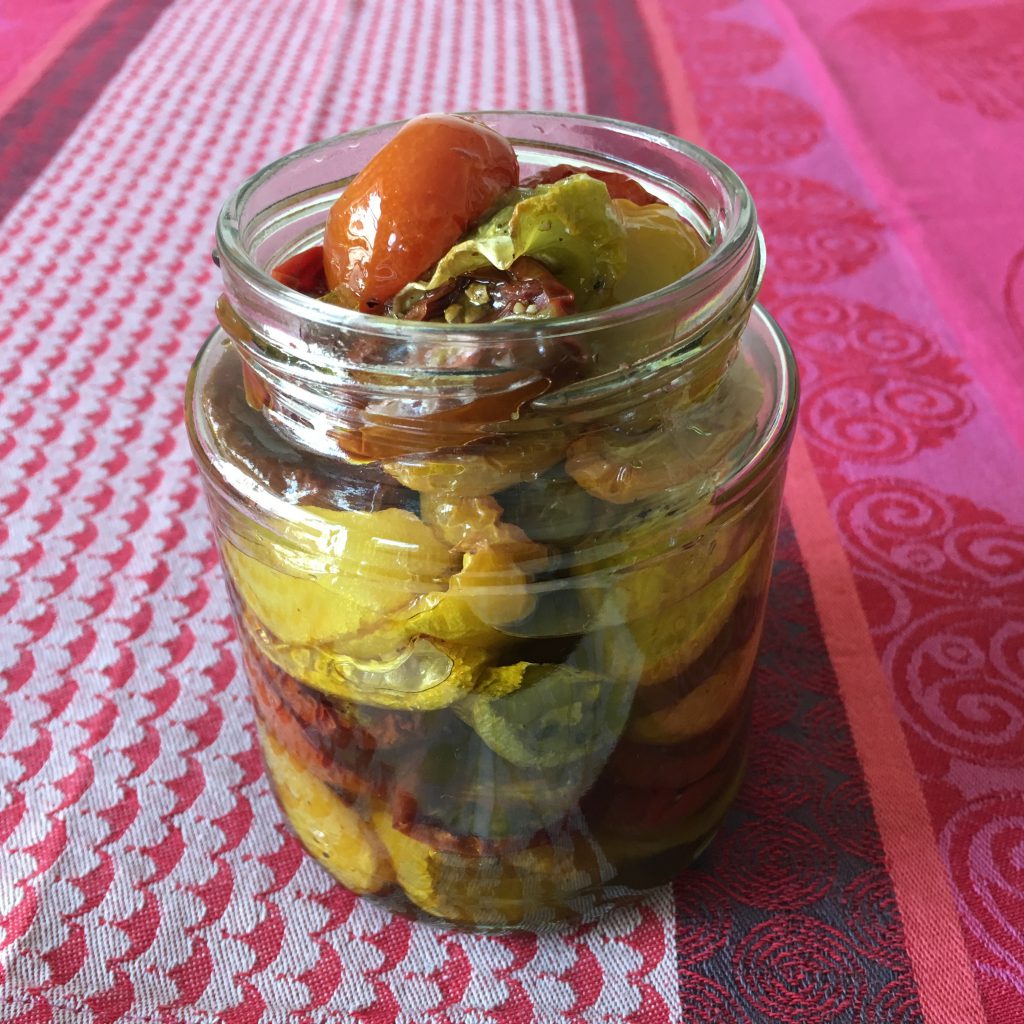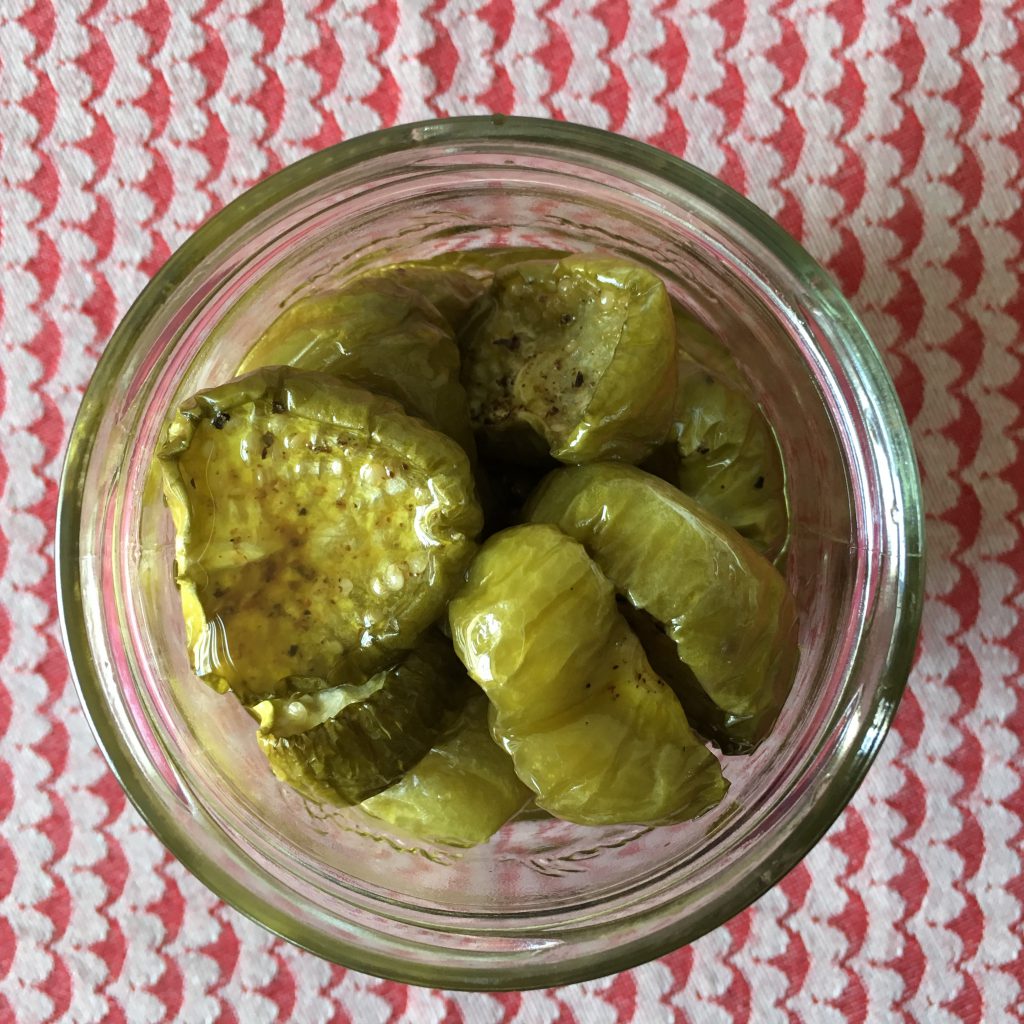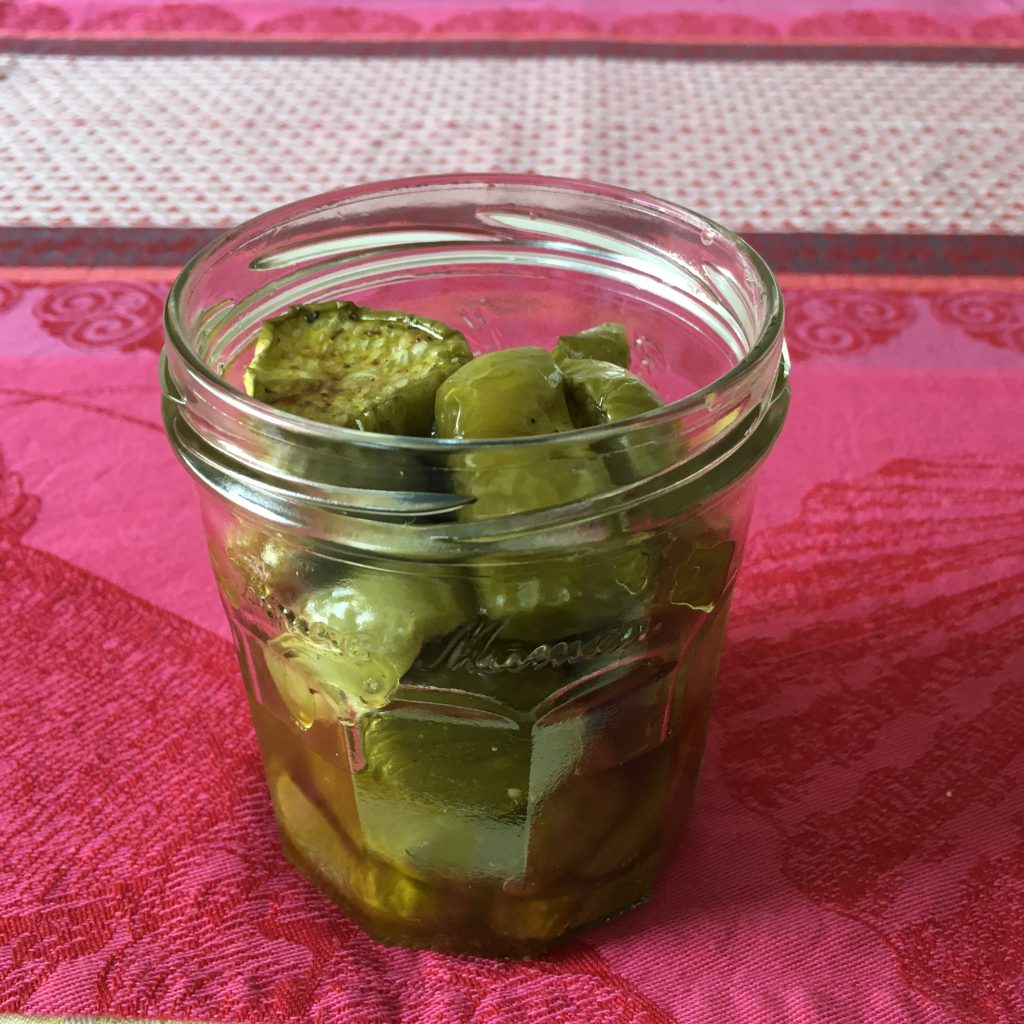 Unashamedly, I loved the kale sauce pasta so much I made it again and ate it simply with the tomatoes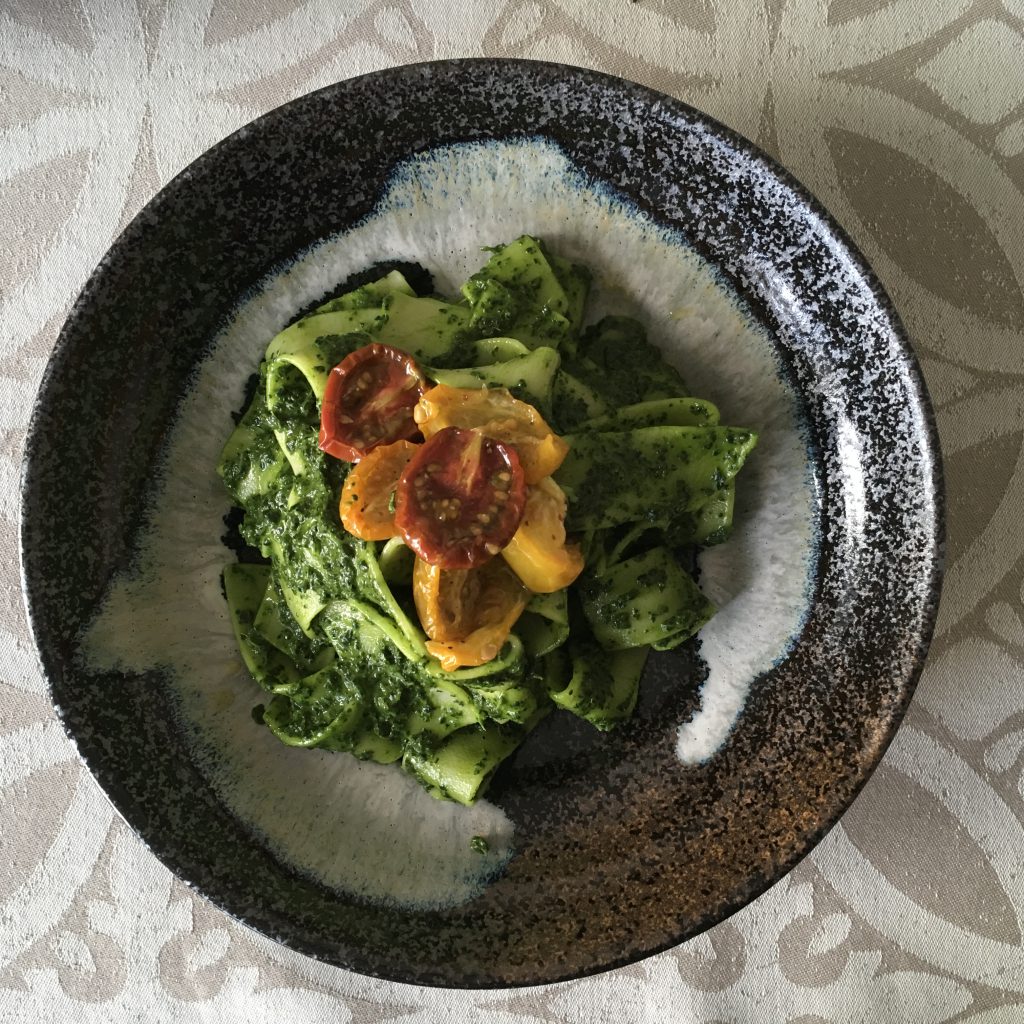 Store the tomatoes in the fridge as they are just semi-dried, not fully dried. The tomatoes also make a lovely soup which I will write about in a later post.