A short review of the restaurants we visited in our Stay in London week.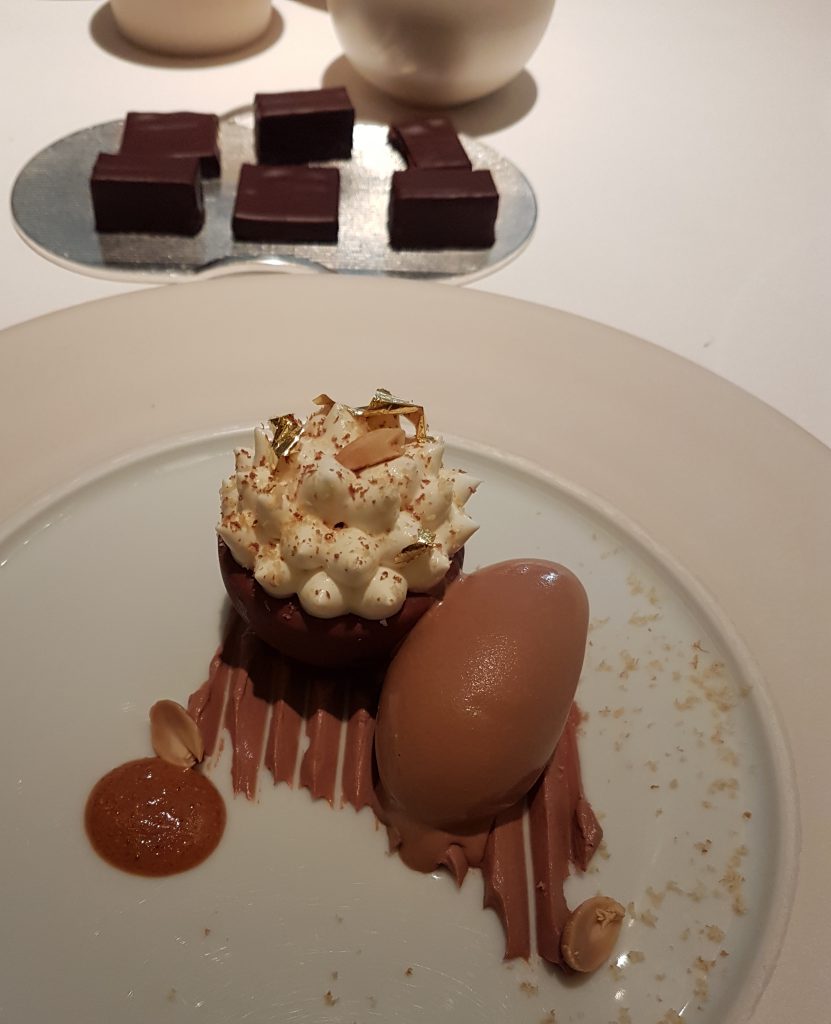 Dessert at Alain Ducasse at The Dorchester
We have stars in our eyes and stars on our plates. Dining with French Couple recently they too thought it was a good idea to stay in London and spend time exploring undiscovered areas. They were intrigued about the restaurants we had visited and so here is the list. I did not take photos at all the restaurants but there are descriptions of each one.
Ever since I watched the remake of The Italian Job, I have tried not to use the word fine to describe my feelings or most other things. In one early scene the conversation describes fine as being Freaked Out, Insecure, Neurotic and Emotional. So I hope never to describe a restaurant experience as being 'fine'.
I also hope never to turn into one of those obsessives who chase restaurants for the sake of ticking off a list. There are more restaurants than I have time for and also, there are so many things that can spoil the dining experience in a renowned restaurant. I have my pet hates, chief of all the waiter who asks if I want an alcoholic drink as soon as I sit down and sometimes even before my butt hits the seat. This is just so rude and makes me think that the restaurant is probably run by accountants and not by someone who wants me to have a comfortable meal.
Flowers greet you at The Dorchester Hotel's foyer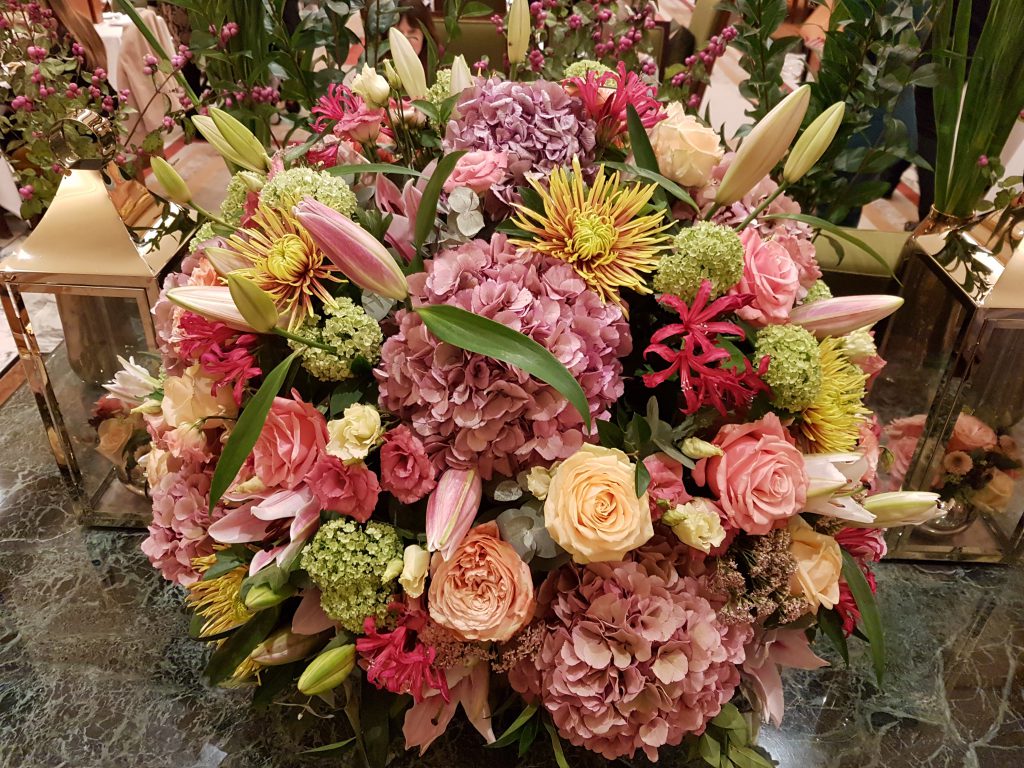 Prior to the London Staycation (which as you can gather from the word, is a vacation you have while staying at home) I had been invited to lunch at Pollen Street Social. I have met chef Jason Atherton several times, since the opening of his first restaurant, but he would not remember because he must meet so many customers day in and day out. I admire his hard work ethic and his ability to open so many restaurants around the world. The one I liked very much was Sosharu which has unfortunately closed. I have dined at all his London restaurants but to be honest I only really like Pollen Street Social.
Sunday Lunch at Yauatcha was at the request of Junior 1, home on a weekend visit. He is now in Manchester where there should be some serious Chinese restaurants. Nevertheless I am not quibbling as I love this place. Once I even told the family that if I lay ill in bed and could not move, then to send out for an emergency bowl of Yauatcha's Chinese congee (or porridge as we call it at home) to revive me.
Monday lunch was at The Delaunay, which is a sister restaurant to my favourite Brasserie Zedel. I am very fond of any restaurant by Chris Corbin and Jeremy King because I have never had indifferent or rude service at any of their establishments, and also because I love the large clock that features in each of their dining rooms. I was very sad when St Alban closed because we had a couple of lovely family meals there. Their paella was the one dish I always ordered.
Tuesday lunch was at Raymond Blanc's Le Manoir aux Quat'Saisons. This is a lunch I have been waiting for for a very long time. Four years of travelling to and from Oxford (when Junior 1 was studying there) and we still did not make a detour to Great Milton. But longer than that, the first Raymond Blanc book I bought in 1991, and which I still use, was Cooking for Friends. When French Couple asked which of the restaurants we enjoyed most, it was Le Manoir and so I will write more about the meal here in a separate post.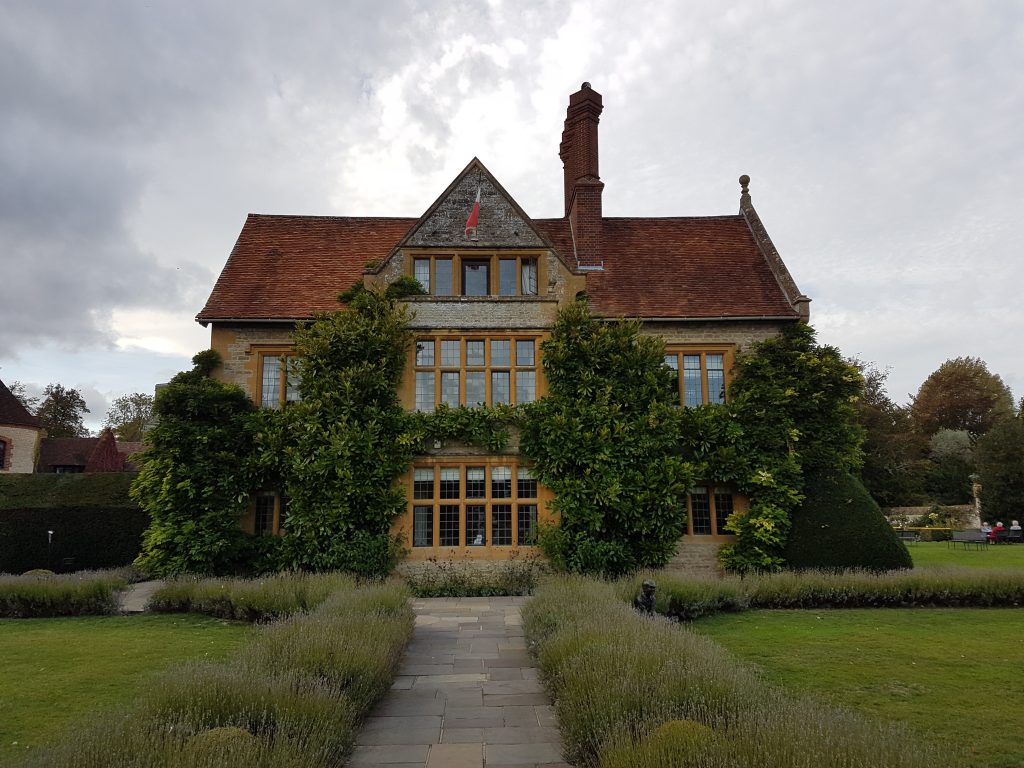 From Le Manoir to La Dame. Lunch on Wednesday was in the very grand Four Season's Hotel in Trinity Square, at chef Anne-Sophie Pic's restaurant  La Dame de Pic. This was the least memorable of the lunches. At this level, the food will always be reliable, but little things make the difference. Here, the service whilst cheerful was lacking. For example, our starters were served along with the bread and butter. We were slightly perplexed but nonetheless, what is the point of making a fuss, because we need to eat anyway.
Later we realised that the starters were meant for the couple next to us. They had ordered the same, and indeed had arrived before us, so were kept unnecessarily waiting for their food. Any observant server would realise that it is a bit odd that starters are served at the same time as the bread and butter (which would you eat first?). The dining room here is also the least interesting one to look at, although there are nice touches such as flowers as you enter the room.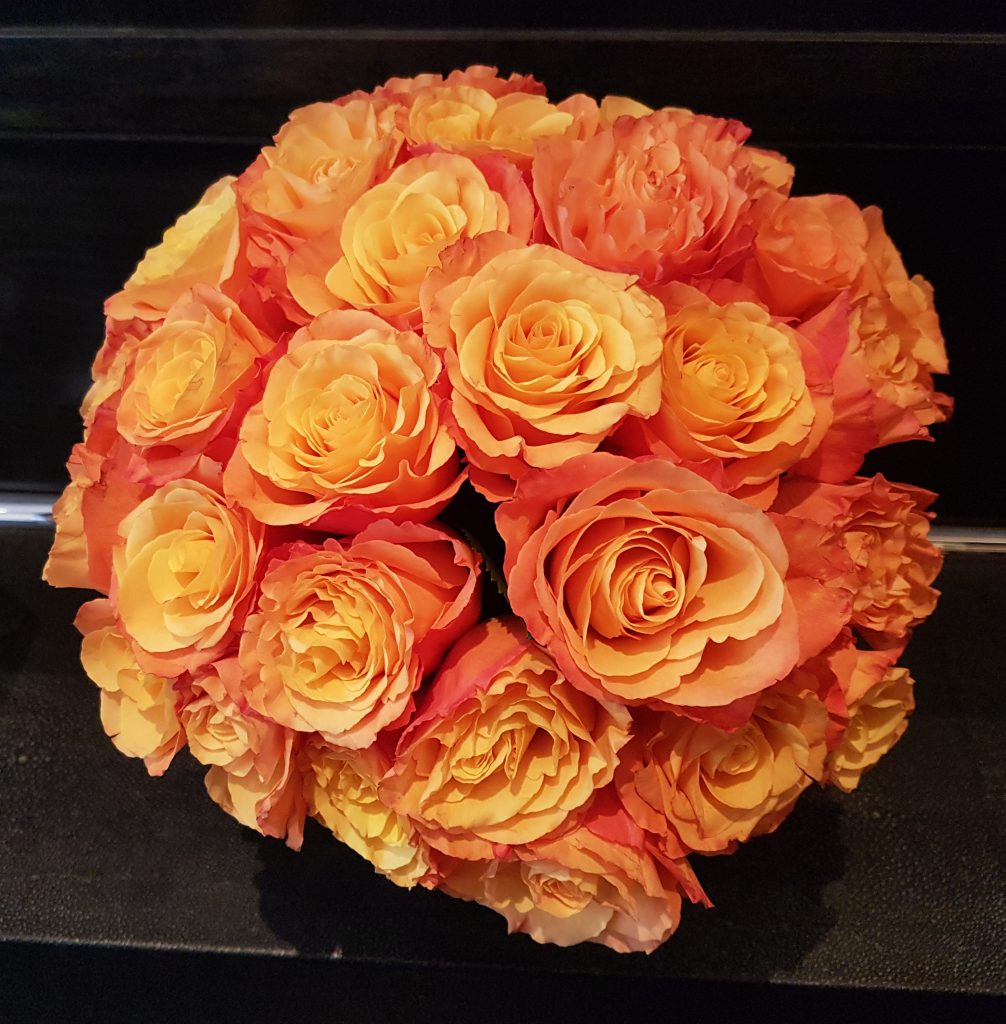 You know they say that Thursday's child has far to go, well, Thursday's dinner had a long way to travel too…from Singapore to St James.  Last year we had a lovely dinner at Candlenut with Investment Banker friend and his wife (aka Shoe Lady) in Singapore. This year chef Malcolm Lee showcased his glorious Peranakan food at Avenue Restaurant (by D&D London) as part of the Singapore Supper Club.
The problem was that the lighting at our table was non-existent. OK, I hear you say, please do not exaggerate. Non-existent lighting? You have to trust me on this. Dining with Mr Gochugaru is always a levelling experience because he never lets me complain as much as I think I ought to. After so many years of being together I know better than to spoil the dining experience, and to look on the bright (ironical, is it not?) side of things. In this case, at least we know what we are eating and could distinguish between the subtle flavours present in each dish. But I am going to say again, I was eating in the dark. When I raised this with the sympathetic Manager he said it is just part of central lighting. Oh dear…maybe lighting is also controlled by accountants these days.
I kept the menu as a reminder of what we ate, and also as a reminder never to serve cocktails with Peranakan food because the mish-mash of flavours would give us a headache and most likely a stomachache too.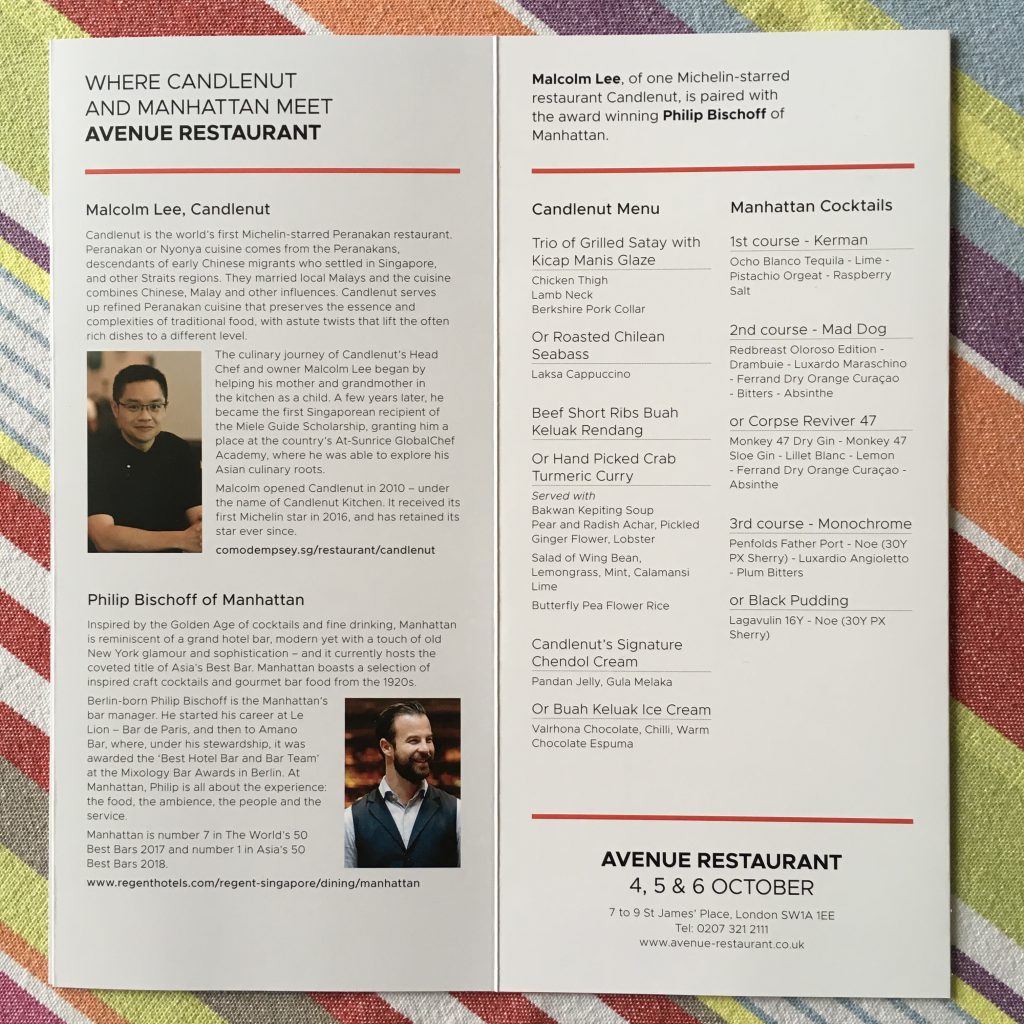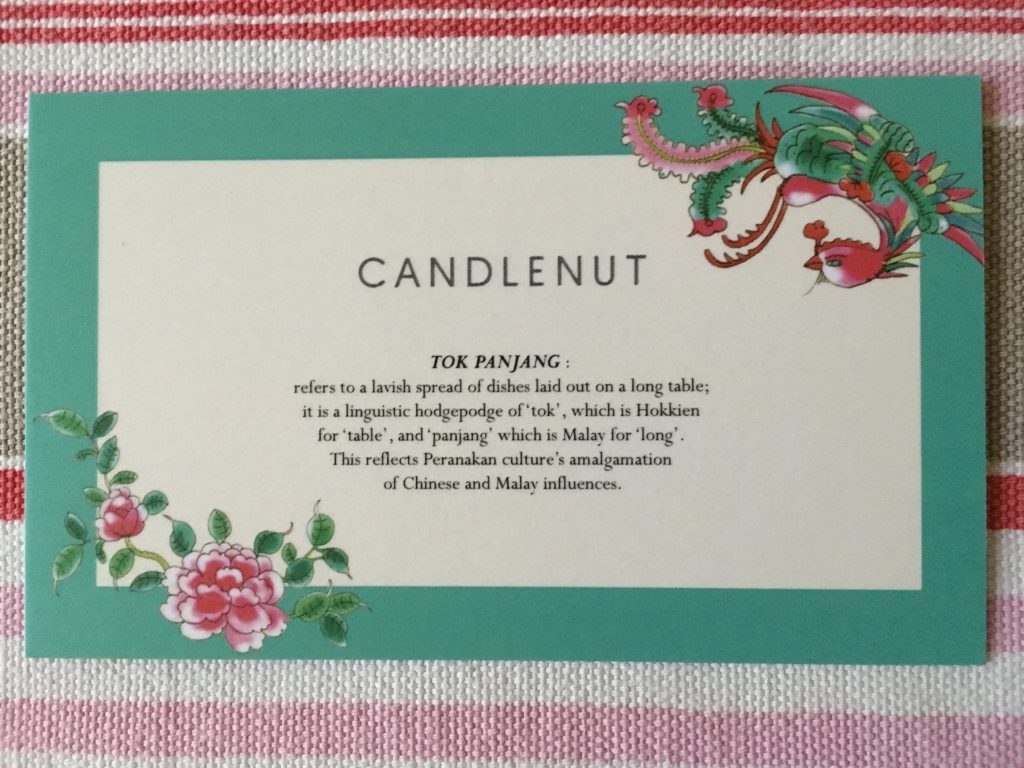 Friday lunch was at one of my favourite restaurants, which is Alain Ducasse at The Dorchester. I think this is because I have always only dined here with the friends and family I really truly love, so every experience has always been a good experience. They start the meal here with a bowl of Gruyère and Black Pepper Gougères. These would not be difficult to make at home and I now have the requisite Swiss cheese sitting in the fridge and will attempt to make it this weekend.
Yes, it is possible to get through a whole bowl these light and delicious gougères…even before lunch starts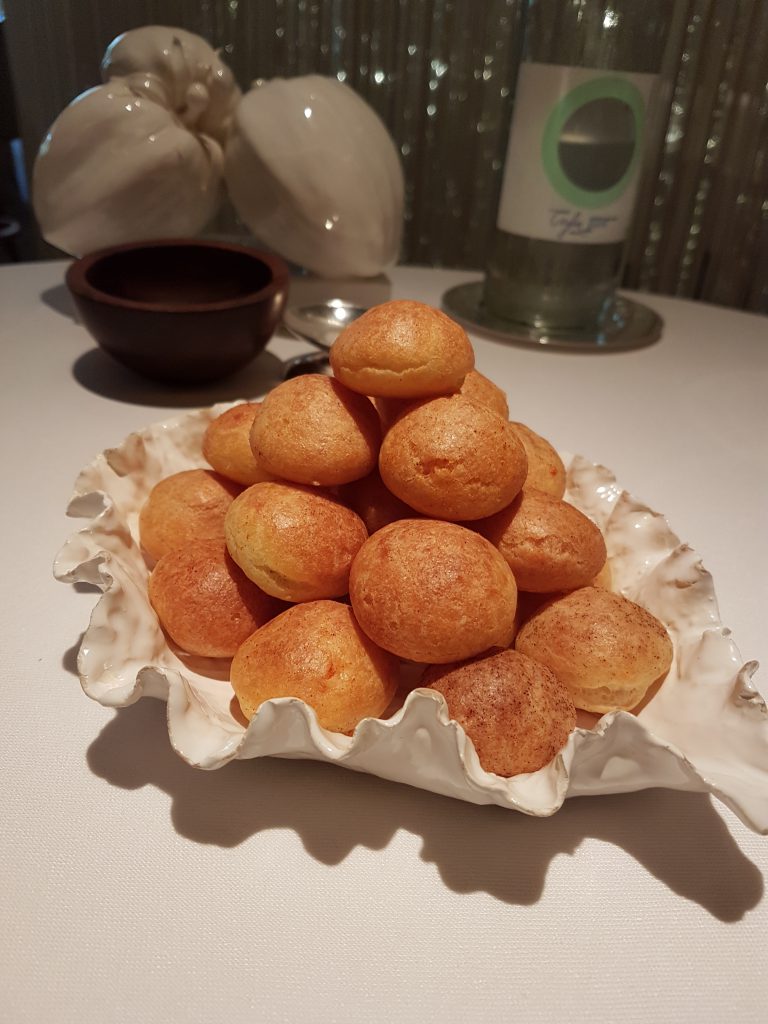 I was once invited to a sale of these beautiful hand-made table decorations, which I had to decline because the reality is, what would I do if it chipped under my watch?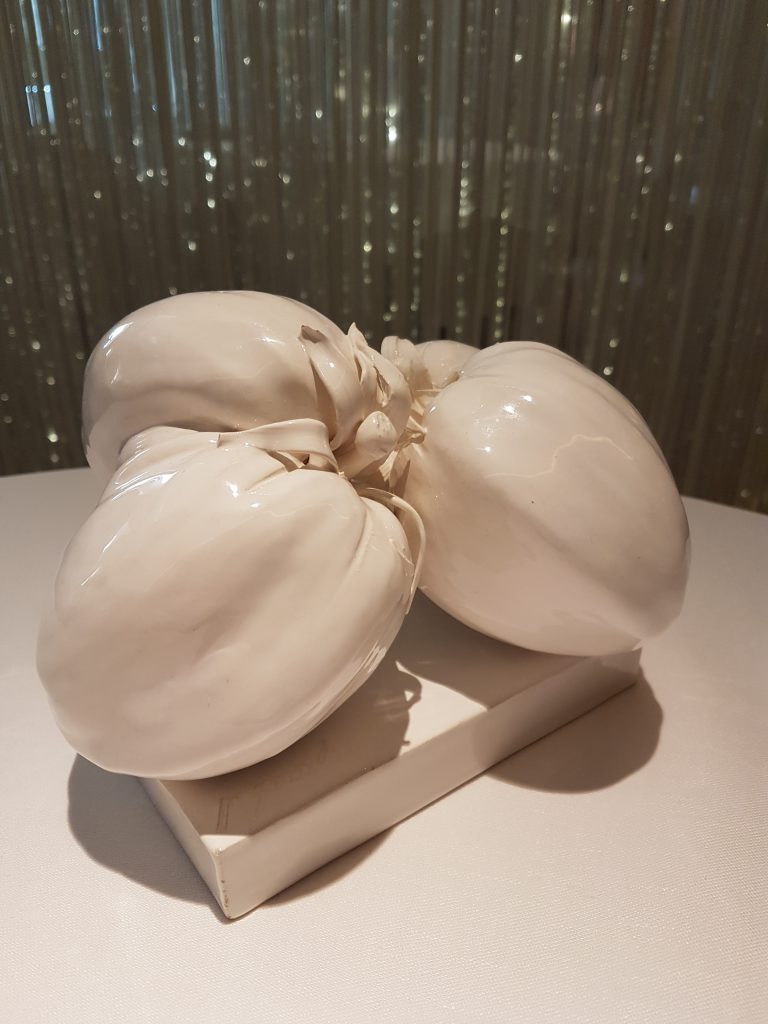 The Michelin Stars:
Pollen Street Social 1 Star
Yauatcha Soho 1 Star
Le Manoir aux Quat'Saisons 2 Stars
La Dame de Pic 1 Star
Candlenut (Singapore) 1 Star
Alain Ducasse at the Dorchester 3 Stars
At the end of the day:
Earlier in the year, through some generous invitations, I dined at Core by Clare Smyth more than once. The first time I experienced chef Clare's food was when she was chef patron at Restaurant Gordon Ramsay, when we celebrated Isabelle's (one half of French Couple) birthday. Last weekend we reminisced about that lunch and said how wonderful it is that chef Clare now has her own restaurant with her own name above the sign. The inspectors behind the Michelin Guide have just awarded her restaurant 2 stars.
If you want to follow the 2019 list of which London restaurant has stars, the list is here.
Brasserie Zedel has no Michelin stars but is very high on my personal list because it feels like home to me. It has a Bib Gourmand and that picture of the Michelin Man licking his lips pretty much sums up my dining experience each time I visit.