(This post is for YL aka HK Sister, who loves New York)
Sometimes I feel as if life is going backwards and today it really did go backwards…in time.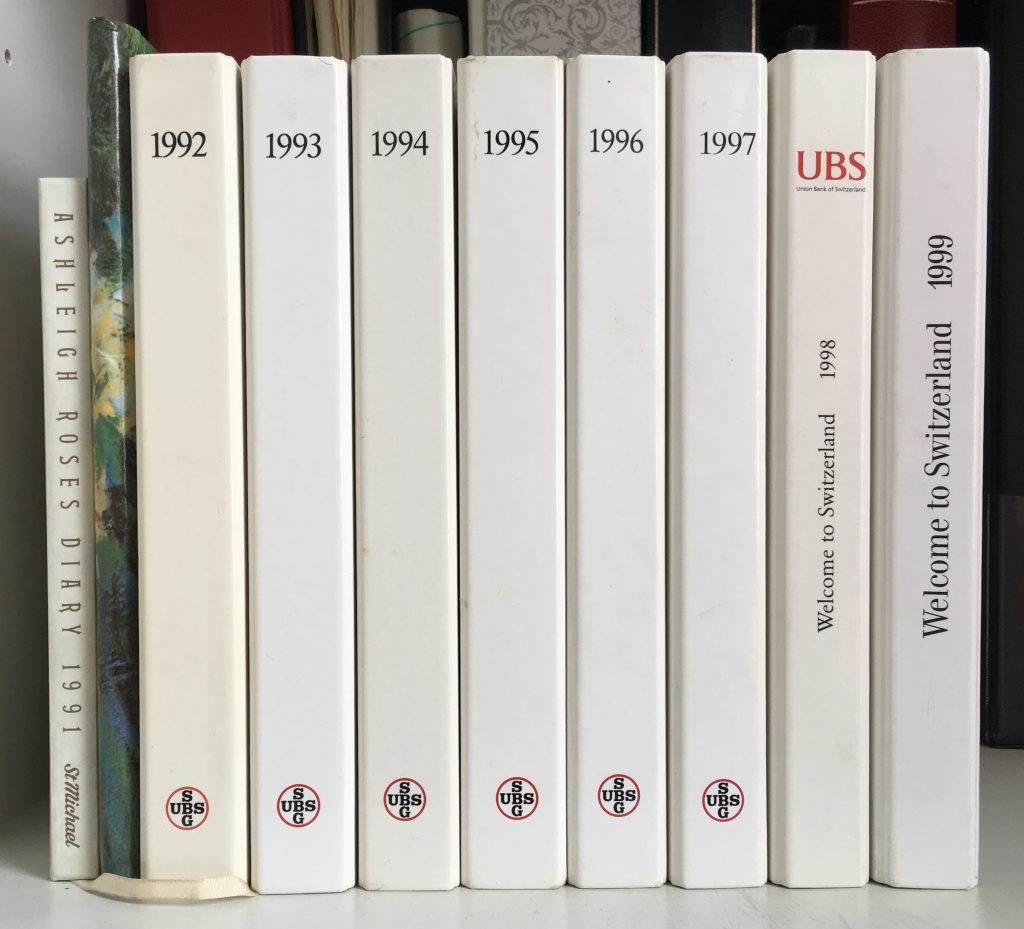 Aware that I really have to get to grips with clearing out some books I went through the cupboards at the bottom of our bookshelf and tried to work out how to squeeze more stuff into the space.
I came across some old diaries which I have wanted to clear but somehow couldn't after some thought. My parents were clients of the Union Bank of Switzerland and each year they were presented with diaries, and it seems that I was the only one who wrote in them.
With the help of the diary entries I have now pieced together some details of our trip to New York in 1993. I also found some pamphlets from that time, and it occurred to me also that I should look up my old passport from that time.
Saturday 11 December 1993
From the stamps in the passport it appears that we departed London and arrived in New York on the same day.
In New York we stayed with HK Sister and her husband, who was then training with JP Morgan. Their 2-bedroomed apartment (number 41) was in Bristol Plaza, located at 210 East 65th Street. Bristol Plaza still stands.
I had written Carnegie Deli 5th Avenue opp C Hall in the diary and I think there was an intention to visit it (although Carnegie Hall is on 7th Avenue). Sadly Carnegie Deli closed its business at 854 7th Avenue in December 2016.
Sunday 12 December 1993
Macy's/ Empire State Building/ Bloomingdales.
Get your priorities right.
During our trip in July 2017 we did not visit Macy's because it was just another department store, ditto Bloomingdales. Tickets to the observation deck of the Empire State Building cost an arm and a leg and Mr Gochugaru took the decision to leave this for another trip.
Monday 13 December 1993
Staten Island Ferry/ Wall Street/ Financial Area/ World Trade Center.
What I do remember is looking out for the McDonald's in Wall Street at 160 Broadway which featured live piano music. We went up the World Trade Center, baby in tow. It was a shock, of course, when we saw the footage on TV when the towers were destroyed on September 11 2001. Like the Empire State Building, we took the decision to revisit the site on our next trip.
Tuesday 14 December 1993
Tiffany and Company/ bagels lunch/ pm walk with YL up 3rd Avenue/ cook bookshop.
Tiffany is still on 5th Avenue and 57th Street. I no longer have the silver screwball keyring with an attached heart charm. It didn't survive the daily rough handling it was subjected to, although I did use it for a very long time.
Looking through the Tiffany brochure from Winter 1994, I now remember buying a Christmas present for my mother-in-law, which was a small crystal bowl decorated with hearts. She still has it on display in her living room!
The cook bookshop was Kitchen Arts and Letters at 1435 Lexington Avenue but I don't know where we would have eaten the bagels.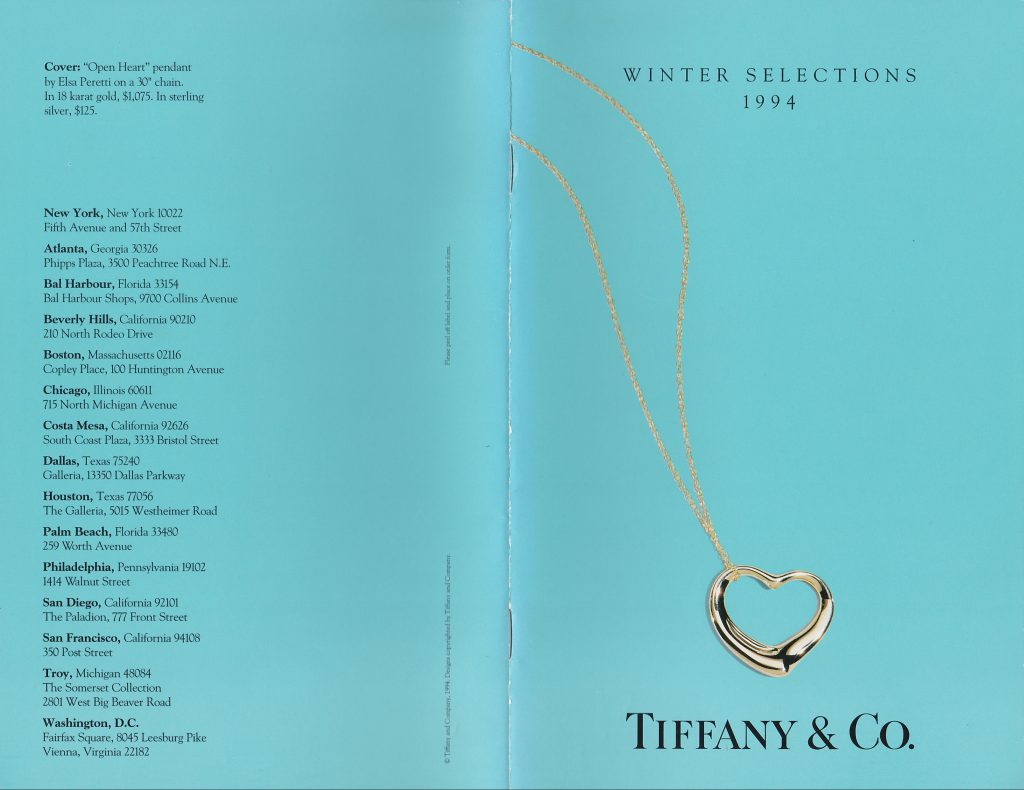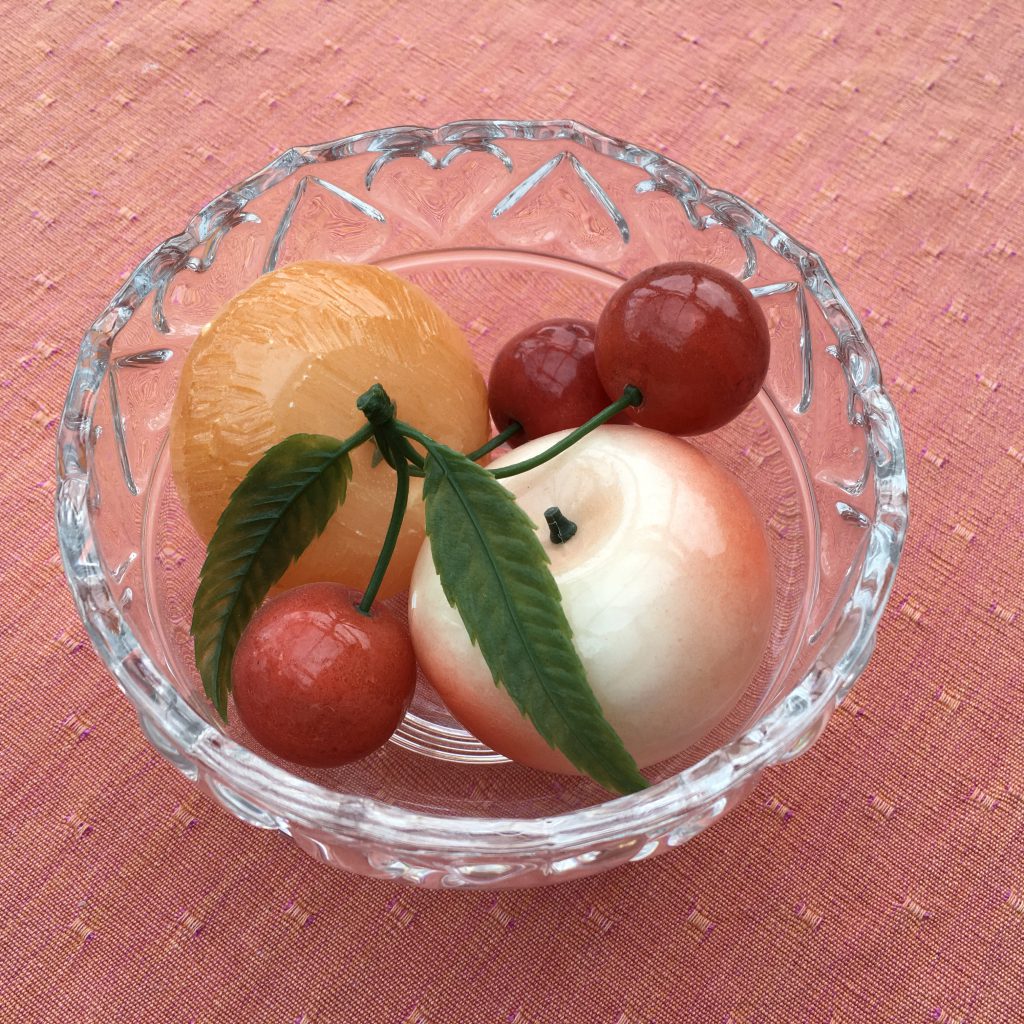 Wednesday 15 December 1993
American Craft Museum/ MoMA design bookshop/ Dean and Deluca lunch/ Rockefeller Plaza/ pm with YL and Dennis – A & S Plaza by subway.
The American Craft Museum was located at 40 West 53rd Street. The museum no longer exists and the site is now occupied by a Brazilian Steakhouse.
A & S Plaza (A & S department store) was located on 33rd Street and Avenue of the Americas. This is now called Manhattan Mall and A & S no longer exists.
MoMA Design Store, Dean and Deluca and Rockefeller Plaza and Rockefeller Center are still around.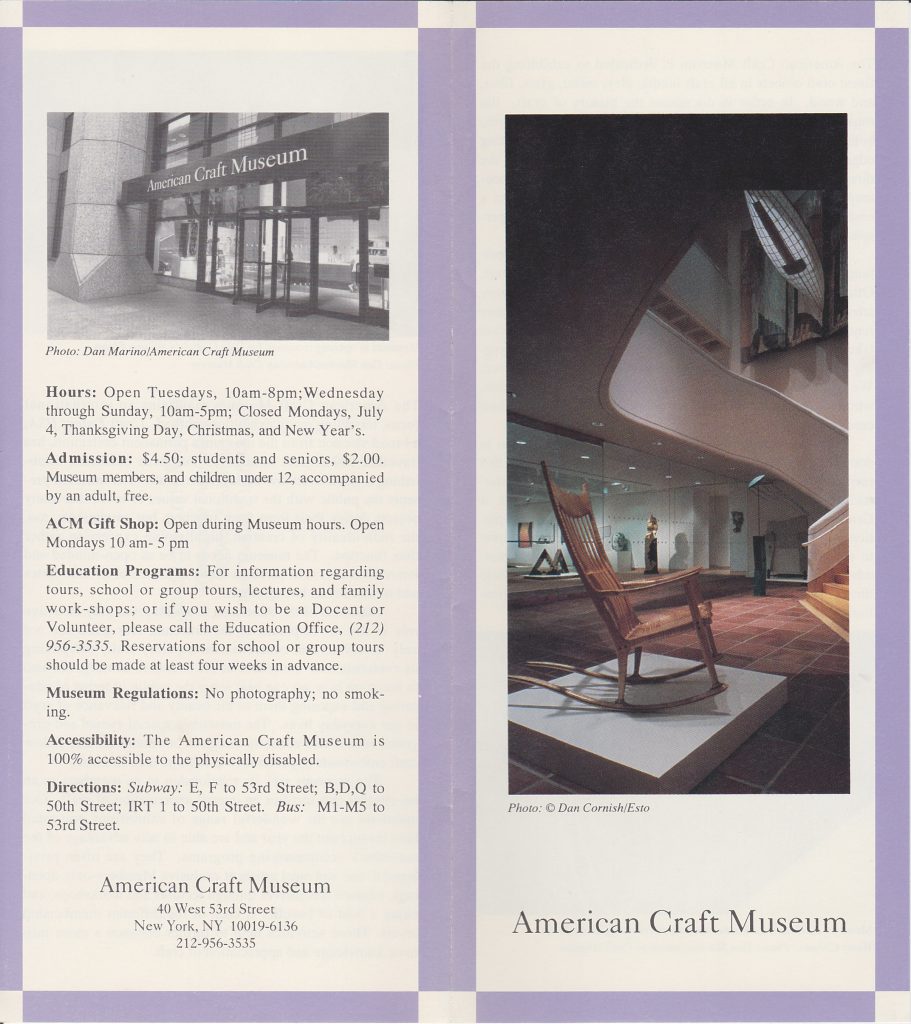 Thursday 16 December 1993
YL ill at home.
One lines says it all: our sick infant has infected his dear auntie who had looked after him earlier in the week. Seriously looking for forgiveness.
Friday 17 December 1993
Metropolitan Museum of Art/ Bloomingdales.
Looks like we survived…or were at least so hardy we could go out in the cold to explore the vast expanse of the Met and Bloomingdales.
Saturday 18 December 1993
Lunch SoHo/ Tiffany and Company/ Walk 5th Avenue.
I honestly cannot remember if lunch was at Tennessee Mountain, but seeing as I kept the menu, I am hazarding a guess that we did have a meal there. The address was 143 Spring Street (at the corner of Wooster Street) but the restaurant closed in April 2006. The location is now a shop that sells crocs. Not crocs for eating or for making handbags but crocs for your feet. I once tried a pair on but they made my feet look so gross I abandoned the idea of getting a pair.
When I showed HK Sister the original menu from 1993 she said that I had to definitely hang on to it. I think this is mainly for the fun of working out what we would have eaten then and whether we would choose the same today.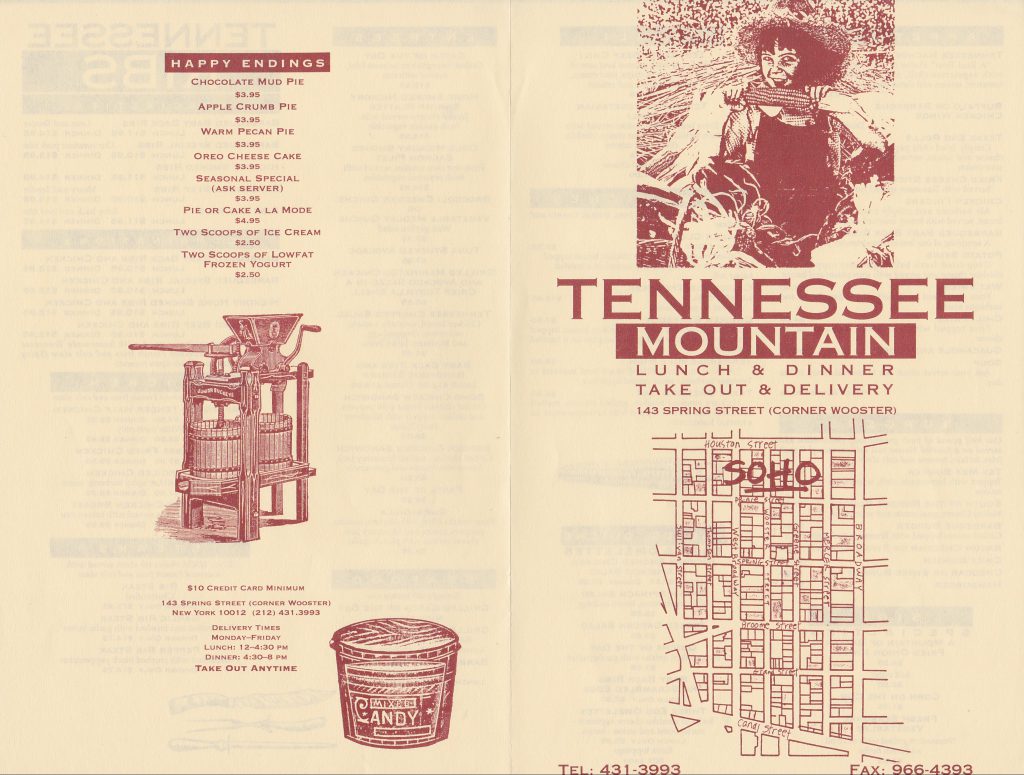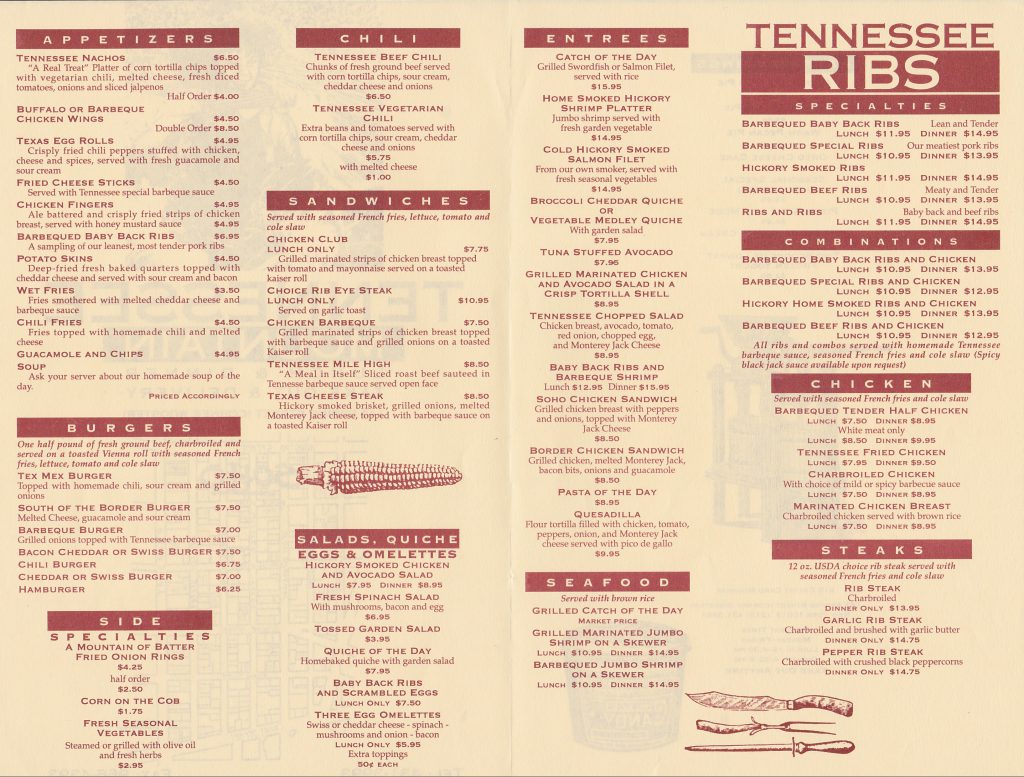 Sunday 19 December 1993
Church service.
The date stamp in my passport said we arrived back in London on 19 December so I cannot imagine how we would have fitted in a church service. Unless it was very early in the morning and we left for the airport soon after.
In any case, we had a tour of Saint Thomas Church, 1 West 53rd Street (on 5th Avenue).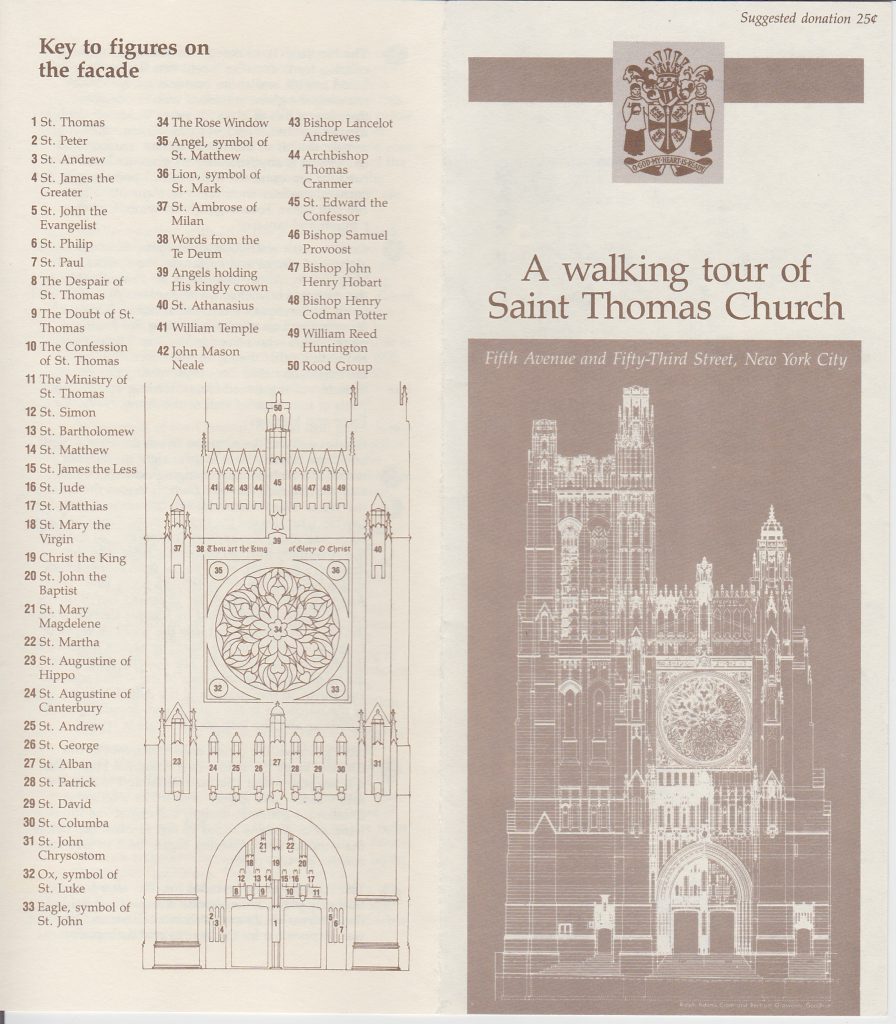 Somewhere in the mists of time I vaguely recall…
…looking for Timberland shoes, hunting for sensibly-priced toys at FAO Schwarz, choosing adorable baby clothes at GAP, looking for a certain brand of hot dog and possibly for a certain brand of cheesecake.
I don't recall looking for coffee.
The one thing that did not exist in 1993 in New York was Starbucks. I am quite tickled that I have noted this. The first time I came across a Starbucks was in Singapore in the mid-1990s and honestly, I thought it was really strange to drink coffee in such large takeaway coffee cups. I didn't think I would like their coffee and I didn't think it would survive. I was right and I was wrong. Starbucks survives but I am yet to be convinced that it is the kind of coffee I like. Having said that, Starbucks would be the one place I would head to in a foreign land when I am at a loss of where else to go.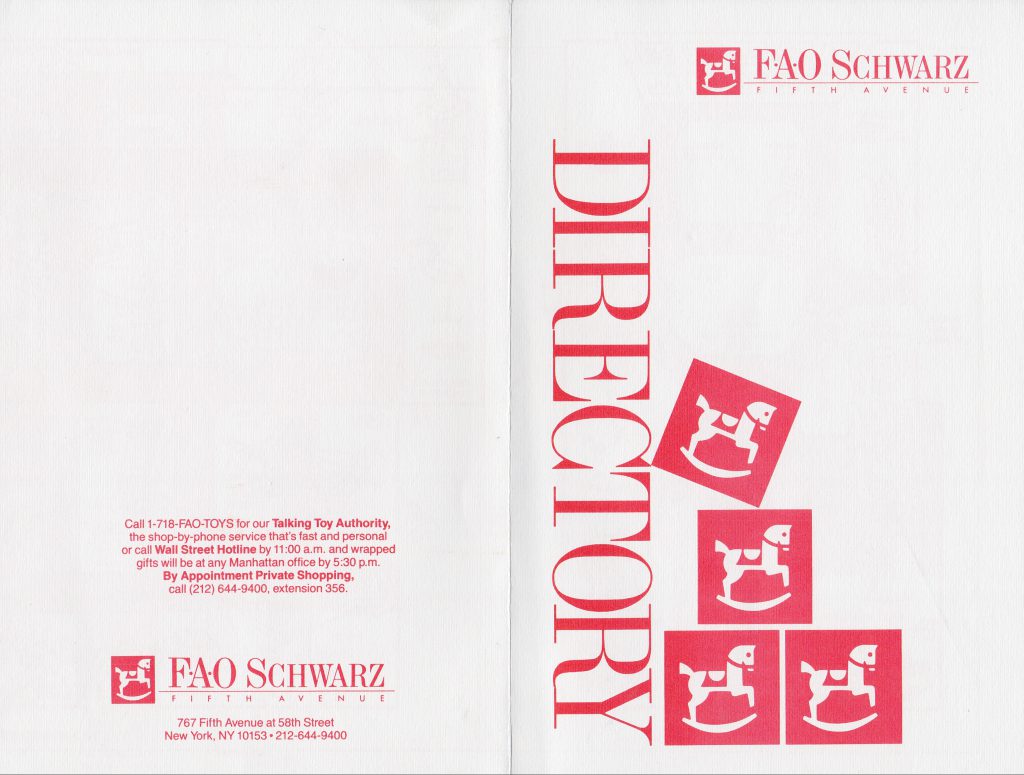 Since returning from New York we have made visits to the Devon and Yorkshire countryside. We have eaten out and we have eaten in. I have tried to finish books started and complete writing up recipes of new dishes cooked up in my London kitchen. One child has graduated from university, one child has switched jobs and one child has been appointed Head Boy at school. There are big changes ahead and I hope to keep on top of things by writing a little bit each week.
I would be surprised, though, it these posts survive as long as the handwritten diary entries. One day the world might run out of electricity and we would all wish that we had persevered with pen and paper.