Diary: Monday 29 and Tuesday 30 May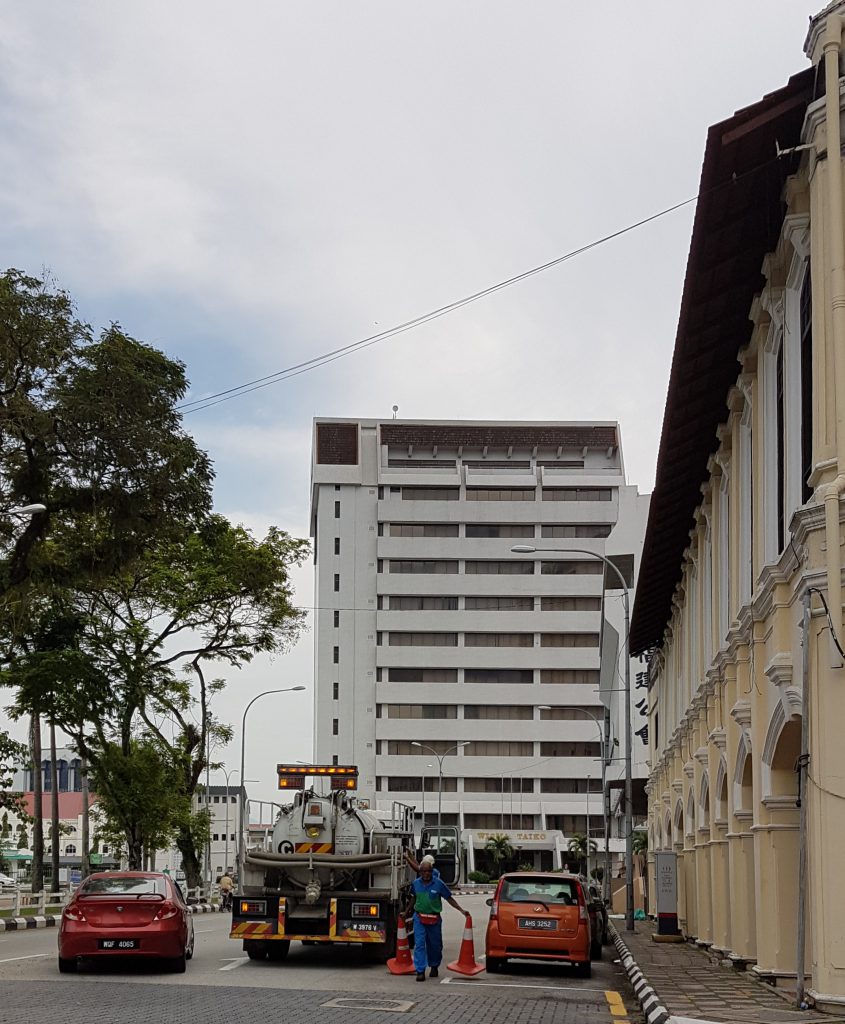 It has been 33 years since I last visited Ipoh, and I don't even have enough memories to go down memory lane.
The one road I remember is Hugh Low Street, named after Sir Hugh Low who was a British colonial administrator. On my initial trip to Ipoh (when I was still in primary school) I thought it was called High Low Street. The name has changed to some Sultan's name but I don't know why they couldn't just have found him a new road rather than rename a historical one.
Another road familiar to me is Jalan Leong Sin Nam, named after a wealthy local businessman. LSN was a local brand of frankfurter-type sausages which I ate a lot of when I was young. My parents were friends with a member of the Leong family and on one trip to Ipoh we were treated to a visit to the pig farm. My mother sprayed some of her perfume onto a handkerchief and told me to hold on to it, and on no account was I to wrinkle my nose or to make a fuss. That was very good advice and until today I can get through most difficult situations without making a scene.
My dad lived in Ipoh for a while in the 1960s and he still has friends here. Ipoh people are extremely nice as I recall from the few family holidays we had with some of my parents' friends to the Cameron Highlands. On the way to Ipoh we usually stopped by a coffee shop for noodles and locally-made biscuits filled with crushed and sweetened green beans.
That's about all I can say about Ipoh based on my recollections. I have been travelling back and forth to Kuala Lumpur for the past year and thought it was about time to venture away from the city, even for 48 hours. I have an auntie and a cousin in Ipoh and am staying one night with each of them.
I love riding in trains and discovered it takes just 2 hours and 20 minutes to get from KL to Ipoh on the express train. The fare was reasonable (about £12.50 for a return ticket), the train was clean, the ride was smooth and one feature I especially liked was the extra wide windows with a pull down blind. I was told later that this was a Korean-made train. Excellent. No zombies on board either.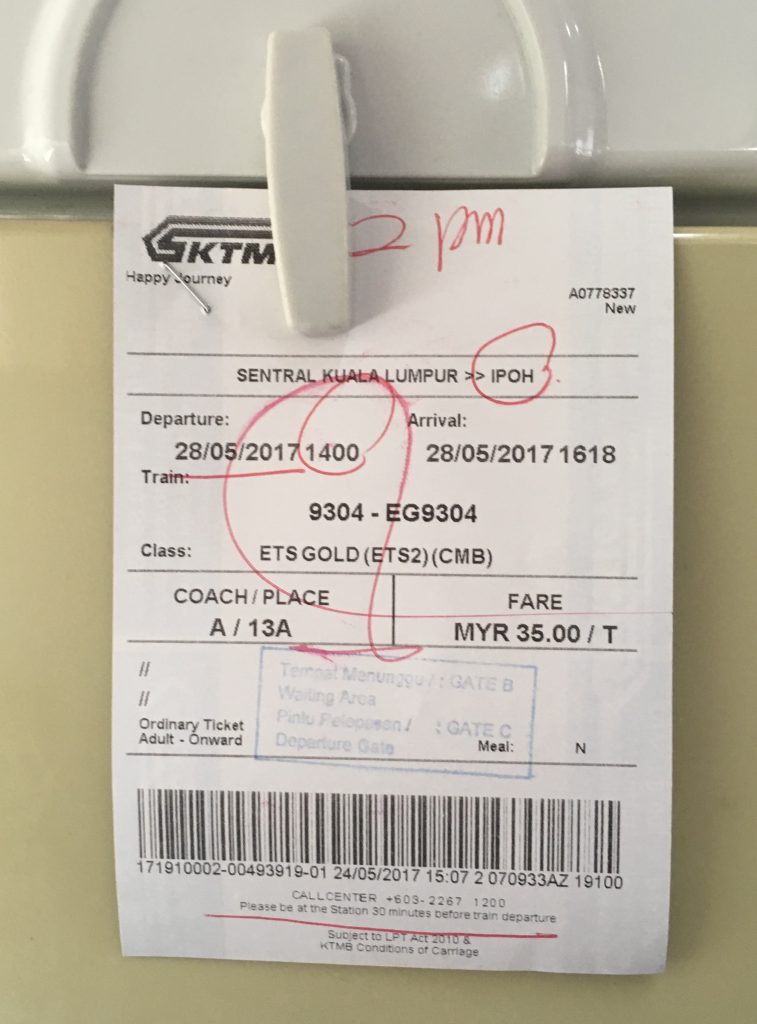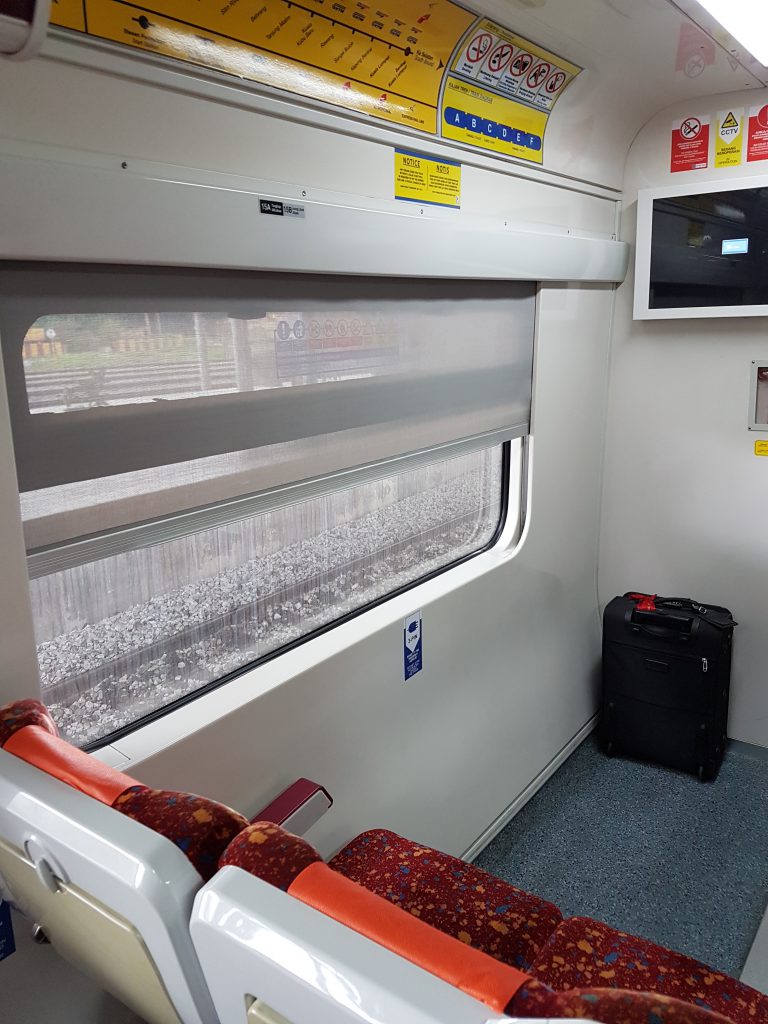 I was whisked to a local cafe as soon as I arrived, and had nasi kunyit (steamed glutinous rice with turmeric) and chicken curry, followed by the fancifully named bubur cha-cha. This is a  soupy dessert made of yam and sweet potato cubes simmered in coconut milk. Bubur means porridge so I think its name alludes to something soft and comforting.
The eating hasn't really stopped because Ipoh Auntie and Ipoh Cousin have all sorts of ideas when it comes to what to eat and where to eat. On the question on when to eat, the answer is simple: don't stop when you have started.
I am not used to this and am nursing a headache as I write. So I will continue in the morning and give a round up impression of what it's like to eat out in Ipoh.
Round Two
In 48 hours you get (technically) to have two breakfasts, two lunches and two dinners. Then because we are in Ipoh, there's everything else in between. Ipoh Auntie and Ipoh Cousin say that I am stressing them up because there's so much pressure to cram everything they want me to eat into such a short space of time.
I let them know that, actually, we can take things easy and leave some things for the next trip. They are not having any of that. The only thing stopping them is that, thankfully, some shops are closed on Mondays (like the egg tart shop) and Tuesdays for the owners to take a rest after the long weekend.
I've now had two dinners here, both in large Chinese restaurants. This was like stepping back in time: red tablecloths on round tables, fried peanuts, dark Chinese tea, pickled green chillies and soya sauce in dipping saucers. Everyone around us tucking into large sharing plates of food set in the middle of the table. The only thing individual to each diner is a bowl of rice.
Prawns coated in a batter made with salted egg yolks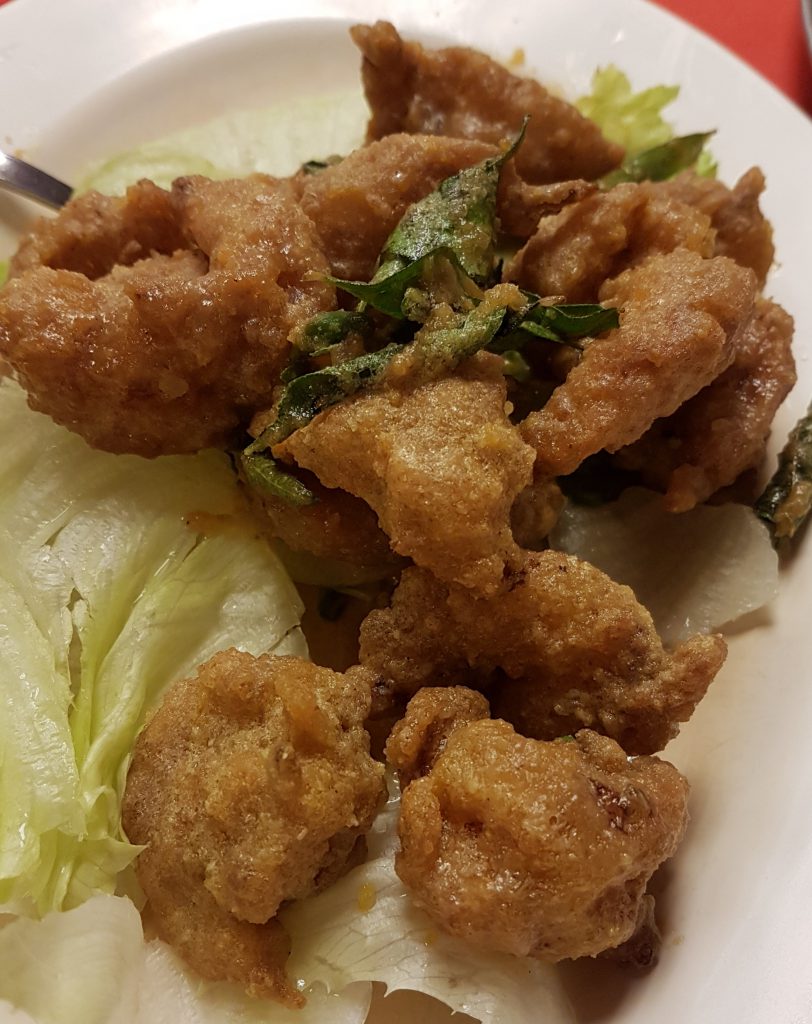 Steamed whole fish with soya sauce and fried garlic and spring onion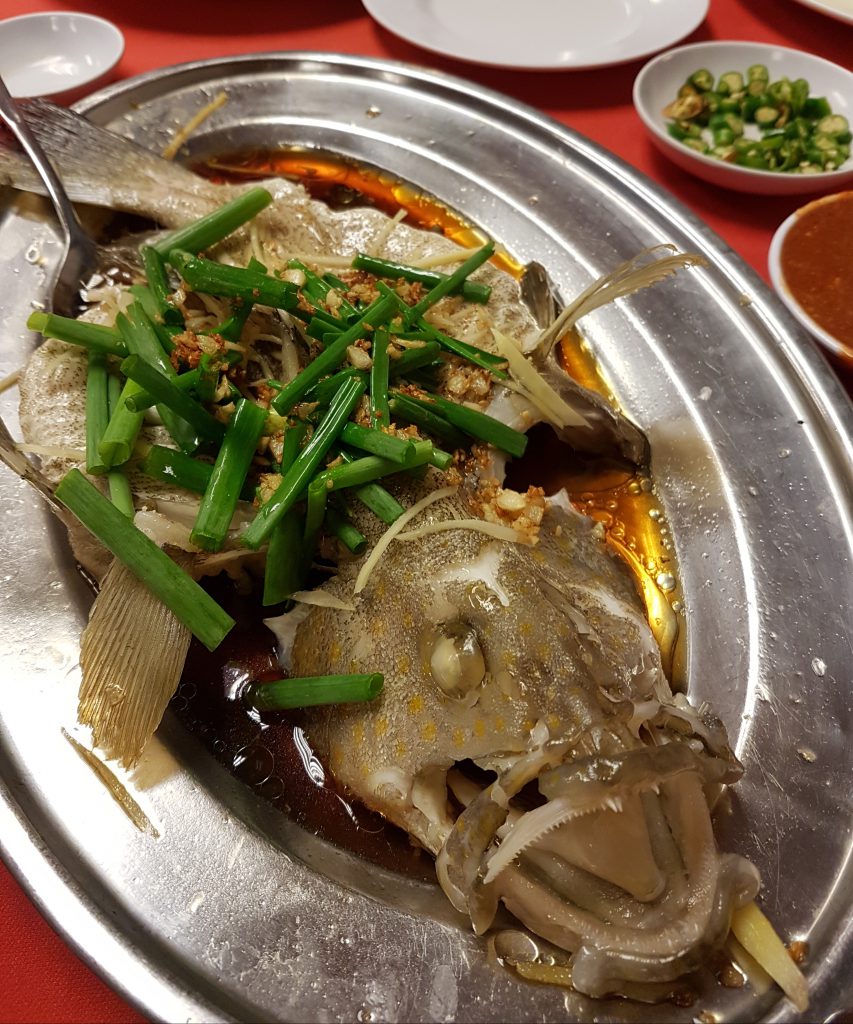 Tofu with minced pork and salted preserved vegetables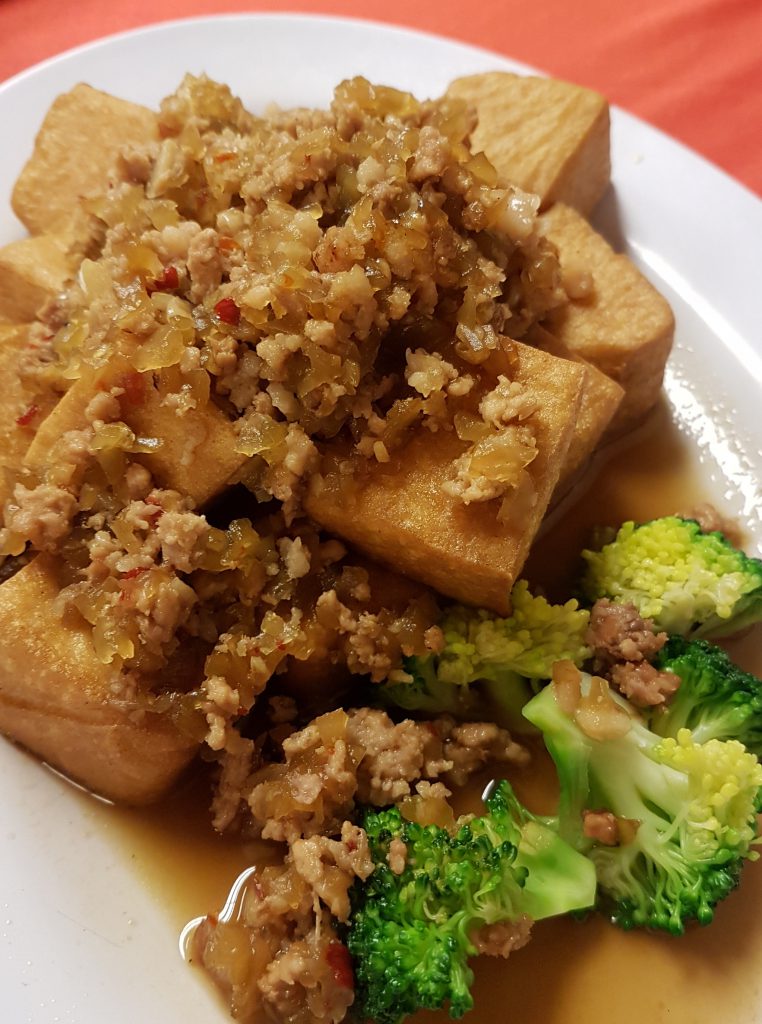 Stir-fried ferns with minced chillies and dried shrimp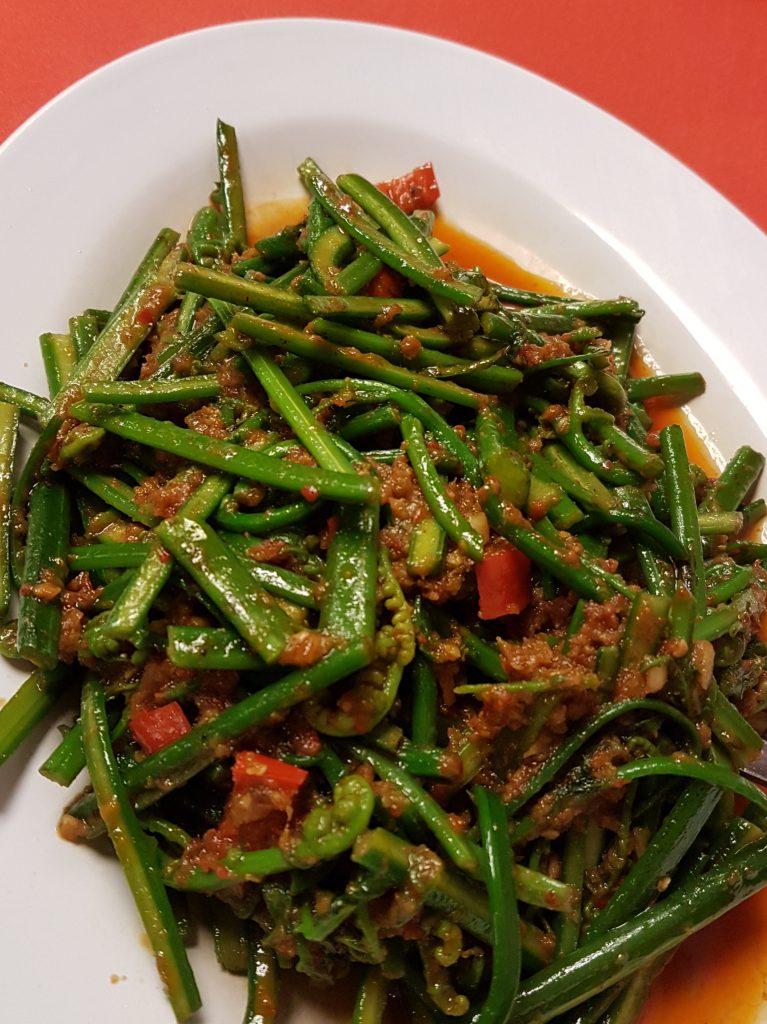 'Champagne' pork ribs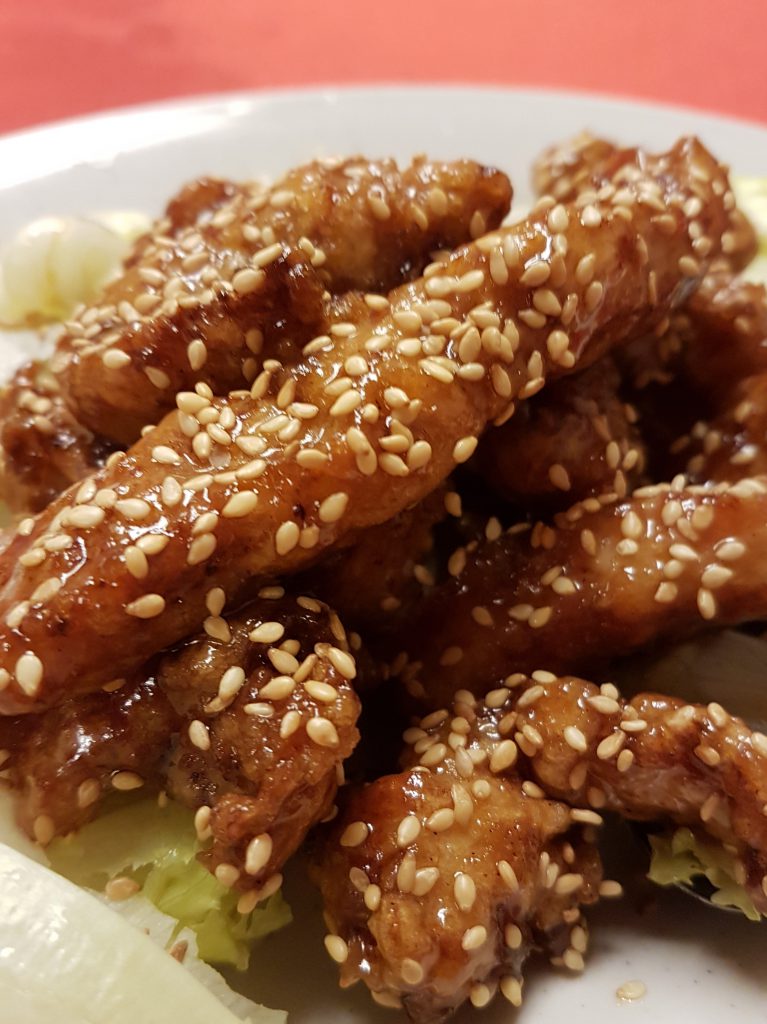 My go-to comfort food is always a bowl of plain rice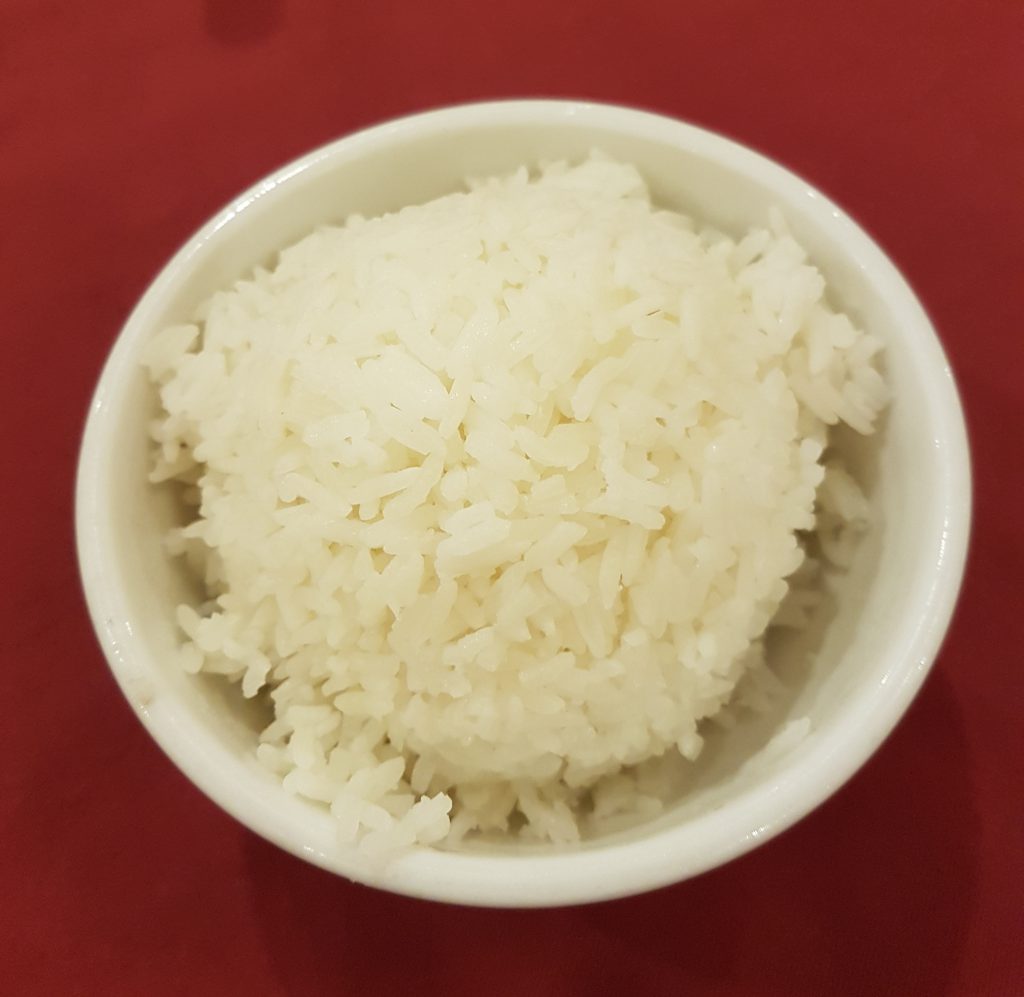 Ginger and sesame chicken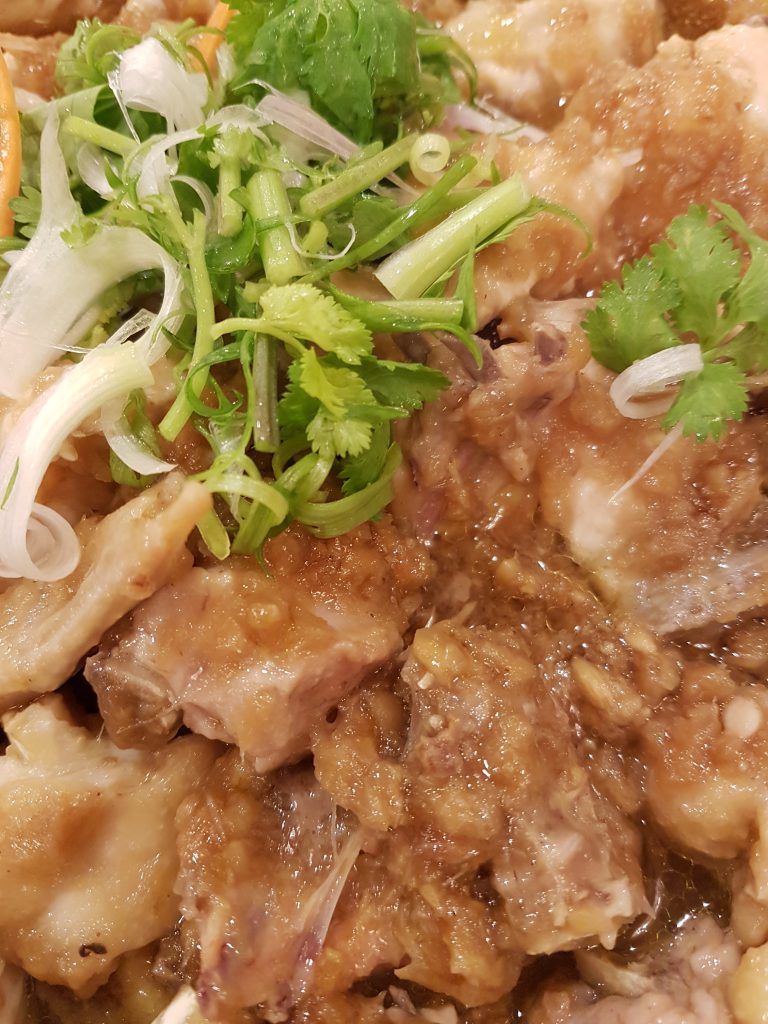 Broccoli with crab meat and fish paste-stuffed beancurd skin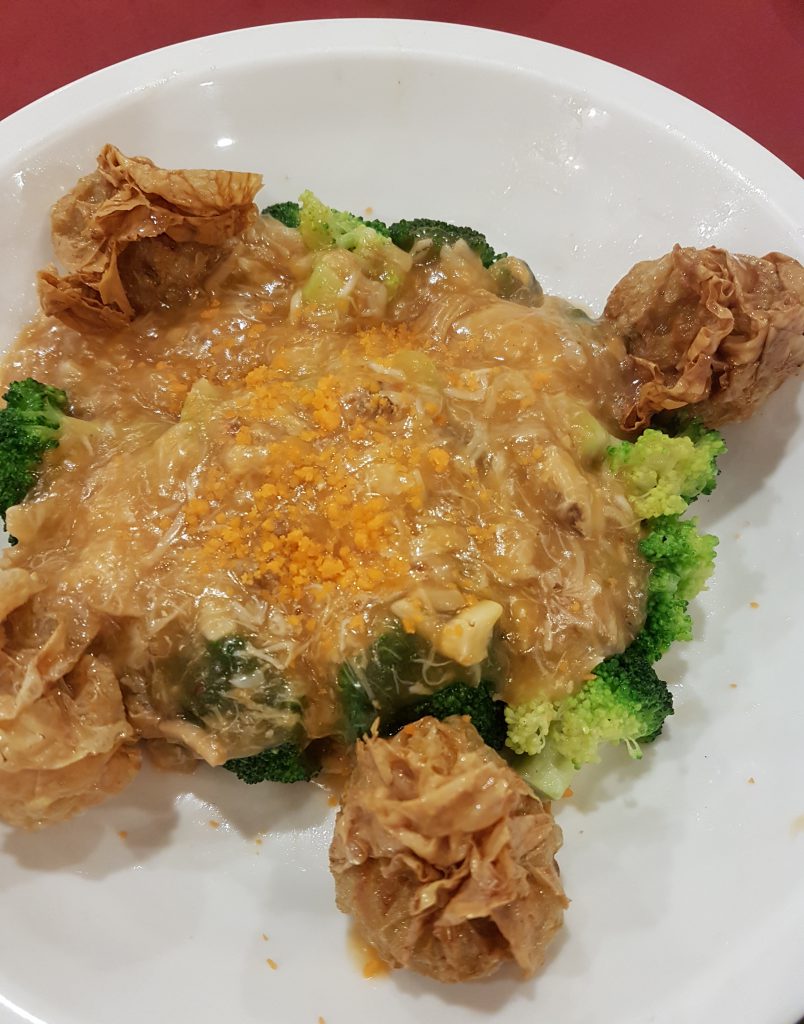 Yam stir-fried with Chinese broccoli (kai lan)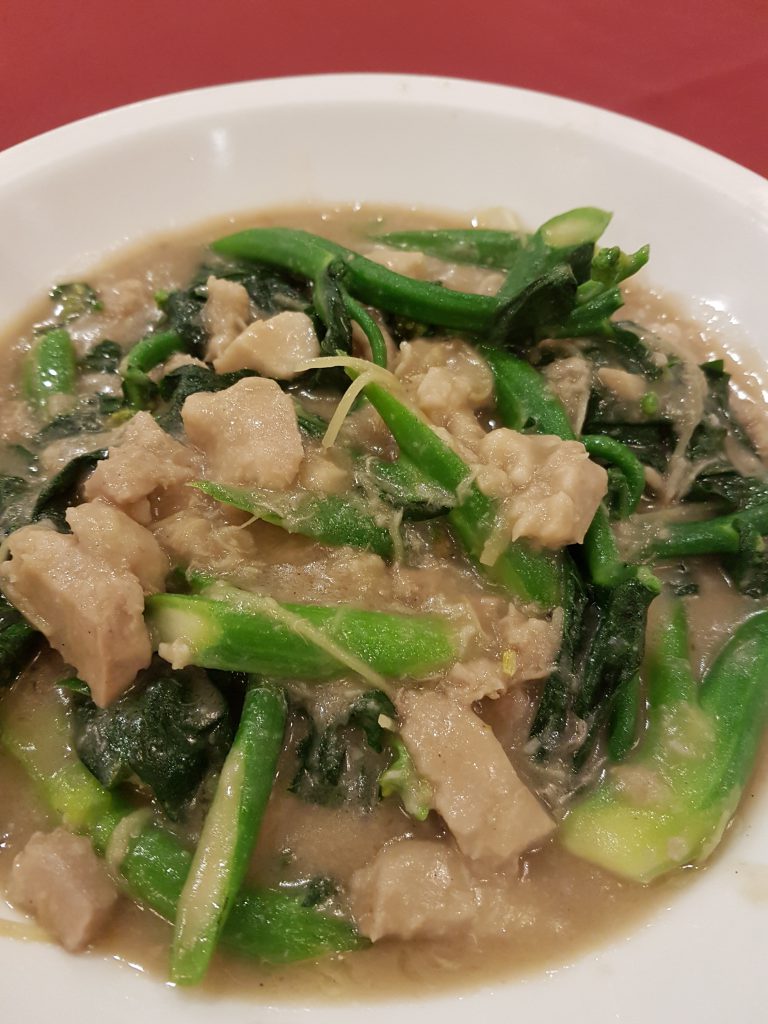 Round Three
It is Tuesday morning and my headache is worse. After the second dinner I fell slightly ill and it appears that the sleep has not chased the queasiness away.
The writing will have to wait. In the meantime, below are the names and addresses of the places I have been brought to for meals since arriving. Ipoh Auntie and Ipoh Cousin eat out a lot and can be trusted when it comes to good food. My one recommendation is Petit Mary Patisserie. Based on my experience, all the restaurants here used monosodium glutamate in their cooking.
O'Days   21 Lorong Cecil Rae, Canning Garden, 31400 Ipoh
Popular place for Nyonya dishes and desserts. The portions are generous and the owner Mr Ong gets top marks for keeping the cafe open for us, as we arrived at closing time.
Sun Marpoh Restaurant   67-69 Jalan Lau Pak Khuan, Ipoh Garden, 31400 Ipoh
Traditional Chinese restaurant but is there a menu? I don't really know. There is however a large TV screen on which an array of tempting dishes are featured and I think the idea is that you order what you fancy from the pictures. Puts other restaurants with mere iPads to shame.
Old Town White Coffee   2 Hala Datuk 5, Jalan Leong Boon Swee, 31650 Ipoh
There are many branches of this coffee chain but this very swish one is located within the premises of M Boutique Hotel. Relaxed ambience and good all-day menu for food, drinks and desserts. The prices are more expensive than a local kopi tiam but wi-fi is available as is air-conditioning.
Thean Chun Coffee Shop   73 Jalan Bandar Timah, 31650 Ipoh
As old-fashioned and as authentic as they come. Signature dishes include chicken and prawn ho fun soup noodles and creme caramel.
Petit Mary Patisserie   83 Jalan Langsat, Taman Teh Teng Seng, 31400 Ipoh
According to Ipoh Auntie, the owner told her this is a Korean-style cafe. What can I say? I can only use British Bake Off Cherish Finden's words when she comes across something exceptional: luvitt, luvitt, luvitt. I spent a long time staring at the artificial flowers set into two panels in the upstairs dining room, and wondering if I can make a similar panel back in London.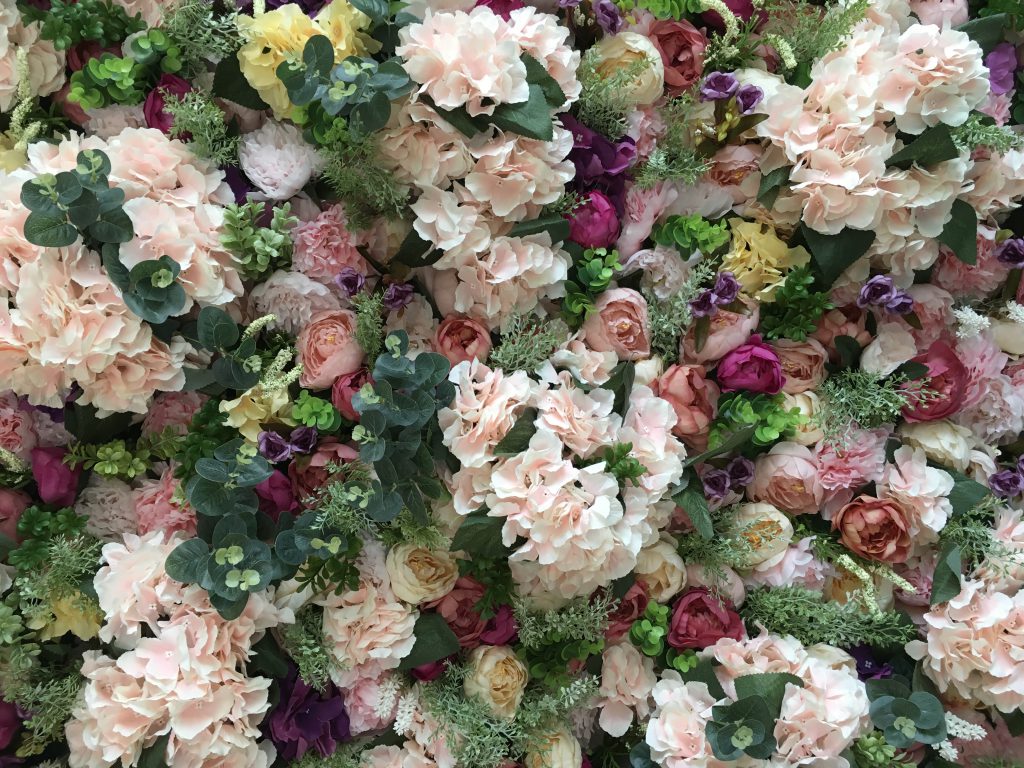 Pusing Public Seafood Restaurant   G 57 – 65 Jalan Veerasamy, off Horley Street, 30300 Ipoh
Another large traditional Chinese restaurant. This time Ipoh Cousin ordered by looking at another table's dishes and saying I'll have what they are having.
Let's Rock   48 & 50 Jalan Raja Ekram (formally Cowan Street), Greentown, 30450 Ipoh
We only came here after dinner for one thing, a sweet local coconut crepe called apong. When Ipoh Auntie said we are going to let's rock I panicked slightly because she is the youngest and therefore the most adventurous of all my aunties. Turns out that the rock and roll was more of a sweet roll and there was no rocking to be had that night. What a relief.