For Cindy
I have just received an email from a friend who wants some advice on visiting Jeju Island.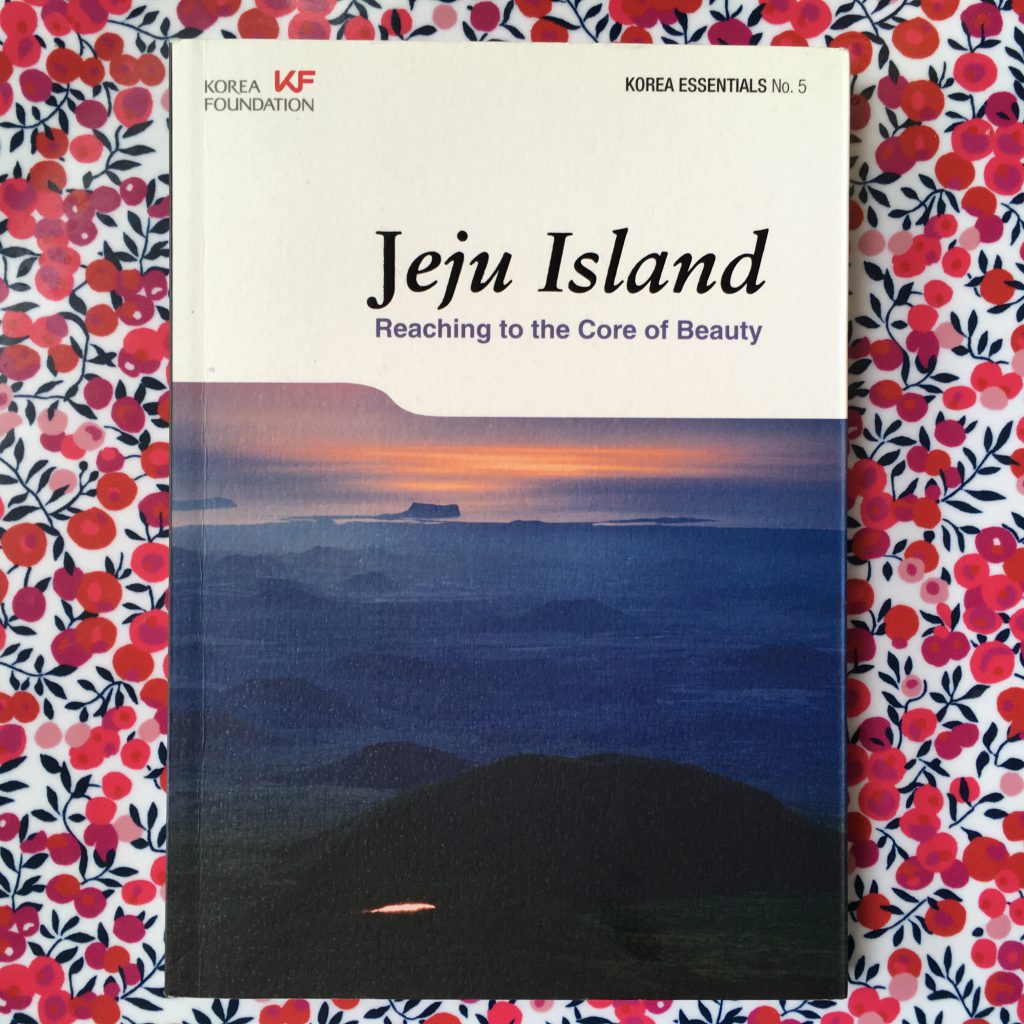 This is a good time to write up some travel notes from our recent trip.
The following notes are specifically for travel from the UK to South Korea. The information is correct as of May 2016.
How Big is Big?
The first thing to note is that Jeju is actually quite a big island. To give you an idea, if you Google search the child's question How big is…..? for certain islands you get these answers:
Mauritius                  2,040 km²
Jeju Island                 1,849 km²
Singapore                  719.1 km²
Hong Kong Island    80.4 km²
Tourist Information
For free printed maps and guides, head to Korea Tourism Organization's London office: 3rd Floor New Zealand House, Haymarket, London SW1Y 4TE. Telephone 020 7321 2535 . General enquiries by email to london@GoKorea.co.uk.
The bloggers behind PassportChop are great at giving step-by-step information on all aspects of a holiday in Jeju and their posts always make a good read.
Jeju Island: Reaching to the Core of Beauty (photo above) is available from Amazon and explores different cultural aspects of Jeju.
The best book we have found was a complimentary one that was given to Junior 2 prior her Gap Year teaching stint in Jeju. Jeju Island: An Island of Sky and Sea is published by the Jeju Tourism Organization, and if you come across a copy hang on to it for deal life as it contains everything you need to know about the island. The same information can now be found on-line.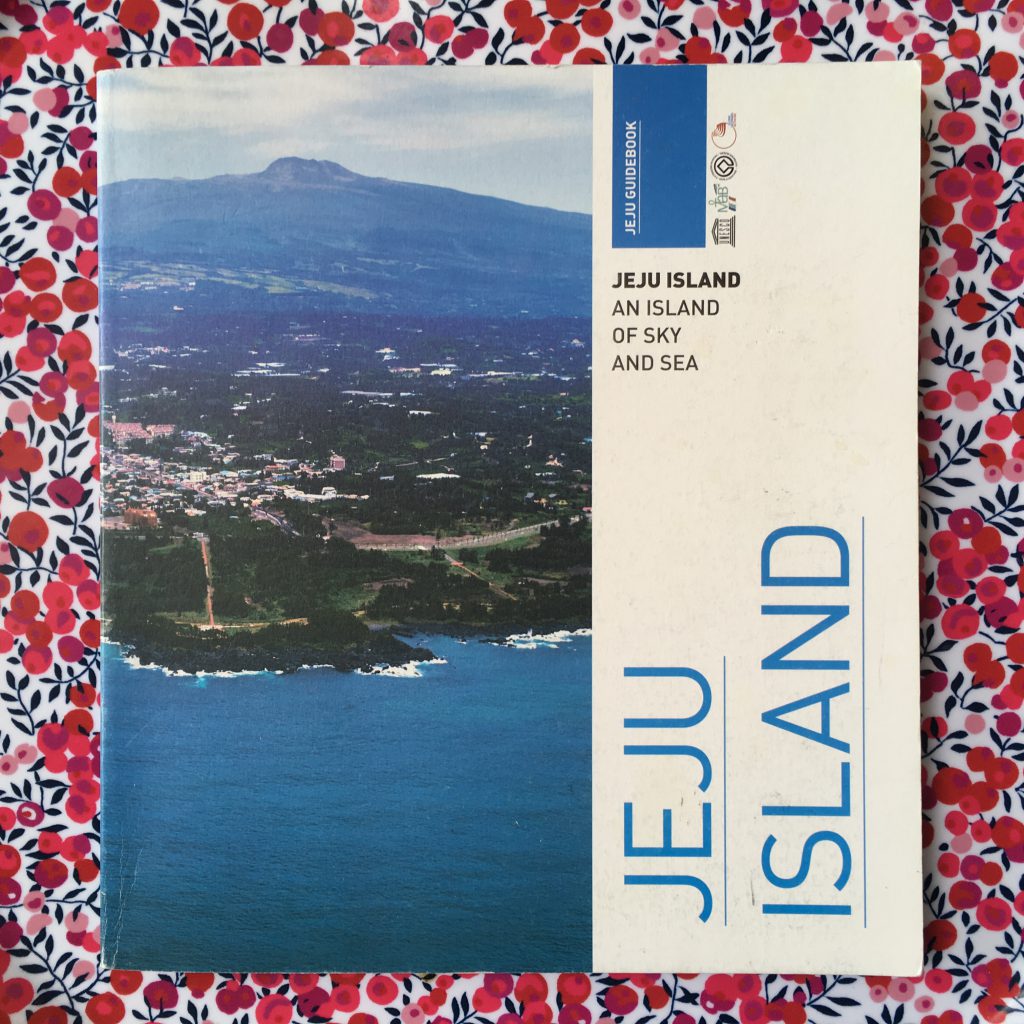 Where to Stay
There are two main commercial hubs, Jeju City in the north and Seogwipo City in the south. The hotels in the north tend to be business-like and the ones in the south tend to be resort-based (especially around the Jungmun Resort). There are other hotels scattered along the coast and further inland but generally, the largest concentration will be around Jeju and Seogwipo cities.
The airport is in the north and so it is convenient to stay north if you are arriving late at night or departing early in the morning. It takes over an hour to get from the airport to the Jungmun Resort where there is a wide choice of hotels and serviced apartments.
Car Rental
Car hire is easy and recommended. You will require an International Driving Permit as well as your regular driving licence. We booked our car on-line through Rentalcars which connects you to local car rental companies. You can also rent a car directly from Avis, Hertz and Sixt.
Once you have booked your car on-line, print out the confirmation to carry with you, or keep an electronic copy.
At Jeju International Airport, desks for the car rental companies are located just as you exit the arrivals hall. For some rental companies, you will need to take a bus to the depot where the cars are kept. This is very well organised: the bus will have the car rental company logo printed on it and the driver helps you with your luggage. The drive to the depot takes around 15 minutes and once there, the paperwork takes another 15 minutes. You can pick up a free map of the island here or earlier at the airport.
Korean Sat Nav works like this: punch in the telephone number of the place you want to visit and the address appears on the screen. If this corresponds to where you want to go, click yes or start journey and off you go. The language can be in English or in Korean. One feature which drives us all crazy is that it constantly talks to you. It also pings a lot to remind you of speed limits. It's not possible to have a relaxing drive with such a noisy device and we have not worked out how to disable the sound. Maybe you can't.
Money
All major credit and debit cards are accepted in Jeju (and generally for the whole of South Korea), but for travelling we always prefer to carry cash. The main reason is that we have heard of many stories from our friends and family who have had their credit cards cloned and used fraudulently after using it overseas (though not in Korea). However we do use our credit card at hotels.
A recent comparison between five places offering foreign currency threw up a wide disparity. Here is a list of what each was charging in Pound Sterling, on 22 May, for 1,650,000 South Korean Won (around £1000):
John Lewis          £997.16
Moneycorp         £1001.23
Post Office          £1032.03
Barclays Bank    £1047.55
Lloyds Bank        £1069.92
I have no hesitation in recommending John Lewis Foreign Currency and have used this service several times before. Pay for the currency with their Partnership Card if you have one. Although there is a credit card fee, you get more back in JL vouchers than the fee charged, effectively discounting your currency purchase.
What to See
Here is a list of the places we visited on our recent stay in Jeju. An asterisk * means I have added some places from our first trip in 2014. The names are followed by the phone numbers (all with 064 prefix and mainly taken from the Jeju Tourist website) for Sat Nav location. Each day's tour centres on one area; with a map you will be able to include other places of interest in the same area. There are entry fees to all the attractions.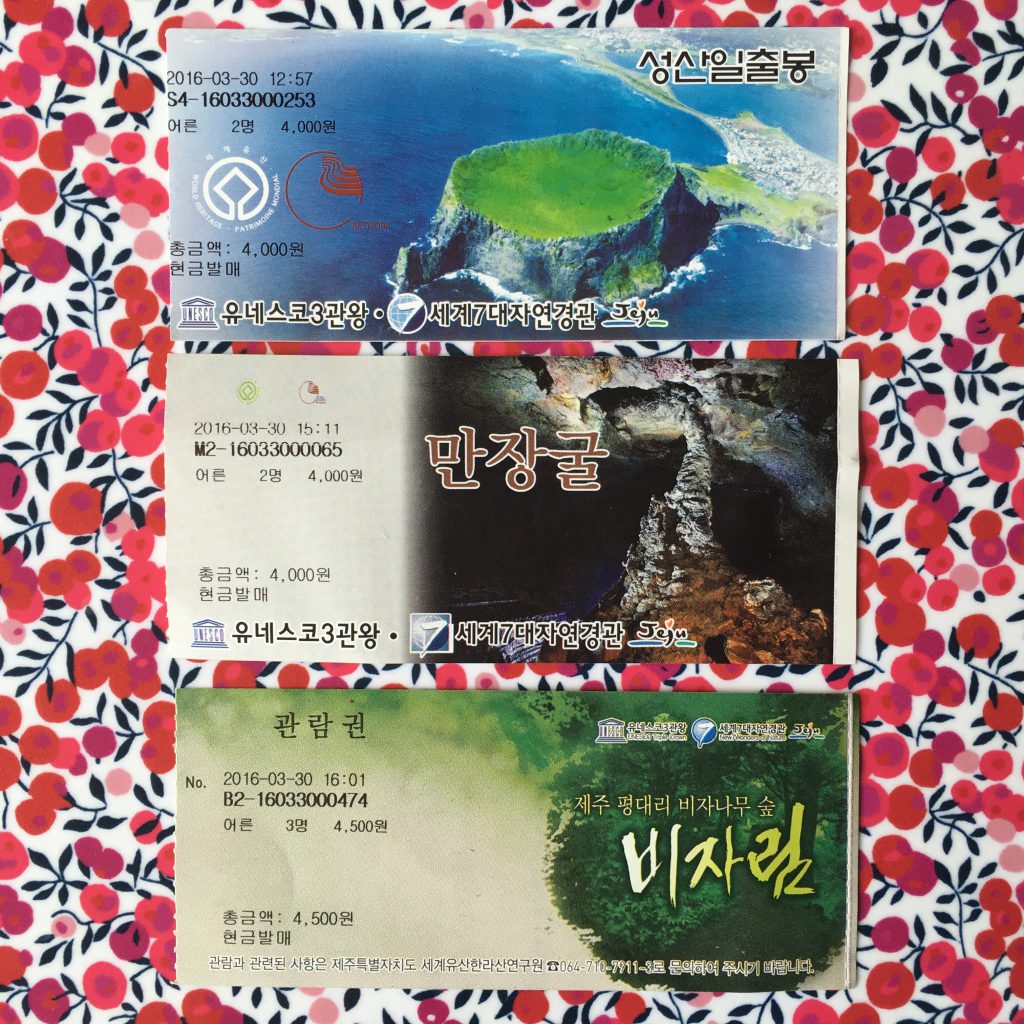 O'Sulloc Tea House and Museum 794 5312
Jeju Regency Hyatt 733 1234
Cheonyejeon Falls  천제연 폭포  738 1529
* Cheonyijeon Falls  천지연폭포  760 6301 or 733 1528
* Jeju Mawon Restaurant 738 1000. What a laugh…I hadn't realised this restaurant specializes in horse meat but there is grilled Jeju pork and beef too.
Seopjikoji  섭지코지  782 0080
Seongsan Ilchulbong  성산일출봉  783 0959
Paris Baguette Bakery  784 0456. There are many restaurants around Seongsan Ichulbong.
Manjang Caves  만장굴  783 4818
Bijarim Nutmeg Forest  비자림  783 3857
Terarosa Coffee head towards Soesokkak Estuary 쇠소깍  732 1562
Jeongbang Falls  정반폭포  760 6341
Jusangjeolli Cliffs  대표해안주상절리대  738 1393 or 738 1521
Mi U Ya Restaurant in Seaes Resort  738 6348 restaurant or 738 5511 hotel
We take a walk along several stretches of beach on the way to the airport and generally if you have any spare time, this is a great way to spend it. Many tourists take in the * Nanta Cooking Show during their stay in Jeju, but we made the mistake of watching it whilst staying in Seogwipo, south of the island. It took us a long time in traffic to get to the show and then back again to the hotel. For this reason I would only recommend watching this extremely entertaining show if you are based in the north of the island. There are many markets around the island and the permanent * Dongmun Traditional Market (동문재래시장 752-3001) in Jeju City is colourful and interesting.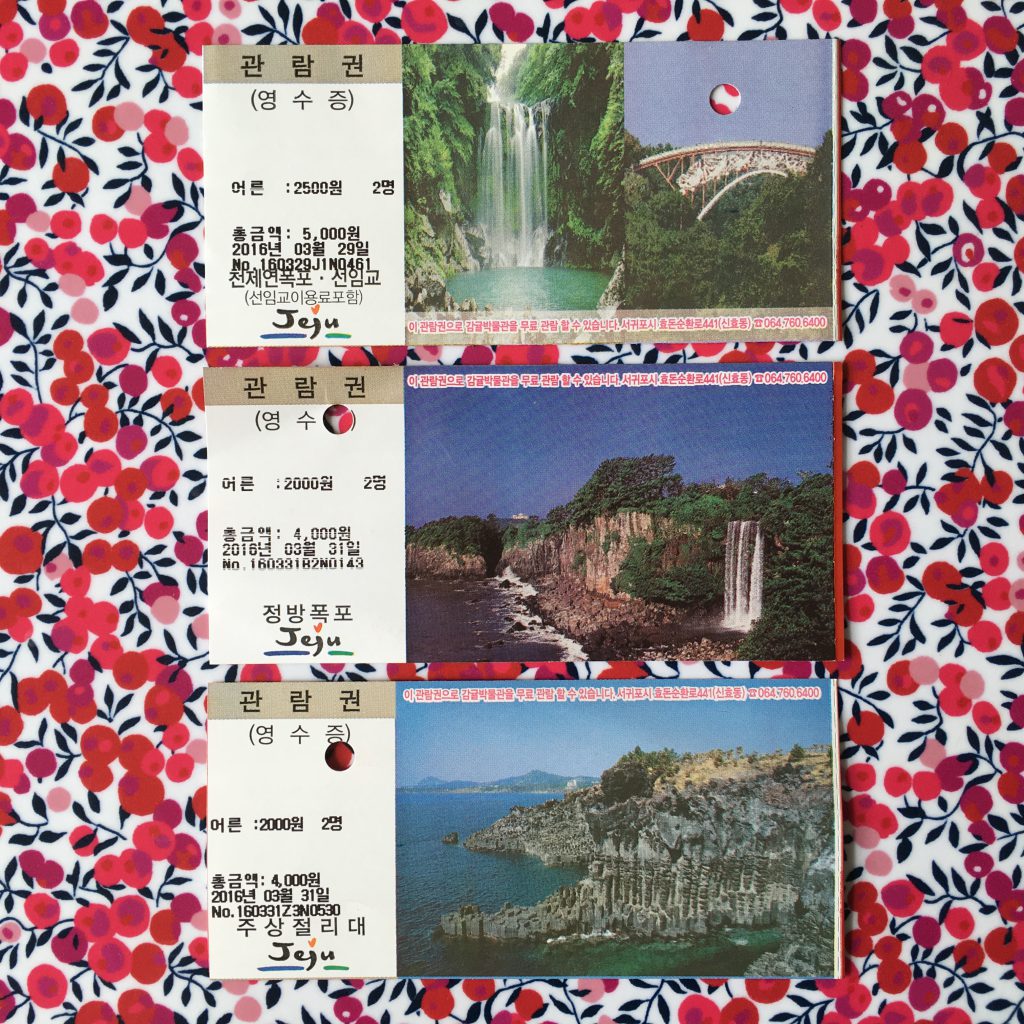 What and Where to Eat
All the travel guides suggest eating Jeju black pork and locally caught seafood such as abalone and sliced raw fish. Since this is a big island, it is best that you consult your hotel concierge for a local restaurant. Travel blogs list really interesting places but these might be miles away from where you are. Generally speaking, there will be many restaurants in Jeju and Seogwipo cities, and around the Jungmun Resort. We found that eating in our hotel was expensive but extremely reliable and tasty. Our Korean friends recommend Lotte and Shilla Hotels for good accommodation, service and food.
One reliable bakery we can recommend is Paris Baguette. If they opened one in London I would be first in the queue. There are branches in Jeju City (opposite Lotte City Hotel, Tel: 064 7119282), Jungmun Town (Tel: 064 7383200) and behind the car park in Seongsan Ilchulbong (Tel: 064 7840456).
Large supermarkets like E-Mart (Seogwipo Branch Tel: 064 7971234) and Lotte Mart (Jeju Branch Tel: 064 7982500) have a takeaway section where you can pick up freshly made dishes for picnics. You can get fruits, snacks and drinks here too…and if you have the time, the shelves and shelves of food items are just so fascinating to look at.
There are also small convenience stores everywhere around the island.
What to Wear
Anything and everything. Jeju is a very popular tourist destination and I did spend some time observing my fellow travellers. You can get away with any style or no style. A few places attract well-heeled and genteel folk: Terarosa Coffee and Podo Hotel, because of its niche reputation and hideaway location. I guess if you are on honeymoon you should make an effort to dress up too!
A Good Read
I so enjoyed re-reading the chapter on Jeju in Simon Winchester's Korea: A Walk Through the Land of Miracles. In it he gives an engaging portrayal of an Irish missionary who came to Jeju as a young man, and who decided to settle here and help the local islanders. The book was published in 1988 and I did wonder if Father McGlinchey was still around. I found two articles from The Korea Times and AsiaNews which lends a certain continuity to the book.