Diary: Thursday 05 November
I have been on the move almost non-stop since arriving.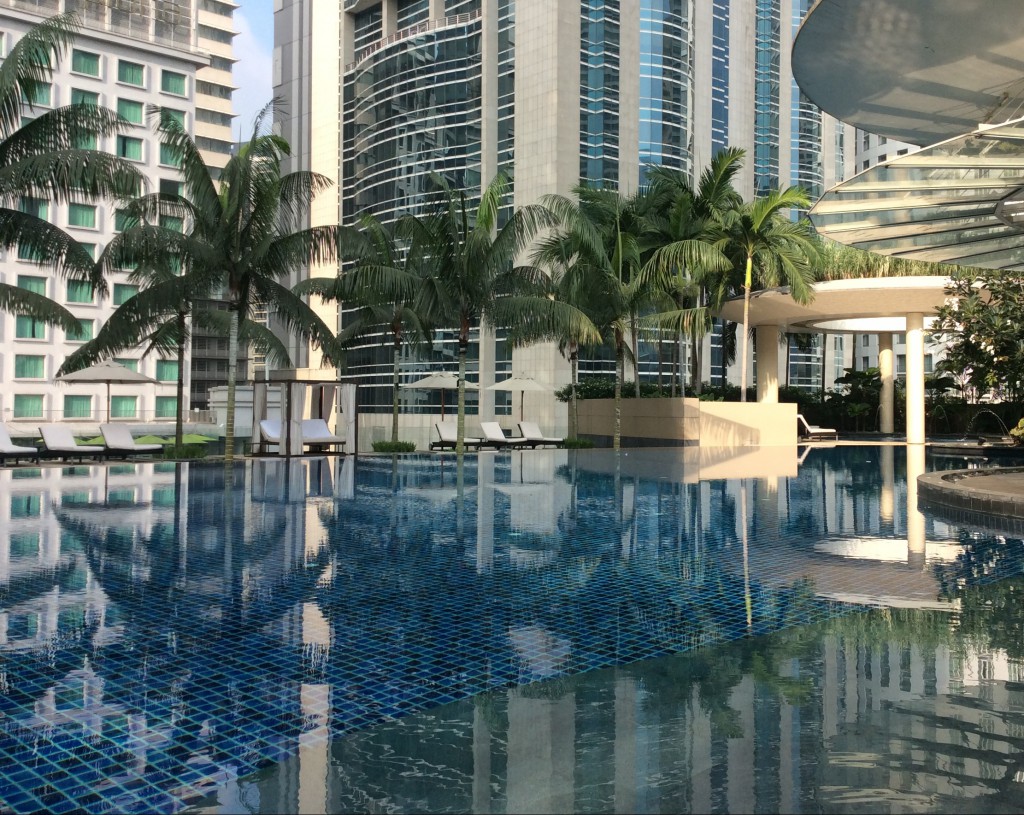 An early morning swim helps to slow things down.
The hotel's pool is small if you are thinking in terms of beach resorts. However this is the city, and most guests are here for business or shopping. At 8.15am I had the pool to myself for a whole hour.
This is the only time in a week that I have been alone with my own thoughts. Of all the philosophical debates I could be having, and of all the meals I could be planning, there is only one thought which recurs as I swim up and down the pool:
who do we need and what does it take to sort out the public transport in this city?
Contrary to what I have been telling myself, there really is quite a bit to see and do in KL. Sadly all it takes to clog the traffic to heart-stopping proportions is a bit of rain or some minor public event. If we had an efficient mass transport system (not taxis which contribute to the problem) that would be a start.
SS returned to Seoul late last night and I have one full day to tie up loose ends before catching a morning flight to London tomorrow morning. This includes having lunch and dinner with my mother, getting some trousers shortened and packing my bags. There is also time to have Afternoon Tea with KL Sister.
Packing is the least fun thing of any trip. Halfway through packing I make a list of the best and worst things about KL.
5 Top Things about Kuala Lumpur
One
Grand Hyatt Kuala Lumpur: for its location, service, comfort and superb breakfasts. The views from the restaurant on the 38th floor and lobby on the 39th floor are worth lingering over. The well-designed rooms mean you can stay with a friend and not feel you are in each others' way. Top points for a socket for every type of electronic charger; even SS's Korean phone recharger could be accommodated. Also for complimentary essentials like nail varnish remover and (non-essential in my case) a KL jogging map.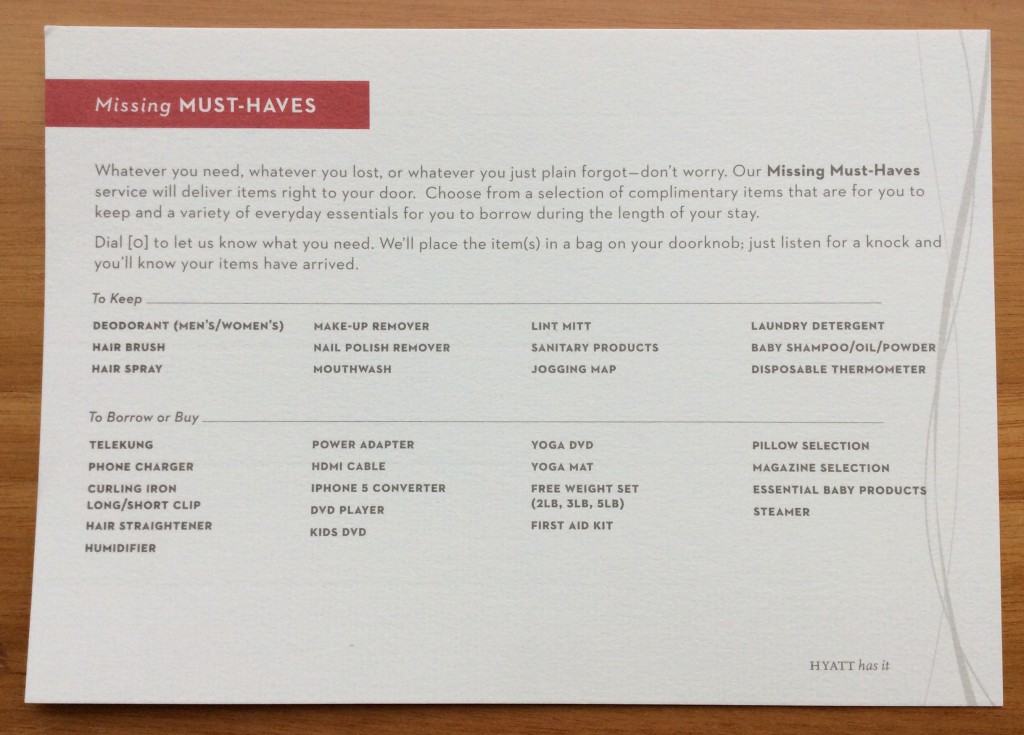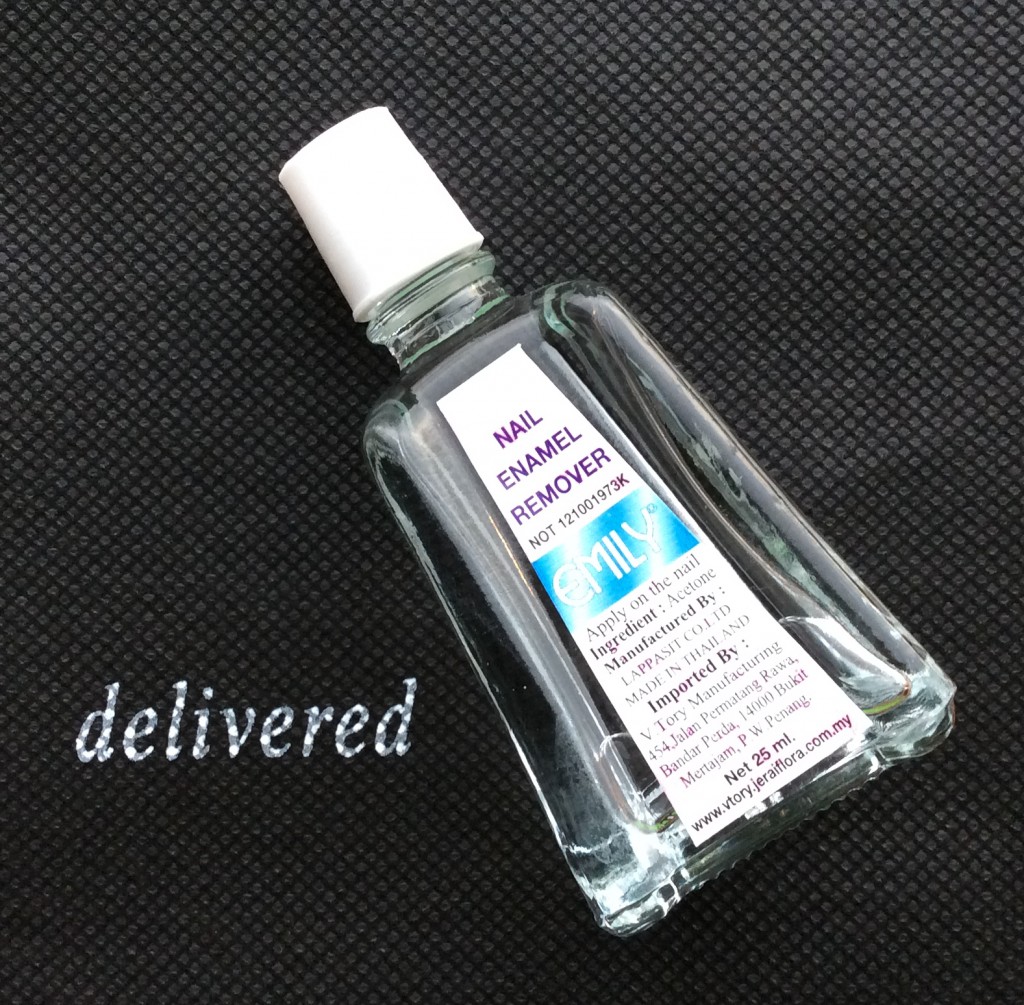 Two
Covered walkway linking the Bukit Bintang and KLCC areas. I was caught once in the city centre one-way traffic, taking 50 minutes by car from Bukit Bintang to KLCC, which could have been done on foot via this raised walkway in 10 minutes. It's a no-brainer: unless you are wearing very high heels, carrying too many bags or are an uber-superstar (if say, you are Psy), it is better to walk between these two areas to access your hotel or the shopping centre.
Three
The cultural diversity. Visitors are fascinated by our Malay, Chinese and Indian cultures. SS said that after five days of eating out in KL she didn't have to visit other Asian countries as every type of cuisine was available here. Personally I am very proud of the fact that Malaysians are so friendly, welcoming and willing to share so many aspects of this country.
As a small souvenir, we each bought a magnet that we felt sums up Malaysia.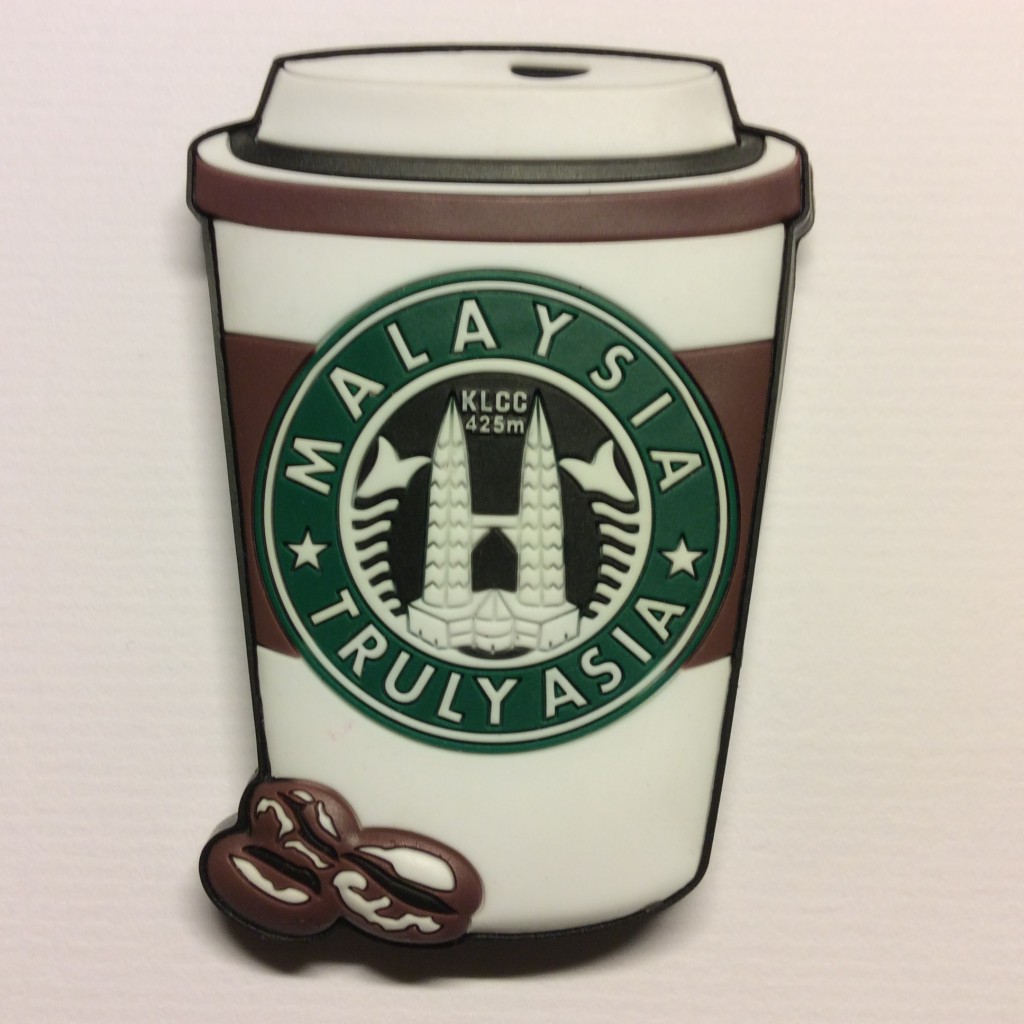 Four
Petronas Twin Towers. Other countries resent us for this (our neighbours in the South especially have very sarcastic things to say about it). Personally speaking, I could never tire of looking at it (I had the view below every morning at breakfast) so I am not going down the debate of whether or not it should have been built.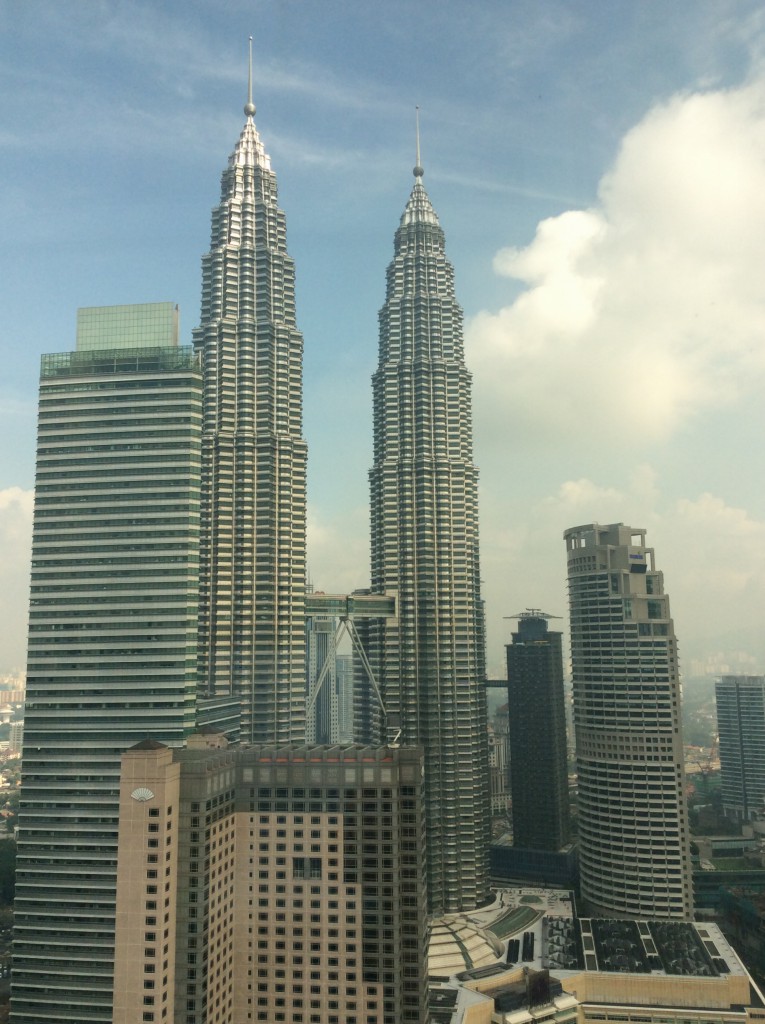 Five
The weather. I know locals complain when it is too hot, too dry, too wet, too hazy…but honestly it is never too grey in this city. London has Grey and KL has what is called 'cuaca mendung' which essentially means overcast, but it doesn't border on energy-sapping, heavy grey.
And the 5 Worst things about Kuala Lumpur?
One
The Mandarin Oriental Kuala Lumpur's (MOKL) policy of charging MR40 for 60 minutes of wi-fi even when you are dining in one of its establishments. I thought the waitress serving us was 'being funny' but I double checked with the restaurant manager and this is indeed the case. Seriously? The Management at the Grand Hyatt next door says that in this day and age, free public wi-fi in hotels is a given.
Later SS and I walked into a few random hotels and I can confirm that free guest wi-fi is available in JW Marriott KL, Westin KL, Sheraton Imperial, Marriott Putrajaya and even shopping centres like Pavilion where I had a chat with SS when she called me from Seoul using KakaoTalk. The MOKL says that this is global MO policy. Hmm…I will check this out next time I am in Knightsbridge.
Two
Arriving at Kuala Lumpur International Airport (KLIA). Basically I just need a clear run from the landing area to the immigration point to the luggage carousel. I don't see the need to be accosted and distracted by coffee shops, duty-free shops, luggage shops, shoe shops…you name it. All I want to do is to make a quick exit.
Three
Shopping. Ironically, for a country that has so many shopping malls, shopping here isn't much fun. Sales assistants will say anything to get you to make a purchase so don't believe that something is 'made in Italy' or 'this is from New York' because it won't be, unless you are in a luxury-brand boutique. Foreign goods are very expensive and local goods are not that well designed. My one and only go-to shop is British India.
Four
Taxis. I understand that there are around 20 taxi operators in KL. It would be nice to have one type (though up to three is realistic) of taxi and one fare structure which helps taxi drivers earn a fair wage and passengers pay a fair price for their ride. We definitely need a mass transit system.
Five
Pointless public structures dressed up as arches, commemoration statues, decorations…whatever. KL is crowded as it is: wouldn't it be better to replace ugly man-made structures with trees?
Two final meals in KL before leaving for London:
The famous popiah (soft spring rolls) in Lot 10's Hutong. I grew up eating this and it's one of those things I can't find in London. For the record, the filling inside the soft pancake consists of a dash of hoisin and chilli sauces, lettuce pieces, shredded cucumber, bean sprouts, fried cubed tofu, egg omelette, sliced green beans, crushed peanuts, hot cooked turnip and deep-fried shallots. Now you know why you don't make this at home.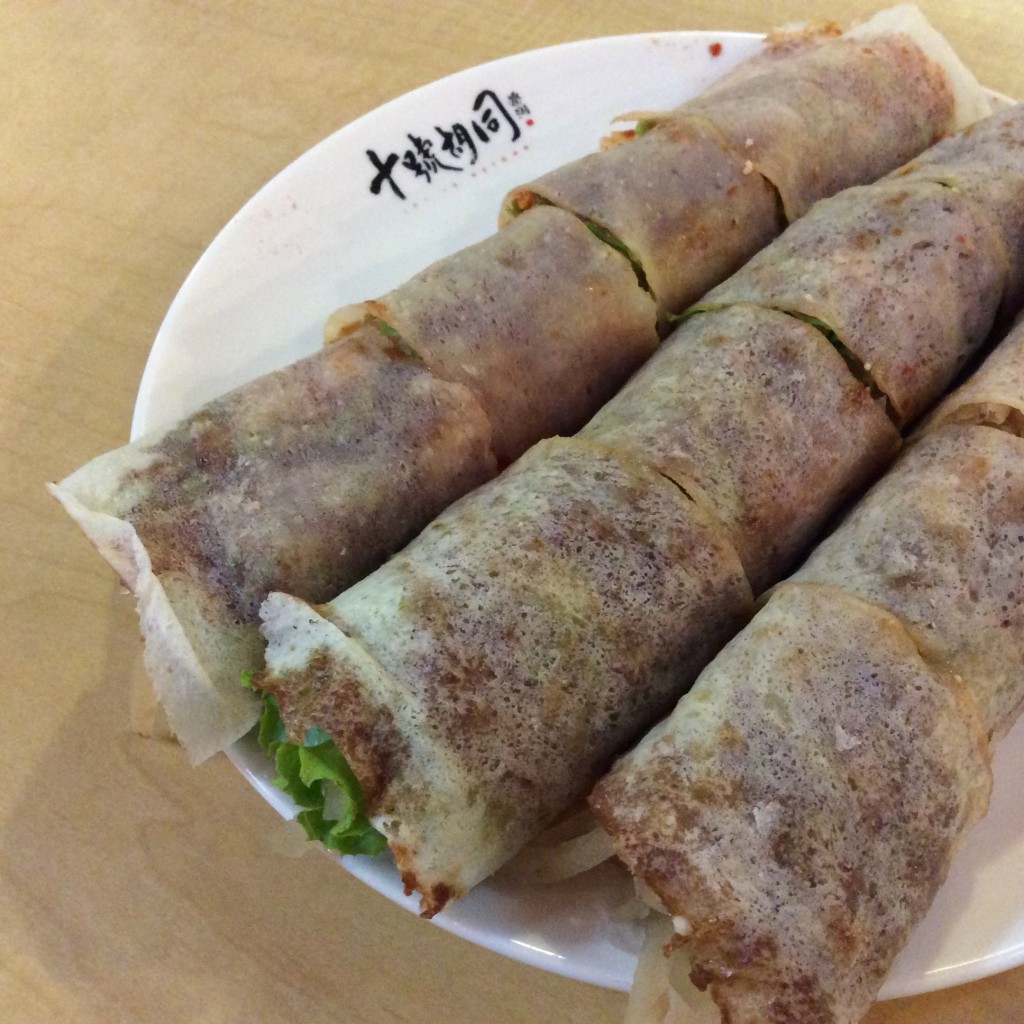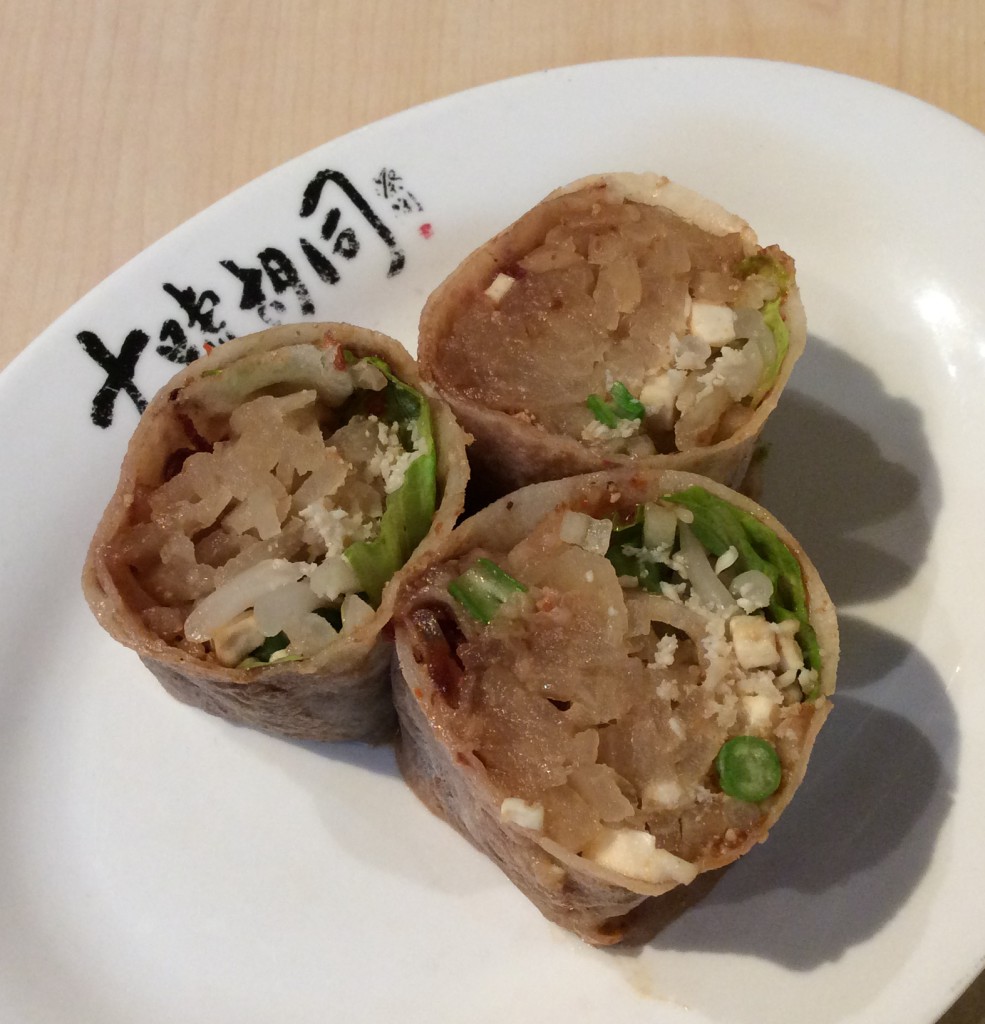 Dinner was at the Hakka Restaurant in Pavilion. My mother is Hakka and she said: I didn't know this restaurant existed and The food tastes nice but is very oily. My personal view: Nothing beats my mum's cooking and How authentically Hakka is this? 
Aubergines fried with minced pork and fish sauce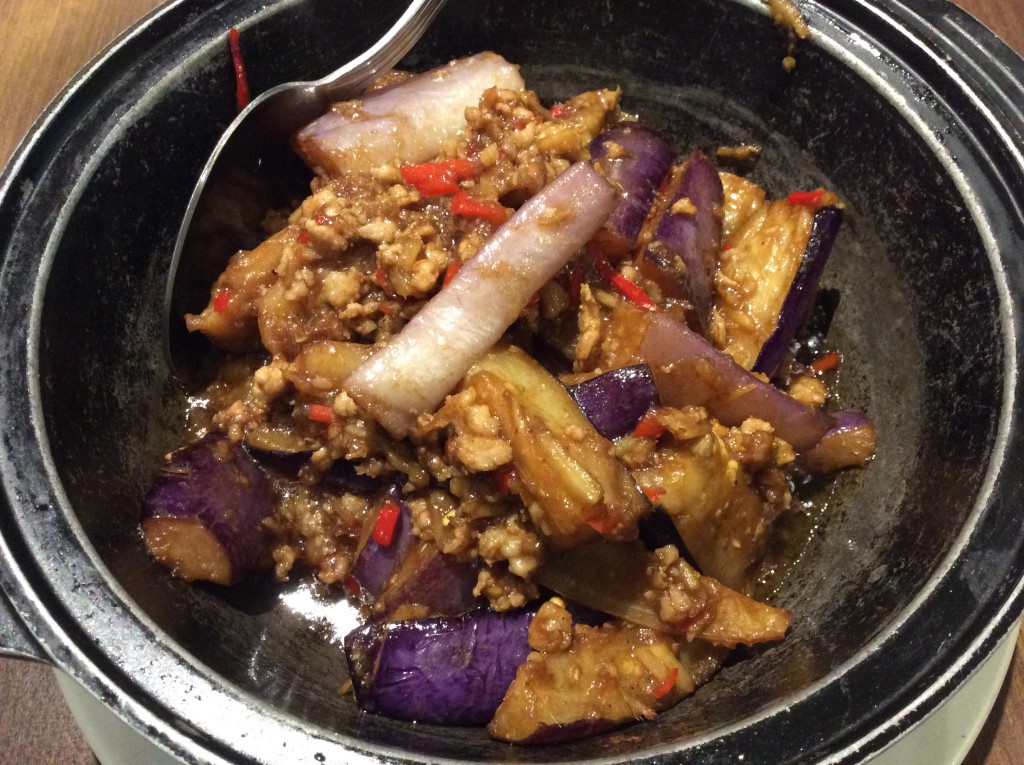 Diced chicken cooked in soya sauce, sesame oil and rice wine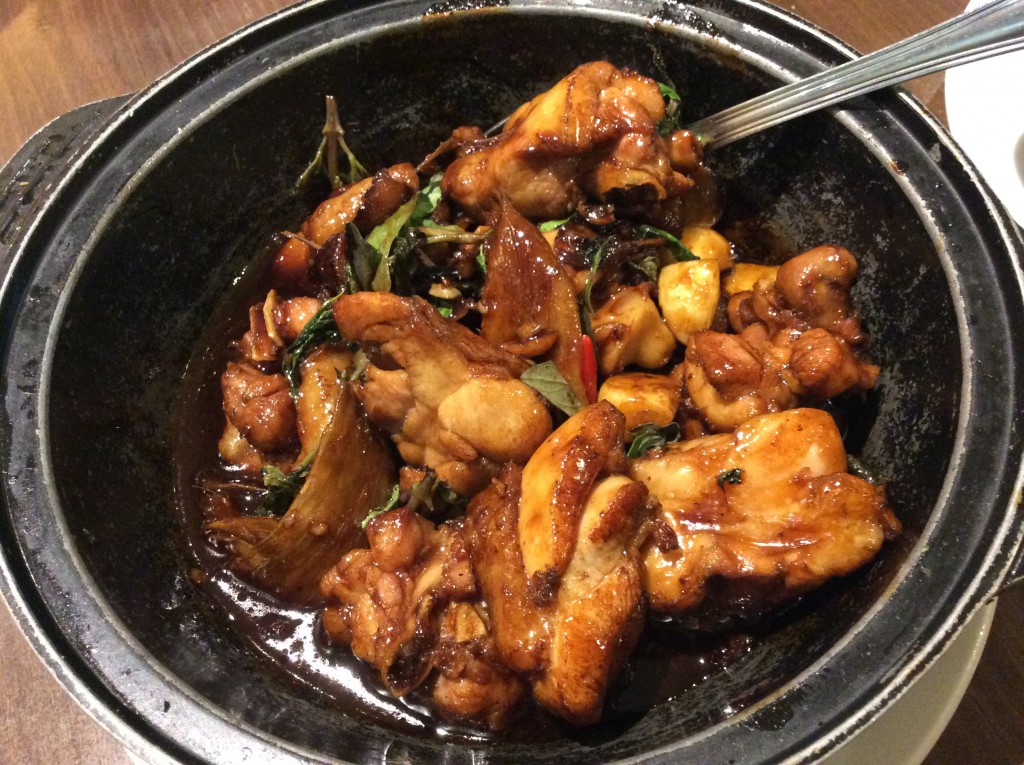 Chillies, bitter gourd and aubergine stuffed with fish paste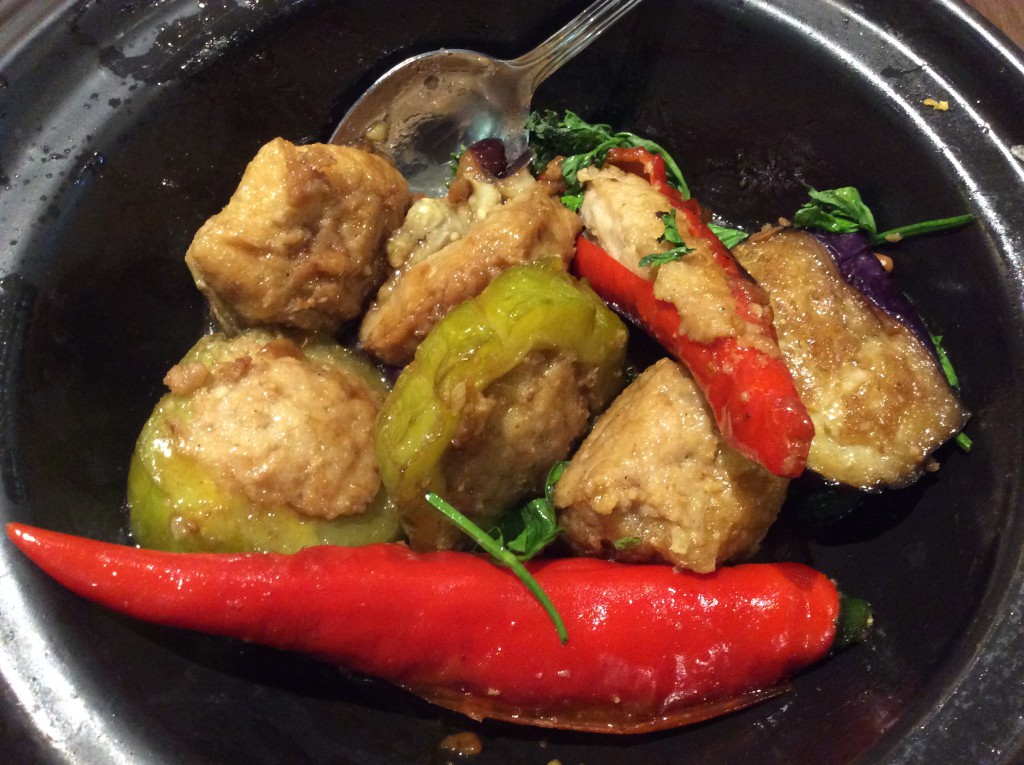 I don't sleep well at all tonight as I am afraid of waking up late and missing my flight. This is despite setting an alarm on my mobile phone and having arranged a wake-up call with the hotel's reception. After being married for 26 years, it is really weird not to have Mr Gochugaru next to me.