Diary: 04 September
We woke up this morning to a lovely smell emanating from the kitchen.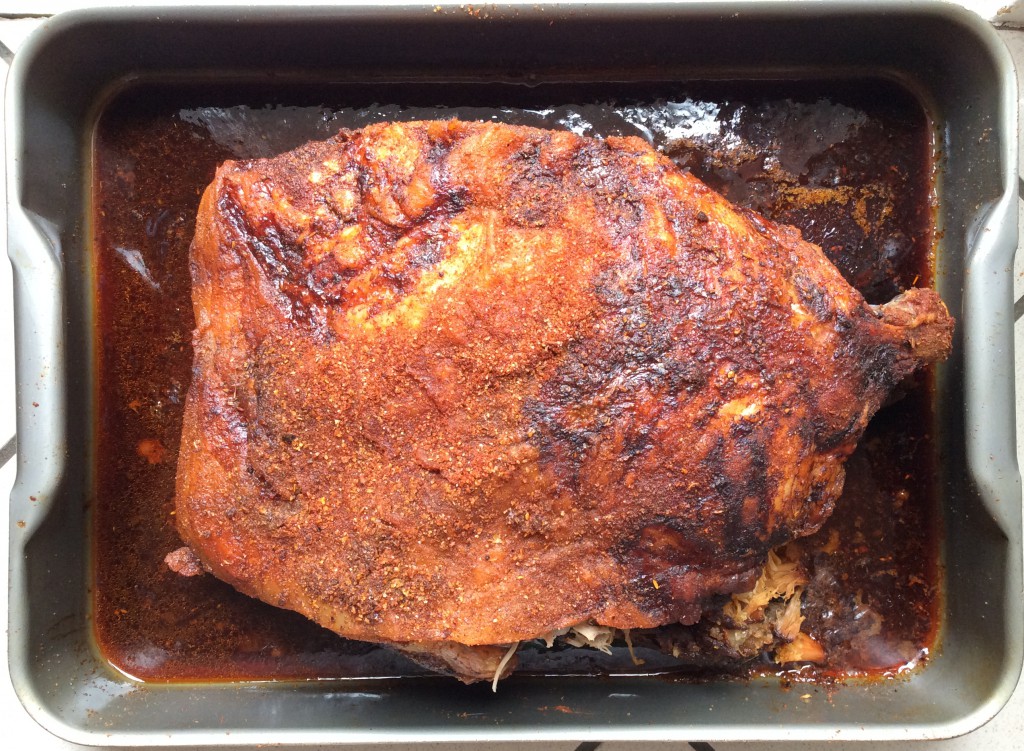 This is the day we tuck into our communal dinner.
(Update 7 February 2022: a detailed table of the pork roasting time and how to make the crackling is here).
To recap, for the pulled pork we need:
1 pork neck-end shoulder, weighing 4-5 kg (ours was over 6kg)
250 g house rub
200 ml mother sauce
Maldon sea salt
Freshly ground black pepper
The pork has been in the oven overnight at 105°C. After 12 hours, add 1 litre of water to the pan, which will mix with the pork juices to create a rich gravy. In view of being such a large joint, this continued to slow-cook for another 5 hours, making the cooking time 17 hours in total.
To continue, Pitt Cue's recipe with helpful background notes is here. Instructions adapted for a domestic kitchen are as follows.
If you have a meat thermometer, check that the internal temperature has reached 88-90°C. I dispensed with this step and used a fork to tear out a piece of meat from the middle of the joint and when I felt it was soft enough I removed it from the oven.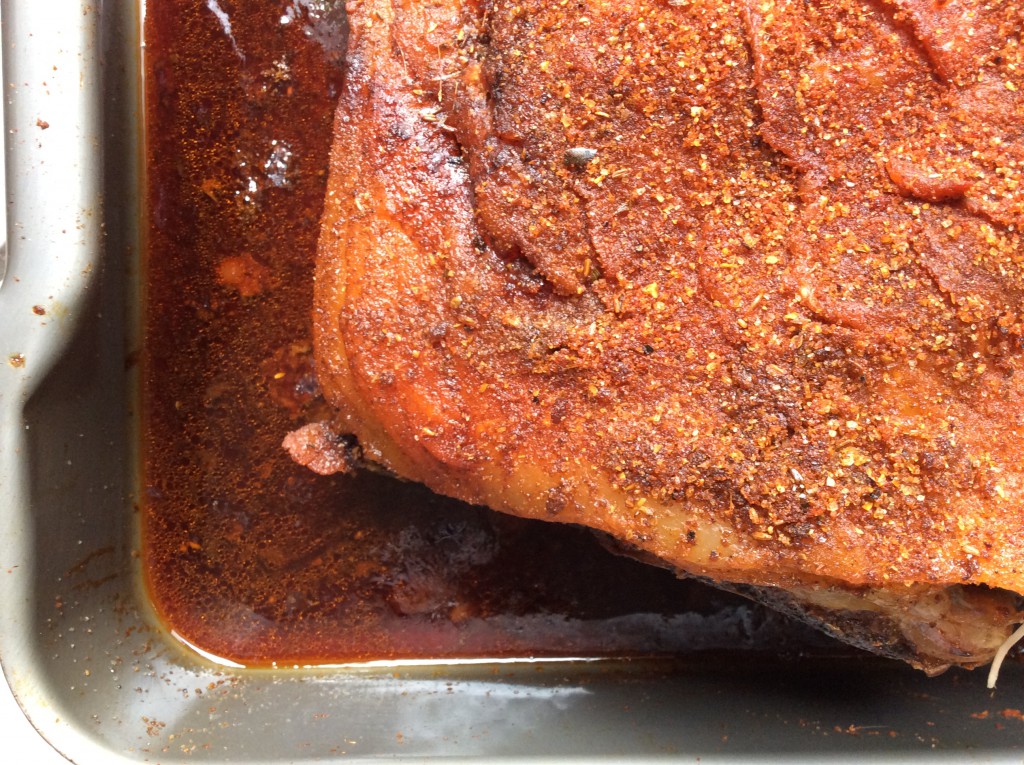 Place a large piece of foil over the pork and set aside to rest for 30 minutes.
Unwrap the pork and turn it upside down so that the spinal bones are facing upwards. Carefully remove the spinal and rib bones from the underside of the shoulder. Dig deep and work between the bones to find all you can. Remove the blade bone and the piece of tough cartilage that sits at the tip.
Start to work the meat and pull it apart. Keep it in big chunks and strands. Add the gravy from the pan and the mother sauce and work this all through the meat. Check for seasoning, adding pepper and sea salt to taste.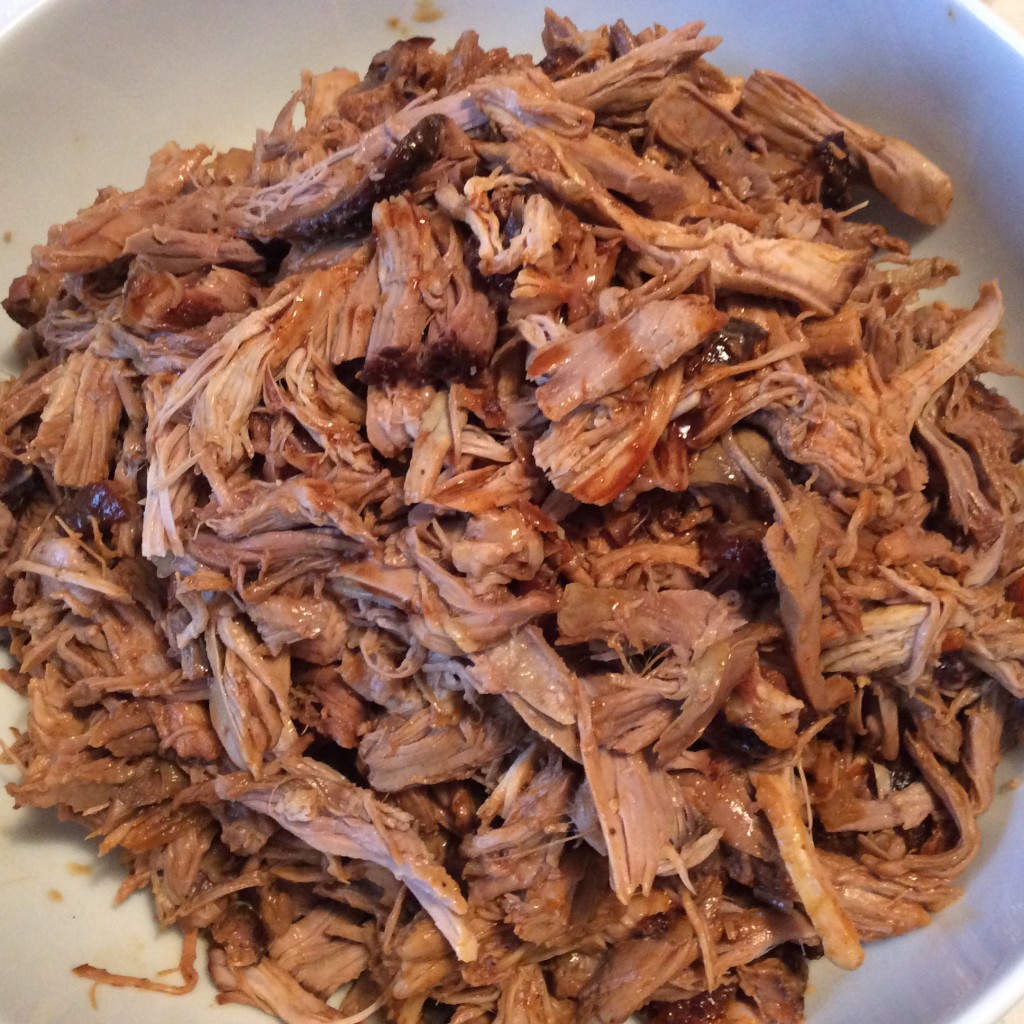 Serve as soon as possible, in warm rolls, accompanied by pork scratchings, triple-cooked chips, radish pickle and green slaw.
The only (self-directed) criticism I had of this dinner was that we were so engrossed in the food and conversation that it was not until the next day that I realised I did not take a photo of the pulled pork buns as served at our communal meal.
Faced with the last bun and a few tablespoons of pork (and no more of the pickle, slaw or chips) this is what the last of this dinner looked like.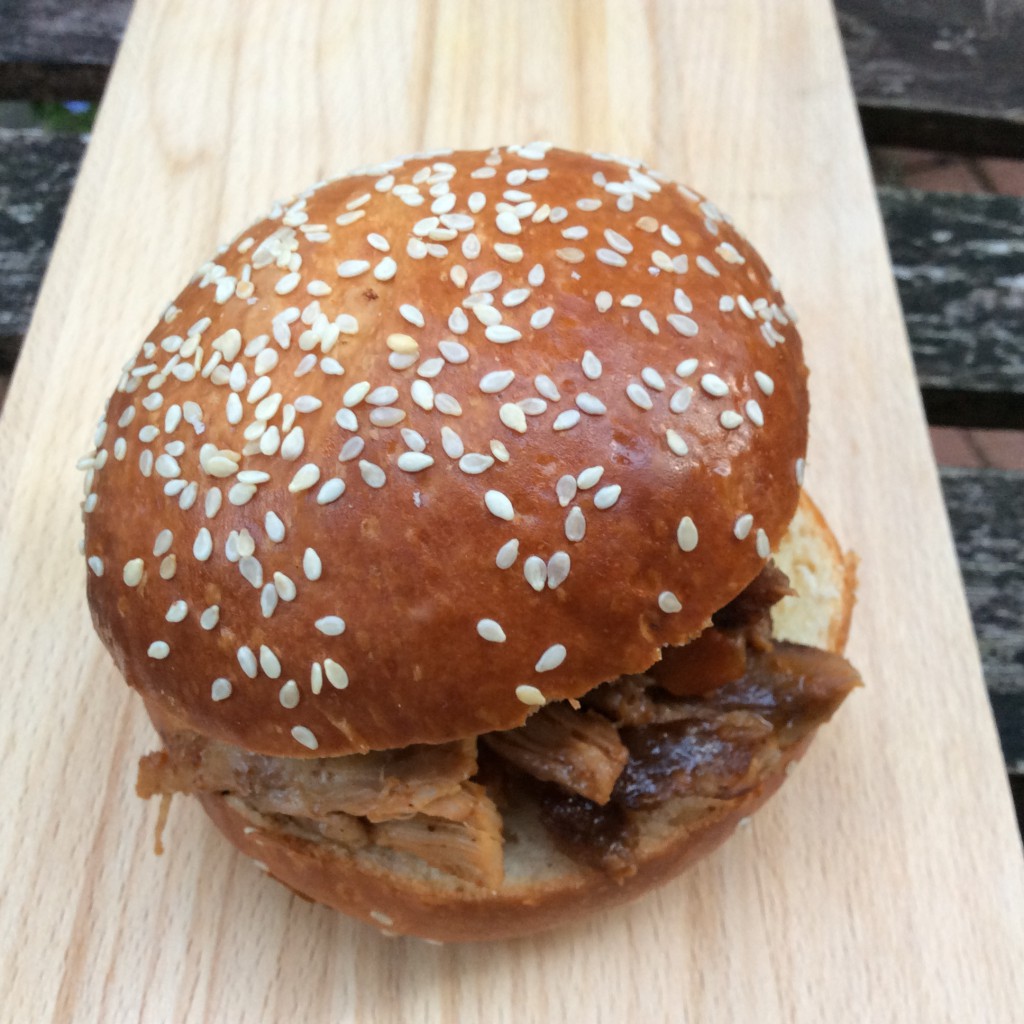 Pitt Cue Co. The Cookbook by Tom Adams, published by Mitchell Beazley, ISBN: 978-1845337568