This cake is quite special, being both gluten and dairy-free.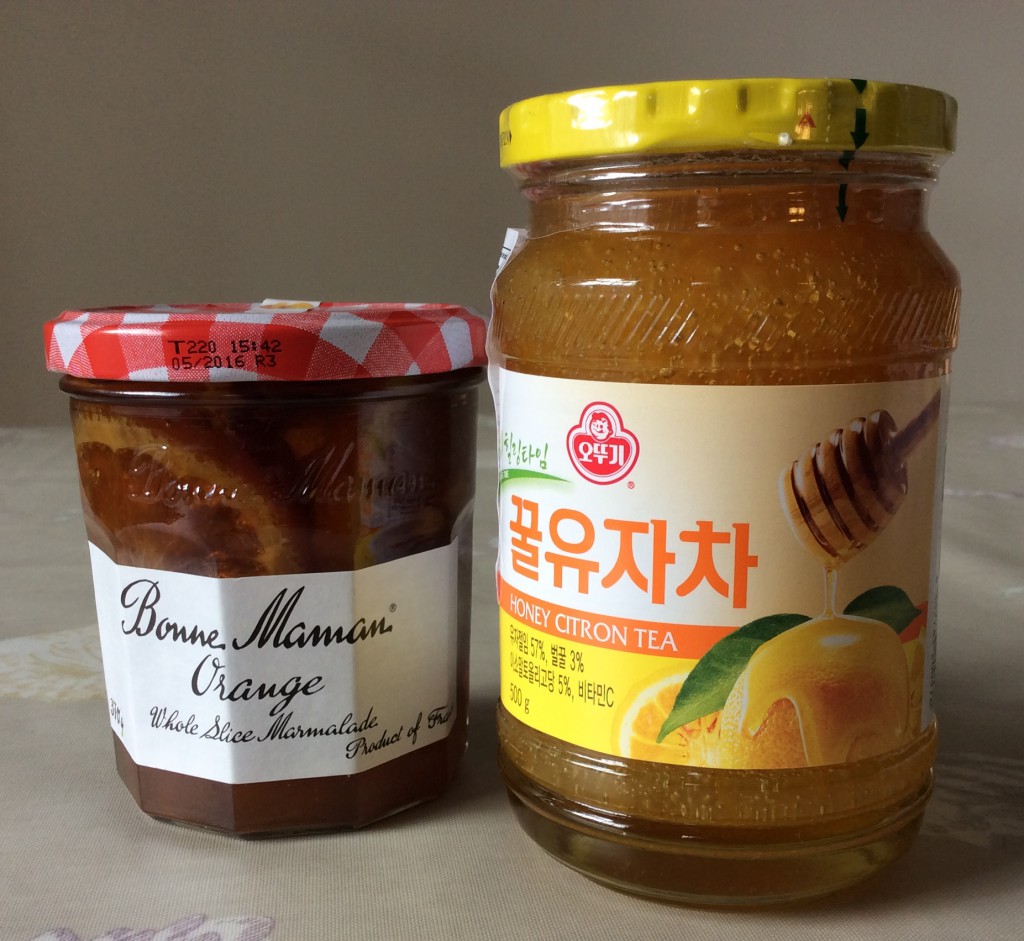 Its topping is a marriage of East and West, being a combination of Korean honey citrus and French marmalades.
The ingredients and method are slightly adapted from a recipe given in the Rose Bakery Cookbook*. Earlier in the year I had mentioned that whilst the food in the London and Paris branches of this bakery is lovely, the seating leaves a lot to be desired.
I did manage a brief visit to their branch in Seoul, which is on the way to the Leeum Samsung Museum. This was definitely a more spacious setting but given the choice, Passion 5 (located directly opposite) wins hands down.
This cake would be good accompanied by a mint, ginger and lemon tea: in a large teapot, place a handful of fresh mint leaves, a piece of crushed ginger and a few slices of lemon.  Sweeten with a little honey and serve to your guests in small teacups.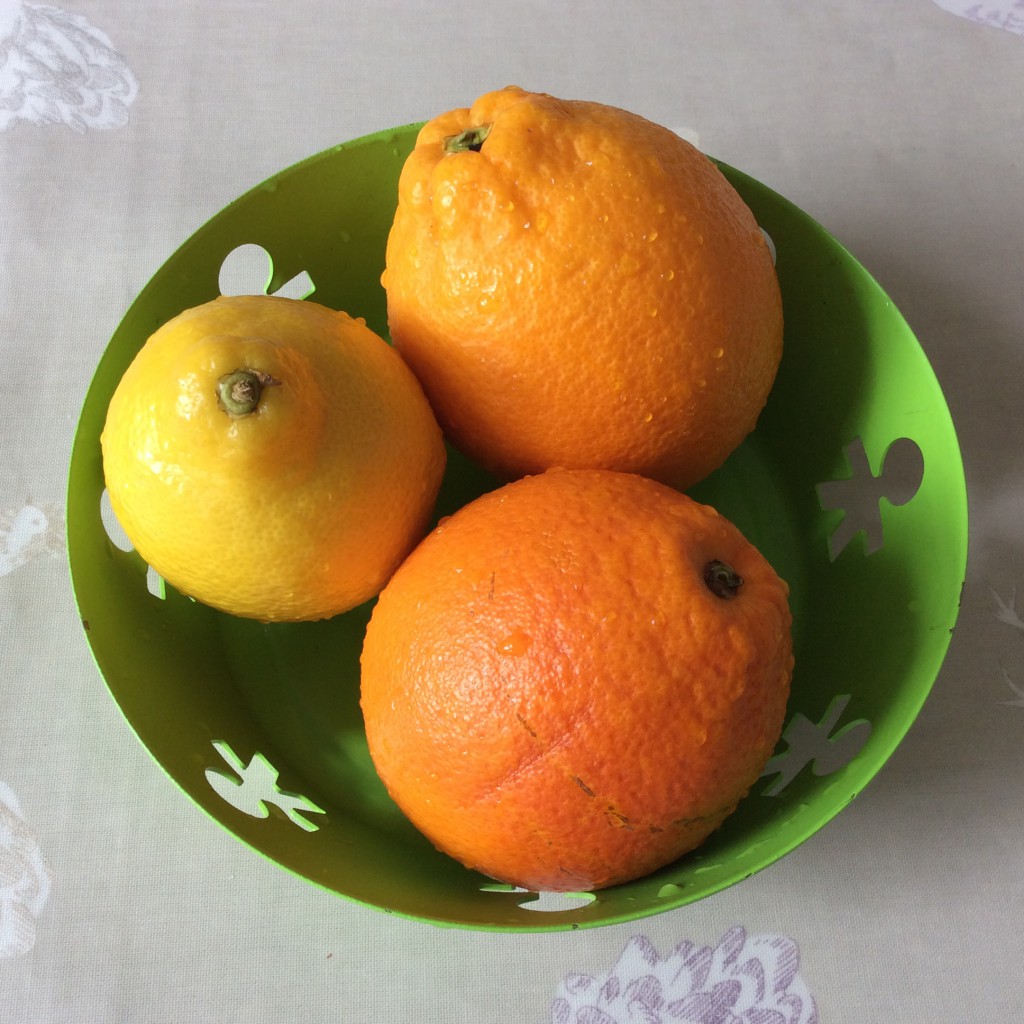 For the Cake (serves 12-16):
2 oranges
1 lemon
6 eggs
450 g unrefined caster sugar
550 g ground almonds
2 teaspoons baking powder
2 tablespoons sliced almonds or chopped pistachios
4 tablespoons Korean yujacha (honey citron tea, which is in effect a jam)
1 bottle of Bon Maman orange whole slice marmalade (use the sliced oranges only)
You will also need a 23 cm/ 9 inch round cake tin.
How to Make:
First prepare the oranges and lemon puree. This can be done the night before or earlier in the day. Put the oranges and lemon in a saucepan and cover with water. Place a lid on and bring to a boil, then turn the heat down and simmer for around 50 minutes or until the fruit can be pierced easily.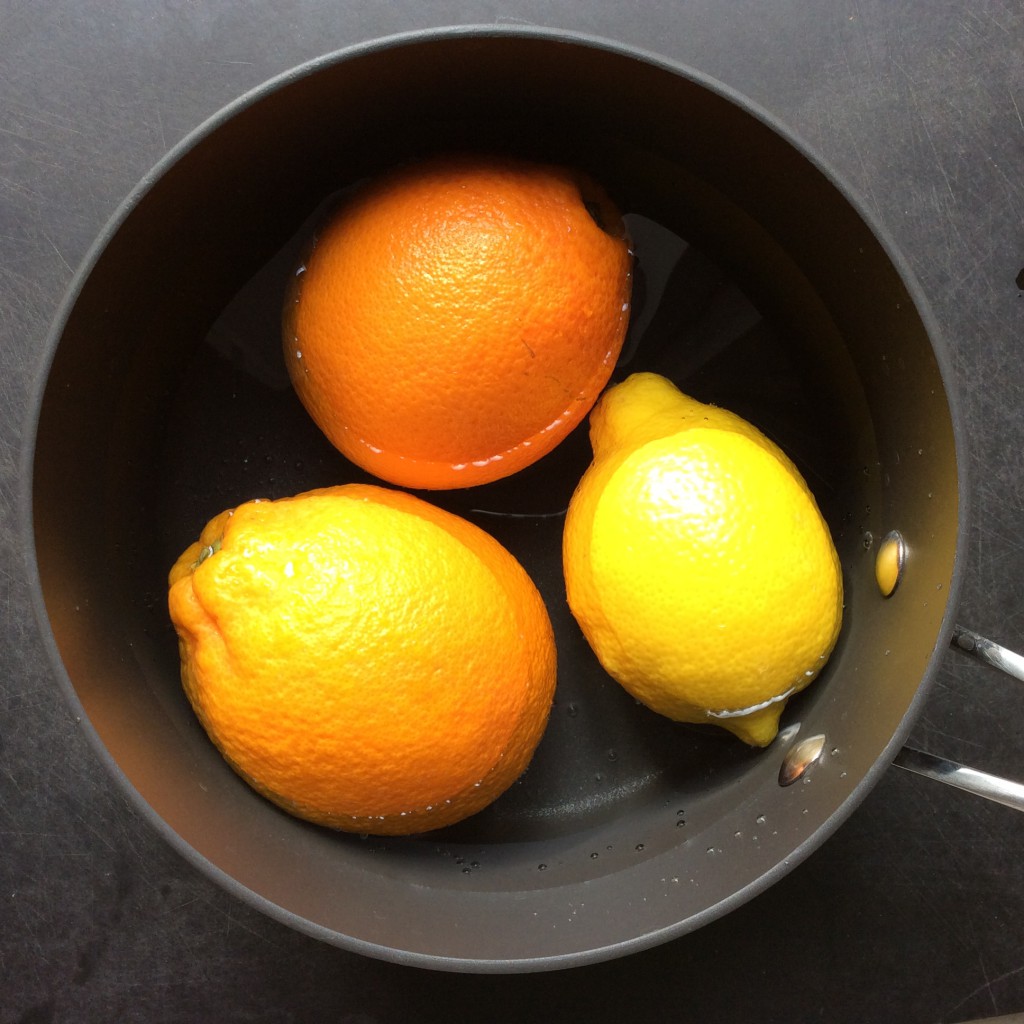 Deseed the oranges and lemon, then puree them in a food processor. Put in a bowl and set aside.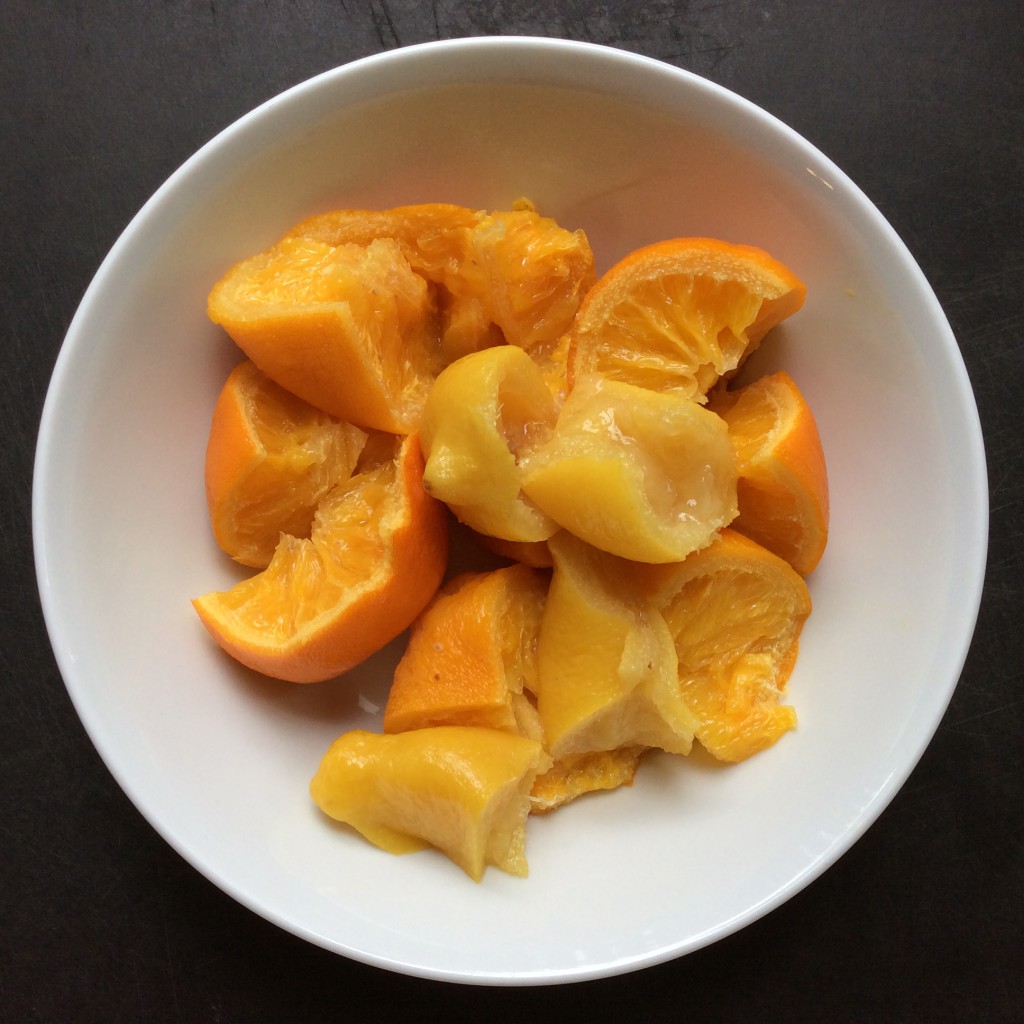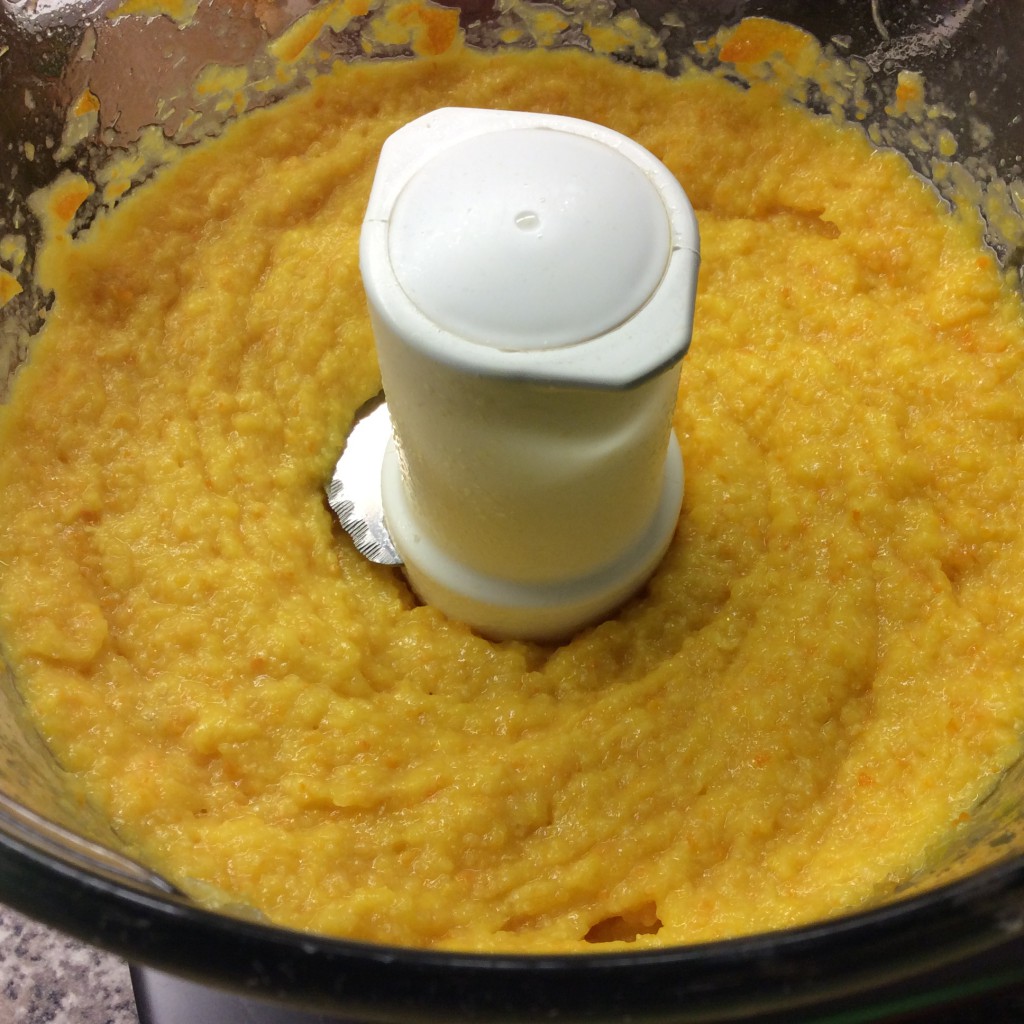 When you are ready to bake the cake, preheat the oven to 180°C/ 350°F/ Gas 4. Grease and line the baking tin.
Beat the eggs and sugar lightly until just combined. Stir in the orange and lemon puree.
Sieve the ground almonds and baking powder over the mixture and fold this in until everything is well mixed.
Pour the cake mixture into the prepared tin and sprinkle the sliced almonds or chopped pistachios in the middle of the cake.
Bake in the preheated oven for anything between 1 hour and 1 hour and 10 minutes, or until the cake bounces back when touched. A metal skewer inserted in the centre should come out clean.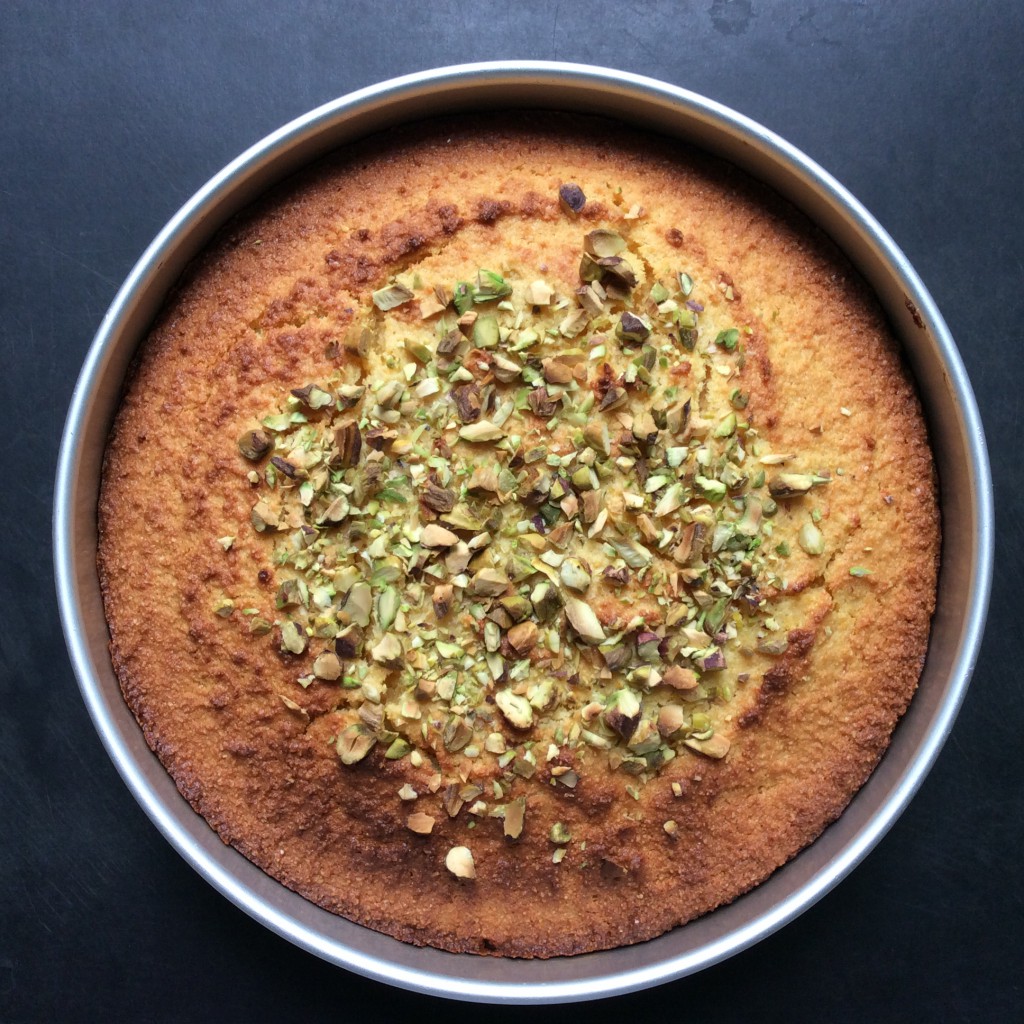 Leave the cake to cool slightly in the tin before turning out onto a wire cooling rack. Whilst the cake is still warm, brush the rim of the cake with the honey citron jam, then decorate with a ring of the orange slices.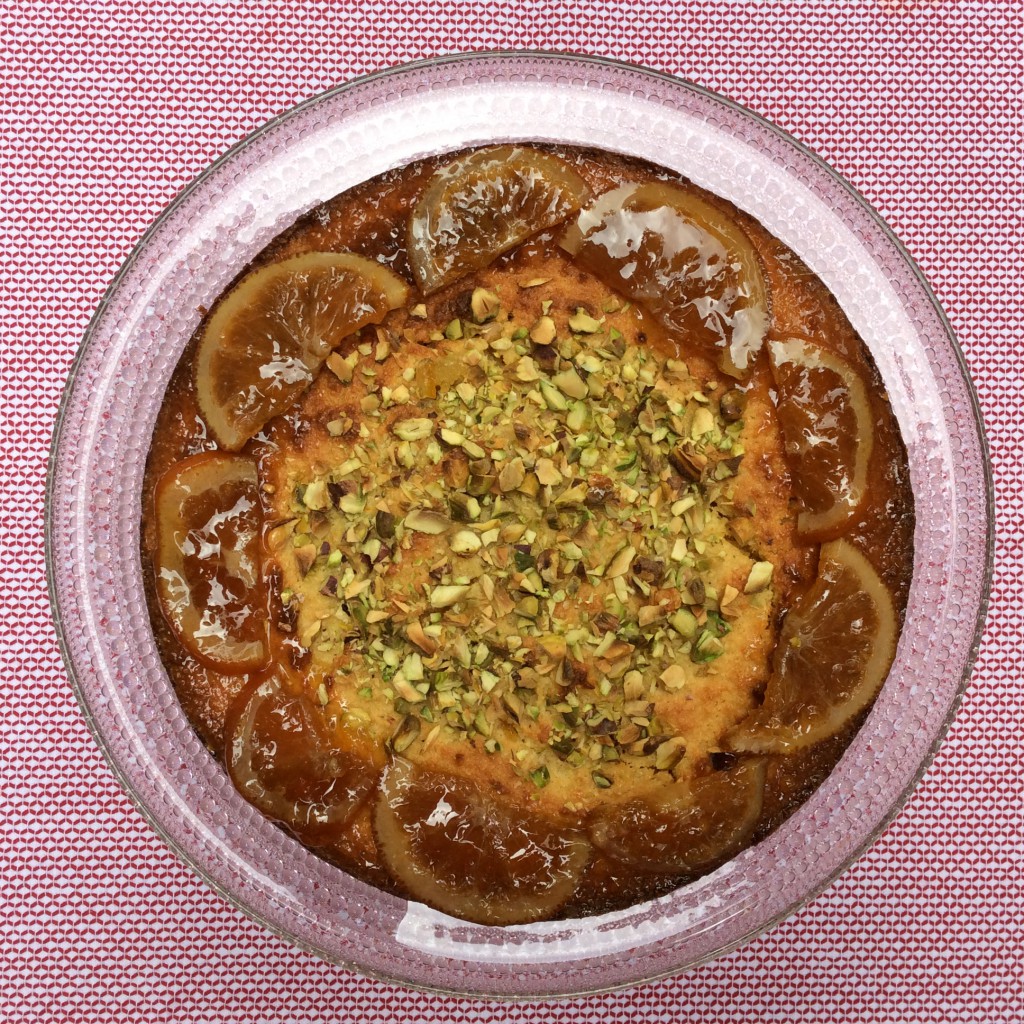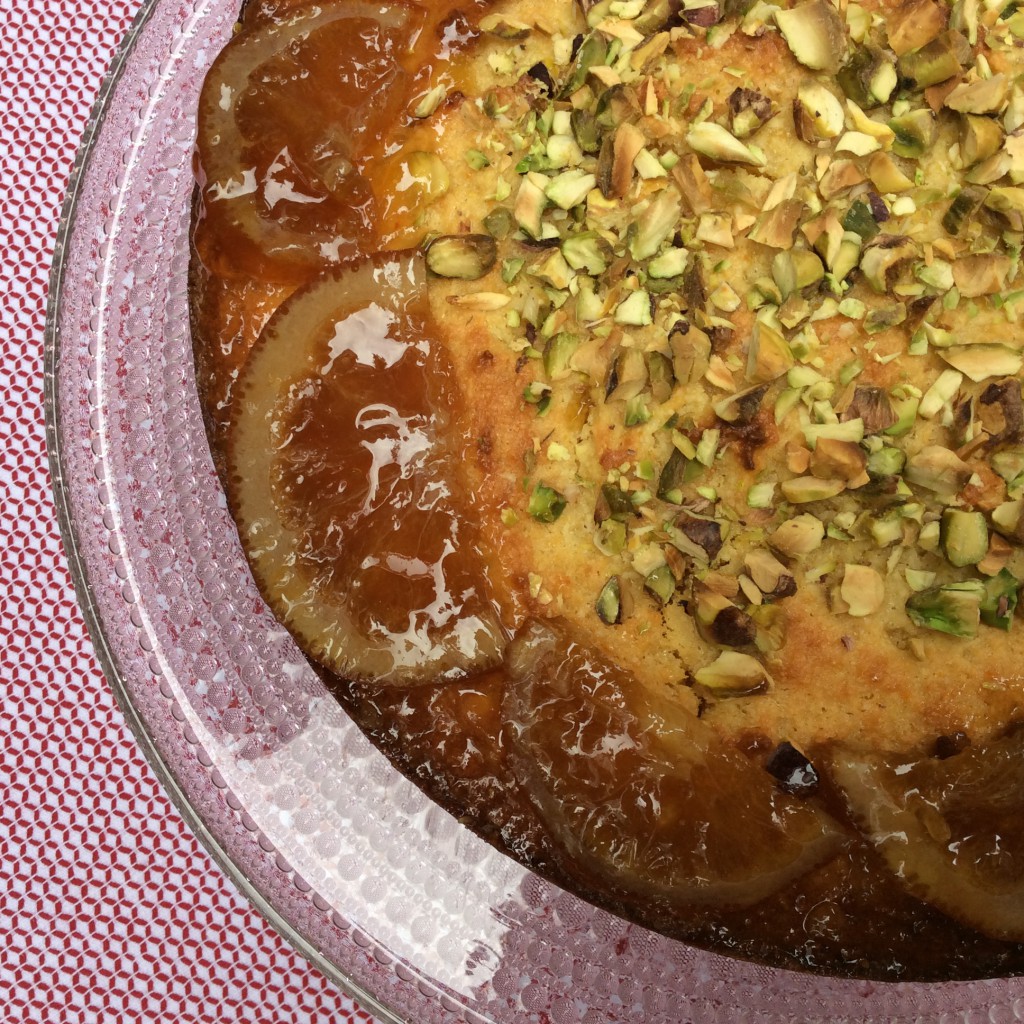 * Breakfast, Lunch, Tea: The Many Little Meals of Rose Bakery by Rose Carrarini, Phaidon Press , ISBN: 978-0714844657