Gochugaru Girl had a bit of waiting to do this morning.
People used to wait for amazing things to happen but now we seem to be waiting for Amazon things to happen.
It is important to receive this parcel as it contains a new black box which (Mr Gochugaru patiently explained) replaces our current black box. Not only will the new box store and back-up all our computer data, it is also much smaller. Nevertheless, despite taking up less space, it can hold more than twice the amount of memory.
I wonder whether our human brains work like this. It is a well-known fact that people shrink in size as they get older. Perhaps God in his wisdom has also designed our brains to store more data as it shrinks in size.
Whilst waiting I thought I would make a dessert for tonight's instalment of Dinner with Friends. The friends in question belong to Junior 1, who last night cooked us salt-baked sea bream, accompanied by fennel, asparagus, new potatoes and chorizo from Brindisa. The cakes for dessert came from Lanka, a local Japanese-inspired patisserie.
Tonight we are having rotisserie chicken which is possible as our oven has a clever device that allows us to grill the chicken as it turns.
What better book to use for choosing the dessert than an old favourite, Raymond Blanc's Cooking for Friends.* Mr Blanc introduces the book:
This book has not been written for chefs but for cooks at home. Nor are the dishes in this book influenced by trends…My aim instead it to reflect traditional skills…The dishes that you will find in this book are the ones that my family and friends come to share with me at home.
Although the recipe is called Tarte au Chocolat in effect it is more like a cake. The recipe calls for 'size 3' eggs but here in the UK this type of sizing no longer exists. We now have large and medium-sized eggs (everything else is put in a mixed box) whereas we used to grade eggs from extra-large (size zero) to extra-small (size 6).
I never managed to procure a 28 cm pastry ring and so continue to use my 24 cm quiche tin. This has the added advantage of being leak-proof; the only thing to be aware of is that the batter is now not spread so thinly and will require extra cooking time.
The recipe feeds 8 people which really means 6 young people or 12 old people. If you cannot remember which category you belong to (it's Mr Gochugaru's father's birthday today…so… Happy Birthday!) you can just eat as little or as much of this cake as you like.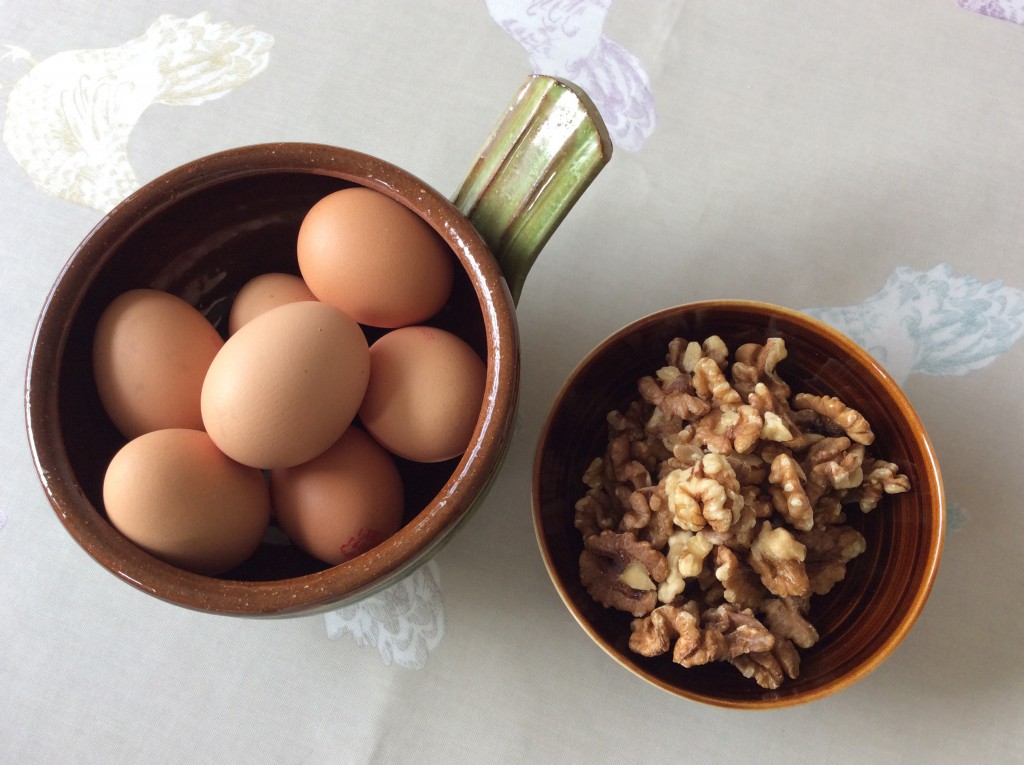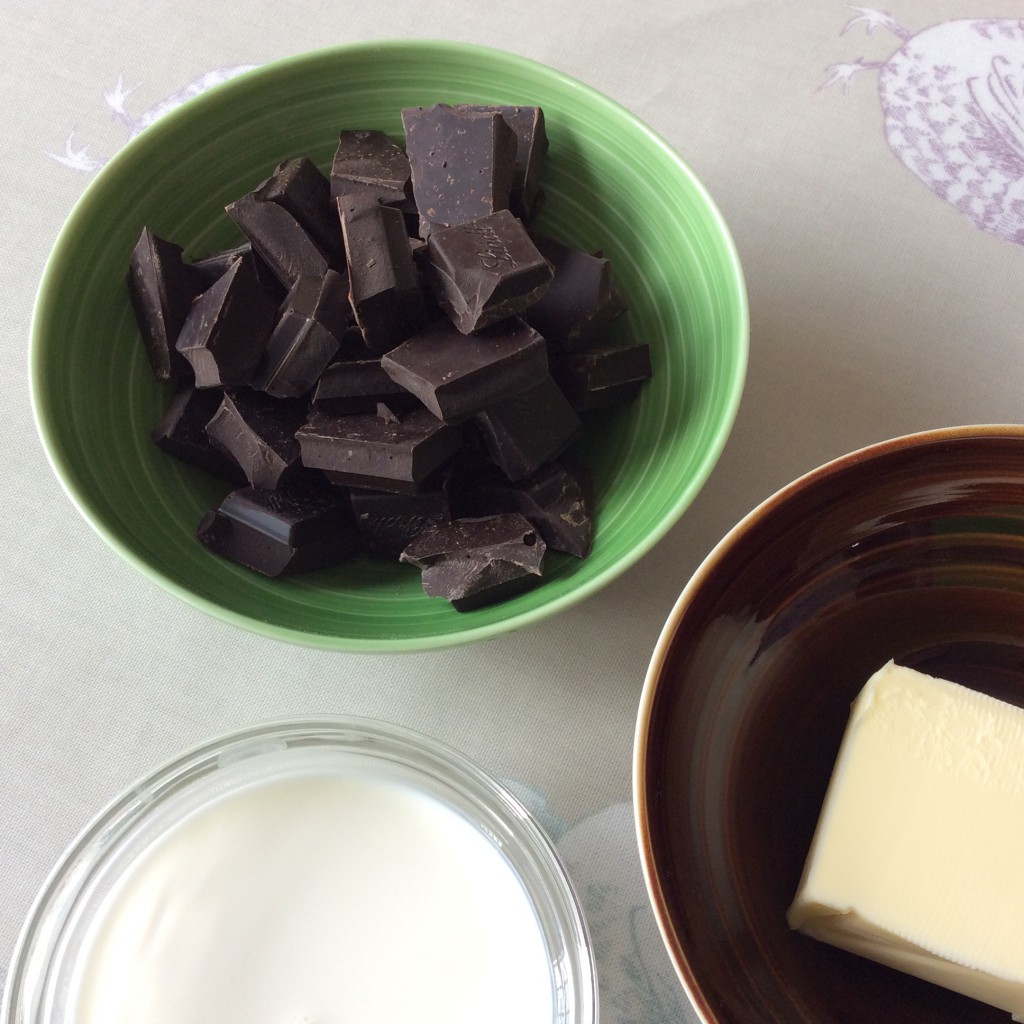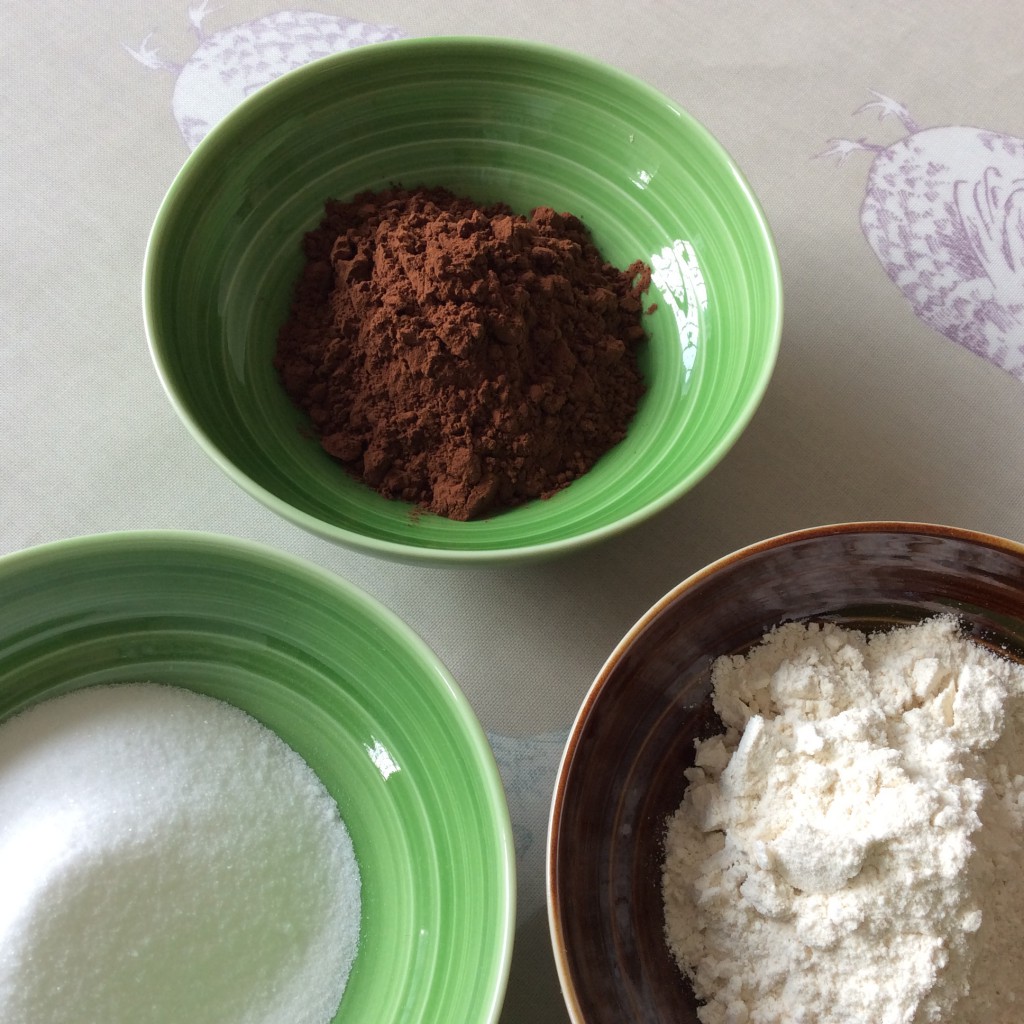 For the Tarte:
100 g walnuts, roughly chopped
Icing sugar
150 g dark chocolate (70% cocoa content)
50 g unsalted butter, in pieces
50 ml whipping cream
7 egg whites (from medium-sized eggs)
60 g caster sugar
5 egg yolks
50 g plain flour
30 g unsweetened cocoa powder
You will also need a 28 x 3 cm pastry ring and a baking sheet OR a 24 x 3½ cm quiche tin.
How to Make:
Place the ring on the baking sheet. Butter the inside of the ring and the baking sheet, and sprinkle with flour OR butter the ring and bottom sheet of the quiche tin and sprinkle with flour. Shake off the excess flour.
Preheat the grill to its hottest. Place the walnuts on a baking tray, sprinkle lightly with icing sugar, and grill for 1 minute. Reserve.
Switch off the grill and preheat the oven to 180°C/gas mark 4/350°F.
Melt the chocolate in a warm bain-marie. When the chocolate has melted, stir in the butter pieces with a spatula until they are totally incorporated and the mixture is of a smooth texture. Stir in the cream and remove from the heat.
In a mixing bowl, whisk the egg whites until they reach soft peaks, adding the caster sugar gradually, then stir in the egg yolks.
Sprinkle in the flour and cocoa powder.
Fold in the chocolate and butter mixture and mix slowly with a spatula.
Pour half the chocolate mixture into the pastry ring/ tin, sprinkle the walnuts in the middle, and then add the remaining chocolate mixture.
Bake in the preheated oven for 15 minutes if using the 28cm pastry ring and for 18 minutes if using the 24 cm quiche tin.
Remove from the oven and leave to cool for at least 10 minutes.
Turn the tart out carefully on to a cooling rack and rest for at least 1 hour.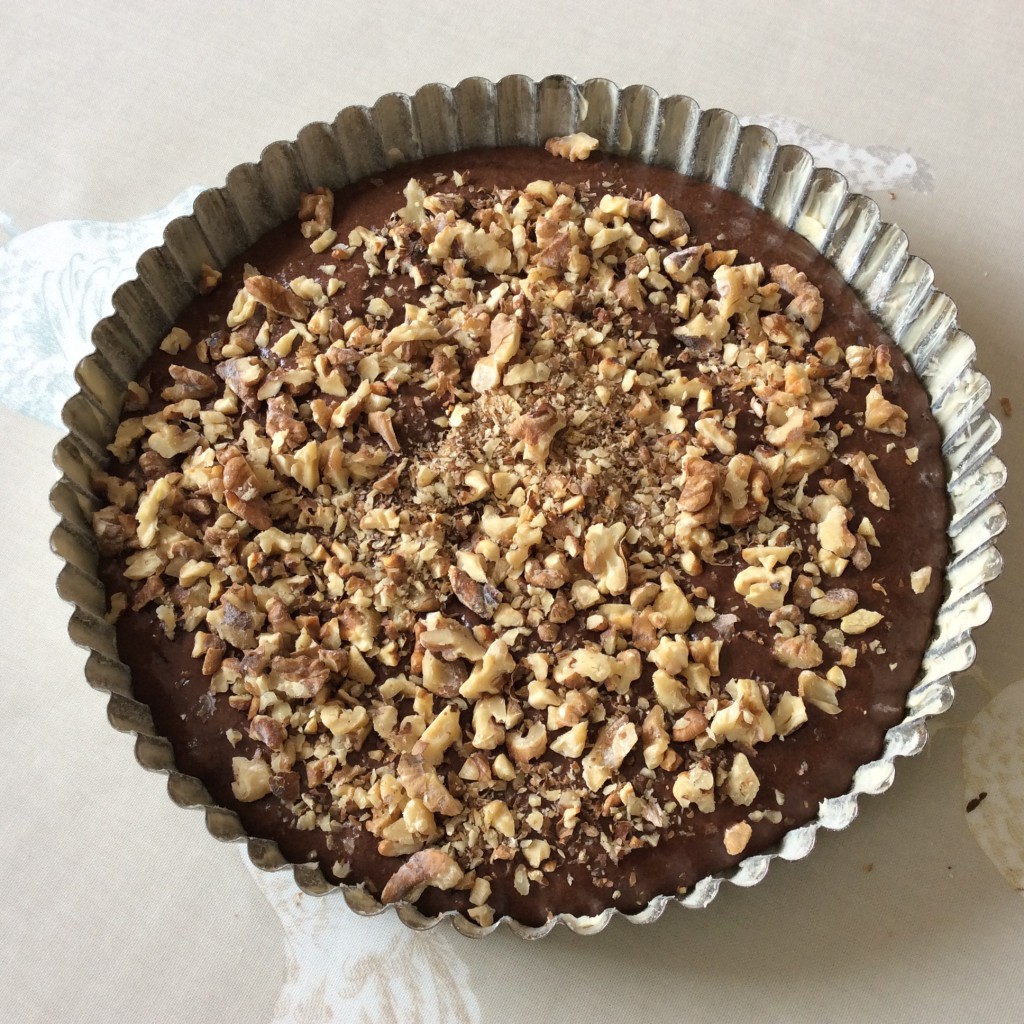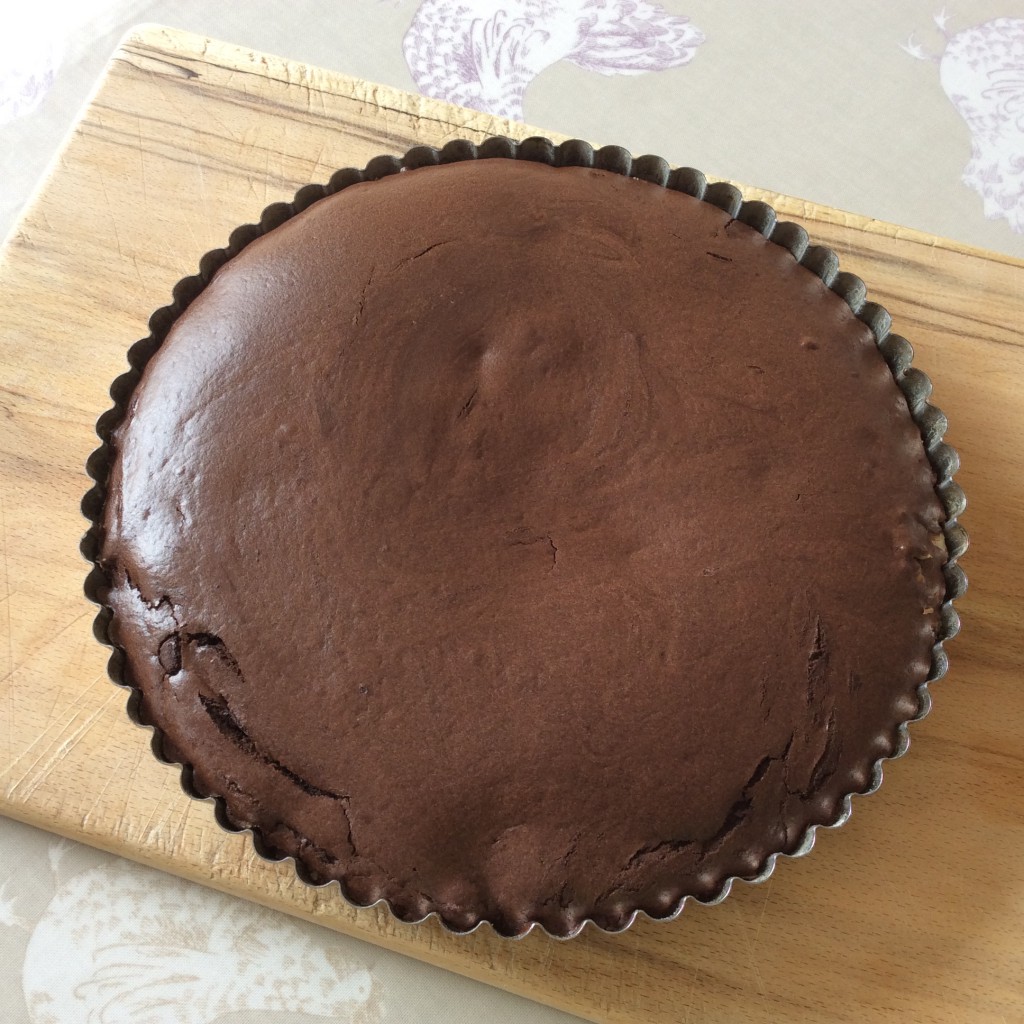 As Mr Blanc says at the end of every recipe: "Now serve to your guests "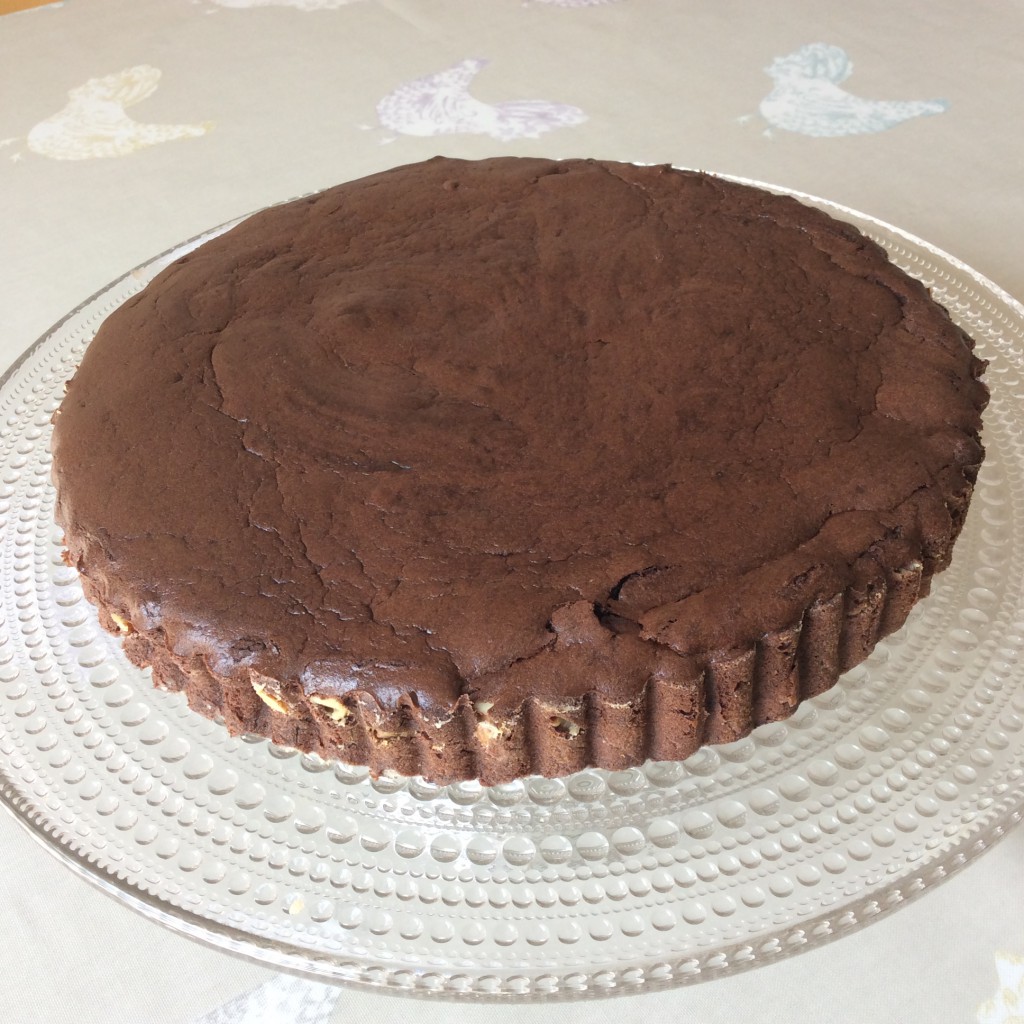 * Cooking for Friends by Raymond Blanc was first published in 1991. This is now out of print but used copies are available through Amazon.