Gochugaru Girl has tried her first recipe from the Bibigo Cookbook.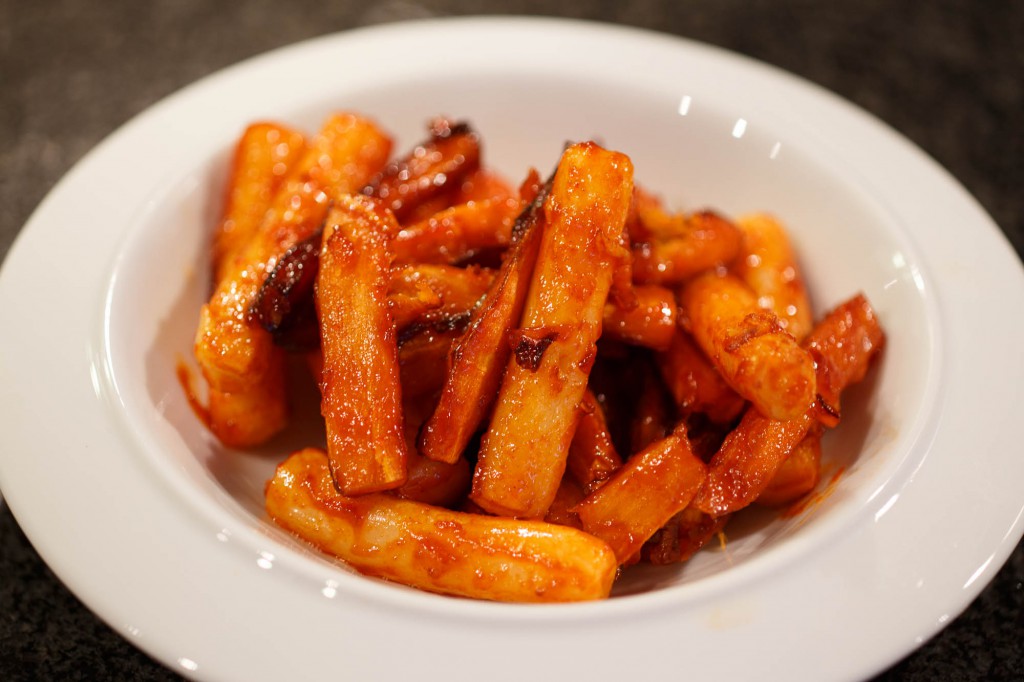 I have eaten this countless times at the restaurant and was keen to make it at home. There is something quite satisfying about the chewy texture of the rice sticks.
As I explained earlier, in order not to go mad trying to figure out the measurements given in the book, it is necessary to re-work the weight of the ingredients, exclude the ingredients you feel are unnecessary and make substitutions where necessary.
Bibigo is owned by CJ Foods, so they sell many of the ingredients featured in the recipes, as well as using them in the restaurants. This is not a bad thing at all, as it ensures consistency across their food outlets. It also makes it very easy for the home cook to follow their recipes in order to replicate a dish eaten in Bibigo.
The following recipe feeds 6 as a shared starter. It is easy to scale down to make a quantity for two people. The sauce is quite a dry one and the dish does not resemble the rice cakes sold in markets and stall all over Korea (tteokbokki/ 떡볶이), which is much wetter. I have not tried the latter, but Junior Two has, and she says they are quite different creatures. Since our family likes this version very much, we are sticking to this recipe for now.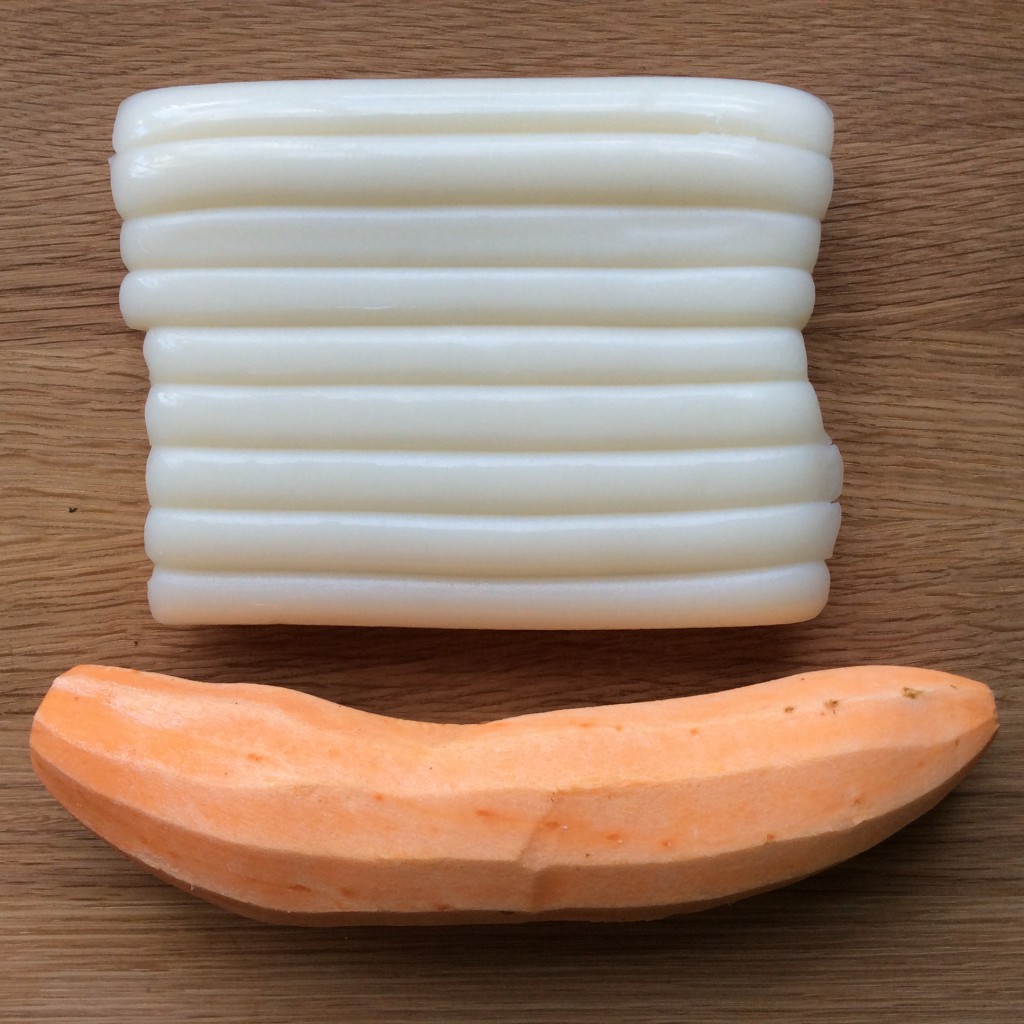 For the Rice Cakes:
500 g garae tteok/ rice sticks/ 가래떡
250 g sweet potato, peeled
Sunflower oil
For the Sauce:
(I tablespoon = 3 teaspoons, if you are scaling down)
I tablespoon sunflower oil
2 cloves of garlic, minced finely
Pinch of gochugaru/ Korean red pepper powder/ 고추가루
3 tablespoons goghujang/ Korean red pepper paste/ 고추장
3 tablespoons corn syrup
1 tablespoon tomato ketchup
1 tablespoon sugar
1 tablespoon soju (optional)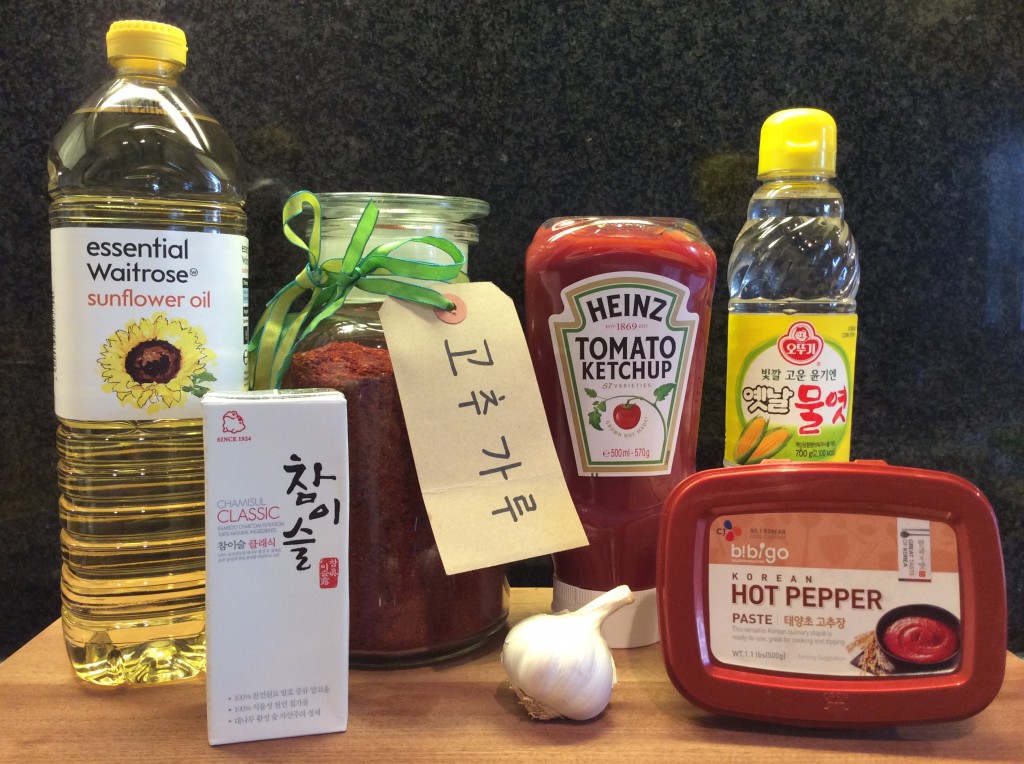 How to Make:
First prepare the sauce. Sauté the minced garlic with the oil in a pre-heated sauce pan over a medium-low heat.
Add the gochugaru, gochujang, corn syrup, tomato ketchup and sugar. Give it all a good stir and turn off the heat when the sauce starts to bubble. Add the soju if using.
Keep the sauce aside and prepare the rice sticks and sweet potato.
Separate the rice cakes and cut each into 3 cm-long pieces. If the rice cakes are of the thicker variety, first cut them into 3-cm long pieces and then quarter each piece into four sticks.
Similarly, cut the sweet potato into 3 cm-long pieces and cut into smaller pieces  to resemble to size of the rice sticks.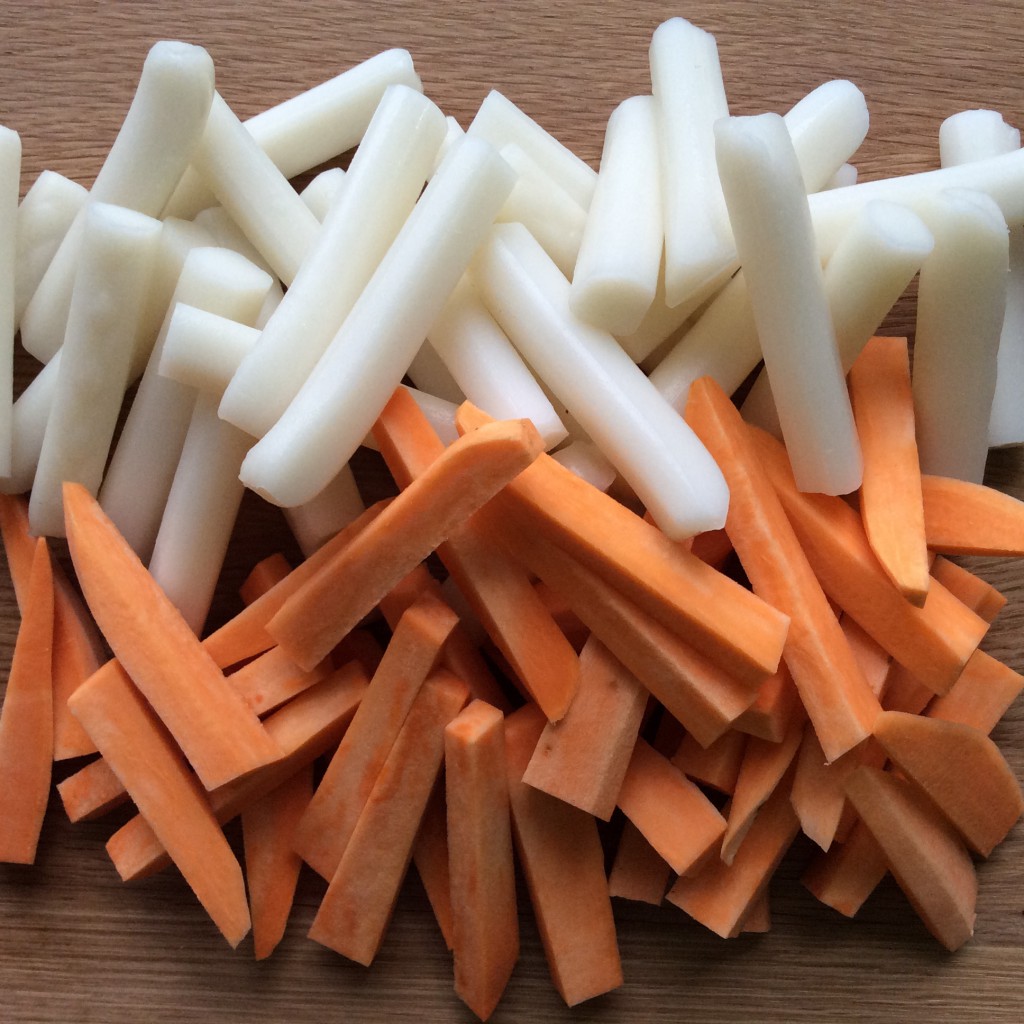 Drizzle a pre-heated pan with a thin layer of cooking oil and stir-fry the sweet potatoes over a medium heat. When the sweet potatoes are partially cooked, add the rice sticks and stir-fry together until the surface of the rice cakes turns crusty.
Scrape the sauce into the pan and toss together until the rice sticks and sweet potatoes are evenly coated. Serve immediately.