Gochugaru Girl loves Bibigo London. She loves it so much she even went to look for Bibigo in Seoul on her recent trip there. Now she has discovered their cookbook*.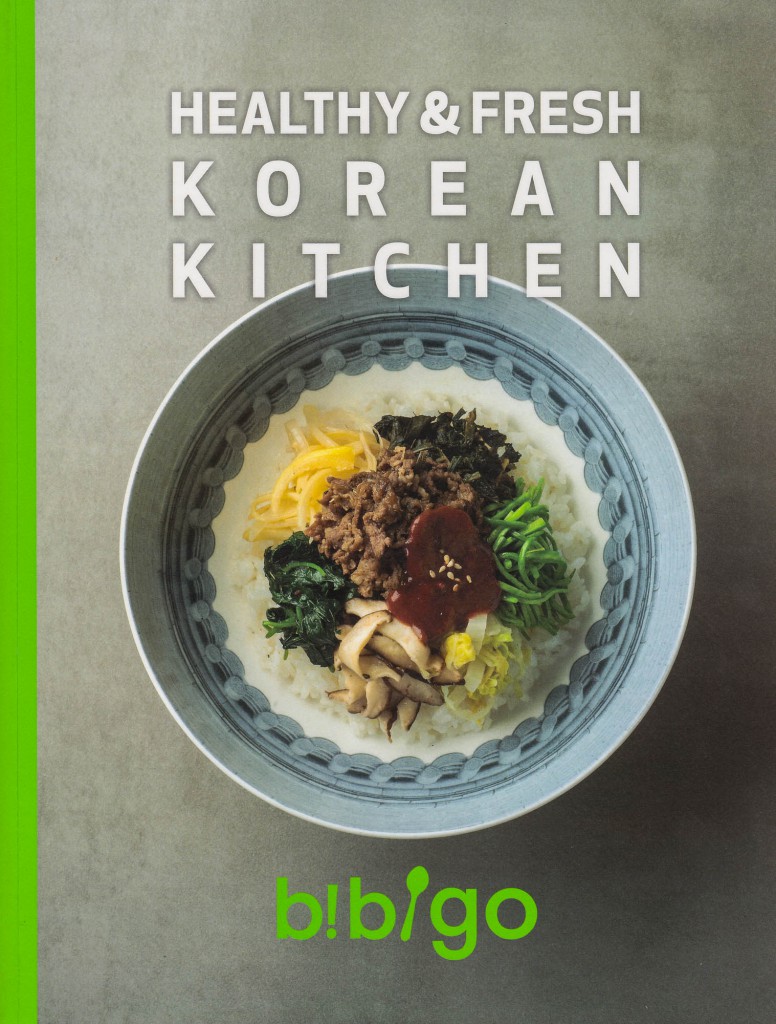 It wasn't exactly an auspicious start as I really did not want to try Korean food.
The week before my first meal at Bibigo, my friend June and I went to another Korean restaurant a little further down the road. It was a barbeque restaurant and whilst I like barbeques, it was just too fussy for a Wednesday lunchtime.
If there is a trait that June possesses, it is determination. In this case it was determination to get me to try more Korean food. I had passed Bibigo on the way to Liberty one day in the Spring of 2013, and reading the critics' reviews later, I was not impressed. So the deal with June was this: we would try Bibigo, and if the food was good, it would be a bonus. If it wasn't, we would put it down to experience.
I am happy to say it was a really good lunch. It shows Bibigo's responsiveness to the criticisms, as their menu has evolved into what is now an ideal introduction to Korean food.
It is possible to write a whole essay on why I love the food and atmosphere at Bibigo London, but mostly I bring all my friends so they can experience it for themselves. I could eat there every week, but for now I limit myself to once every three weeks…..just in case people think it's too crazy.
Lunch at Bibigo Seoul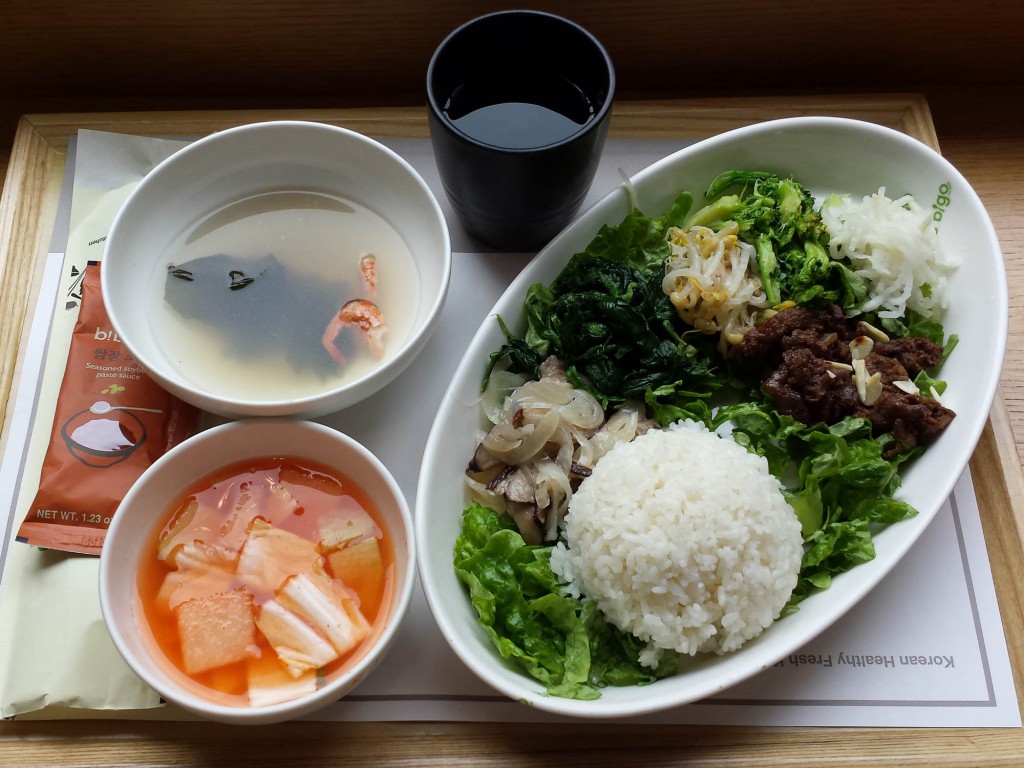 Having caught the Korean food bug, I have been making Korean dishes at home. It isn't difficult to find recipes on-line and our small local Korean supermarket stocks quite a number of key ingredients.
Although I bought the Bibigo cookbook in April, I only used it for the first time today. It wasn't for want of trying. I had returned to it time and time again, but the recipes are just so frustrating to interpret. A bit like the couples you meet in Korean dramas – they know instinctively things can work out, but some of the tricky details just get in the way of a fine relationship.
Here, the tricky details that get in the way are the weights and measurements given in the recipes, which are scaled down to feed one person, and very occasionally two, people. The weight of an ingredient can be as low as 0.1 ounce (as in, 1/10th of an ounce or 2.8 grams). Given that eating is a communal event in Korean society, I wonder if it would have been a better idea to give recipes that feed six people at least.
I am still looking for a happy ending. There are many reasons why I have not consigned this book to the charity shop:
I absolutely love Bibigo
The book was bought in Seoul and as such it is a reminder of my happy time there
The recipes showcase all that is delicious about Korean cooking
The photos of the finished dishes are beautiful
The background stories and explanations are wonderful to read.
So here is the 어떻게 question: how do you begin to like such an outwardly frustrating book?
I think the answer is that you have to work with what you have and be able to trust that the end result will be worth it, if only you can invest a bit of time to fill in the blanks and complement the recipe's shortcomings.
To this end, it is necessary to:
look at the photo of the finished dish
read the list of ingredients and work out the right measurements
read the instructions on how to make the dish and use your own experience to help you along the way.
Eating countless meals at Bibigo no doubt helps as well.
Today I tried Fried Rice Cakes (떡볶음) and Young Zucchini Pancake (찹쌀 호박전), which I will write about in a future post. Both were delicious and worthy of a repeat performance.
Lunch at Bibigo Seoul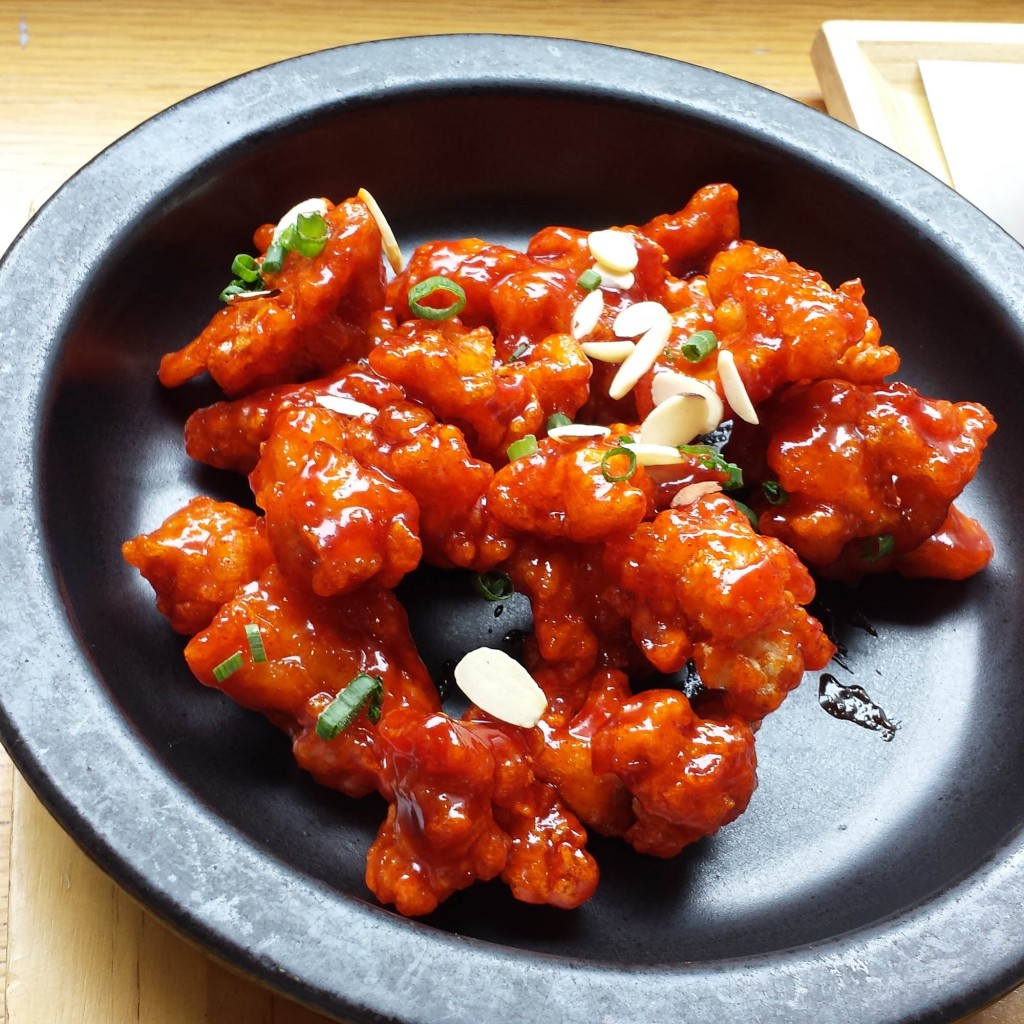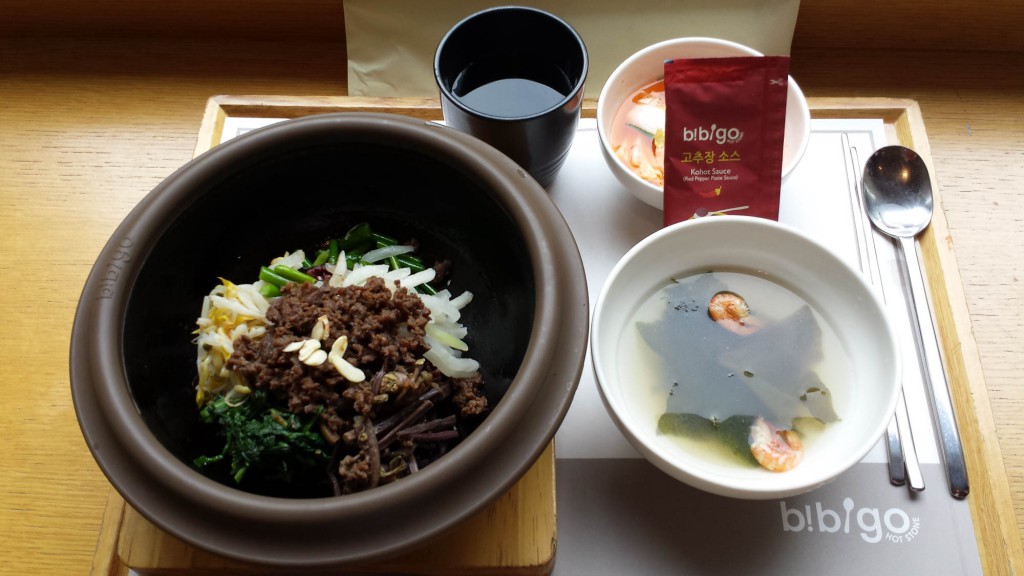 *Healthy and Fresh Korean Kitchen, Publisher KANG Jung-won/ postpaper, ISBN 978-89-98116-00-2. This was purchased at Kyobo Bookshop in Seoul.
Addresses:
Bibigo Soho
58-59 Great Marlborough Street
London W1F 7JY
Tel. 020 7042 5225
Bibigo Angel
407 St John Street
London EC1V 4AB
(due to open in November 2014)
Bibigo has other branches beside those in London and Seoul.