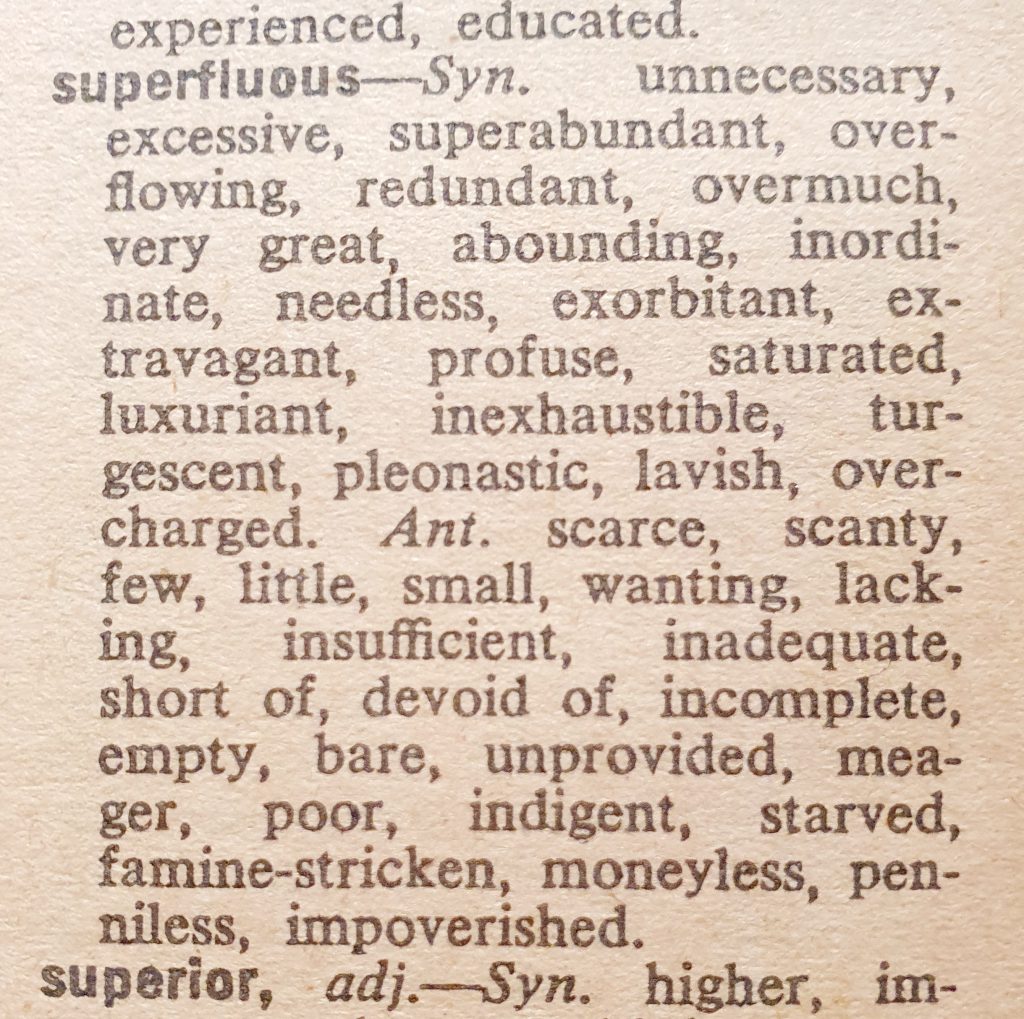 I have been in Kuala Lumpur for over two weeks now and have another full week to go. I wait for the end of the work day and my treat is always to take up the New York Time's Spelling Bee challenge. Our family used to aim for Genius but now we aim for Queen Bee status. Queen Bee is when you get every possible word, and in our home we even have a special Queen Bee crown for the person who gets the final word.
As there are only seven distinct letters in the game, it is not possible to make the word superfluous. I only bring this word up as it was the name of the cafe I went to yesterday afternoon.
On the way to the cafe I struggled to explain to KL Sister the meaning of superfluous. As I stepped out of the car I said: the best word I can think of to explain superfluous is pointless.
That was then. I have now fished out my father's 60-year-old copy of A Dictionary of Synonyms and Antonyms and you can read for yourself what some of its synonyms are. Turns out 'pointless' is not listed but I think I was not far off. There are more synonyms online.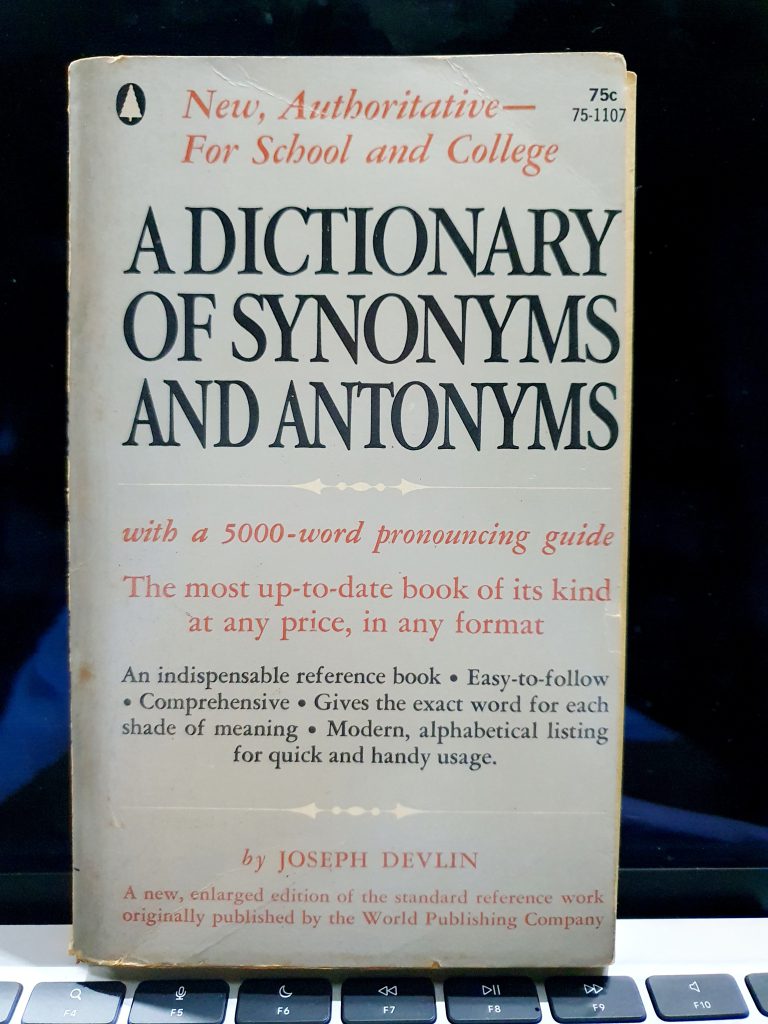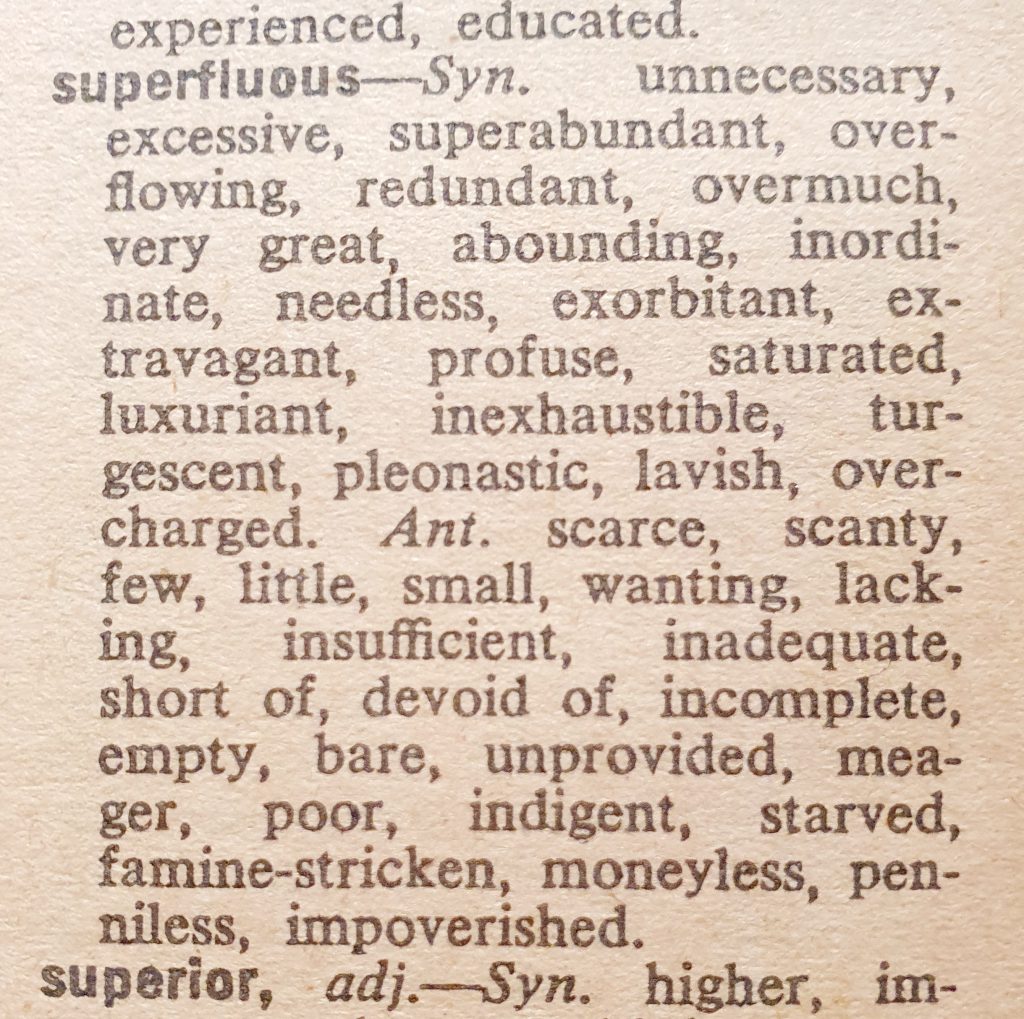 The thing is, I have been holed up (again) in my father's study room sorting out papers. Having sorted out his massive collection of books on my last trip, this time I am tackling his papers. For a start, there are eight large plastic crates and eight deep cabinet drawers to sift through.
Some of the company reports and analysis we have to keep as it is part of our family's share portfolio. Personal letters (sent or received – my father always kept copies of both) were skimmed through because I ask myself, what use is it to resurrect an old grievance? Only one sheet contained a very funny joke that made me laugh out loud. Why was my father so serious?
In the past few days I have sifted through file upon file and discarded around 30,000 sheets of A4 sized paper. Whenever my father came across a wise saying or an intelligent piece of investing advice, he always printed out numerous copies (hundreds, actually) to share with friends. I kept 3 copies of each for my sisters and myself. The rest, you've guessed it, is superfluous in the sense of being excessive and redundant.
Back to Cafe Superfluous in Taman Desa. I had forgotten my mobile phone so here are photos of the cafe from Eat Drink KL  and an article from the Malay Mail. KL Sister and I shared an Everything Bagel and a Coffee Almond Croissant. Both were on the lighter side of what is usually quite a heavy dough experience. I had a matcha lemonade and kicked myself for not having thought of such an innovation as I love matcha. I tend to have it as matcha latte but that is always a hot drink (cold milk is for cereal).
When I came home I googled 'how to make matcha lemonade' which returned 2,930,000 results in 0.58 seconds. No excuse now not to make this as an alternative drink this Christmas. Cafe Superfluous said their matcha lemonade was made with matcha, fermented lemonade and soda water. Later, I also had another teatime treat in the form of some homemade banana cake (not made by me).
After all this you might be wondering if I am going to recommend a dictionary of synonyms and antonyms as my book of the day. Instead, I am suggesting a cake book because I miss my oven and this is to fill the gap between now and when I get home. I picked this book randomly as it popped up when I was looking through Amazon, picking up Christmas gifts. I know that not everyone likes using Amazon but it serves a role when I am so far away from my family.
Patisserie Maison: The step-by-step guide to simple sweet pastries for the home baker by Richard Bertinet, published by Ebury Press, ISBN 978-0091957612. I bought the Kindle version to read on my 14 hour flight back to London next week.