It has been a month of activity and inactivity. The world is slowly opening up and we have ventured away from home a bit more than usual, resulting in less time to post articles and recipes. If I can manage it then there are photos of Kew in Spring and a wonderful trip to the Isles of Scilly where we had a blissful stay on Tresco Island.
But first, let's get this New York Cheesecake recipe tucked into bed.
What set me off was that my dad loved baked cheesecake and I wanted to mark the first anniversary of his death two weeks ago.
What a minefield! There are as many recipes for baked cheesecake as there are recipes for Brownies, and everyone has their favourite flavour. For a start, have a look at the variations on a theme from The Cheesecake Factory.
What I really wanted was something classic, made without any fuss, and to this end I went to Yasmin Newman's recipe in her book The Desserts of New York. The recipe can be found here and my slight adaptation is below, with measurements for the full cake as well as for smaller sizes.
For me, the key to success lies in using what I call 'industry standard' ingredients i.e. McVitie's digestive biscuits for the base and Philadelphia cream cheese for the filling. I always use French unsalted butter, organic eggs and unrefined caster sugar in my baking. When the recipe is so simple there is nowhere to hide.
All you need is love…and digestive biscuits, cream, butter, sugar, eggs and cream cheese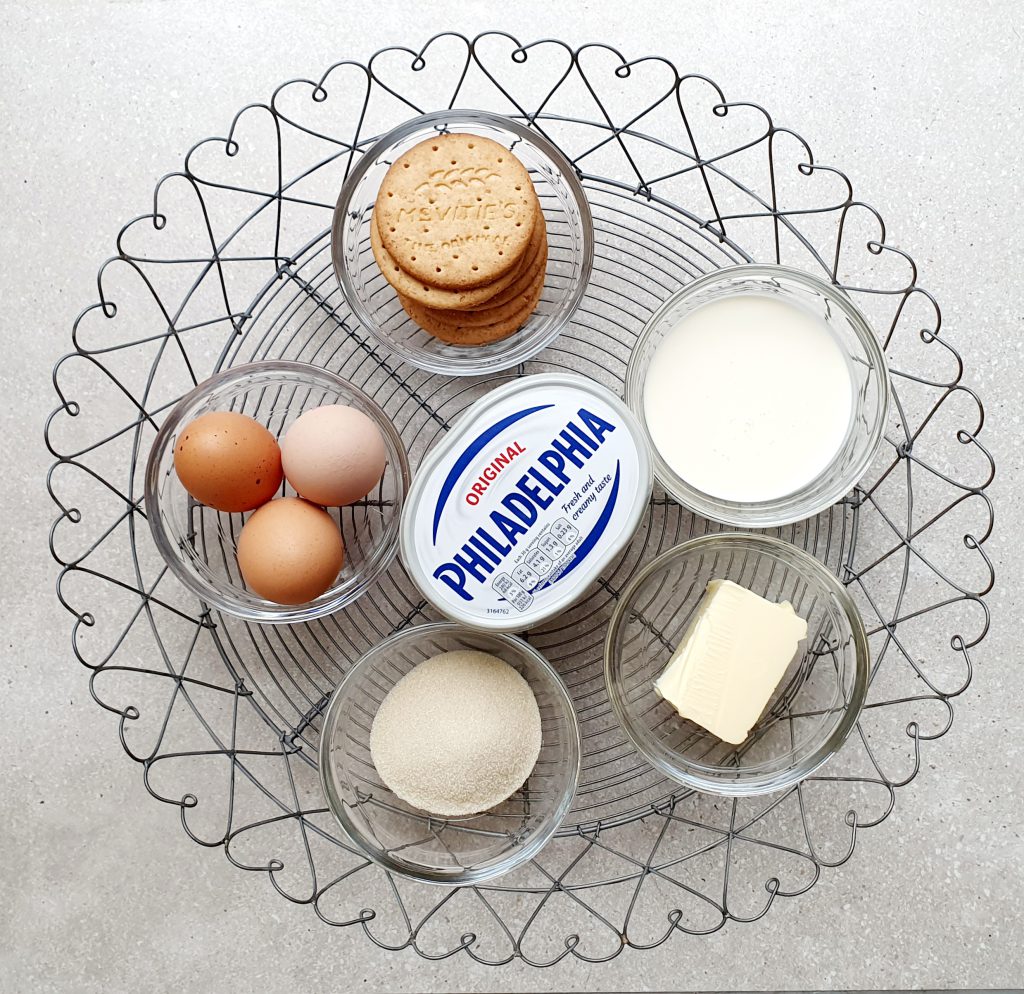 Most baked cheesecake recipes warn you about the cheesecake having a cracked top if you don't do this and that. This is why so many cheesecakes have a topping – to hide the imperfection. This recipe avoids those complications. I made it twice and both times the top did not have any cracks. The one worry I had was that I now no longer have a springform tin, so I used a loose-bottomed baking tin instead. It worked fine.
I do feel sad when I think of my dad because he just loved life and I know he wanted to continue living. The point at which we leave this world is never our call, so I remind myself daily a) to thank God that he has given me another new day and b) to always make this the best day I can share with those whom God has placed around me. If you are reading this post then perhaps you might consider that you one of these people, even if you are not here in London.
With the warmer weather I served the cheesecake with a selection of berries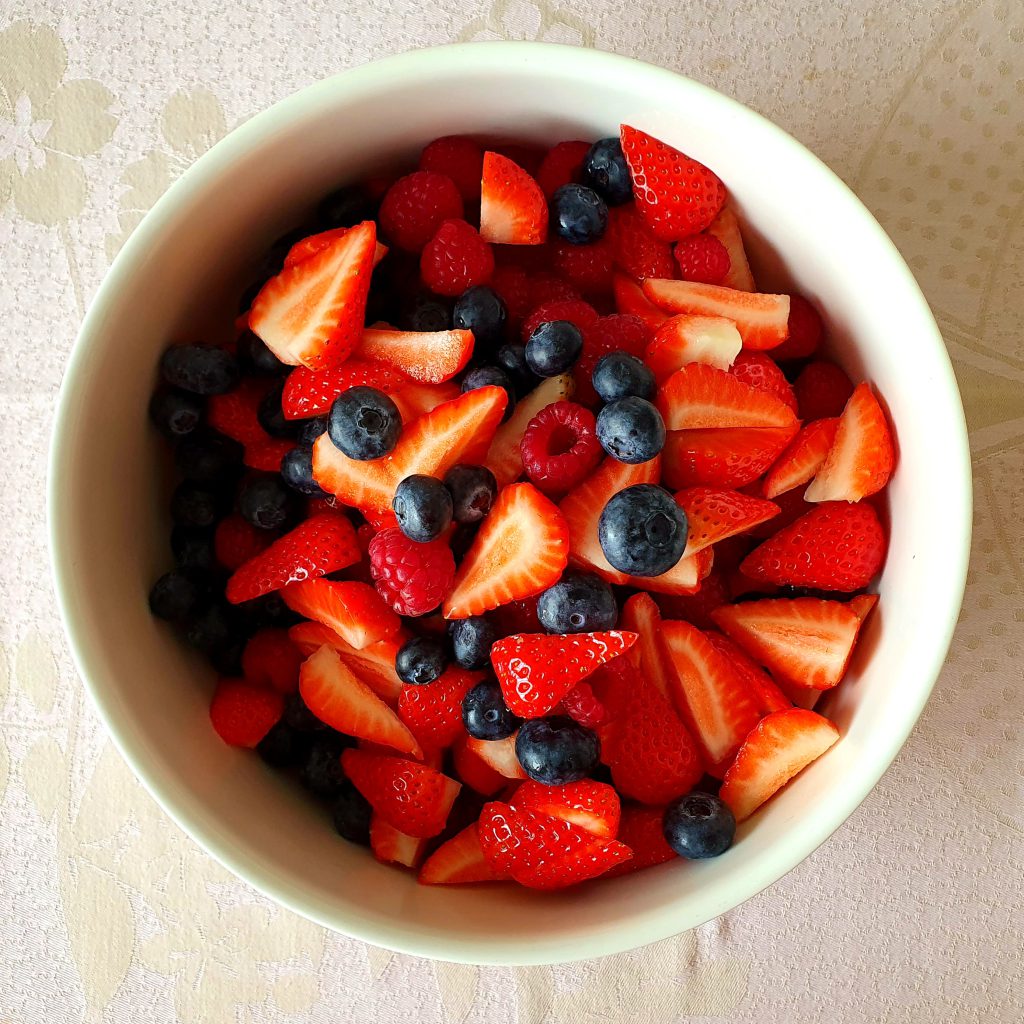 Prepare all the ingredients according to how large a cheesecake you want to make. The cheesecake is very rich and a small slice goes a long way, but it is quite addictive. We found ourselves going back for more and more. Start off cautiously with an 18 cm cake if you are not sure.
Springform or round loose -bottomed tin
23 cm Wrap base with large piece of foil
20 cm Wrap base with large piece of foil
18 cm Wrap base with large piece of foil
Base
Digestive biscuits
200 g
150g
100 g
Unrefined caster sugar
60 g
45 g
30 g
Unsalted butter, melted
100 g
75 g
50 g
Filling
Philadelphia cream cheese
1 kg
750 g
500 g
Double or whipping cream
380 g
285 g
190 g
Unrefined caster sugar
220 g
165 g
110 g
Eggs (weight without shell)
4  (240 g)
3 (180 g)
2 (120 g)
Vanilla extract
1 tablespoon
2 teaspoons
1½ teaspoons
Unsalted butter, melted
80 g
60 g
40 g
Oven temperature and time
160 C / 145 C fan

1 hour 30 minutes

160 C / 145 C fan

1 hour 20 minutes

160 C / 145 C fan

1 hour 10 minutes
So fattening, but so good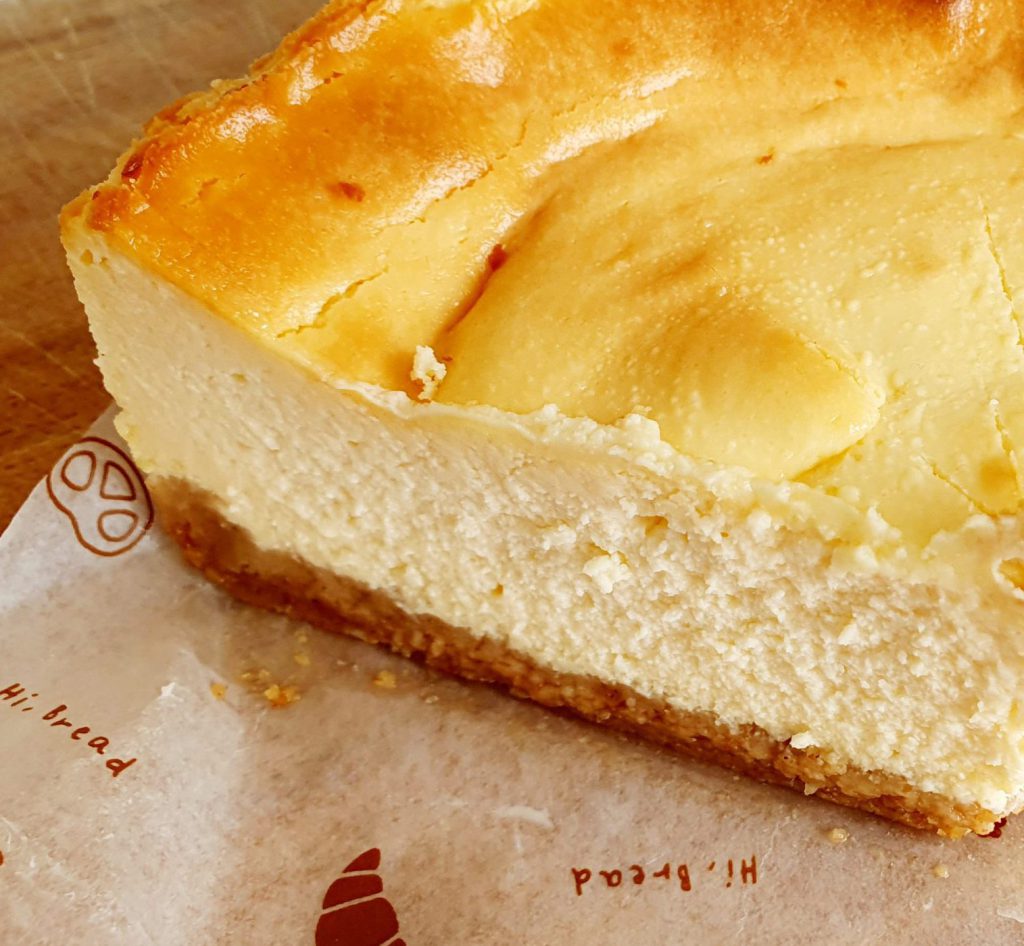 STEP-BY-STEP INSTRUCTIONS
Everything must be at room temperature before you begin, and the butter melted beforehand.
Prepare the Tin:
Butter the sides of the tin and line the base with a circle of baking parchment. Wrap a large piece of foil around the outside of the tin. This is in case the butter from the biscuit base leaks out. The cheesecake mixture itself is unlikely to leak out as the biscuit base acts as a barrier.
Prepare the Base:
Place the digestive biscuits and sugar into a food processor and process until they turn into crumbs. I used my Thermomix at 5 seconds / speed 5, repeating until I got fine crumbs.
Tip the crumbs into a large mixing bowl, add the melted butter and mix until well combined. Place in the prepared tin and press until evenly spread and compact.
Chill the base whilst you prepare the filling. Now is the time to preheat the oven to 160 C / 145 C fan. Position an oven rack in the middle of the oven, to ensure even heating.
Prepare the Filling:
Place the cream cheese into the bowl of a free-standing electric mixer with the paddle attachment. I used a KitchenAid. It is also possible to make the filling in a food processor but for the volume in the original recipe, which calls for 1 kg of cream cheese, I feel this would be challenging.
Beat the cream cheese on a medium-low speed until the texture has loosened and is less lumpy.  Add the cream, sugar, eggs and vanilla. Beat on a medium speed until everything is well combined and the texture is smooth. Finally add the butter and mix again until it is incorporated.
Do not be tempted to over-process the cream cheese mixture. Unlike a cake, incorporating extra air will not help, as the cheesecake will puff up on baking then sink immediately after, resulting in a dipped surface. However if this is the look you are trying to achieve, perhaps with a thought to filling the dip with e.g. fresh berries or a caramel sauce, then go for it!
Pour the cream cheese mixture on top of the biscuit base. Smooth the top with the back of a spoon, then gently tap the tin on a work surface to remove any air bubbles. This helps to ensure a smooth surface for the cheesecake.
Baking and Chilling
Bake the cheesecake for the prescribed time (see table above). The aim is for a cheesecake that is slightly risen and just set on top. Check this by gently shaking the tin – the mixture should still wobble slightly. It will firm up when chilled.
Remove the cheesecake from the oven and leave it in the tin until completely cooled. Cover the top with foil and place overnight in the fridge. The cheesecake tastes better this way, but if you are short of time try to chill it for at least four hours.
When you are ready to serve, remove the cheesecake from the tin. Bring to room temperature 20 minutes before serving. Cut into pieces and serve with a mixture of fresh Summer berries, or (if you are my father-in-law) some Cornish clotted cream.
The cheesecake before going into the oven, and afterwards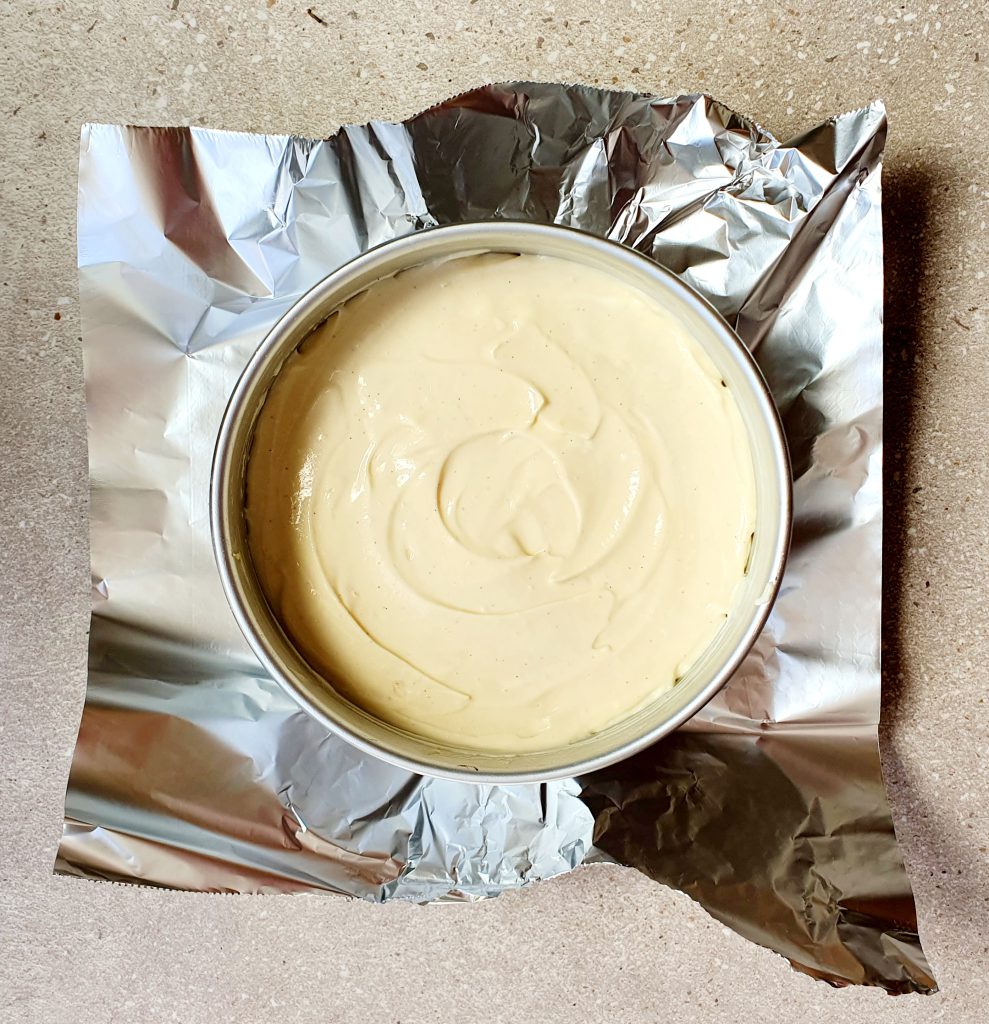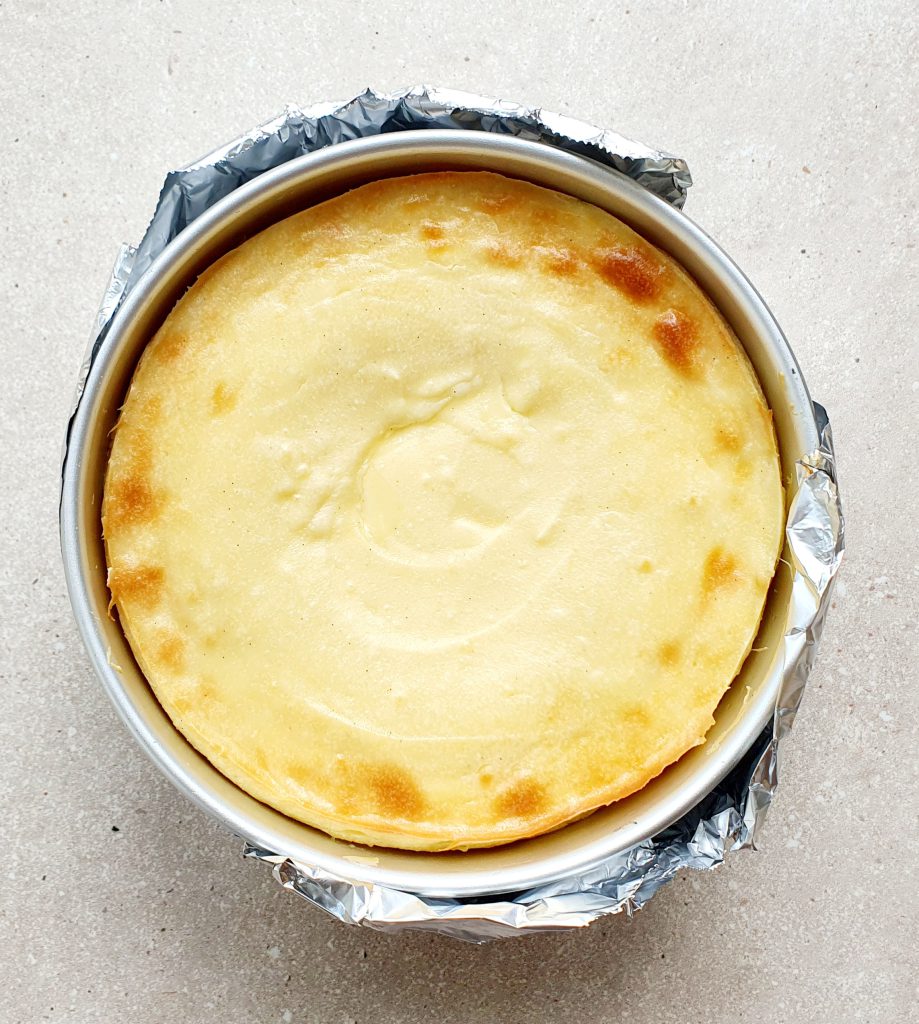 When fully chilled the cheesecake dropped a little and there was a small crack on the surface, but nothing to worry about given how easy it is to make this cheesecake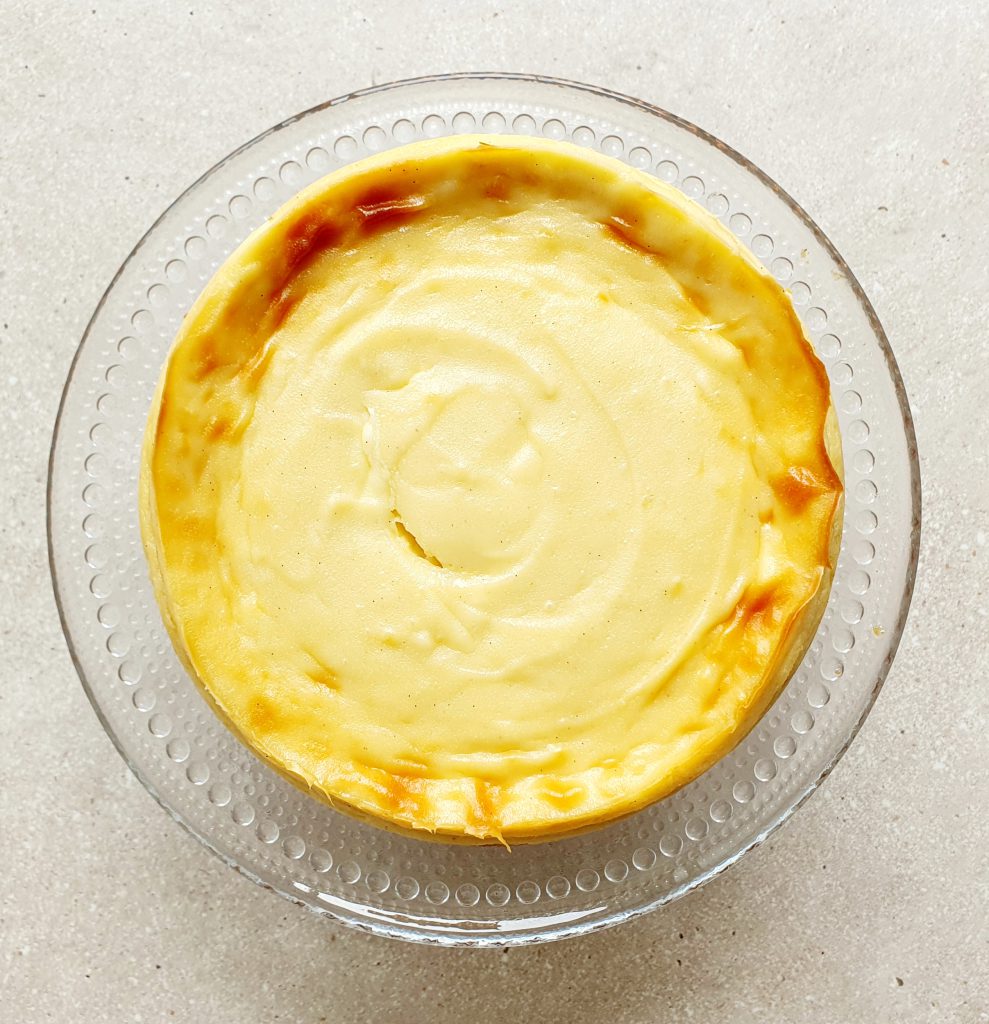 The Book:
The Desserts of New York: (And How to Eat Them All) by Yasmin Newman, published by Hardie Grant Books, ISBN 978-1743792124.
Since my last trip to New York and purchasing the book, my doctor has put me on statins. I am not sure how to eat all the desserts Ms Newman recommends, but let's try, bit by bit. Amazingly my dad never had a problem with his cholesterol despite eating anything and everything he wanted.