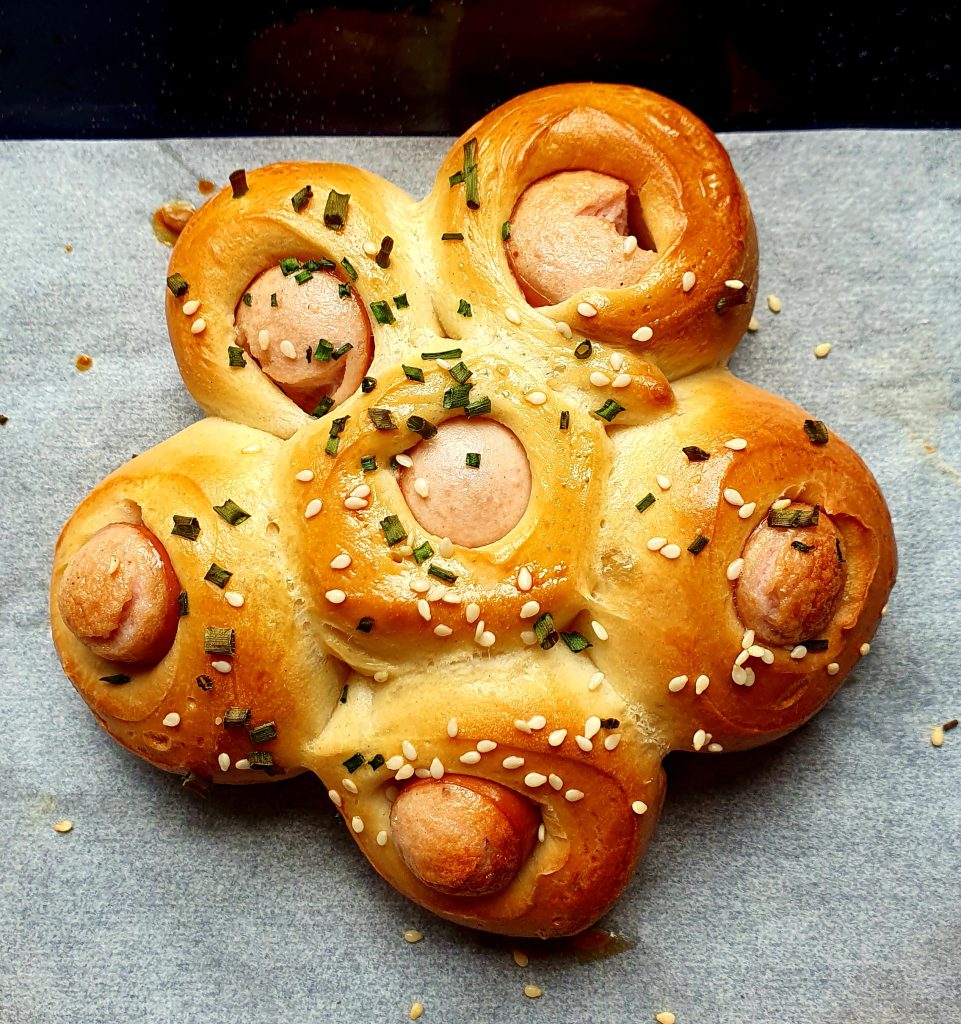 To say that I love bread is an understatement. I love bread in all its forms and nothing makes me happier than seeing, handling and eating bread.
The slight problem is that I dispensed with kneading dough by hand a long time ago and now only bake bread sporadically, and with the help of my Thermomix. I even find using a Kitchenaid long-winded. The reason is that I live in Central London where we are truly, truly spoilt.
Recently I made a list of the artisan bakeries within 2 kms / 1.3 miles / 30 minutes' walking distance from my doorstep and came up with a very long list. Next week I am teaching the Lord's Prayer (Matthew 6: 5 – 15) at our women's Bible class, and when we reach the part where it says give us this day our daily bread I will be especially thankful. Not only do I have access to my daily bread but also to my daily bakeries.
The only thing is, these are all western bakeries. For a Chinese bakery, I have to make my way south to Chinatown or north to Wing Yip. There, I can get my fix of soft Chinese buns but I know they are made rapidly using flour improvers and bleached flour. I am always left a little disappointed.
Similar buns, Japanese and Korean-style, are sold around London but they too will not match a home-made version for integrity of ingredients.
After reading many recipes on this sort of Oriental baking, Kristina Cho's book Mooncakes and Milk Bread has come to the rescue, once and for all. It took me six months and five attempts with three bookshops before I secured a copy. It now lives next to me, and I have ordered a few further copies for everyone in my family and friendship group who loves baking. This is the ONLY Chinese bakery book you will ever need, I promise.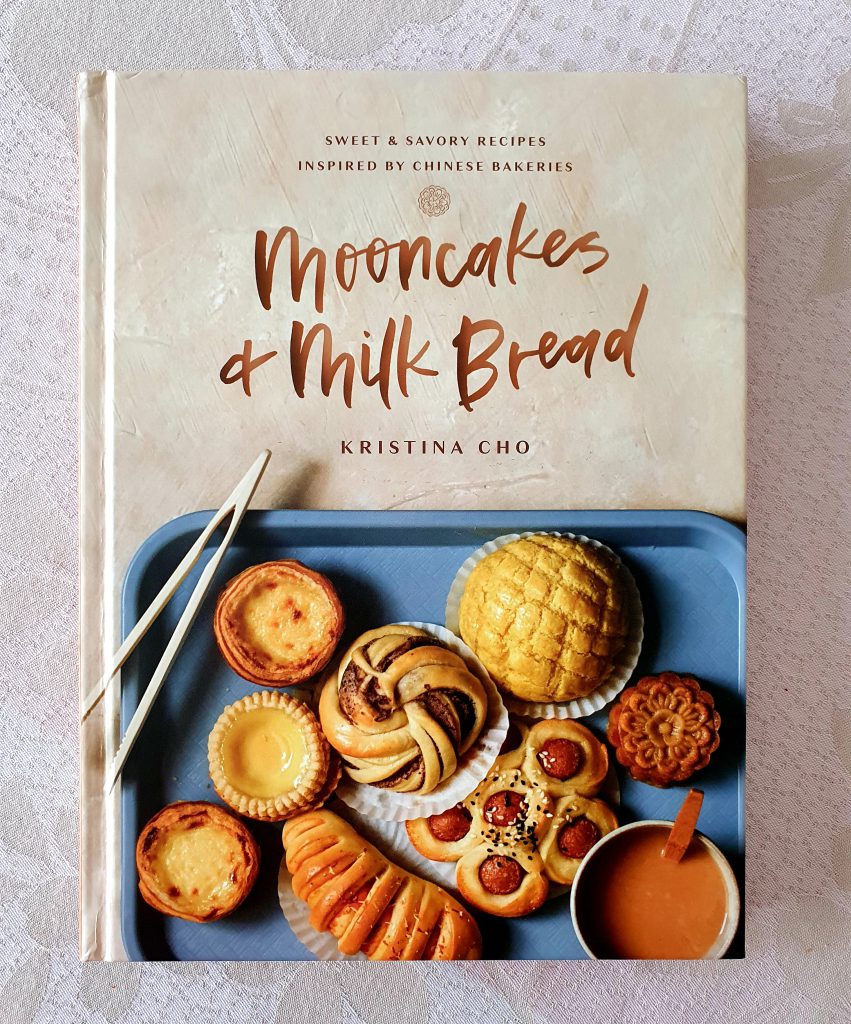 Last weekend I tried three recipes from the book for a family lunch, and all three turned out perfectly. The one I am featuring in today's post is the Hot Dog Flower Bun. The original recipe from Ms Cho's blog is here. Her recipe for milk bread, what she refers to as The Mother of All Milk Breads, is here. My recipe below has been adapted for use with a Thermomix, and uses metric measurements and baked in a fan-assisted oven. In short, it is the perfect recipe to test drive my new kitchen.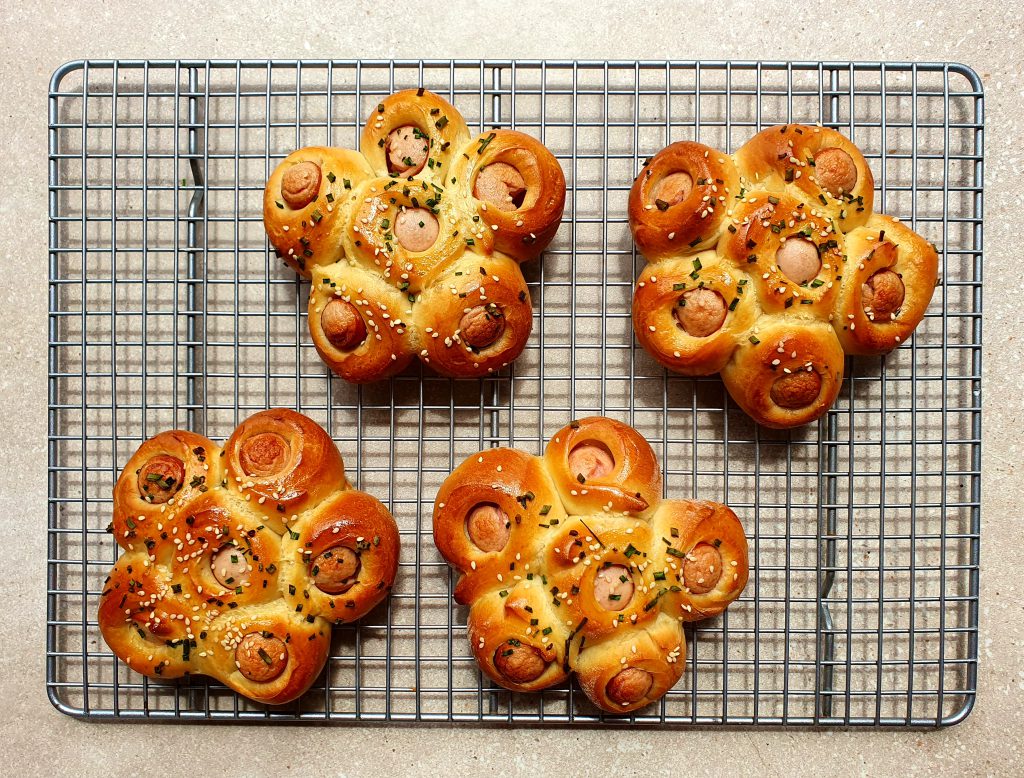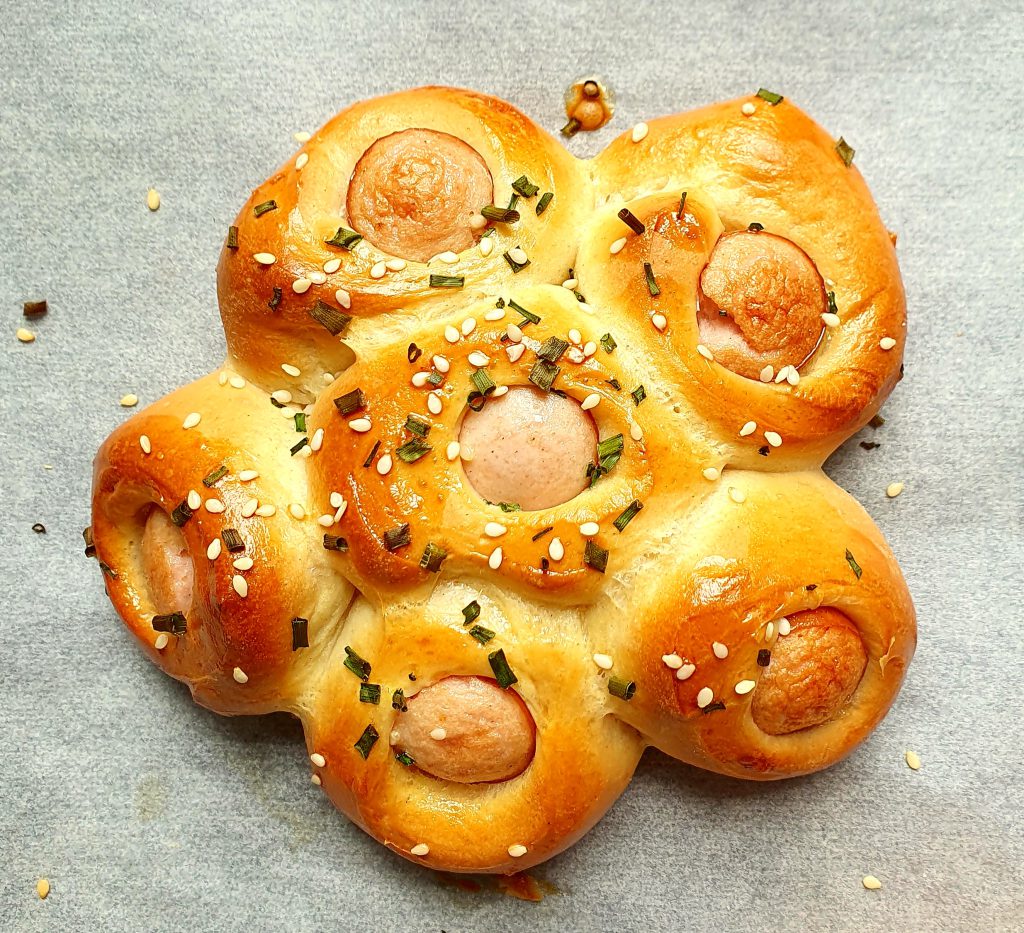 What makes the milk bread super soft is the addition of tangzhong. This is a paste (roux in French) made from milk and flour. An explanation is here and the ratio is 1 part flour to 5 parts milk. I am slightly ashamed that I did not venture to try milk bread earlier. However my first attempt was so successful I am already planning my next batch of buns.
For the Milk Bread and Filling:
100 g full-fat milk + 20 g bread flour, for the tangzhong.
125 g full-fat milk
1 teaspoon instant dry yeast
30 g unrefined caster sugar (see note below)
335 g bread flour
½ teaspoon coarse salt (see note below)
1 large egg, around 58 g without the shell
55 g unsalted butter, softened
8 – 10 frankfurters
1 small egg + 1 tablespoon double cream, for the egg wash
chopped chives and sesame seeds for sprinkling over
You will also need two lined baking sheets, and a large bowl oiled with 1 teaspoon of whichever neutral-flavoured oil you can procure in these times of cooking oil rationing. Please refer to the original recipe here, as my recipe is specifically for use with a Thermomix.
How to Make:
First make the tangzhong. Place 100 g full-fat milk + 20 g bread flour in a small saucepan over low heat. On my electric hob this is level 6. Stir the mixture vigorously for 3½ minutes (see below on appliances). This will result in a soft paste.
Remove the paste from the warm pan and place in a bowl to cool down. Place the tangzhong next to the other ingredients you are using for the dough.
Start on the bread dough. Place 125 g full-fat milk + 1 teaspoon instant dry yeast in the TM bowl. Warm 2 minutes / 37 C / speed 2.
Add 30 g sugar, 335 g bread flour, ½ teaspoon salt, 1 large egg and 55 g butter. IMPORTANT: now add the cooled tangzhong. Knead 3 minutes / dough function.
Using a silicone spatula, scrape the dough into the oiled bowl. Pull the sides of the dough gently towards the middle, then turn it over to make a ball. Cover the bowl with cling film and leave in a warm spot (see below on appliances) to proof until doubled in size. This take around 1½ hours. You can also keep the dough overnight in the refrigerator, to have a longer proof of 8 hours. Bring the dough back to room temperature before continuing with the recipe.
Making the tangzhong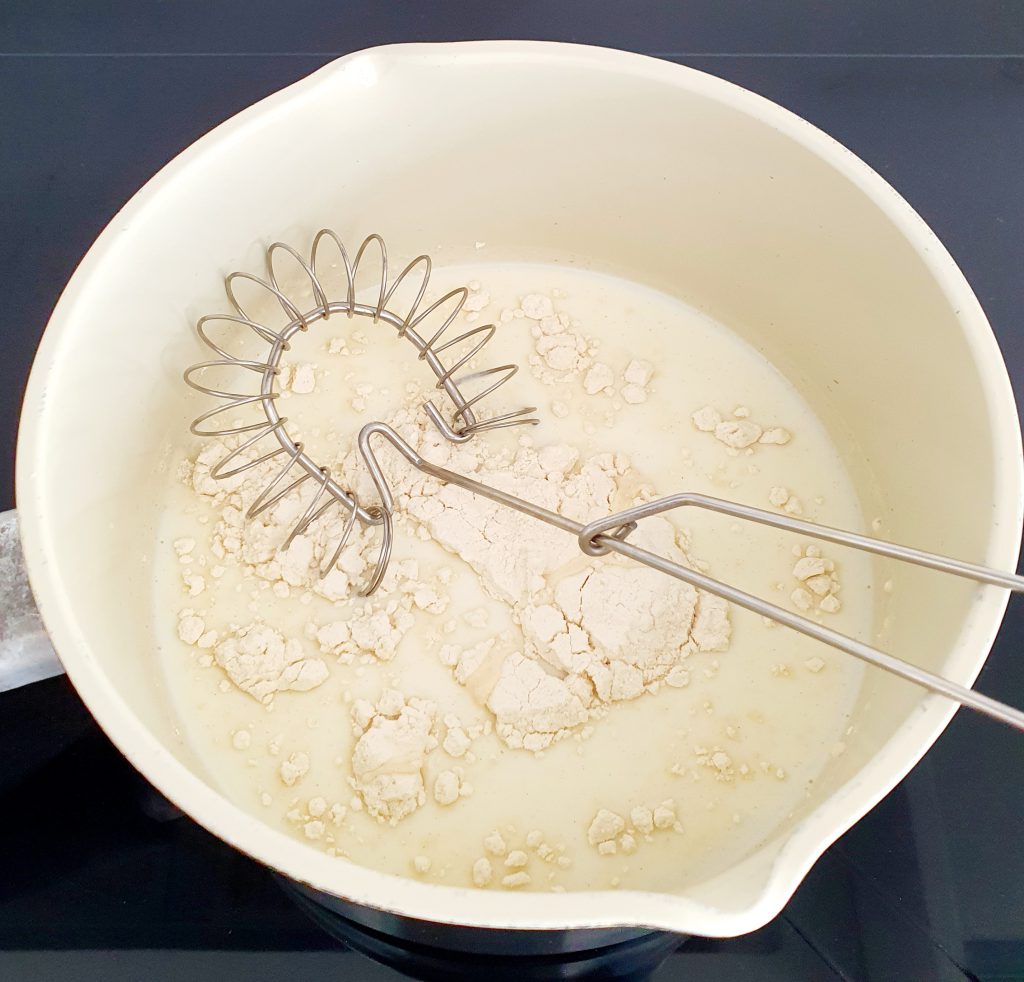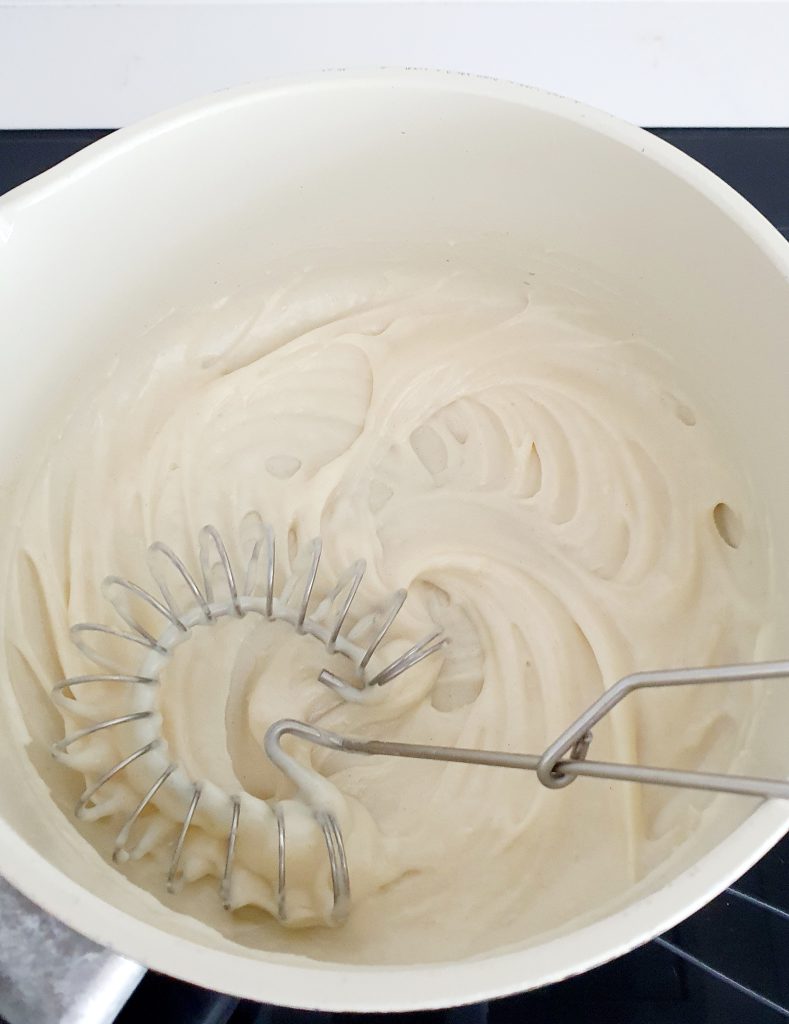 Making the dough in the Thermomix, and proofing it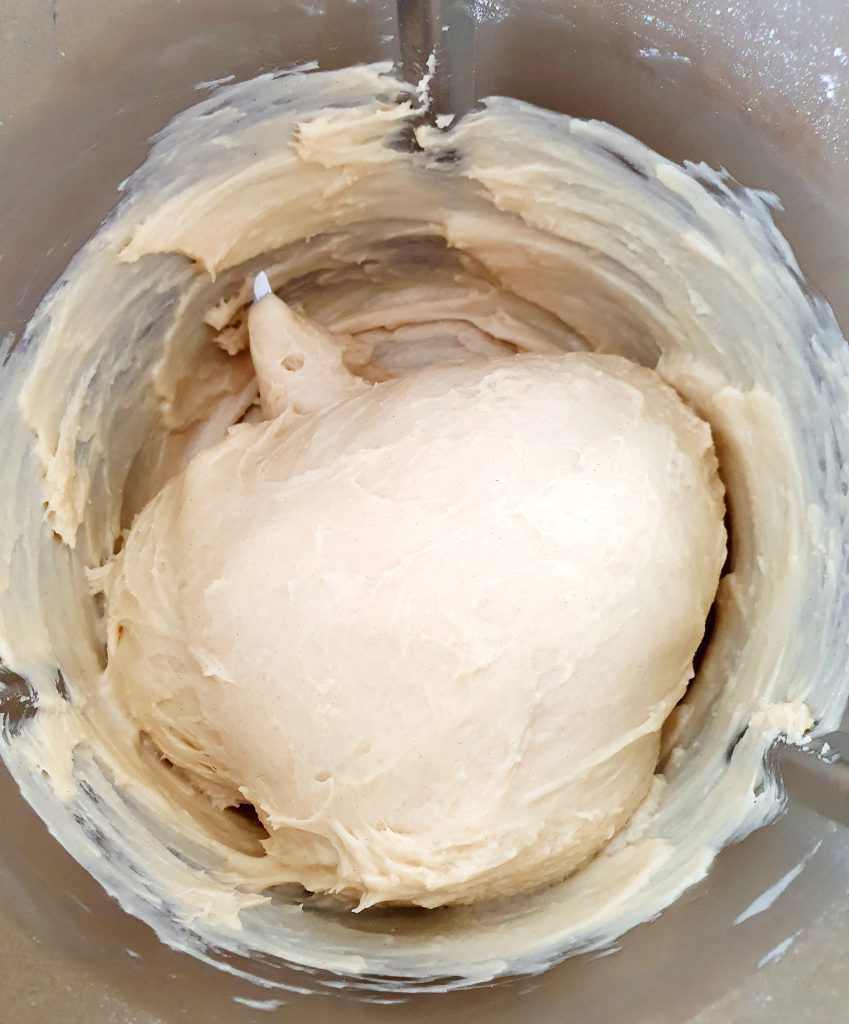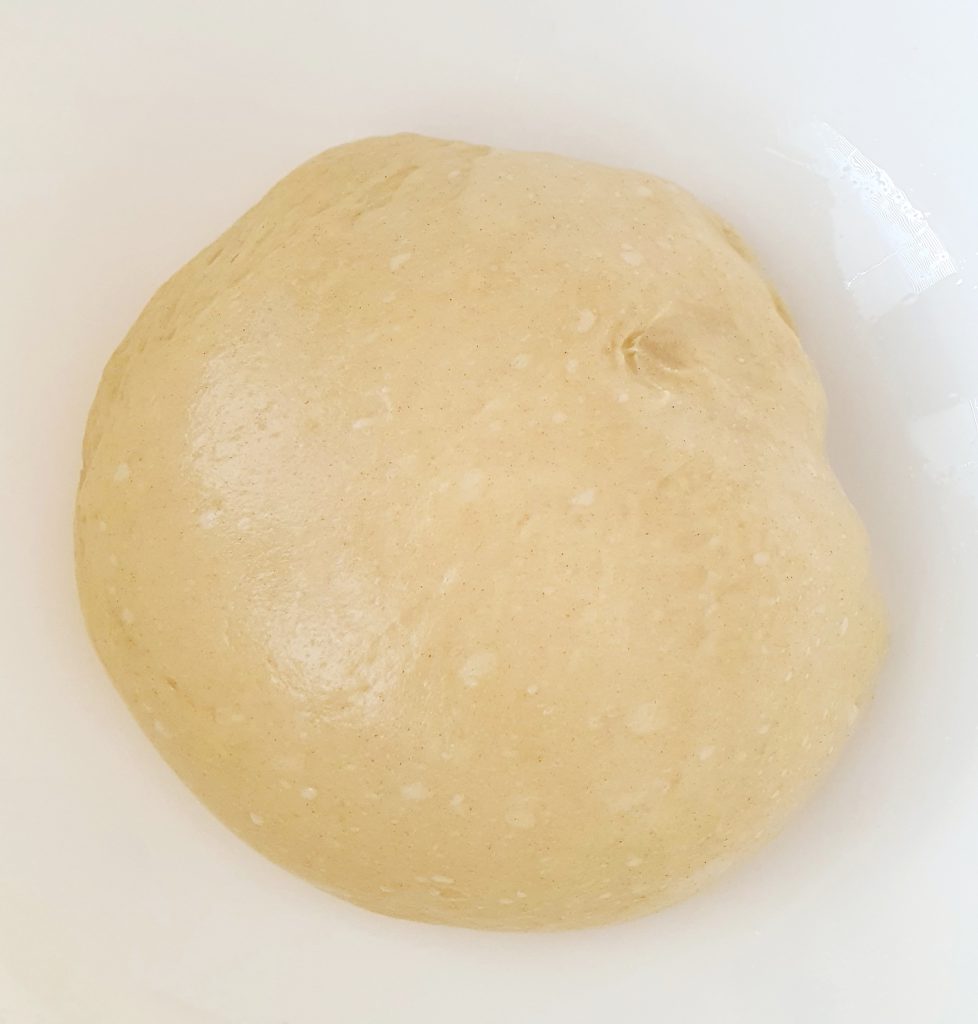 After the first rise, now is the time to form the flower buns. Start by dividing the dough into 8 – 10 portions, to cover the number of frankfurters that you have. I weigh each portion out to ensure uniformity.
Roll each portion of dough into a rectangle long enough to cover the length of the frankfurter. Place 1 frankfurter in the centre of the dough, then roll up and pinch the seams closed, using a bit of water as necessary to seal the seams.
Using a sharp knife, cut the roll into 6 equal pieces. Arrange these into the shape of a flower, with 1 centre piece surrounded by 5 petals. Place the hot dog flower on a lined baking sheet. Repeat with the remaining buns. Cover with a piece of cling film and proof for around 45 minutes.
Towards the end of this second proofing heat the oven to to 180 C / 160 C fan. Beat the egg with the cream and use this egg wash to brush over the top of the flowers (just the dough, not the frankfurters). Sprinkle over the chopped chives and sesame seeds.
Bake the buns for 18 – 20 minutes until golden brown. Leave to cool before tucking in. I found it quite difficult to resist the soft buns and see an obsession coming on.
Shaping the hot dog flowers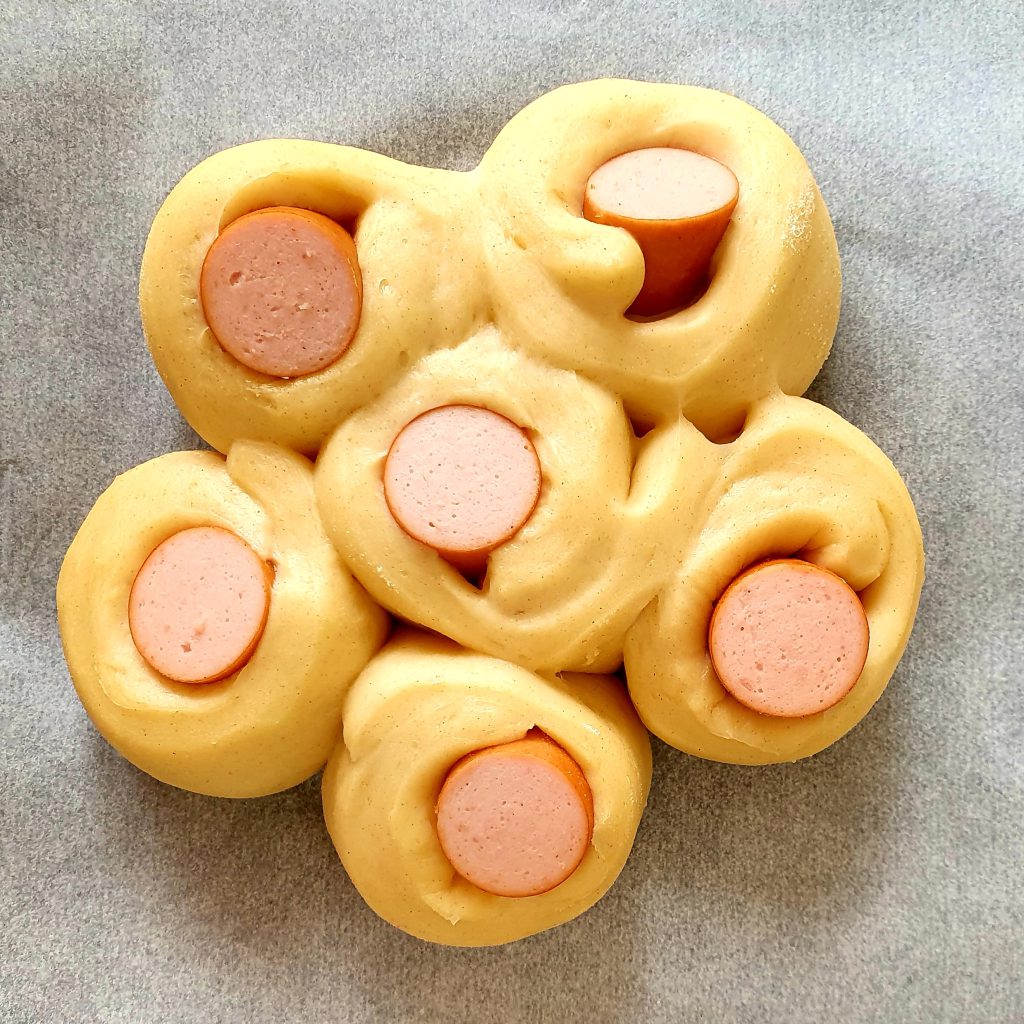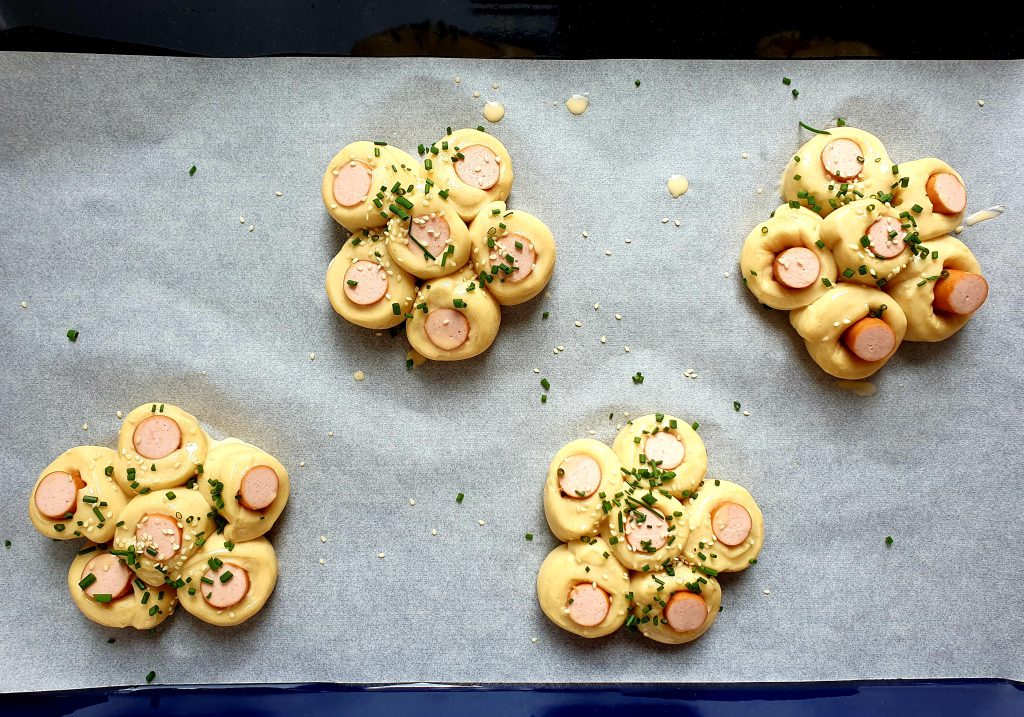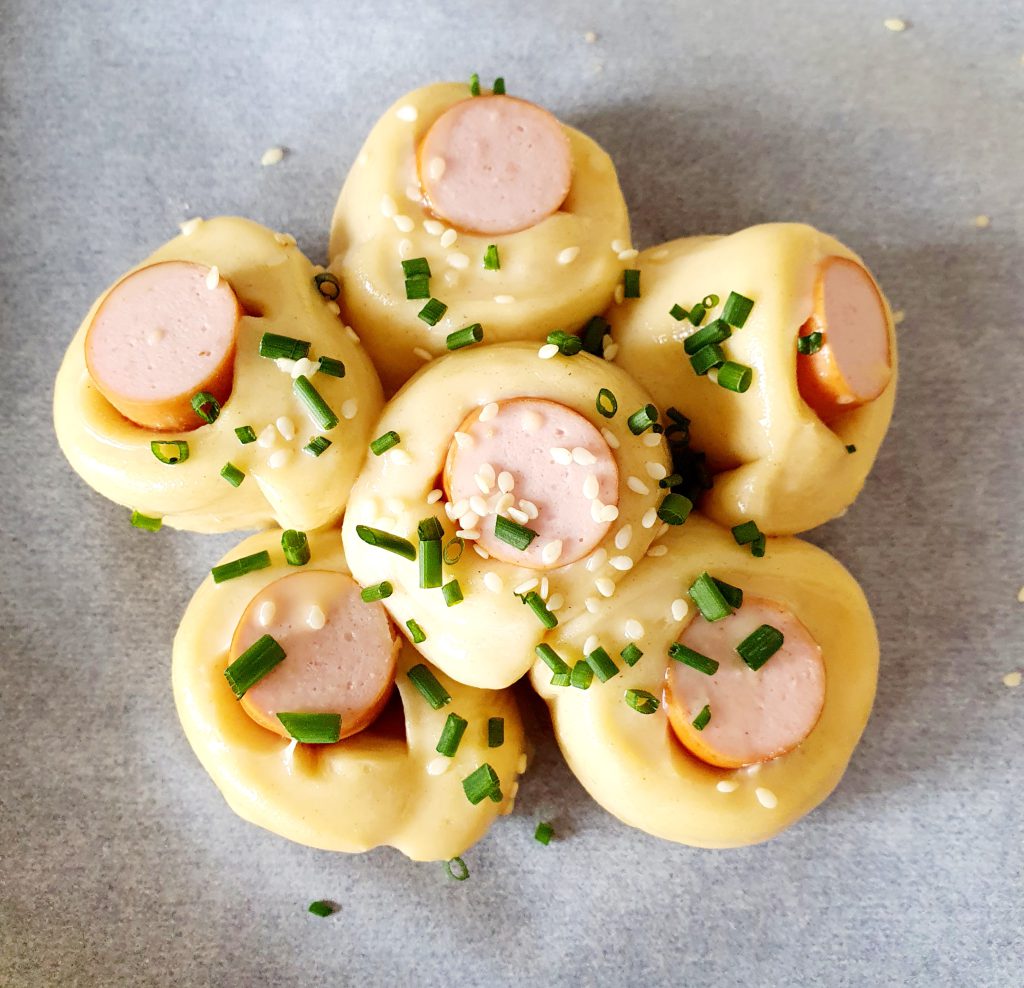 I also used the same milk bread base to bake some char siu buns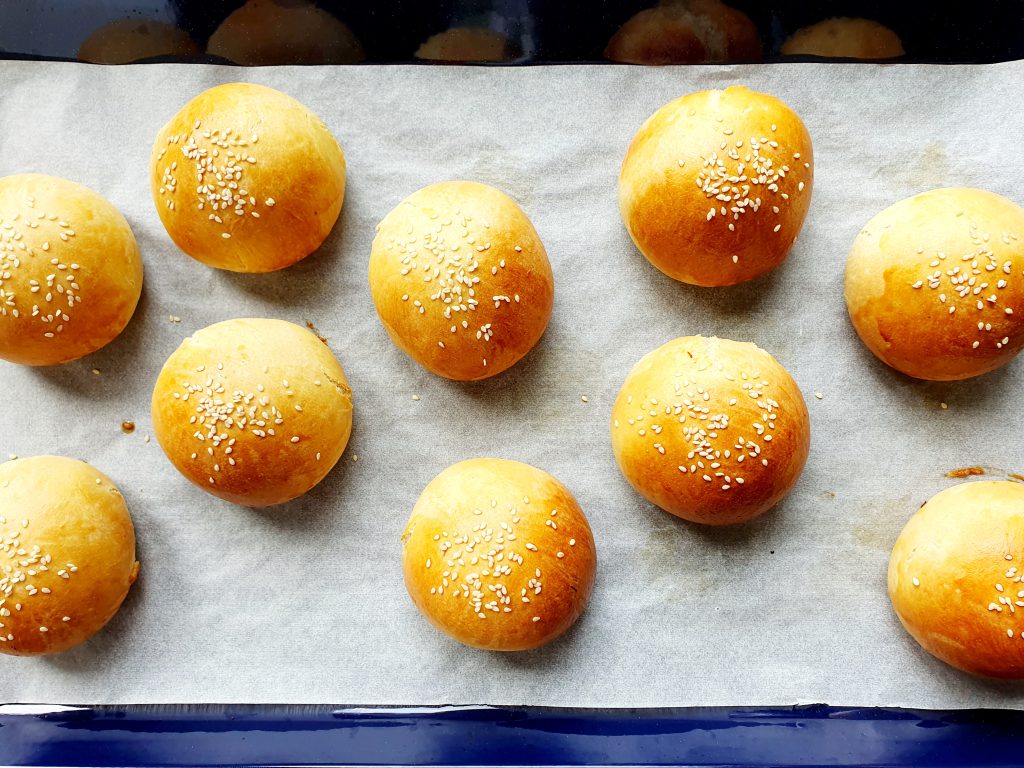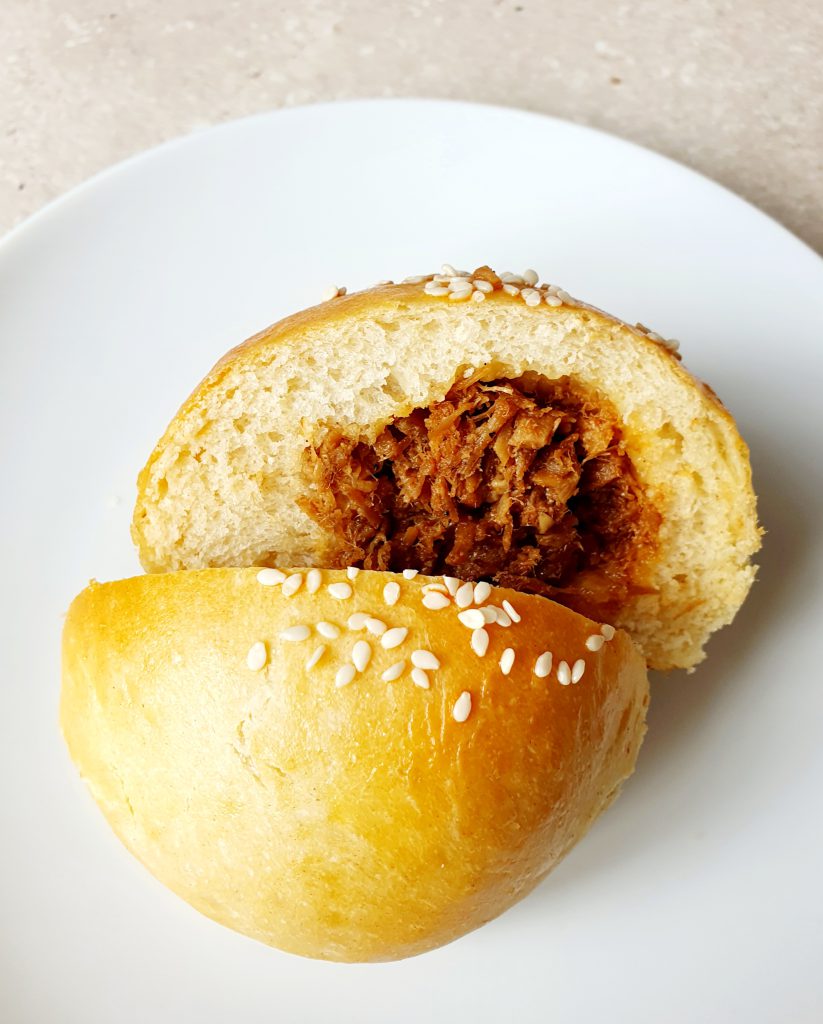 About the appliances:
I had my previous kitchen for 22 years when I had to let it go. I went back to Poggenpohl and Gaggenau for my new kitchen. The cost had tripled but I do not have any regrets. The hob has an in-built timer so after 3½ minutes of stirring the tangzhong paste it switches itself off. The oven has a bread proofing function and I don't have to fret whether the kitchen is too hot or too cold. The dough sits there in a constant 38 C until ready. I don't understand chefs who cook over an open fire. We have something called technology to remove the stress of imprecision and I intend to tap into this.
About the salt and sugar:
I only use unbleached flour and unrefined sugar in my baking so any resulting bread will never turn out pure white. The original recipe asks for 50 g sugar which against Ms Chos's advice I reduced to 30 g. She states: As with every other ingredient in this book, the amount of sugar specified is intentional, so resist the urge to reduce the amount of sugar because you think it might be a little too sweet – trust me, it's not.
The salt that most bakers use is Diamond Crystal kosher salt. Having read about it, the issue seems to be that people use table salt generally which is cheap, extra fine and iodised. The addition of iodide in table salt affects the flavour of the food so the safe choice is to use kosher salt, especially in baking. I spent a lot on the procurement of the Diamond Crystal salt, which only comes in 1.36 kg boxes. I think it would have been perfectly fine to use the Waitrose fine crystal sea salt that I normally use, at half the cost.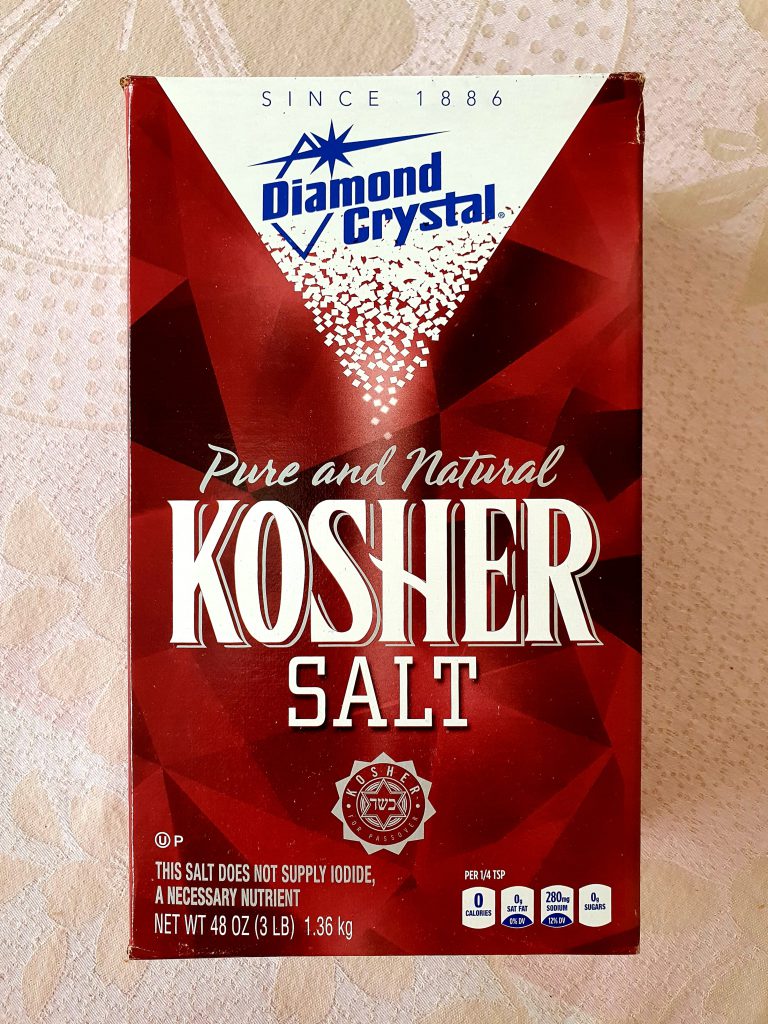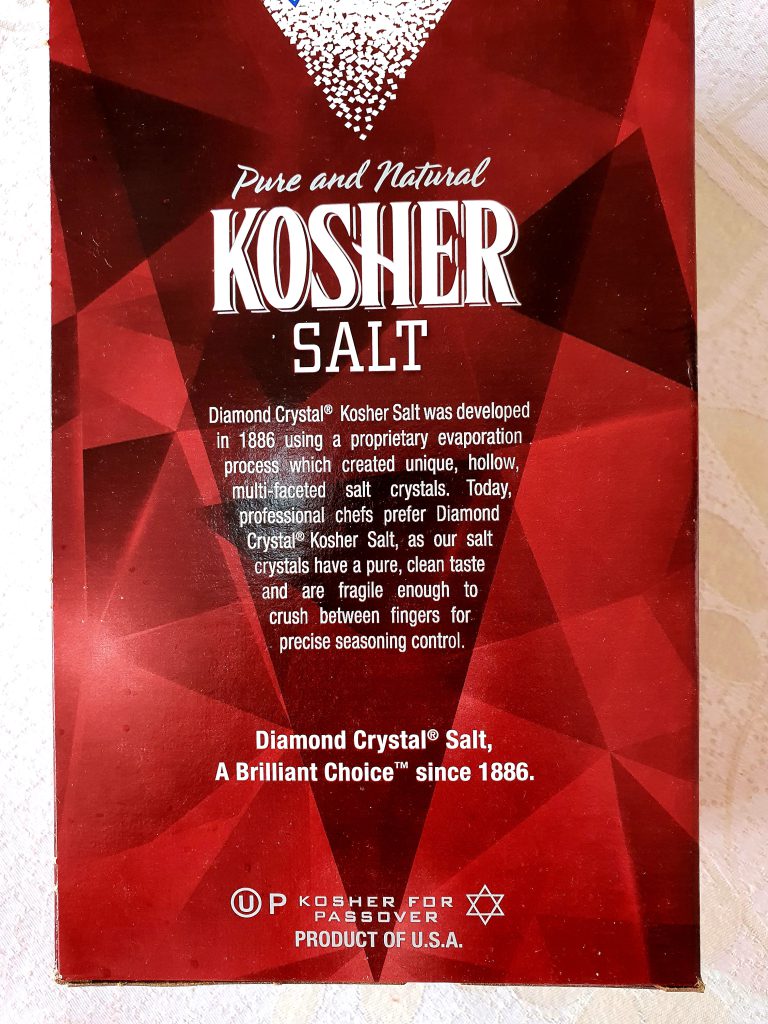 The Book:
Mooncakes and Milk Bread by Kristina Cho, published by Harper Horizon, ISBN 978-0785238997. Her website is eatchofood.com
Ms Cho's book has been plagiarised several times over. We live in a lazy world where people are happy to feed off the hard work of others. Is this not modern day explotation in a sanitised form? Fight back by buying a copy of the genuine article.