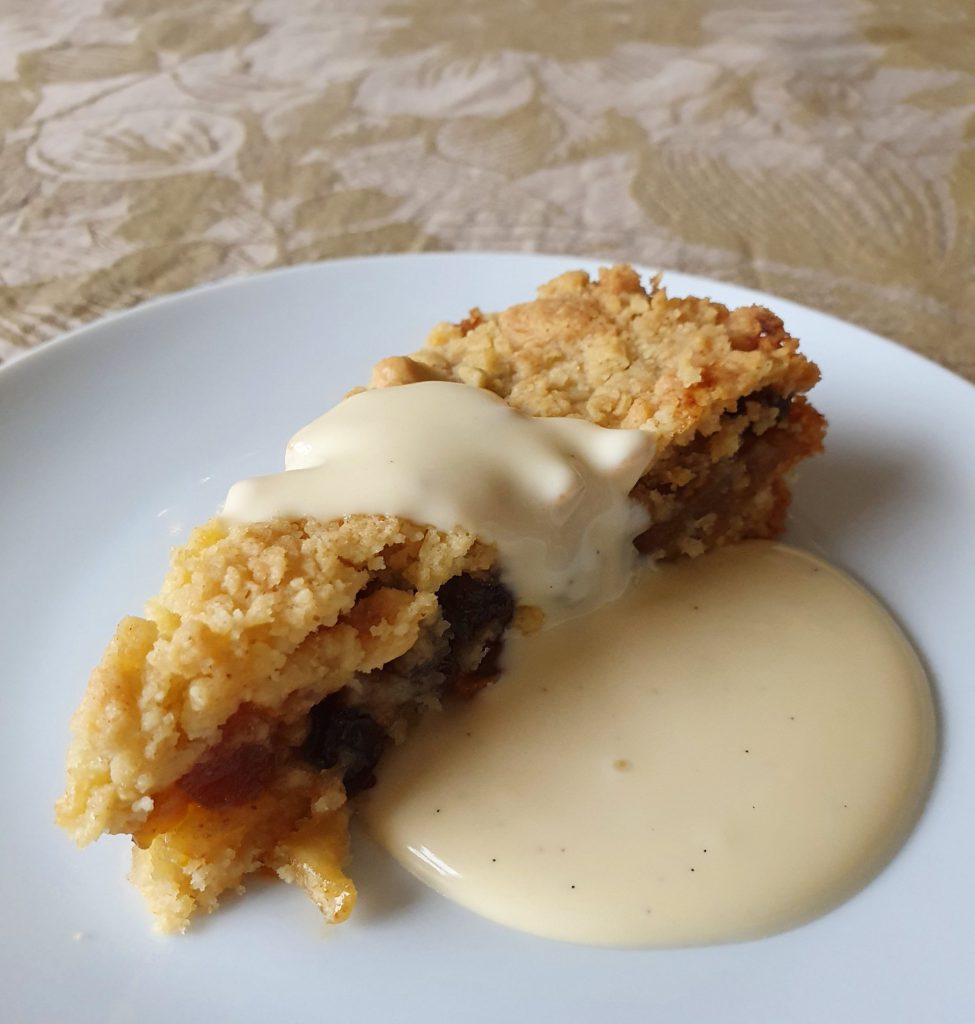 I love mince pies, but am really fussy about them. In the run up to Christmas I usually try around six types from different bakeries, but my favourite are still from Konditor and Cook. Even writing about mince pies makes me want to reach out for one…
We haven't had much time to make any elaborate desserts, despite our best intentions. The tubs of cream cheese, mascarpone and three types of cream remain unopened in the fridge.
For a simple treat on New Year's Day, I decided to revisit the Mincemeat Crumble from Christmas 2015, which I had dubbed the Giant Mince Pie. This updated 2021 version replaces half the mincemeat with Bramley apple and a few dried sour cherries. I also made it in the Thermomix, which simplified things a lot.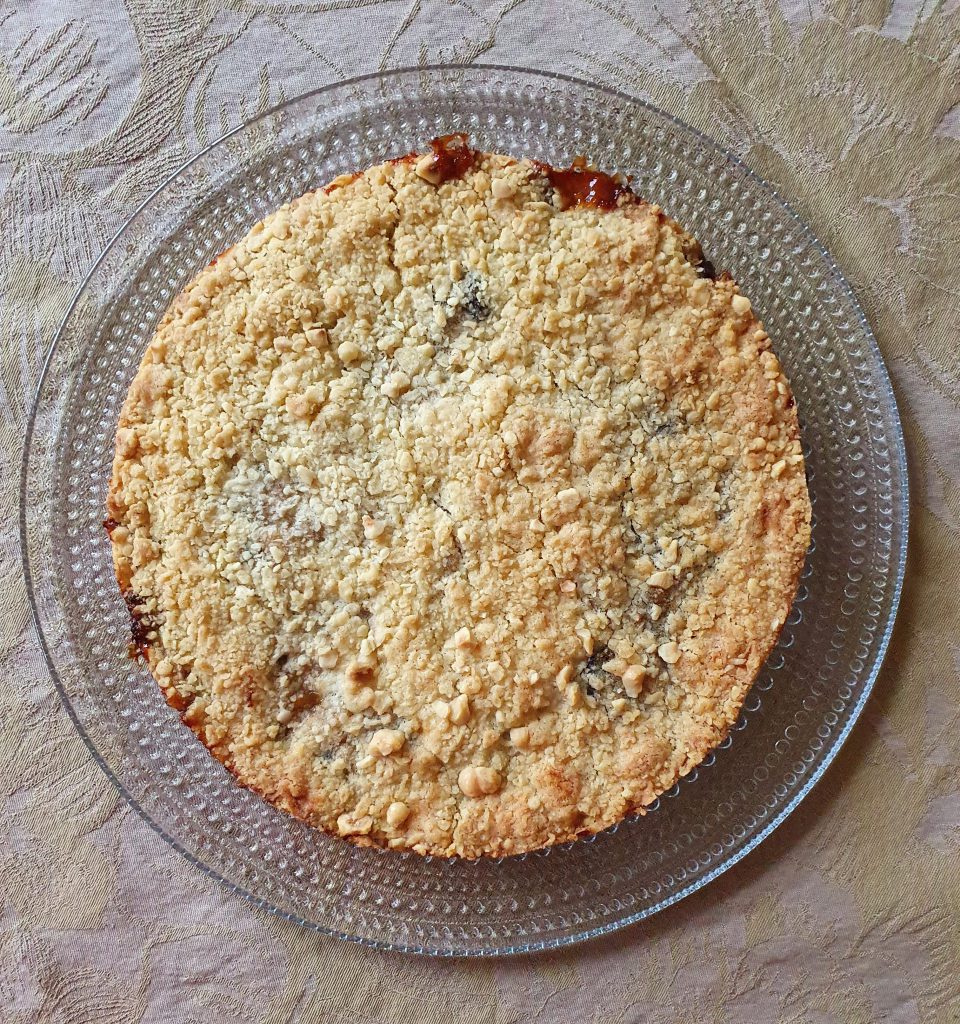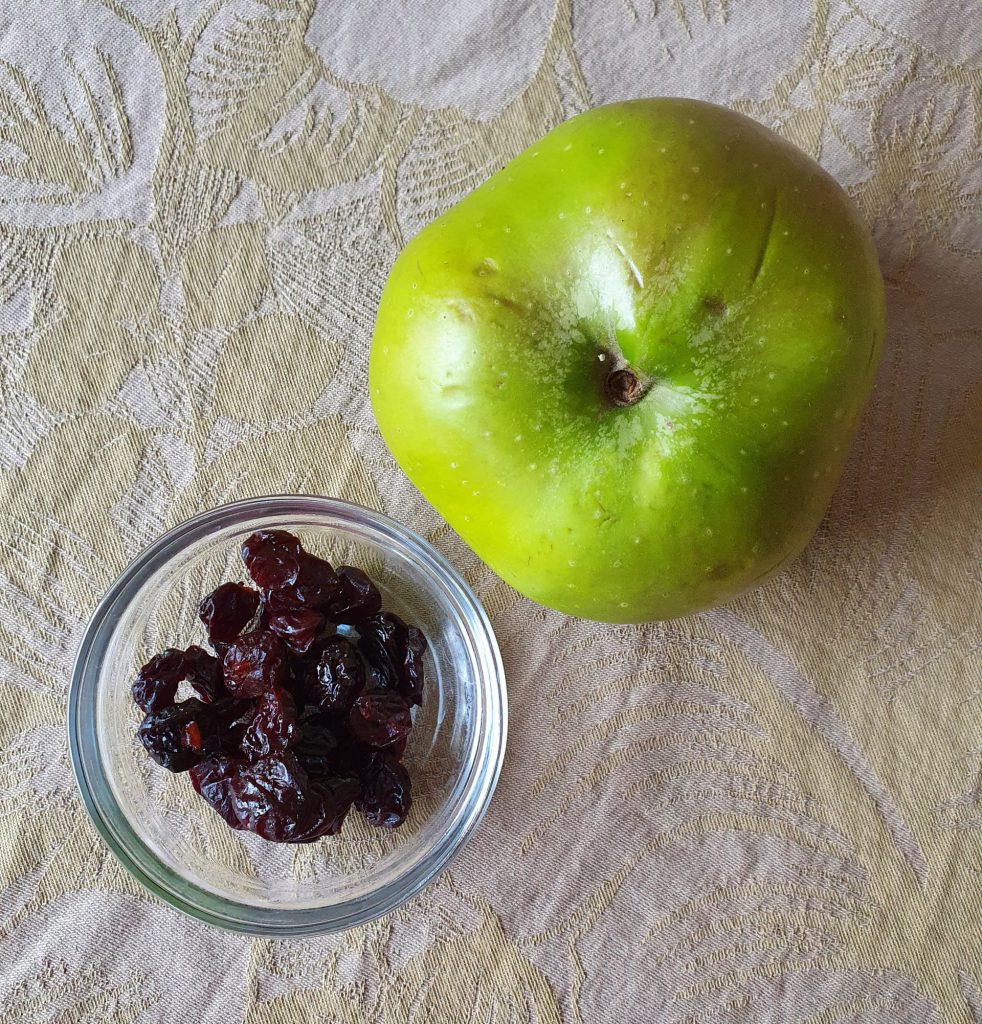 For the Crumble:
250 g self-raising flour
200 g very cold unsalted butter, cut into small pieces
50 g unrefined demerara sugar
50 g skinned hazelnuts toasted
Pinch of salt
Grated zest of 1 orange
400 g mincemeat
350 g Bramley apple (peeled weight), cut into 8 pieces
50 g dried sour cherries or dried cranberries
Créme fraîche, custard or clotted cream, for serving
You will also need a 23 cm/ 9 inch cake tin with a removable base.
How to Make:
Preheat the oven to 190°C/ 375°F/ gas 5. Grease the base and side of the tin and line with baking parchment.
Place the flour, butter, sugar, hazelnuts and salt in The TM bowl. Pulse Turbo/ 2 seconds. Check if coarse crumbs have formed, and repeat Turbo/ 1 second if necessary.
There will be around 550 g of crumble mixture. Tip 325 g into the baking tin and press down lightly to make a firm base. Place the remaining 225 g mixture in a separate bowl.
Using the same TM bowl, place in the apples and dried cherries or cranberries. Chop 2 seconds/ speed 5.
Pour the mincemeat into a large bowl. Add in the chopped apples and orange zest. Give everything a good stir so the filling is all mixed up.
Spread the mincemeat mixture on top of the crumble base. Spread the remaining crumble mixture over the top of the mincemeat, making sure it covers the whole area. There is no need to press the topping down and it can remain loose in texture.
Bake in the oven for 40 – 45 minutes or until the top is golden in colour.
Leave the tin to cool slightly before removing the crumble. To do this, place a wide-rimmed glass (which has to be taller than the height of the tin) underneath the base of the tin. Push the top of tin down firmly. The base and pie will remain on top of the glass.
Place the crumble on a plate to finish cooling. Serve with créme fraîche, custard or clotted cream. A recipe for Thermomix Custard follows at the end of this post.
I asked the family whether this should be called a Mincemeat Crumble Cake, Mincemeat Crumble Pie or simply Mincemeat Crumble. Each had its problems as strictly speaking it is not a cake nor a pie, and traditional crumble only has the topping and not a base. We are still undecided so it is simply called Mincemeat Crumble for now.
The crumble feeds 12 people but in the lockdown we are just four people, so had to eat it three times!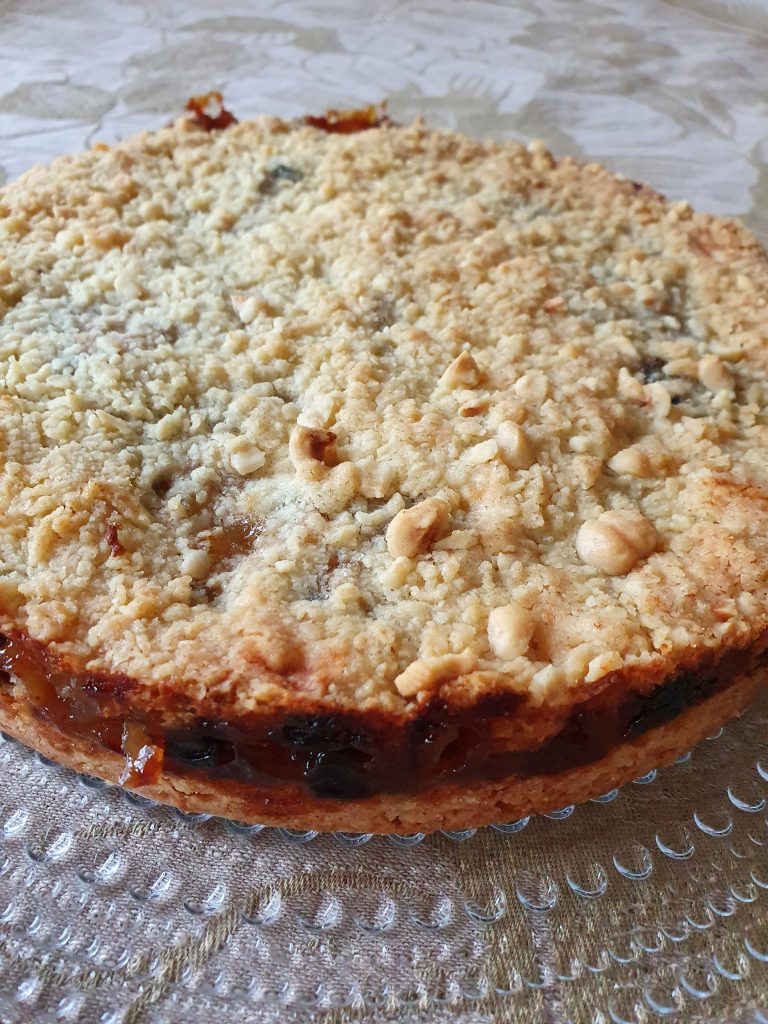 Some Tips
Two of my favourite tools in the kitchen are a JarKey and a Microplane, which help me open jar tops and shave ingredients finely without a struggle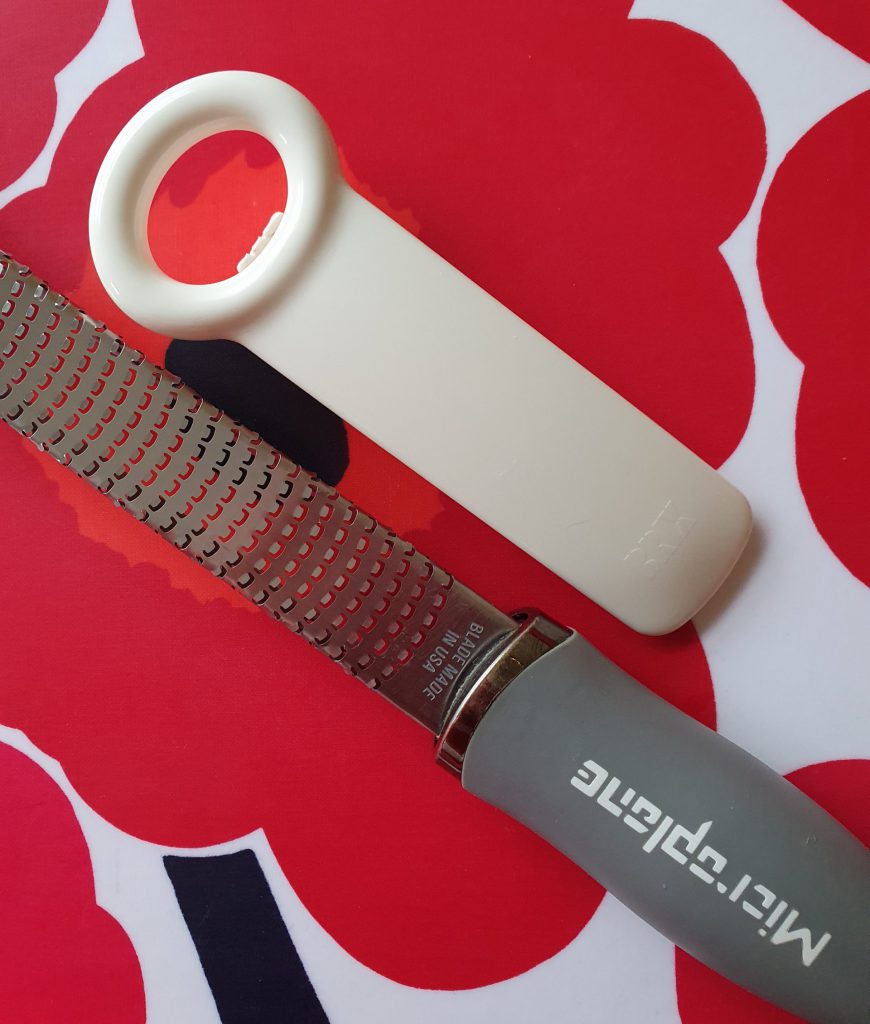 The Thermomix made the crumble in 2 seconds on Turbo setting, and you could replace 50 g of flour with oats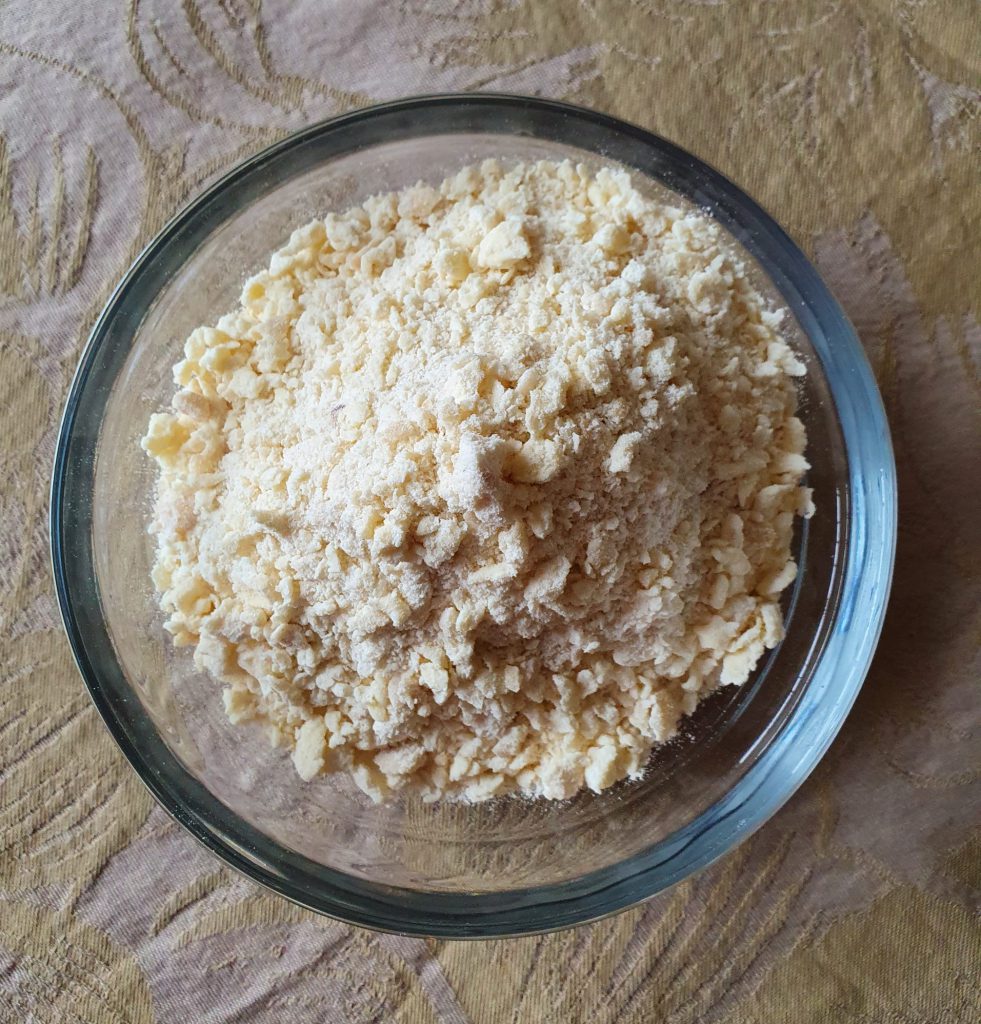 The dried cherries and cranberries are in the TM bowl to give some protection to the apples, as the TM blade is very strong and even at 2 seconds/ speed 5 the apples will be cut too small without a buffer. If you are omitting the dried cherries and cranberries, then chopping 400 g apples for 2 seconds/ speed 4 should be ok. The apples are mixed into the mincemeat as a filling in the crumble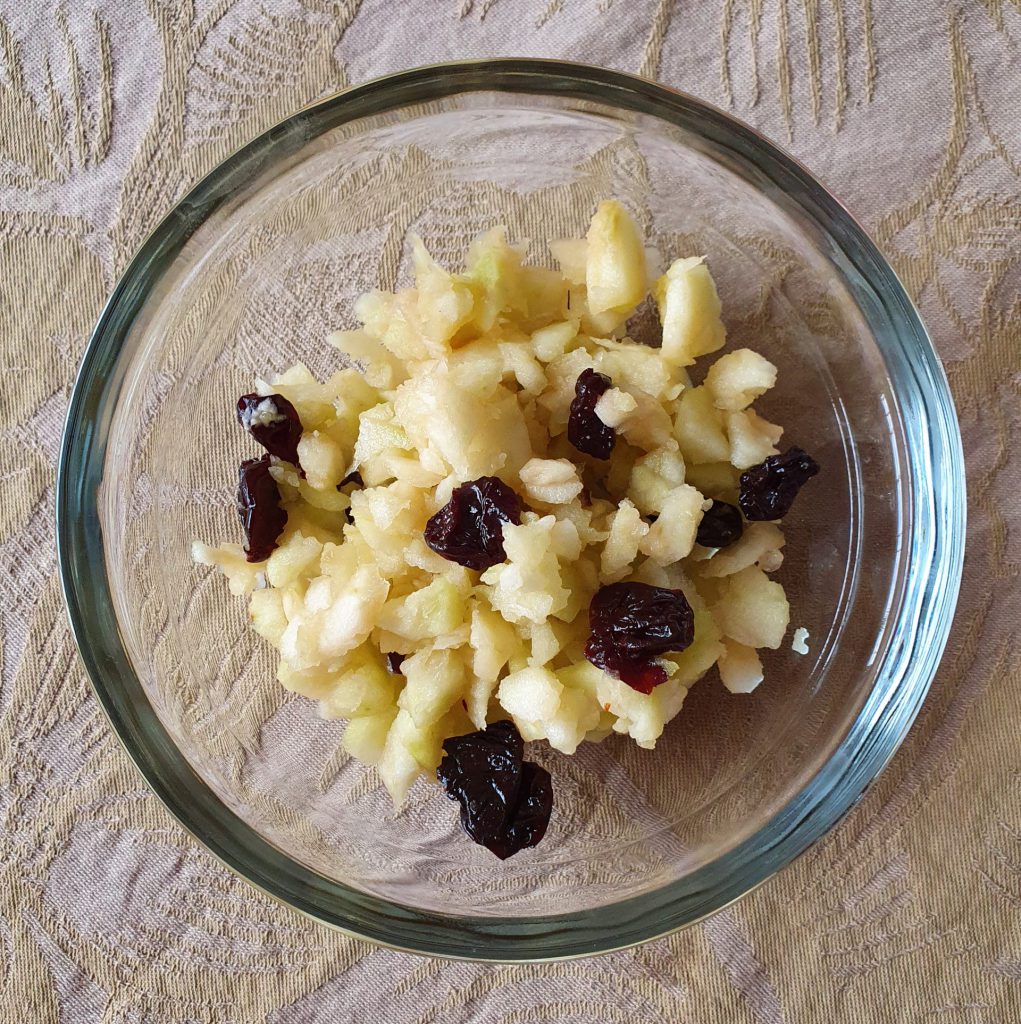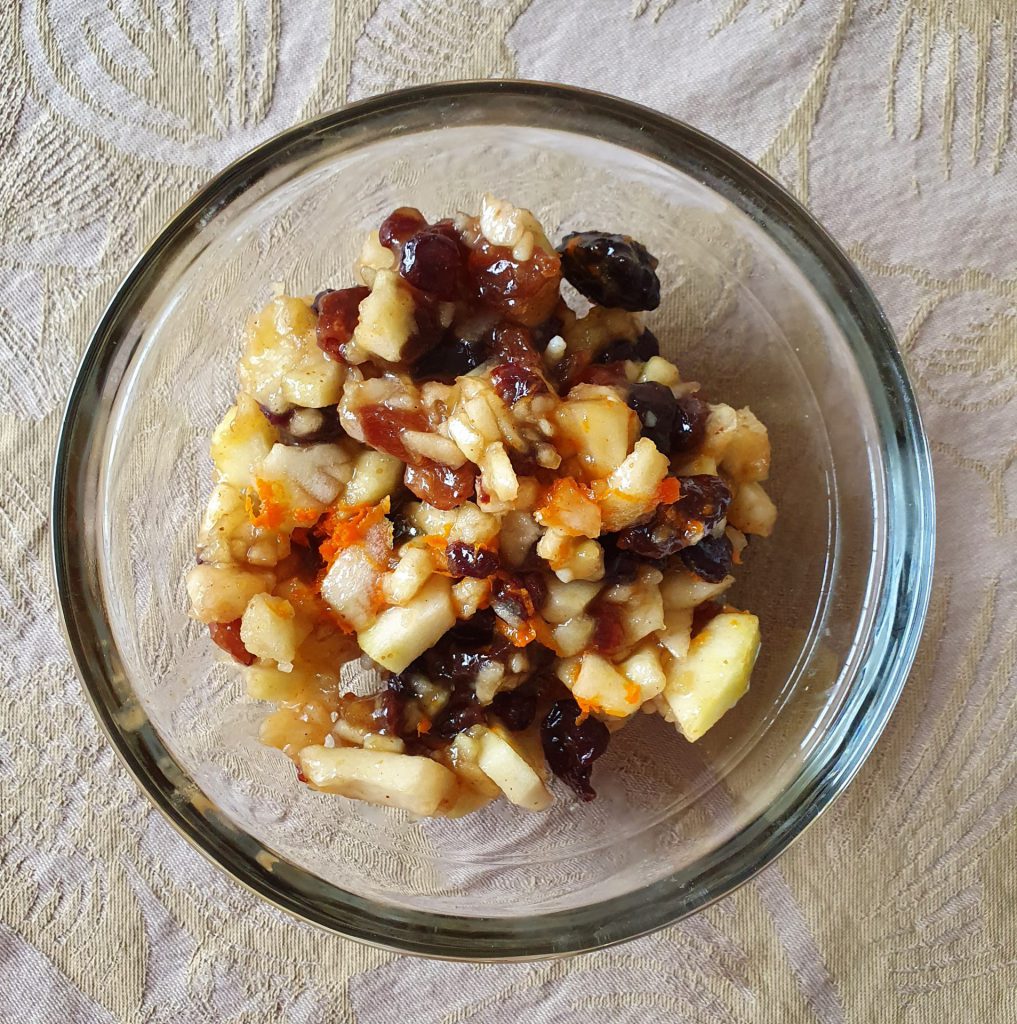 Foolproof Custard made in the Thermomix: I am writing down the recipe exactly as I made it on New Year's Day. I often make custard but am a bit imprecise with the ingredients as I use whatever type of milk or cream at hand, all with varying levels of fat content. Then I use different amounts of cornflour depending on whether the family wants a thicker or a thinner custard consistency. But the custard I made on New Year's Day 2021 surpassed all the others. Here it is.
For the Custard:
270 g double cream (fat content around 48%)
230 g semi-skimmed milk (fat content around 2%)
(or use 500 ml single cream which has a fat content of around 20%)
1 large egg
1 egg yolk
50 g unrefined caster sugar
Small pinch fine sea salt
10 g cornflour
2 teaspoons vanilla paste
Simply place all the ingredients into the TM bowl and cook for 7 minutes/ 90°C / REVERSE speed 3.
You can make the custard ahead of time and reheat in the microwave before serving. However I always make it just as we are ready to eat dessert. Of course Mr Gochugaru loves custard, but not as much as the children we have invited who have been to boarding school. Their comment always is: Gosh! This is so-ooo different to the thick gloop we get at school. You mean this is real custard?