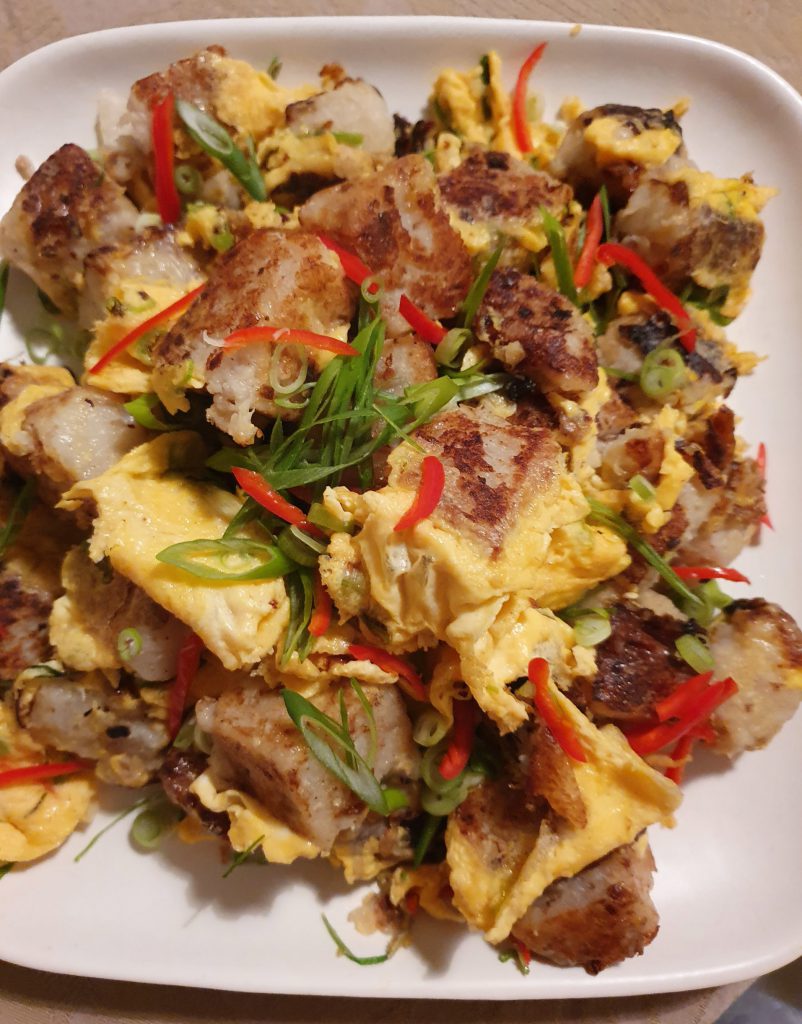 On a recent episode of MasterChef I marvelled at the chef Andrew Wong's skill at making dumpling wrappers by hand. I have made dumpling wrappers before, taught both times by natives of Beijing and Shanghai respectively, but have not attempted it single-handedly.
I am quite confident at bao and my best dim sum dish is Sesame Prawn on Toast. Any type of dim sum would suffice as a family treat, but the children particularly like radish cake or 蘿蔔糕 lo bak koe. The ones served at restaurants are usually thin on radish and thick on starch, so we decided to make our own.
This radish cake has no meat, but you could add a separately fried topping of diced Chinese wind-dried sausage and pounded dried shrimp. This is strictly not necessary as the taste is very good as it is. Finely sliced spring onions and chillies along with toasted sesame seeds add colour to the dish if you are not frying it in egg afterwards.
What's in a name? The dish is often called turnip cake or carrot cake in Chinese restaurants but the vegetable used is popularly known as Chinese radish, daikon or mooli. It is not Western turnip as we know it, and certainly no carrots are used.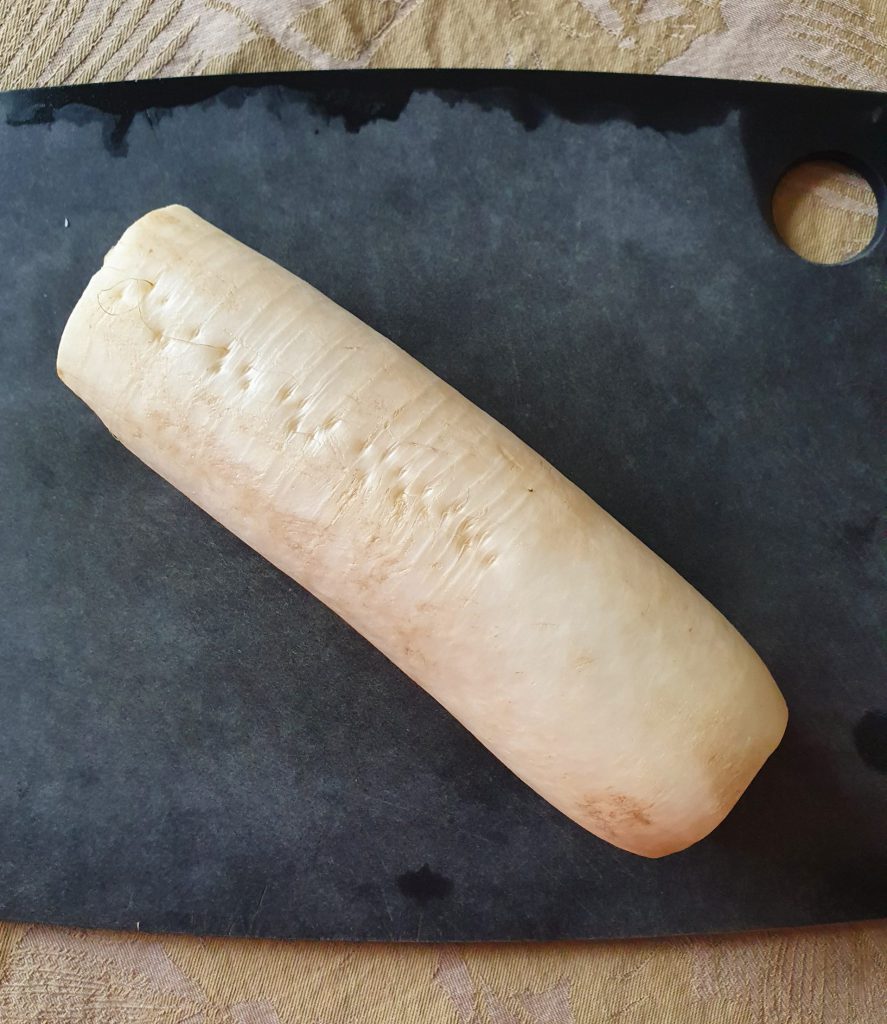 The rice flour used has to be Chinese rice flour from a packet. We have made mistakes before using Western rice flour, and even grinding my own flour from raw grains of rice did not work.
For the Radish Cake:
800 g Chinese radish (mooli or daikon)
100 g firm mushrooms e.g. King Oyster mushroom, finely diced
60 g shallot, finely diced
2 tablespoons sunflower oil
1 teaspoon Shaoxing rice wine
1 teaspoon fine sea salt
¼ teaspoon unrefined caster sugar
¼ teaspoon five-spice powder
Large pinch of ground white pepper
150 g rice flour
150 g water
2 teaspoons cornflour in 20 g water
Chilli oil, to serve
How to Make:
Oil a round metal cake tin 20 cm diameter x 6 cm height.
Grate the radish using a food processor if possible. Keep aside.
Heat the oil in a saucepan and fry the shallots and mushrooms for around 2-3 minutes to soften it a little.
Add all of the radish and the rice wine, salt, sugar, five-spice powder and white pepper.
Give everything a stir and then place the lid on the pan, and simmer for around 15 minutes until the radish has softened.
In the meantime, place the rice flour, water and cornflour mix into a large bowl and stir until smooth.
When the radish is ready, use a ladle to scoop it bit by bit into the flour mixture, stirring as you go along. The hot radish will thicken the flour mixture.
Return the whole mixture into the pan and stir over the lowest heat possible until the mixture has thickened even further.
Scoop the mixture into the cake tin and place in a steamer.
Steam over high heat for one hour.
Remove the tin from the steamer and let the radish cake cool completely in order to firm up.
The turnip cake can be served as it is, at room temperature. It can also be cut into large cubes and pan-fried, with or without eggs.
The radish cake before and after steaming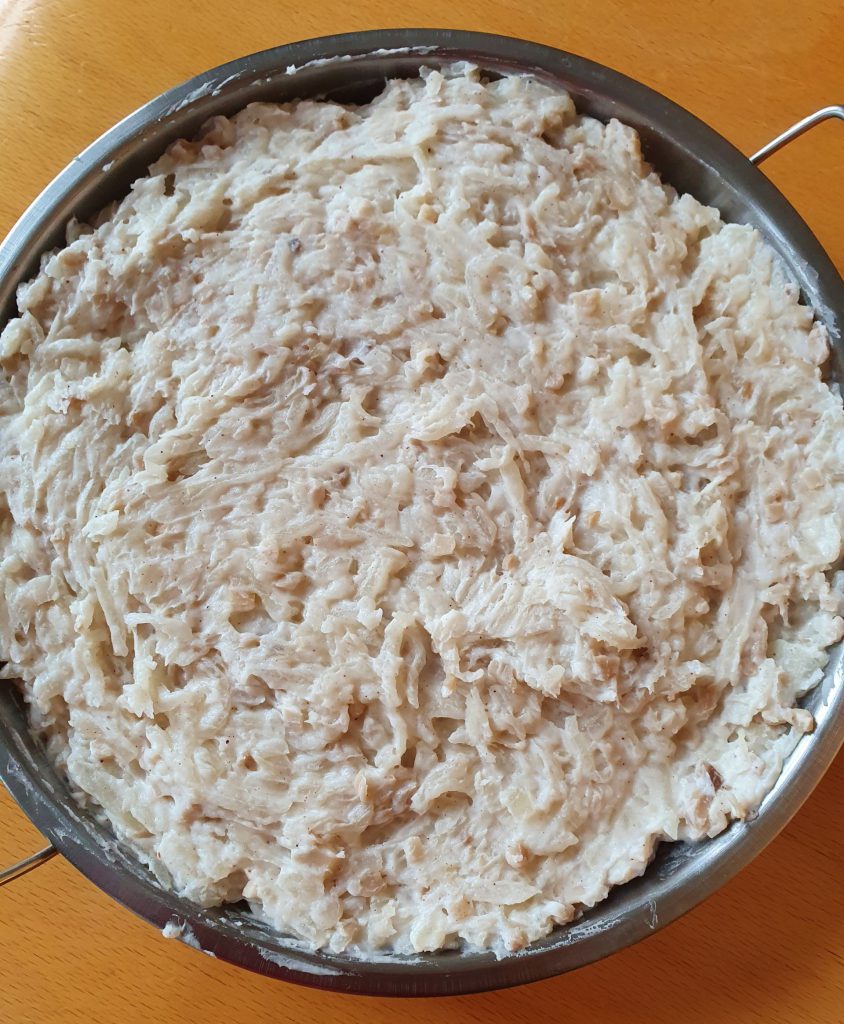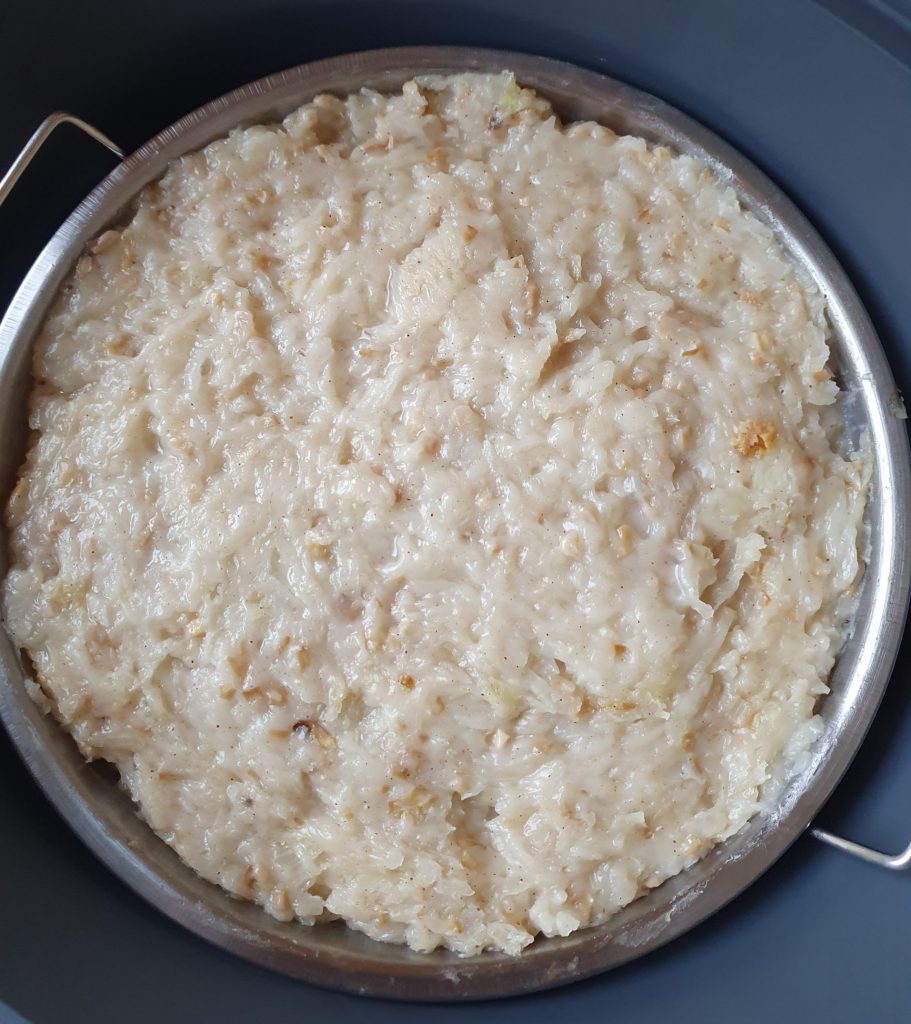 The radish cake cubed and pan fried with beaten egg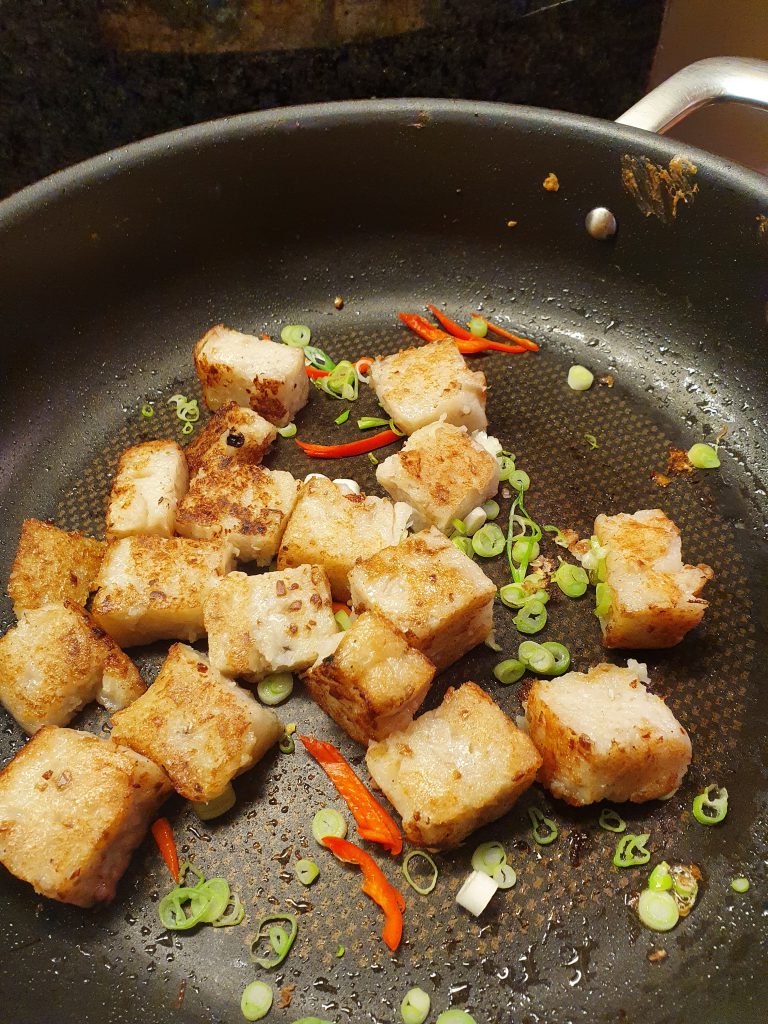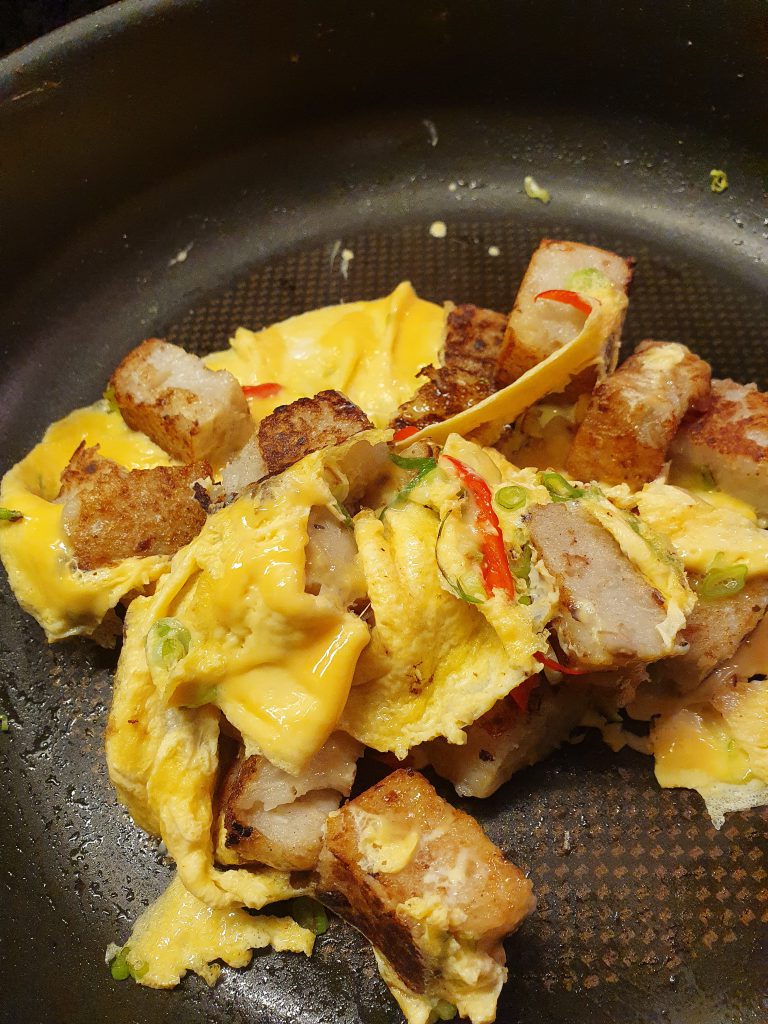 It was the Chinese Winter Solstice Festival yesterday, and also my brother-in-law's birthday. We had a steam boat (hot pot) to celebrate, although of course our families are apart and living in separate countries.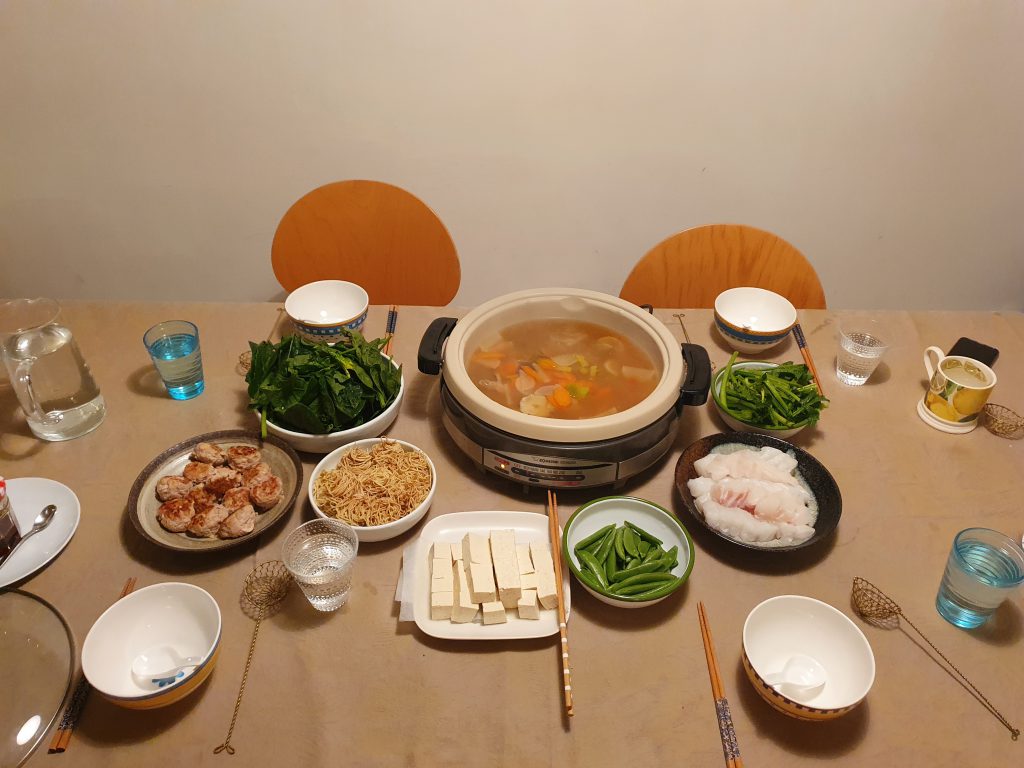 My future project would be to attempt a variation of the radish cake, which is a yam/ taro cake (wu tau koe). I have a hand written recipe from my mother and it would be a good dish to try for Chinese New Year. With PM Boris Johnson aka The Grinch stopping us from meeting up with other households this Christmas, we need something to look forward to in early 2021.