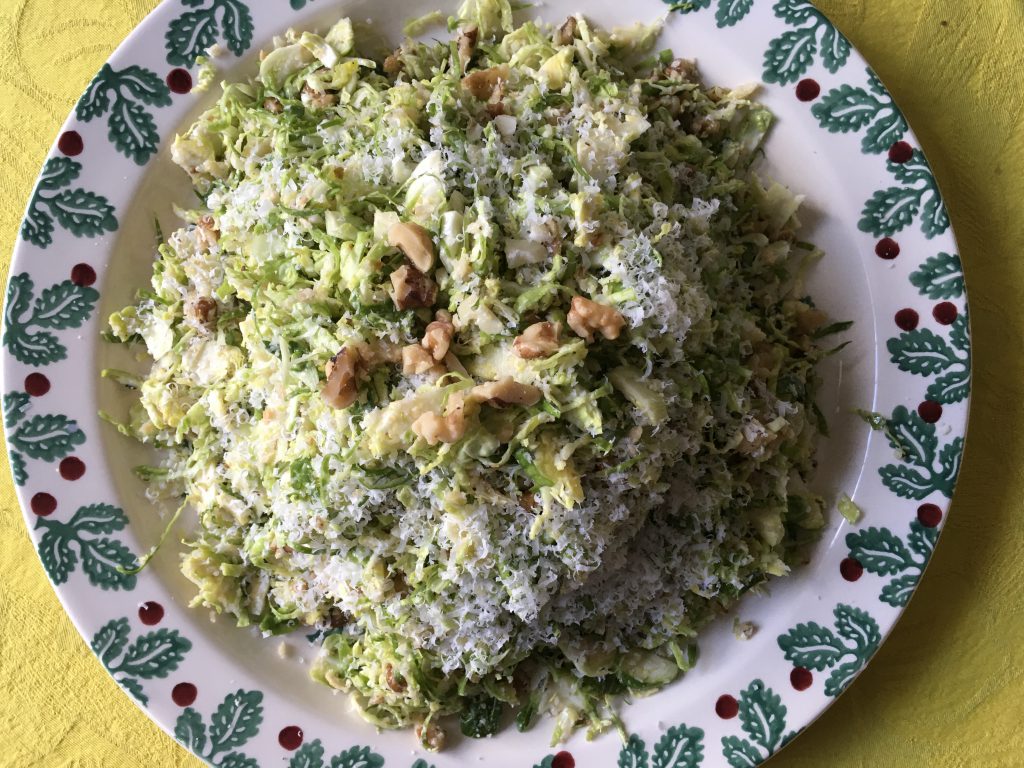 I must admit that I do not know why Brussels sprouts are called so, and whether in Belgium they have another name for it. It looks like a mini cabbage so I guess the French word for cabbage, chou, would feature in it.
Consulting my vegetable encyclopaedia by Elizabeth Schneider gave a lot of background information but no definitive answer. I learnt too that there is a red variety of Brussels sprouts.
This recipe is a family favourite and unlike cooked Brussels sprouts which you need to watch over carefully so it does not overcook, it is eaten raw so you never have that problem. The sprouts season here does not last long so it is best to take advantage of using them when you are able to, roughly from November to January.
The original idea came from John McFadden's wonderful Six Seasons vegetable cookbook. I have omitted the anchovies, upped the amount threefold and substituted parmesan for pecorino. The breadcrumbs were made from the crusts of some white bread we had kept aside to make the bread sauce to go with our Christmas turkey later this week. Simply place the bread crusts in a food processor and blitz a few seconds until you get rough breadcrumbs, then bake in the oven at 150 C for 30 minutes.
We have made this recipe our own so I am sharing it here, since I always regret writing in the margins of my cookbooks when I have made changes to a recipe.
Brussels sprouts grow on a stalk and the leaves at the top can be used in a stir-fry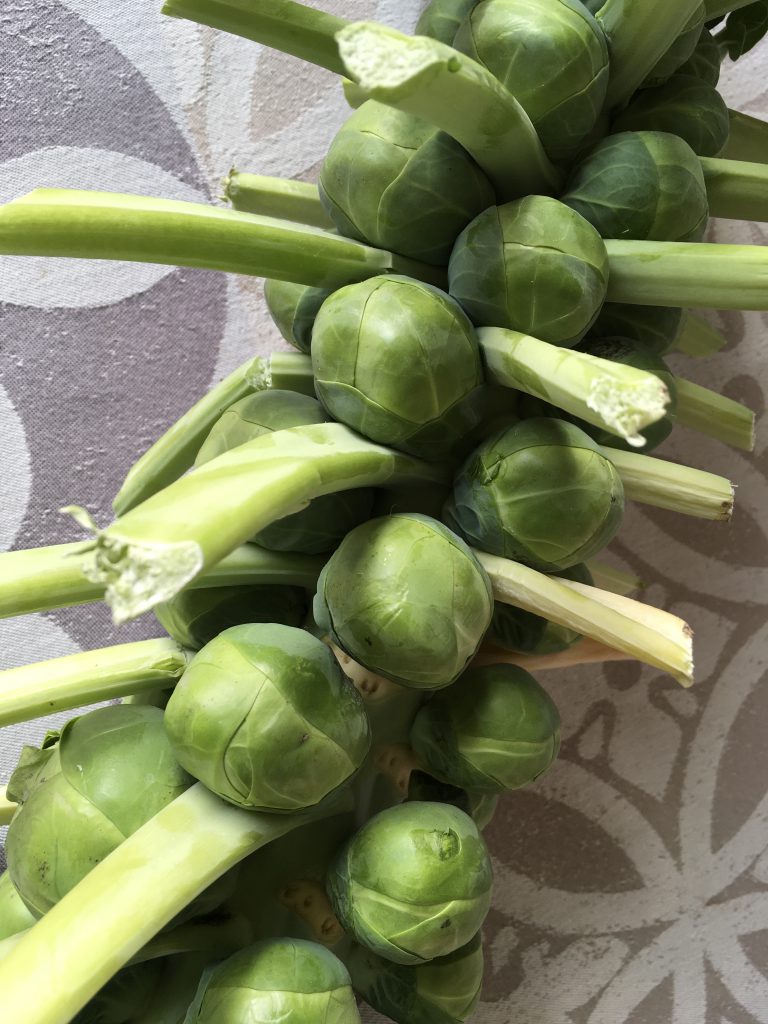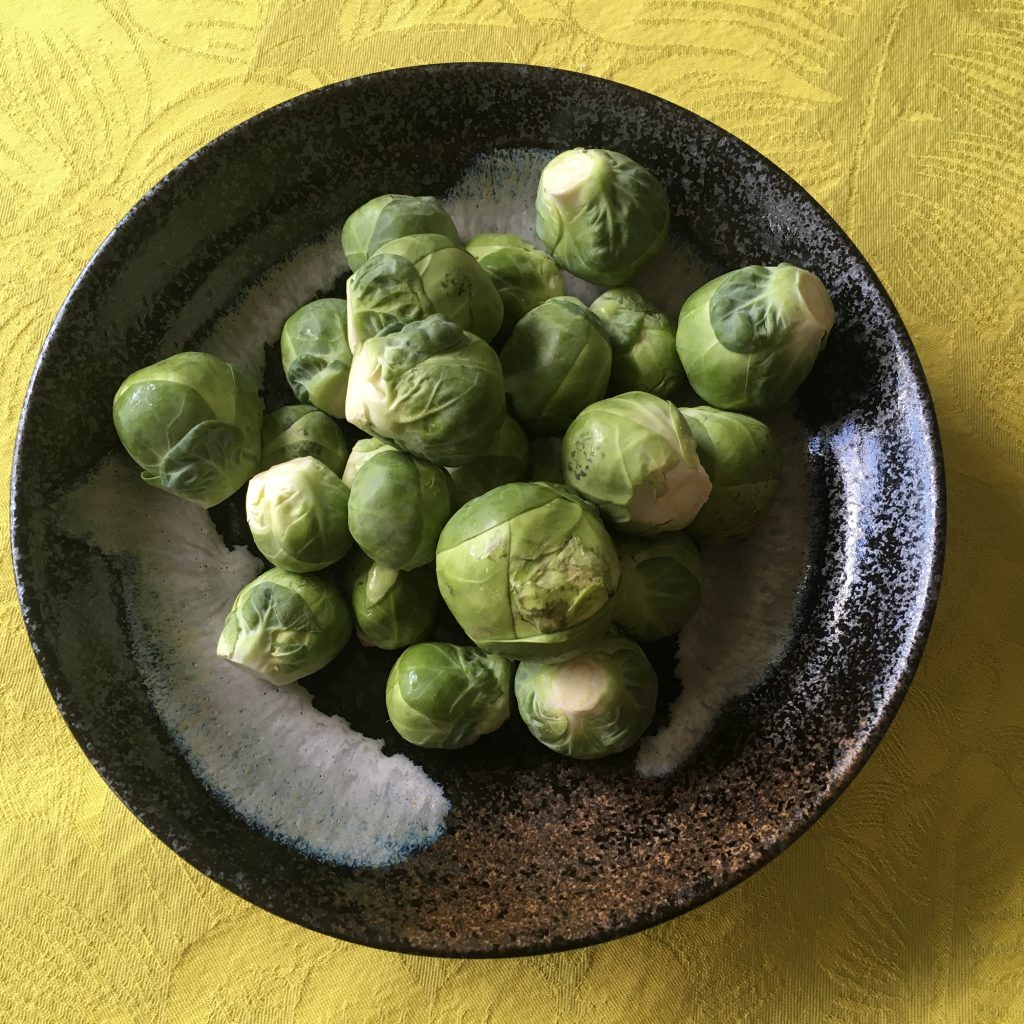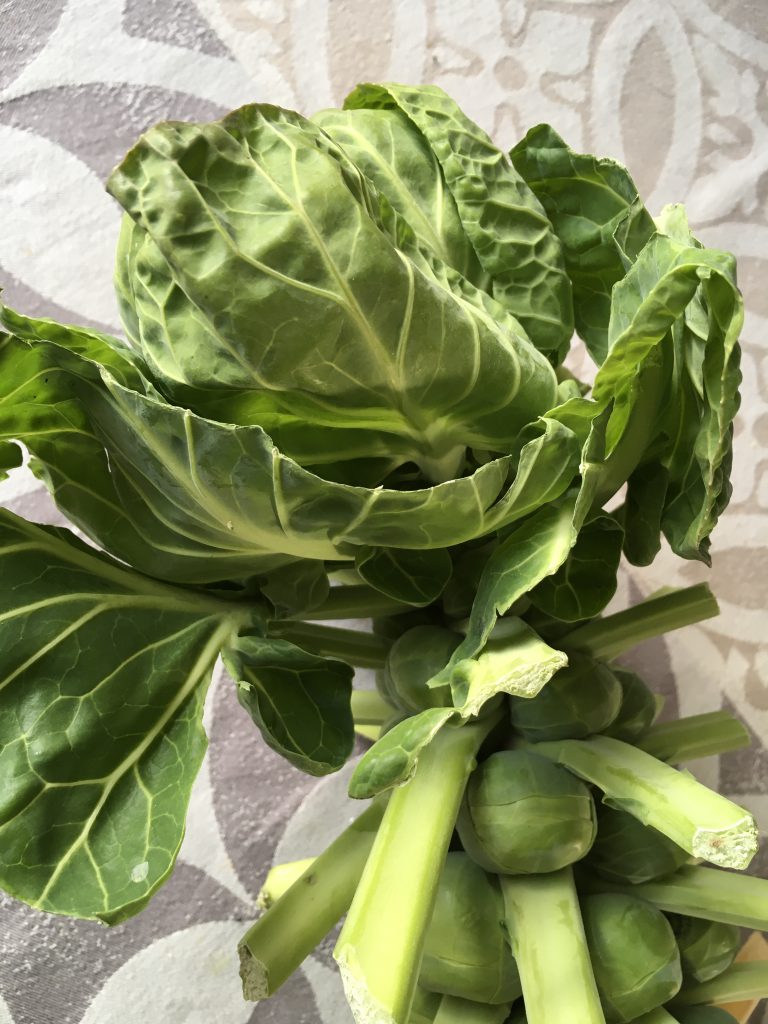 Over lunch we discussed how many people this amount of salad will feed. We decided it will serve 6 adults as a main salad alongside some good bread and cheese or cured meats. It would also feed 12 -15 people as a side salad, but we should not think about such large gatherings for the next six months at least.
For the Salad:
(this quantity can be divided by 2 or 3, depending on how many you are feeding)
690 g Brussels sprouts
21 g garlic cloves, finely minced
120 g lemon juice
120 g olive oil
45 g dried breadcrumbs
150 g walnuts, toasted and roughly chopped
90 g grated parmesan cheese
Salt and pepper to taste
How to Make:
The salad is built up layer by layer, and its success depends on how finely you can slice the sprouts. A mandolin works best but for this quantity you will require a dedicated and compassionate kitchen helper or sparks will fly, as it did in our kitchen. I resorted then to dividing the sprouts into three bowls and recruiting two children (each with their own chopping board and sharp knife) to help with the task.
Cut each sprout in half lengthwise and slice each half very thinly from the core to the top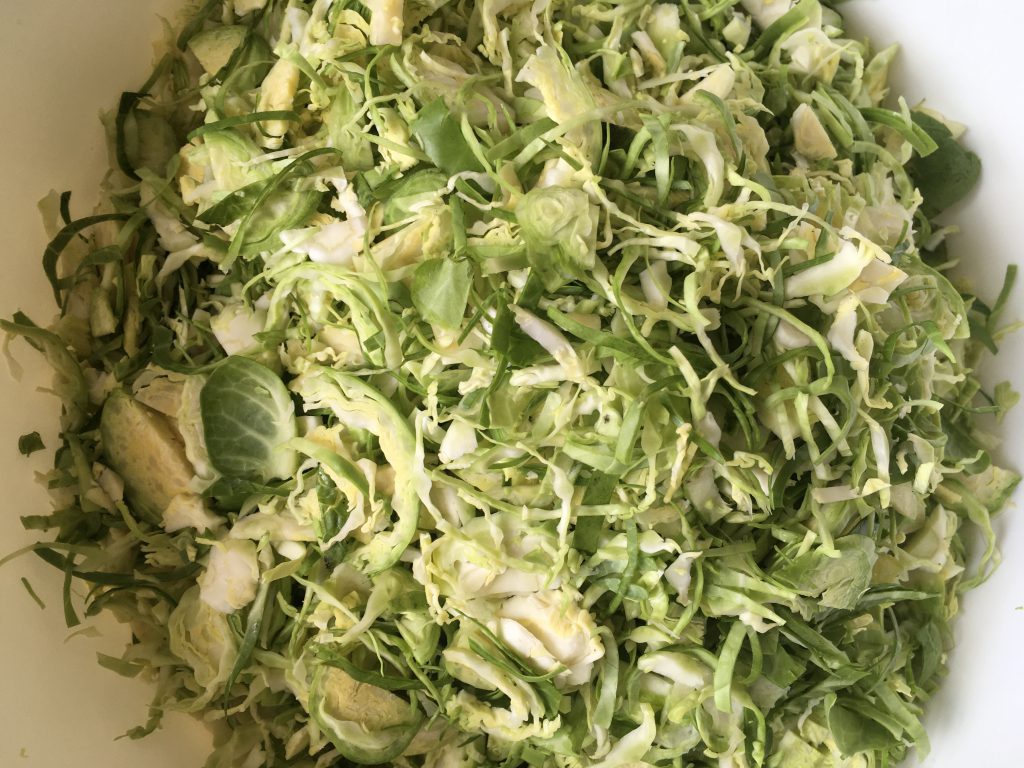 Add in the garlic, lemon juice, olive oil, breadcrumbs and walnuts, then toss everything to mix well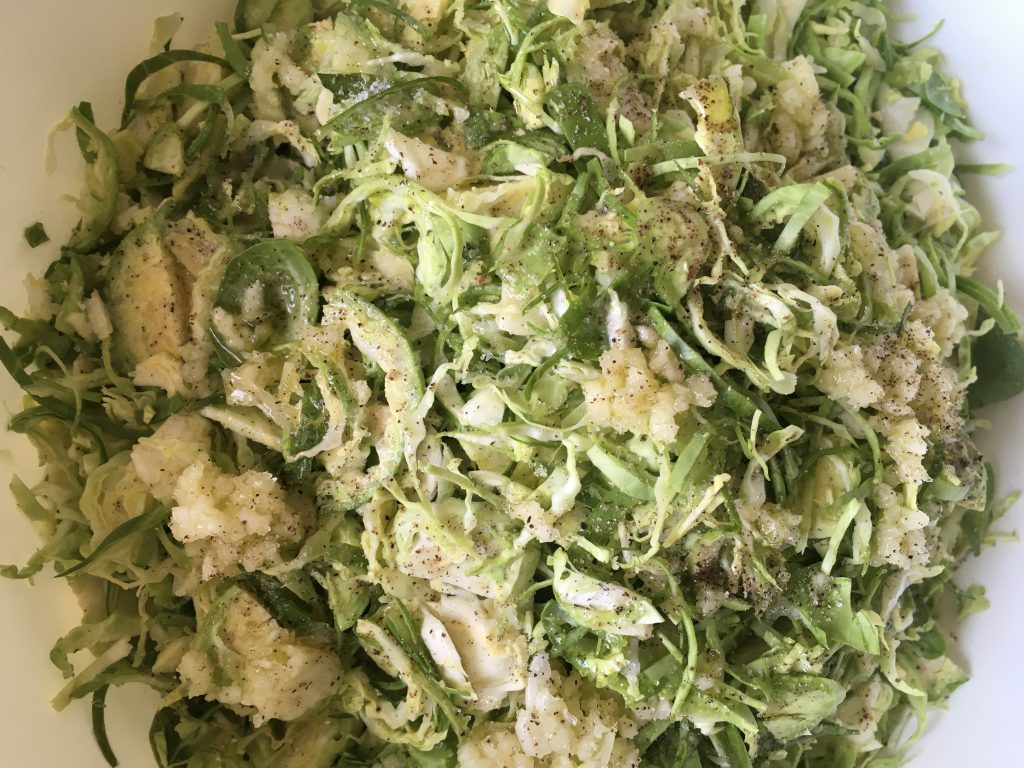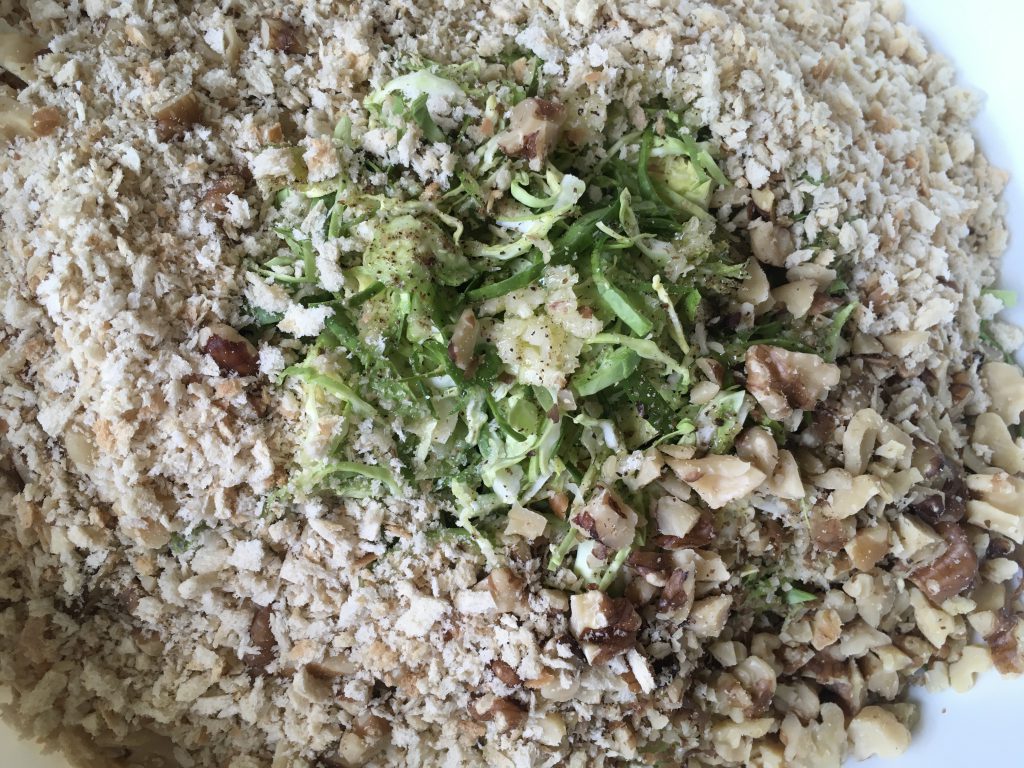 Add 60 g of the parmesan, mix again and check for seasoning, adding some salt and pepper as you wish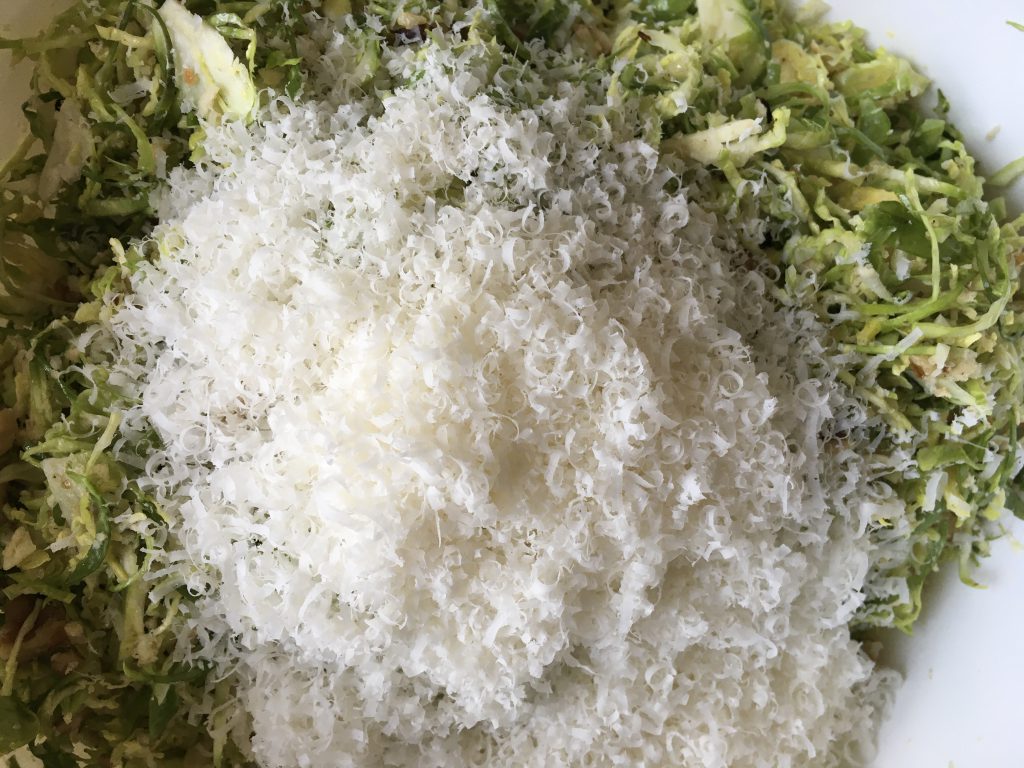 Pile the salad on a large plate and shave the rest of the parmesan over the top before serving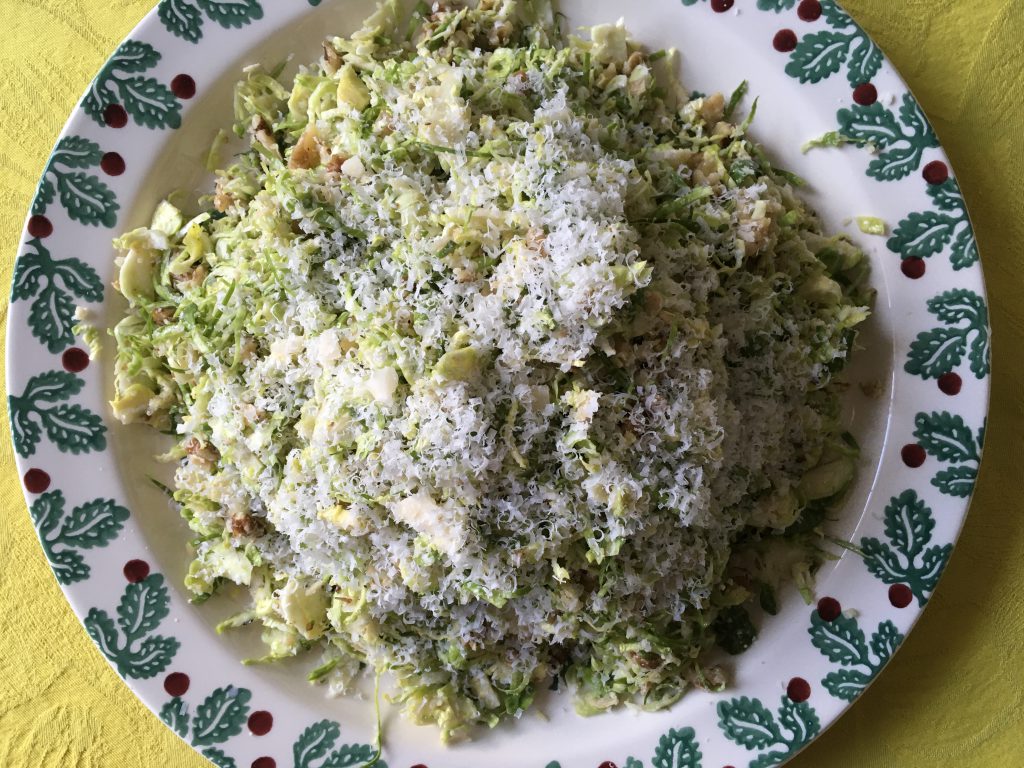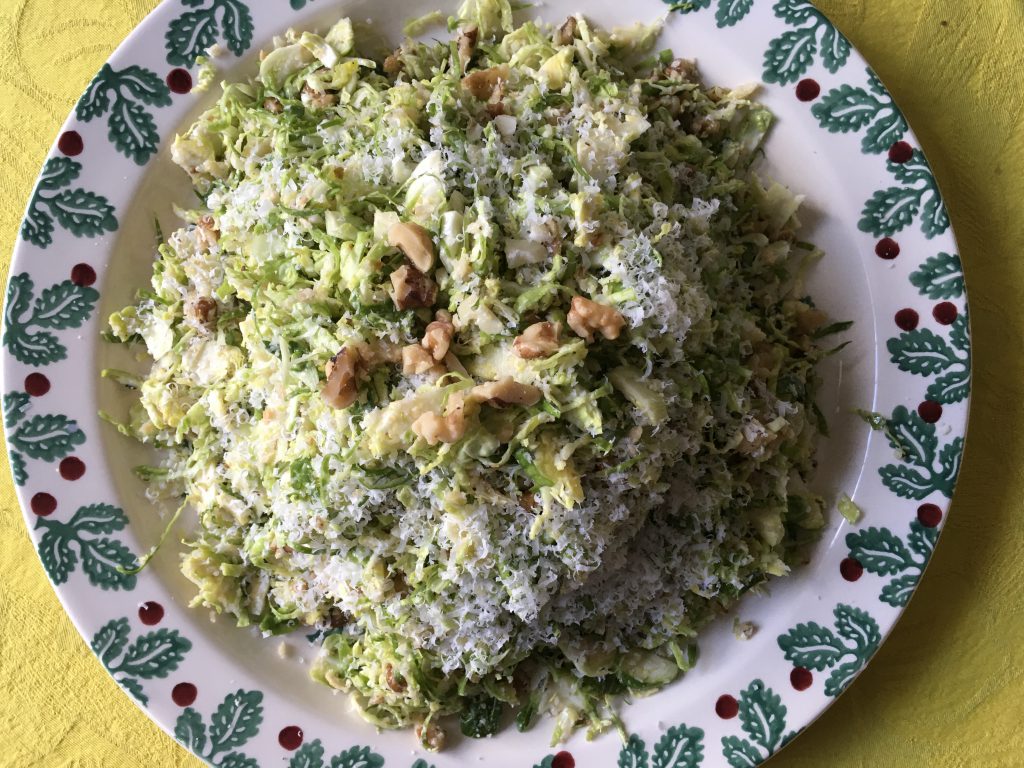 I cannot recommend these two books highly enough:
Six Seasons: A New Way with Vegetables by Joshua McFadden and Martha Holmberg, published by Artisan, ISBN 978-1579656317
Vegetables From Amaranth to Zucchini: The Essential Reference by Elizabeth Schneider, published by William Morrow, ISBN 978-0688152604.