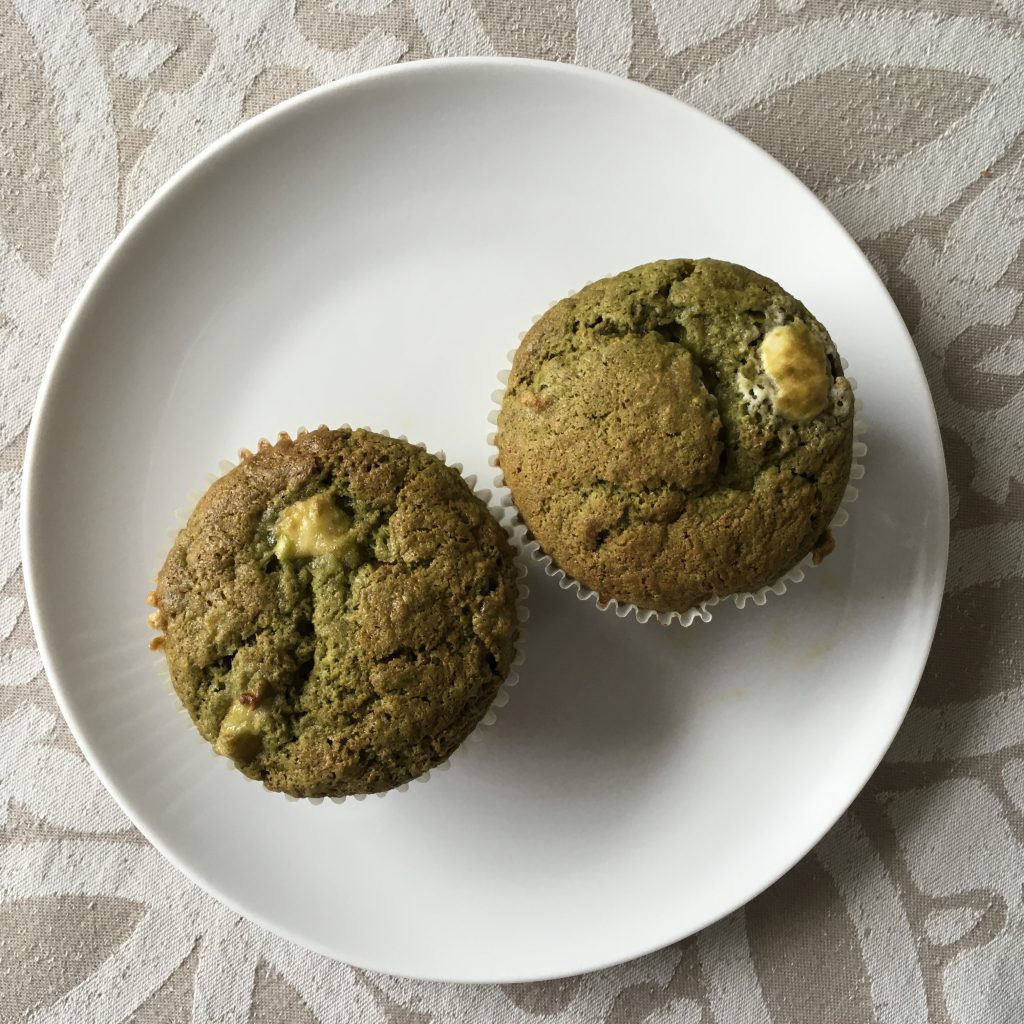 Are we all Zoomed out?
For a person who has never skyped, face-timed or done any of those seeing other people whilst talking on the phone type activities, I am quite astonished that I slipped into these Zoom meetings so easily.
There is a certain etiquette I stick to when attending these meetings. I wear what I would normally have worn to a real face-to-face session. No pyjama bottoms or shorts. I have a collection of Paul Smith scarves to brighten the screen as well as my face. And yes, I have located that crucial button that allows the App to touch up my appearance, although I opted for minimal intervention on the bar.
One problem I have found is that there are now so many Zoom meetings, and I get so tired of staring at the screen, that my mind strays. Inevitably I start thinking about cakes…the kitchen is usually where I head to after a long day.
The key ingredients of these muffins are matcha (green tea powder) and white chocolate chips. I used to chop up bars of chocolate when making cakes but since the lockdown in March I felt that life was complicated enough, so now I use chocolate chips from Callebaut. The matcha for these muffins were from Isetan department store on my last trip to Kuala Lumpur. I dare not think if it is still there, now that the world economy is suffering from the pandemic and lack of global travel.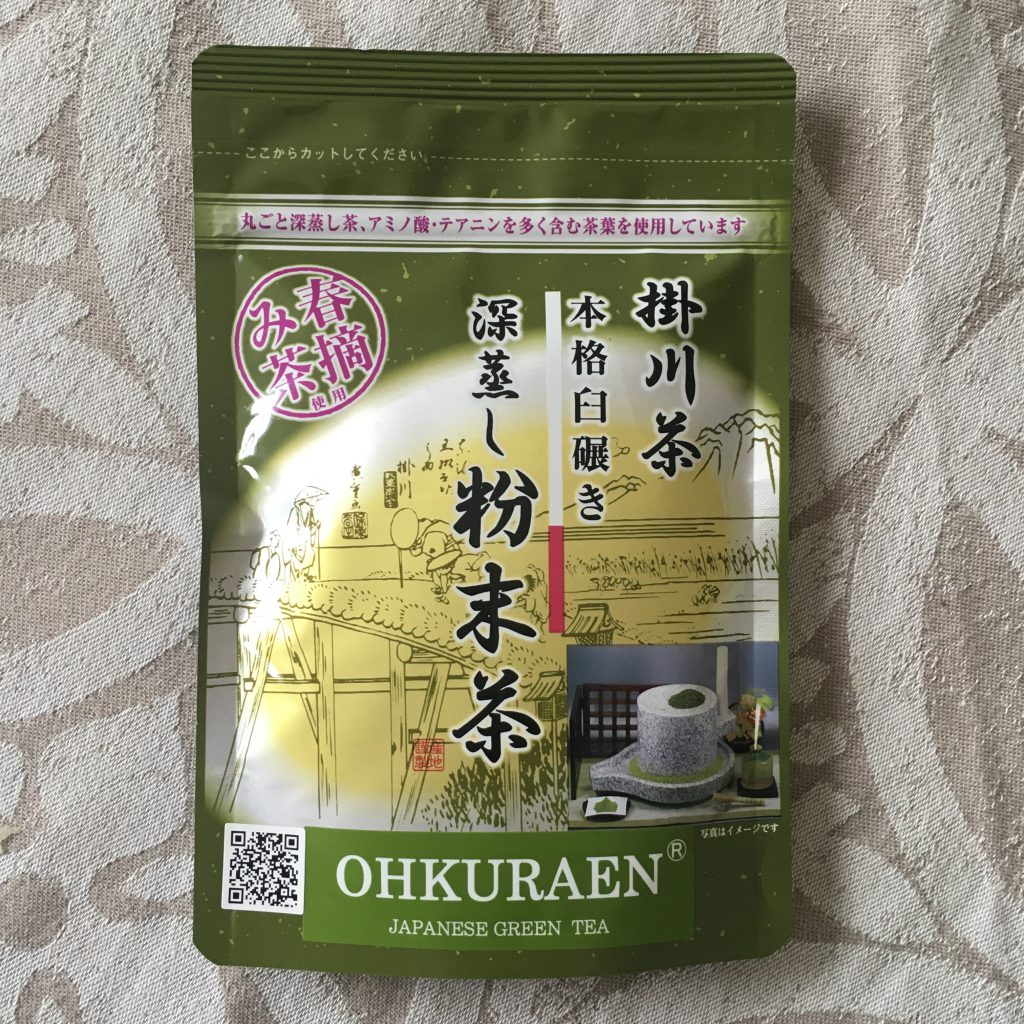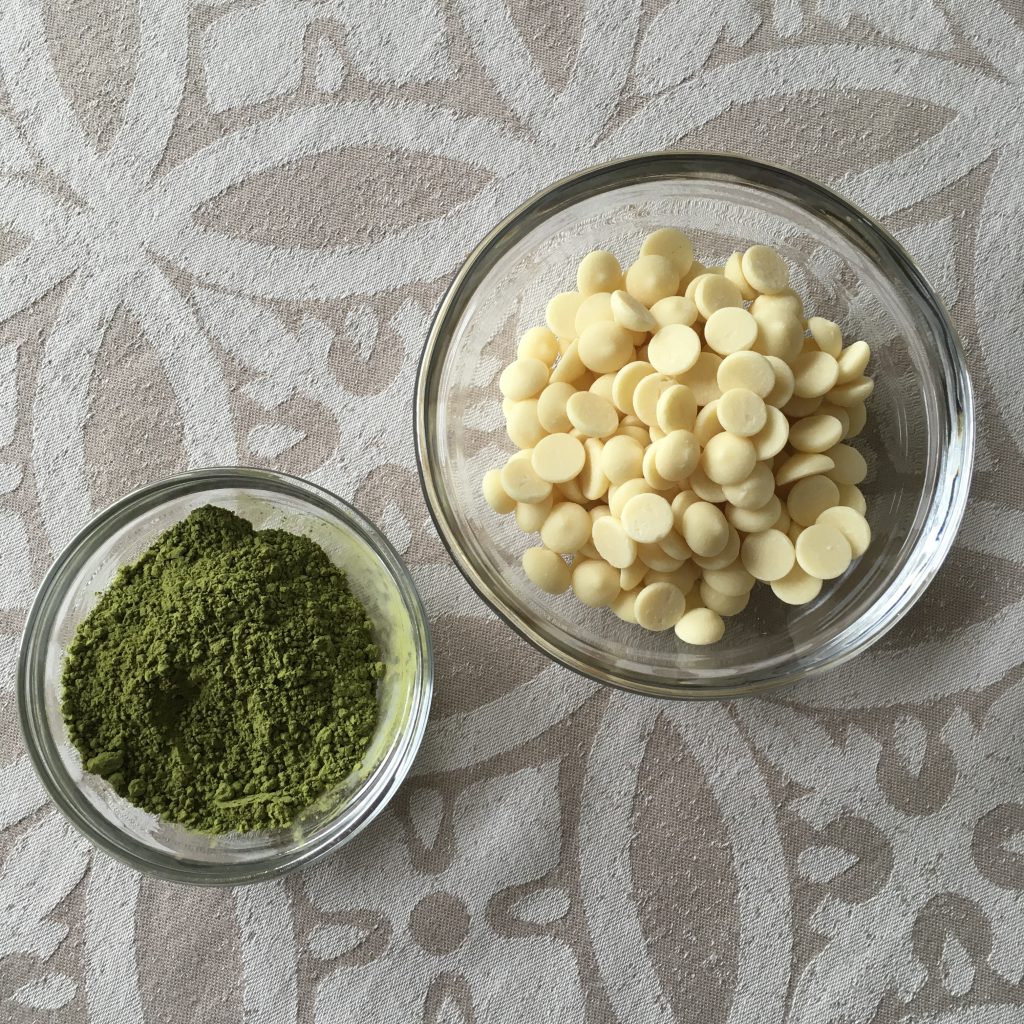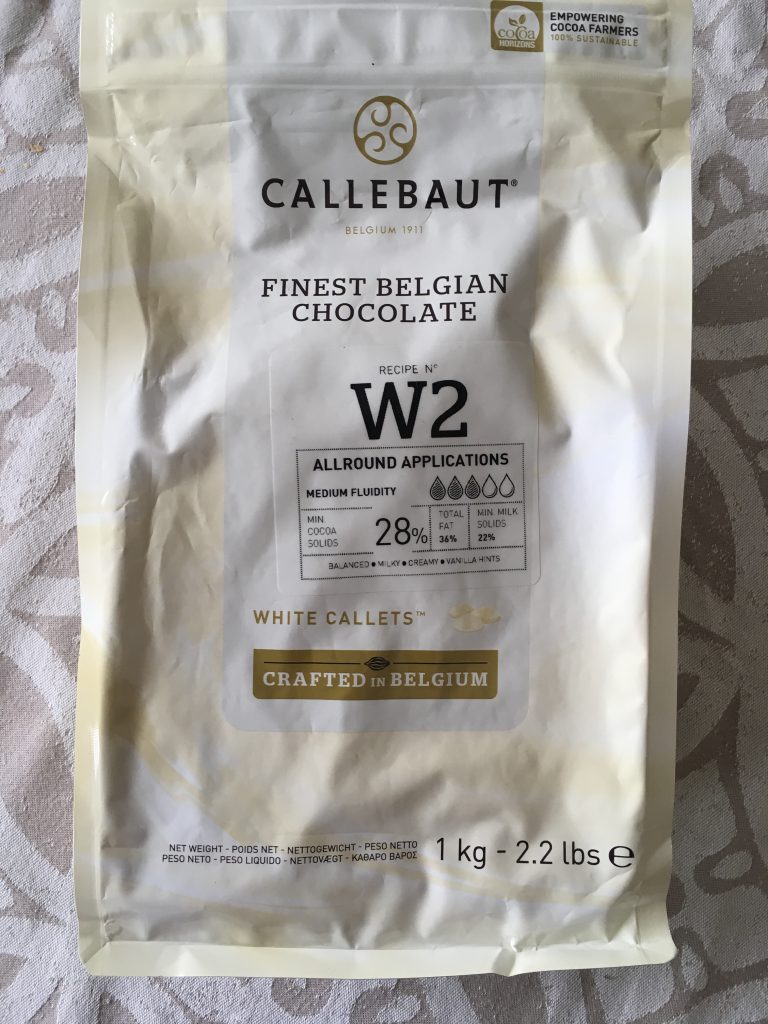 The muffins are really simple to make by hand and take a short time to bake in the oven. There are different grades of matcha and many tea sellers will advise you on which grade to get for drinking and which for baking. I usually buy my matcha from Matchaeologist and here is their guide.
How much matcha to use is a matter of personal preference but I figured that 1 gram per muffin would be sufficient. This is because I normally use between 1 – 2 grams of matcha in my morning matcha latte.
For the Muffins:
160 g plain flour
12 g matcha powder
2 teaspoons baking powder
½ teaspoon bicarbonate of soda
¼ teaspoon salt
100 g unrefined caster sugar
125 g unsalted butter, melted
2 large eggs, beaten
1 teaspoon vanilla extract
300 g ripe bananas (peeled weight)
150 g white chocolate chips
You will also need a 12-hole muffin tray lined with paper muffin/ cupcake cases (I used two 6-hole muffin trays from Nordicware).
How to Make:
Preheat the oven to 170°C/ 325°F/ Gas 3.
Sift the flour, matcha, baking powder, bicarbonate of soda and salt into a large mixing bowl.
Add in the sugar and set aside.
Crush the bananas gently with a fork.
Add the melted butter, eggs and vanilla extract to the flour.
Use a balloon whisk to mix everything together until you get a smooth batter.
Add in the crushed bananas and chocolate chips.
Using a spatula, gently fold everything together until well mixed.
Spoon the mixture into the prepared muffin cases. It might be easier to use an ice cream scoop.
Bake in the oven for 35 minutes or until the cake bounces back when touched. A metal skewer inserted in the centre should come out clean.
Remove the muffins from the tray and place on a wire cooling rack to cool completely.
Matcha muffins, before and after baking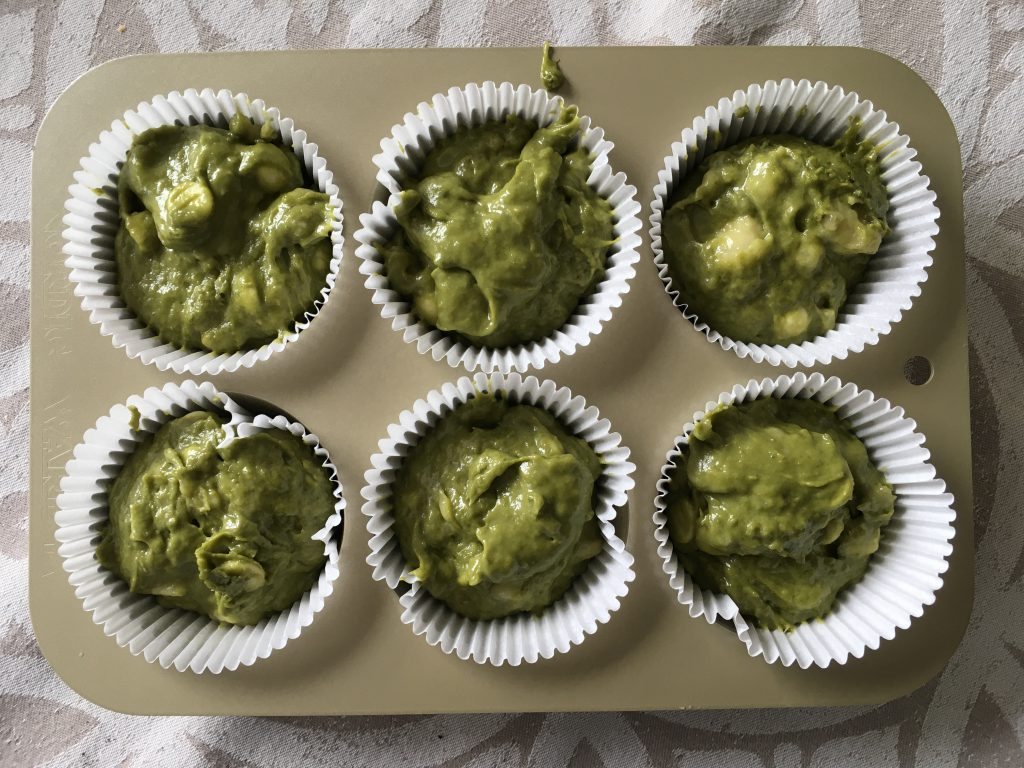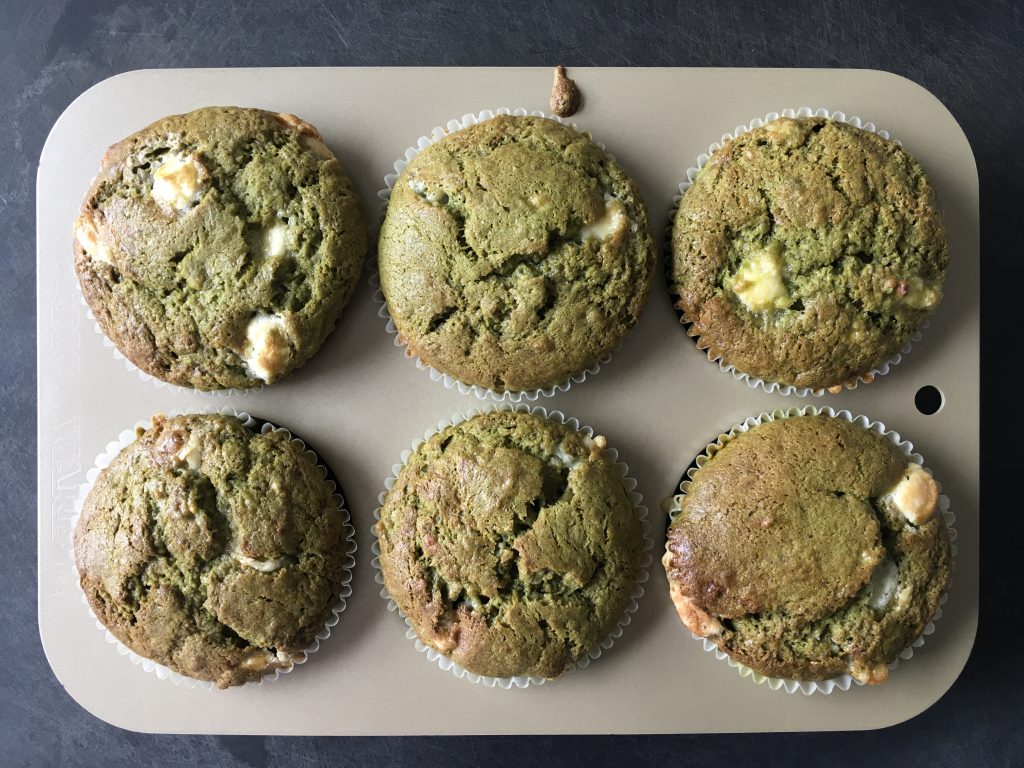 Specific advice for success: sift the flour and matcha together, and just crush the bananas gently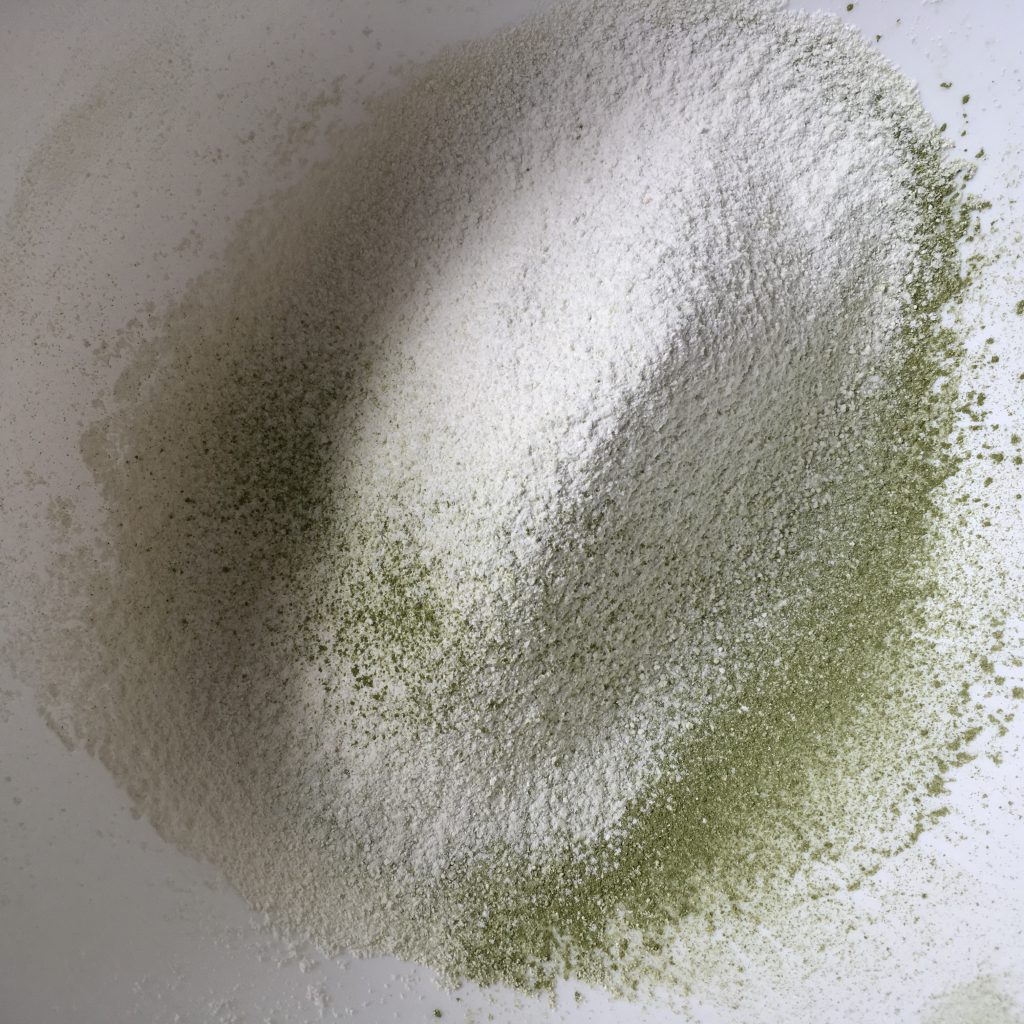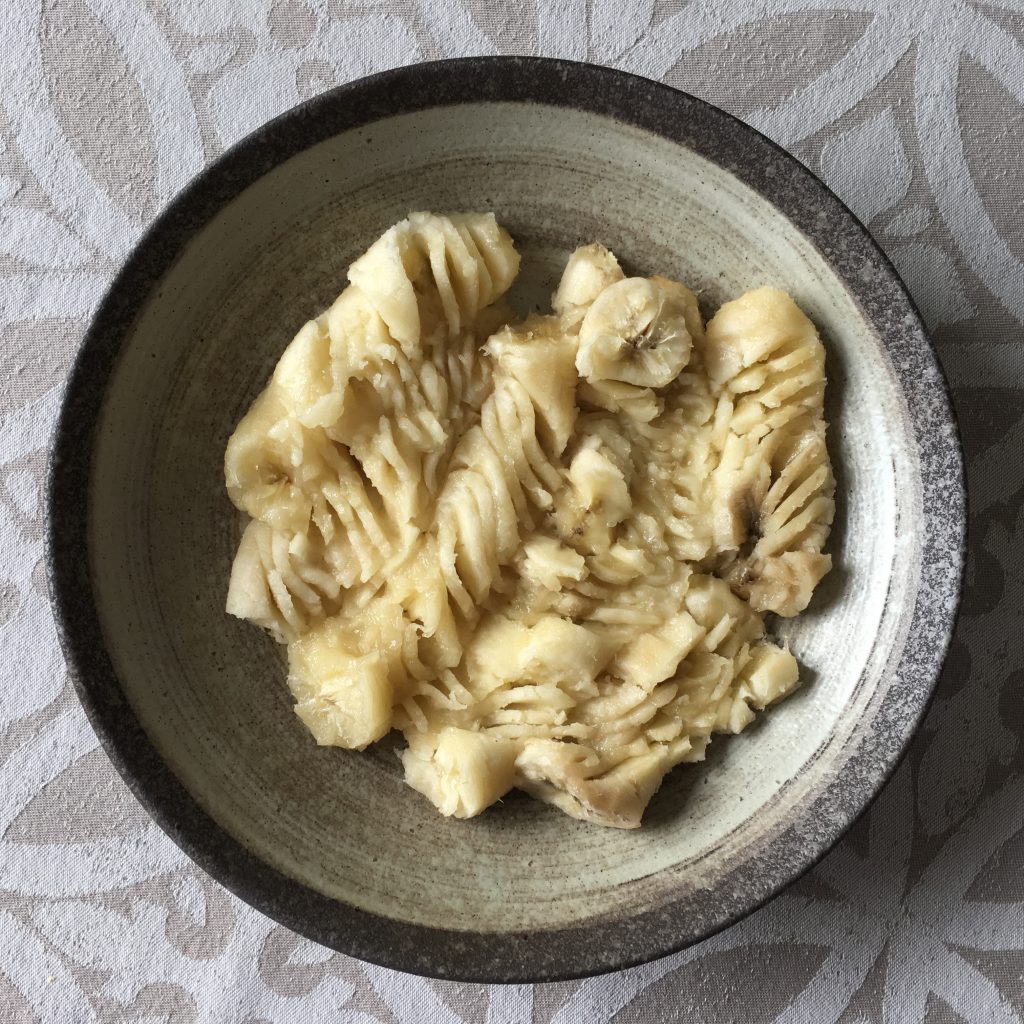 The muffins were very well received by Mr Gochugaru and Junior 2, but I banned them from eating any after 3pm because the tannin in the matcha might keep them up at night. This would make a perfect morning muffin. Matcha and white chocolate cookies are on my list of things to bake, after I ate a hefty one at Café Kitsuné at the newly opened Pantechnicon in Knightsbridge.