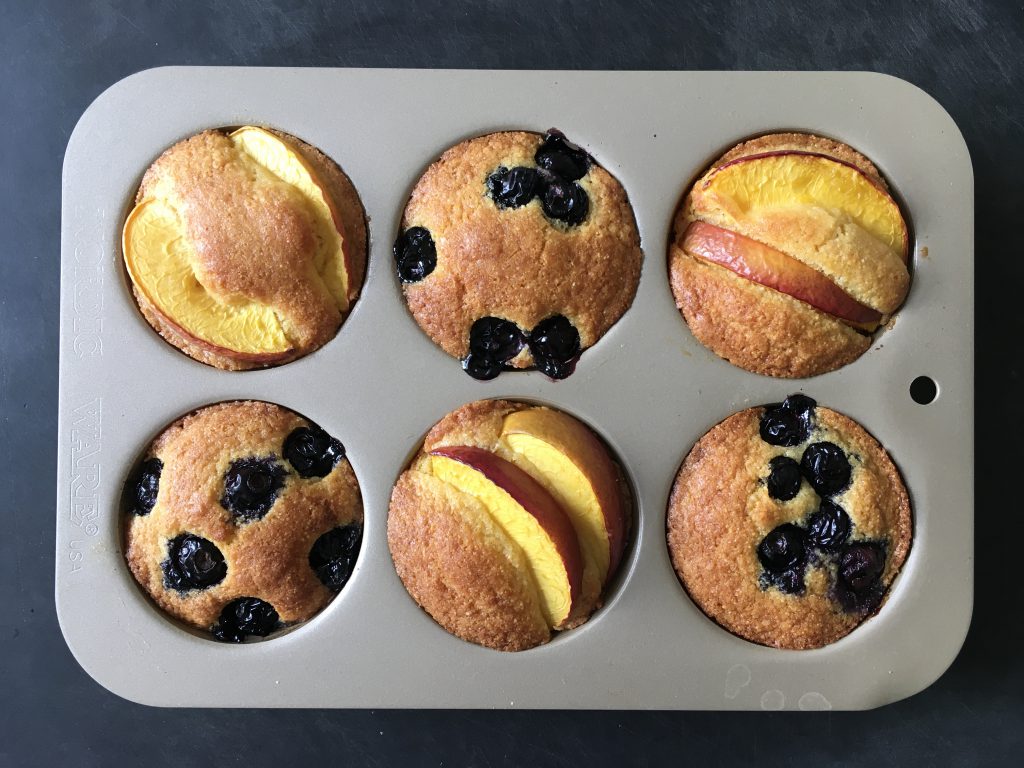 This is a muffin to make when you really want something to eat with your tea or coffee, but you realise that you have just been eating too many cakes recently.
In my case, in the quest to make a souffle cheesecake, I have made six cheesecakes in the last 10 days. Thankfully half were given away but since I have yet to find that one foolproof recipe, two more are in the pipeline for this weekend.
It is summer here in London, but there is rain the whole of this week. A day without sunshine is alright as long as it is not also a day without baking. So here is an extremely simple recipe to use the softer fruits available this season. Here, I have used nectarines and blueberries. Other soft summer fruits that are suitable include raspberries, peaches, apricot, blackcurrants and strawberries. If you are making this in winter, frozen blueberries and raspberries would work.
I made six muffins because we need to eat less. There are two recipes below, for 12 and also for six muffins. The important thing is to grease the muffin tin really well. The muffins bake without a paper liner, as we are aiming for a browned and slightly crunchy texture.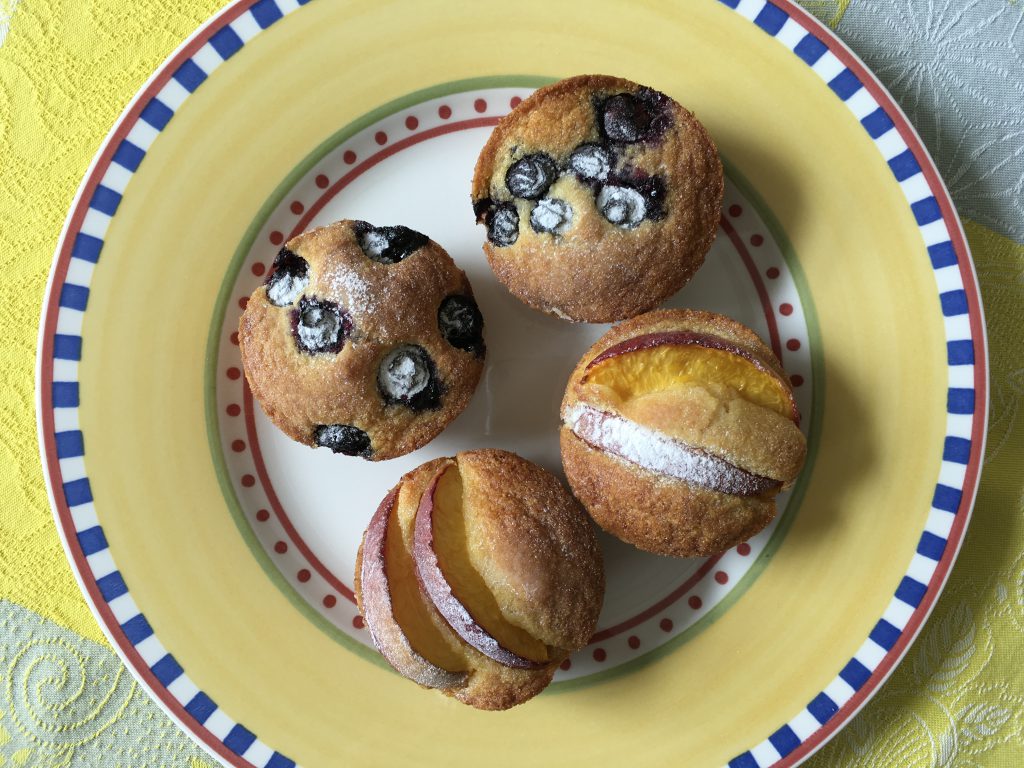 For 12 Muffins:
120 g instant polenta
100 g plain flour
60 g light brown soft sugar
2 teaspoons baking powder
¼ teaspoon bicarbonate of soda
¼ teaspoon fine sea salt
2 eggs
130 g Greek yogurt (0% fat)
120 g sunflower oil
Soft fruit, sliced (or left whole if they are berries)
For 6 Muffins:
60 g instant polenta
50 g plain flour
30 g light brown soft sugar
1 teaspoon baking powder
1/8 teaspoon bicarbonate of soda
1/8 teaspoon fine sea salt
1 egg
65 g Greek yogurt (0% fat)
60 g sunflower oil
Soft fruit, sliced (or left whole if they are berries)
You will also need a 12-hole muffin or 6-hole muffin pan, greased with butter. My muffin pan is from Nordicware.
How to Make:
Preheat the oven to 375 F/ 190 C.
Place the polenta, flour, sugar, baking powder, bicarbonate of soda and salt in a mixing bowl. Using a large metal spoon, combine until well mixed.
In a separate larger mixing bowl, whisk together the egg, yogurt and oil.
Add the dry ingredients into the wet ingredients. Using a silicon spatula, stir gently until everything is well mixed.
Spoon the batter into the muffin pan, and top with the soft fruit of your choice.
Bake for 20 minutes.
Cool the muffins in the pan for 10 minutes, then remove them by running a plastic picnic knife round the edge of the muffin. Provided you have greased the muffin pan well, the muffin will come out easily.
Dust over some icing sugar before serving if you like, but the muffin is really good as it is.