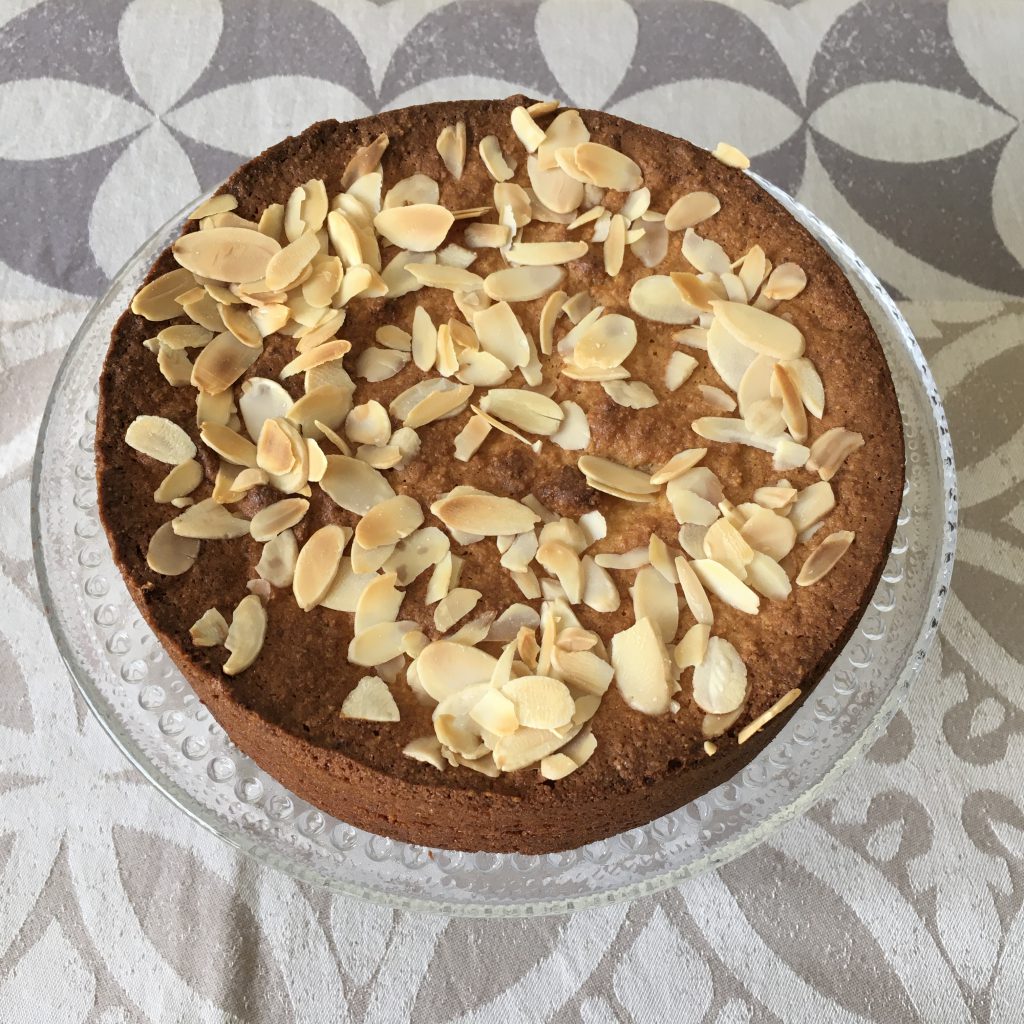 There are days when we sit around the table imagining the restaurants we will go to when things are slightly back to normal. Not that I think life will return to totally normal, not in London at least.
So we look about wistfully and say: dim sum at Yauatcha would be good, deep-fried fish goujons at Zedel, Sunday lunch at Orrery, remember we have vouchers for Gauthier, we need to check out Harrods' food halls, I should bring you to the Basque restaurant at One Aldwych, Murano would have tables set apart, oh and Alain Ducasse would too…
Then we realise that there is a pile of washing up in the sink to tackle, tea towels to dry and the next home-cooked meal to plan, because (you know the words by heart) we are in this for the long-haul.
One new normal for us is that I have downsized many of my cakes as we are not inviting friends round. Last week I made two focaccias from one portion of bread dough to give to a neighbour. I baked them in two 6-inch round baking tins. When I looked at the strange round shape I asked myself why I did not make the one rectangular focaccia and then just cut it in half. The truth is that it is very hard for me to think small as I have always baked big.
I am trying, though. Today's cake was a request from the children who said they have such fond memories of the orange and almond cake covered in chocolate. I don't remember covering any orange cake in chocolate so perhaps that was a shop bought version (we think from Melrose and Morgan).
The original recipe for the orange and lemon almond cake is here and the following recipe is for a cake half its size. As I did not have any Korean or French marmalade for the glaze, a sprinkling of flaked almonds provides the requisite finishing touch.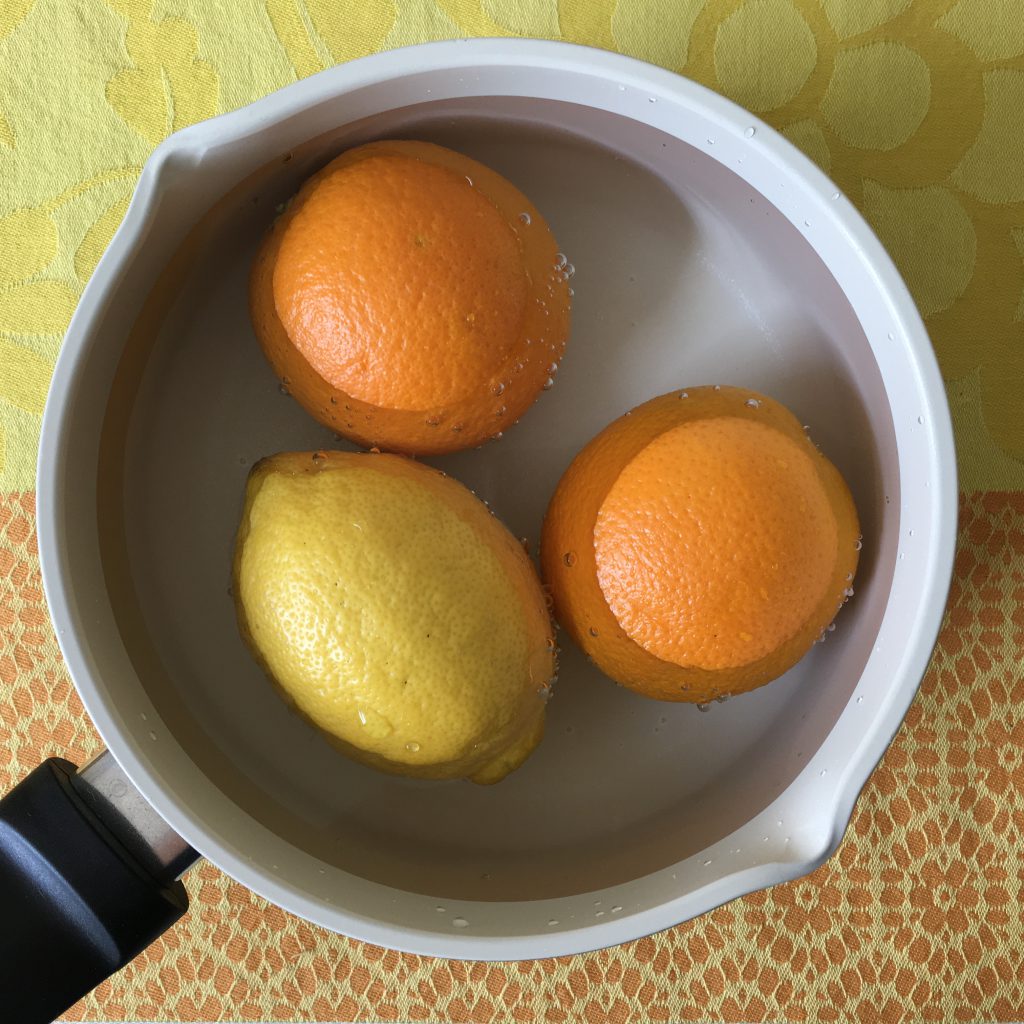 For the Cake (serves 6-8):
2 oranges
1 lemon
3 eggs
225 g unrefined caster sugar
275 g ground almonds
1 teaspoon baking powder
15 g flaked almonds or OR 20 g chopped pistachios
You will also need an 18 cm/ 7 inch round cake tin, greased and lined with baking paper.
How to Make:
First prepare the oranges and lemon puree. This can be done the night before or earlier in the day.
Put the oranges and lemon in a saucepan and cover with water. Place a lid on and bring to a boil, then turn the heat down and simmer for around 40 – 50 minutes or until the fruit can be pierced easily.
Deseed the oranges and lemon, then puree in a food processor. I used the Thermomix at 10 seconds/ speed 8.
You will only need half the amount of puree for this recipe and you can freeze the other half portion.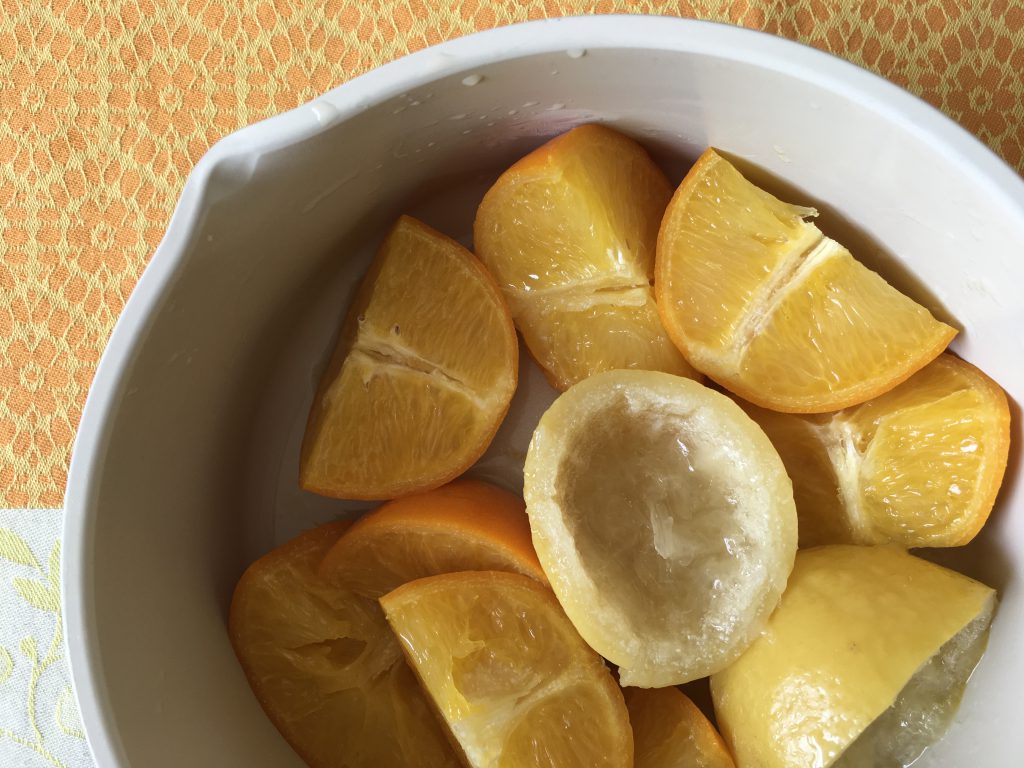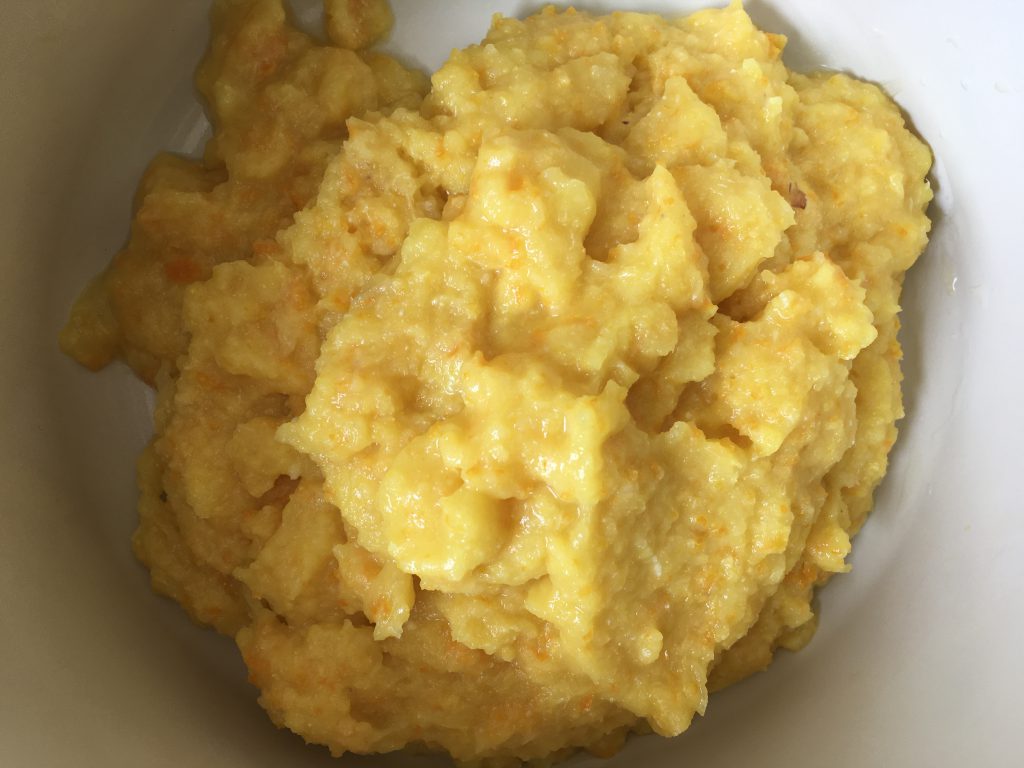 When you are ready to bake the cake, preheat the oven to 170°C/ 325°F.
Beat the eggs and sugar lightly until just combined. Stir in the orange and lemon puree.
Sieve the ground almonds and baking powder over the mixture and fold this in until everything is well mixed.
Pour the cake mixture into the prepared tin and sprinkle over the sliced almonds or chopped pistachios.
Bake in the preheated oven for anything between 1 hour and 1 hour and 10 minutes, or until the cake bounces back when touched. A metal skewer inserted in the centre should come out clean.
Leave the cake to cool completely before cutting and serving to your fellow lockdown companions who are now also your guests, sous chefs, cinema dates, music festival friends and personal trainers.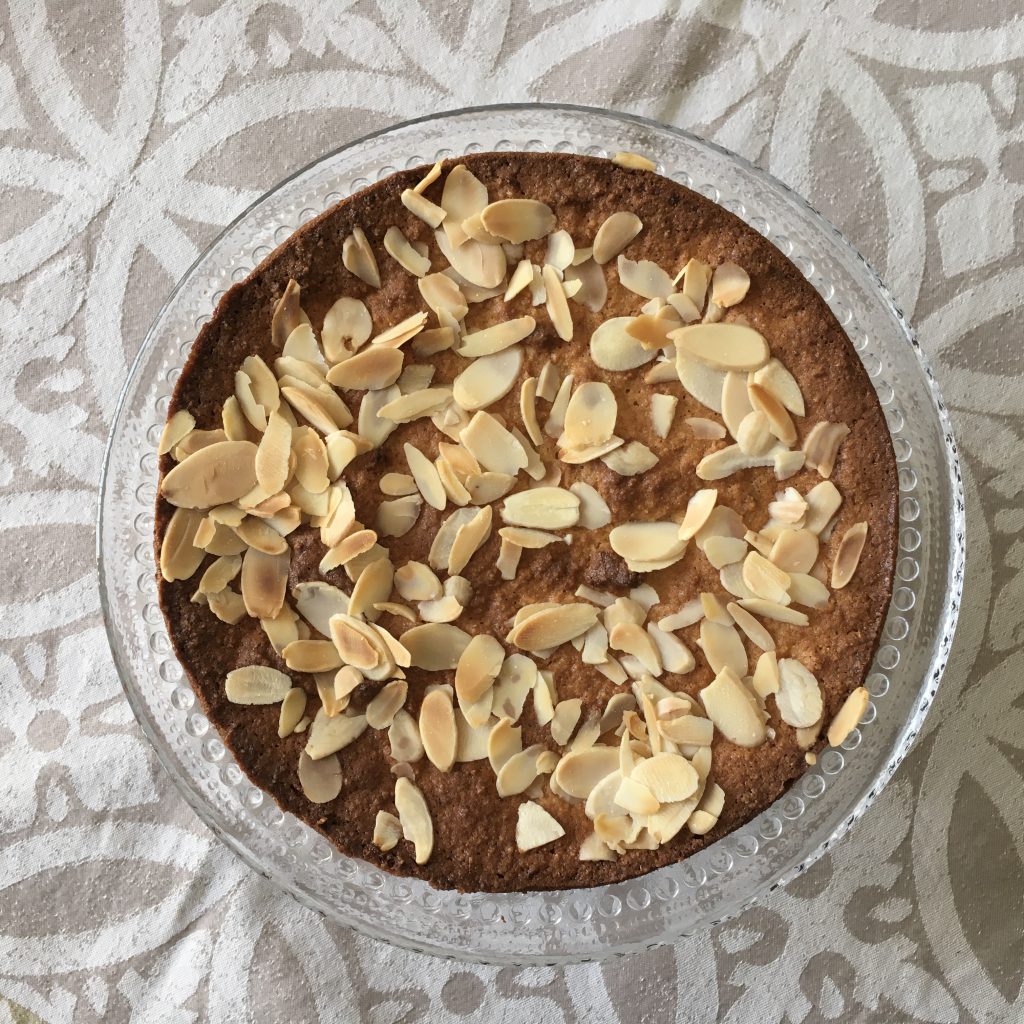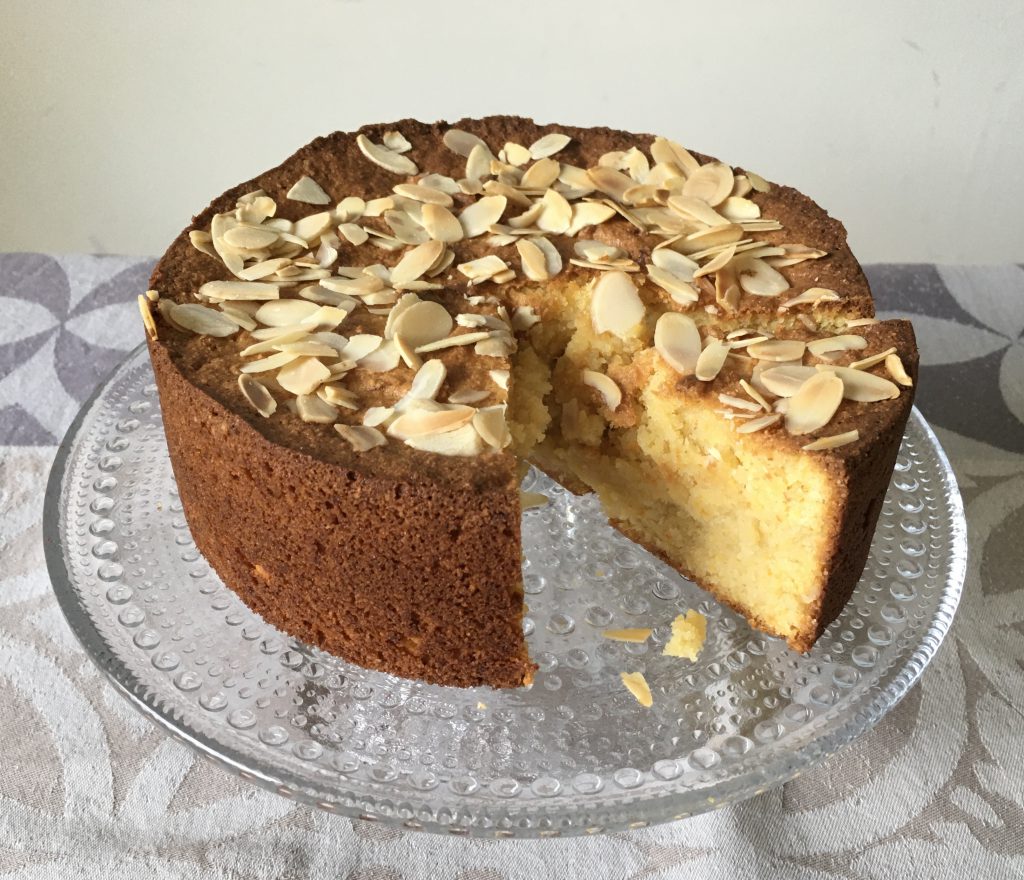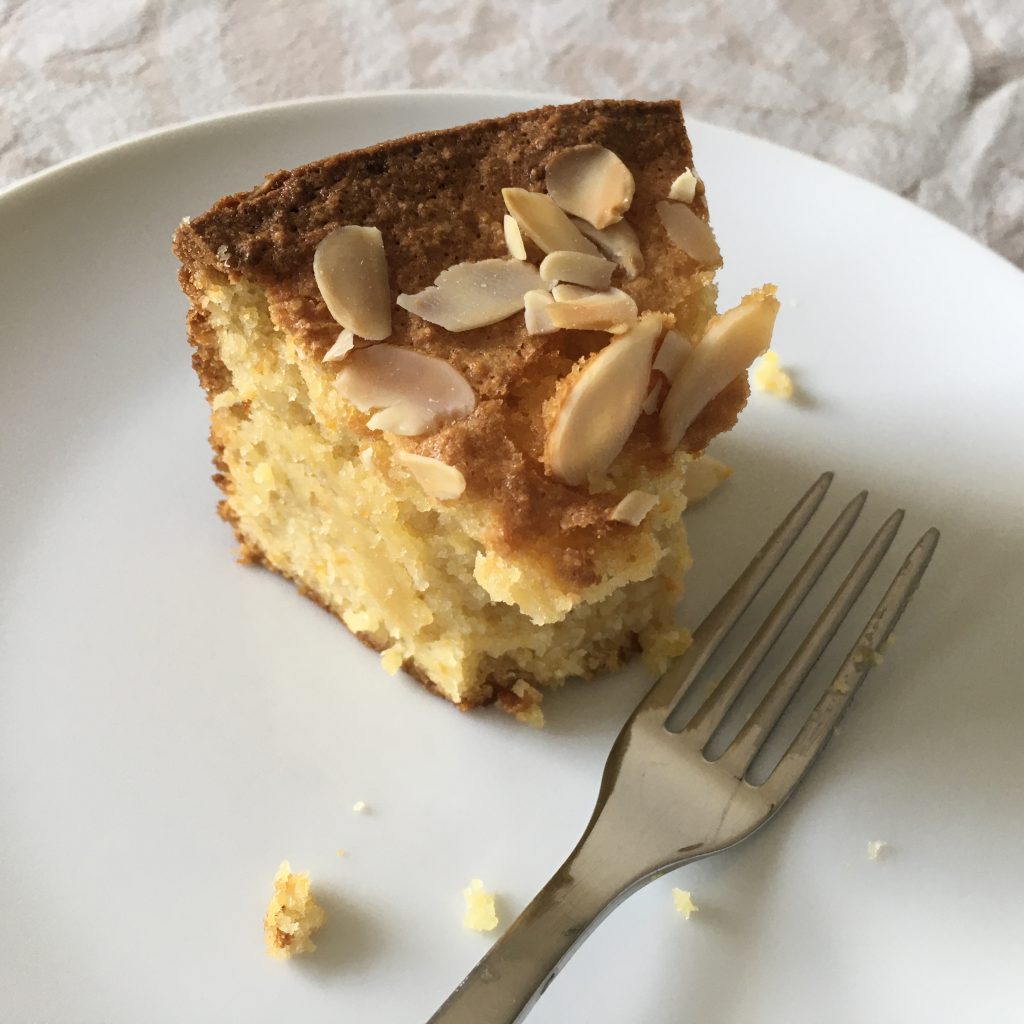 Yesterday we thought about doughnuts. I ordered some but was not confident it would arrive hence the cake as backup. But the doughnuts did arrive!