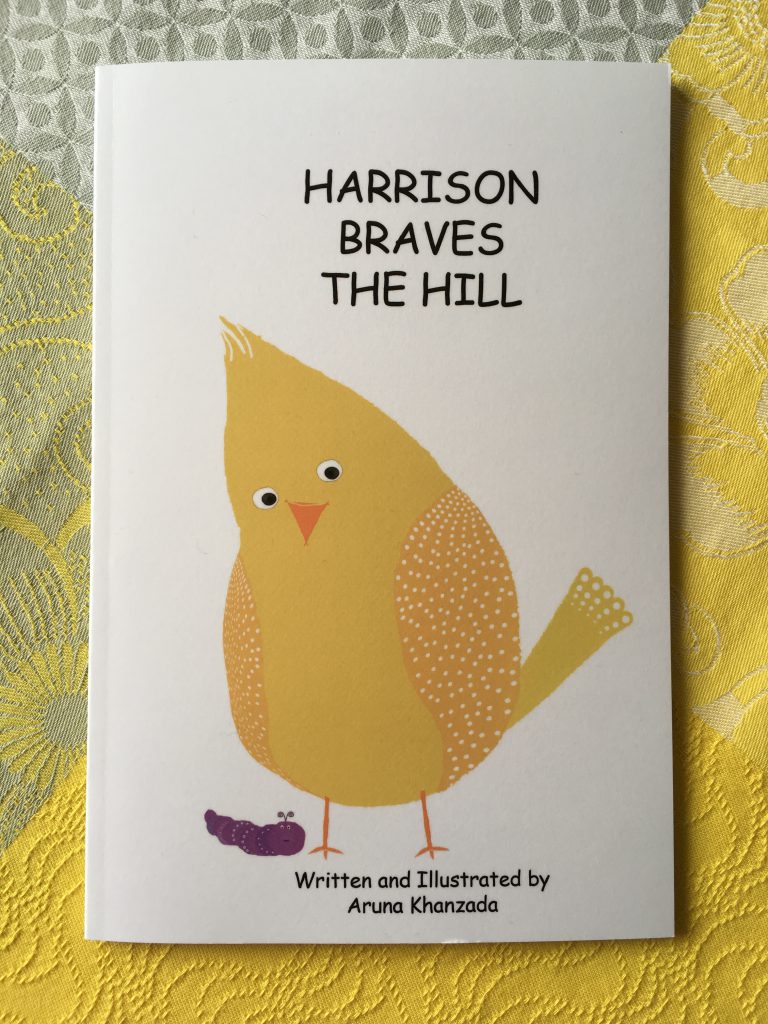 I love Thermomix Neighbour because she is a good neighbour and because she introduced me to the amazing Thermomix. She leads a very busy life and to make it even busier, she decided to write a book.
The story is set in Primrose Hill and is about a bird called Harrison who really wants to see what is at the top of the hill, but who is not brave enough to leave the safe confines of the bottom of the hill. Along comes Dolly Dog who slowly encourages Harrison to be brave and to venture up the hill, step by step.
It really is a beautiful story of friendship and shows how a little bit of encouragement is all you need to be brave.
TM Neighbour gave a book reading at our local library and I offered to make biscuits for the children. I think some parents would prefer sugar-free, gluten-free and dairy-free treats but then, we would be left with a glass of water. I believe if you are going to make biscuits, it is better to make biscuits.
The recipe is based on the Butter Cut-Out Cookies by Nigella Lawson and has served me countless of times. I never ice them and have used many different cutters which all seem to work. Angels and reindeer are very popular at Christmastime. For the book reading I used cutters made in the shape of Dolly and Harrison, custom made by using a 3D printer. The original recipe from Nigella is here where you can get the measurements for using cups.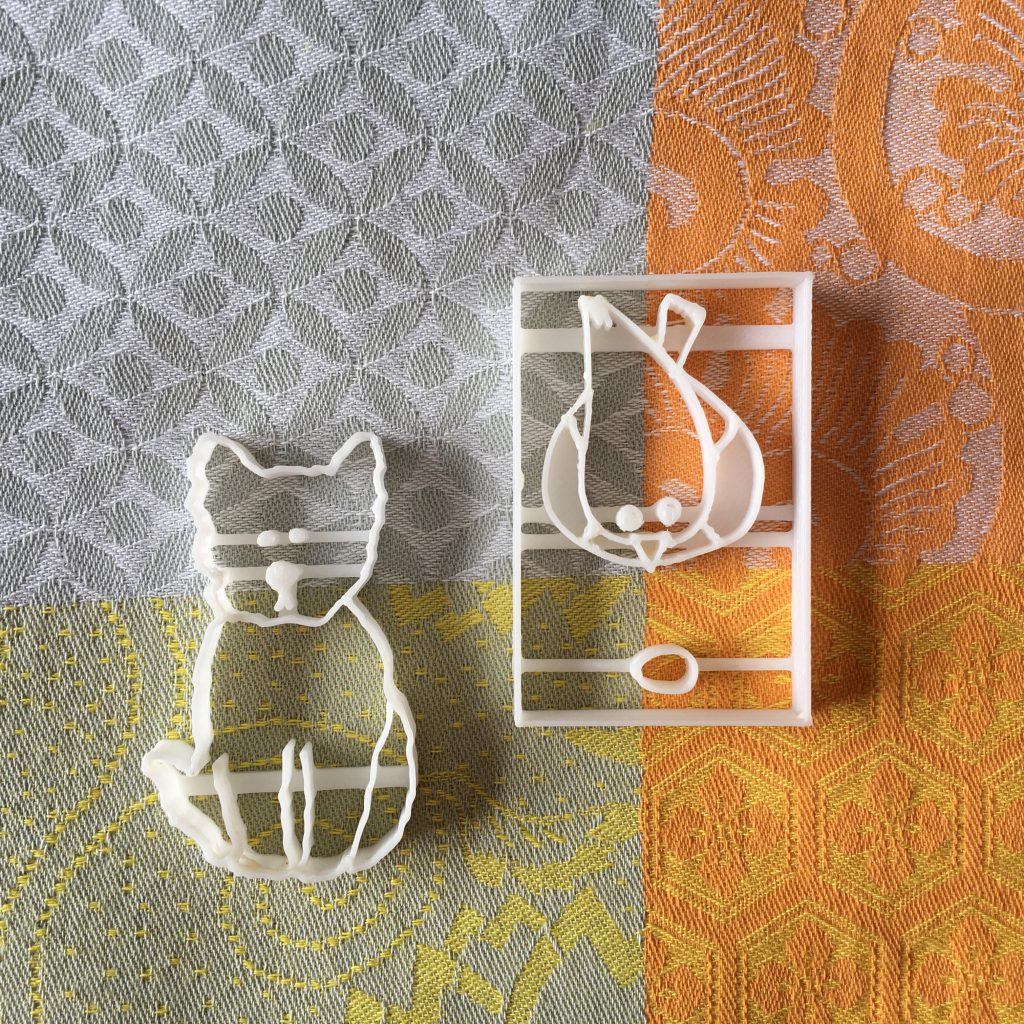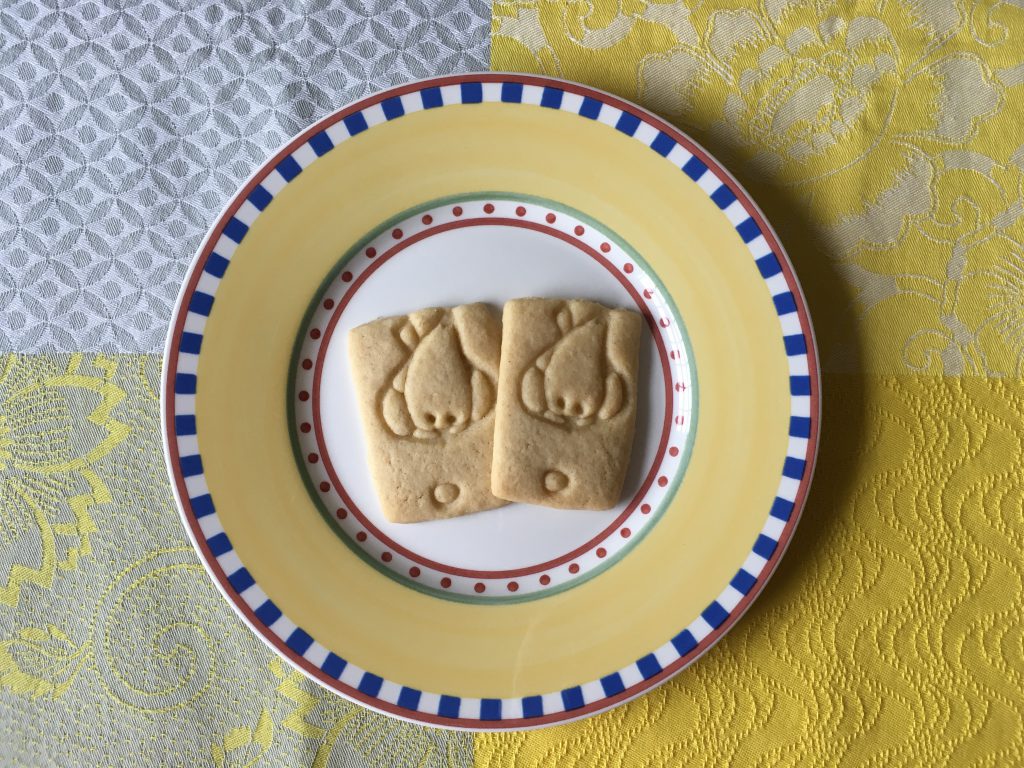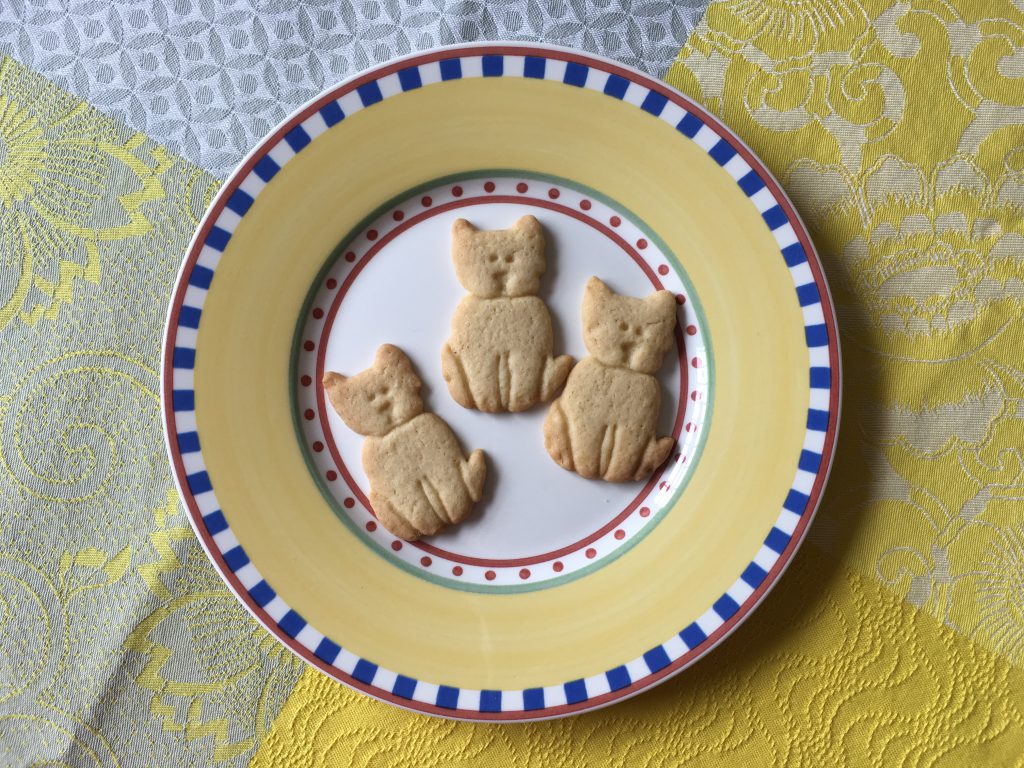 The recipe makes many biscuits and the number you end up with depends on the size of the cutter used. If you are unsure, then try half a recipe first. As a rough guide, a full quantity makes around 50 – 60 biscuits using a small cutter.
For the Biscuits:
175 g unsalted butter, softened
200 g golden caster sugar
2 large eggs
1 teaspoon vanilla extract
400 g plain flour (plus more for rolling out)
1 teaspoon baking powder
½ teaspoon salt
You will also need a few baking trays lined with baking paper or Silpat.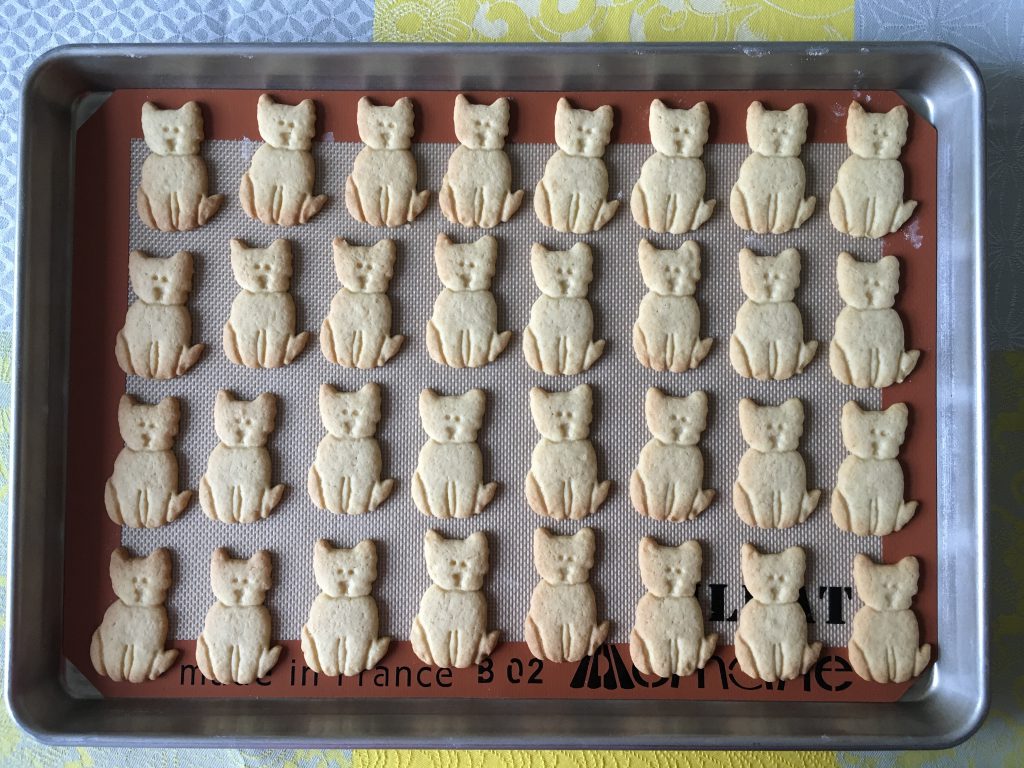 How to Make:
First, sieve the flour, baking powder and salt into a large bowl.
In a separate large mixing bowl, beat the butter and sugar together until it is lighter and has increased slightly in volume.
Add the eggs and vanilla and beat until slightly combined.
Add the flour mixture bit by bit to the butter and eggs, and continue beating gently until you get a nice lump of biscuit dough.
Divide the dough into two and wrap each half in clingfilm. Rest the dough in the fridge for at least 1 hour. I kept mine in overnight.
When you are ready to make the biscuits, preheat the oven to 180°C/ 350°F/ Gas 4.
Remove one half of the dough from the fridge. Sprinkle a suitable surface with flour and place the dough on, then sprinkle a little more flour on top of that.
Using a rolling pin, roll out the dough to a thickness of about ½ cm or ¼ inch. Dip the cutter into some flour and then cut into shapes. Place the cookies a little apart on the baking sheets. Repeat with the other half of the dough.
Bake for around 12 minutes, or until the biscuits are slightly golden around the edges. You will need to add 1 – 2 minutes to the baking time if you are using larger cookie cutters.
Cool the biscuits on a rack and store the biscuits in a tupperware or tin when they are fully cooled.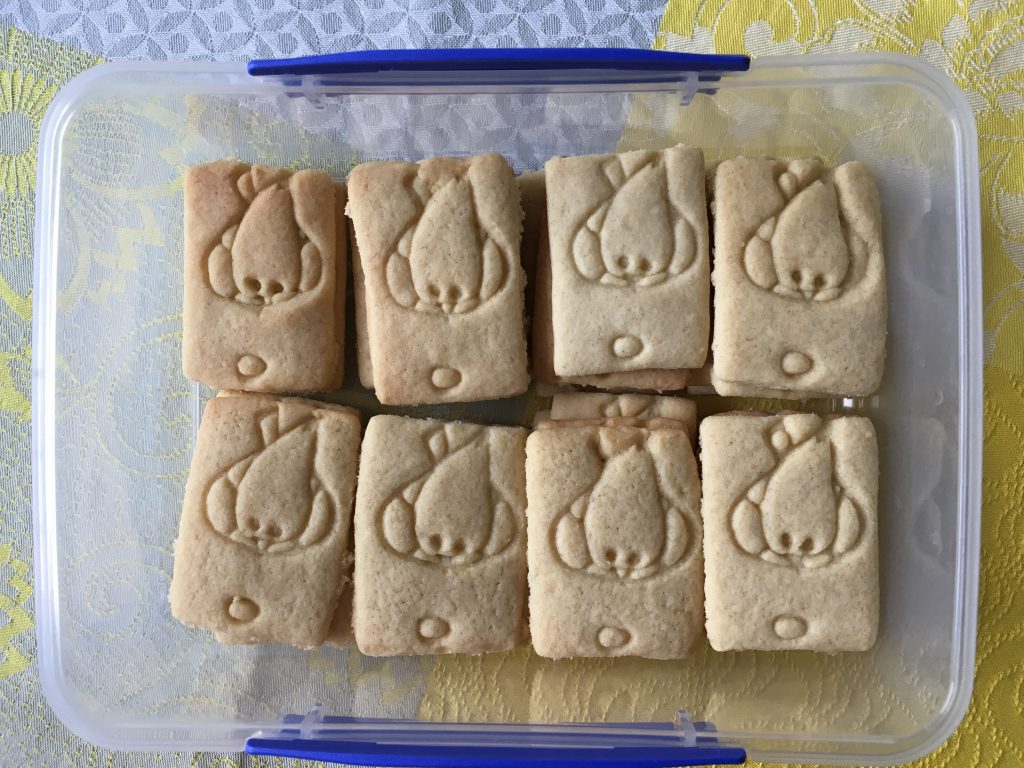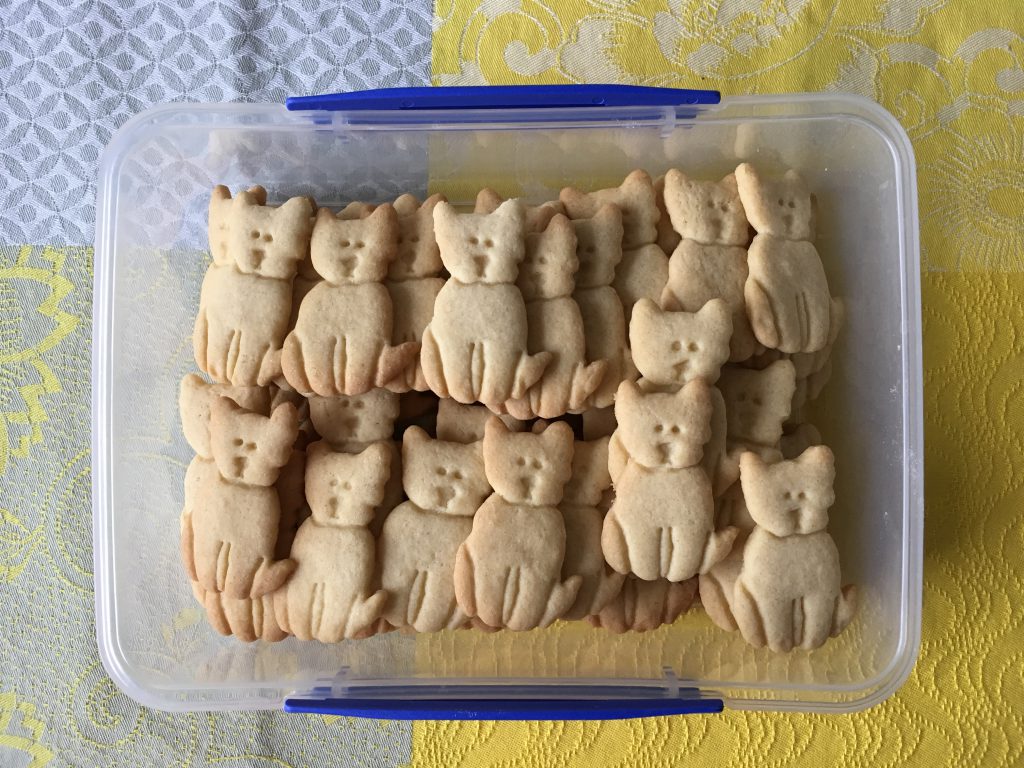 Towards the end I made a few simple round biscuits to eat whilst watching TV later. I am thinking of adding caraway seeds to the next batch which I will bring to a future Korean class. Maybe I will make a batch using lavendar sugar instead of ordinary sugar. Like Harrison, I shall be brave and venture out a little more.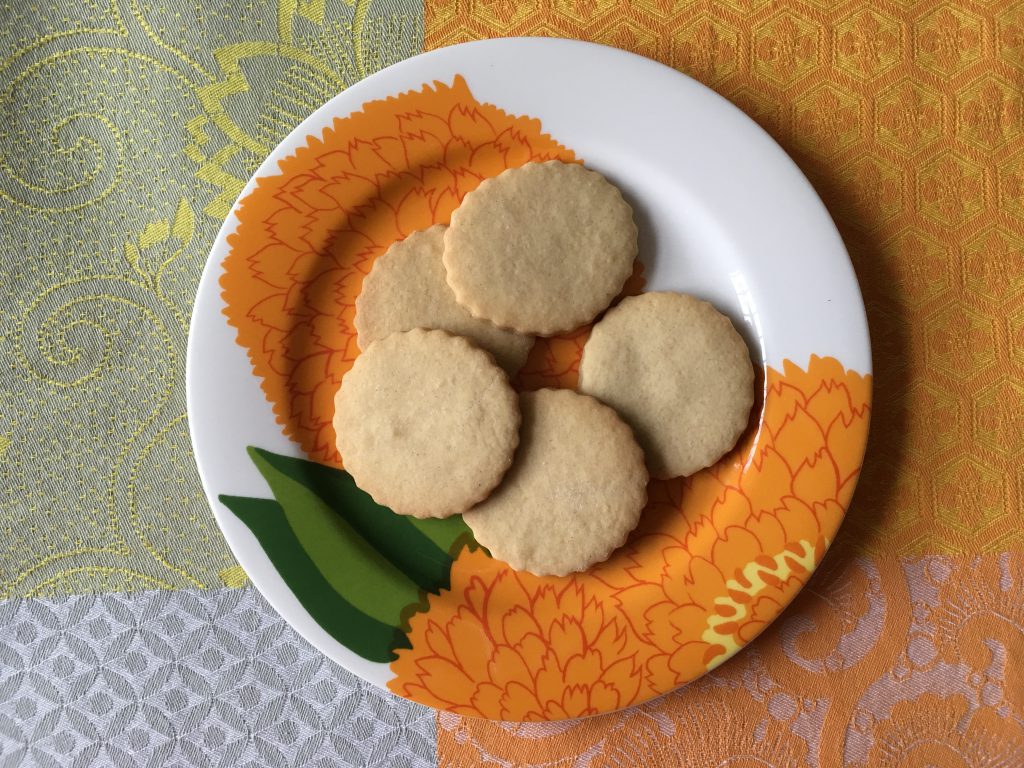 Harrison Braves The Hill by Aruna Khanzada, available from Waterstones, Amazon, Chloe's Espresso and Foyles.