Packing for the inner wimp in me.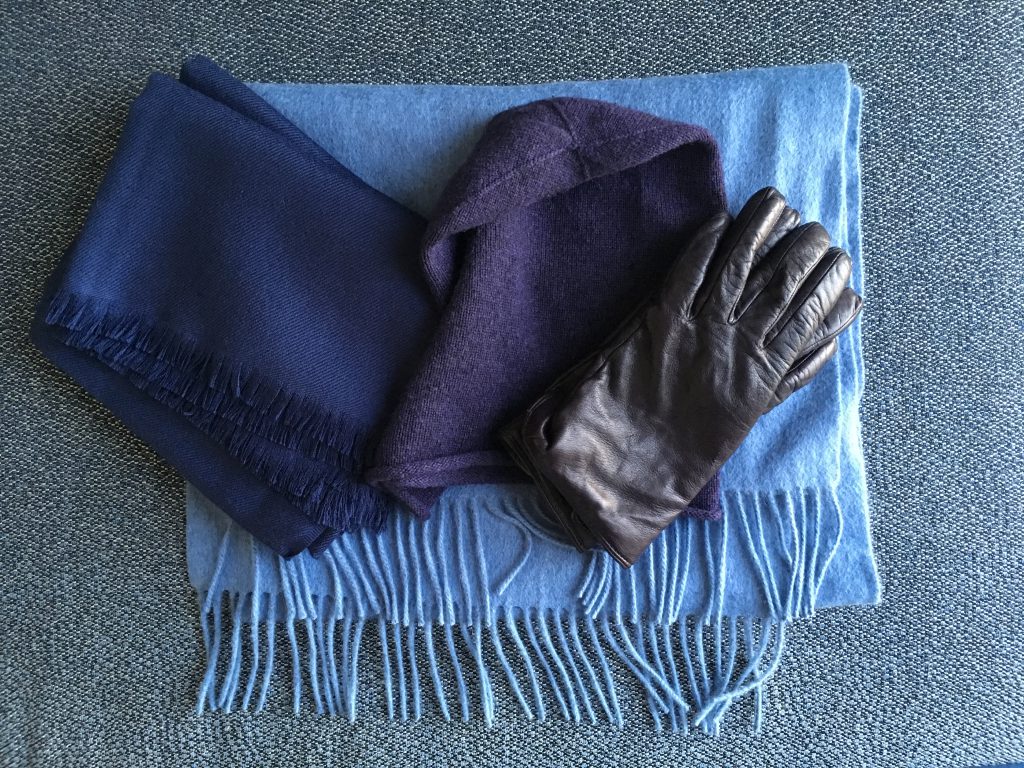 The warning came from reading advanced weather reports and from Seoul Sister who sent a Kakao message before we left London saying: mind the weather.
Mind the Weather is a bit like Mind the Gap that you hear on some parts of the London Underground when you descend the train onto the platform. You can take this to mean: if you are not careful you will fall into a hole.
The kind of hole we are dealing with here at the moment in Seoul is an extremely cold one, with  temperatures in the minus category. When I mentioned this to Paul, who takes care of our airport runs, he asks whether there are ski resorts in Korea. Yes, of course, but I admit I had not thought of this. I was just thinking of a short break with lots of eating, reading and sleeping. Skiing would have been a marvellous idea indeed, if we were prepared.
Saturday's weather report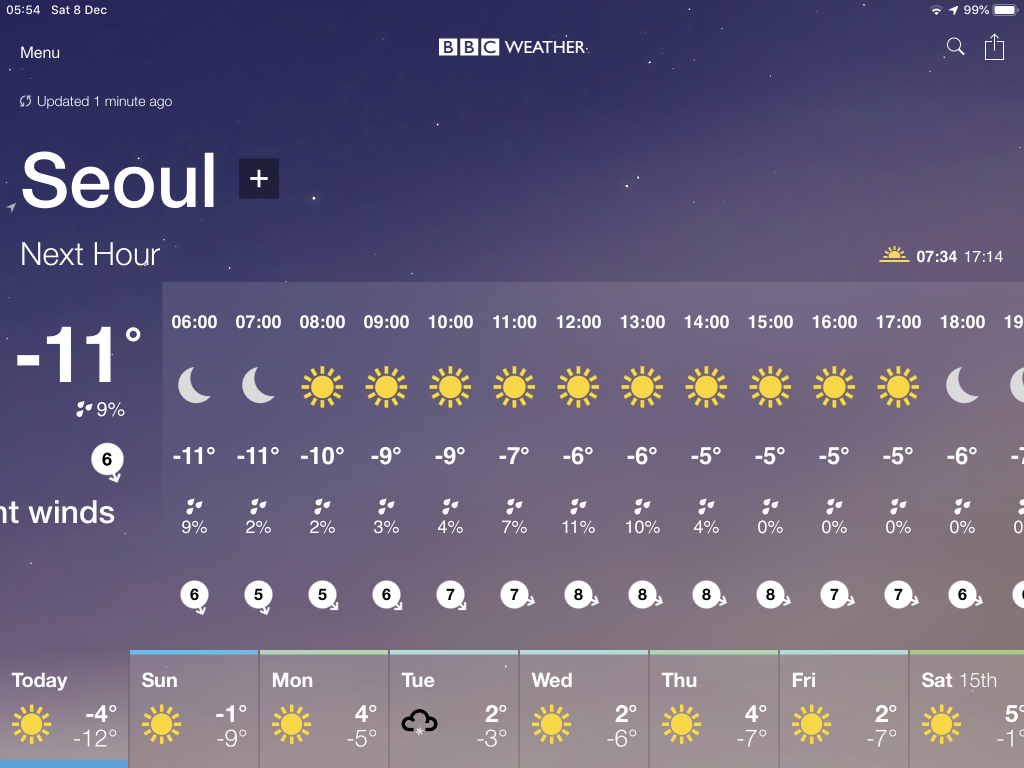 The clothes-packing for this trip consisted of going through every piece of garment in my cupboard and assessing its worth for cold weather wear. I have quite a number of linen blouses and trousers, as I spend a fair bit of time in the Far East. A feeling of disappointment overtakes me as I am unable to use any of these.
I decide upon three similar cashmere cardigans in different colours. Three pairs of cotton trousers because I do not have woolen ones, three pairs of thermal leggings, three silk scarves, an assortment of heattech long-sleeved thermals from Uniqlo and some merino wool socks.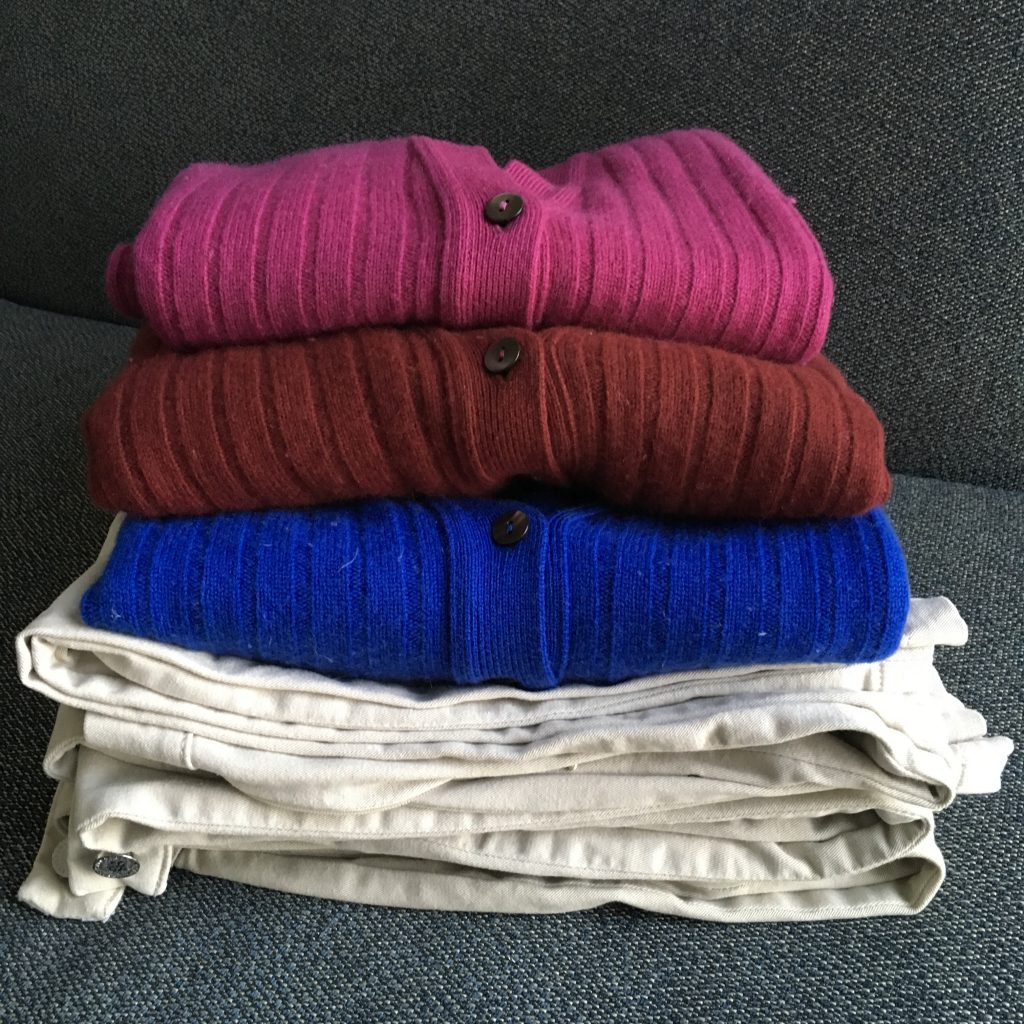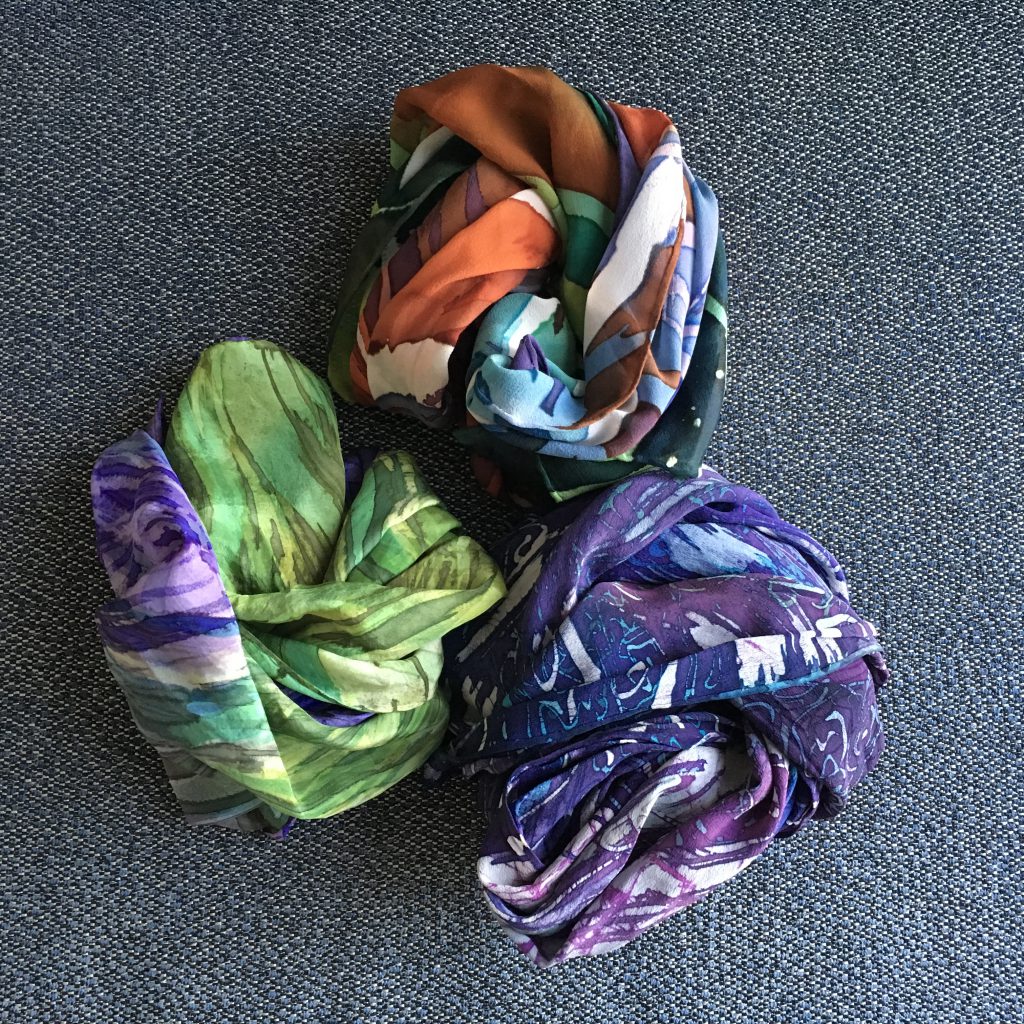 Currently in the Uniqlo opposite John Lewis in Oxford Street is an entire floor of heattech thermals for women. When I shopped there a few weeks ago I described it as a heattech heaven. I have never been so happy, or warm.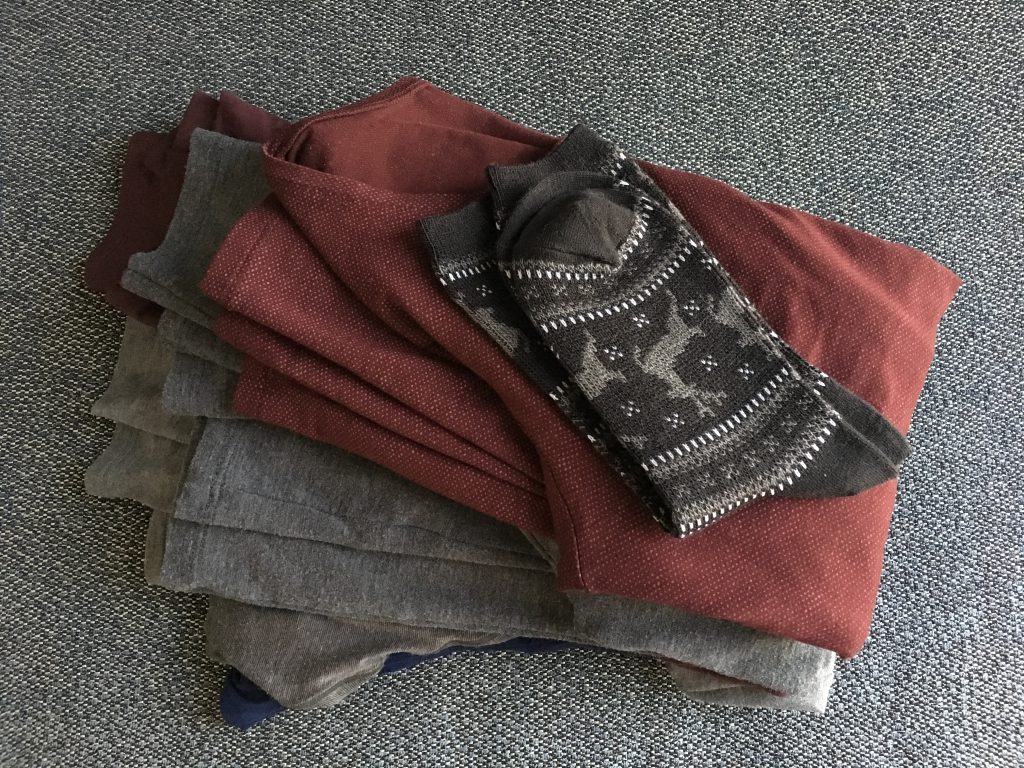 We have now ventured out into the cold, suitably attired. I spend a lot of time looking at Seoulites and their winter attire. Above their everyday clothes, many have down jackets. Indeed we notice a great selection long down jackets in the shops and it is tempting to get one at such good prices. We hesitate because, hopefully, London will not get so cold. We also have shorter, padded gilets to wear underneath our wind-proof jackets.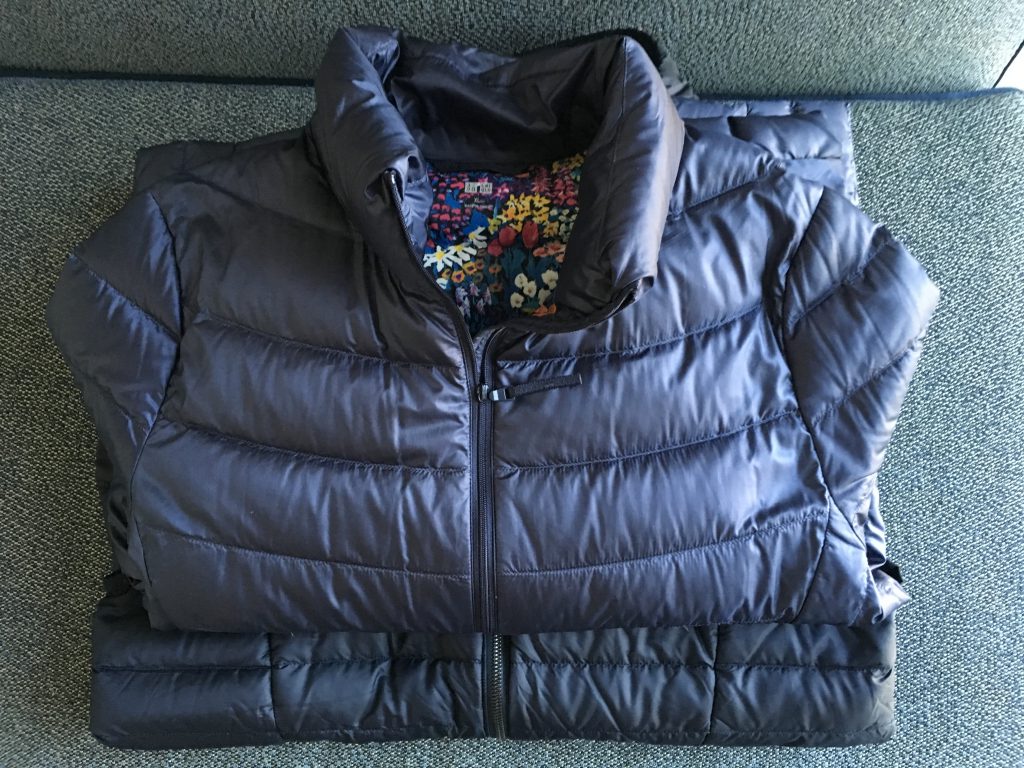 One thing that gets everyone staring at us is that we wear knitted hats that fit snugly onto our heads. Mr Gochugaru pointed out that Seoulites do not wear hats even in such extreme temperatures. I point out that Seoulites have the best haircuts and hairstyles in any East Asian city.
For ourselves, layering the key as the great thing about Seoul is that it is always warm inside a building. It is warm enough to consider and actually drink iced coffee and eat ice cream.
Soft and milky ice cream from Baekmidang, swirled through with matcha green tea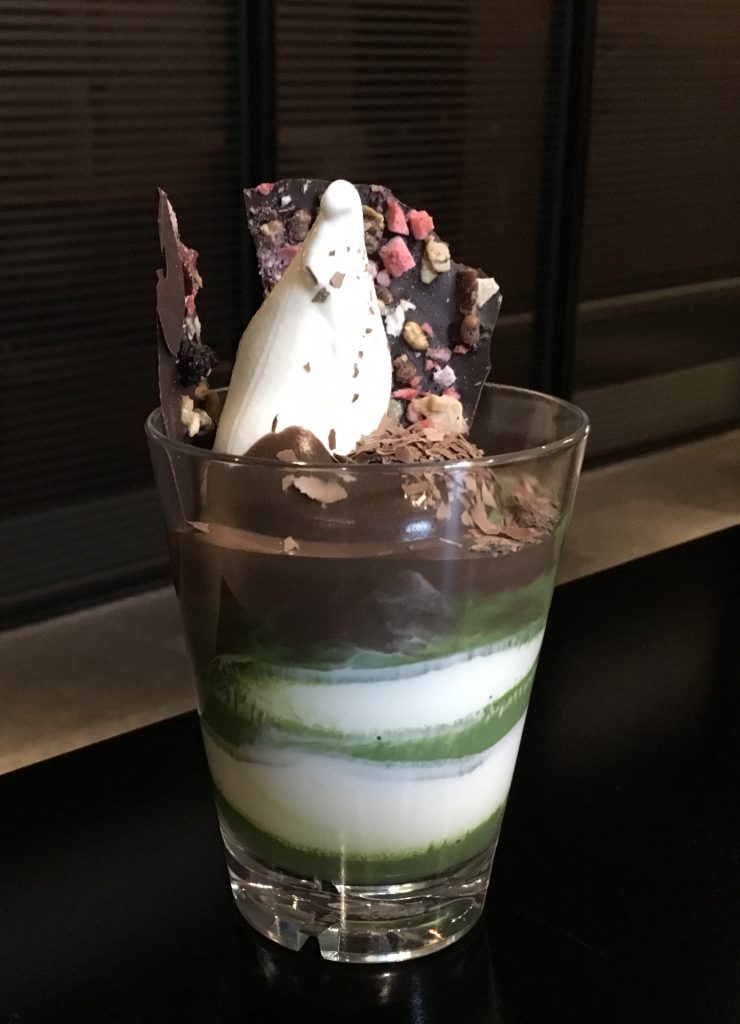 Heads, shoulders, knees and toes…and other parts that need to keep warm. It is a joy to wear cashmere and one tip I can pass on is to wait for the end of the sales when the prices are greatly reduced. Uniqlo often has offers on their heattech wear. 
Knitted hat from Brora and I recommend their cashmere wash for hand-washing.
Pashmina shawl and scarf from NPeal.
Cardigans from Berk which used to be in Burlington Arcade in Piccadilly but now sells online.
Cashmere-lined leather gloves from Pickett.
Heattech tops, leggings and socks from Uniqlo. Uniglo is a good place for down-filled coats too.
Merino wool socks from Falke which are cleverly designed to individually fit your left and right foot.
Keep warm, keep happy…the sun is shining