Kuala Lumpur Diary Number Four: The many meals of KL and Singapore.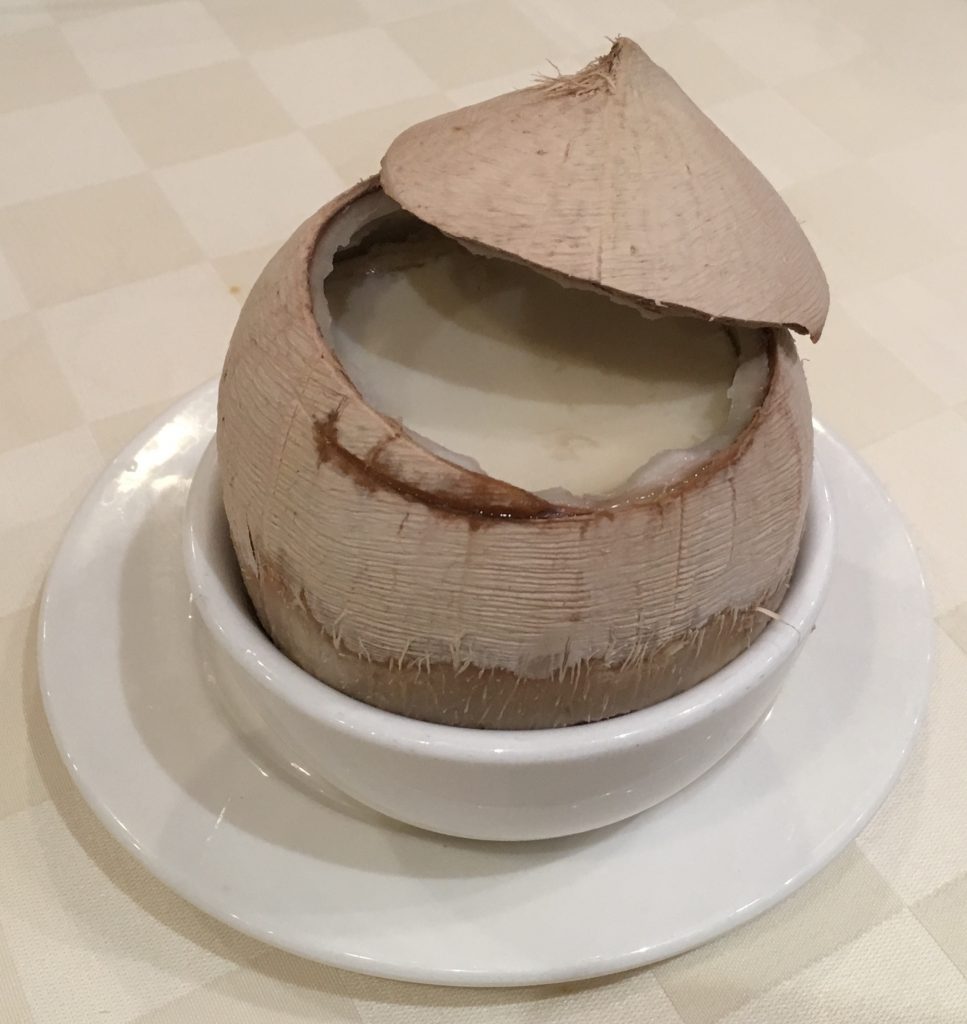 It has been a week since I returned to London. The first thing I did upon arrival was to buy some bread from my local Gail's, along with a croissant. Then Mr Gochugaru and I headed to our weekly Korean class. Church on Sunday, unpacking and clothes washing on Monday, lunch with friends on Tuesday and a haircut on Wednesday.
I went to Bristol with Thermomix Neighbour on Thursday to collect an oven she had purchased via eBay and we got sidetracked whilst hunting for a Luxury Advent Calendar from Aldi (not Audi). Aldi gets full marks for its customer service as this advent calendar had sold out in almost all their stores but the very kind and patient lady we spoke to located some in Swindon.
Friday was house cleaning and today…well, it started again with our weekly Korean class.
Time is running by fast and I do need to write about one of the meals I had in Kuala Lumpur.
To put things in context, I spent the last week of my Far East trip with some church friends who were here to connect with, train and support local churches with some teaching resources. As such we really had to eat what we could and where we could. Sometimes we skipped meals and sometimes we had eat-all-you-can buffets. Once, due to heavy traffic and torrential rain, the burgers and fries we took away from McDonald's was cold by the time we sat down to eat it. We had nyonya kuih, banana leaf curry and noodles and dumplings.
The memorable meal I had started with a whole suckling pig. We used to have this at big family celebrations such as weddings or when an elderly relative turned 70 or 80.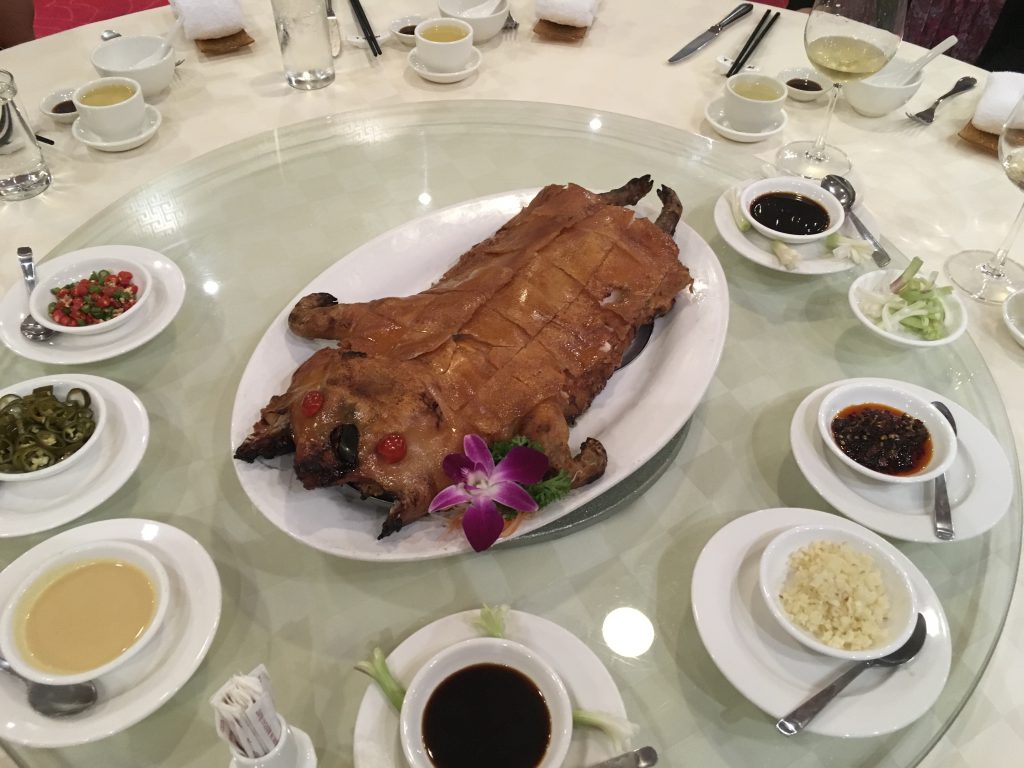 In fact, like Peking Duck, it is the crispy skin that is presented first. The meat comes later and there is the option of taking away the bones to simmer into a tasty soup at home.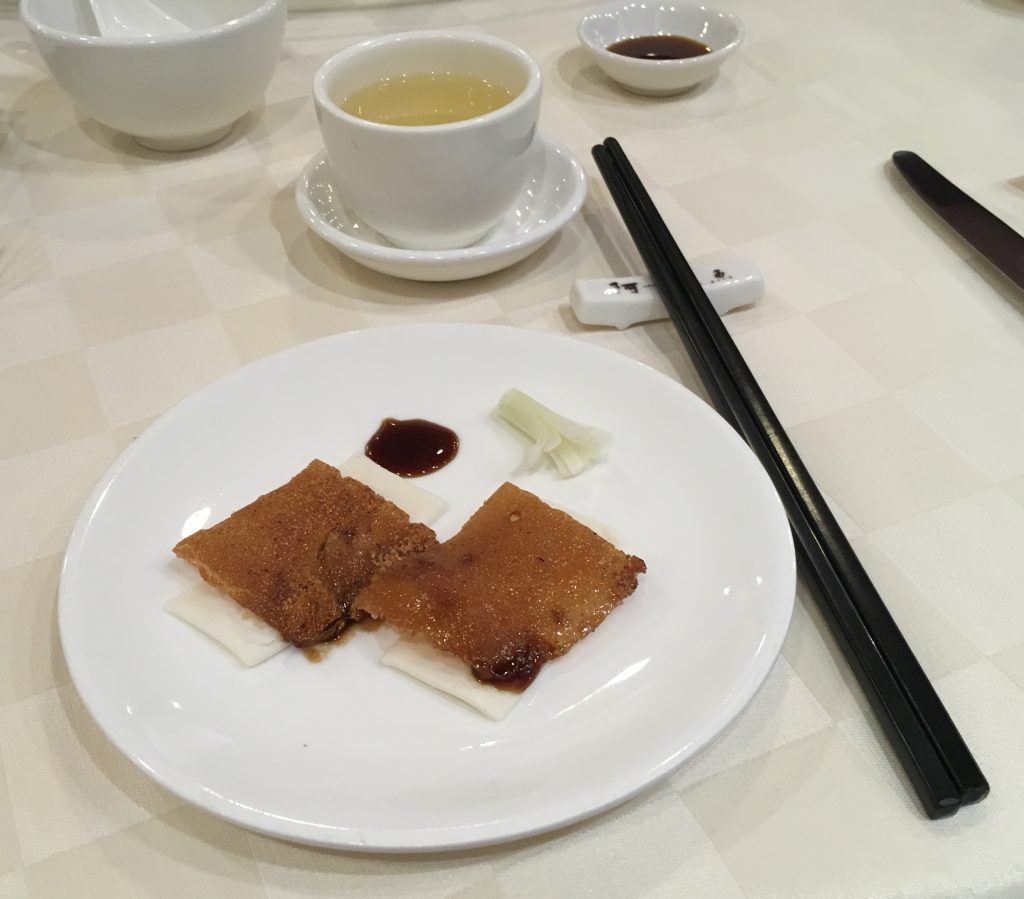 Several course followed including some succulent roast duck, butter prawns, vegetables in a yam ring, sweet and sour chicken, simmered ham and cabbage soup and fried rice. The waitress was keen that I photograph every dish but I had to show consideration to the other diners and especially to the host, so I kept the photos to the minimum.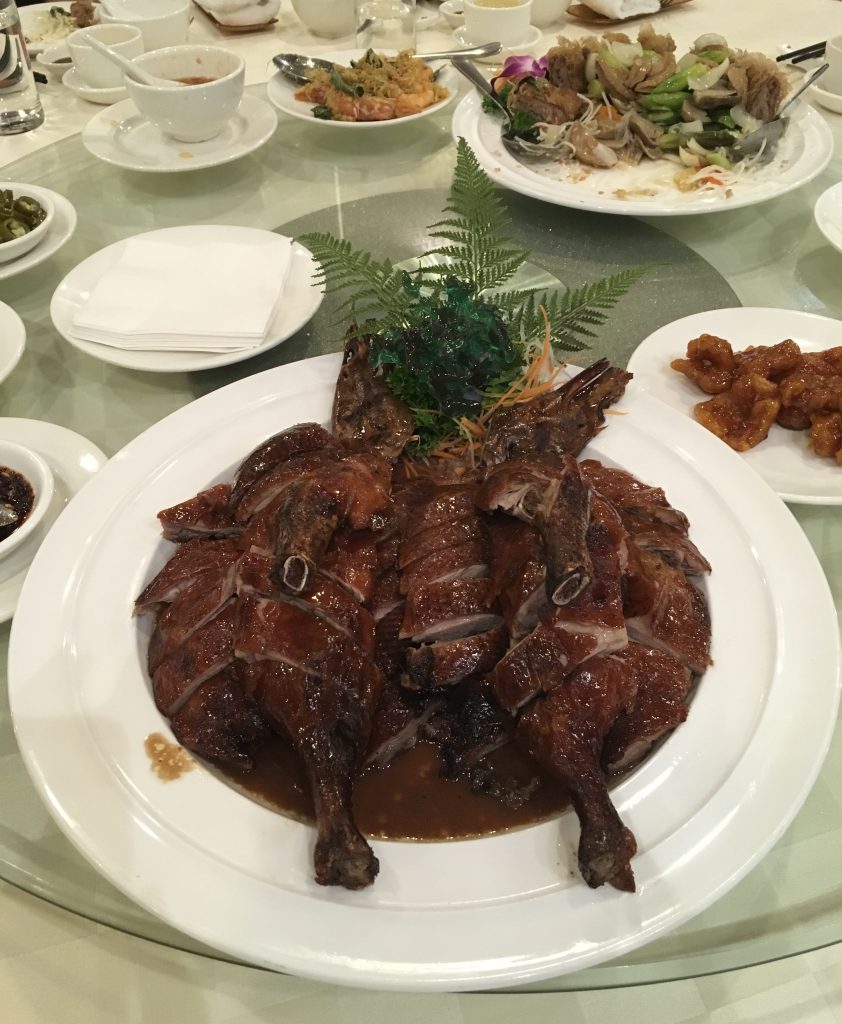 The dessert was a delightful steamed coconut custard which had a smooth and velvety texture.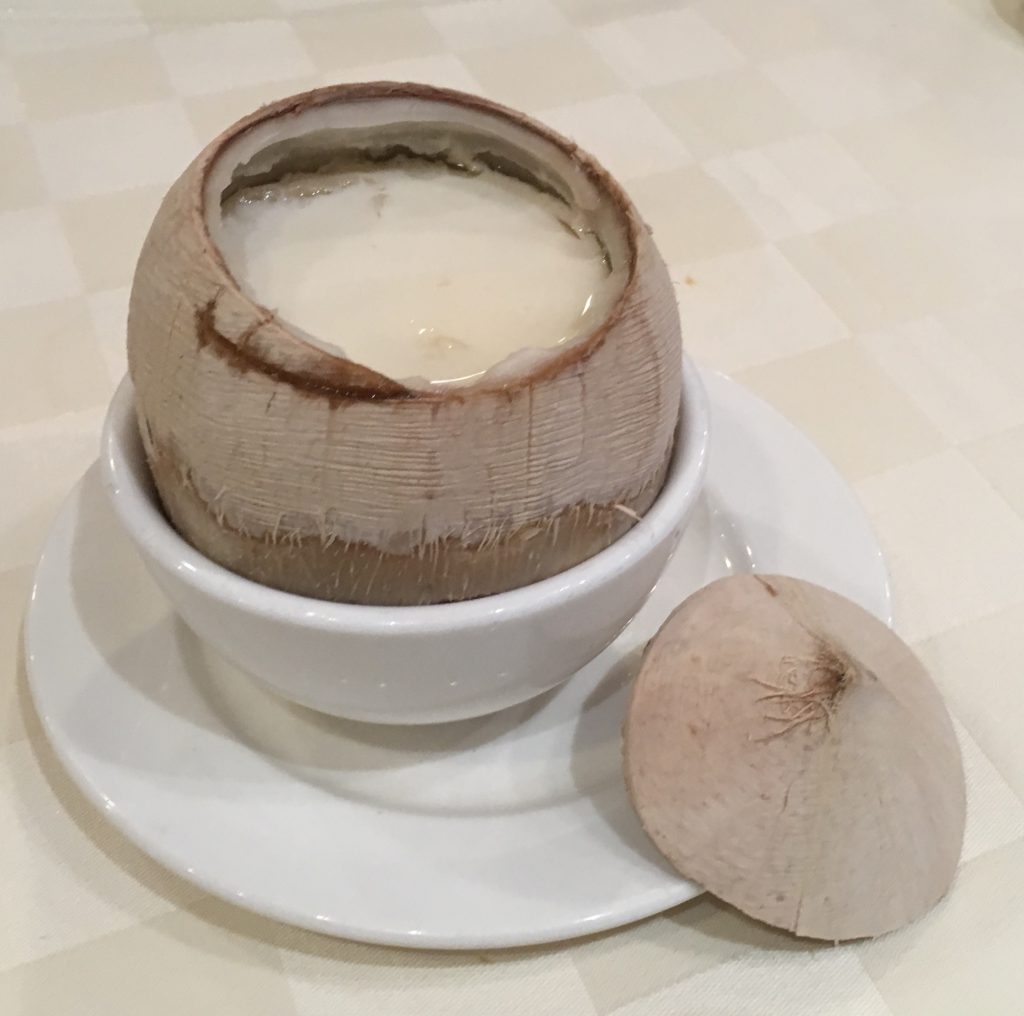 This dinner was at Ah Yat Abalone Seafood Restaurant, Life Centre, 20 Jalan Sultan Ismail, 50250 Kuala Lumpur, tel +603 2166 3131. I have only ever dined here as an invited guest but it would be easy enough to turn up for lunch or dinner and order from the set or a la carte menus.
Below are the addresses of the other places we ate in. It seemed rude to take photos as we were on a working trip, and also balancing eating and talking was enough of a juggling act for me.
Banana Leaf Curry: We were invited to the Royal Selangor Club which is a members only club, but our other choice was Devi's Corner, 14 Jalan Telawi 4, Bangsar Baru, 59100 Kuala Lumpur.
Nyonya Kuih: Every time I return to KL I learn something new. This time it was how to order kuih for delivery via WhatsApp. Contact Aroma Nyonya on +6017 501 7577 and let them know a) what you would like and b) the date, time and address for delivery. You pay in cash on the day. The kuih were delicious, and despite a very large order (for a conference of 150 people) and road blocks on the day, we received the cakes on time and all securely packed in proper boxes.
Cakes and Coffee: I think I found a fantasy cake shop tucked away in Petaling Jaya, the kind which makes you so thankful you can eat butter, sugar, eggs and flour. Rekindle, Ground Floor, 25, Jalan SS 2/64, 47300 Petaling Jaya, tel +603 7496 6309. For the record, there were 7 of us and we shared slices of burnt cheesecake, pandan and gula melaka sponge cake and Bailey's cake.
Buffet Dinner: There are certainly many other hotel buffets but our family always heads to the Mandarin Oriental. I have only had dinner there but one day, I will try their lunch and breakfast (not on the same day of course). Mosaic, Mandarin Oriental Hotel Kuala Lumpur, Jalan Pinang, 50088 Kuala Lumpur, tel +603 2380 8888. The reason buffets are such a wonderful idea when dining with friends from overseas is that there is no stress as everyone just picks what they want to eat, which makes for relaxed dining. The added advantage with dining at the MO is that afterwards, you can all wander round the corner to take photos of the Petronas Twin Towers.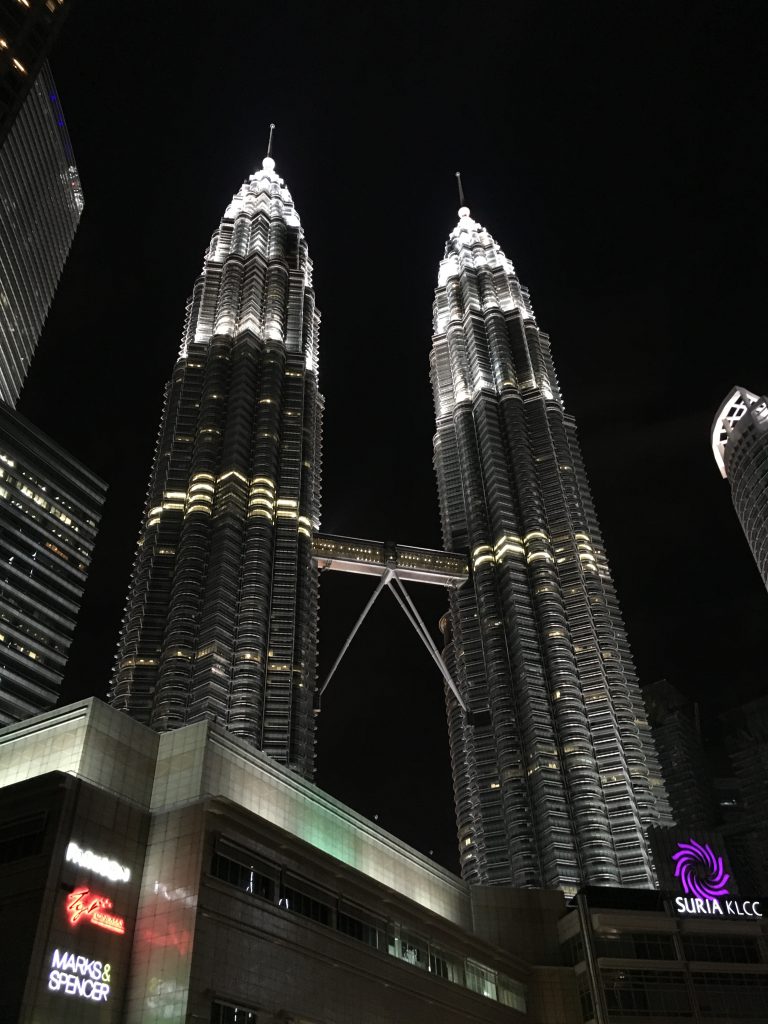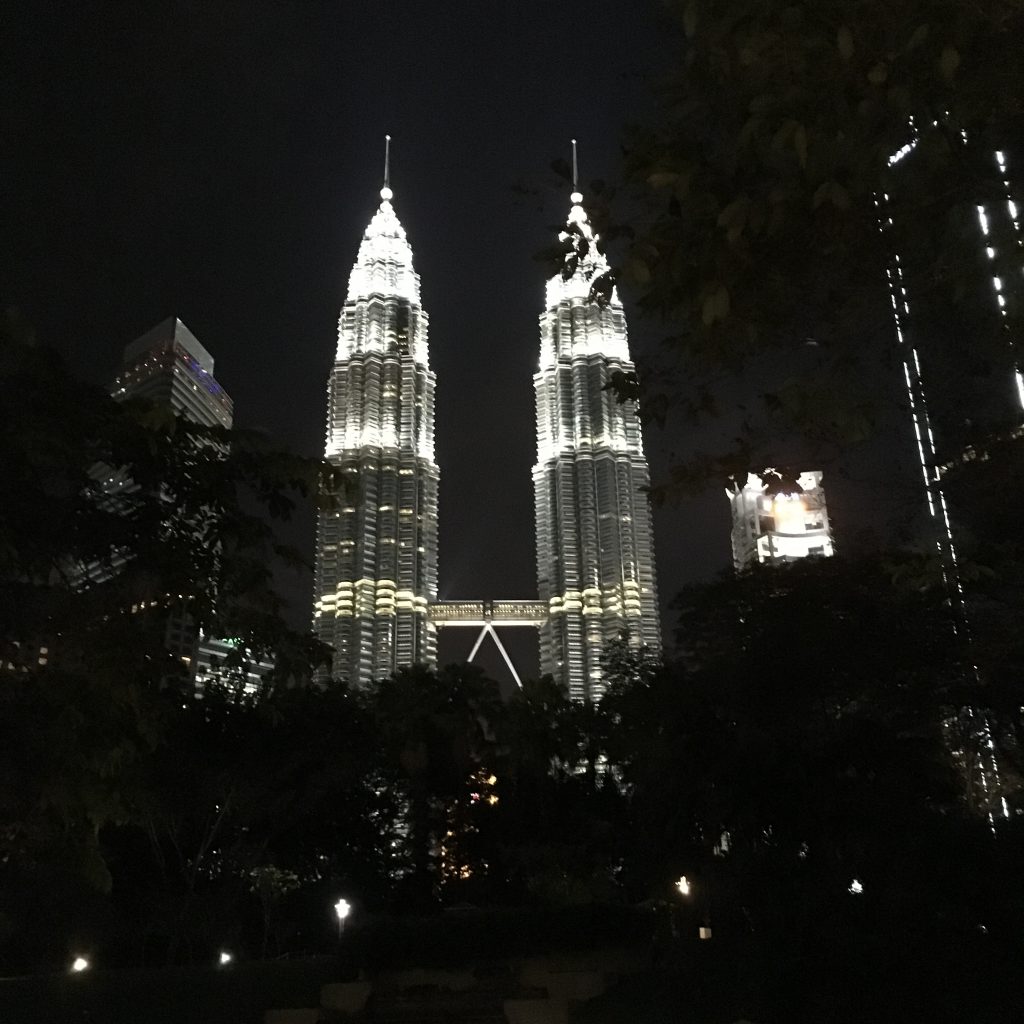 Dumplings and Noodles: I am a fan of Din Tai Fung which has many branches in East Asia including Kuala Lumpur and Singapore. Now it is opening a branch in London at 5 Henrietta St, London WC2E 8PT. Yes, I am very excited about this.
Peking Duck: I had this in Singapore with Gourmet Friend who invited me for lunch, and who is extremely savvy on all things concerning food and finance. Trust me, everyone needs a friend like this. After that I wandered around the vast sprawl that is Orchard Road and then decided that it was all too much. I picked up some maps from the Tourist Information Centre and headed back to the safety of Raffles City. Tunglok XiHe Peking Duck, Orchard Central, 181 Orchard Road #07-07/09, Singapore 238896, tel +65 6736 0006.
Singapore Chilli Crab: This is famous, but I am not sure whether it is to Singapore what Peking Duck is to Peking (Beijing) and Xiao Long Bao is to Shanghai. The thing is, Singapore boasts many famous local dishes.  Anyway I had the chilli crab with my University of London friends in New Ubin Seafood, 63 Hillview Avenue, Level 6, Lam Soon Industrial Building, Singapore 669569, tel +65 9740 6870. We also ate squid cooked with salted egg yolk and something called Heart Attack Rice, which I take to mean it was rice fried in pork lard. Sometimes, it is better not to know.
English Afternoon Tea: Who doesn't love a scone with cream and jam? In KL I had a set high tea at the Mandarin Oriental Kuala Lumpur and in Singapore we met up with friends old and new (with a church connection) at the Goodwood Park Hotel, 22 Scotts Road, Singapore 228221, tel +65 6737 7411.
I spent the final day in Singapore at the Singapore Botanic Gardens, which I will write about in the next post. My friends had left by then. Since eating for me is best done communally, I decided to just have a curry puff for my lunch along with a blueberry muffin in my hotel room. Dinner was at the airport lounge. As I said to Mr Gochugaru when I returned to London, it really is best to have someone with whom to share the fun things in life.