Seoul Diary Spring: Day 9
A wrap-up day but it is raining…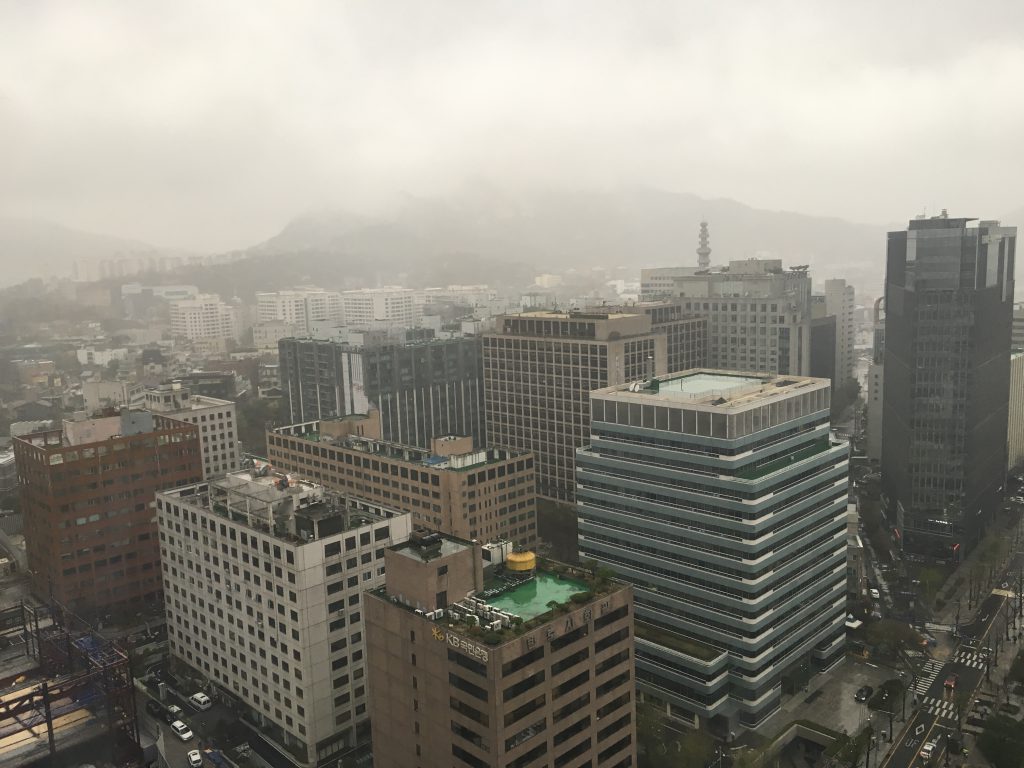 I do not operate a Bucket List. Also, I detest books which list the 1001 things to eat/ see/ hear/ visit/ read before you die. Unless it is a very best and trusted friend, who is just like me, why would I like the choices someone else has made?
However, on a smaller scale, I think that on holiday is it better to experience as much as you can because the opportunity might not present itself again. We had intended to visit Seoul last autumn but a family accident meant cancelling the trip. So this time we have said yes to all the suggestions made by Seoul Sister and on this final day we take in a couple of more unusual things.
It is a wet and cold day here in Seoul. We should feel right at home as this is what London has been like throughout the past few months. This is the weather we left behind nine days ago and we remember how miserable it really has been this winter. But we have our umbrellas ready and plan to go out today, to places along subway Line 5 as our hotel is next to Gwanghwamun station.
There is one thing I must mention here. I have noticed that all Seoulites carry umbrellas (I guess all Koreans do so). I watched carefully for some time as people descended into the subway or entered into stores and everyone had an umbrella. Most shops, museums, hotels and office blocks have a stand where you can insert your folded umbrella into a plastic wrap to prevent it from dripping.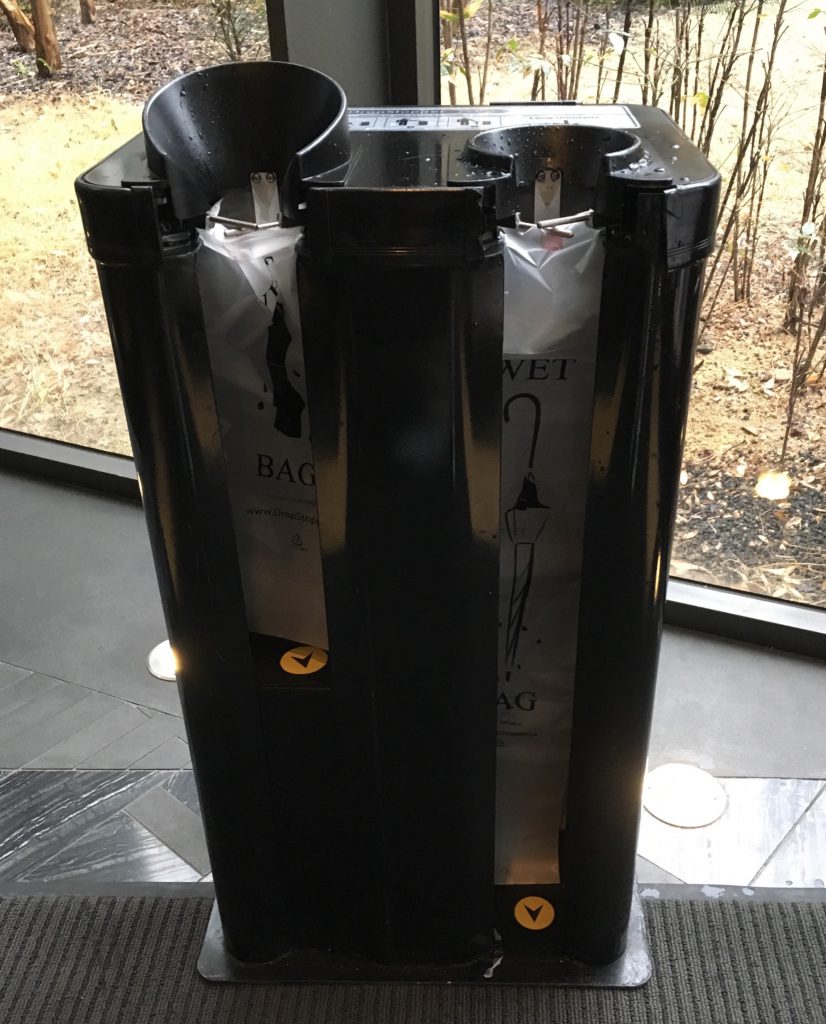 The only people who do not carry umbrellas are the girls who appear in the Korean melodramas who get caught out, but are soon rescued by the handsome guy who comes by with a large umbrella.
Our first stop is to Dongdaemun History and Culture Park 동대문역사문화공원 where we visit two small halls and learn a little about the history of the area. We see some Joseon Dynasty artefacts that were excavated when the previous football and baseball stadiums were demolished to make way for the new development which includes the Dongdaemun Design Plaza. In between the two halls the remains of some ancient foundations are on show.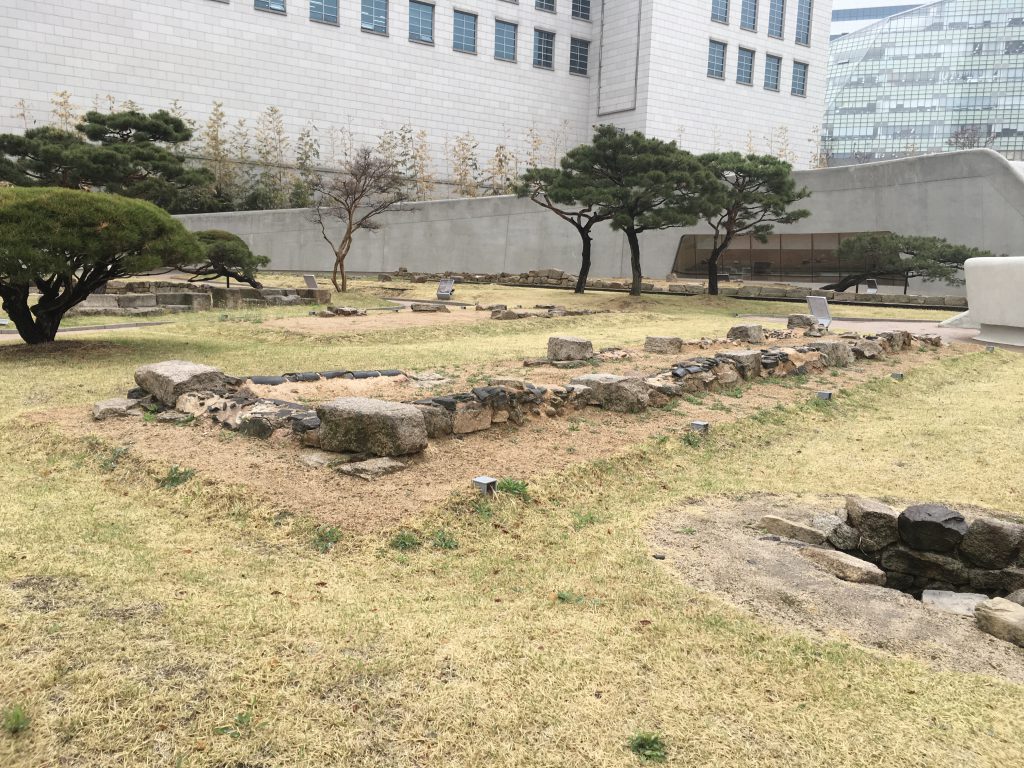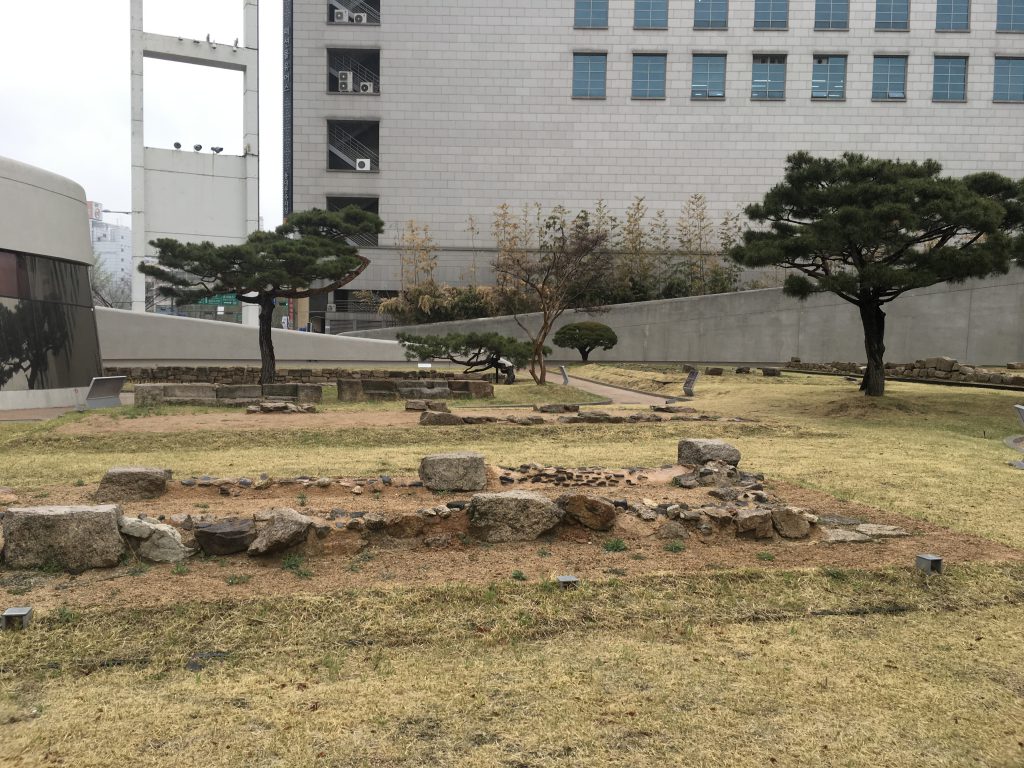 Lunch is at Season's Table 계절밥상 because it is one of those good value buffets that only concentrates on Korean food. All the food and drink are included in the price and it is slightly comforting to us because our dining time is running out. As it turns out this was the final meal we had in Seoul before leaving for London. The choice is extensive as there are many different soups, salads, rice, noodle and meat dishes, three types of ice cream, cookies, fruits, dessert and even six types of tea to choose from. All this for 14,900 won per person (under £10). I really do not miss my kitchen.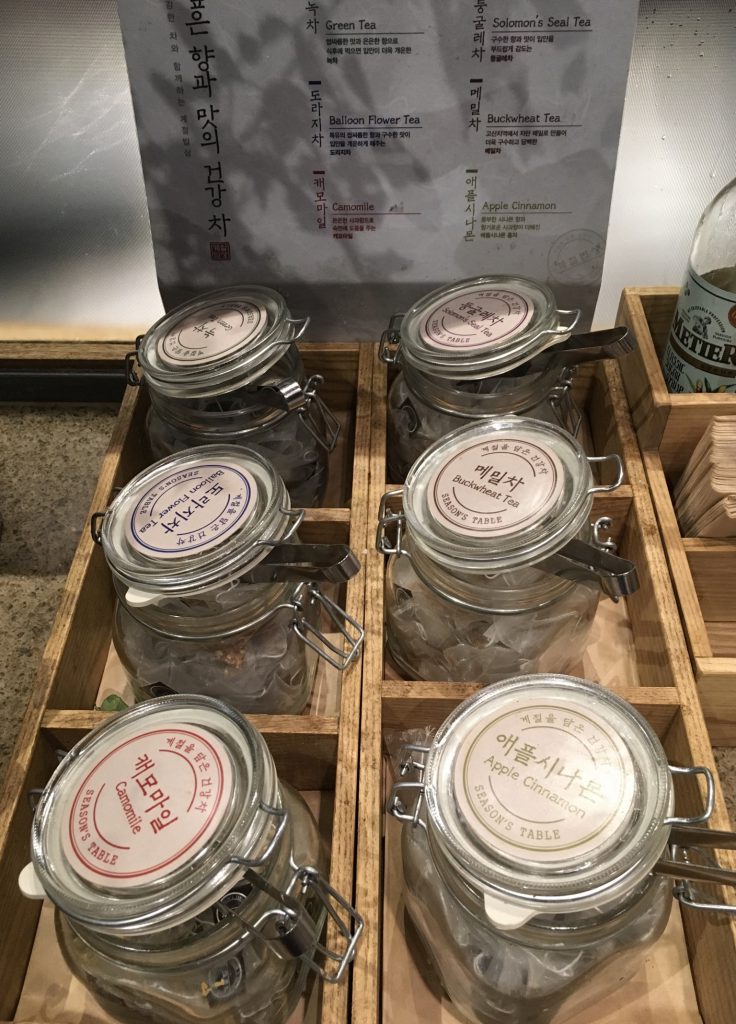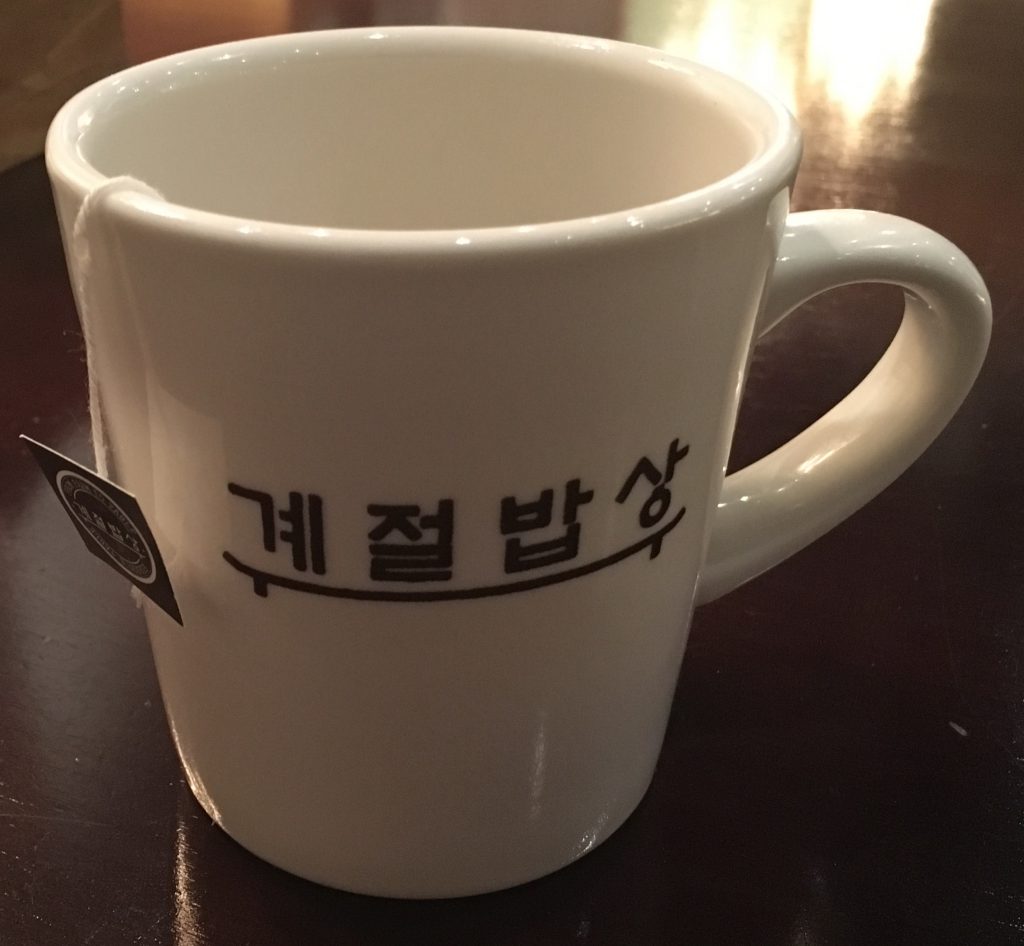 As evening approached, Mr Gochugaru said he would like to go to the theatre. Oh my…this is a man who has never suggested going to the theatre in the 30 years I have known him. What has come over him? So he trundles down to the hotel concierge who calls the theatre's box office who say that since curtains go up in two hours, it is too late to book a ticket over the phone. However if we were to head to the theatre for 6.30pm they could check for ticket availability.
Now I must say here that this is why we love staying where we stay in Seoul as the concert theatre is just around the corner, as part of the Sejong Center 세종문화회관. The show is a musical called The Last Empress and tells the tragic story of Queen Min, later Empress Myeongseong, who was assassinated by the Japanese. A short background here from the International Herald Tribune when the show played in New York twenty years ago.
The theatre is modern, the seating is comfortable and each seat has its own screen for English surtitiles. Finding this distracting we switched the screen off and instead enjoyed an evening that was ironically more entertaining than watching opera, since we know even less Italian than Korean.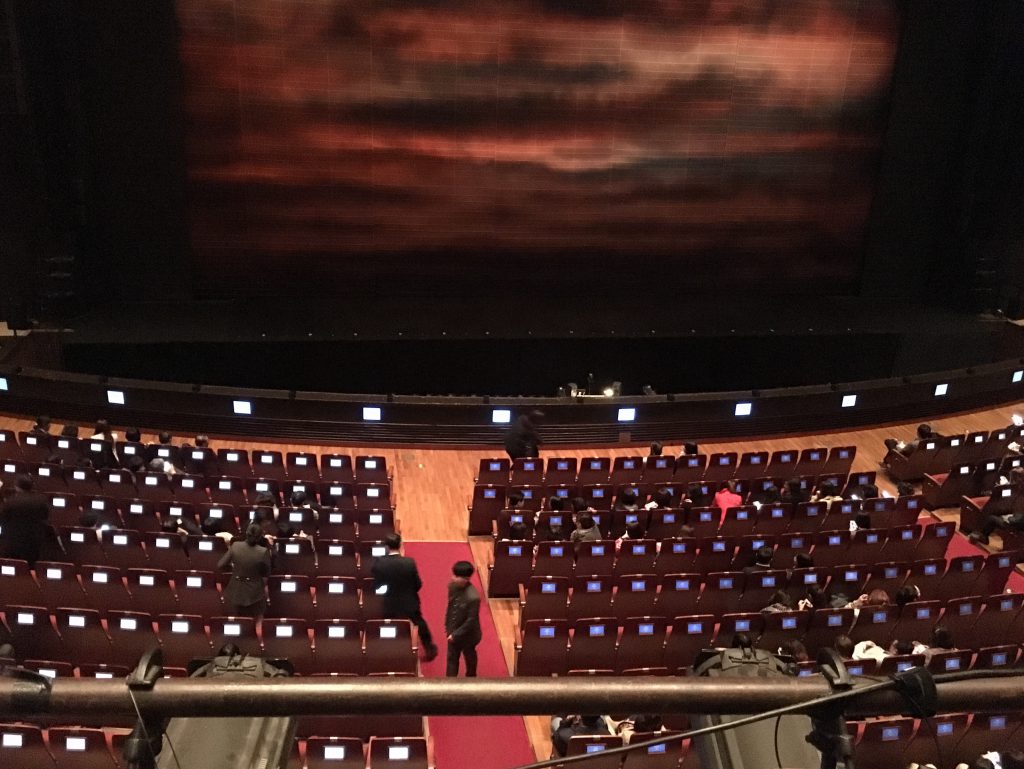 The cast of The Last Empress musical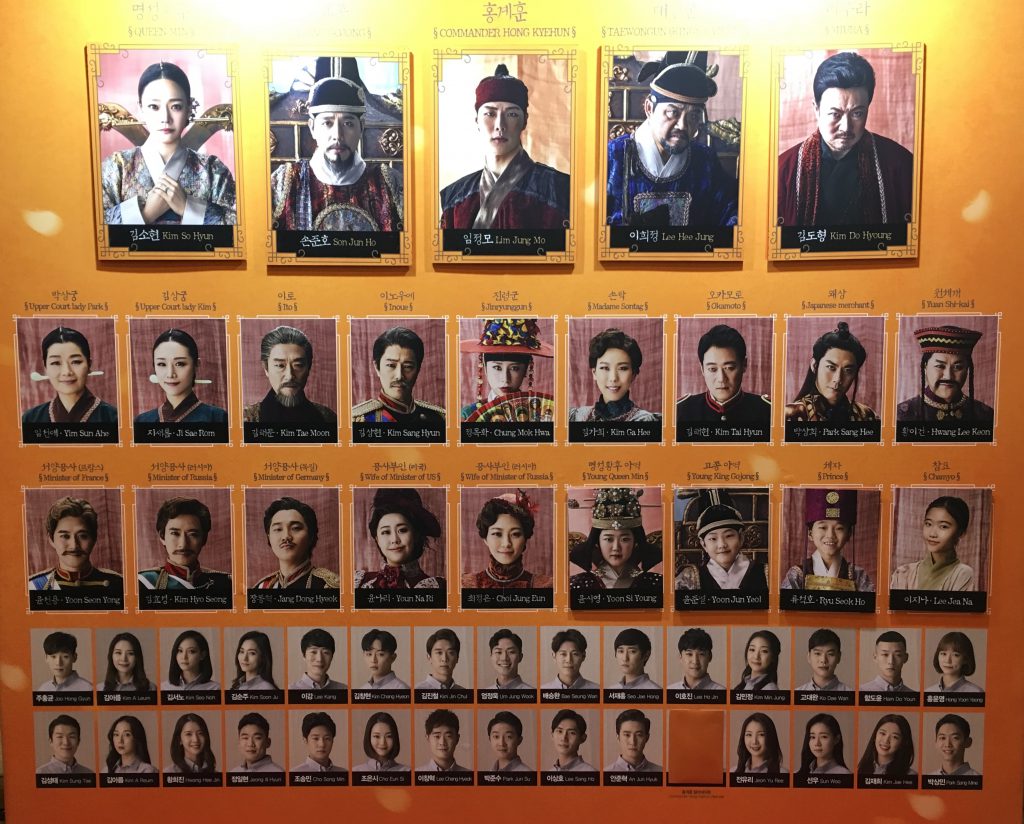 At the end of the show it was still raining but we had made the most of our final day here in Seoul. The following photos are from the same spot through the hotel windows on different days throughout our stay. We had some smog, a few clear days and one rainy day, but the weather did not detract from having an overall wonderful holiday this Spring.
View 1: looking north towards Gyeongbokgung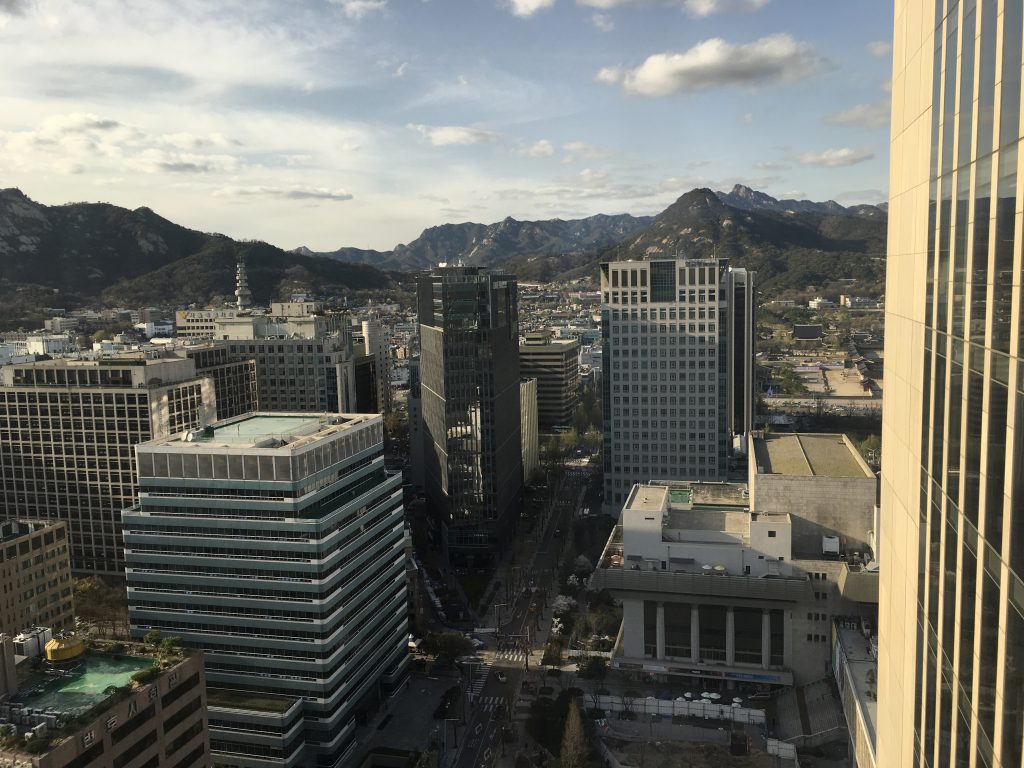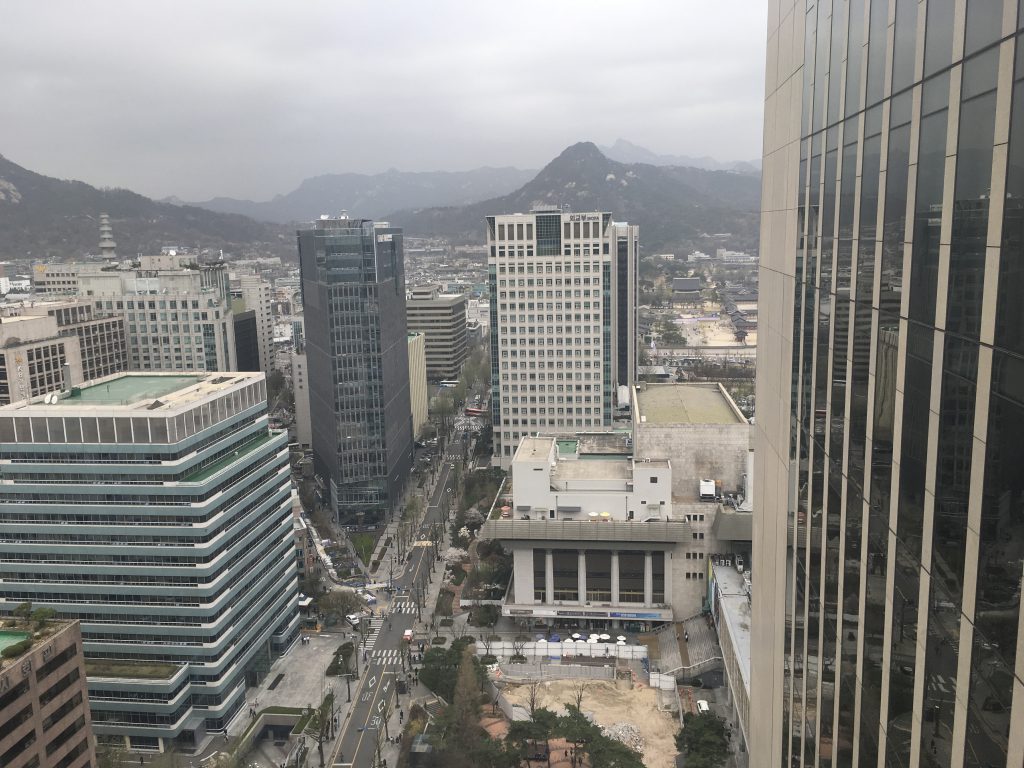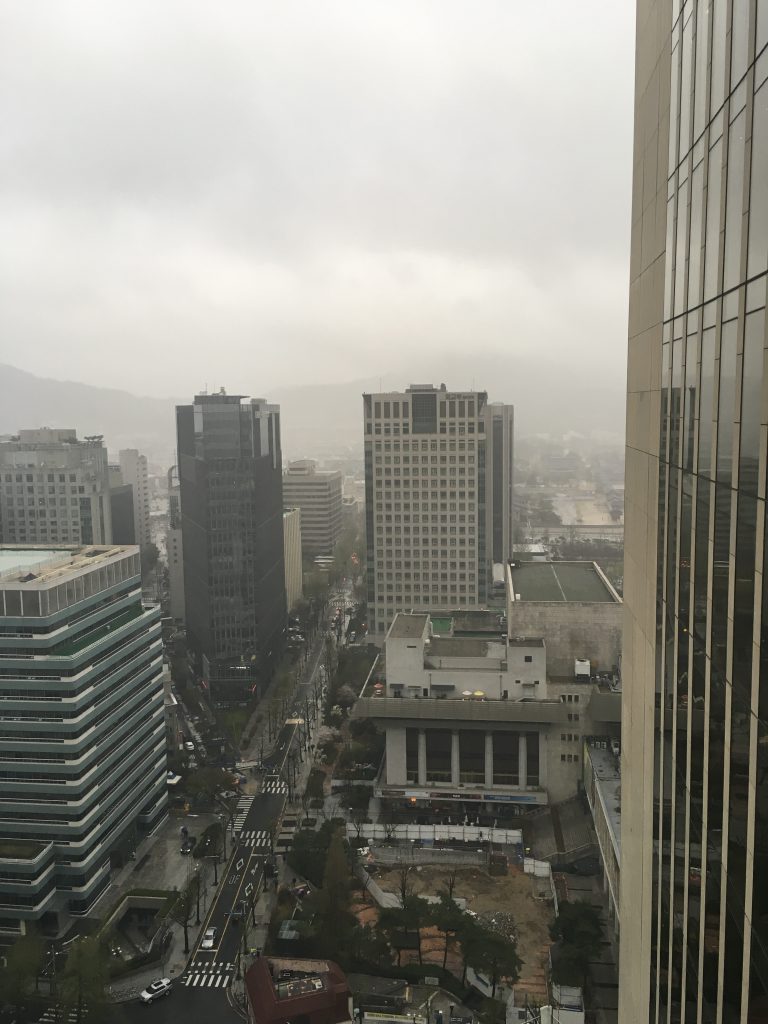 View 2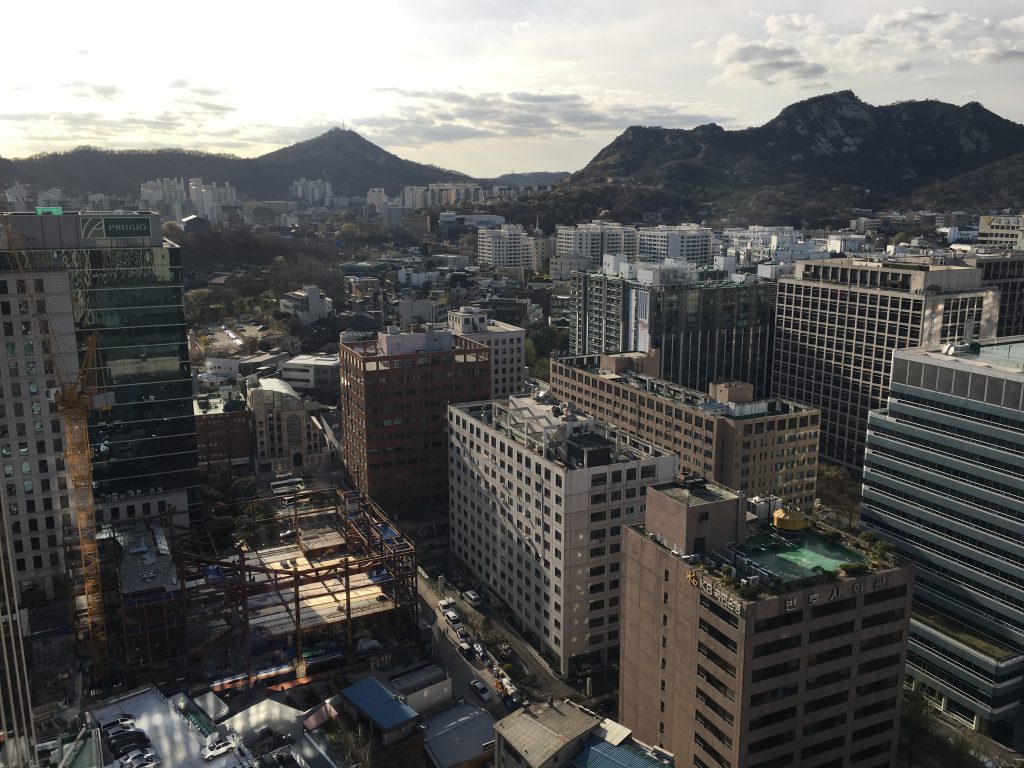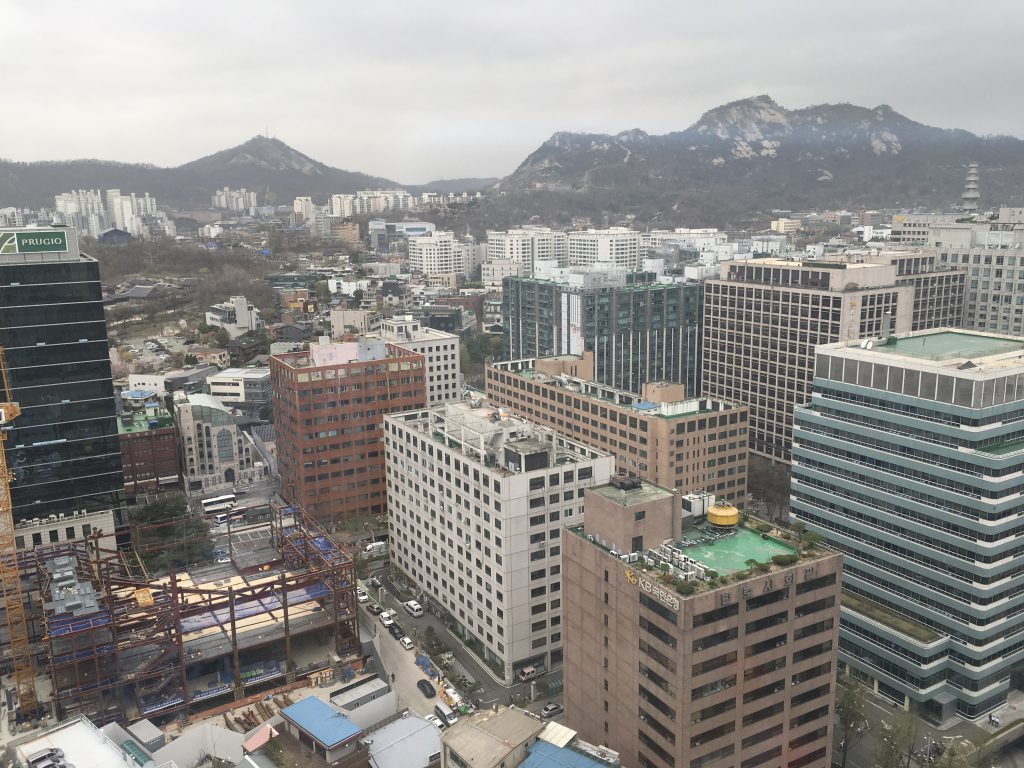 View 3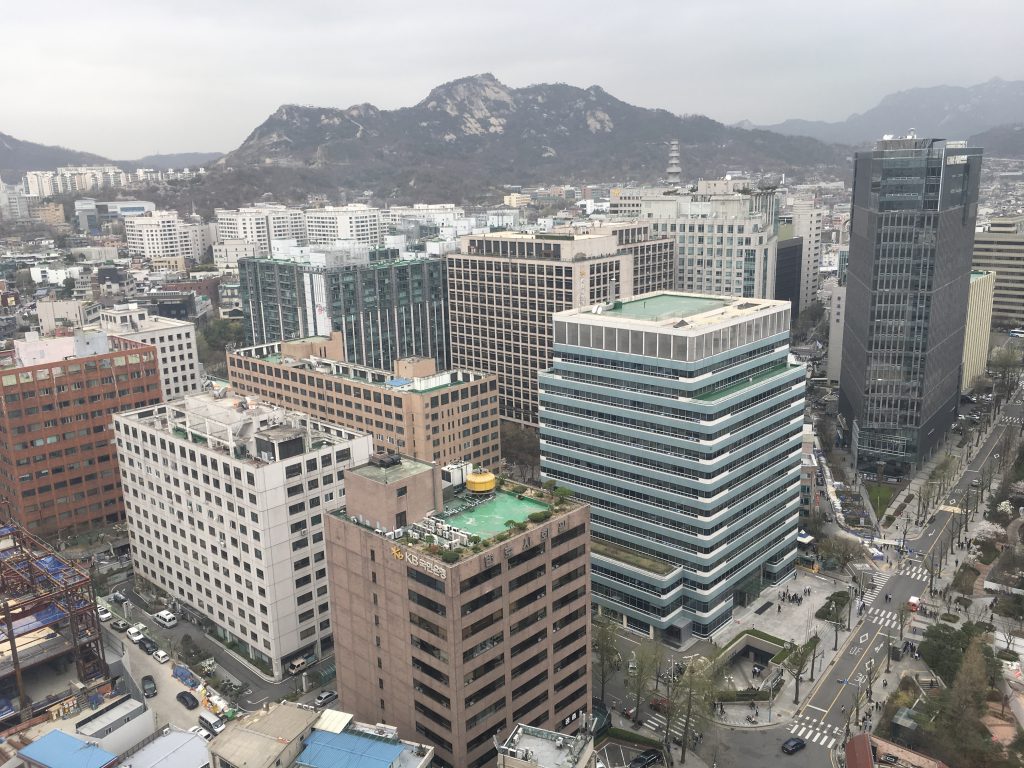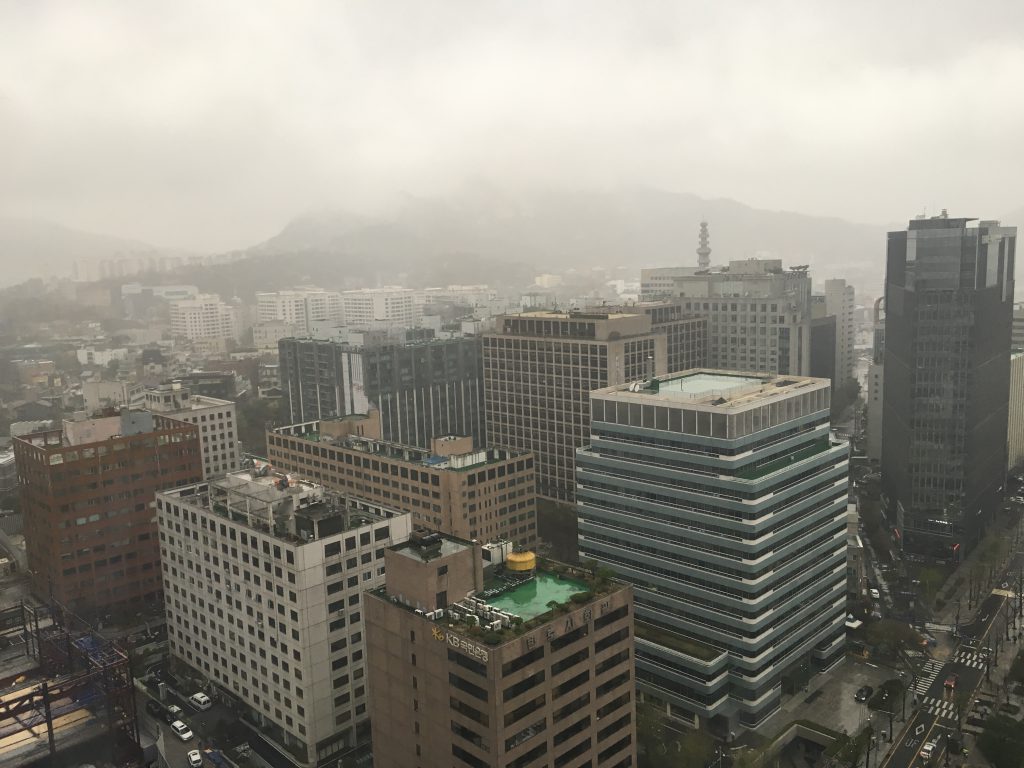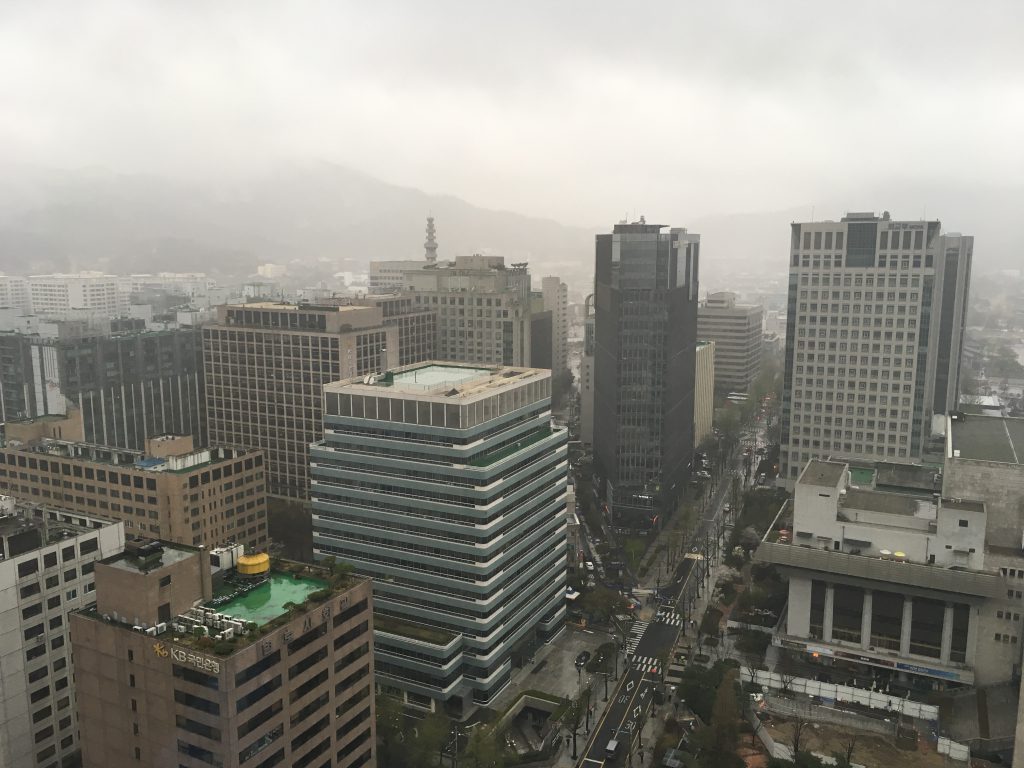 Addresses: will be provided. I am in Kuala Lumpur next week and hope to do this in between taking my dad to his hospital appointments.