What I read on the flight to Kuala Lumpur.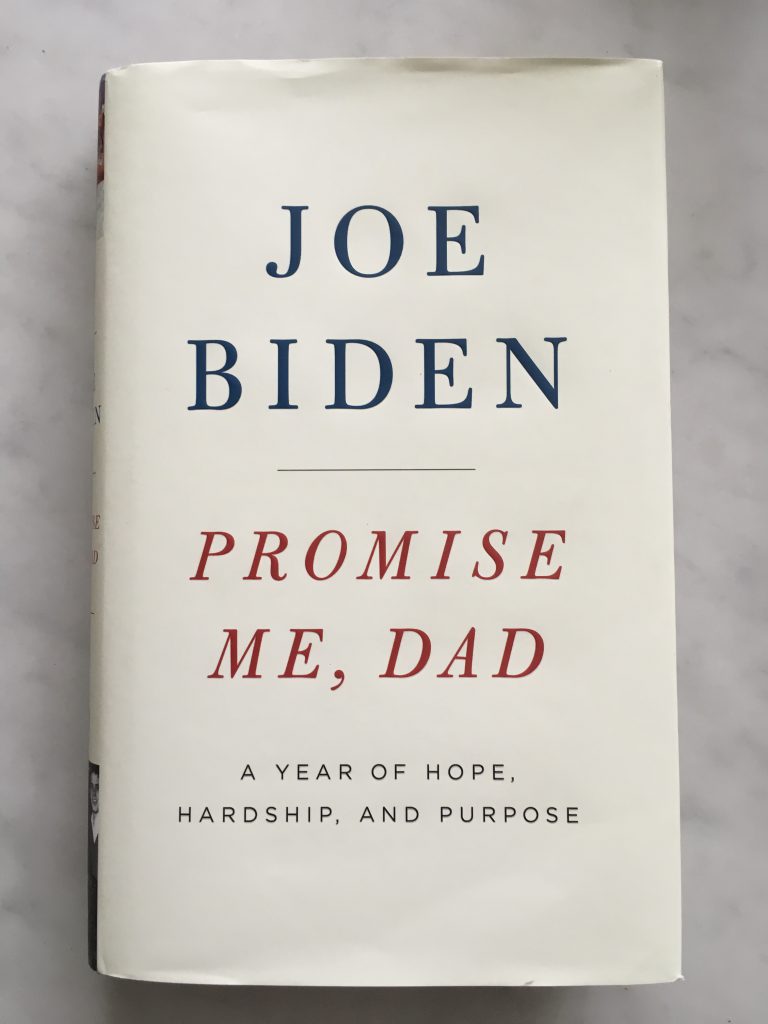 I like flying with British Airways and I like long flights, because it allows me to catch up with interesting and entertaining shows I don't have time to watch in the normal busyness of everyday life.
I had made a list of on-board films but then I started reading Joe Biden's Promise Me, Dad. This was a book reviewed in the New York Times last November and I had intended to finish it by Christmas.
If time is short for watching TV then it is even shorter for reading books. As I mentioned previously, before you know it, Christmas will be around the corner soon.
I do not know much about American politics, although I do know that unless you are very measured in your thoughts and responses, it is probably better not to say the first thing that enters your head. The utterences of the current President of America do provide light relief I guess.
There are many ways to read Mr Biden's story: as a study in global political communication, as a workplace memoir over a certain period of time as the 47th Vice-President, as a family story about his son Beau who was diagnosed with a rare and almost incurable form of cancer.
The latter is what I enjoyed most about the book, as it offered an insight into what was a very difficult time of balancing a large public role and intense private grief.
The book's global political perspective covers Iran and ISIS, Ukraine and Russia, and the South American 'Northern Triangle' states of Guatemala, Honduras and El Salvador.
There are domestic issues to deal with, like the two police officers killed on duty in New York City and the mass shooting at a black Southern church by a white extremist. Here Mr Biden shows how his own personal tragedy and loss (his first wife and baby daugher died in a car accident when he was 32 years old) can be a source of comfort and strength to others in similar situations.
Then there is Mr Biden's account of how his family coped with his son Beau's cancer diagnosis and treatment. What stood out was how closely-knit the family is. I grew up loving family stories and am still touched when people write about gathering around the table for meals and spending holidays together.
What goes around comes around: the story which sticks most in my mind is that of Mr Biden visiting the family of Wenjian Liu, one of the New York police officers killed by a gunman.
Of the visit to the family home, Mr Biden says:
The NYPD had also called in a translator because Liu's parents, though they had come from China twenty years earlier, were not comfortable speaking English and preferred to speak in their native Cantonese.
They had depended on their son. Wenjian had been twelve when the family arrived, so he had been well schooled in the English language and American culture. He grew up an only child helping his parents navigate their new world, and he was still doing it at the time of his death. He had even brought his parents along on his honeymoon three months earlier.
The younger Liu was an immigrant success story. The first souvenir he bought in New York was a sticker of the Statue of Liberty. He had gone to college and studied accounting, but after the attack on the World Trade Centre…he was determined to become a police officer. 
But it wasn't just about what he had accomplished, but what he looked forward to doing…and I could sense that lost future when I walked up the little outdoor steps and into his house.
Liu's father gave me a hug when we entered and touched my face. He was a small wiry man who was trying hard to be brave. "Thank you," he said, over and over, while his wife kept her distance and bowed politely. "Thank you," Wei Tang Liu said, remaining close. "Thank you. Thank you."
Five months later, at the funeral of Beau, he has this to say:
I am blessed with a magnificent family…It is a blessing to be able to share the feeling of enveloping grief, to have people you love nearby to absorb some of the worst pain. But I have come to understand that nobody can really take away all the pain, no matter how close. There are times when each of us must bear the burden of loss alone, and in his or her own way. The people who really understand that are the people carrying those burdens too…Of all the calls and visits on that difficult week, all the heartfelt condolences and the well-wishes from the thousands of people who filed through the receiving lines, one stood out.
Our home state [Delaware] is such a small place, and I had been there for many years, so I recognized most of the mourners by face, if not by name. But at one point, I looked up and saw in the line, approaching me, Wei Tang Liu…[He] did not try to speak, and neither did I. He still didn't have the English, and I still didn't have the Cantonese. 
He just walked up and gave me a hug. It meant so much to me to be in the embrace of somebody who understood. He held on to me, silently, and wouldn't let go. This was not, as it had been the last time we met, for him. This was for me. "Thank you" was all I could say. "Thank you. Thank you. Thank you."