Notes for Wednesday 19 July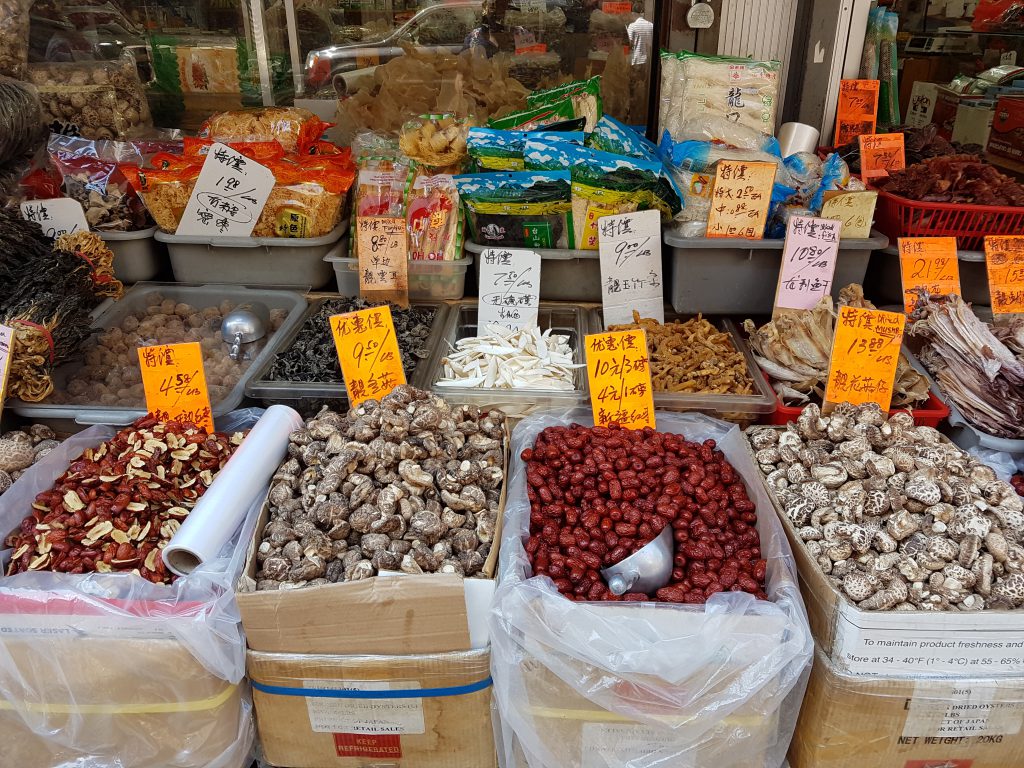 More walking today starting with Chinatown.
My notes on early Thursday morning, reflecting on the day before started with: So tired I couldn't even write up my diary. Samsung Health loves me as I am walking at least two hours everyday.
Samsung Health is not my personal physician, rather it is an App on my mobile phone. Therein lies the problem. I get told off when I don't do any walking in the day.
Of course, the housework that I do involves walking up and down the stairs multiple times a day but since I don't carry my phone around the house, it thinks I am shirking. I receive messages that say
have you been inactive all day? You have not achieved your daily goal.
Something needs to be done and I am working on it.
Breakfast
I don't see any photos of our breakfast and have no notes for it, so I guess we ate the nectarines we bought over the weekend.
Chinatown
What hits you as you exit Grand Street Station are the smells that must replicate the smells in Chinatowns across the world. That is to say, slightly damp and musty. There is no logic to this because even air-conditioned Chinese supermarkets smell like this.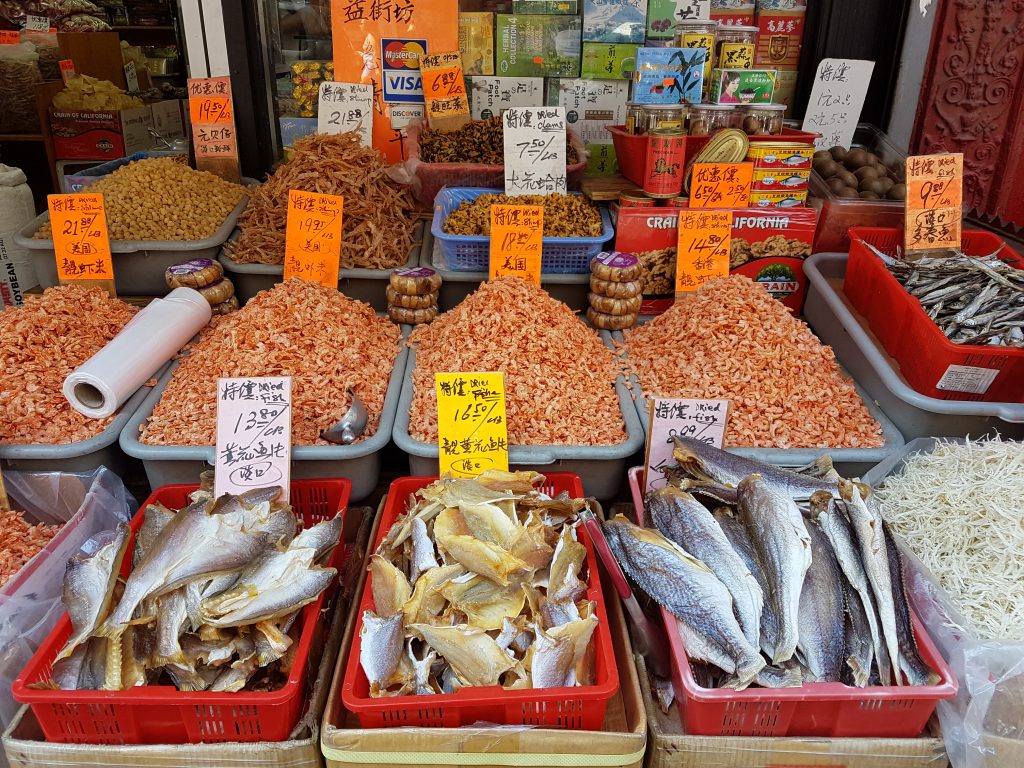 It's quite nice to wander around as this area is next to Little Italy. HK Sister recommends the cannoli at Ferrara but it was a bit too hot to consider this and also, Mike's Pastry in Boston was probably the cannoli to end all cannolis.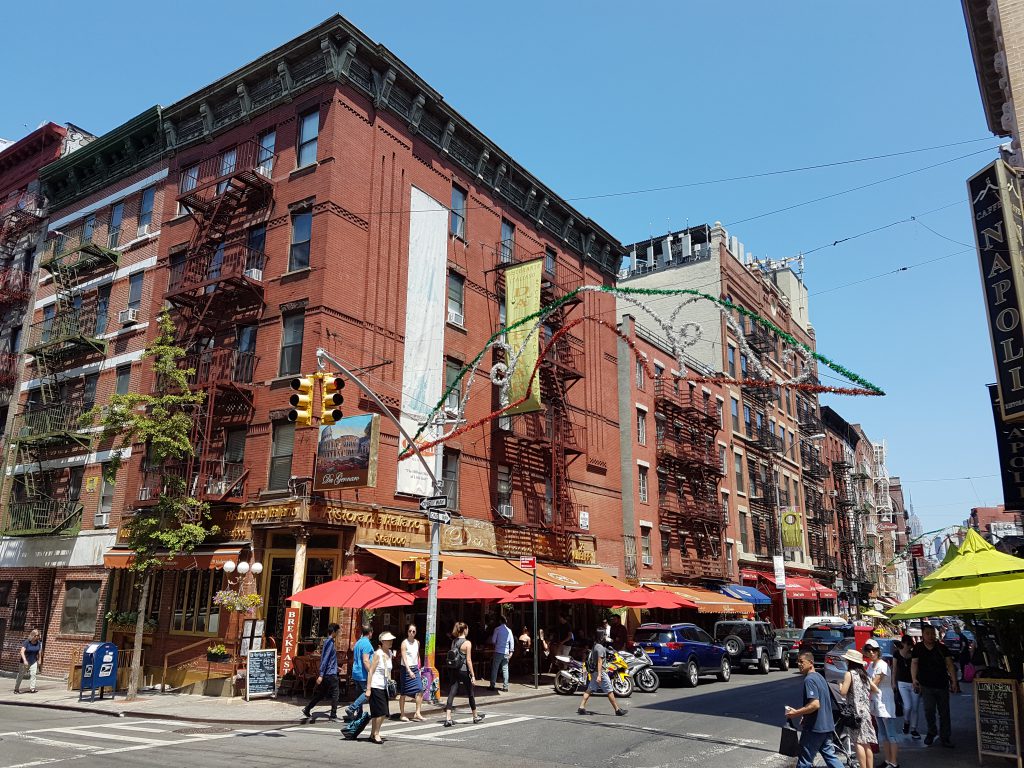 The Museum of Chinese in America is small and interesting enough to while away an hour. Taken in with the information on the displays found in the Ellis Island National Museum of Immigration, you get an idea that life was extremely harsh and burdensome for the early Chinese settlers to America. For a deeper appreciation there are books by Chinese-American writers such as Amy Tan: The Joy Luck Club and The Kitchen God's Wife in particular stand out for me. Other books and a very brief history of Asian immigration to the United States here.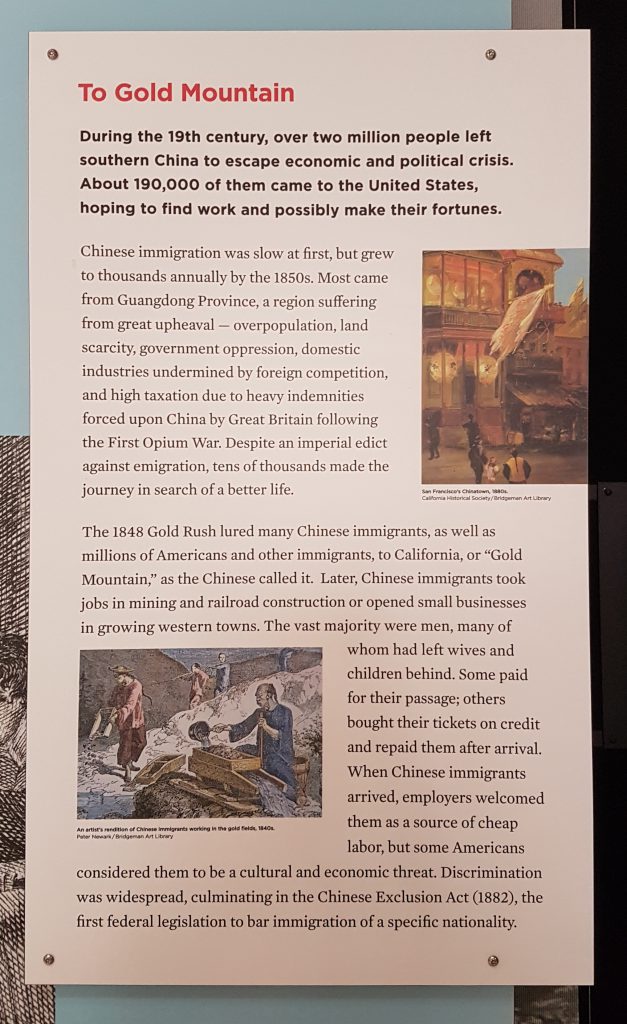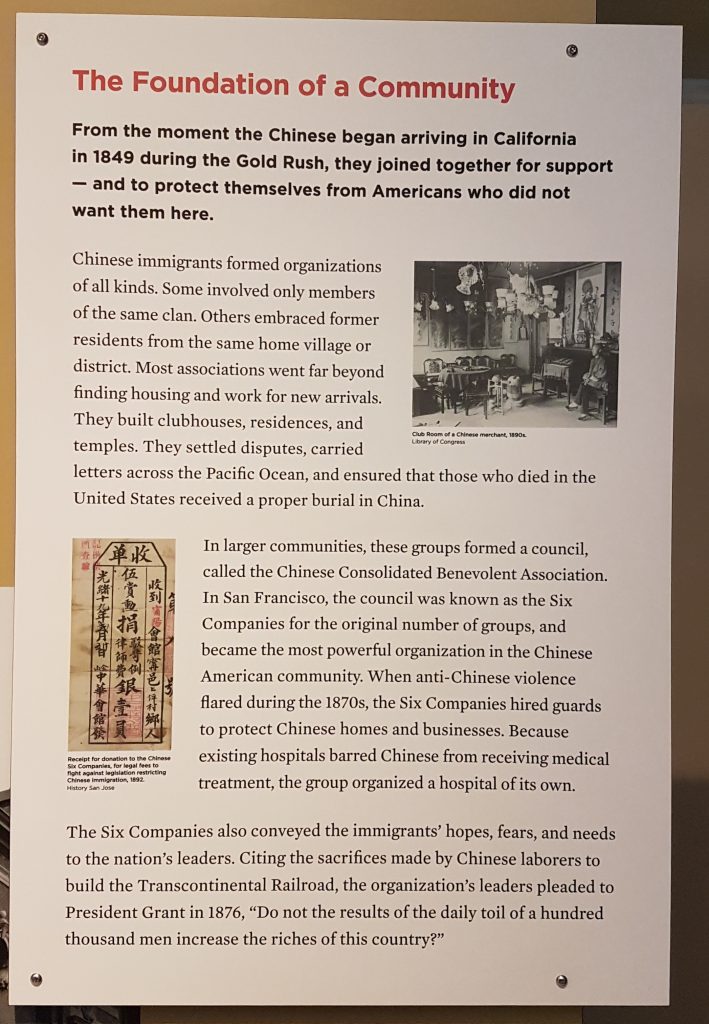 For Asian groceries, I would recommend Hong Kong Supermarket because I found things I had never even seen in London's Wing Yip or See Woo.
Lunch and Mott Street
At the bottom of Mott Street in Chinatown there is a noodle shop which does a brisk business. The noodles are springy and the prawn wontons are large. I did miss having some accompanying greens in the soup. I don't understand why the shop doesn't just add 50 cents to the price of the dish to cover the cost of some choi sum.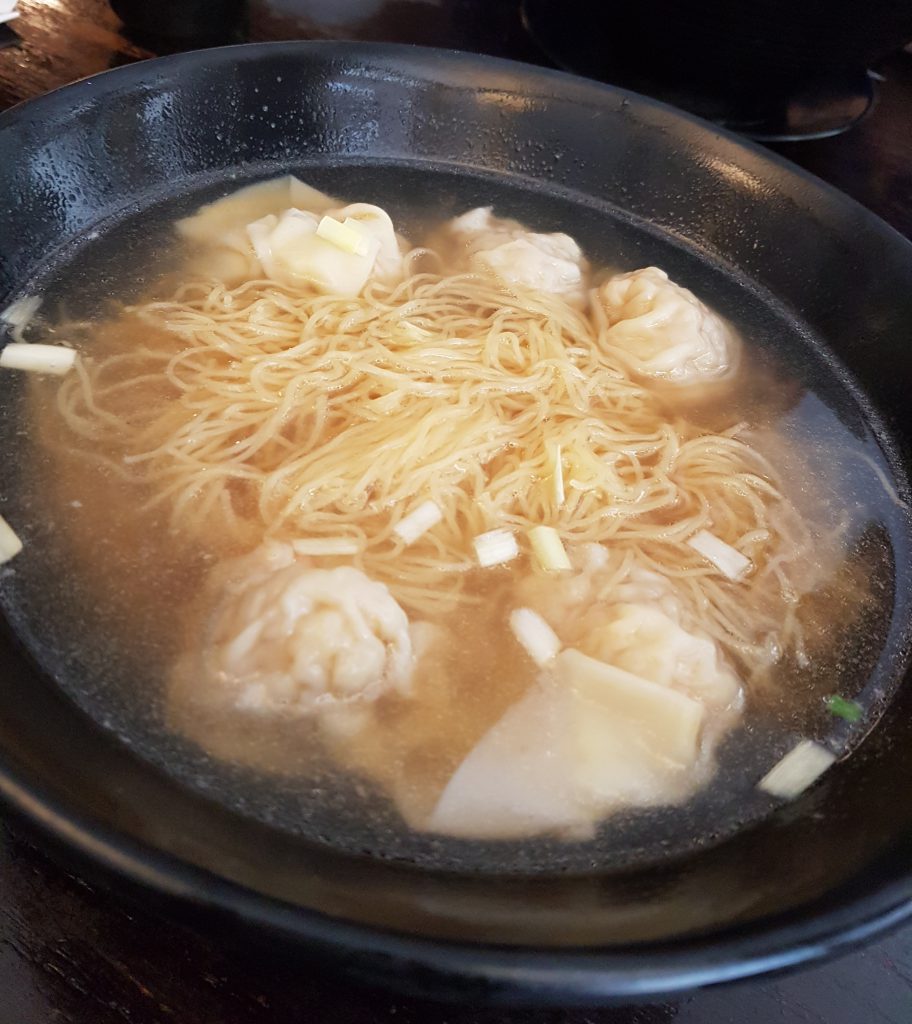 A little further up the street there is a siu long bao shop where the pork dumplings are made by hand throughout the day. The dumplings are quite large and very hot, and so are ideal as a takeaway for an office lunch. Both the dumpling and noodle shops were recommended by Junior 1.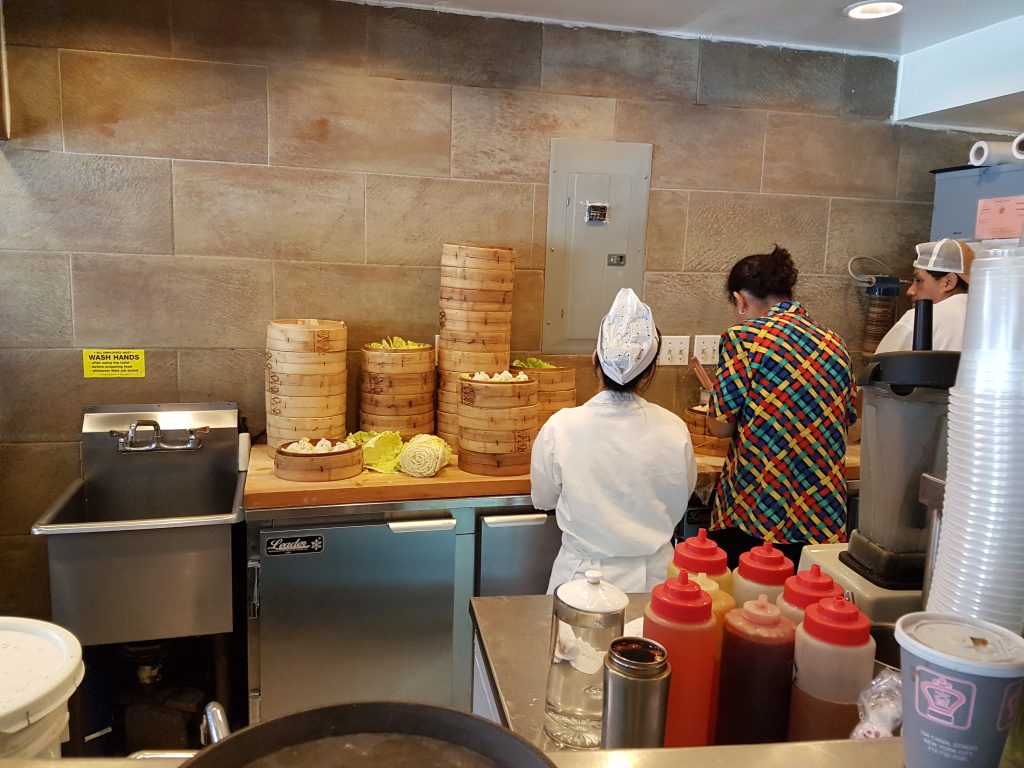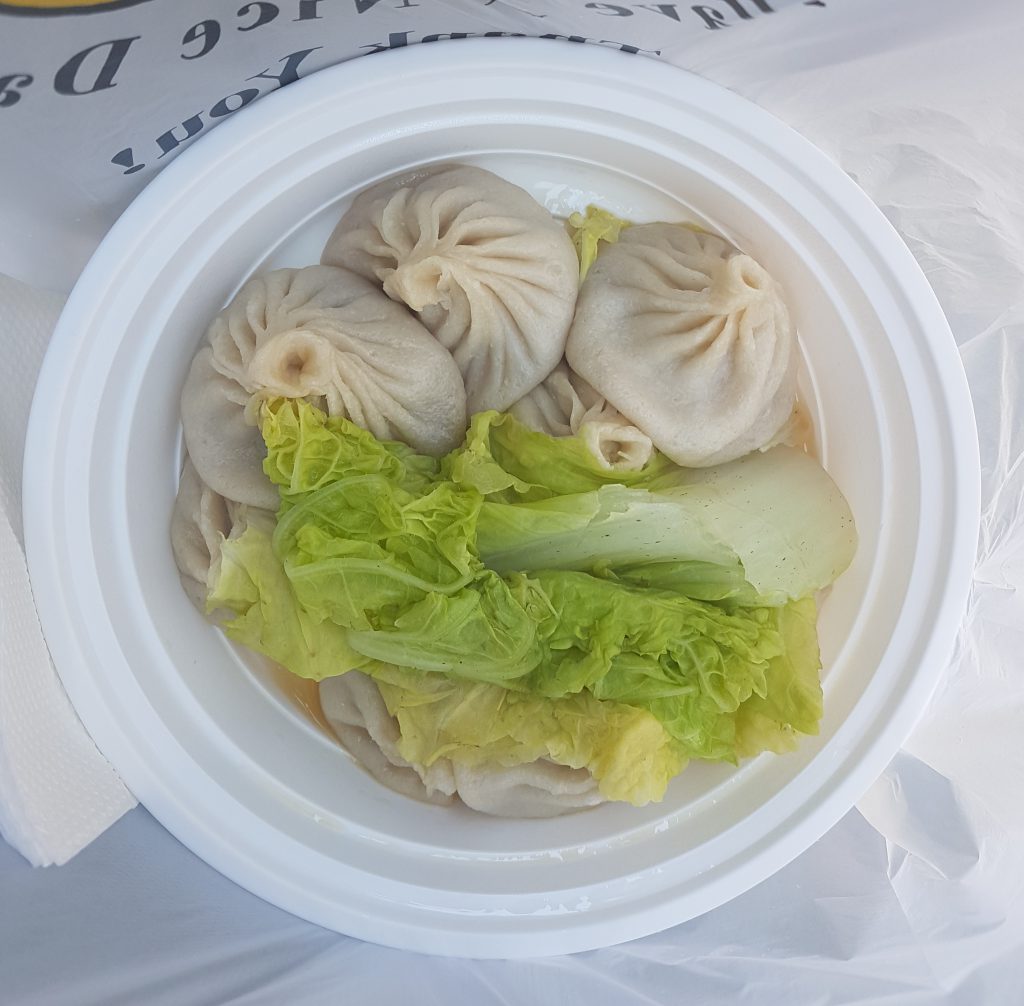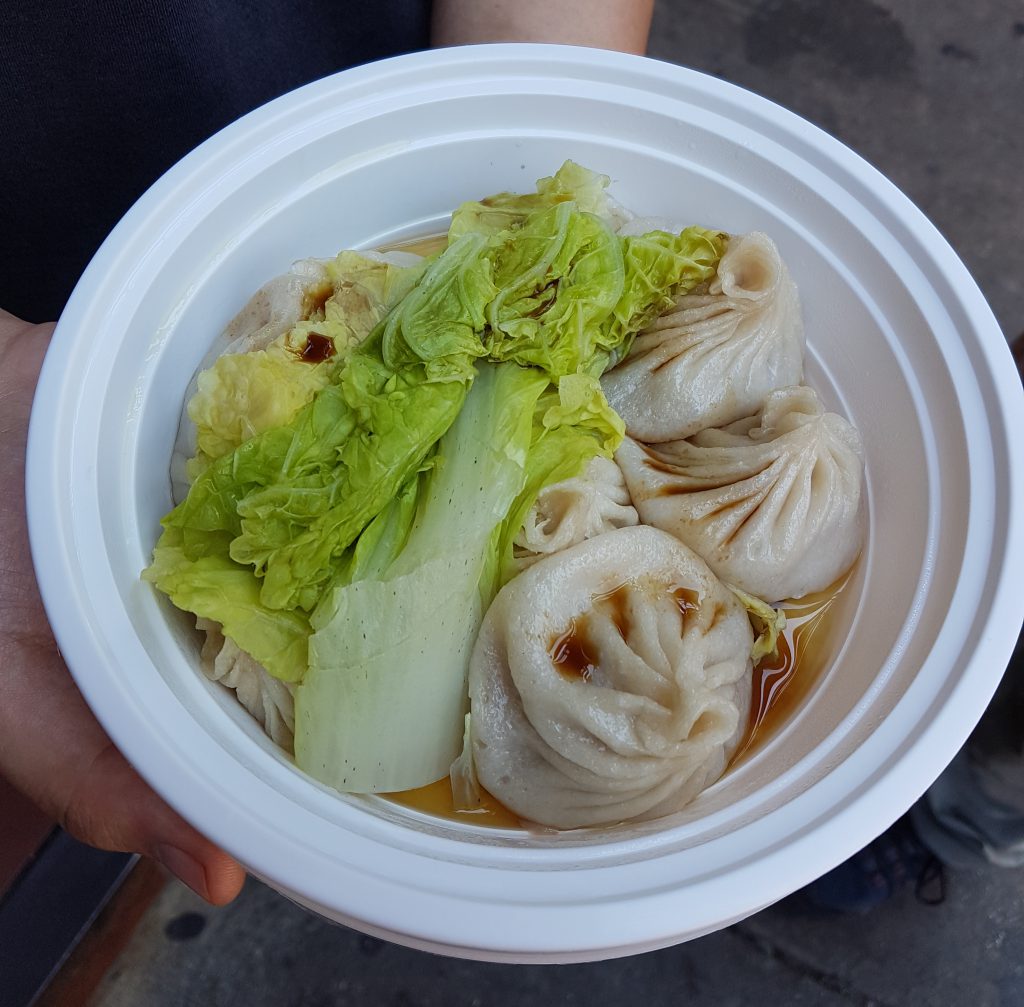 Then I discovered a gem of a dessert place where I had a delicious mango bingsu (shaved ice) in a cup. Had I not eaten the noodles and dumplings I would definitely have opted for one of their giant bowls of bingsu or eaten another red bean bingsu in a cup.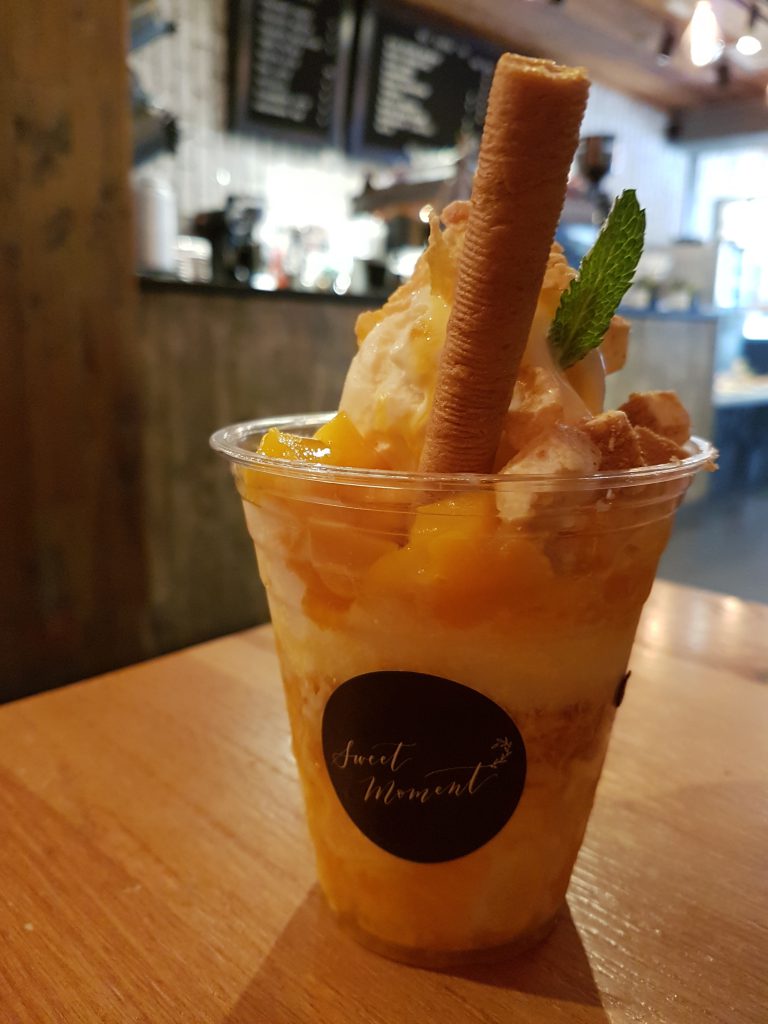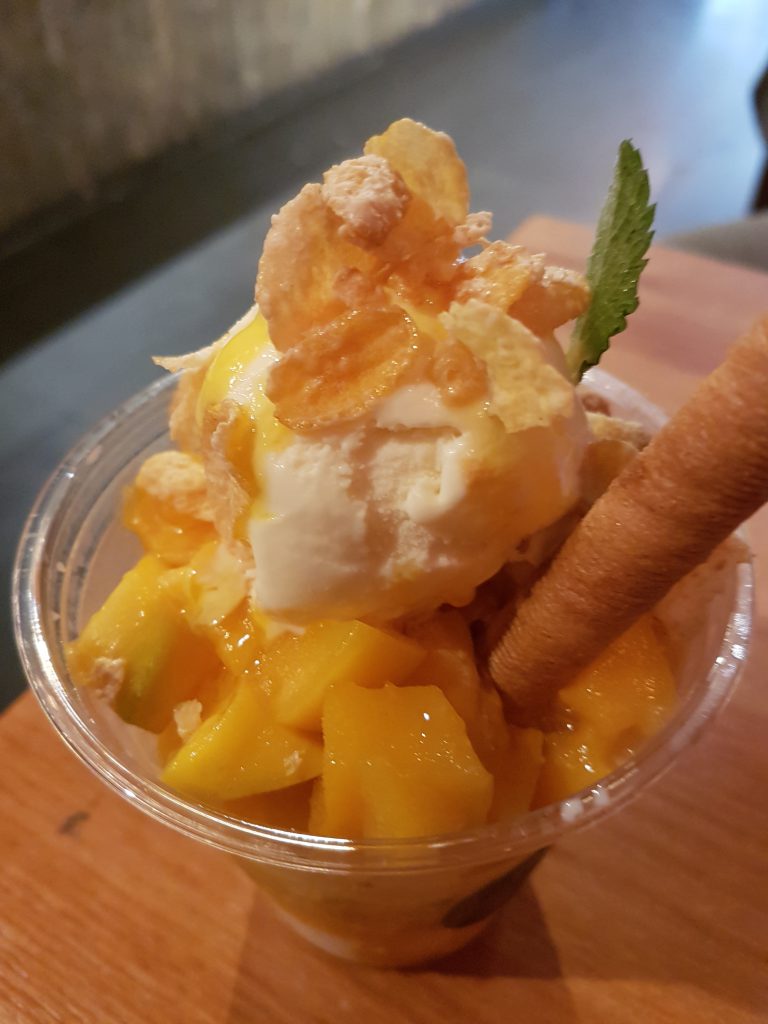 Mott Street then morphs from Chinese shops to boutiques, gift shops and cake shops as you head further north. Towards the end of Mott Street, turn left as you see Prince Street for McNally Jackson independent bookshop. I mention it because it has a unique book publishing service.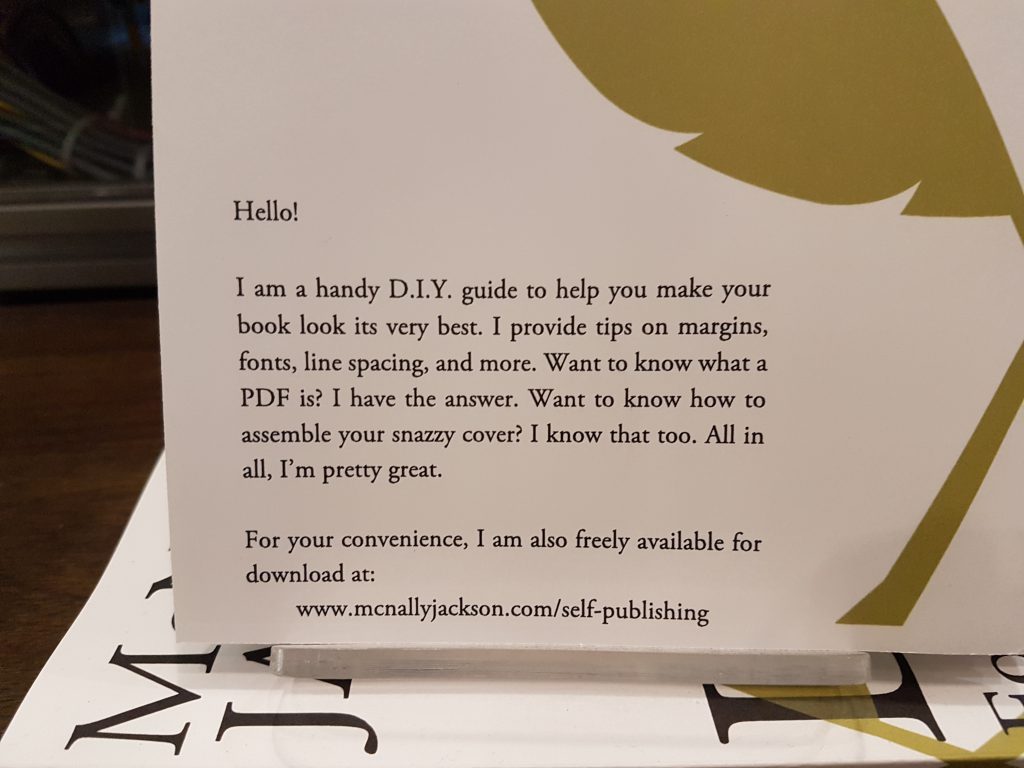 Afternoon Walkabout
For some reason we did more walking in the afternoon, taking in Grand Central Station, New York Public Library and Bryant Park. I think it was a bid to better my daily walking record. Samsung Health records that today I took 14383 steps or in distance this was 10.12 km. But then it tells me that this only used up 461 calories, which couldn't have even covered the mango bingsu. Hmm…
Grand Central Station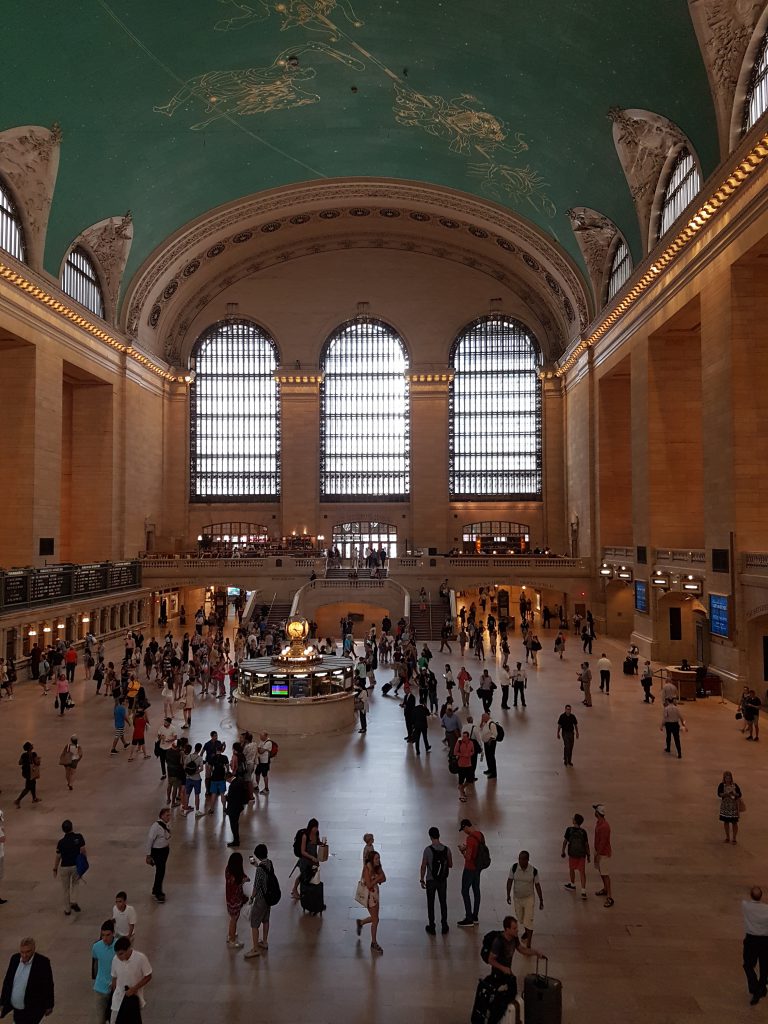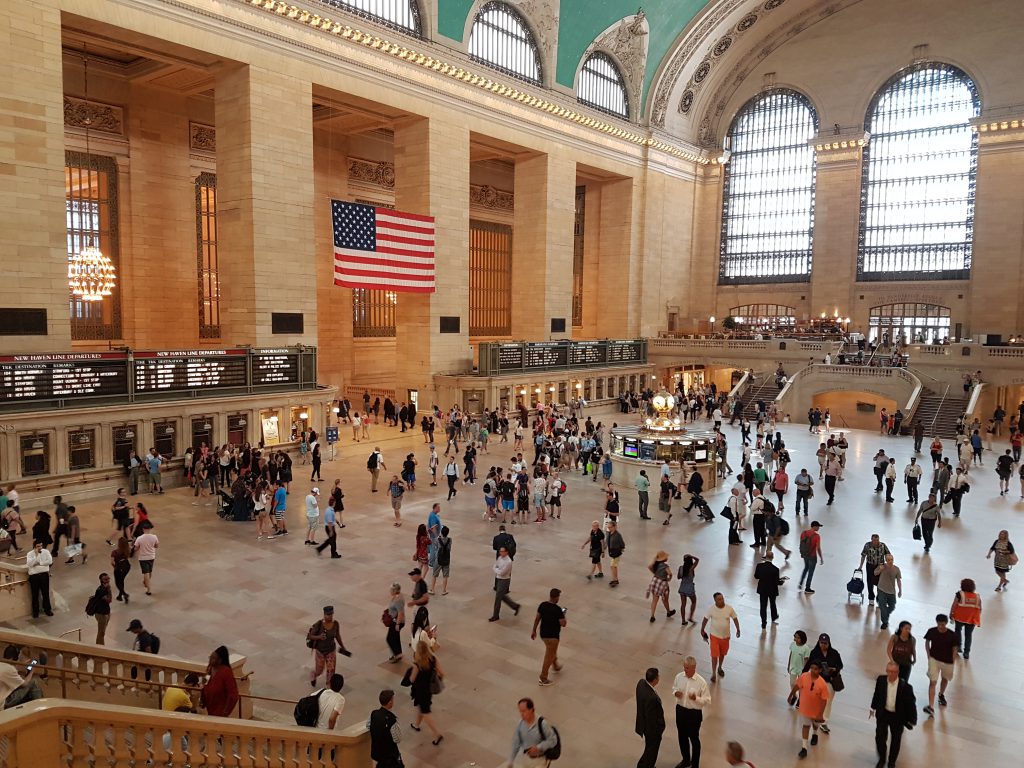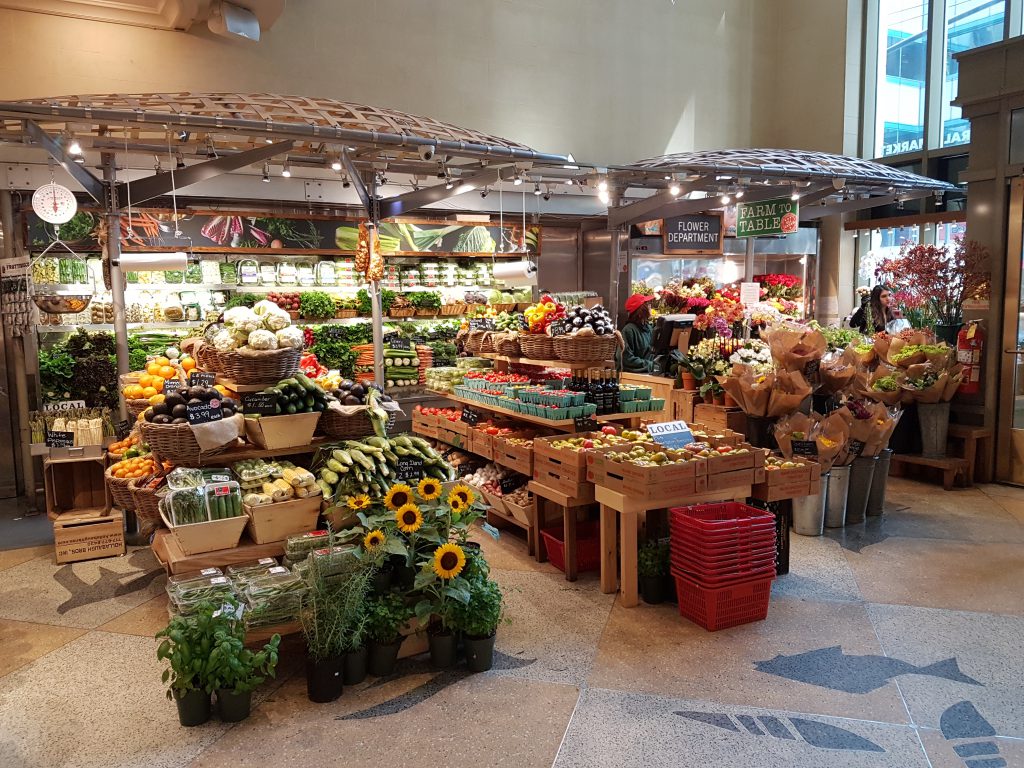 Dinner
Having enjoyed the barbeque dinner at Sweet Cheeks Q in Boston, I was quite keen to try another barbeque restaurant and we had dinner at Blue Smoke. I liked the place a lot as the food was good and it was not noisy. This, I think, may be down to the restaurant being a part of the Union Square Hospitality Group. I can't be certain, but can only say that I have enjoyed all the meals taken at their restaurants. I will need another week in New York to try the ones I missed.
We had a pleasant walk through Madison Square Park after dinner and I didn't think about this again until recently when I suddenly had an urge to eat a hot dog. Some thoughts floated around my head linking the park and Shake Shack and hot dogs. Before long I was on the phone to Mr Gochugaru on a Friday afternoon urging him to meet me on New Oxford Street for a hot dog and crinkly fries. The excuse I used was that the Shake Shack was so close to the British Museum and we had only a week left to catch the Hokusai exhibition.
Addresses
Museum of Chinese in America  215 Centre Street, NY 10013. Telephone 212 619 4785.
Noodle Village  13 Mott Street, NY 10013. Telephone 212 233 0788.
Shanghai Cafe Deluxe  100 Mott Street (between Canal and Hester Streets), NY 10013. Telephone 212 966 3988.
Sweet Moment Dessert Cafe  106 Mott Street, NY 10013. Telephone 212 226 8724.
Hong Kong Supermarket  157 Hester St, NY 10013. Telephone 212 966 0337.
McNally Jackson Books  52 Prince Street, NY 10012. Telephone 212 274 1160.
Blue Smoke  116 East 27th Street, telephone 212 447 7733. Also at 255 Vesey Street (Battery Park City), telephone 212 889 2005.
Finally…Concrete and Concrete
Junior 1 loves concrete (the Barbican in London is a favourite) so I took this photo for him of a shop in Mott Street called Concrete Collaborative which deals with modern concrete finishes. 215 Mott St, NY 10012.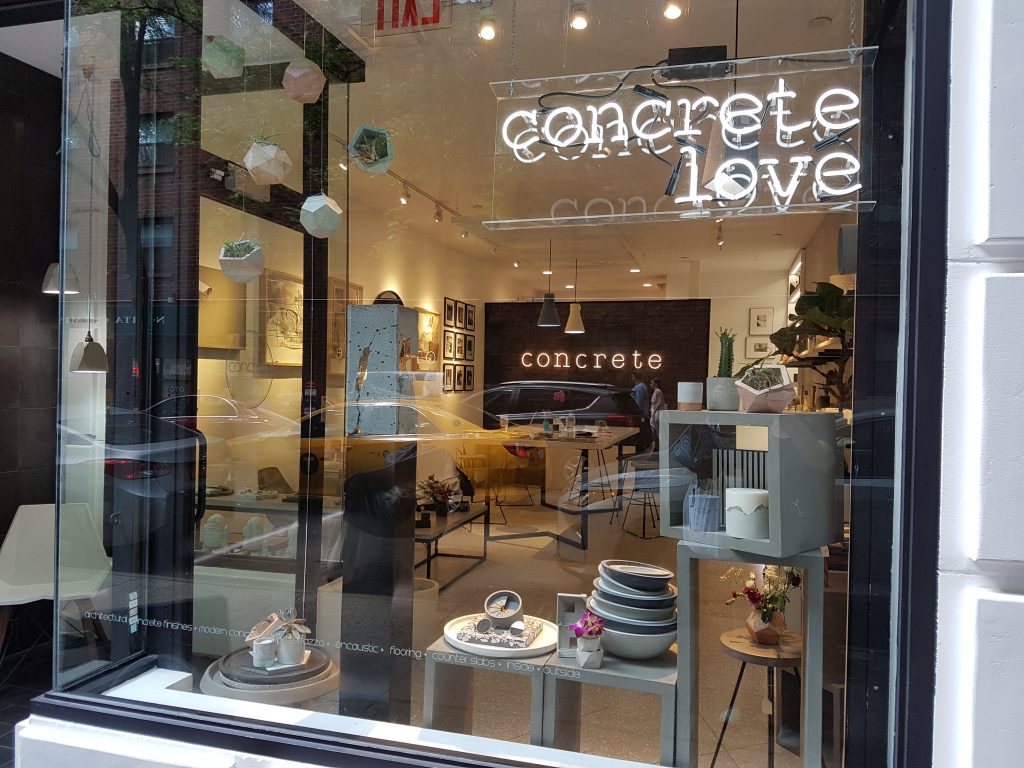 The original Shake Shack is located in the southeast corner of Madison Square Park (Madison Avenue and East 23rd Street). For worldwide locations see here. It's easy to be cynical and say this is now a chain but I did enjoy my Shack-cago Dog and Crinkle Cut Fries. Growing up in Malaysia we only had the one A&W store in Petaling Jaya in the 1970s until McDonald's opened its first branch in Jalan Bukit Bintang in 1982. This was just a few steps away from my school so this where the students hung out after school. So having a hot dog and fries in a sense captures for me a bit of my youth although with none of the attached rebellion.
Concrete in Shack-talk is their name for frozen ice cream blended with bits and pieces. Here is one of their menus for an explanation.