Notes for Monday 17 July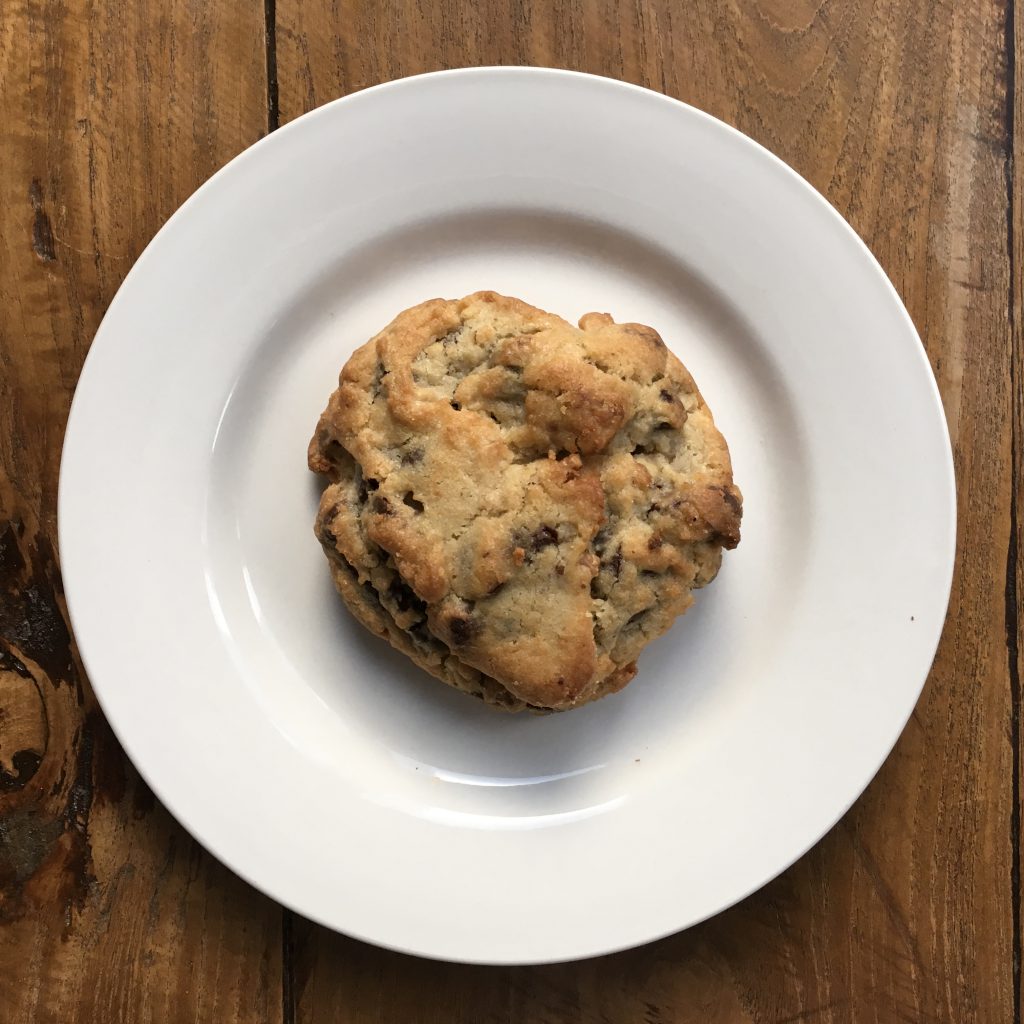 A day which started and ended with cookies.
Breakfast
Levain Bakery was recommended by Niece Number One. Earlier in July, HK Sister and her girls helpfully gave us tips on what to see and eat in New York. I dutifully wrote down their recommendations, as I did the recommendations of Travel Couple.
The bakery has a glossy website showing all manner of delicious goodies but this morning things were operating below optimum output. I tried hard to slow down my anxious breathing as I normally have perfect blood pressure. What gets my b.p. up is being late for an appointment, other people being late and finally, my food turning up late.
Fortunately Mr Gochagoru (sorry…that is Gochugaru. I have just discovered that autocorrect will turn Gochagoru into Pythagoras so maybe that is appropriate too) is a very patient person and he wasn't that flustered. We had sour cream coffee cake and lemon cake which were truly delicious, and I say this a very good cake maker. Two large cookies were stashed into my bag in case we got hungry during the long day. There wasn't anything else to try and we were in a rush to catch a boat.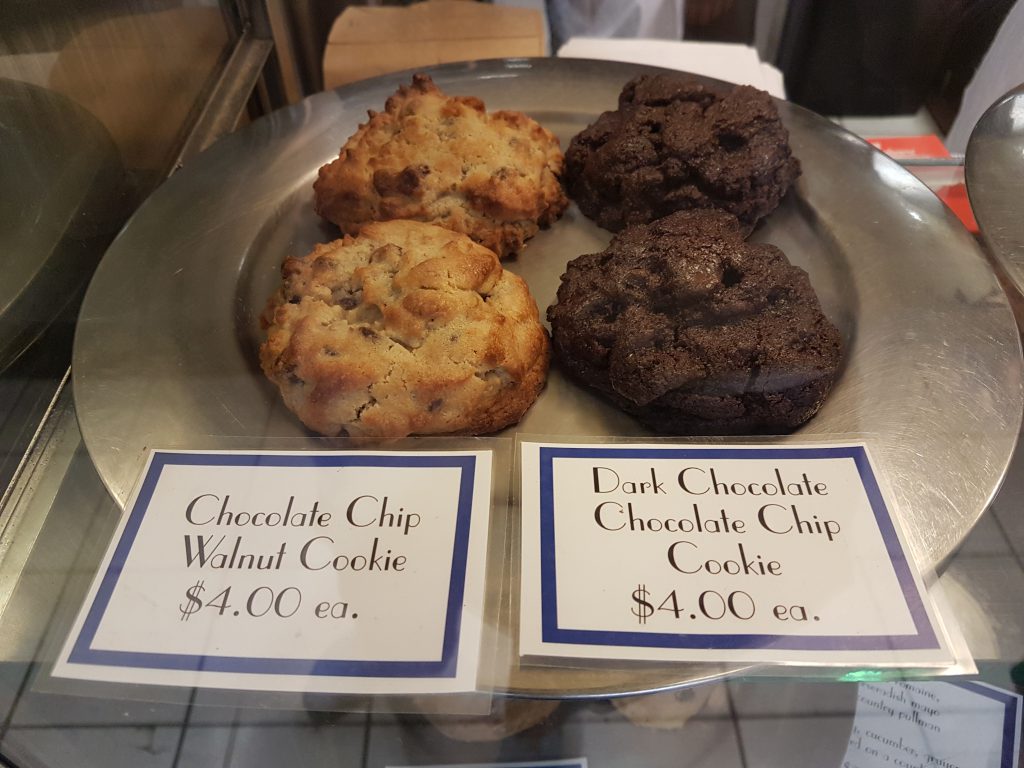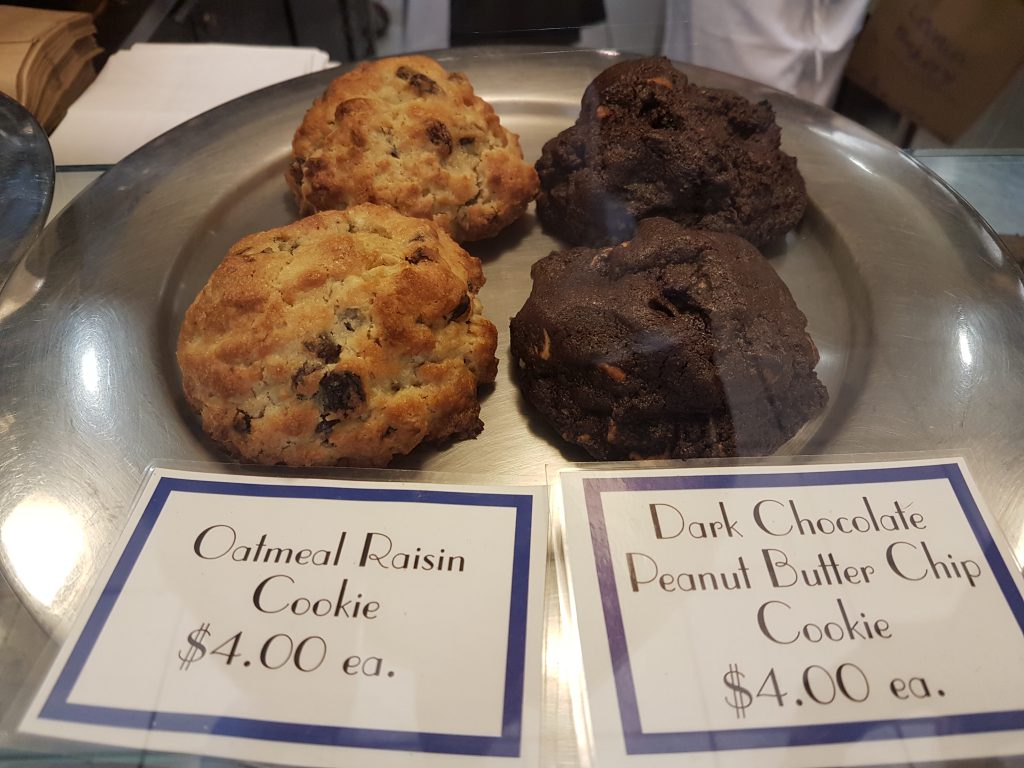 Sail and See
Researching transport to Liberty and Ellis Islands was a bit stressful as the websites I looked at recommended booking online beforehand as "places fill up really fast".
Here is what you need to know. There is only one authorized official provider of tickets and tours to the Statue of Liberty National Monument and Ellis Island National Immigration Museum. This is Statue Cruises and you can purchase tickets in advance through their website. Any other website will be a middle man and you will be paying a premium for the tickets.
My advice is to turn up early at the ticket kiosk at Battery Park on the day. In Summer, the first ferry leaves at 8.30am and then runs more or less every 20 minutes from the pier. The schedule is here and I would imagine the service runs more infrequently in the colder months.
When I asked Junior 1 which day was best to go on this trip he said that it was best to choose a sunny day. I know…it is obvious. Next time round, I would like to wander around Battery Park and perhaps bring a sandwich to eat whilst looking out to sea.
Liberty Enlightening the World (La Liberté éclairant le monde)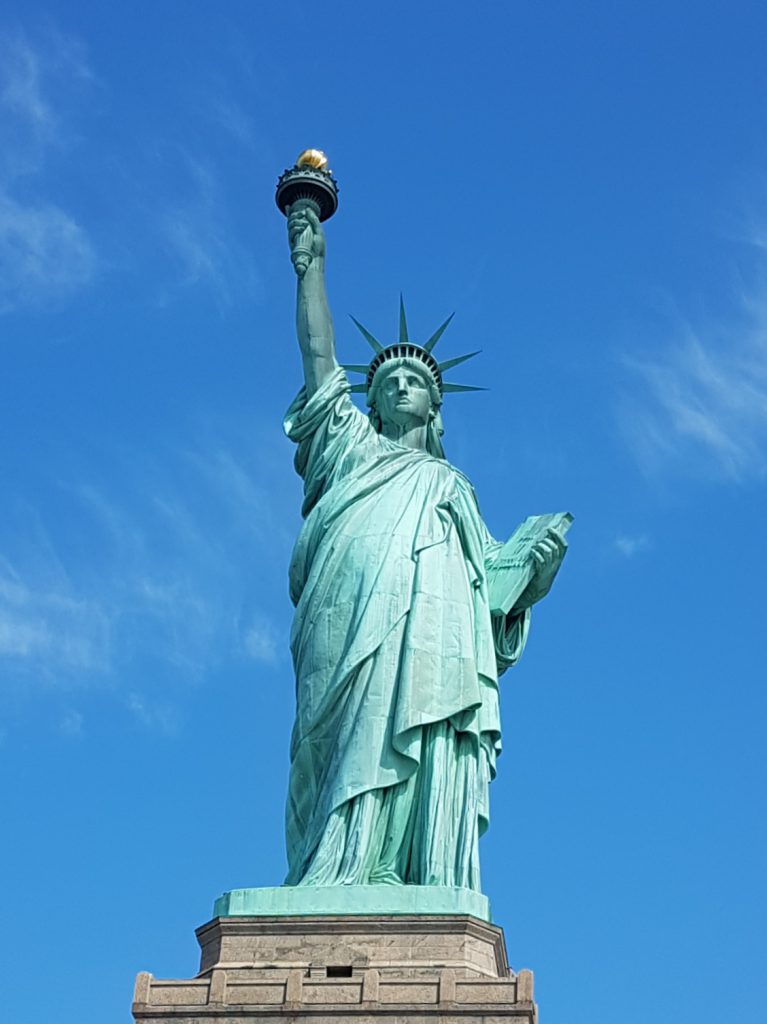 Looking back on Ellis Island which was an immigrant inspection station from 1892 until 1954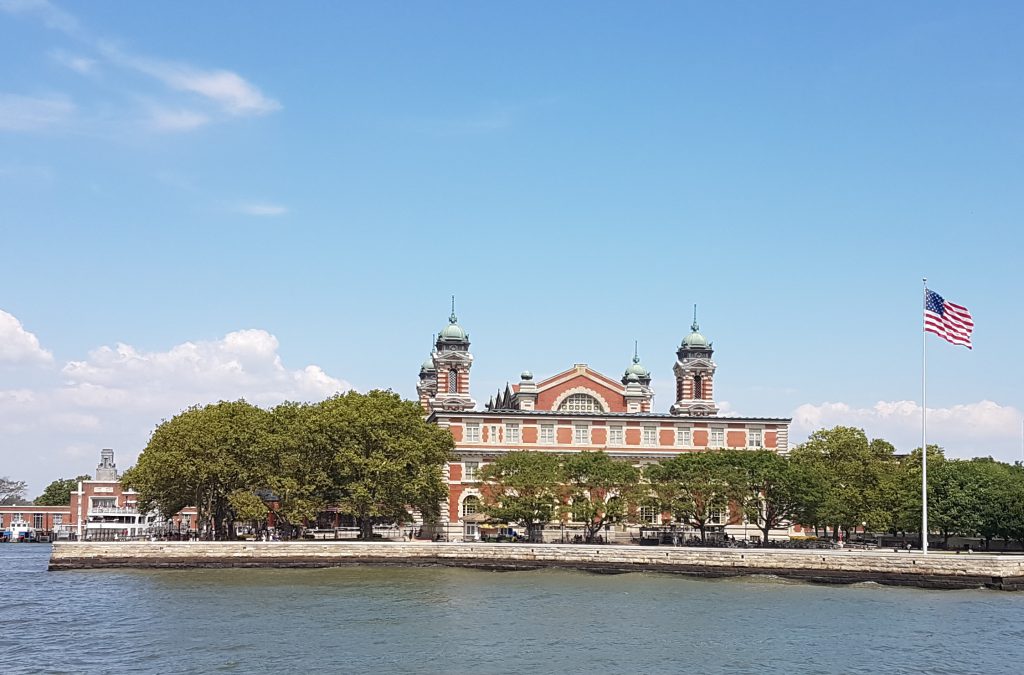 The Great Hall where immigrants were processed on Ellis Island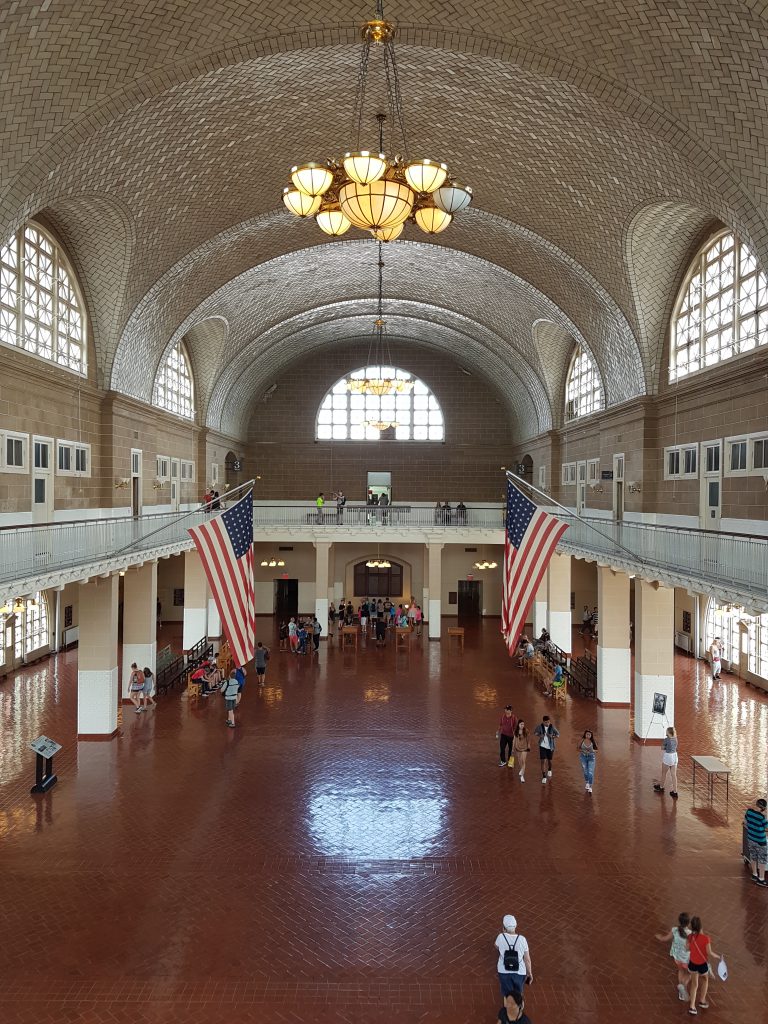 Looking towards Manhattan on the way back from Liberty and Ellis Islands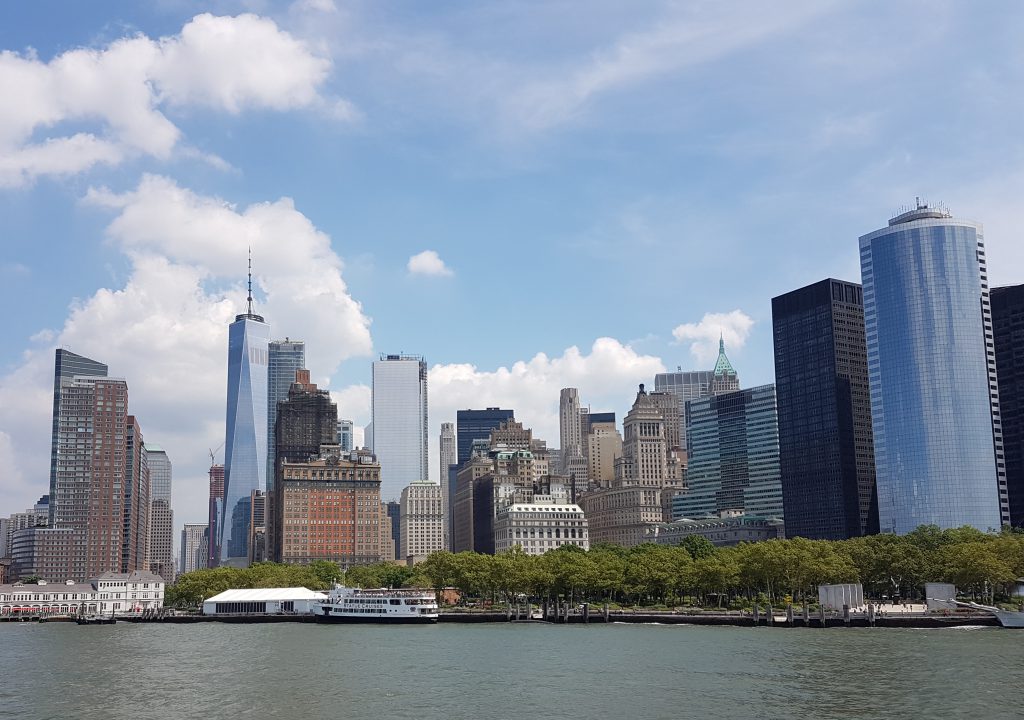 Whilst walking around the Statue of Liberty and in the Ellis Island Museum I had lots of thoughts of Liberty versus Freedom. There is the Statue of Liberty and there is Four Freedoms Park but ultimately are liberty and freedom the same? The answer: is philosophy dead now that coffee comes in paper takeaway cups and pollution from traffic makes it too dangerous to sit at tables outside on the pavement?
Lunch
Obsession is never a good thing and we should not try to make up words like seriously enthusiastic or totally preoccupied to mask what is, essentially, greed. This is also known as fear of losing out (FOLO to people in the know).
For some reason I thought it might be a good idea to try a lobster roll in New York and the name Pearl Oyster Bar popped up somewhere. Somehow also, I was interested in shoestring fries because I have never had shoestring fries. But mainly it's because I still think a lot about lobster rolls post-Boston.
Upon entering POB we were directed from the first dining room into the second, where another server indicated that we should take the table for two. This table was set against a wall and wedged in between two occupied tables. I could not get the chair out much less sit in that space. After struggling to prise the chair out and then trying to sit on it, poised at the corner of this table, I got up and said to Mr Gochugaru that we were not going to put up with this. In fact there were several other unoccupied tables set for larger parties and there was no need for such idiocy and complacency from the staff.
So we walked to the Whitney Museum and had a very pleasant lunch at their restaurant wittily named Untitled. This operates under the the Union Square Hospitality Group and Travel Couple have told me also that they rate The Modern at MOMA highly. Here is a mention of both and a review of Untiled from the New York Times.
A view of the High Line from outside the 8th floor of the Whitney Museum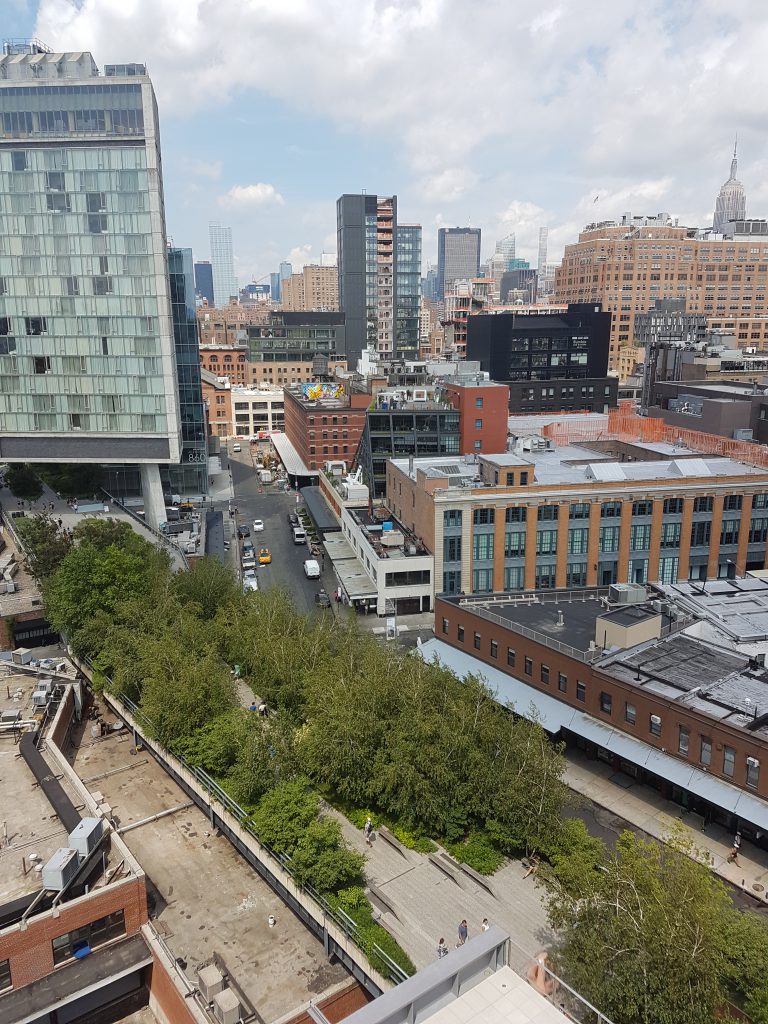 A typical view of New York rooftops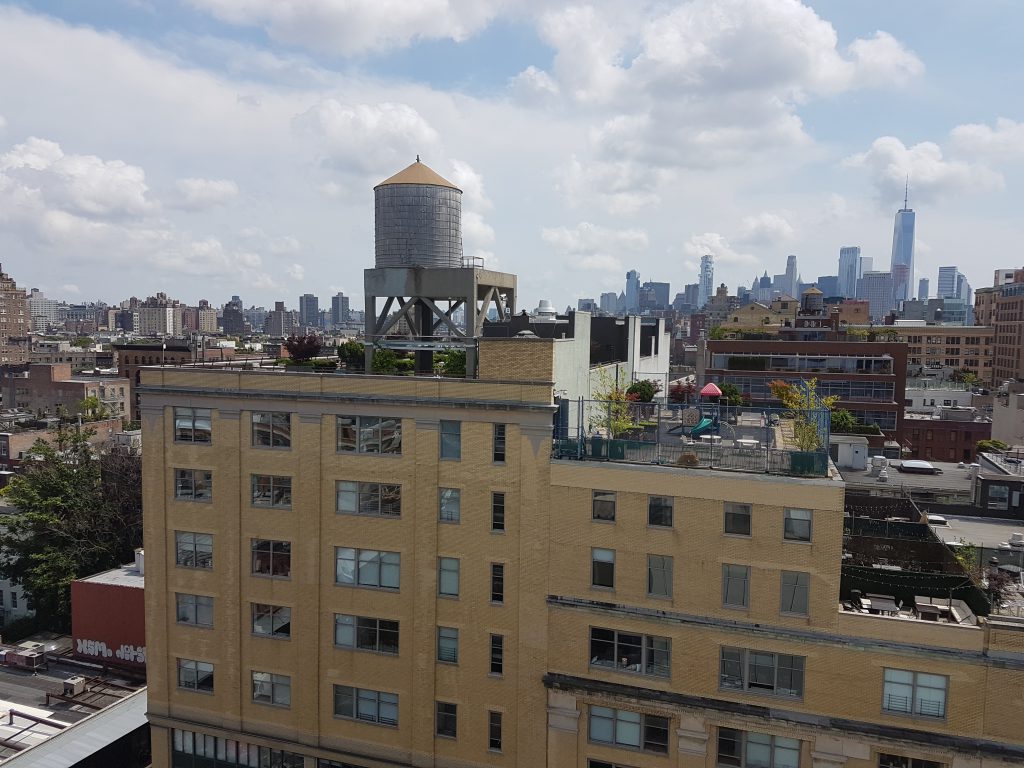 On the way back to the subway station from the Whitney we chanced upon Bubby's restaurant which has a counter serving ice cream from Ample Hills Creamery. I have mentioned before, I really like ice cream. We also passed Coarse and what attracted my attention was their menu on a single sheet of paper, displayed on the window as if it were an item of clothing hung out on a drying line. Letting go of another dinner reservation for Tuesday (see Le Coq Rico below), we opted to try this instead.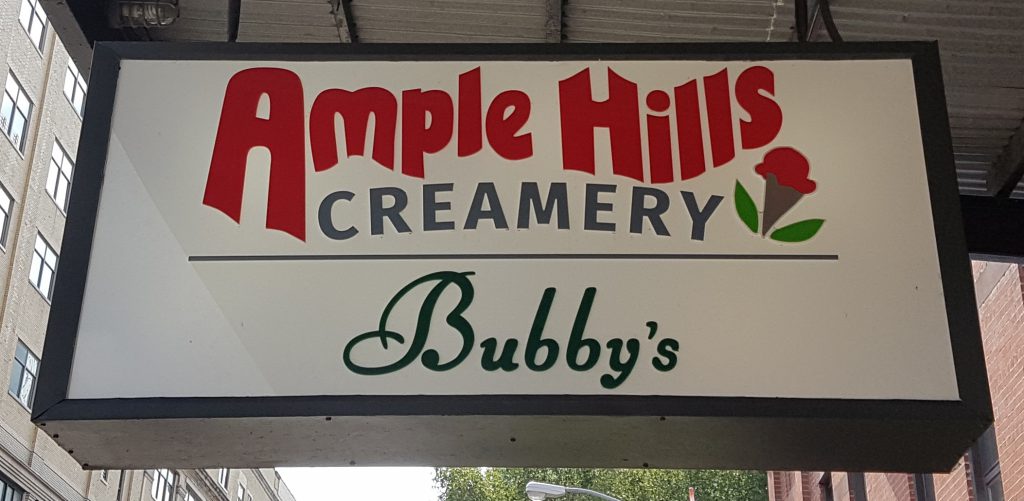 Dinner
I have been pondering: what exactly is American cuisine, if America is made up of such a diverse body of immigrants? You can have American hospitality, American-sized portions but American cuisine? Clearly, a dining strategy is called for and I have decided to try the kinds of food I would not necessarily try in London. Junior 1 suggested trying Mexican food.
Despite a group of extremely rowdy office workers who made too much noise at the bar, our dinner at Empellon was excellent and the desserts were delightfully inventive. The lighting left the pictures I took of the food looking ghostly and lifeless so instead I am recommending you look at the slides and read this review in the NY Times. Three weeks on I am still thinking about their corn tortillas, so much so that I am aiming to try a new discovery in El Pastor here in London. As for the avocado dessert, it's worth crossing the length of Manhattan for the sheer novelty and inventiveness of it.
Later on, a walk around the block to Momofuku Milk Bar to look at their cookies rounded up our day. Samsung Health recorded that I took 19131 steps or, measured in time, walked 200 minutes.
Addresses
Levain Bakery  167 West 74th Street (corner of Amsterdam Avenue), NY 10023. Telephone 212 874 6080
Levain Bakery  351 Amsterdam Avenue (between West 76th and West 77th Streets), NY 10024. Telephone 212 874 6080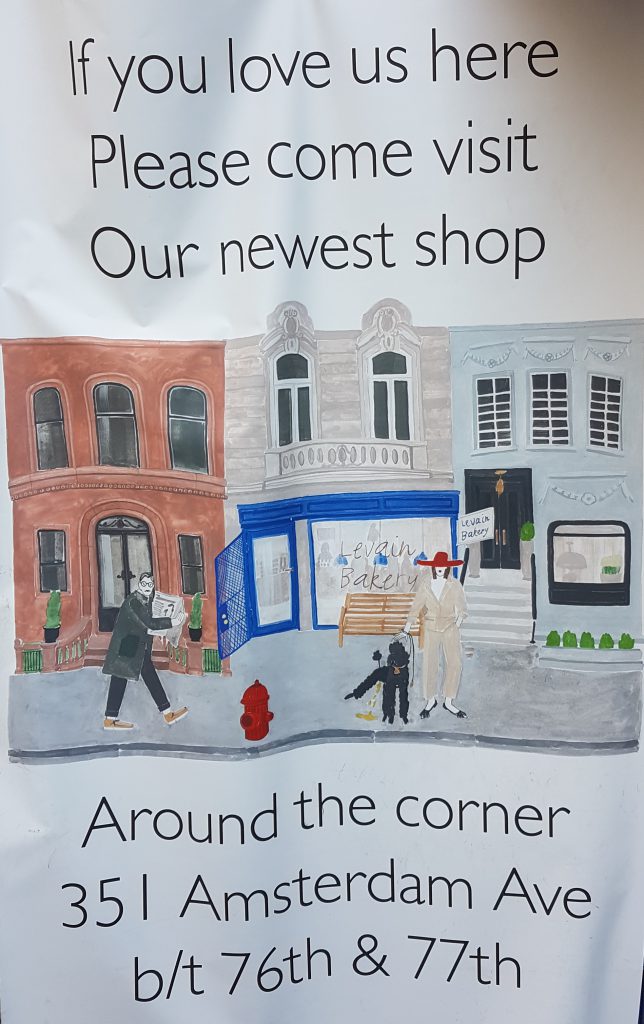 Whitney Museum of American Art  99 Gansevoort Street, NY 10014. Telephone 212 570 3600
Untitled at the Whitney Museum  99 Gansevoort Street, NY 10014. Telephone 212 570 3670
Ample Hills Ice Cream at Bubby's High Line  73 Gansevoort Street, NY 10014. Telephone 646 590 1288
Empellon Midtown  510 Madison Avenue (at 53rd Street between Madison and 5th Avenues), NY 10022. Telephone 212 858 9365 but I would be surprised if the receptionist can hear you above the noise.
Momofuku Milk Bar has various locations and the younger members of our family think it's fun. I can see the attraction of novel items like the compost cookie, but I really prefer chocolate chip cookies. Also, I would rather not know what went into my snacks.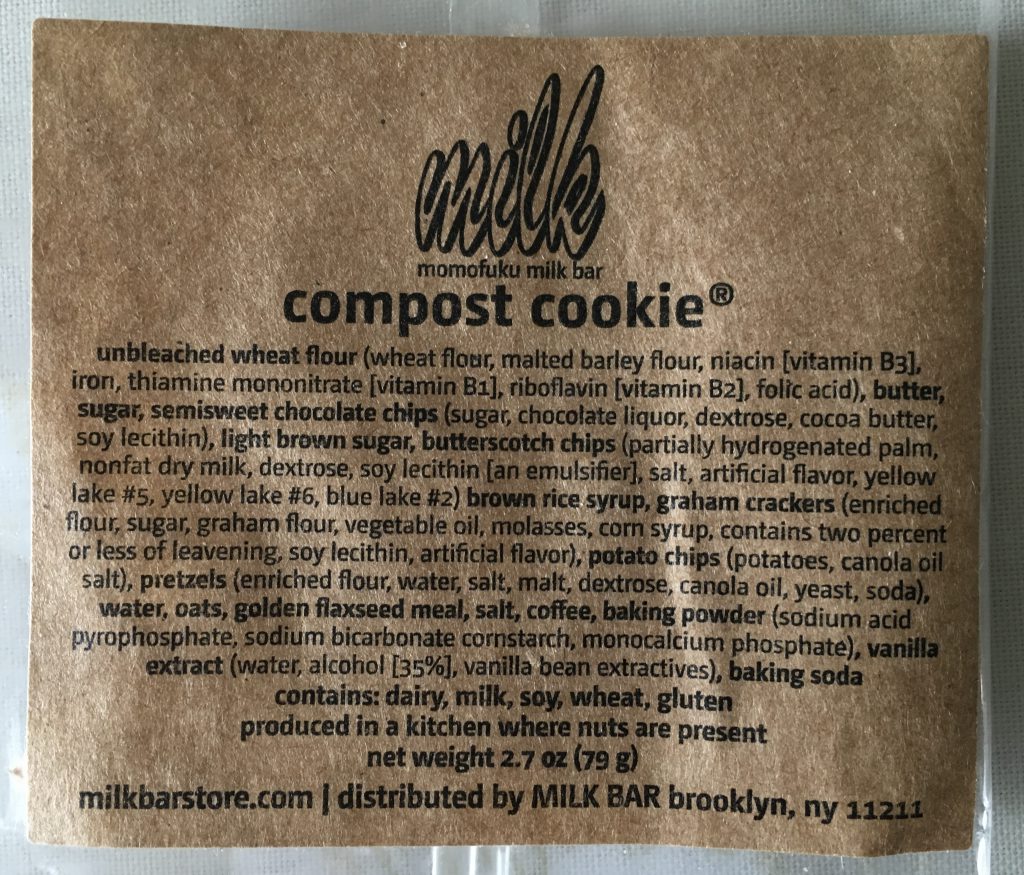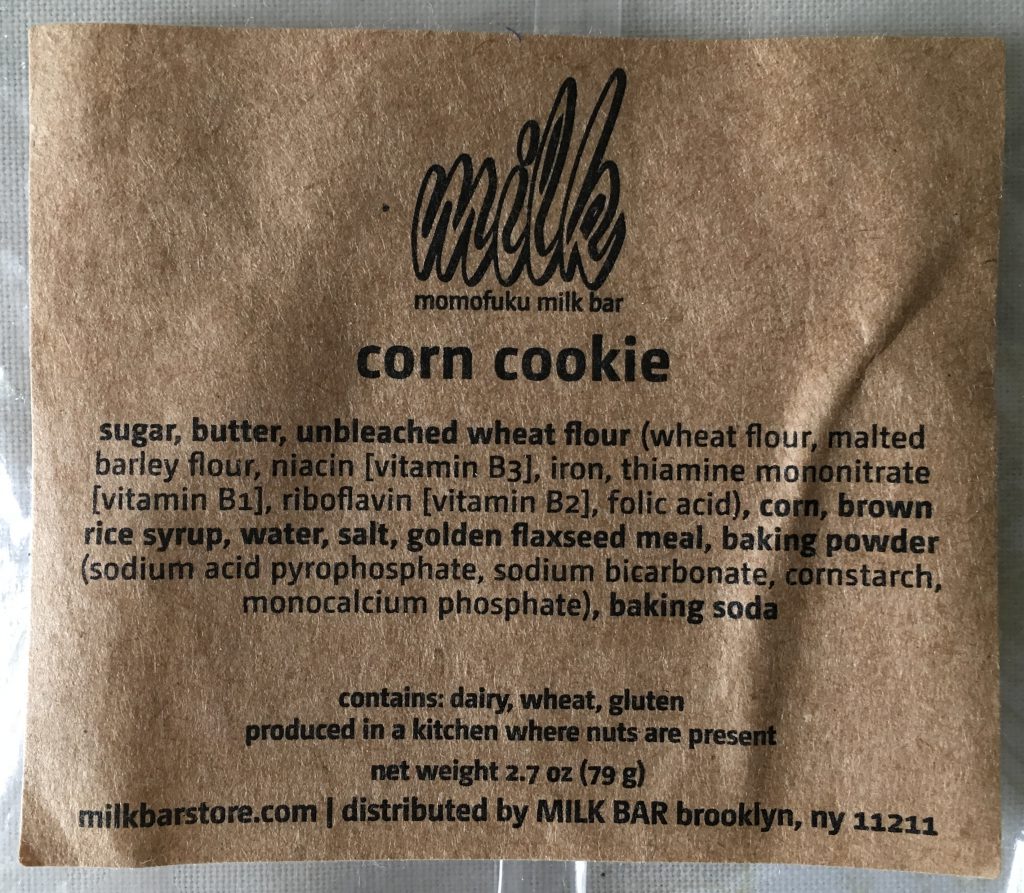 Letting Go
I had wanted to try Le Coq Rico on a recommendation by the New York Times which listed it as one of the top New York restaurants of 2016. After dinner at Empellon and an evening of lengthy discussion, we decided that chicken is something we all could cook at home (other people think so too). I had wanted to try Chef Westermann's baeckeoffe because one of the happiest trips to France as a family was to Alsace where we visited many vineyards and also the Staub factory in Turckheim.
As far as I can gather from my reading, the chicken baeckeoffe is made using a whole 120 day chicken which is slowly baked with cloves of garlic, the whites of spring onions, artichokes, small potatoes, peeled tomatoes, confit lemon, sprigs of rosemary, chicken stock and some Riesling. Alsatian Riesling is one of my favourite varieties of white wine, along with Gewurztraminer. I am not certain how long it has to cook for but I am guessing quite long over a low heat in a large pot.
Back in my London kitchen, the plan is to source a 100 day chicken from the Ginger Pig and make this for Junior 1 when he returns from his New York work-study-play-eat trip. He would have been away for just under 100 days so this might be a fitting dish to welcome him home.
Lobster Roll
At first I reasoned that it was illogical to want a lobster roll in New York, right in the middle of a city, but then I live in London and people here have lobster rolls so I am returning to my search for lobster rolls here and in Manhattan.
Here are some reviews and recommendations from Serious Eats (2014), The Thrillist, Time Out, Zagat (2016) and Gothamist, (2017). Knowledge is power…power to walk out of a place if it doesn't live up to the recommendations or reputation.