Having made multiple batches of this jam…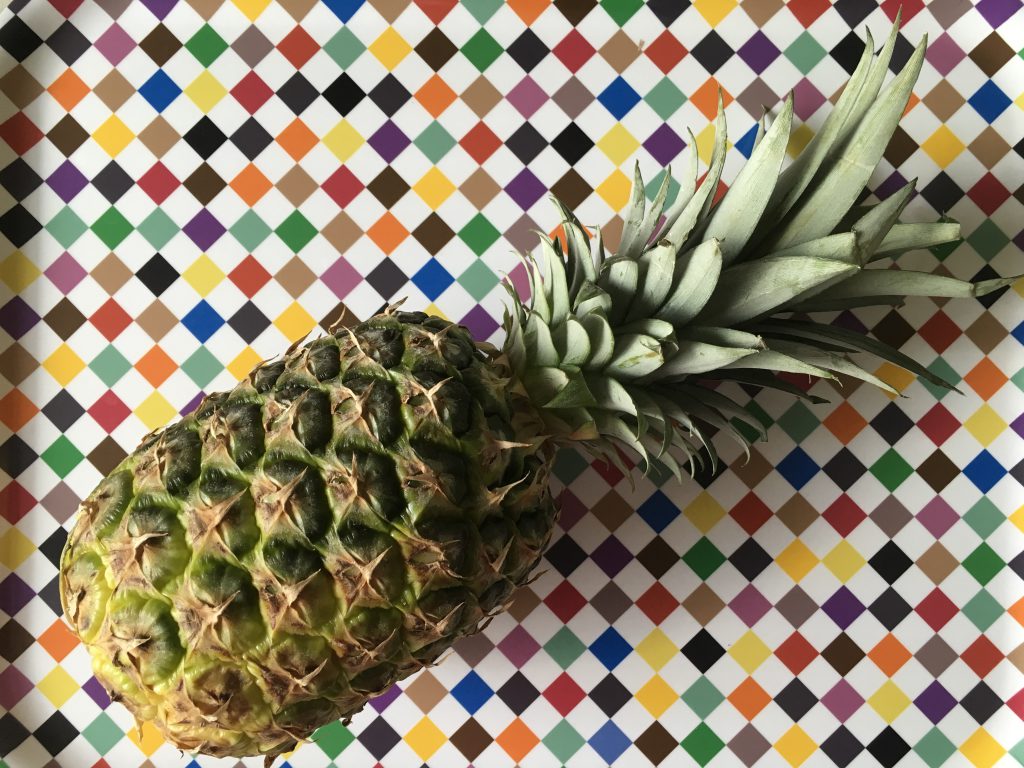 …I can safely say I have finally perfected it.
Thermomix Neighbour and I have been working together this past week to gather recipes for an event featuring South-East Asian food. My contribution was to be Glutinous Rice with Shiitake Mushrooms and Chestnuts, and Pineapple Jam.
These are the easiest recipes I could think of to demonstrate in front of a crowd. TM Neighbour and I went to Bar School (law-related and not alcohol-related) so we are used to standing before an audience. We also know that no one will tolerate an ill-prepared advocate.
What we are advocating is that Thermomix is the way forward. Personally speaking, I love its handle on precise temperature control and its ability to cut my food processing and preparation time to almost nothing. Nevertheless I know that I am not cut out to be a TM Advisor, as my forté really is in writing and teaching.
After many trial sessions and eight pineapples later, here is the jam I can confidently give away to friends and family. I want to share this recipe because it is not easy to find pineapple jam in this country. I did not find any in Waitrose or in Fortnum and Mason.
Happily though, Wilkin and Sons make it and if you want to bake the Pineapple and Cinnamon Muffins in my next post, you can use this instead of making your own. If you live in London, then head to Paul Rothe and Son in Marylebone, which is an Aladdin's Cave of fine jams and preserves.
For the Jam:
750 g fresh pineapple (skinned and prepared weight)
300 g golden granulated sugar
30 g lime juice
8 – 10 cloves
To Make:
Peel the pineapple and remove its 'eyes'. To do this, place the pineapple on its side and slice each end off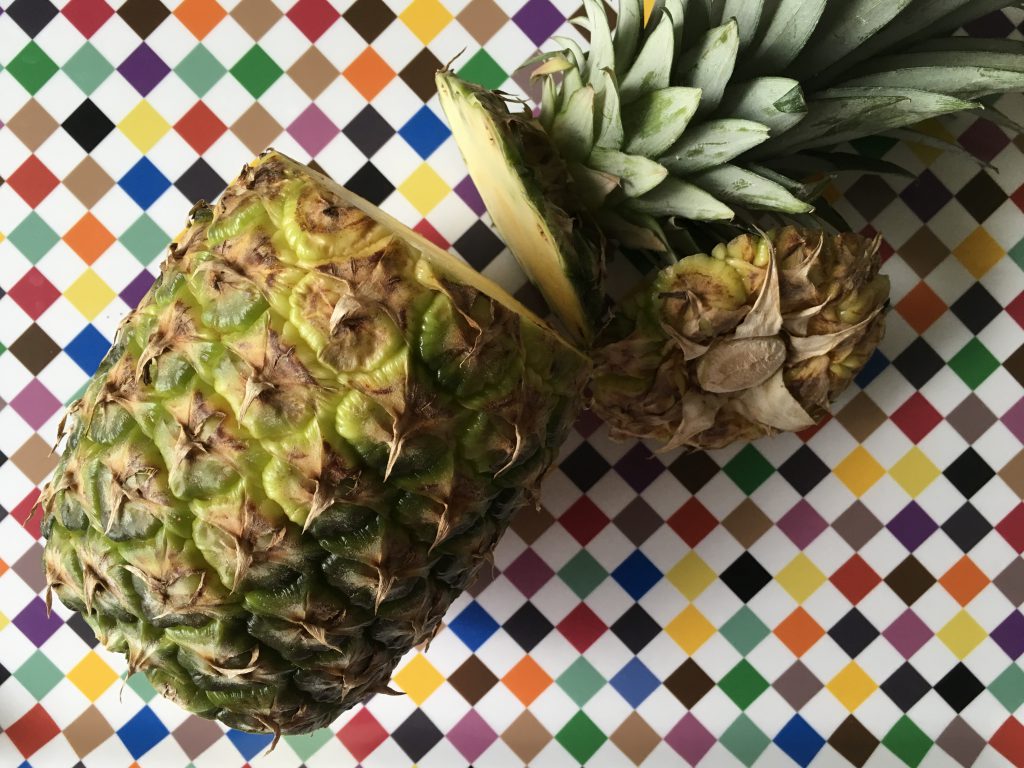 Turn the pineapple upright and slice down its side, removing the peel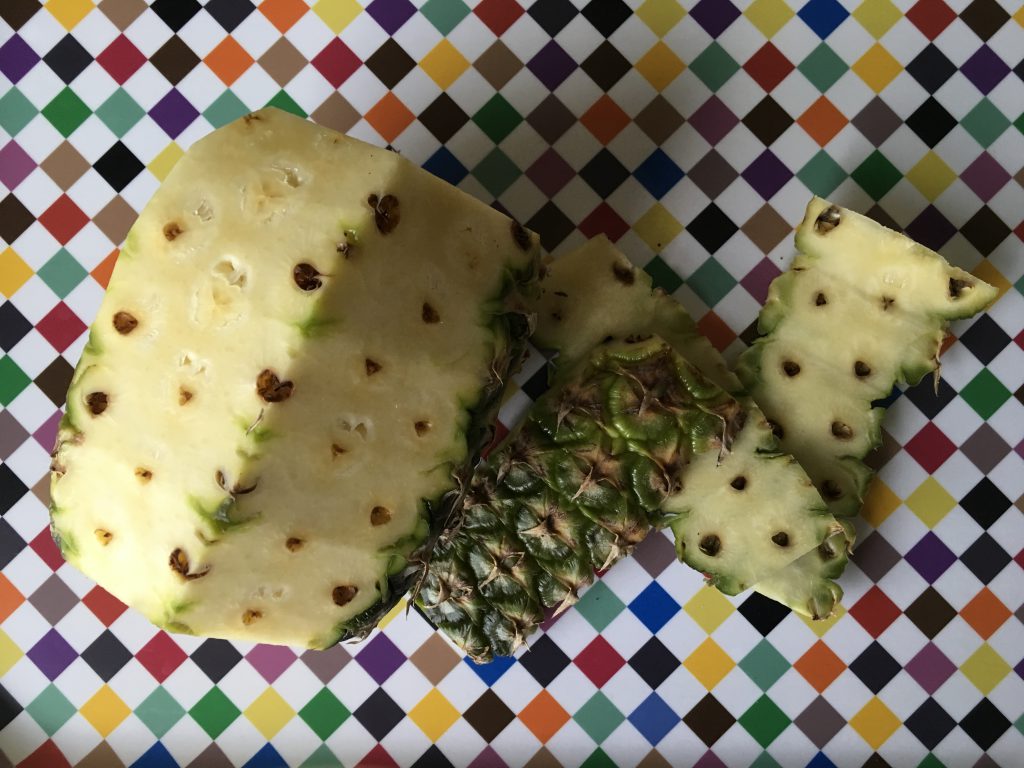 Remove the 'eyes' by making V-shaped cuts to either side of the rows of eyes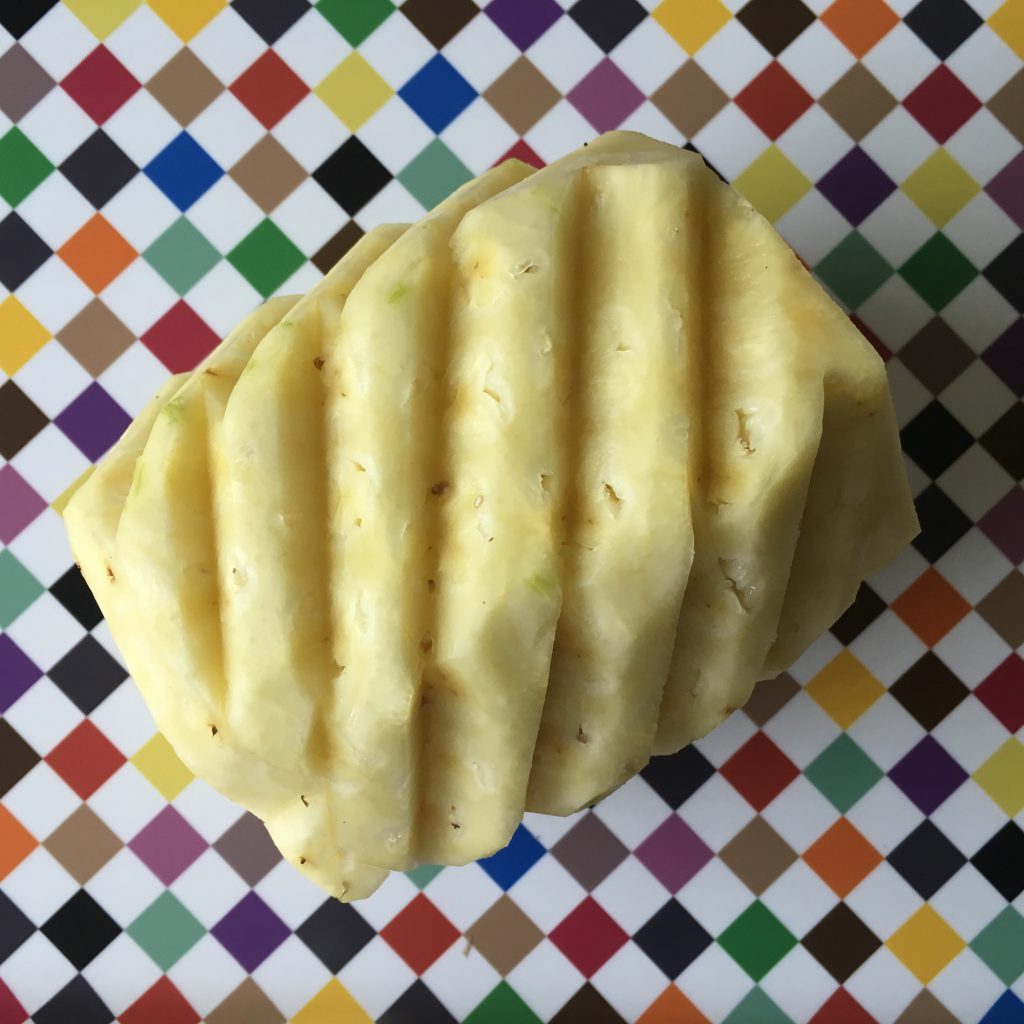 Cut each pineapple length-ways into eight slices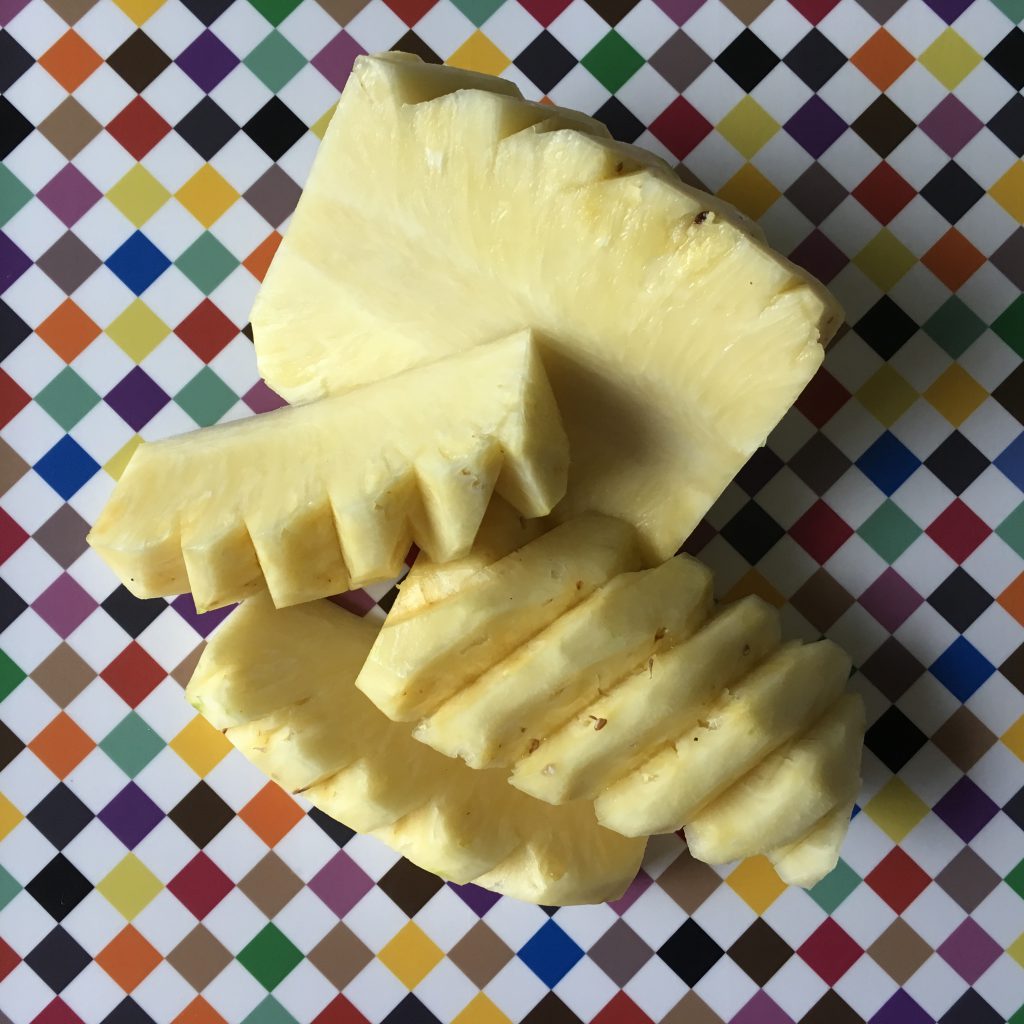 Slice off the thick pineapple core and cut each wedge into large chunks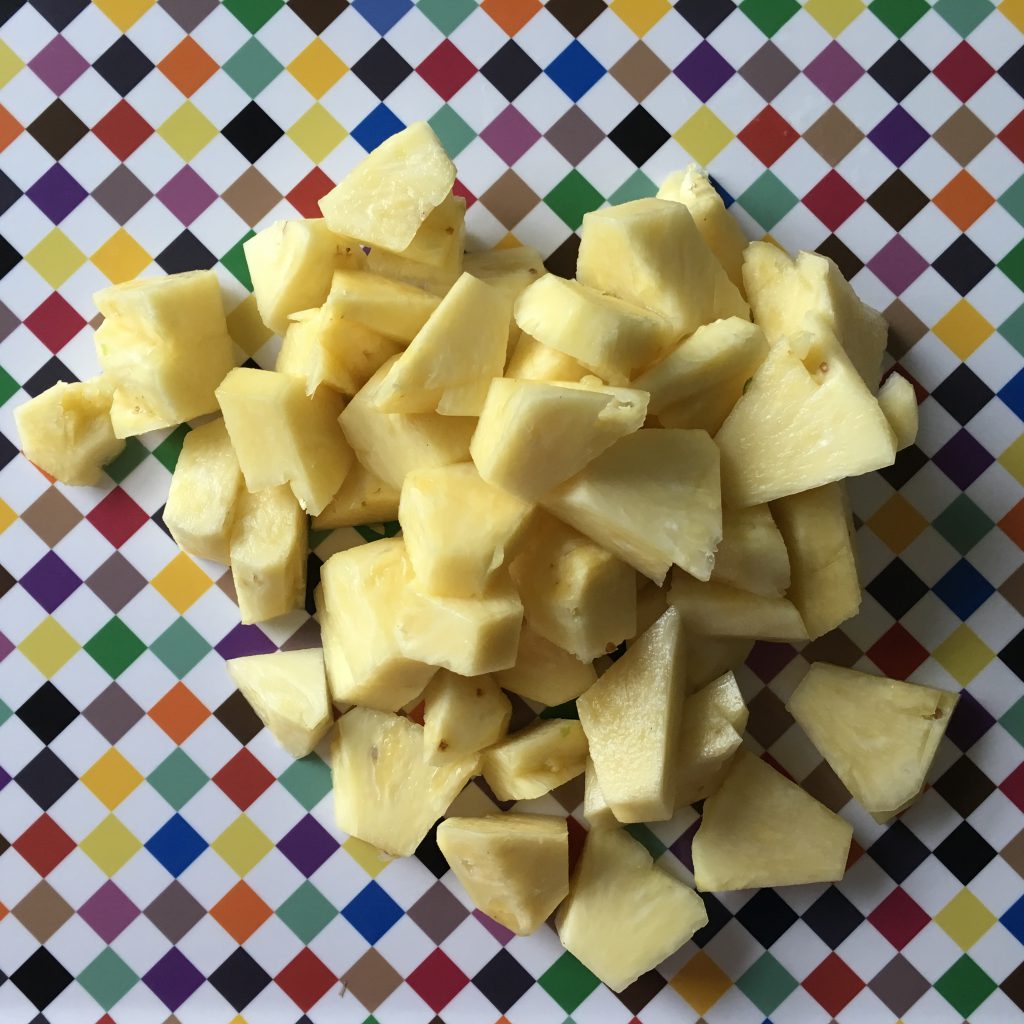 Place the pineapple chunks into the TM bowl. If you are like me and dislike the intense splashing that inevitably comes with high-speed chopping, then line the lid by using an 8 inch (no smaller and no bigger) circle of baking parchment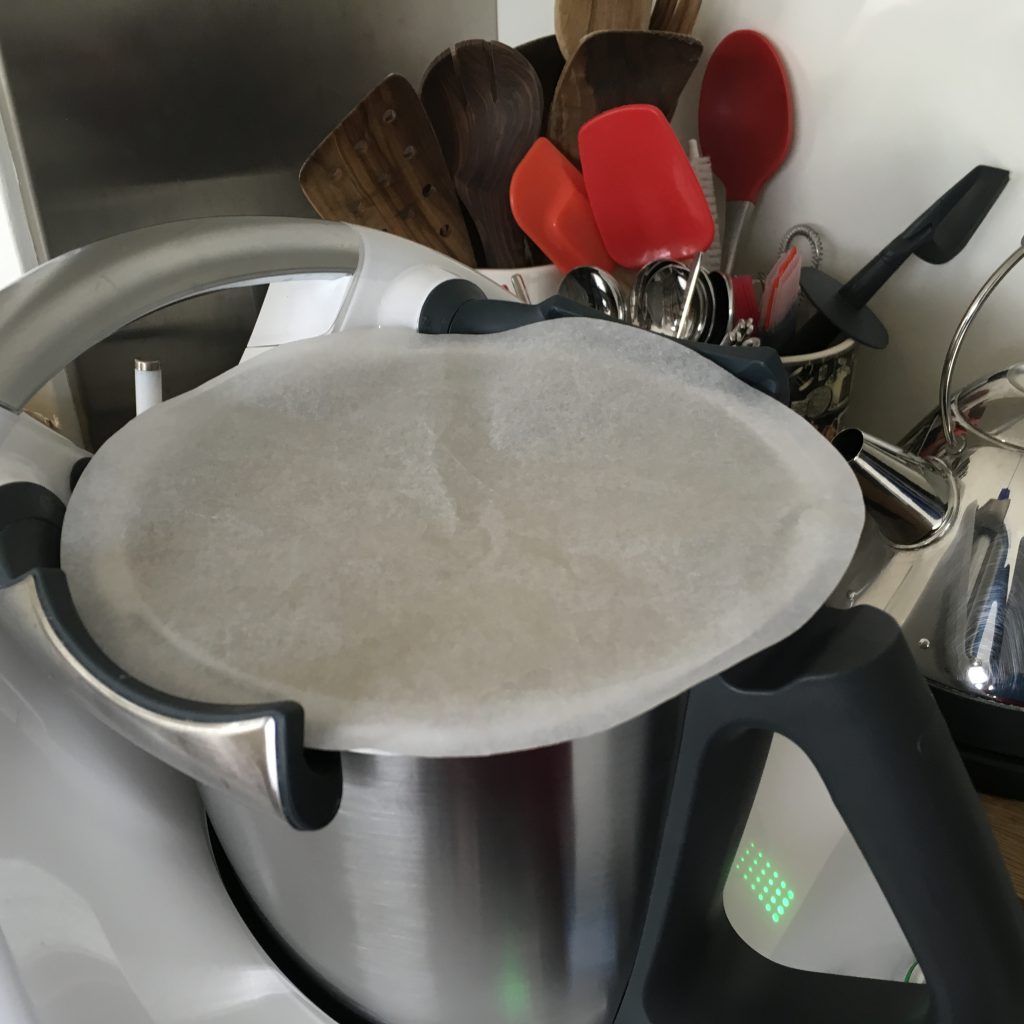 Replace the lid. The parchment liner should not affect the locking mechanism of the TM lid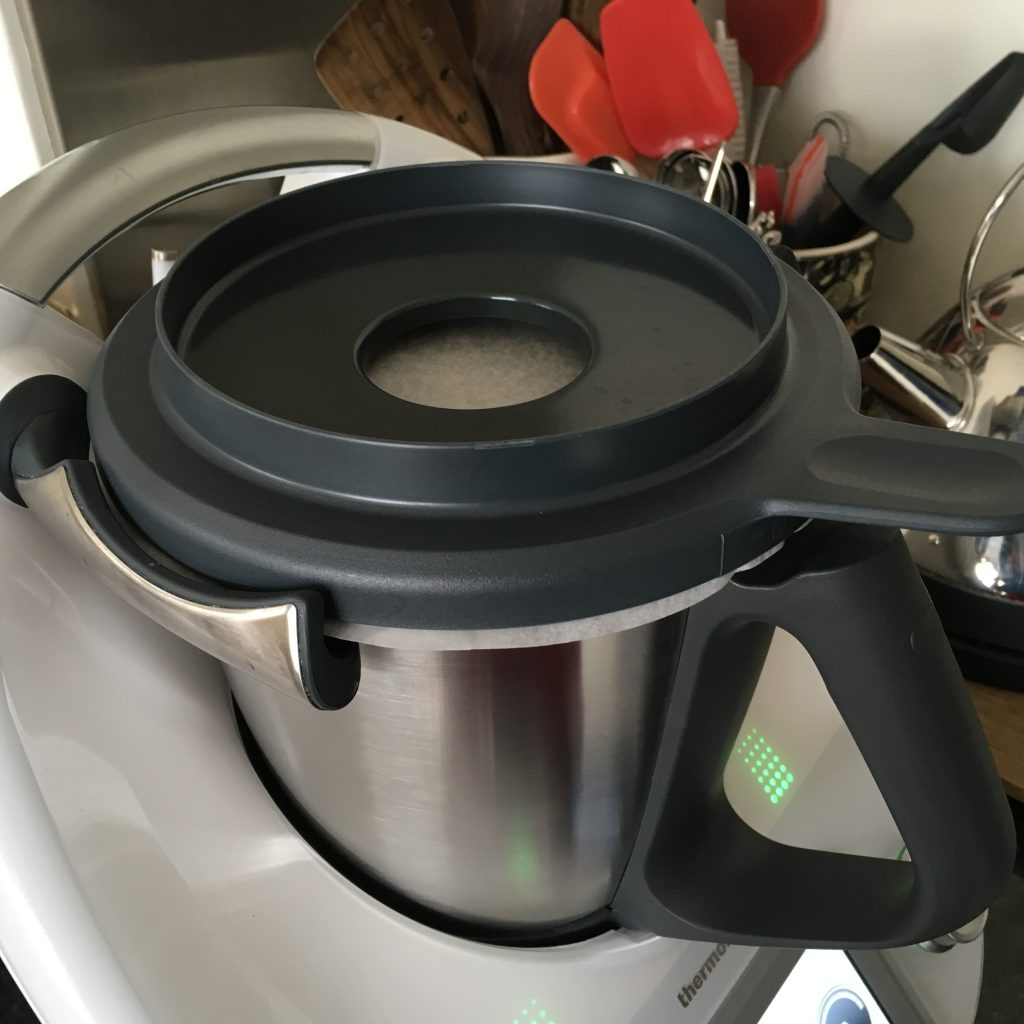 Chop for 30 seconds/ speed 5. Remove the lid and throw away the parchment liner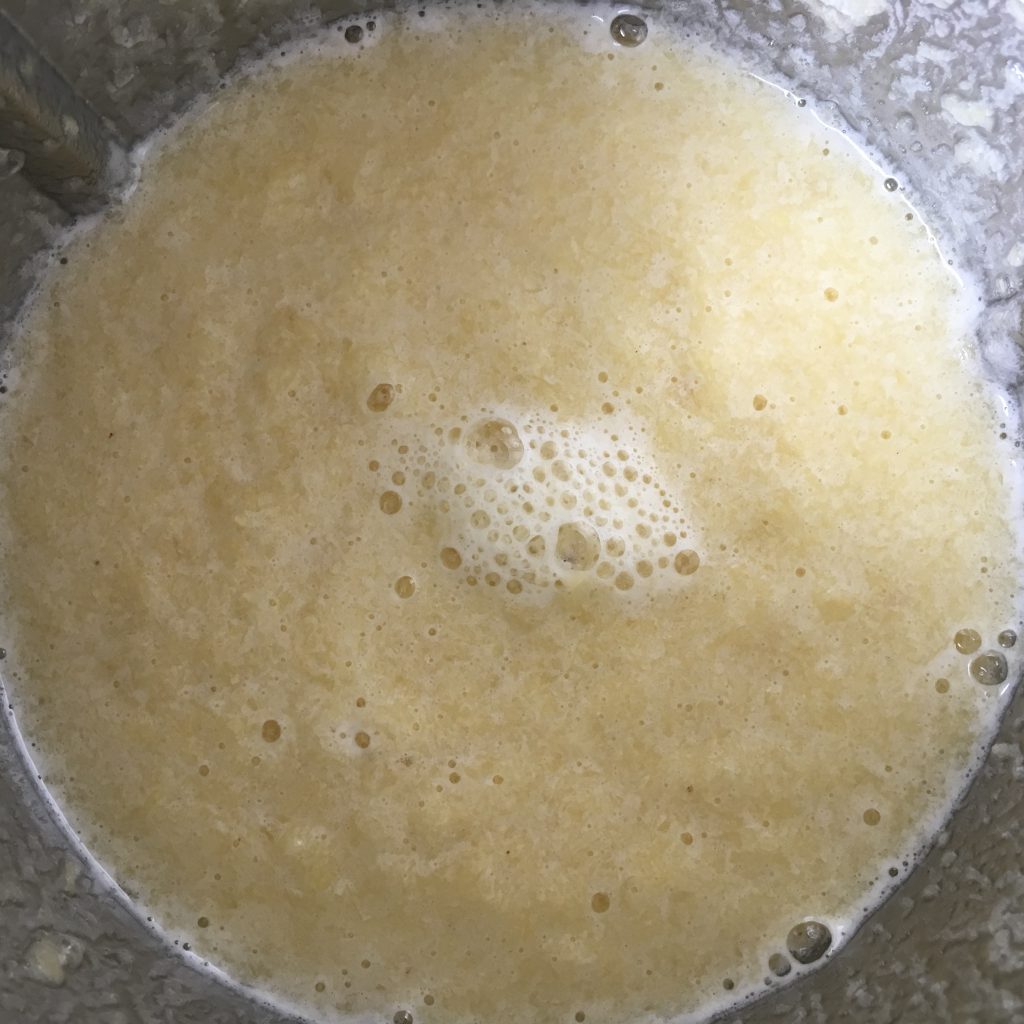 Add the sugar, lime juice and cloves. Replace the lid without the measuring cup. There will be a lot of bubbling as the sugar cooks, so I placed a perforated metal cover on top of the lid to prevent the splashes going everywhere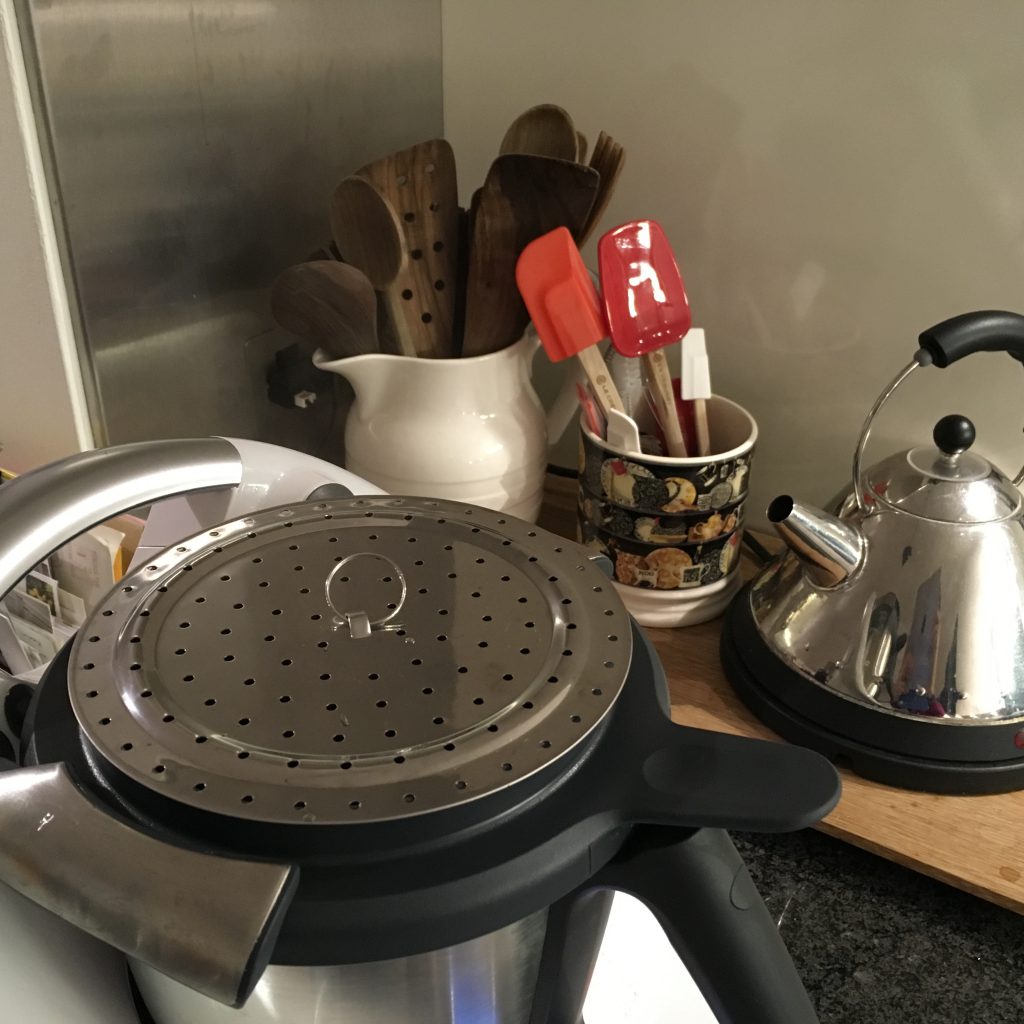 Cook for 35 minutes/ Varoma/ speed REVERSE 2. If you need the jam as a filling for Pineapple Tarts, increase the cooking time to 40 minutes but no more than that, or the jam will burn if it gets too dry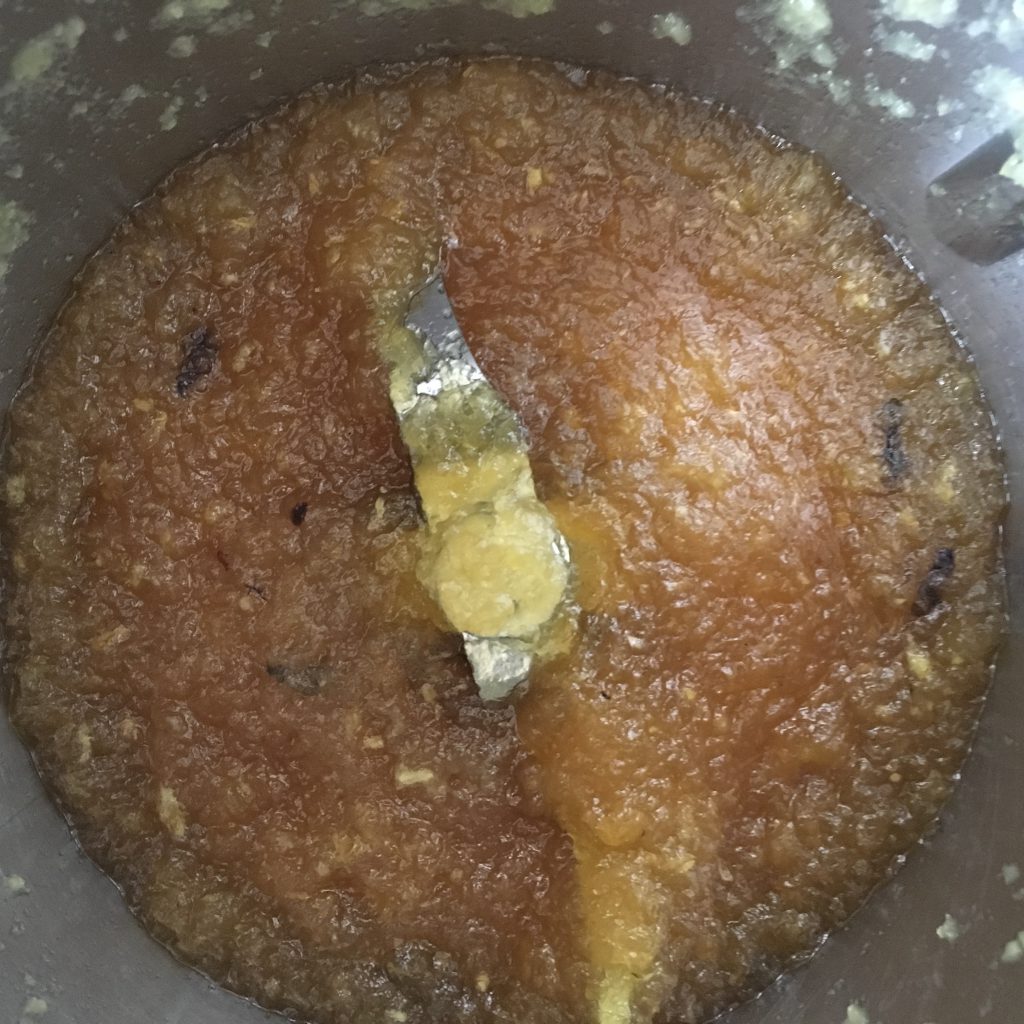 When the jam has finished cooking, scoop it out from the TM bowl using a silicon spatula and store in sterilized glass jars. Refrigerate the jam after it has fully cooled.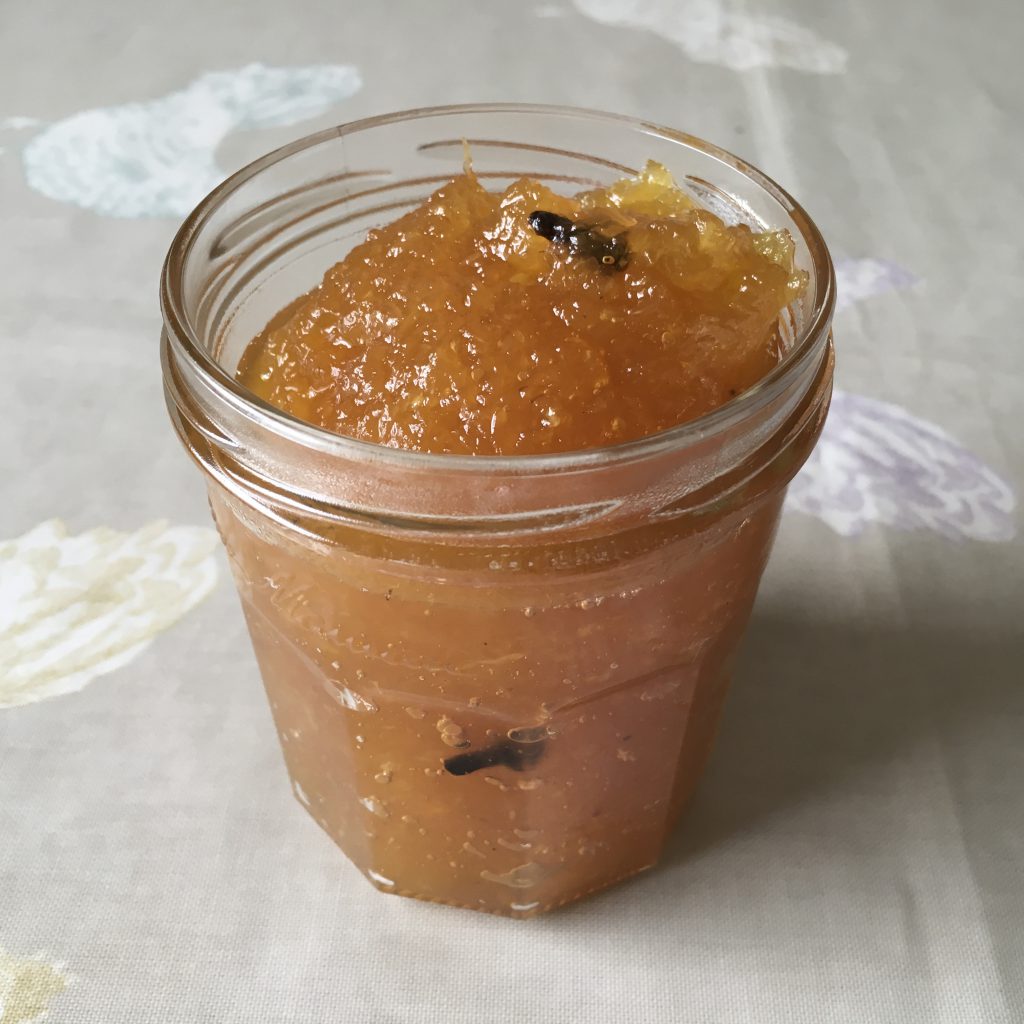 NOTES:
For Pineapple and Ginger Jam, add 1 tablespoon of finely grated fresh ginger onto the jam after it has finished cooking. I would imagine adding a splash of rum into the jam towards the end would make it a festive treat for Christmas.
An averagely large pineapple from the supermarket will yield around 800 g of cut pineapple. Do not use more than 750 g pineapple in the TM bowl as the jam will splash out too much.
In my experiments, I used between 375 g and 750 g for each trial batch. The weight of the sugar is 40% of the weight of the pineapple. It is not necessary to use jam sugar (i.e. sugar with added pectin).
The following cooking times are what I feel works with each weight of pineapple: 375 g pineapple (20 minutes), 500 g pineapple (25 minutes) and 750 g (35 minutes).
I made so many batches of the pineapple jam that I needed to find an outlet for its use, so I came up with the idea of a Pineapple and Cinnamon Muffin. This will feature in my next post.