This is a very satisfying dip…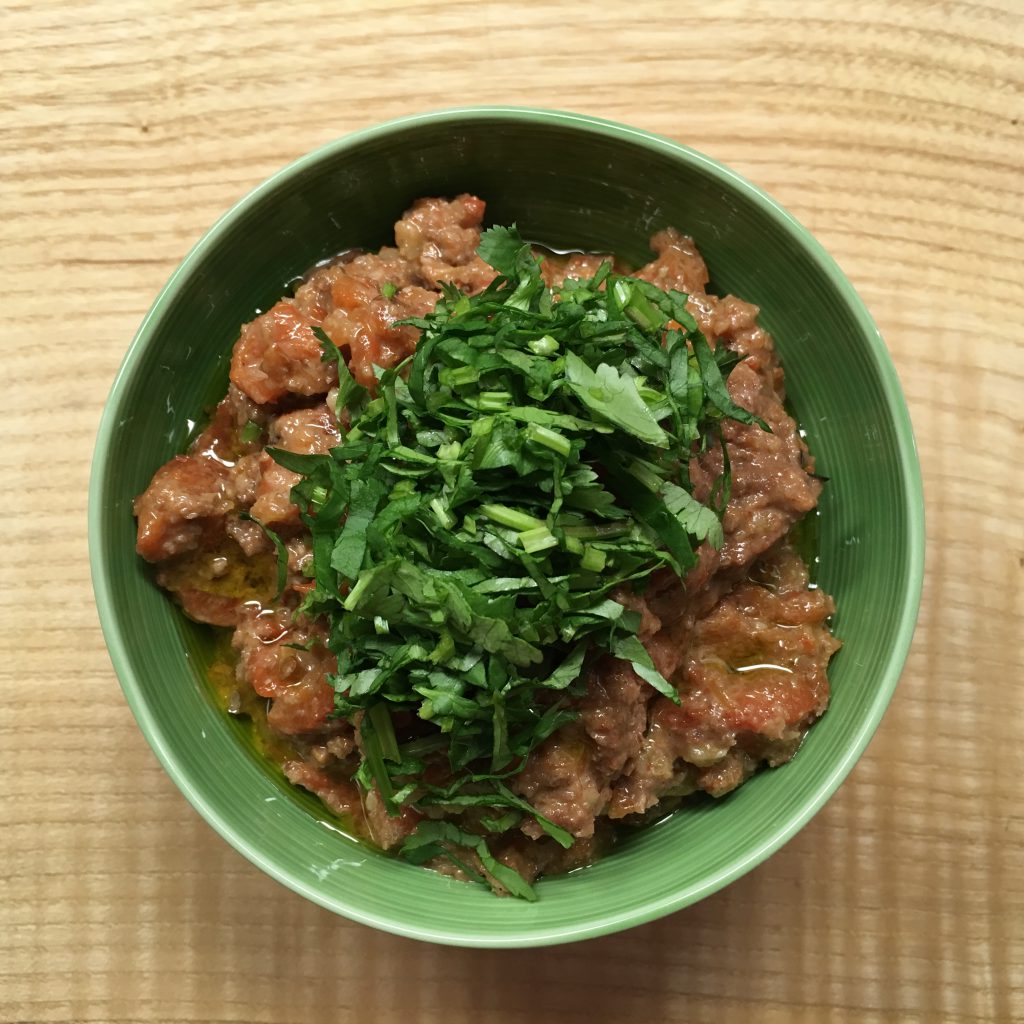 …not least because you can even write its name in Hangeul.
Regular readers will know I have a particular fascination with all things Korean, so I thought it would be good to study the language.
I feel a bit of a fraud, and a bit of a dunce, and here's why.
Many Korean words have its origin in Chinese words. In fact it is compulsory for Korean students to learn the essential Chinese characters on which many older texts, and also newspapers, are based. My Chinese ancestors must be turning in their graves because I have almost given up learning Chinese characters. I can converse quite well, but reading really eludes me.
On a good day, when I am not weighed down by the burden of being mostly yet not wholeheartedly Chinese, I tell myself that there really is nothing wrong with being a global citizen and serving salmon tikka one night and cous cous with lamb tagine on another. I am not living in an agricultural community in the middle of China and I don't have to eat, drink, cook, speak and write Chinese 100% of the time.
On a bad day I can really identify with dyslexics who say letters are just so confusing.
The name for this red pepper and walnut dip is originally muhammara and in Hangeul it is written as 무함마라*. The joy of the Korean language is that it is based on phonics and you can render any word into Korean by simply using the Korean alphabet.
I made the dip in my Thermomix but you can chop everything coarsely by hand, or with a food processor.
For the Dip:
4 red peppers, medium sized
60g fresh bread
10 g garlic, peeled
60 g walnut halves
2 tablespoons olive oil
1 tablespoon lemon juice
1 tablespoon pomegranate molasses
2 teaspoons ground cumin
½ teaspoon smoked chilli flakes (I used chipotle chillies)
½ teaspoon sea salt
Fresh coriander or flat leaf parsley, for garnishing
How to Make:
If you have a gas stove, then start by placing the peppers directly on to top of the gas burners. I have four gas rings and placed one pepper on each. WikiHow explains it step-by-step.
If you do not have a gas stove, then place the peppers on a baking tray, and roast in an oven at 200 C /400 F/ gas 6. The peppers will take on a slightly charred look after 30 – 40 minutes.
Either way, conventional wisdom suggests putting the peppers in a bowl or plastic bag and 'smothering' it to help loosen the skin. I have never done this, and you should find that the burnt skin comes off easily enough with the help of a sharp knife.
After peeling off the skin, quarter the peppers and discard the seeds. The peppers can be roasted ahead of time and left aside until needed.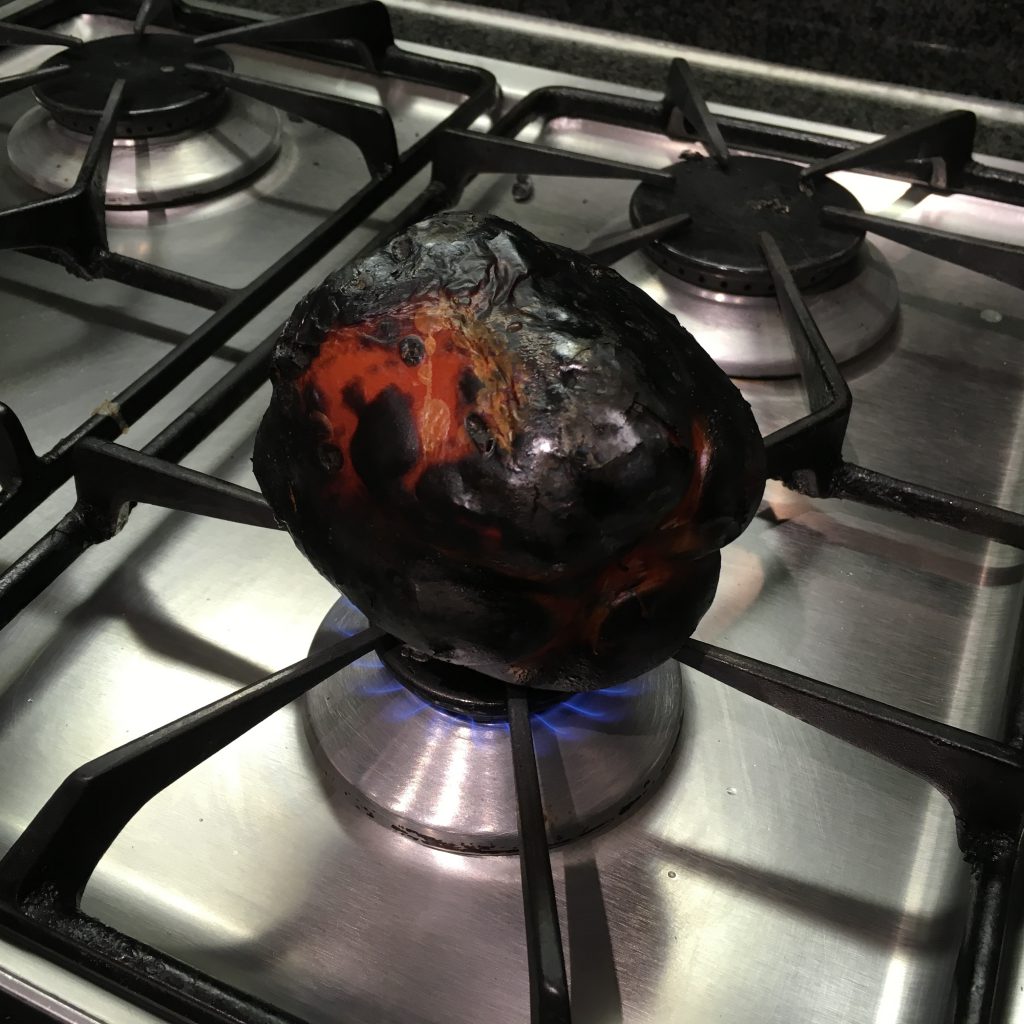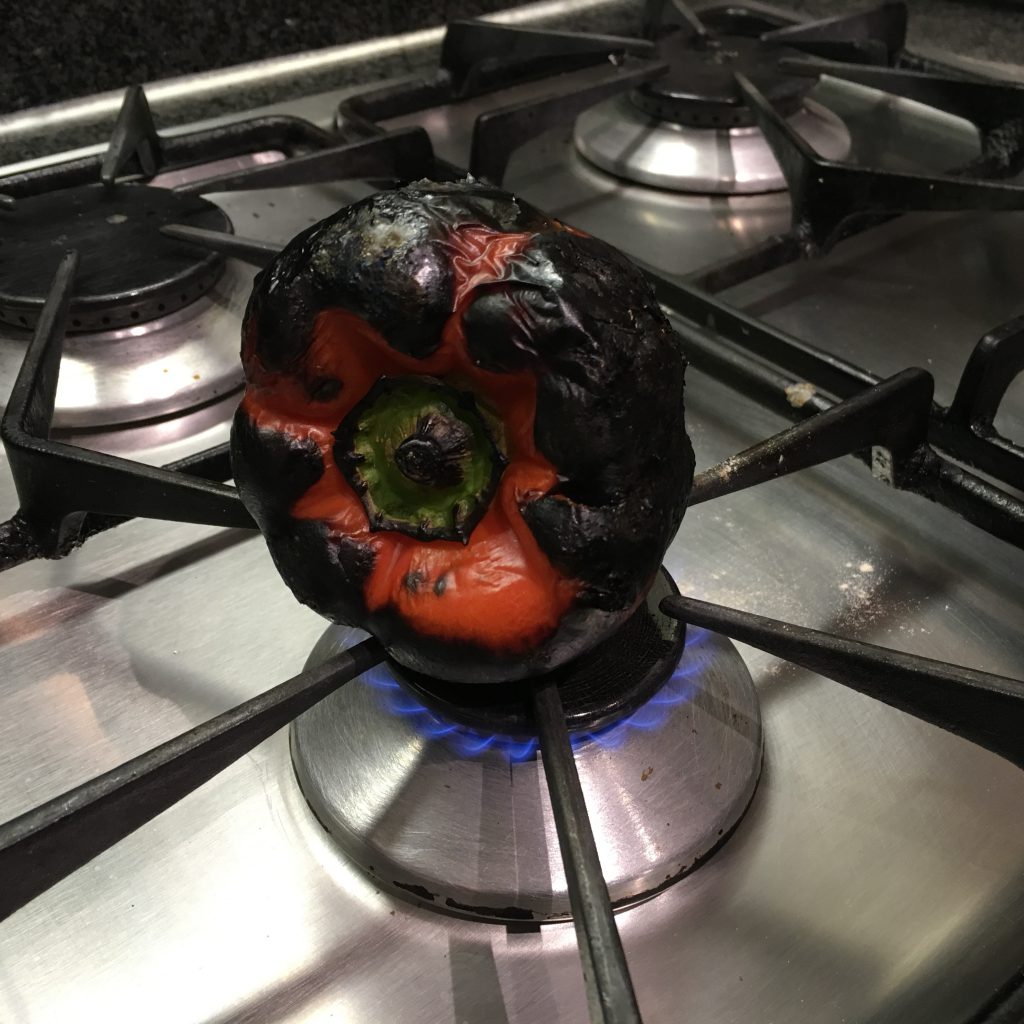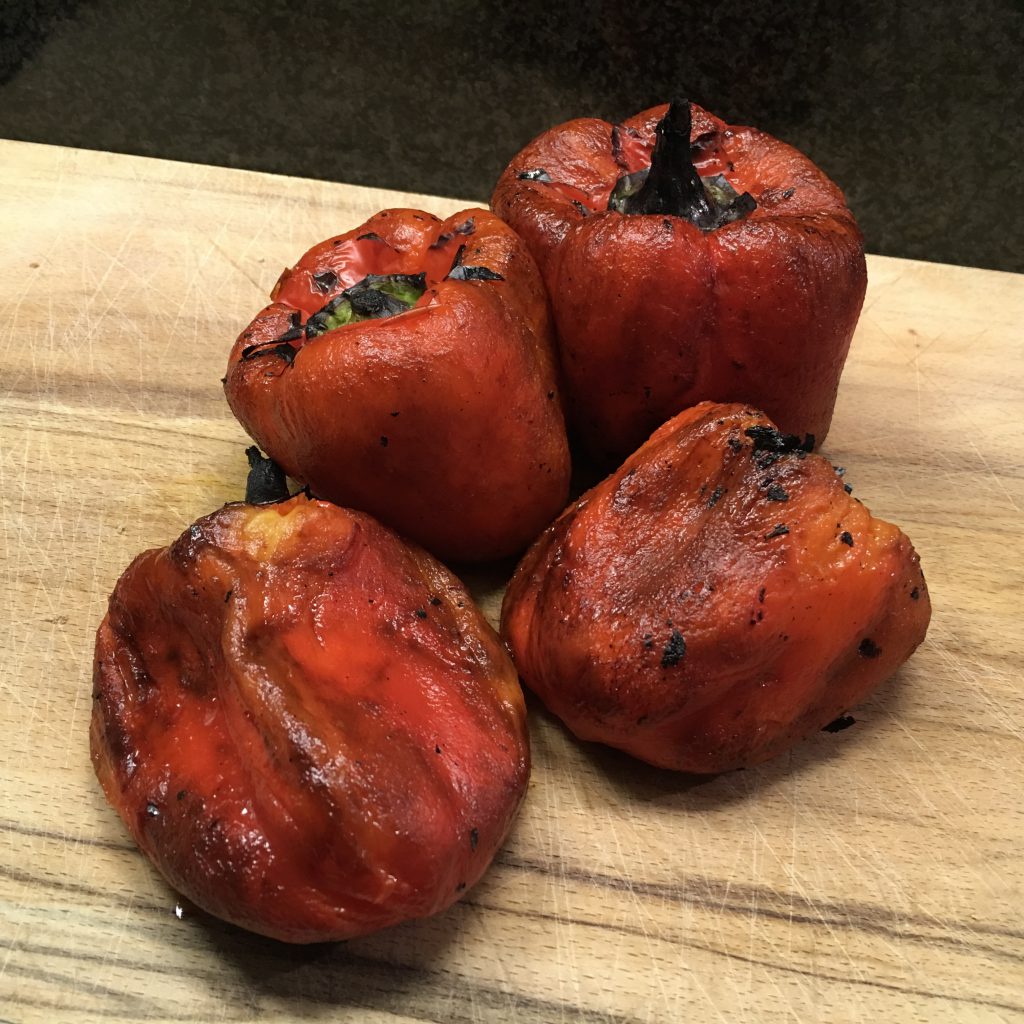 When you are ready to make the muhammara, tear the bread into large chunks and place in the Thermomix bowl along with the garlic. Chop 2 seconds/ speed 6.
Add the walnuts. Chop 3 seconds/ REVERSE speed 5.
Add the red peppers, olive oil, lemon juice, pomegranate molasses, cumin, chilli flakes and salt. Chop 2 seconds/ REVERSE speed 5.
With the aid of a spatula, scrape the muhammara into a bowl.
Drizzle with a bit more olive oil and garnish with the chopped coriander or parsley.
This dip tastes great on toasted flat bread but I didn't have any. I have been experimenting with making an In-House Loaf (that is to say, the bread I would make as a standard everyday bread) and so Mr Gochugaru and I ate the muhammara with this instead.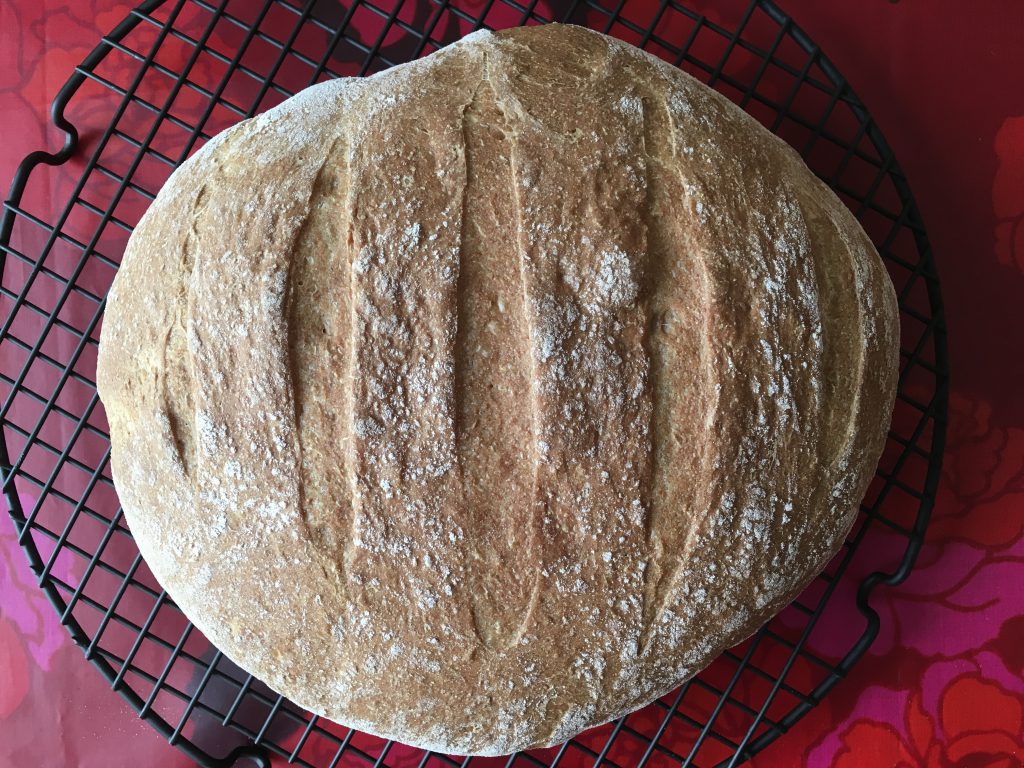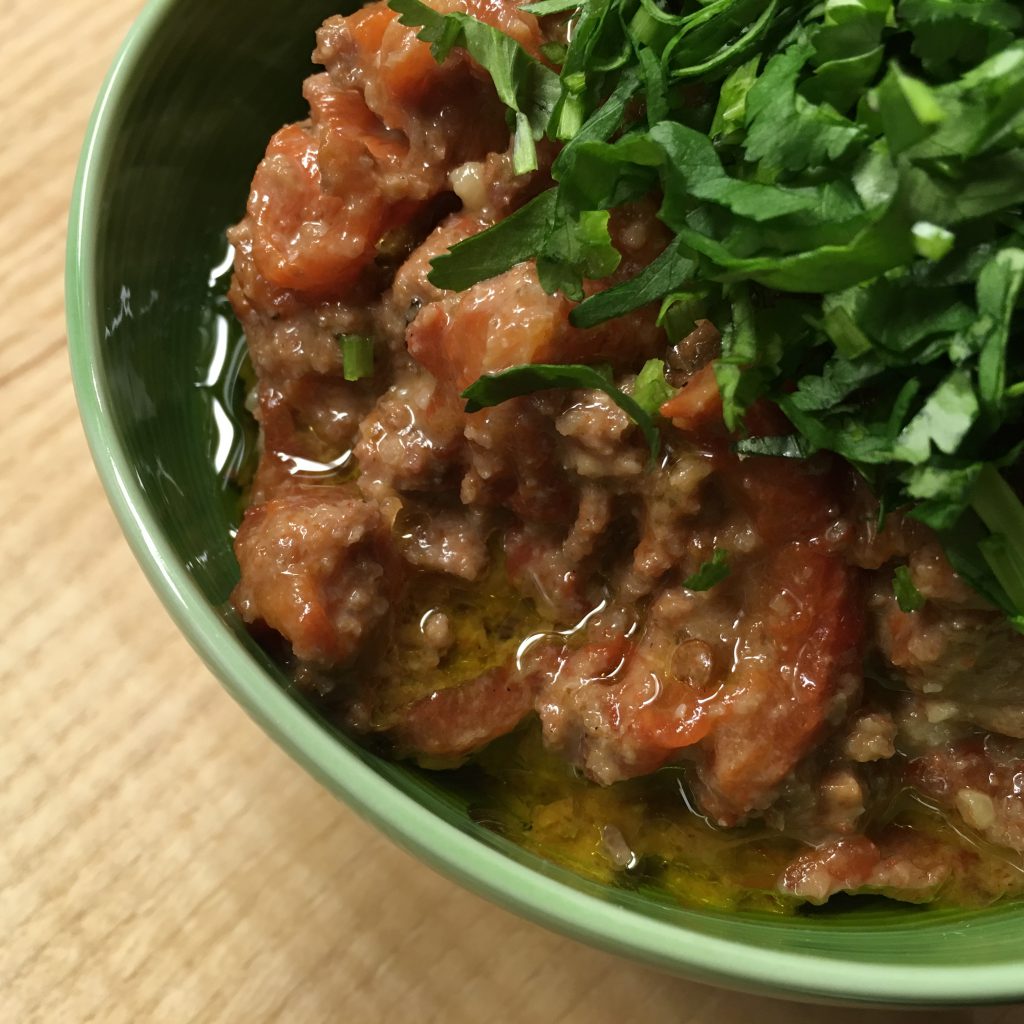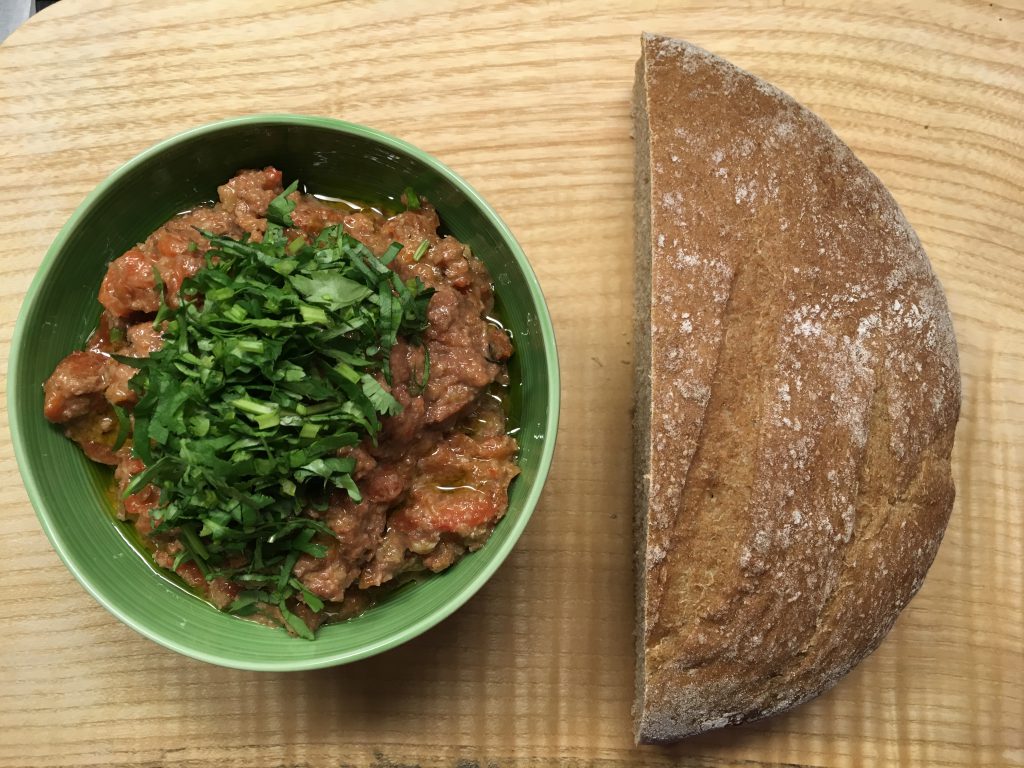 We agreed that this smoky, silky and garlicky dip would taste good on anything, maybe even the hard and dry rolls you get with airline meals. We are travelling as a family to Kuala Lumpur this half term and I almost thought of packing some, except it would really not get through customs.
What will get through customs is a book and I have packed Twofold Song 두겹의 노래 by Yi Mun-yol 이문열. The Korean text is placed alongside the English translation so it will be quite fun to read one and then the other.
* Google Translate advises that to write muhammara phonetically in Chinese it would be 穆罕默德. To write red pepper and walnut it would be 紅辣椒和核桃. In Korean, it will be written as 고추와 호두. To put it simply in culinary terms, writing words the Chinese way is like making muhammara by hand and possibly without any equipment, whereas writing words the Korean way would be like making it in a Thermomix.
Twofold Song by Yi Mun-yol is published by Hollym, ISBN 1-56591-204-7.