Diary: Wednesday 30 March in JEJU ISLAND
Mr Gochugaru grew up by the sea in Devon so it stands to reason that he gets very excited at the thought of coastal walks.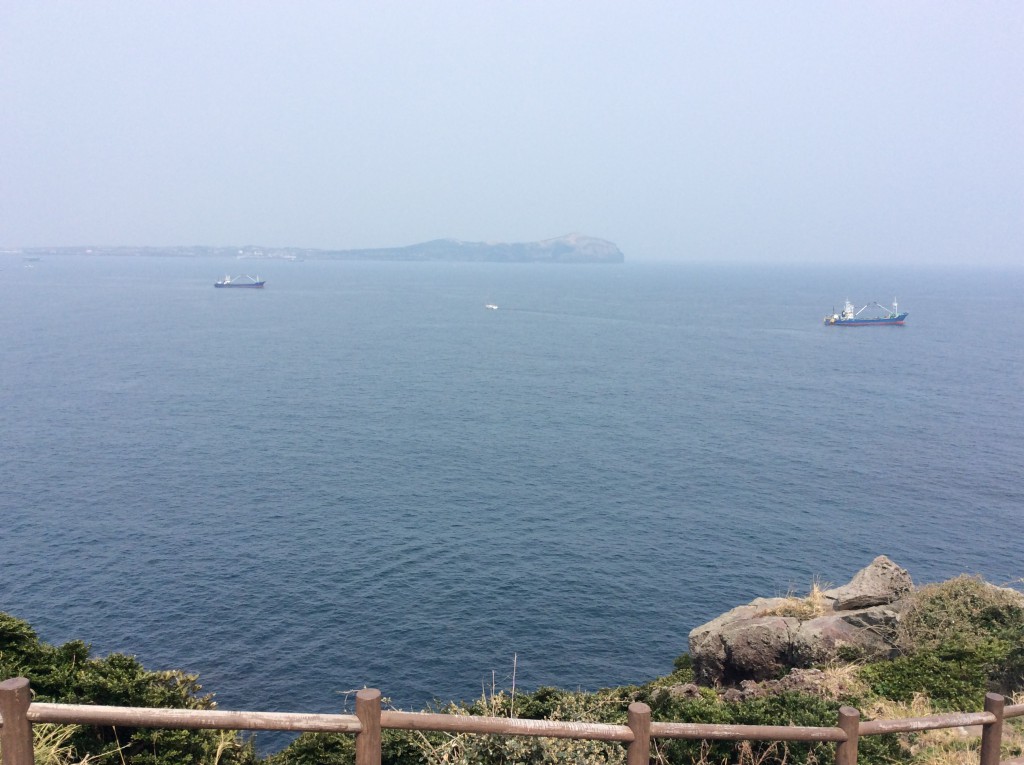 Where better to find this than on an island?
I really have lost my voice. There is a cough but nothing to be proud of, not the kind of deep chesty cough that others fear might be instantly infectious. This cough sounds more like an engine trying to start on a cold and wet day but not succeeding, half a whine and half a splutter.
Whining is something I am determined not to do, because here we are a few thousand miles from home, it is a warm day and Mr Gochugaru really wants his 'Branscombe' walk. He's driven for over one and a half hours from Seogwipo with no one to talk to except the GPS.
Here's the description of Seopjikoji (섭지코지) on the northeastern coast: This…is an especially pleasant piece of coastline with rocky ocean cliffs and open meadows of grass and rapeseed flowers – interrupted by not a single tree.
Here's the reality: its not the interruption by trees you have to worry about but the interruption by coach loads of Chinese tourists.
Mr Gochugaru needs to voice his disappointment and half way up the hill he says
You know, I have been waiting a long time for the right moment to say Kim Joo Won's line from Secret Garden. 최선이야? 확실해? Is this the best you can do? Are you certain?
We have a little laugh and take a few photos with the tourists edited out. The yellow fields surrounding Seopjikoji is famous as a K-Drama scene from Boys Over Flowers so you need to imagine tourists traipsing around all posing for the camera.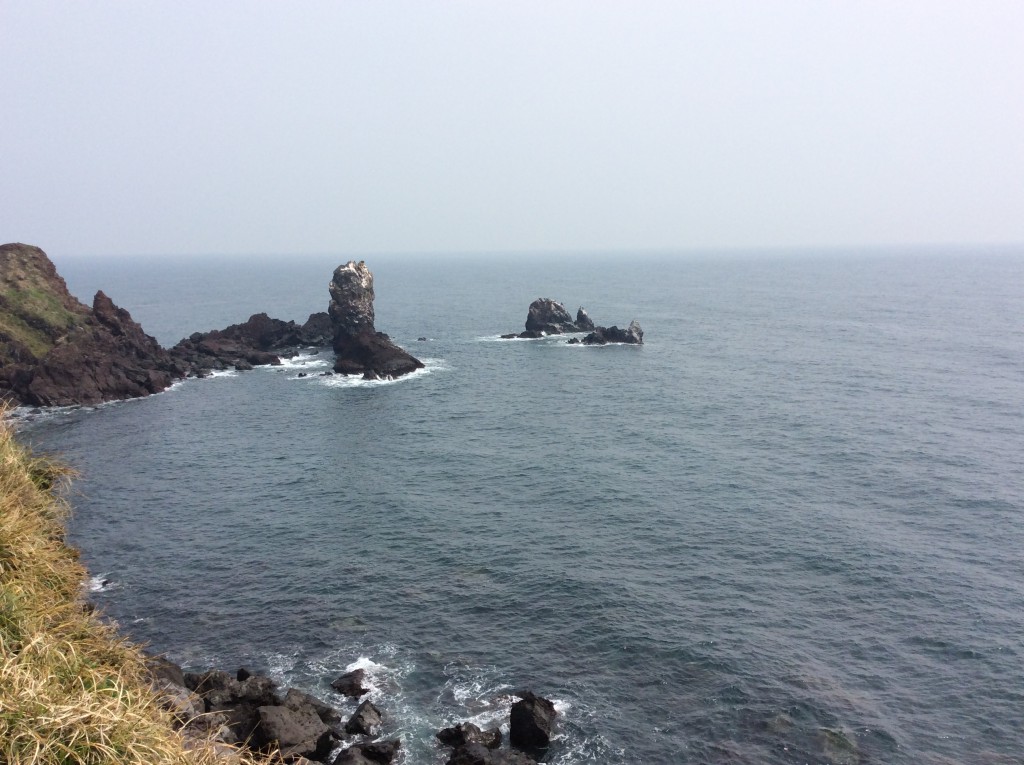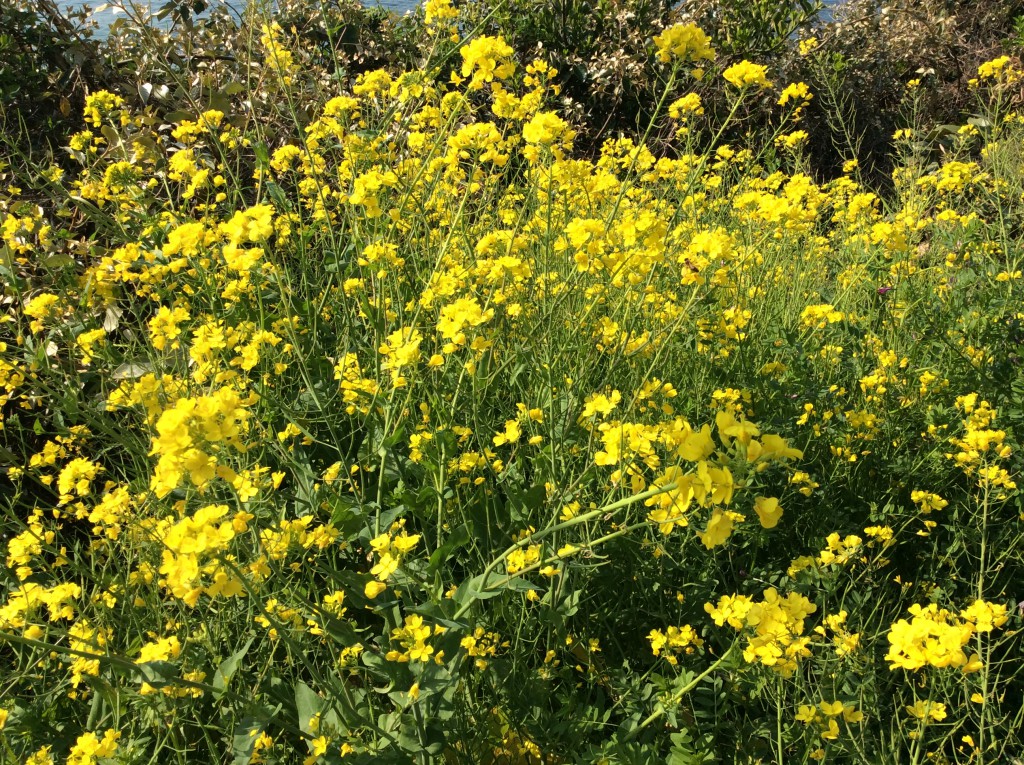 Our next walk is up Seongsan Ilchulbong (성산일출봉) which is a UNESCO world heritage site. The technical description of it is an archetypal tuff cone i.e. a steep volcanic cone with a wide flat crater, formed when an underwater eruption releases magma into the sea water.
Once again we are faced with the reality of coach loads of tourists and high school children having a fun day out. I did think we should try to reach the peak but was discouraged by Mr Gochugaru when he saw that I already looked tired even before the quarter way mark…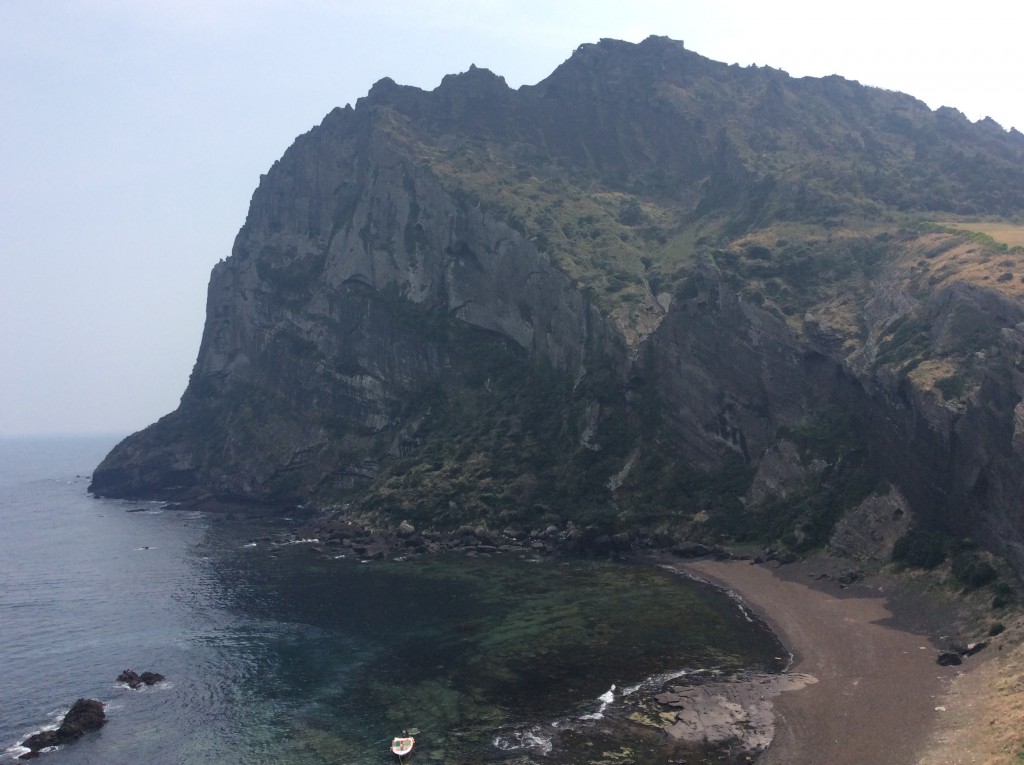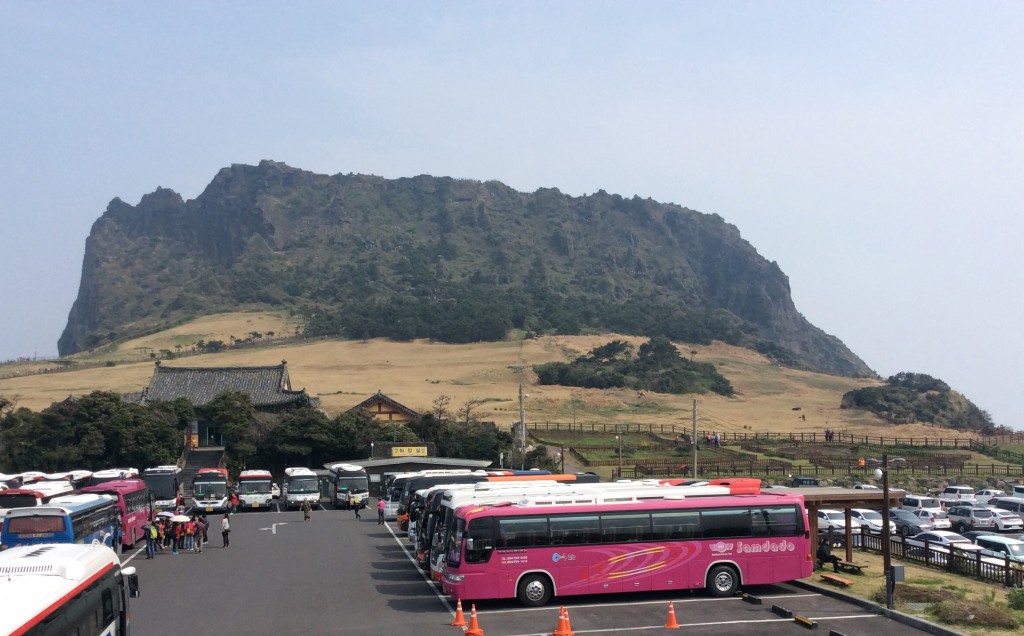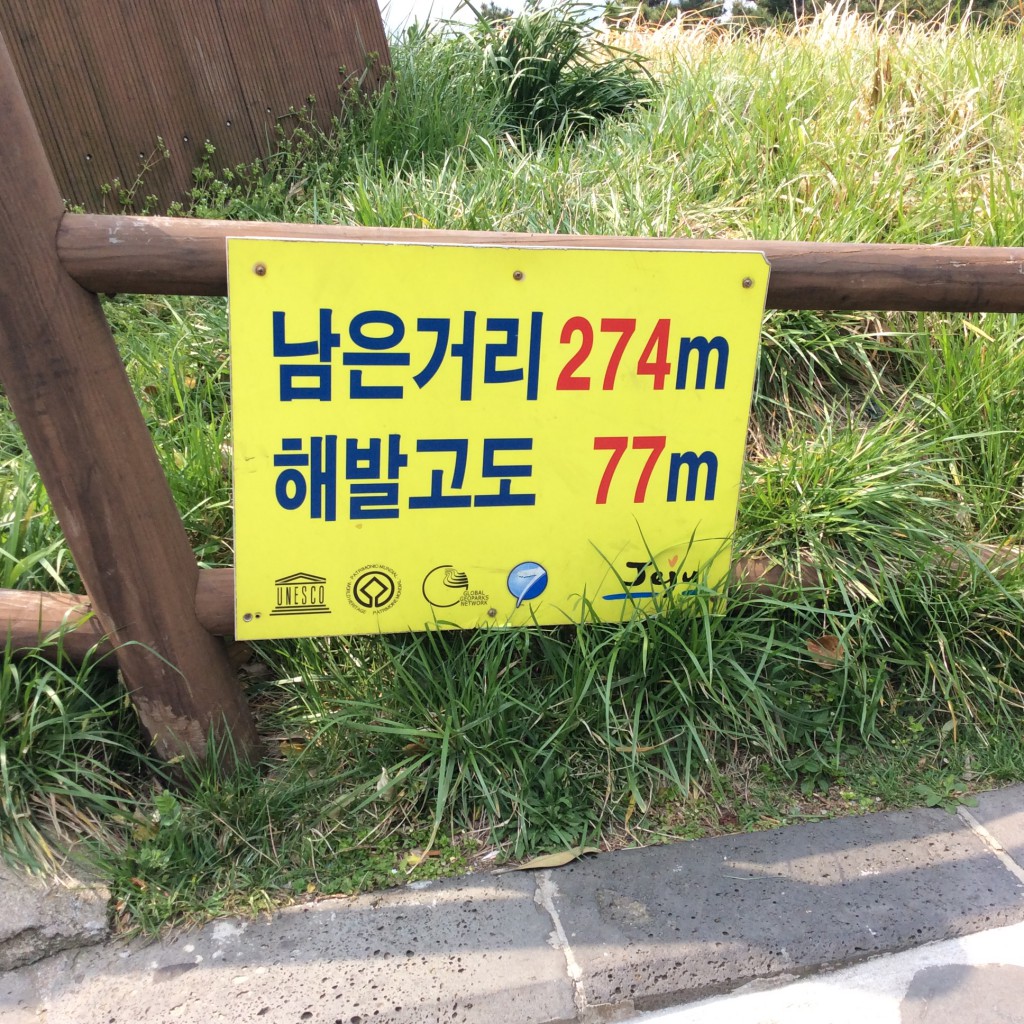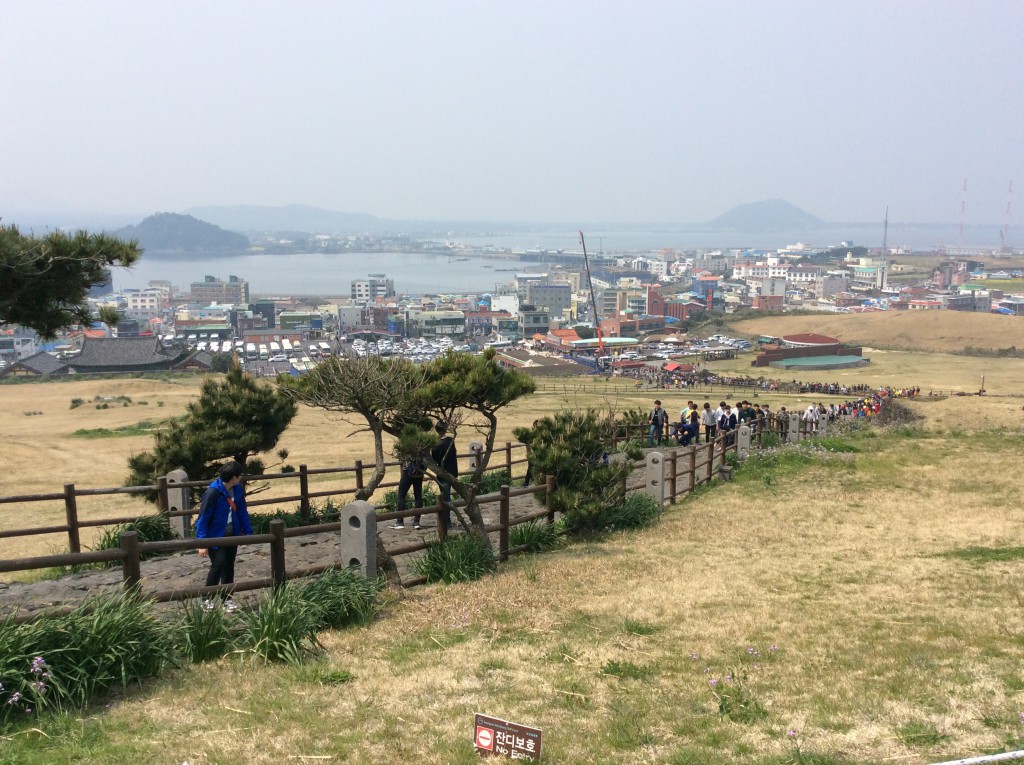 Back at the water's edge the clear seawater looks very inviting but not for a swim. I am thinking of bottling some to gargle with later. Surely this saline will clear the pain in my throat.
Lunch is a sandwich in Paris Baguette which is a fortunate thing. To be honest most restaurants here will serve up good food with side dishes and free water, service charge included. But I just didn't have the energy to negotiate whether cutlass fish stew or grilled horsetail hair fish is the better option for lunch. I need to make sure I can get through the day as we still have the lava tubes and nutmeg forest to visit.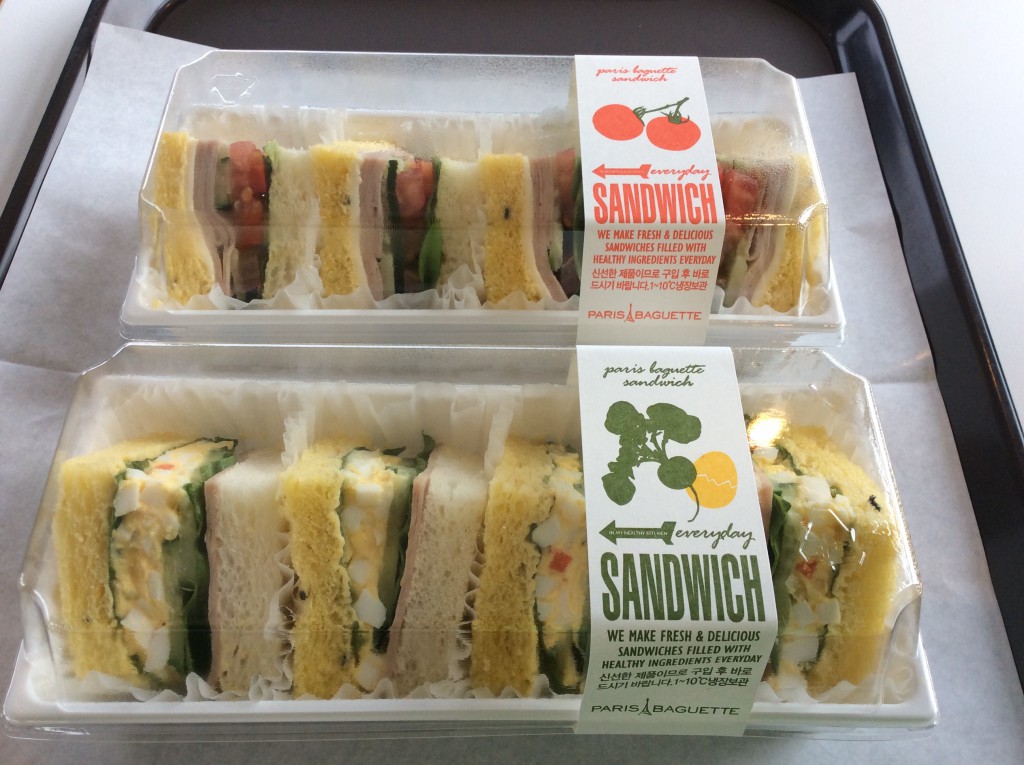 According to UNESCO, the Geomunoreum lava tube system (거문오름용암동굴) in Jeju is one of the finest and best preserved system of lava tubes in the world. The technical description can be simplified to say that a volcanic eruption 200,000 to 300,000 years ago caused lava to flow from the earth's centre to the earth's surface, forming channels. As it cooled, the surface of the lava turned into an insulating crust of rock but underneath this crust, lava continued to flow. Eventually the channels drained out leaving tubes which are a unique natural phenomenon.
There are five caves in the system but only one, Manjanggul Cave (만장굴) is open to the public. The cave is in fact huge and you can walk without hunching and the walls, ceilings and other internal rock formations are really very interesting.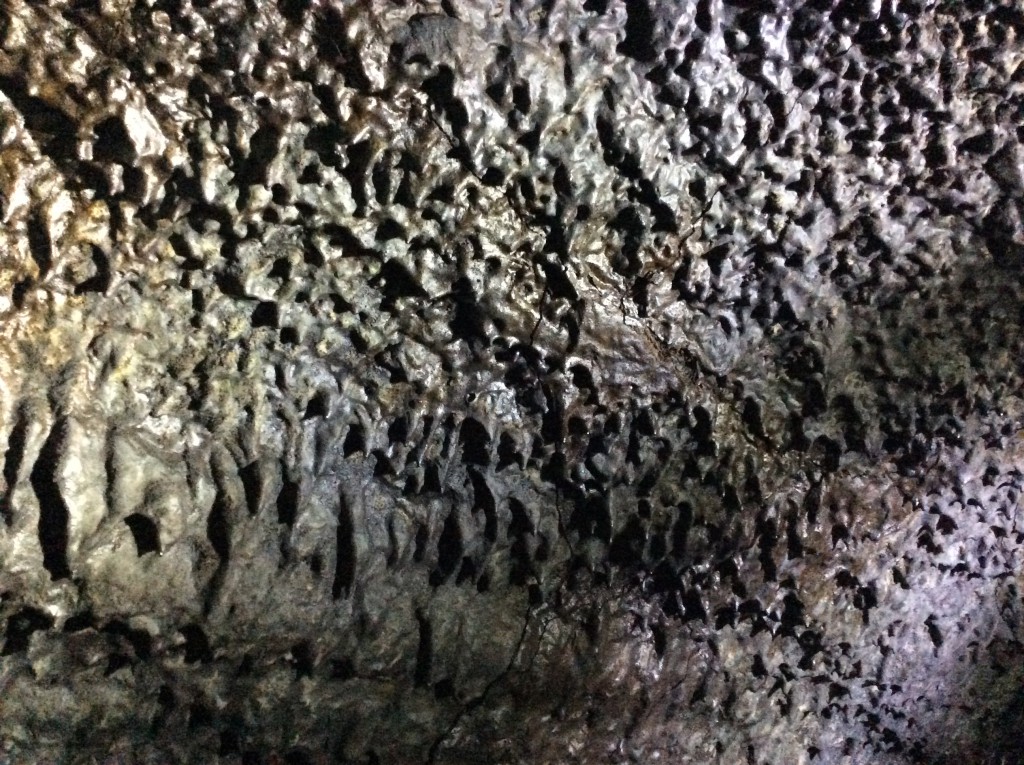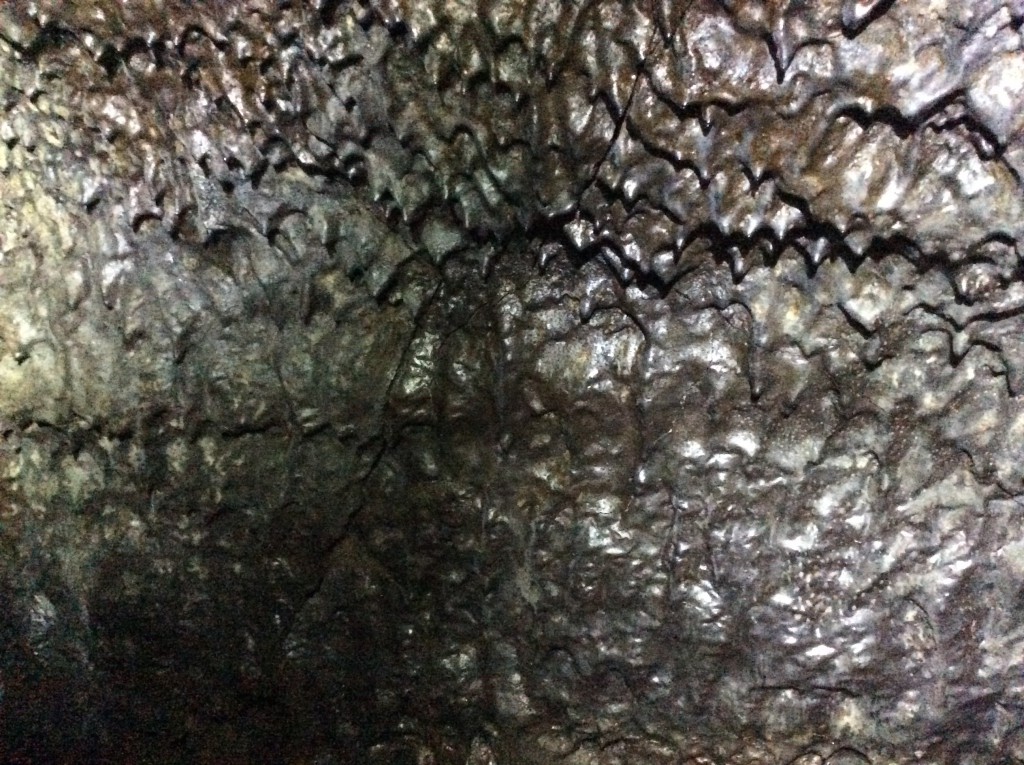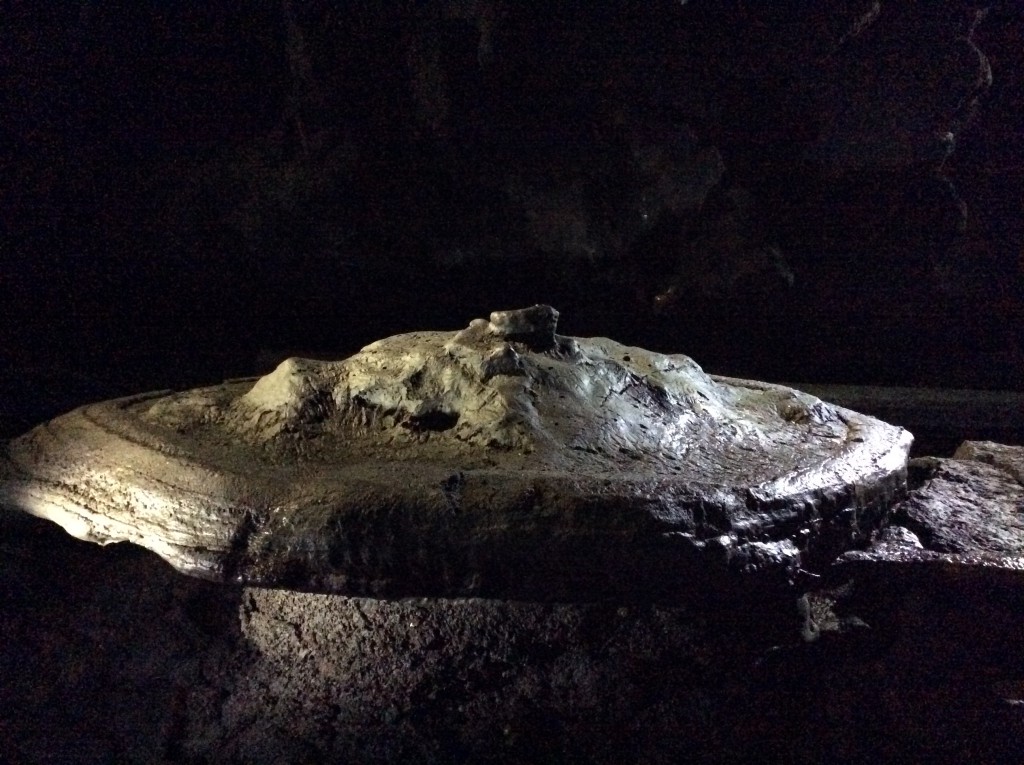 One final item on the list is the bijarim forest (비자림) which is the largest nutmeg tree forest in the world, and Natural Monument Number 374. There are around 2,800 nutmeg trees here, most of them tagged, aged between 500 and 800 years old. The walk features an especially elderly specimen, tag number 001, which is around 830 years old.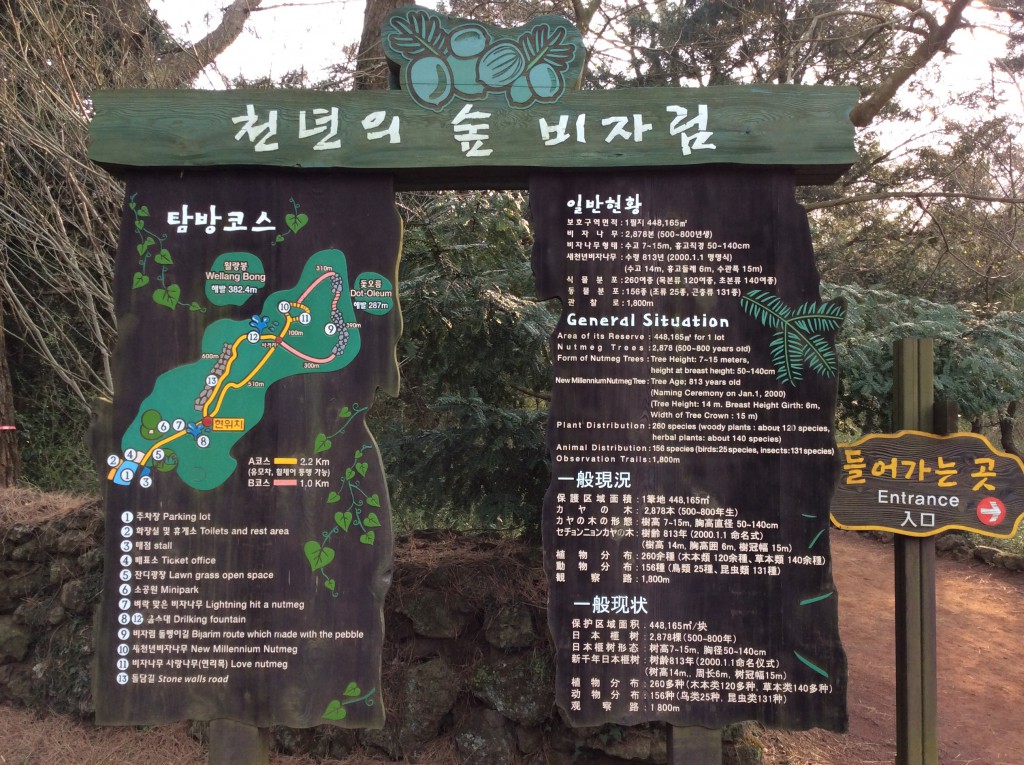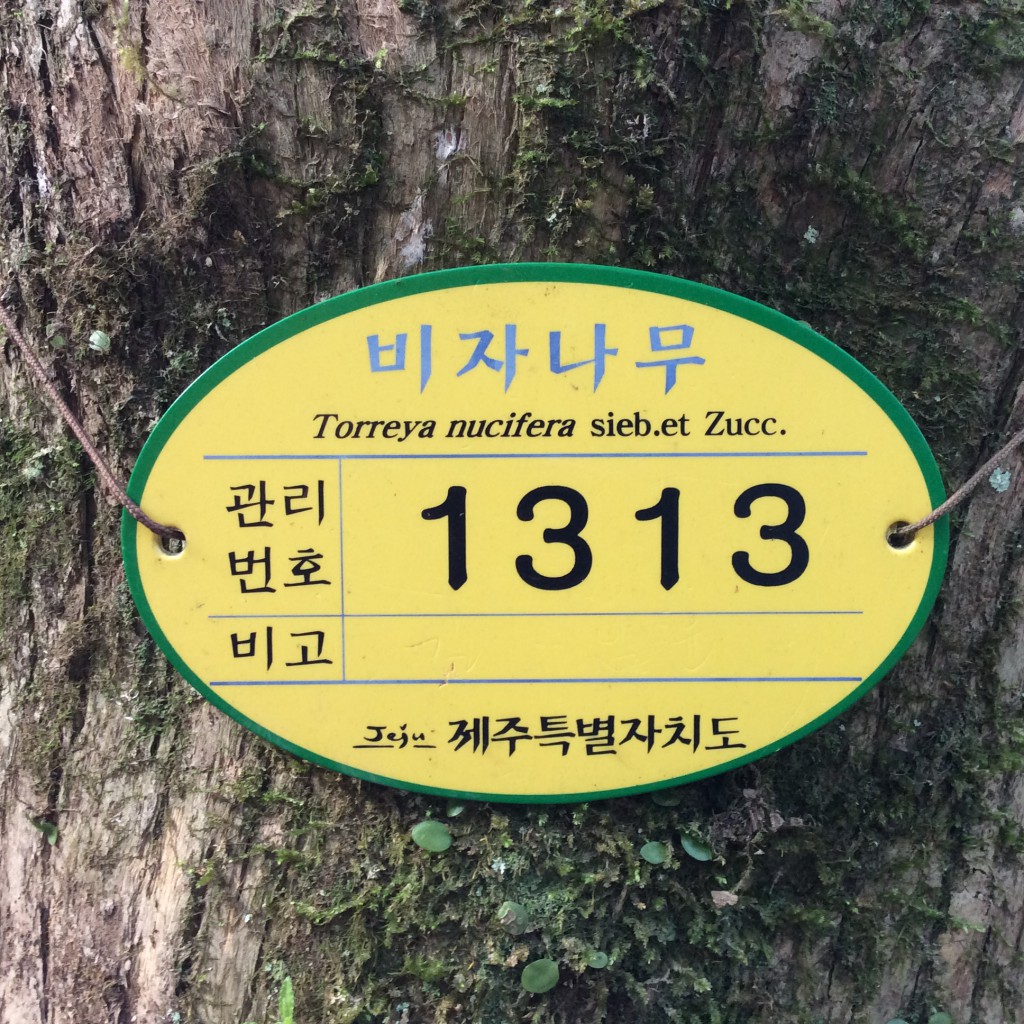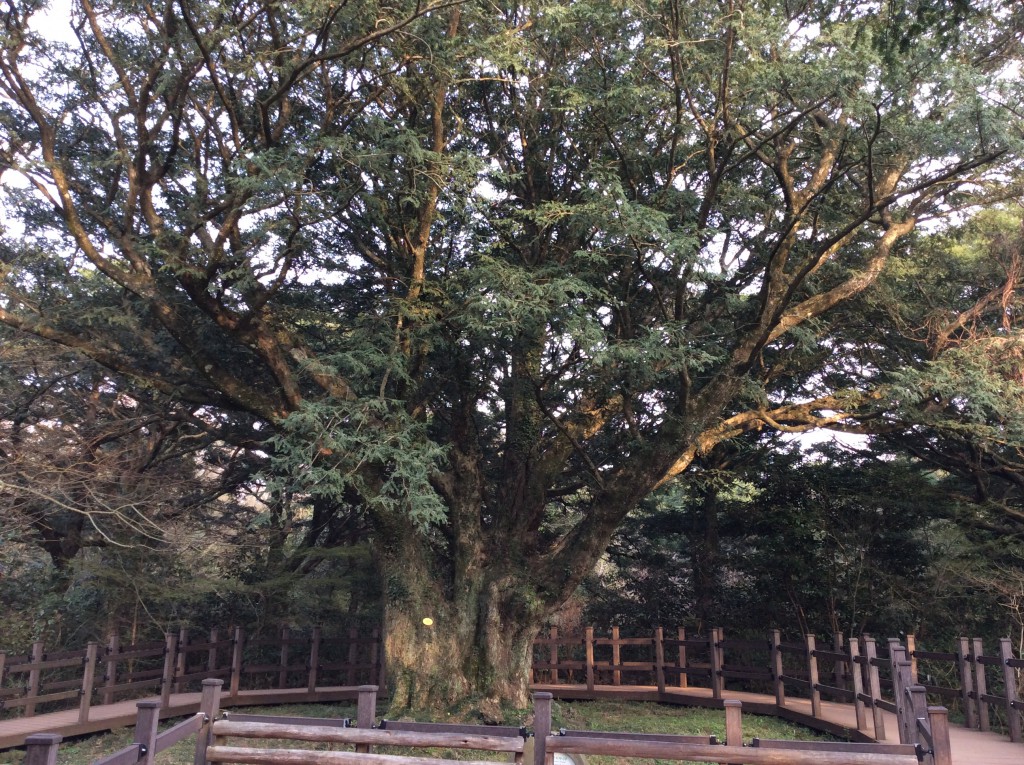 After such a tiring day, dinner was at our hotel. Addresses for all the places featured above will be listed separately at the end of the holiday.
Finally, here are some photos of squid being dried by the sea, just as you would do with wet clothes. Koreans love eating squid in all forms: fresh, dried, pickled, salted, marinated, fried, grilled, boiled…