Gochugaru Girl  had coffee in Marylebone High Street with her friend Isabelle exactly a year ago.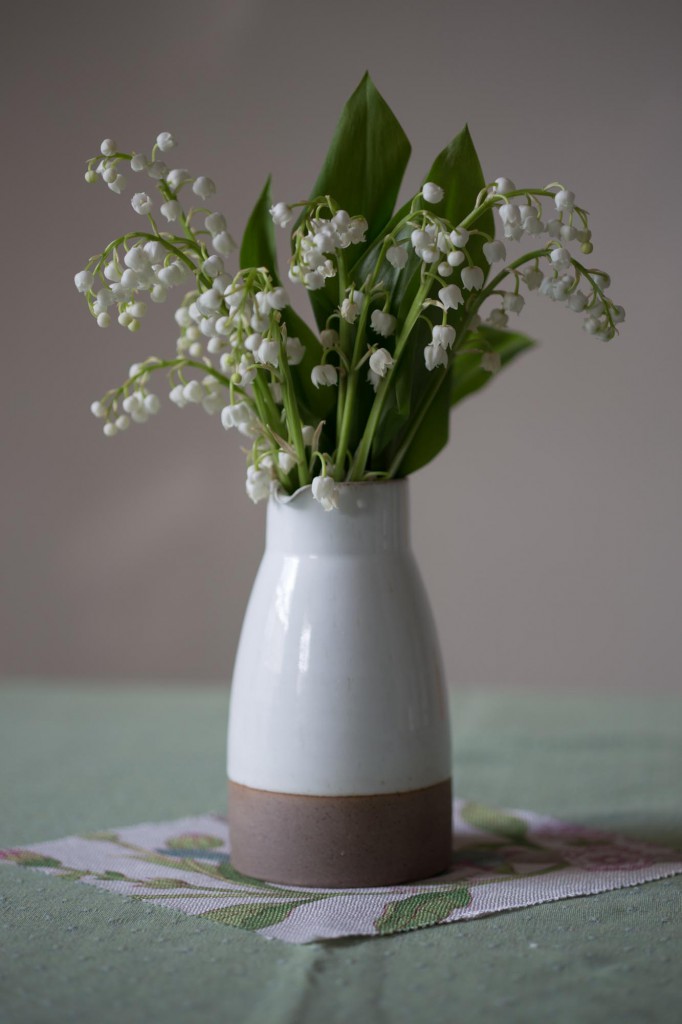 Being the First of May, she gamely brought along un petit bouquet de muguet .
It is a tradition in France to offer a sprig of lily-of-the-valley on this day to loved ones.  Merci, Isa!
The practice began in the days of King Charles IX, King of France from 1560 to 1574. On the First of May 1561, he was presented with a bunch of lily-of-the-valley as a lucky charm and as a token of prosperity for the year ahead. The king decided to start the custom of offering the same to the ladies of the court annually on the same date. Was he a flirt? Hardly, as he was only ten years old at the time.
For this post (when I first thought of starting the Gochugaru Girl blog a year ago) I was originally going to write about a Bee Gees' song I used to listen to when I was growing up.  Looking now at the First of May with fresh – and older – eyes, I don't appreciate the placing of Christmas trees and apple trees together in one song. I was then going to write about the film La Reine Margot and the massacre which occurred during King Charles' reign, but that really is a grim story.
A year on, I think it's best if I list my favourite shops in and around Marylebone High Street. There are many other bespoke shops but these are the ones where you will find me. The whole street is becoming very French…and it's about time that Isabelle and I meet up again pour une tasse de café.
Eat and Drink – a comprehensive list is here but the following are the ones I recommend:108 Marylebone Lane, Aubaine, Bistrot de Luxe, Carluccio's, Comptoir Libanais, Fischer's, Fishworks, L'Autre Pied, La Patisserie des Reves, Le Pain Quotidien, Le Relais de Venise, Nordic Bakery, Paul, Pret a Manger, The Monocle Cafe London, The Orrery, The Orrery Epicerie and The Union Café.
Food Shopping – a short list is here and the following serve us well throughout the year:
Kusmi Tea, La Fromagerie, Marylebone Farmers' Market, Nicolas, Paul Rothe and Son (for Wilkins' Hot Gooseberry Chutney), Rococo, The Ginger Pig and Waitrose. I am sure Mr Gochugaru would like to check out Cadenhead's Whisky Shop.
For the Home – we are spoilt for choice and my favourites are:
Designers Guild, Divertimenti, Emma Bridgewater, Farrow & Ball, Le Creuset, Skandium and The Conran Shop.
Health and Beauty – for utility and luxury these are reliable:
Aesop, Diptyque (candles), John Bell & Croyden, L'Occitane (St Christopher's Place), Neal's Yard Remedies and Space NK Apothecary (but not strictly an apothecary in the traditional sense of the word).
Fashion – this makes my head spin and I can only cope with:
Brora (my cashmere socks), Paul Smith (Mr Gochugaru's pyjamas) and VV Rouleaux (ribbons and trimmings). I am fascinated by OSKA only because it is the name of the pop-star-with-a-golden-heart in the Korean Drama Secret Garden (시크릿 가든).
Culture – a cultural bag to feed your mind and uplift your spirit:
Daunt Books, Howarth of London, Oxfam Books and Music, Royal Academy of Music, Steinway & Sons, The Wallace Collection and The Wigmore Hall. Please take note that Asia House, RIBA, Beatles Shop and Sherlock Holmes Museum are taking you away from the heart of Marylebone High Street but they are of great interest to specific enthusiasts.
Most Useful: Ryman the stationary shop also houses a post office, and two cookery schools at Divertimenti and La Cucina Caldesi.
Before I end this post, here are two shops I am looking forward to, one British and one Belgian : Daylesford Organics and Pierre Marcolini which is due to open its doors today.