This is the recipe for the meat topping to accompany the Dan Dan Noodles featured earlier.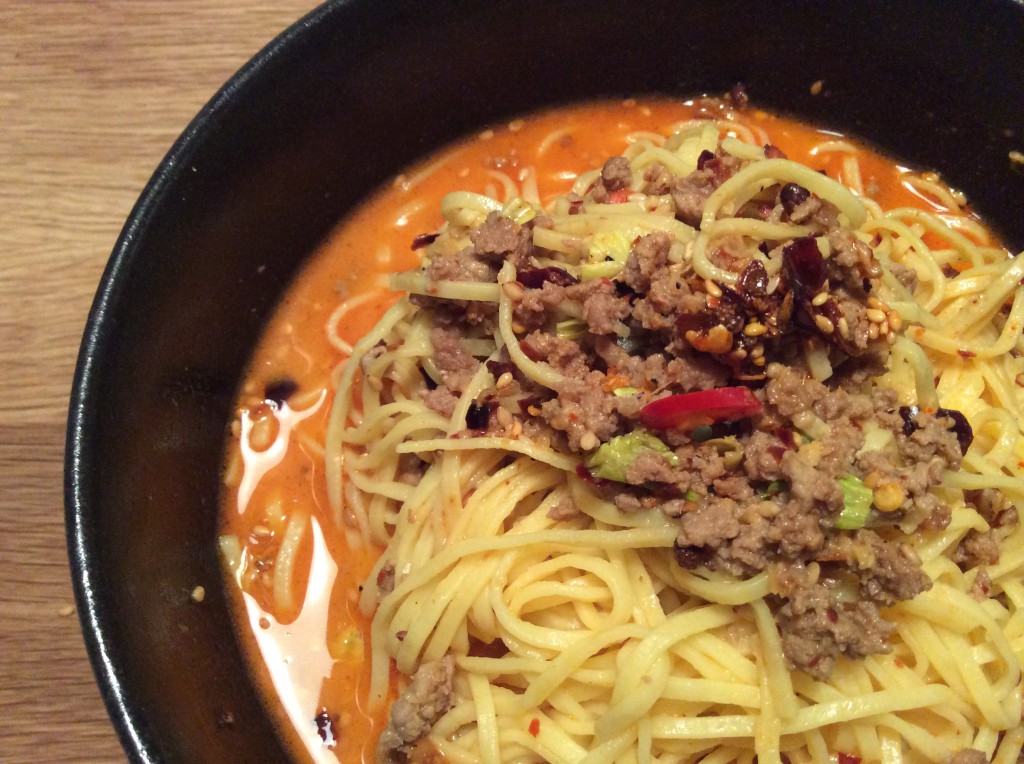 After a dinner of these fiery noodles you should be able to face anything. Not so, as Junior 2 found out last night.
Junior 2 was on her way out of the house to meet some friends when she promptly turned back and said she was scared…..of a fox who was staring at her.
I said the fox was not interested in her and she joked that:
maybe he smelt the dan dan noodles and wants some.
In any case I had to accompany her out for a bit until Mr Fox ran away…..
The amount here is enough for 8 portions of noodles (or 16 starter-sized portions). I froze what was not eaten for the next time we make dan dan noodles. Junior 2 is already thinking of vegetable additions to it: Yan-kit So suggests baak choi and I think fried cubes of tofu would be good too.
Shao Hsing wine is Chinese rice wine. A dry sherry is always recommended as a good substitute.
For the Meat Topping:
500 g minced pork or beef
1 tablespoon light soya sauce
1 tablespoon sesame oil
1 tablespoon Shao Hsing wine
½ tablespoon dark soya sauce
¼ teaspoon ground white pepper
Pinch of sugar
To Fry:
1 tablespoon sunflower oil
3 cloves of garlic, minced finely
How to Make:
Place all the meat ingredients in a large bowl and mix well together. Leave for 15 minutes.
Heat the sunflower oil in a pan, and throw in the garlic.
Add the marinaded pork or beef, and fry until it is cooked.
Leave aside until whilst you prepare the rest of the dan dan noodles.