This is a continuation of an earlier post about how effective tidying up can lead to the cooking of good food.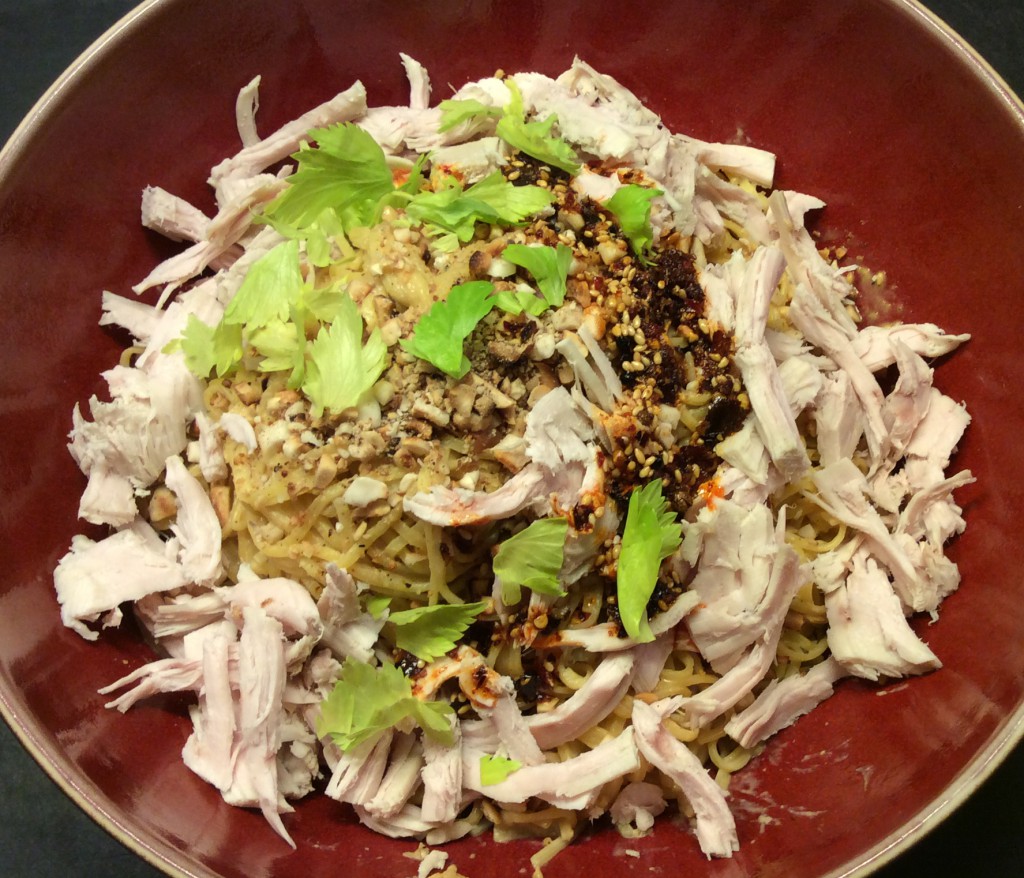 Dan Dan Noodles are surprisingly easy to make, if you have everything to hand.
I am not a great fan of the restaurants in Chinatown (the main area is off Shaftesbury Avenue: Gerard Street, Lisle Street, Newport Place and the lower section of Wardour Street). The long menus frighten me and I also worry about the ingredients. When I am shopping at the Chinese supermarket, I can see all sorts of instant sauces and flavourings that can be added to dishes: this requires little or no effort on the part of the cook. Little talent, little taste.
The last meal I had there, with Junior 2, was dan dan noodles. The memory of that insipid lunch was enough to attempt this dish at home. There is absolutely no way mine can turn out worse, since I do know what it should taste like.
In order to come up with our in-house version of dan dan noodles, I consulted recipes by the following authors, for whom I have great respect: Yan-kit So (Classic Food of China),  Fuschia Dunlop (Sichuan Cookery and Every Grain of Rice),  Jacky Yu (Xi Yan Cuisine 2) and Terry Durack (Noodles). I even had a glance at David Chang's Momofuku cookbook.
So this is strictly our own interpretation of how we want our noodles to be. At my first attempt, Junior 2 exclaimed that the noodles tasted just like the one she had in Hong Kong with her auntie aka HK Sister. That made me very happy.
What made Junior 2 very happy is when I said that I will make it again…the next day. That's how much we liked it.
The following recipe will serve 4 as a main course, or 8 as a starter. We have our in-house chilli oil but you can purchase this easily enough from any Chinese supermarket. I have just made my first online order for Chinese groceries at Wing Yip, which I highly recommend.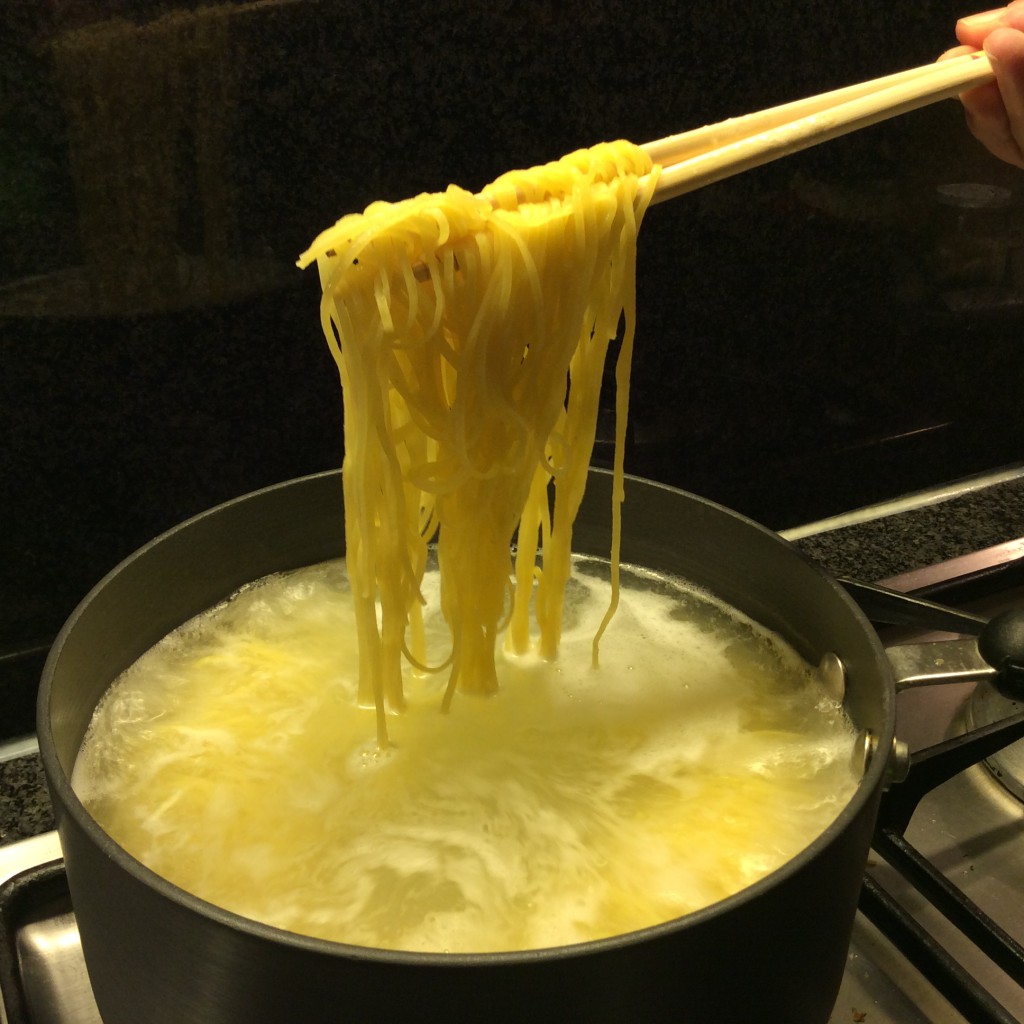 A word about the noodles, Chinese sesame paste and Chinese vinegar: all the recipes called for Chinese wheat noodles or dan dan noodles. Wing Yip hasn't delivered yet, so I used De Cecco's taglierini all'uovo which is a thin, dried pasta made with wheat and eggs. Chinese sesame paste is different to tahini in that it is toasted and so has a darker colour and a nuttier flavour. Yan-kit So specifies that the two are not interchangeable. Chinese vinegar is made from glutinous rice, sugar and salt, is black in colour and has a low acidity. Mr Gochugaru once described this as being similar in taste to balsamic vinegar, and at a push you can use a mixture of half balsamic vinegar and half water as a substitute…since I am indeed using Italian pasta as a substitute for the noodles here.
A few of the recipes include a minced pork or beef topping.  Junior 2 and I agree that the topping is a nice addition but strictly not essential. Dan dan noodles number 1 used up the last of the turkey breast meat from our Christmas Day lunch. Dan dan noodles number 2 has a minced pork topping, the recipe for which is in the next post.
For the Noodles:
250 g dried taglierini or other dried egg pasta
or
300 g dried chinese wheat noodles
600 ml stock (I used chicken stock)
200 g fried minced pork or beef, or cooked shredded chicken
2 spring onions, finely sliced
50 g toasted peanuts, crushed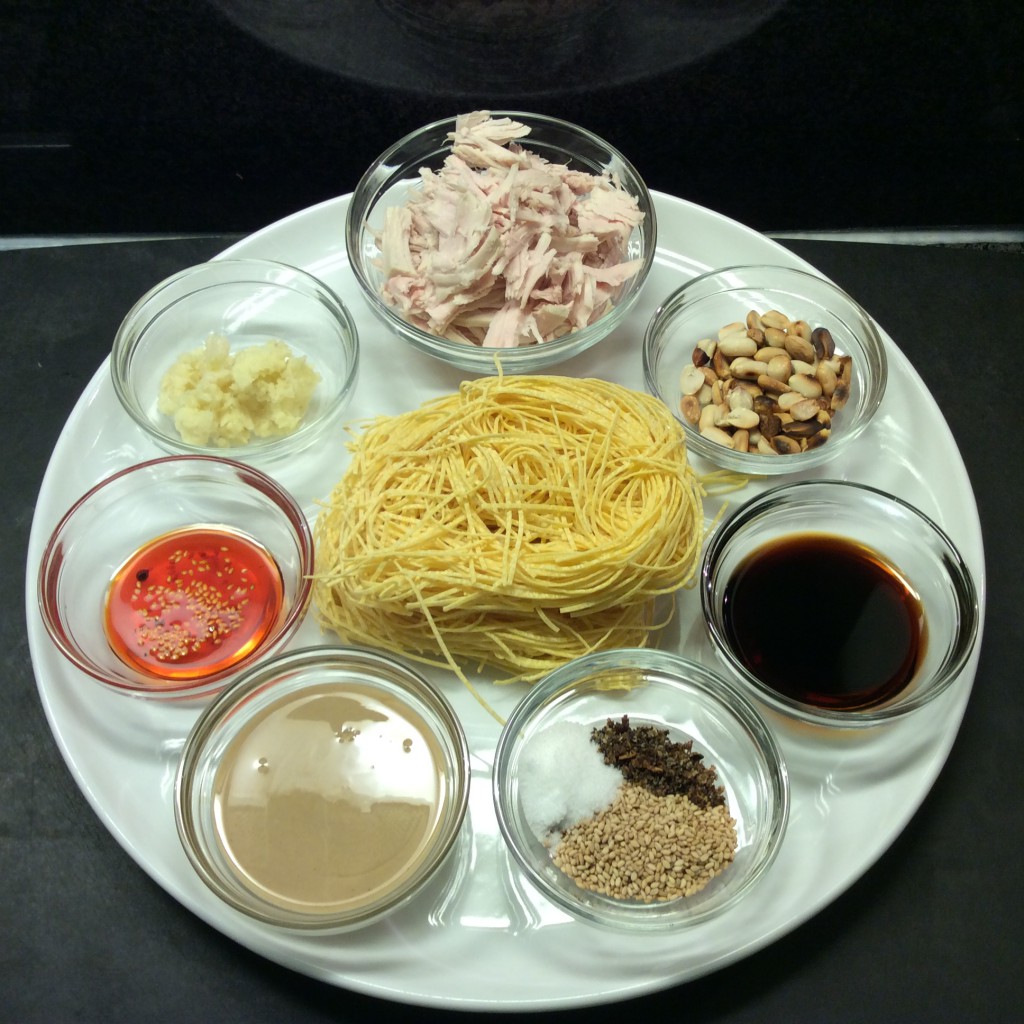 For the Sauce:
2 tablespoons grated ginger
1 teaspoon finely minced garlic
4 tablespoons chilli oil
2 tablespoons chilli bits (from the chilli oil)
3 tablespoons Chinese sesame paste
2 tablespoons toasted sesame seeds
2 tablespoons light soya sauce
1 tablespoons Chinese vinegar
2 teaspoons sugar
1 teaspoon Szechuan peppercorns, crushed
How to Make:
Mix the sauce ingredients together and divide this between 4 large bowls or 8 smaller bowls.
Cook the pasta or noodles according to the instructions given on the packet. When this is ready, divide it between the bowls.
Toss the noodles in the sauce and add the meat topping, along with the spring onions and peanuts.
I like my noodles soupy and Junior likes hers dry, so I added my own stock to my bowl of noodles: 150ml is sufficient.