Gochugaru Girl is feeling slightly bereft now that all 20 episodes of City Hunter are over.
Although CH is not a recent drama (it was aired in 2011, when I had no interest in anything Korean), the themes will resonate with anyone who is willing to think about what motivates us to live.
Is seeking revenge ever a good reason to base your life on? To eat, drink, breath, think and dream revenge: I am sad to say that even within my small circle of family and friends, I know a few for whom this is their raison d'etre.
The other reason to live, explored well in this drama, is justice. How do we right what is wrong, and how do we make sure the perpetrators of human suffering are made to pay for their evil ways? And if we, in our lifetime, cannot obtain this justice, who then will pursue it on our behalf?
Something close to my heart is how we all long for parental acceptance and love. Generally Korean dramas examine this very well: even if the parents act with cruelty, the child initially accepts this in an act of Confucian filial piety. It usually takes the security that comes with the unconditional love and strength of another person to overcome this. What makes a person want to live in this case is the hope that there is a future that is different from the past.
Many times the protagonists are orphans and what motivates them to live is just pure survival and the dream of not letting one's deceased parents down. It is a matter of honour to keep going, to work hard and to make the best of one's circumstances.
Being an orphan is not always a positive thing, as some people sink rather than swim. This is chronicled simply and poignantly in Gong Ji-young's brilliant novel Our Happy Time.
Although revenge is the main theme in CH, ultimately we realise that the only thing that can help us retain and not lose our humanness is our willingness to forgive.
That is one aspect. What then of the wrongs we ourselves have committed, if no one is willing to forgive us? Seek a higher forgiveness? Who but our creator God can do this? Or would we seek to forgive ourselves, effectively being our own god?
Mr Gochugaru and I are away this weekend, and the drive to Somerset will afford us time to mull over  these questions.
But first, a simple lunch before we head out of London.
The salmon and salad have complementary flavours: the salmon is slightly sweet from the maple syrup and the salad is slightly sharp from the lemon juice. Both have a backbone of chilli-heat from the gochujang.
The recipe feeds two people, and can be scaled up easily.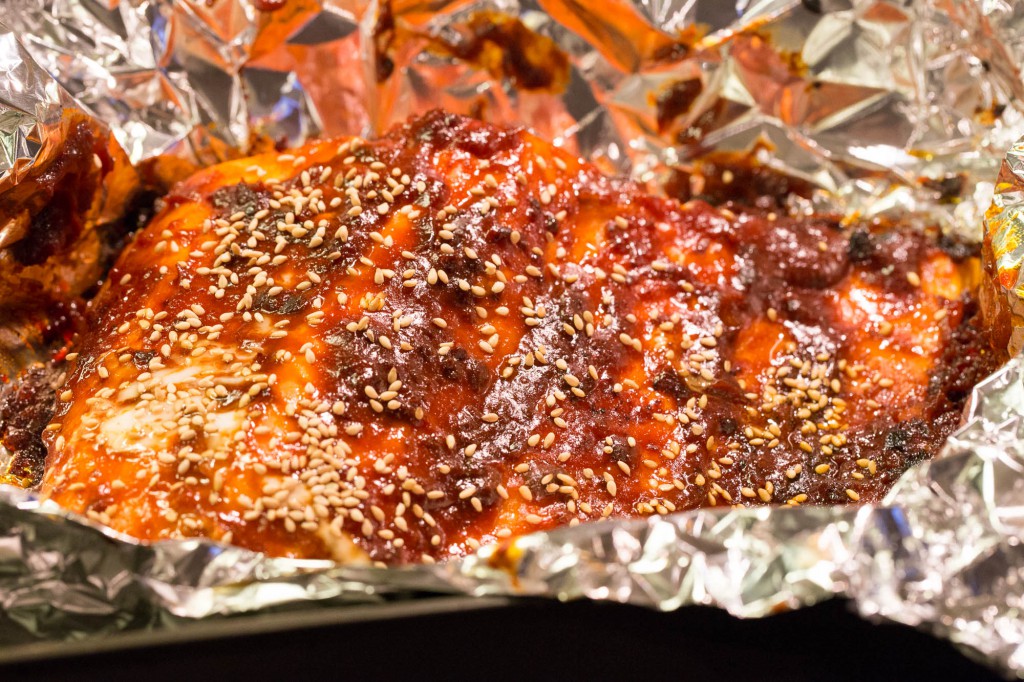 For the Salmon:
400 g fillet of salmon, skinned
1 tablespoons doenjang (Korean bean paste)
1 tablespoons gochujang (Korean red pepper paste)
1 tablespoon maple syrup
1 tsp toasted sesame oil
Toasted white sesame seeds
How to Make:
Preheat the oven to 180°C/ 350ºF/ Gas 4.
Place the the doenjang, gochujang, maple syrup and sesame oil in a bowl and mix into a paste.
Rub this paste all over the salmon.
Line a small baking tray with foil.
Place the salmon on the foil and bake in the oven for 20 minutes.
Prepare the salad whilst waiting for the salmon to be ready.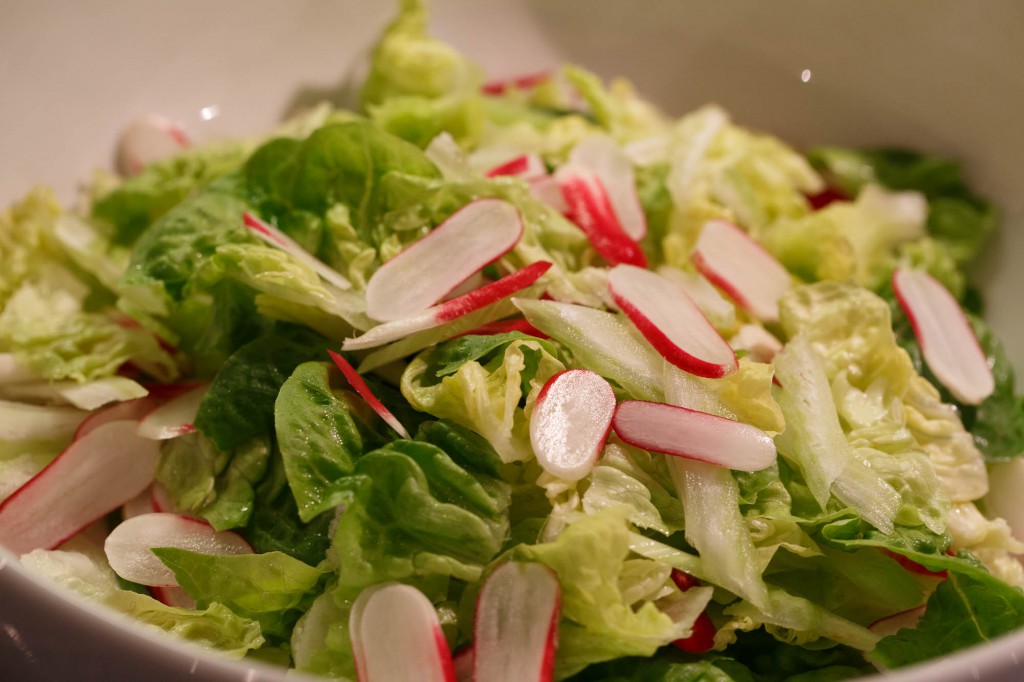 For the Salad:
Any combination of salad leaves, herbs and raw vegetables
Toasted black sesame seeds
Salad Dressing:
3 tablespoons mayonnaise
1 tablespoon sesame oil
1 tablespoon soya sauce
1 tablespoon lemon juice
1 tablespoon gochujang
How to Make:
Place the salad ingredients in a bowl.
To make the dressing, place the mayonnaise, sesame oil, soya sauce, lemon juice and gochujang in a bowl and stir until smooth.
(This will be too much dressing for a salad  for two people, so keep the rest in the fridge).
Drizzle the dressing over the salad and sprinkle over the sesame seeds before serving.