Gochugaru Girl used to loath instant noodles.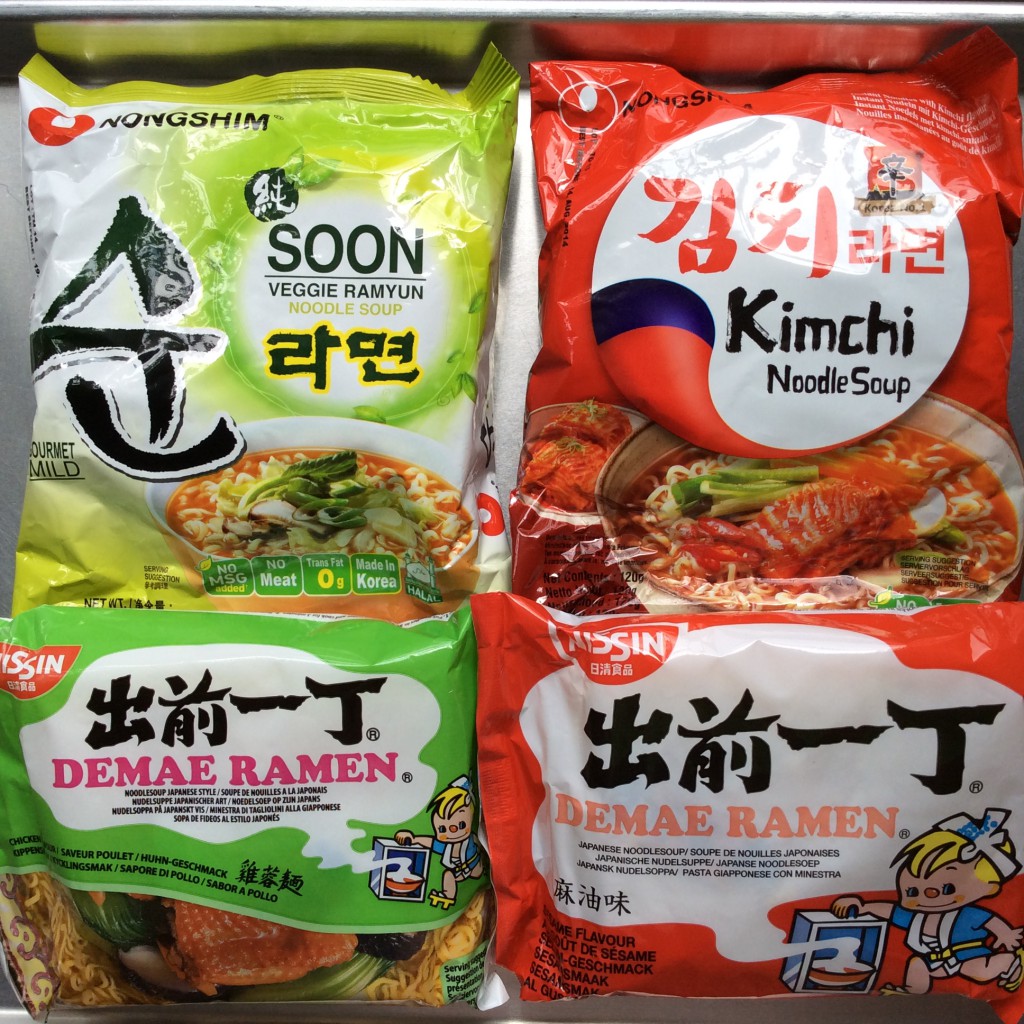 The reason was because it brought back memories of incompetent cooking during her childhood.
My father recently said to me, 'How did you learn to cook so well?'
I wasn't sure whether to be pleased or to be sad – on the one hand it was a compliment but on the other hand it showed how little he knows of his children as they were growing up.
The reason I cook so well is because our live-in maid was such a terrible cook. With both parents out at work all day, someone had to take charge of the kitchen if we (or actually, I) were going to eat well after we returned home from school. Otherwise the only option was Maggi instant noodles.
To be fair, our maid could clean very well, so my cleaning leaves a lot to be desired (although personally speaking, I am a very neat and tidy person – I just don't like cleaning bathrooms or ironing). It's a good thing then that my father overlooks this aspect of my life.
When our own children were growing up I said I would never give them instant noodles. Junior One and Junior Two lived under this cloud of idealism. They are now at university, Junior Three is in his teens and my life is considerably busier. I have had to re-think my strategy for survival because the truth is, I don't like cooking for small numbers.
On days when there are only two of us for lunch, Junior Three and I resort to what I now refer to as Instant In-house Ramen. That is to say, it's instant because it's quick to make and it's in-house as it's customised to our own liking.
In order make this fun and fast, it's necessary to rely on the freezer and the larder. The ingredients are easily bought at an oriental supermarket (I go to Wing Yip or to See Woo , and I would say that some of the larger English supermarkets will stock them as well.
From L- R: frozen dumplings, noodles, oyster sauce, soya sauce and sesame oil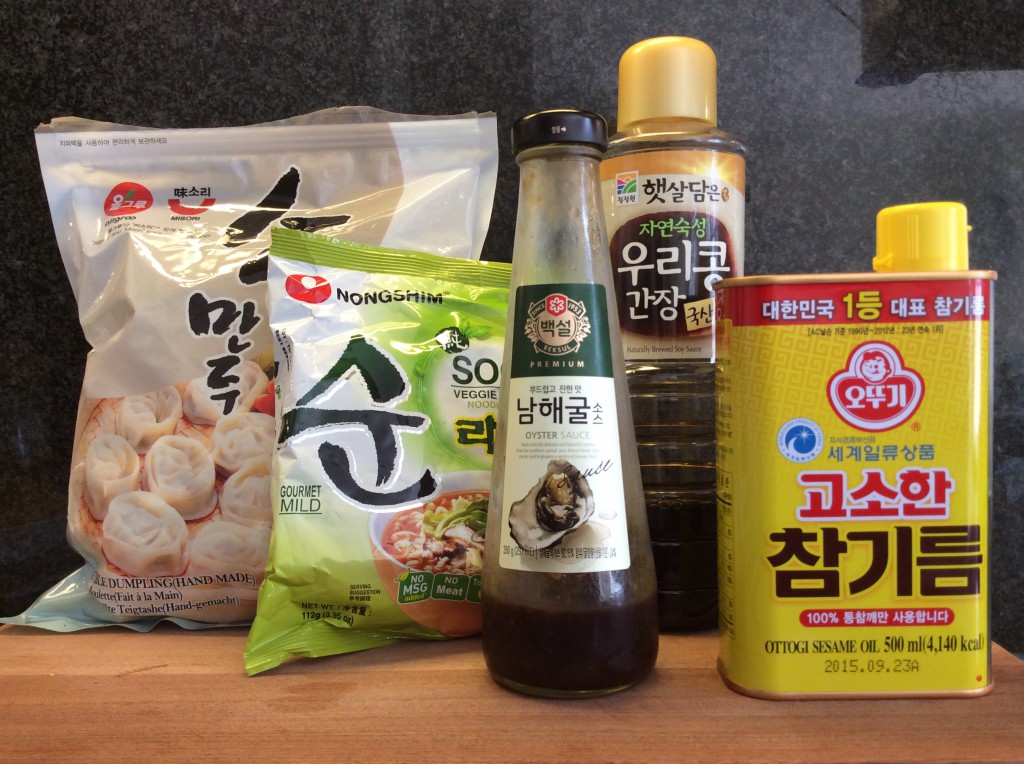 For one serving of Noodles:
1 packet instant ramen/noodles
500 ml water
5 – 7 frozen dumplings
1 tablespoon sunflower oil
3 tablespoons frozen peas
3 tablespoons frozen corn
(or 6 tablespoons frozen endamame beans instead of the peas and corn)
½ tablespoon soya sauce
½ tablespoon oyster sauce
½ tablespoon sesame oil
Pinch of sugar
½ tablespoon toasted sesame seeds
½ teaspoon gochugaru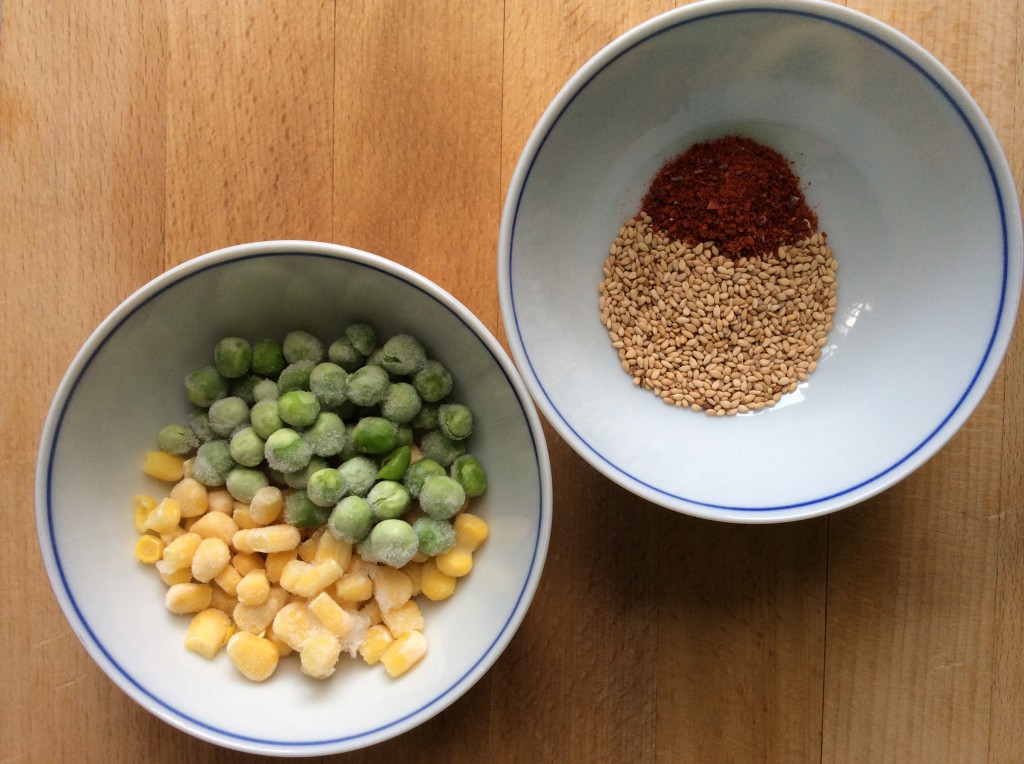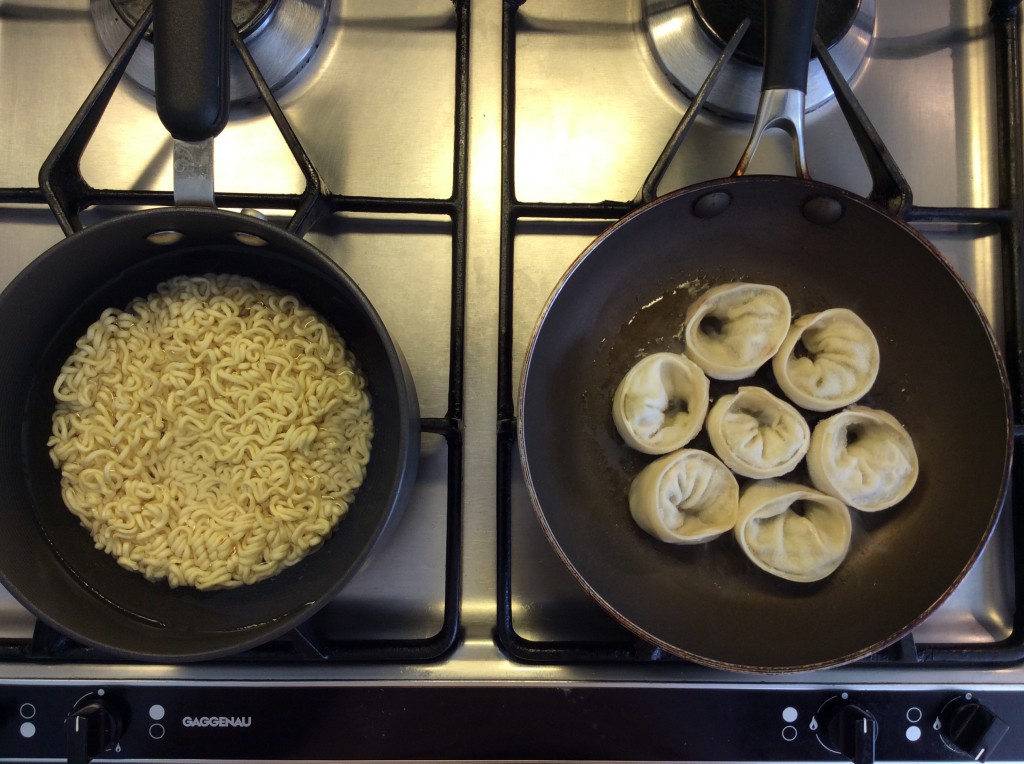 How to Make:
Start by doing two things at once: boiling the water in a saucepan and heating the sunflower oil in a small frying pan.
Place the noodles in the water, discarding all the accompanying sauce sachets.
Place the dumplings, flat side down, on the pan. Add three tablespoons of water and cover the pan with a lid. The dumplings will steam and fry at the same time.
Let the noodles boil for 3 minutes then add in the peas and corn. Continue to boil for another 1 ½ minutes.
To make the dressing for the noodles, place the soya sauce, oyster sauce, sesame oil and pinch of sugar in a bowl or a deep plate.
When the noodles and peas/ corn are ready, drain them and add to the bowl. Toss the noodles in the dressing.
The dumplings will now be ready. Remove from the pan and add to the noodles.
Sprinkle on the sesame seeds and gochugaru before serving.