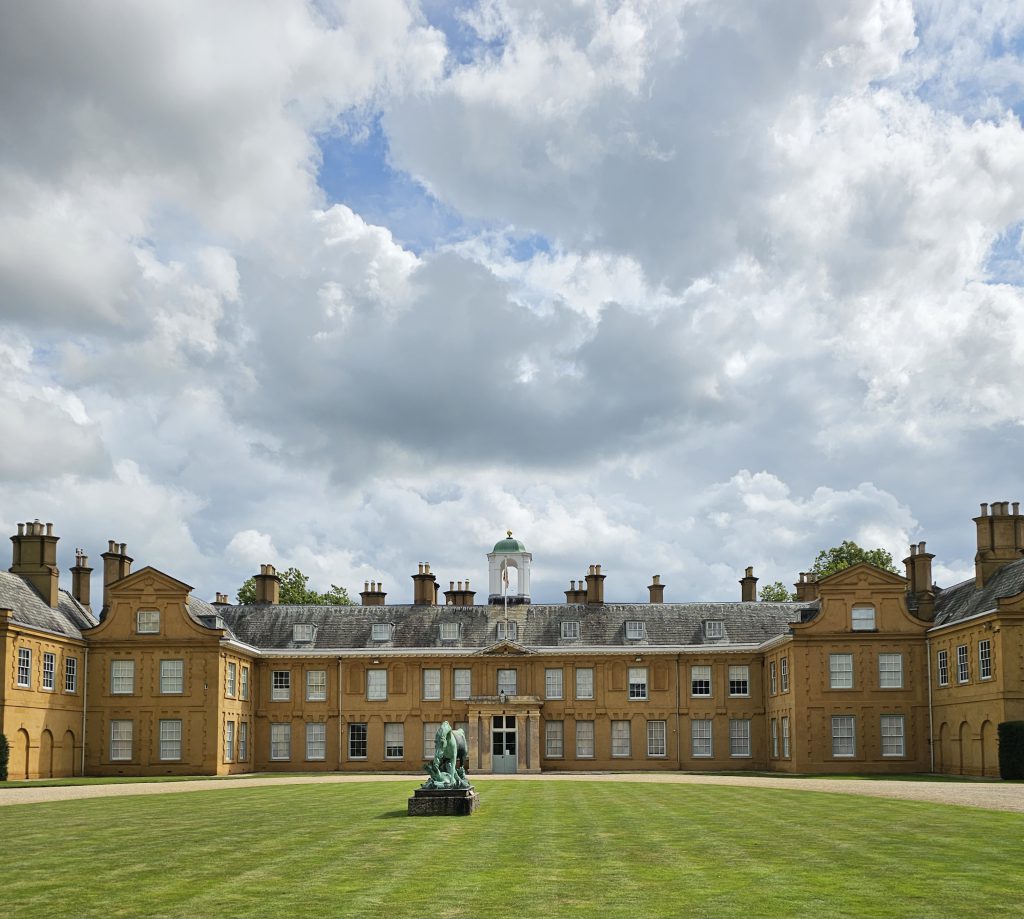 It is the August Bank Holiday. If I were 20 years younger, this weekend would have been spent doing some minor home improvements like painting the living room. So I am glad I am not 20 years younger. Instead of engaging with D.I.Y, we went to visit a grand house in the countryside followed by lunch at a gastro pub.
My two nieces studied at Wellington College and we were their Guardians. This nurtured in us an interest in anything Wellington related (not just Beef Wellington or Wellington boots). Having recently joined Historic Houses, we came across Stratfield Saye House which has been home to the Dukes of Wellington since 1818. The 1st Duke of Wellington was rewarded £600,000 by Parliament after he led the victory against Napoleon in the Battle of Waterloo. He used part of this money to purchase the land on which this house was built.
The guided tour took two hours and gave a fascinating insight into the life of the 1st Duke of Wellington, including aspects of his military career, his family, furniture and art collection. No photography is permitted of the interiors. There are a few guidebooks that can be purchased in the cafe.
Exterior views of Stratfield Saye House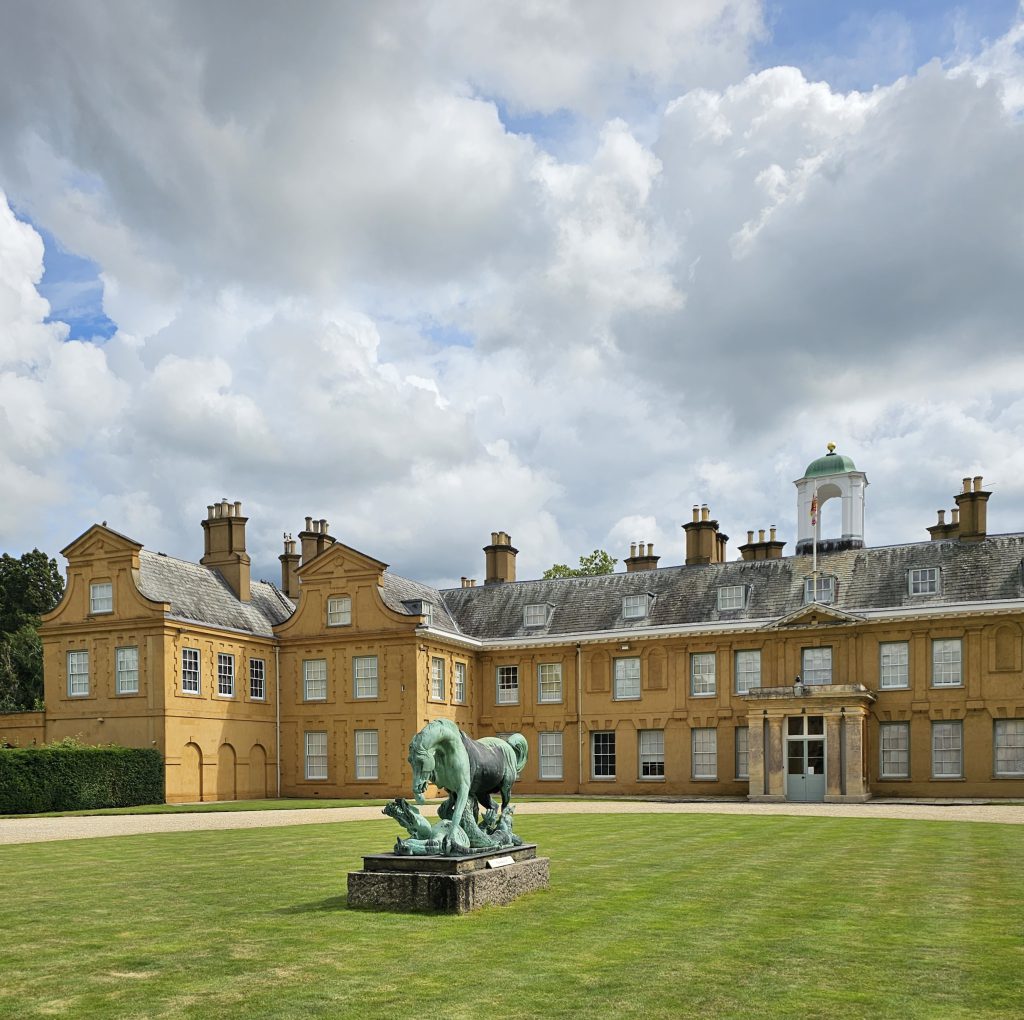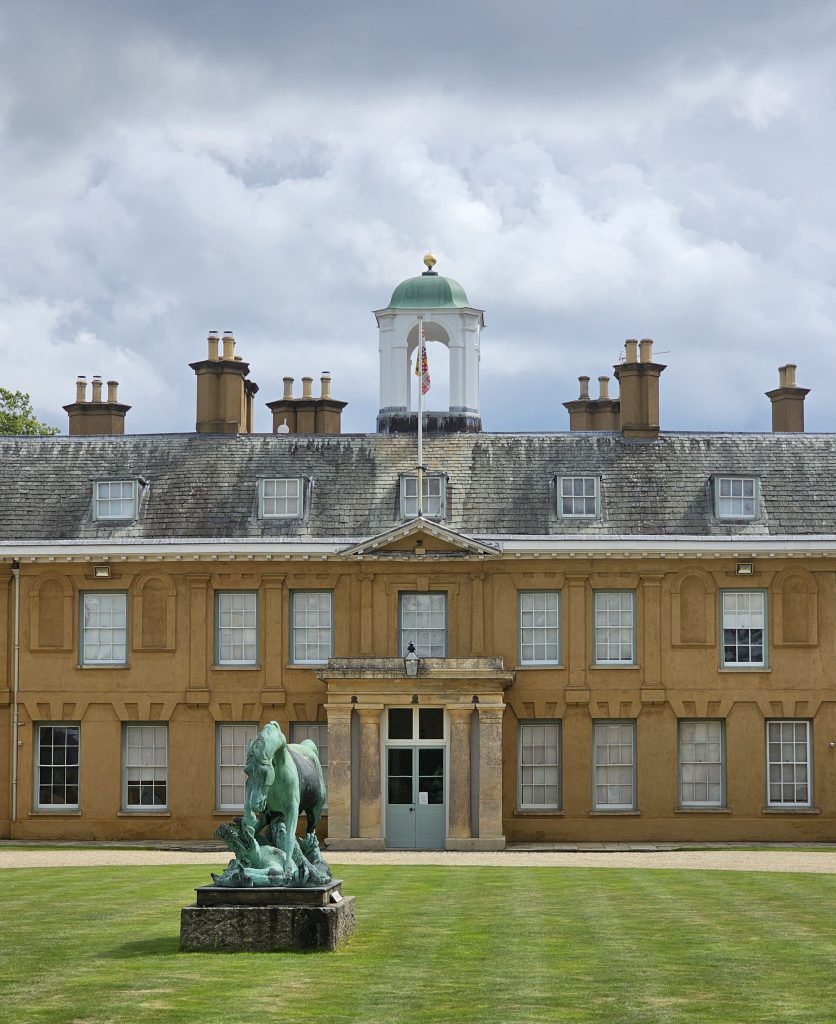 Final resting place of Wellington's war horse Copenhagen, underneath a giant Turkey Oak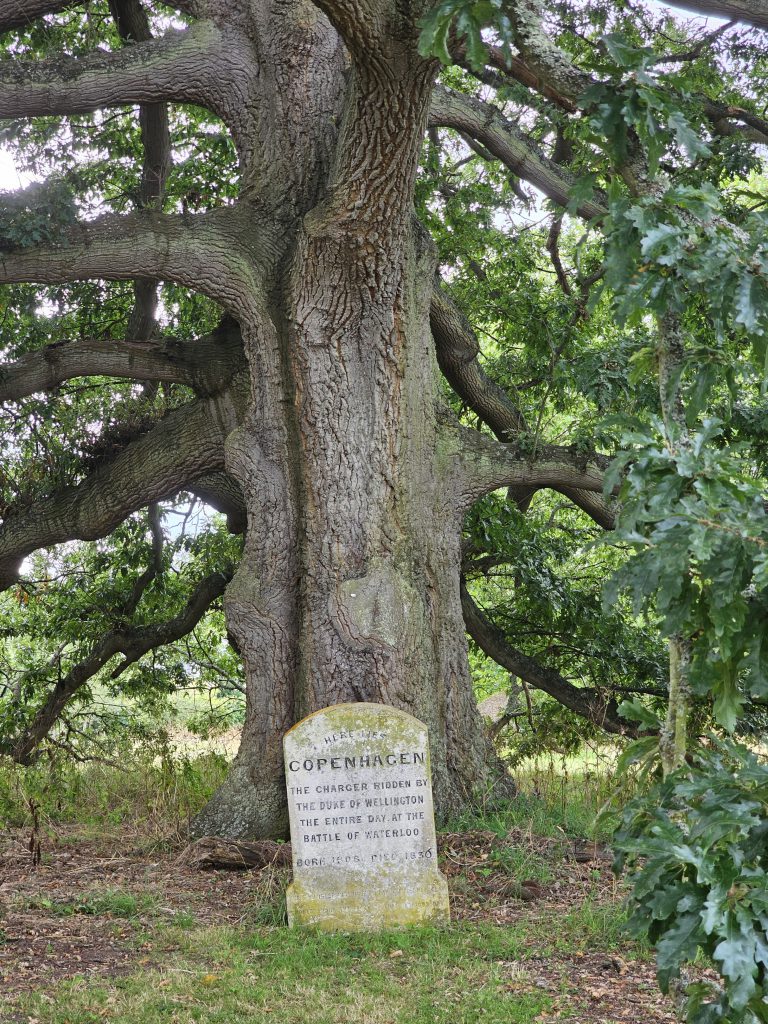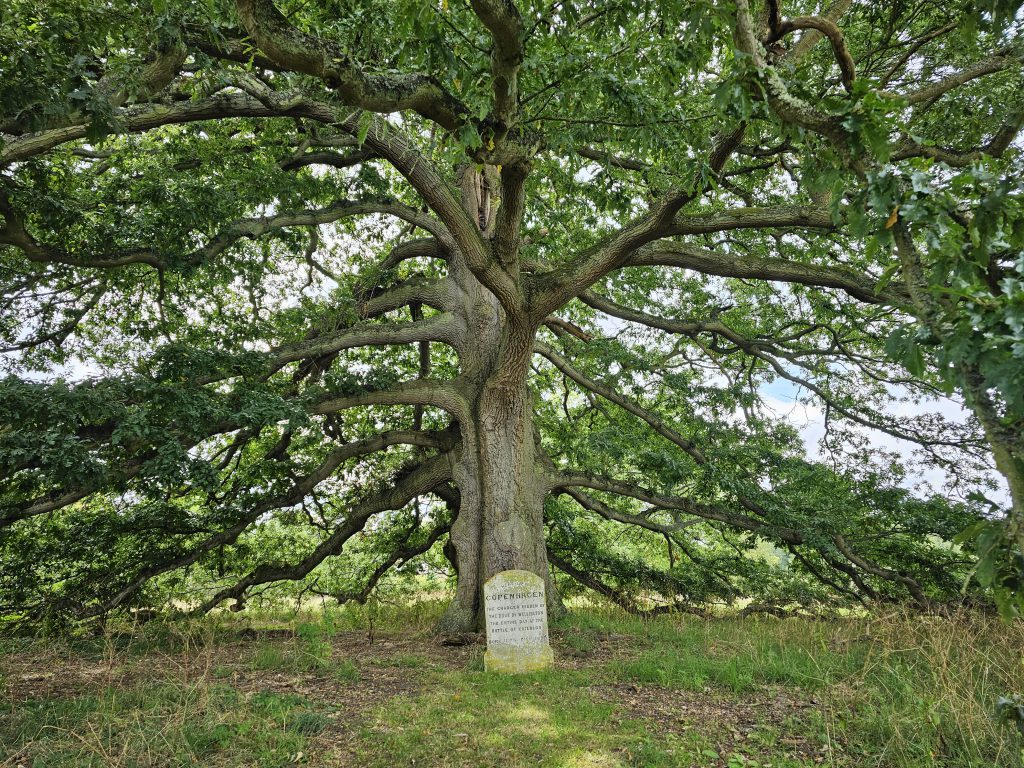 Wellington Farm Shop is a great place to pick up some picnic provisions which you can eat in the extensive garden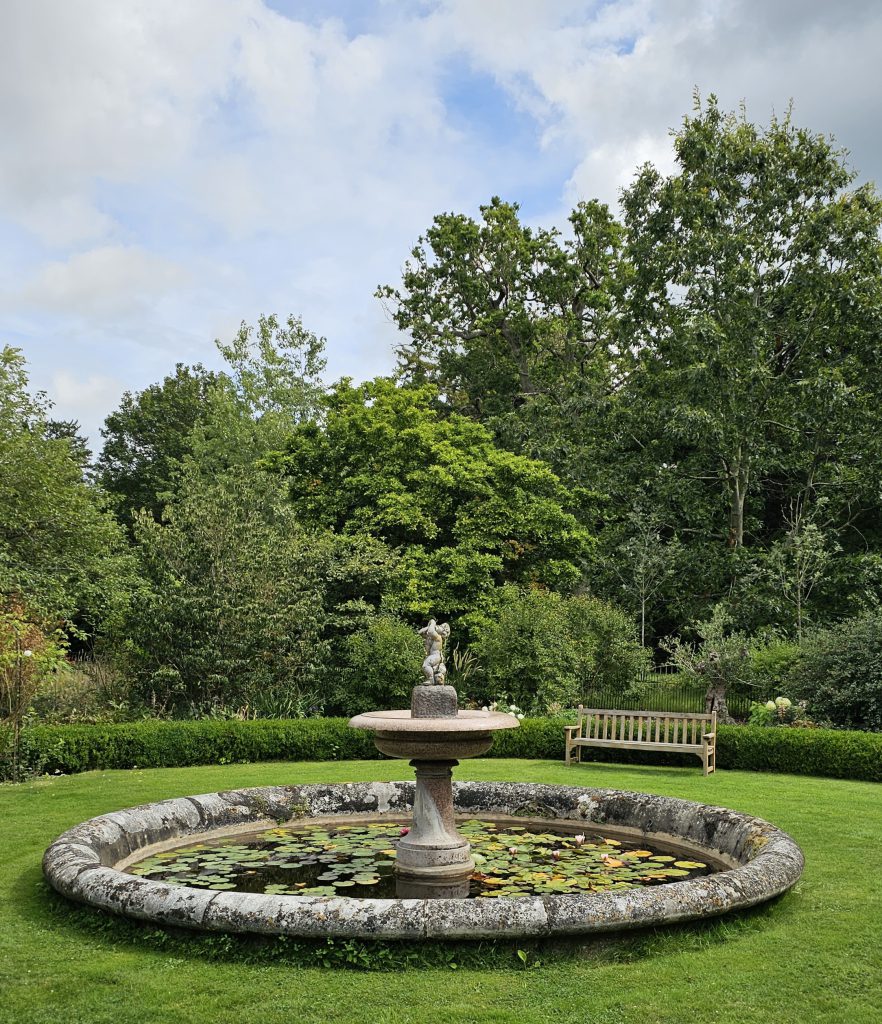 From Stratfield Saye House it is a 25 minute drive through narrow and winding country lanes to reach the Wellington Arms at Baughurst (Baughurst Road, Baughurst, Hampshire, RG26 5LP. Telephone 0118 982 0110). There are many inns and pubs with the same name, but this is the one recommended by Travel Couple. We had a three course lunch and I can recommend everything. I even took the menu home.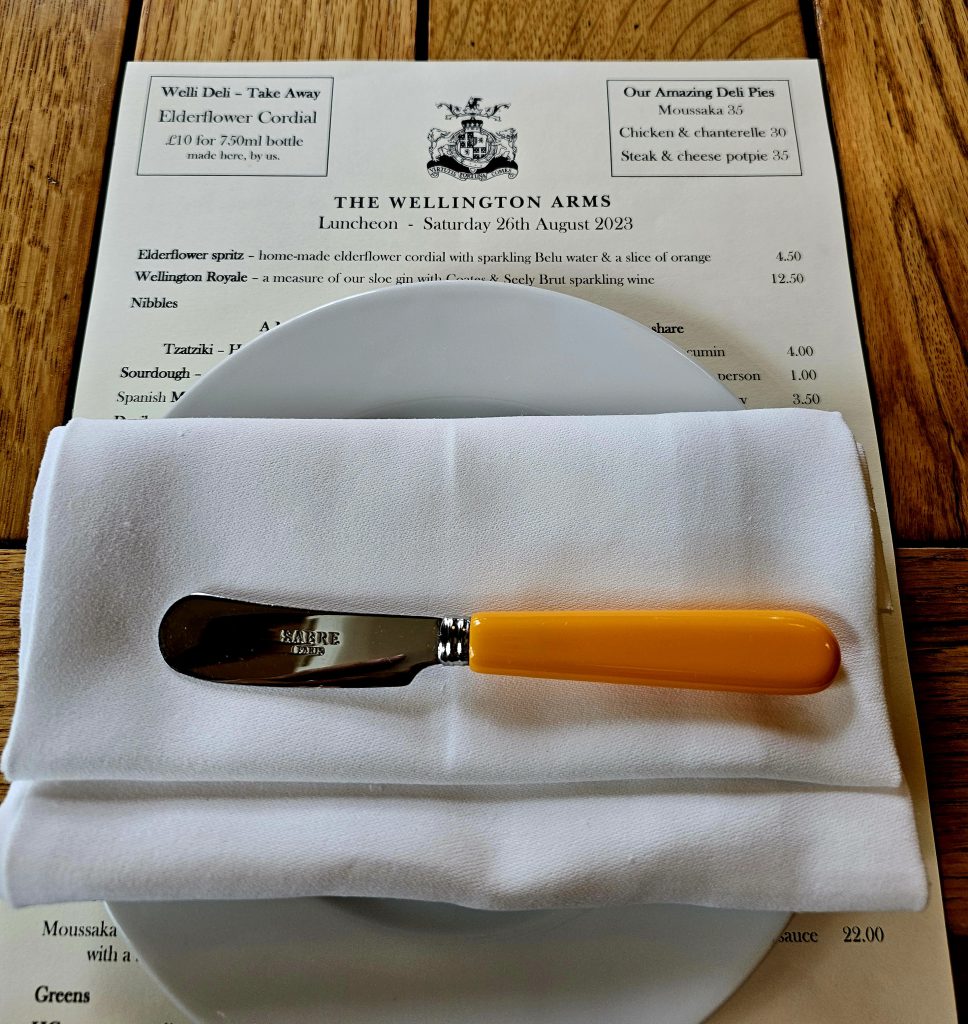 Courgette flowers in real ale batter stuffed with ricotta, mozzarella, lemon zest and parmesan
Moussaka: Jacob lamb spiced with cumin, char-grilled aubergine, potato and a cheesy yoghurt sauce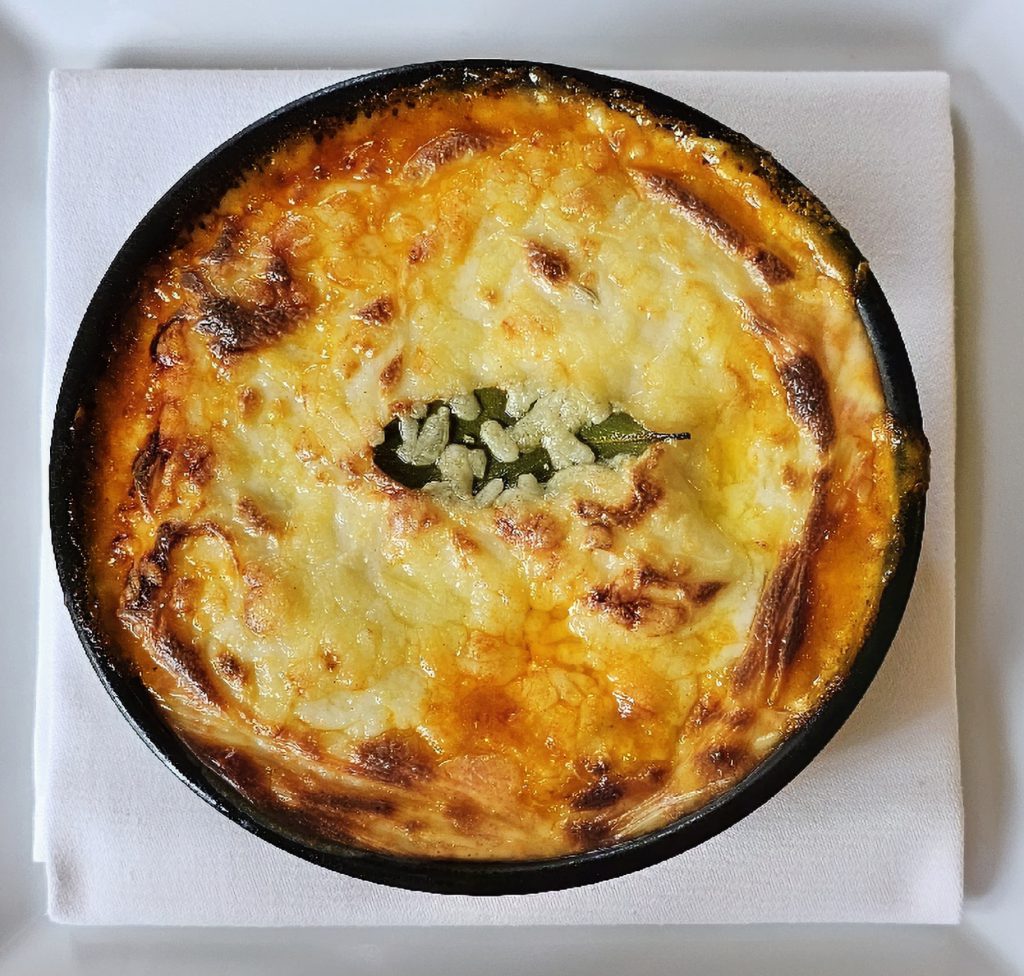 Home made rhubarb ripple ice cream and blackberry sorbet with a shortbread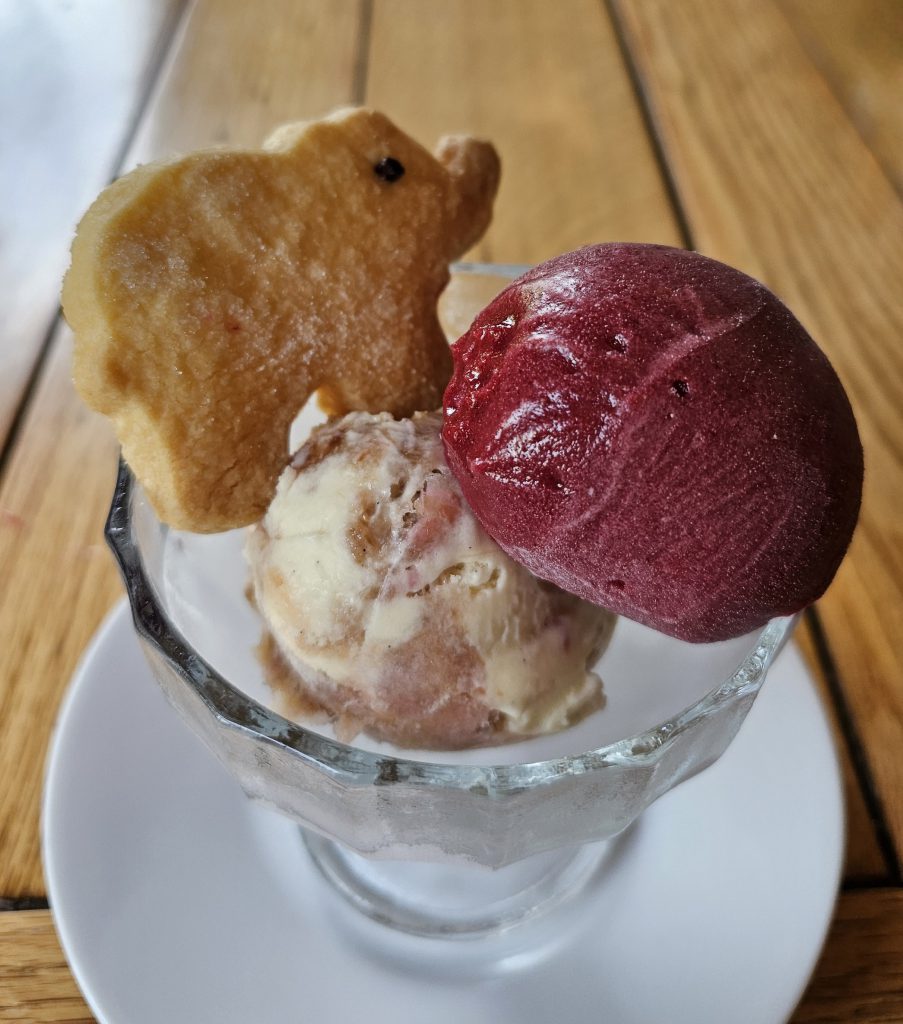 The gardens contain fruit trees (plum tree below) and a poly tunnel for salads and edible flowers, all used in the pub's menu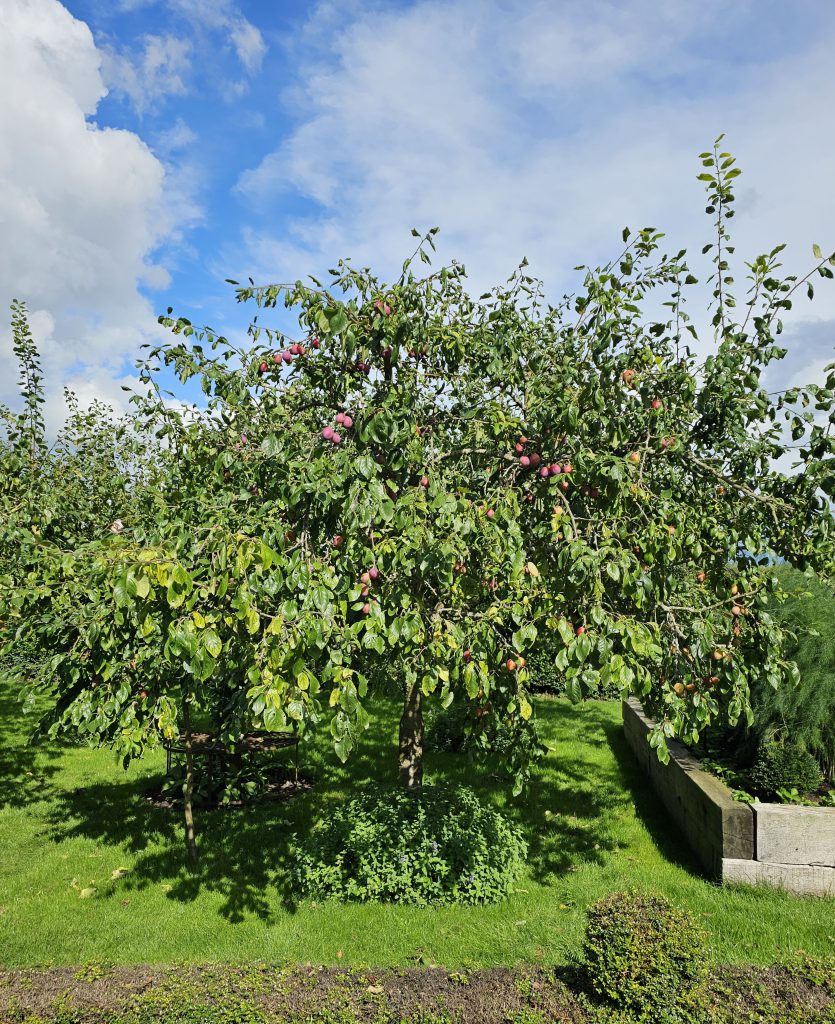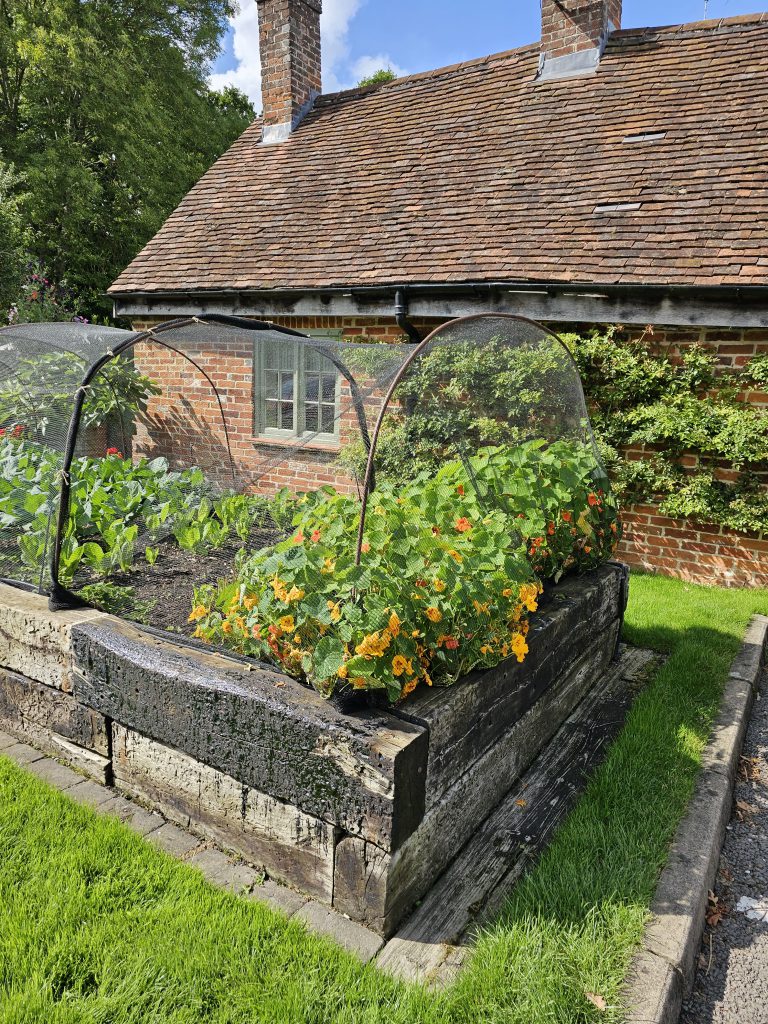 We took away some sweet pastries from the deli counter, and two bags of salads which included edible flowers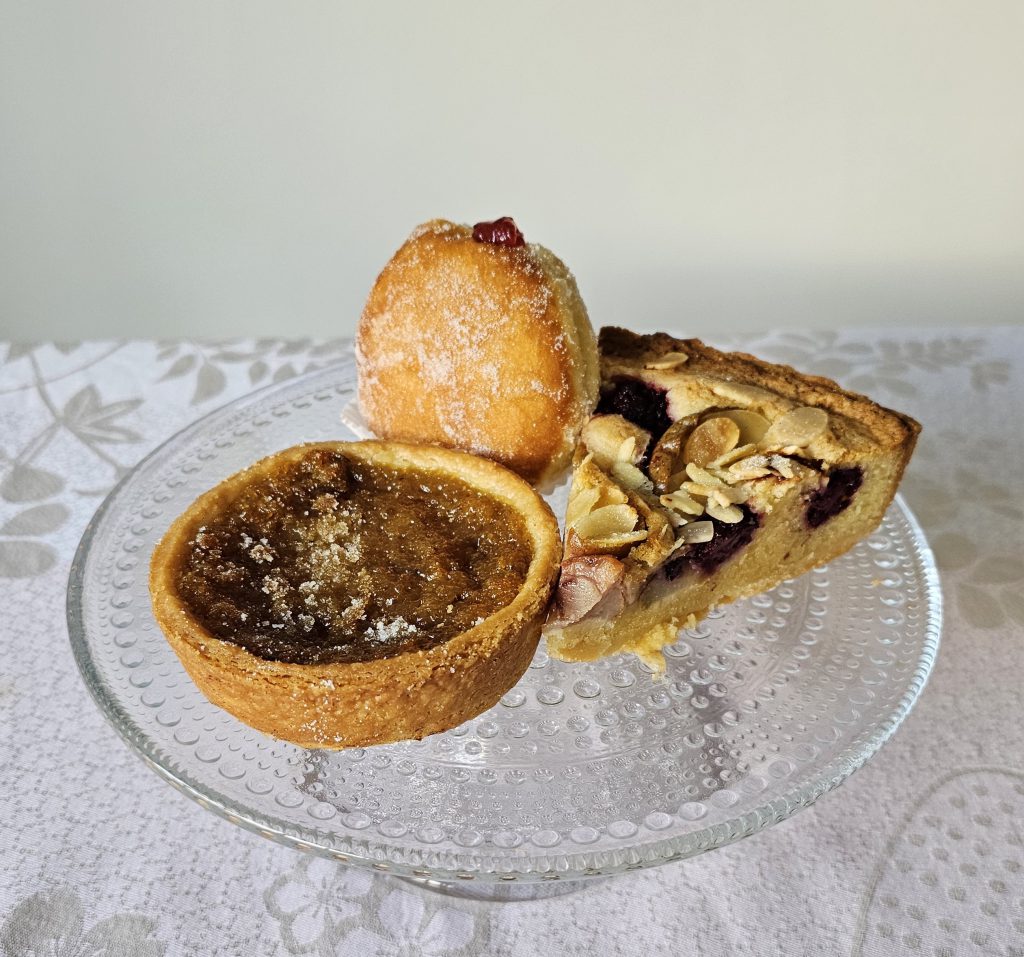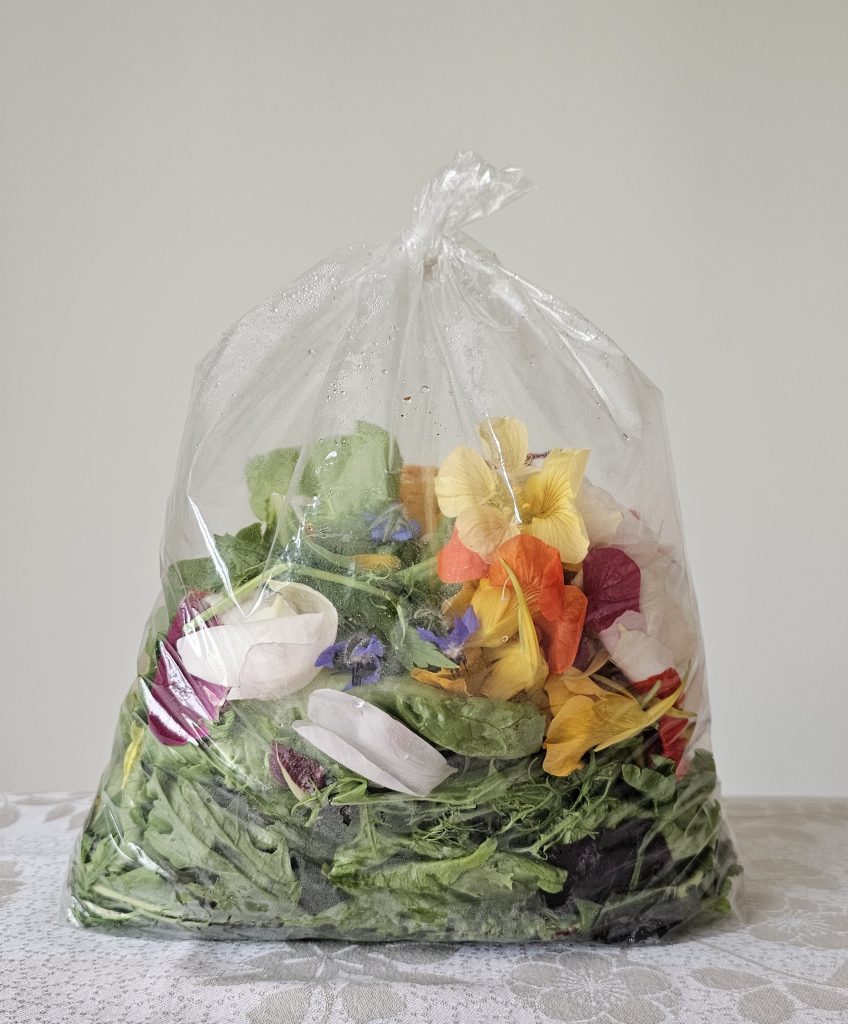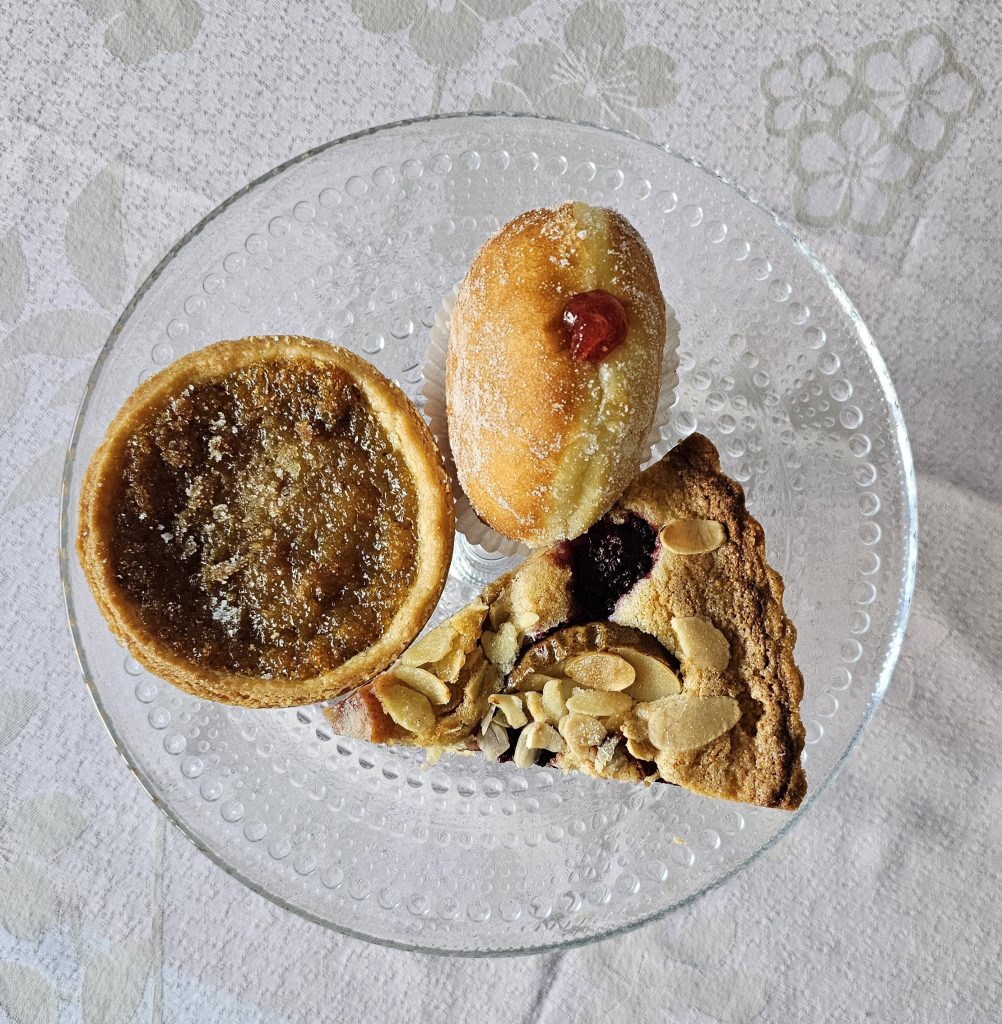 The final picture in this post is of the funeral car of the Duke of Wellington, which is kept in stables next to the house. I had just spent two hours listening about a man much admired, but who nevertheless gained fame through killing other people. This may have been necessary to prevent a much bigger tragedy or a more catastrophic war, and I should like to read more about the political situation in Europe at the time. I didn't enjoy viewing the carriage as it was more scary than grand, but it is part of the history of the Iron Duke.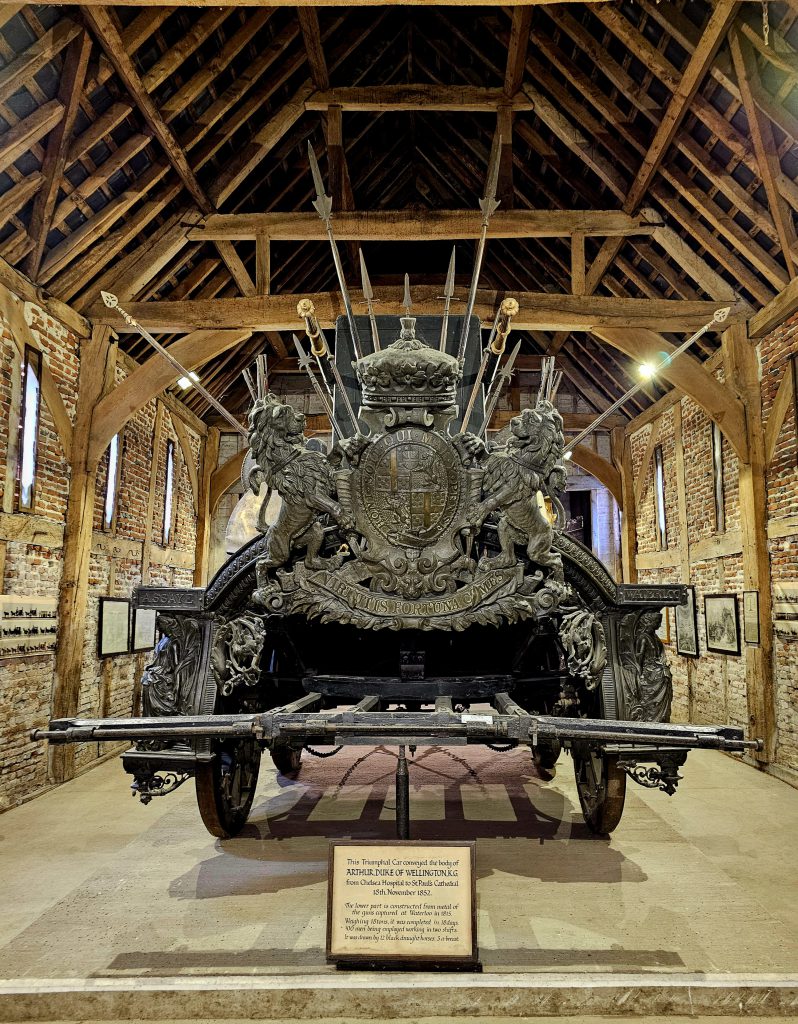 In the days before cameras and social media, the way to convey a person's importance and stature was through the medium of the portrait. Two books which give background information on the paintings and sculptures of the 1st Duke of Wellington:
Wellington: Triumphs, Politics and Passions by Paul Cox, published by National Portrait Gallery, ISBN 978-1855144996
Wellington Portrayed by Charles Wellesley, published by Unicorn, ISBN 978-1910065129