Berliner Tagebuch: Mittwoch 7 Juni 2023 / Berlin Diary: Wednesday 7 June 2023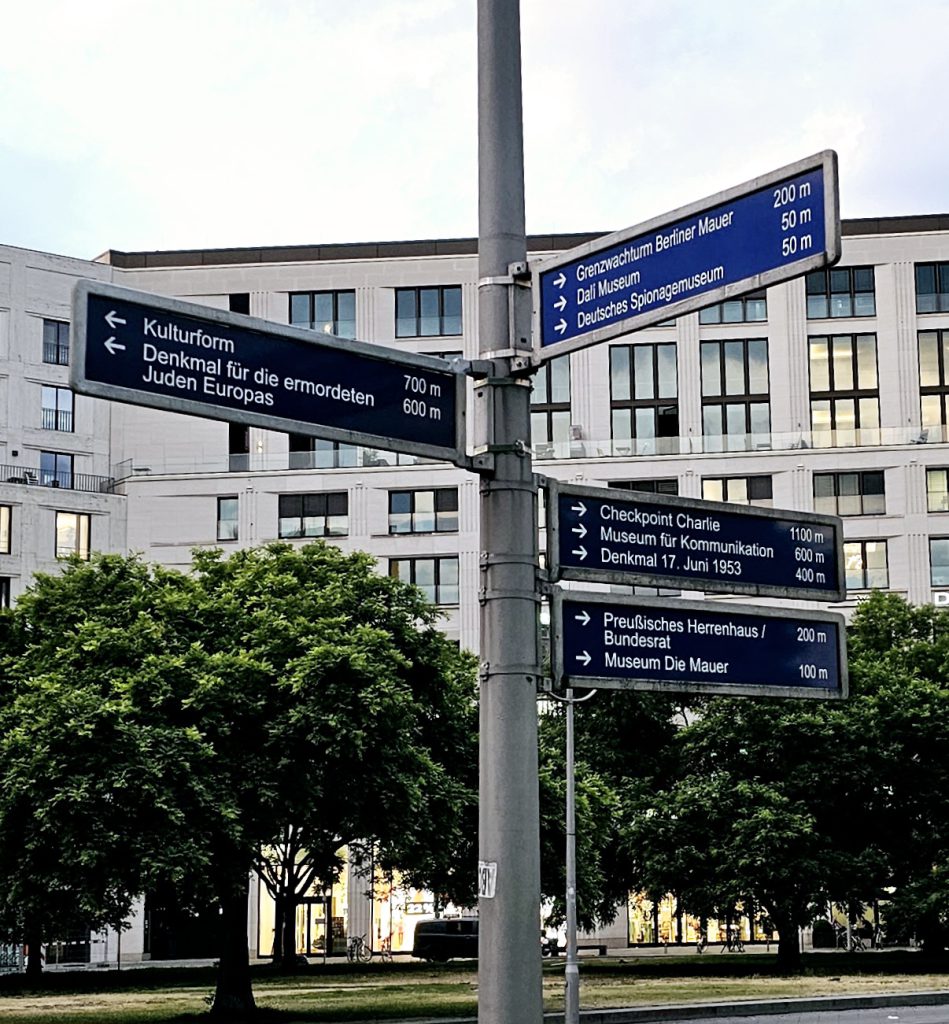 From a song by Johnny Nash, which I used to listen on the radio when growing up in Kuala Lumpur:
I can see clearly now the rain is gone
I can see all obstacles in my way
Gone are the dark clouds that had me blind
It's gonna be a bright (bright)
Bright (bright) sunshiny day
It's gonna be a bright (bright)
Bright (bright) sunshiny day
Weather forecast on the day we left for Berlin: so happy to leave the recent rain in London behind us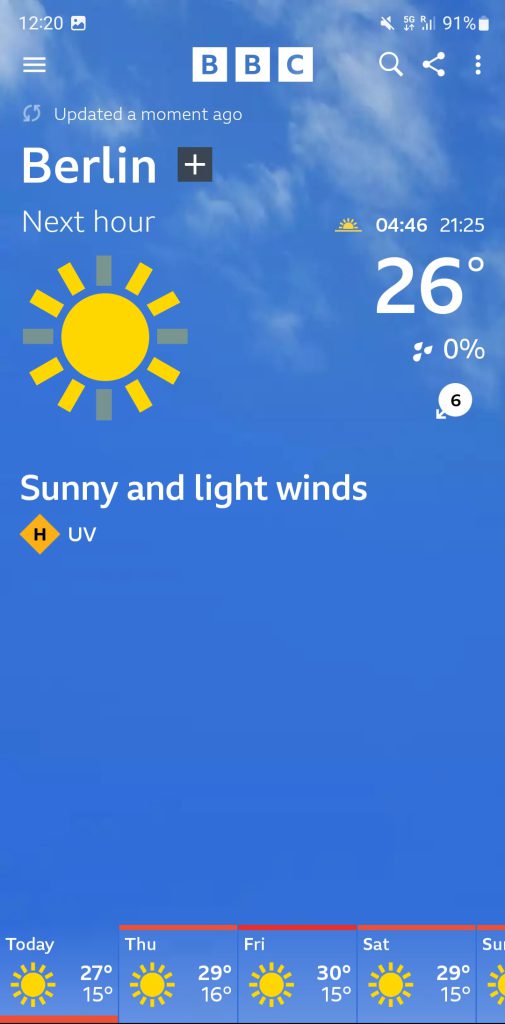 When I was in Primary School one of the things that made me most happy was my box of Colleen colour pencils, on account of the description of the colours. There was sunshine yellow, leaf green and khaki brown. Red was never just red but magenta and vermillion. Blues were ultramarine, cobalt blue and Prussian Blue.
What was Prussia? I never gave it much thought until I read that Berlin was made the royal capital of Prussia in 1701. There is so much history behind the making of modern day Germany, but I will leave that for another time. For this first trip, I thought it would be best to concentrate on Berlin's more recent past.
We walked and ate a lot over the five days we were in Berlin. I had to think long and hard on how to write up the notes and settled on following our daily structure. This was broken up into five distinct parts: breakfast, morning activity, lunch, afternoon activity, dinner.
Before you read on, please see here for some help on preparing for a Berlin trip. All information correct as of June 2023.
Frühstück und Morgenaktivität / Breakfast and Morning Activity
We flew British Airways and had use of their lounge at Heathrow's Terminal 5. BA's lounge food is normally just so-so but their breakfasts redeem their reputation somewhat. There is a full English buffet breakfast of eggs, bacon, sausages, baked beans, mushrooms, tomatoes and hash browns. Plus cereal, croissants and all the champagne you care to imbibe.
Top tip: travelling with cabin-sized trolley bags was ideal. There was no waiting for luggage in Berlin and we could take a train to our hotel. Since there are steps and escalators to negotiate in the airport and train stations, it's not so easy with a large bag. I have never packed so lightly before and was quite impressed I could do this at my age.
If you are looking for cabin luggage, I came across July which has lightweight cabin cases. People half my age, with twice the upper body strength, might prefer a rolltop rucksack from Got Bag which is all the rage in Berlin.
Views of the approach into Berlin by air, with a mixture of commercial, green and housing areas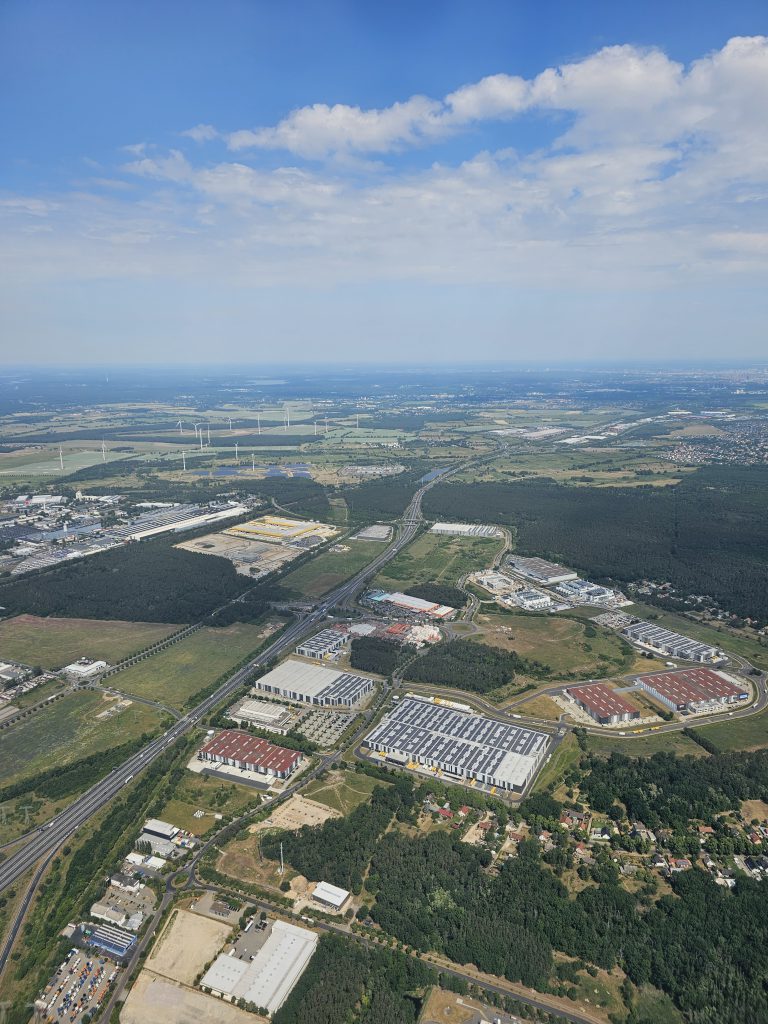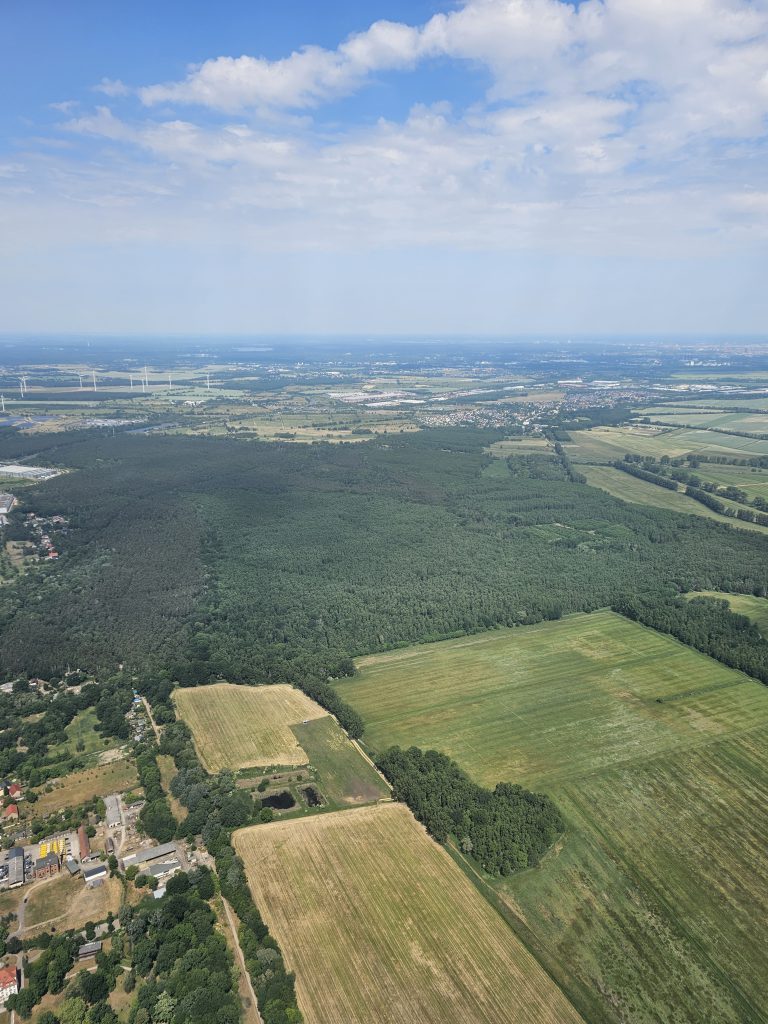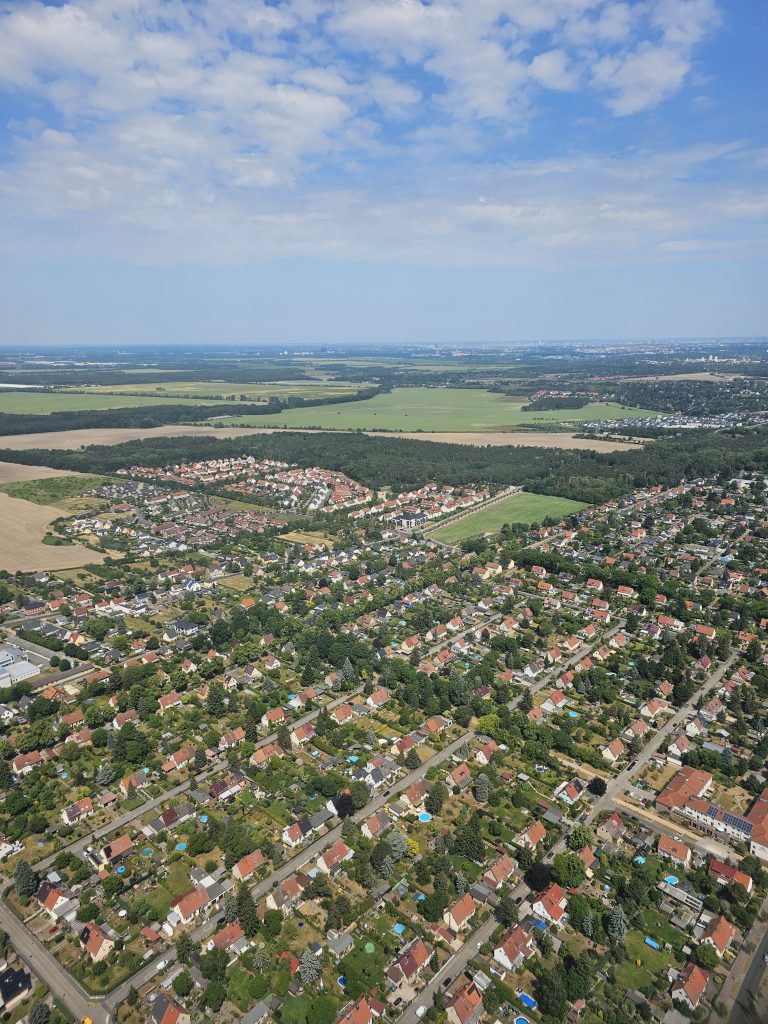 Mittagessen / Lunch
There is a sizeable Vietnamese community in Berlin, and Monsieur Vuong,Alte Schönhauser Str. 46 10119 Berlin, is credited as being the first major Vietnamese restaurant to offer Pho in this city. The menu is via a QR code and as we were sat in a quiet but dark corner, it really was difficult to read the menu on our phones. The Pho was very good. The bowl of bird's eye chillies that accompanied the noodles was a generous help-yourself-if-you-dare challenge.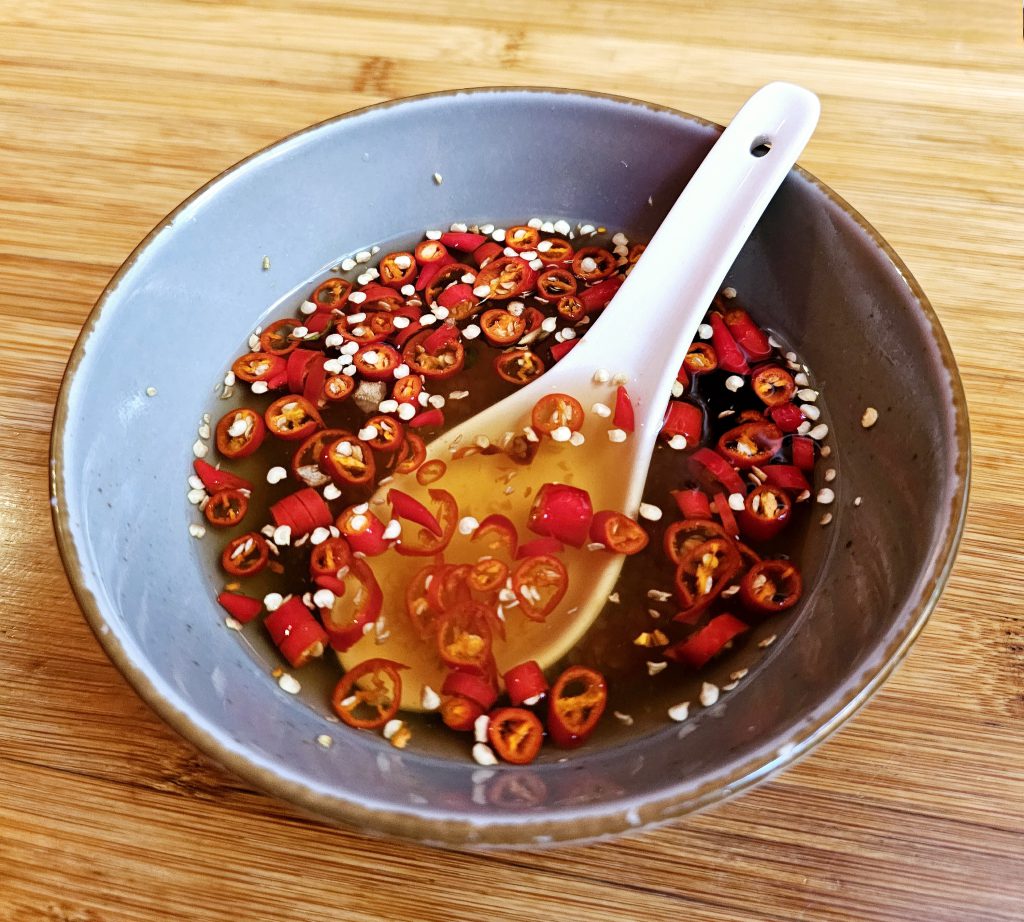 There are many restaurants and shops in the vicinity, which is ideal for a walkabout. I love tea and I love ice cream. Imagine my happiness when I found the following two shops nearby.
Paper and Tea, Alte Schönhauser Str. 50, 10119 Berlin, where I bought some green teas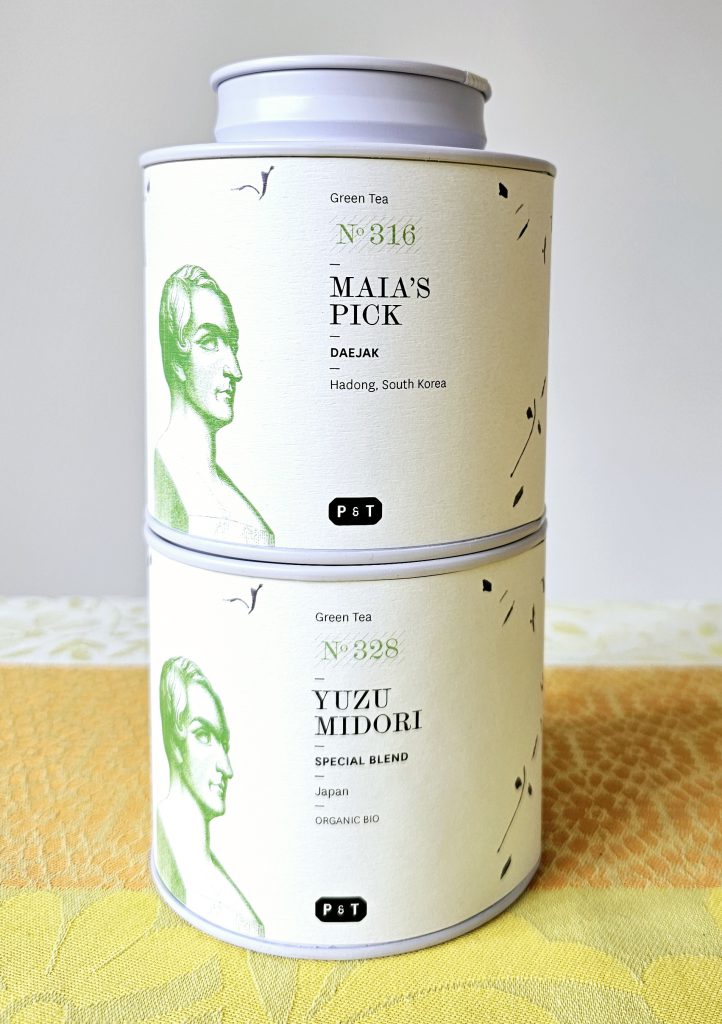 This is an apt description of me and Mr Gochugaru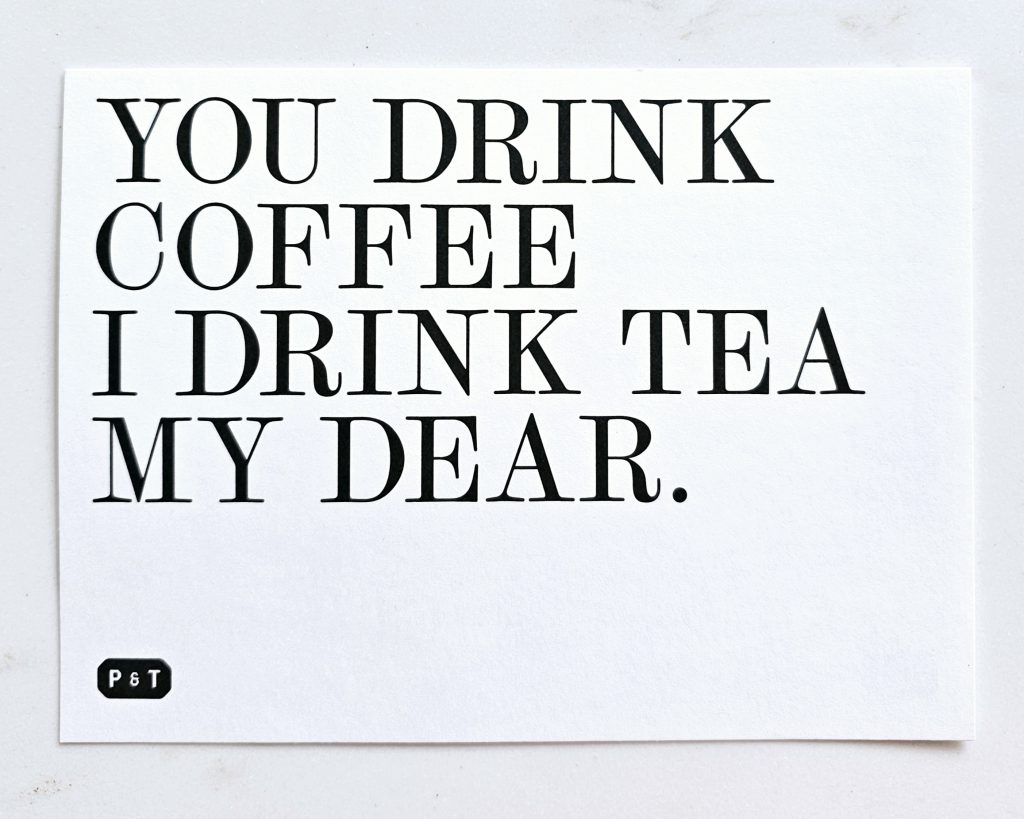 Cuore di Vetro, Max-Beer-Str. 33, 10119 Berlin, has many unusual gelato flavours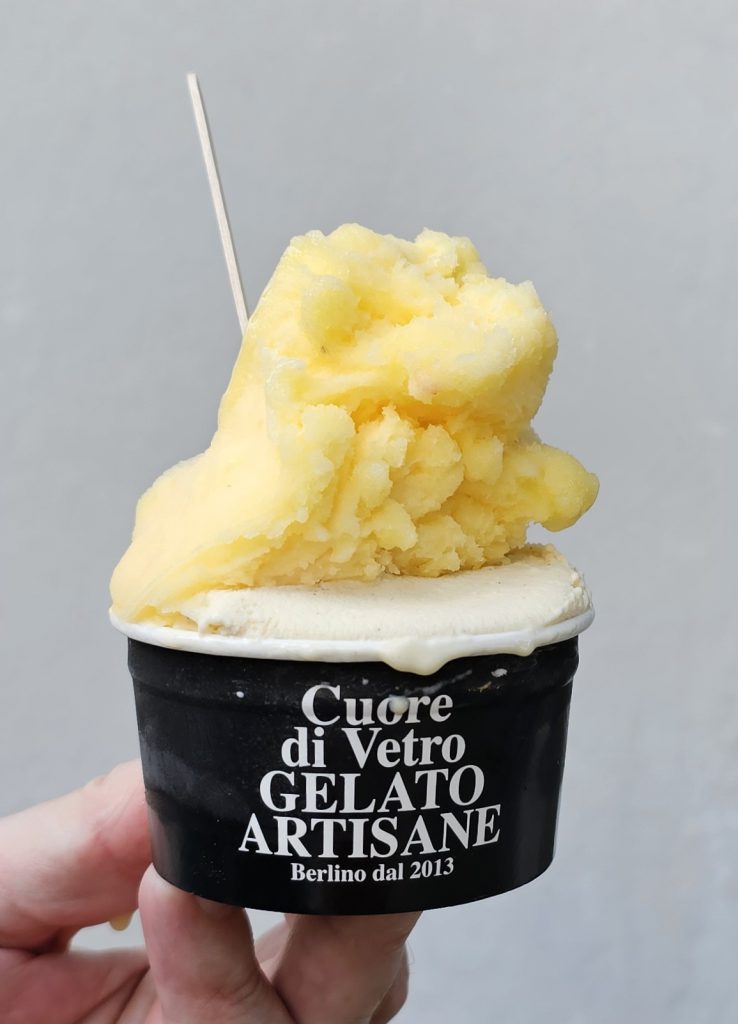 Siebensachen, Max-Beer-Str. 25, 10119 Berlin, is a small shop with unique hand made objects. I am thinking hard for a reason why I might need one of their musical boxes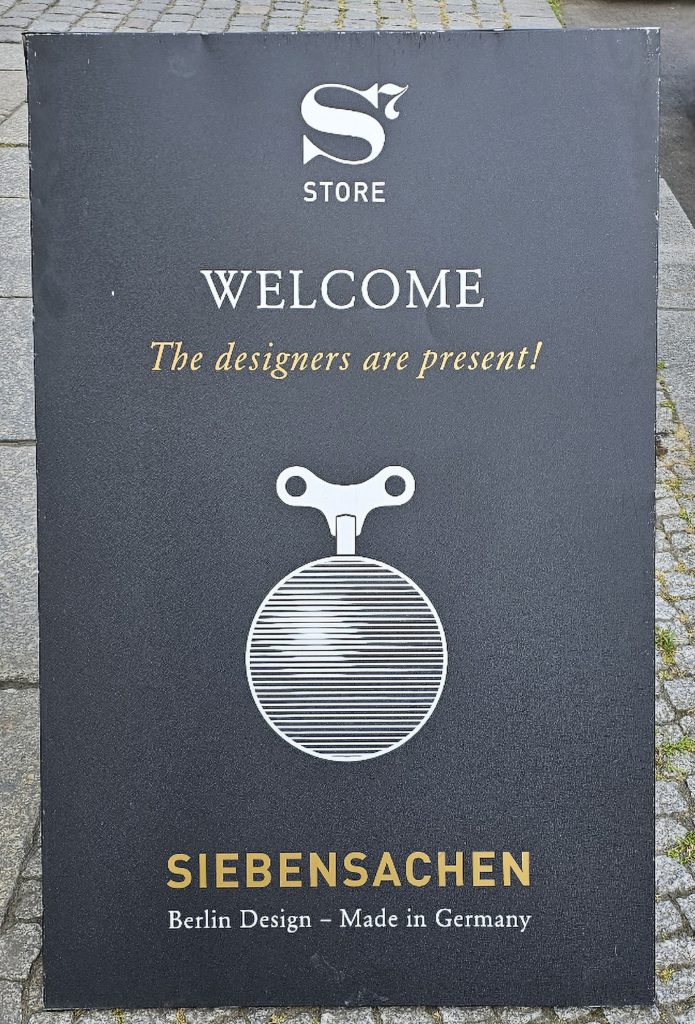 We had coffee at Father Carpenter, Münzstr. 21, 10178 Berlin, which is set in a lovely courtyard. Next time I would like to try their banana bread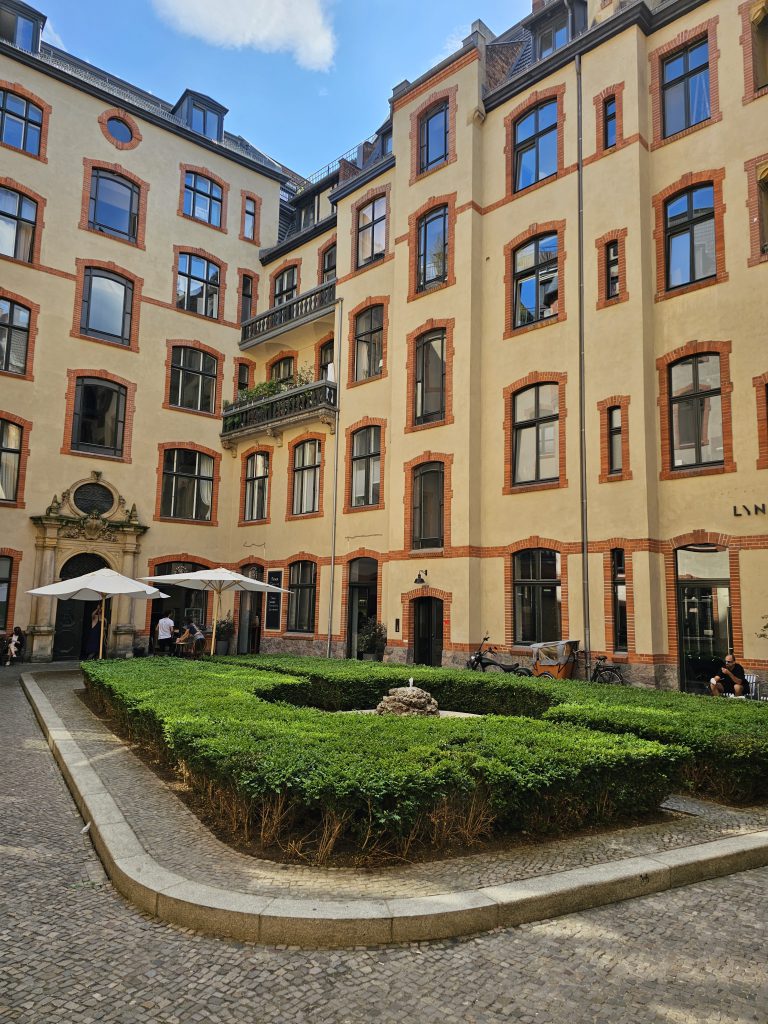 Sometime I come across things that make make me feel a bit sad, like this framed poem in Father Carpenter. My father loved the English Romantic poets and would often recite this poem to whoever happened to be around at the time. Keats House in Hampstead (London) is just up the road from where I live, but I cannot remember if Dad and I ever visited together.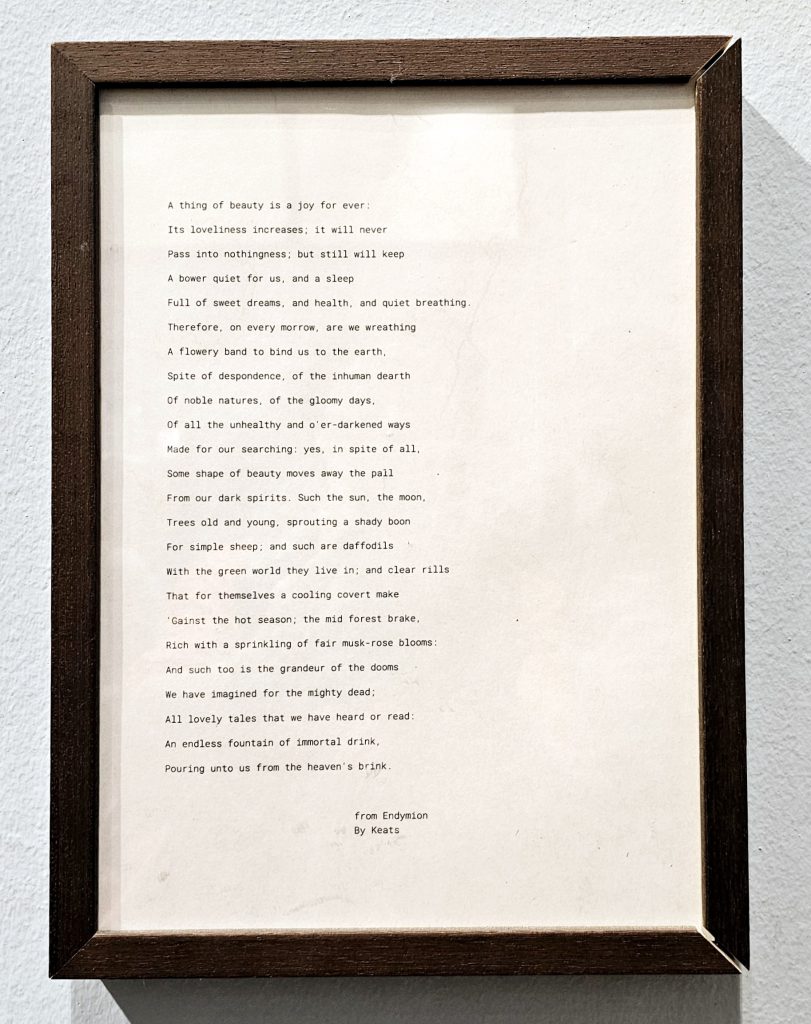 Nachmittagsaktivität / Afternoon Activity
First views of Berliner Fernsehturm / Berlin TV Tower, taken from the Rotes Rathaus / Town Hall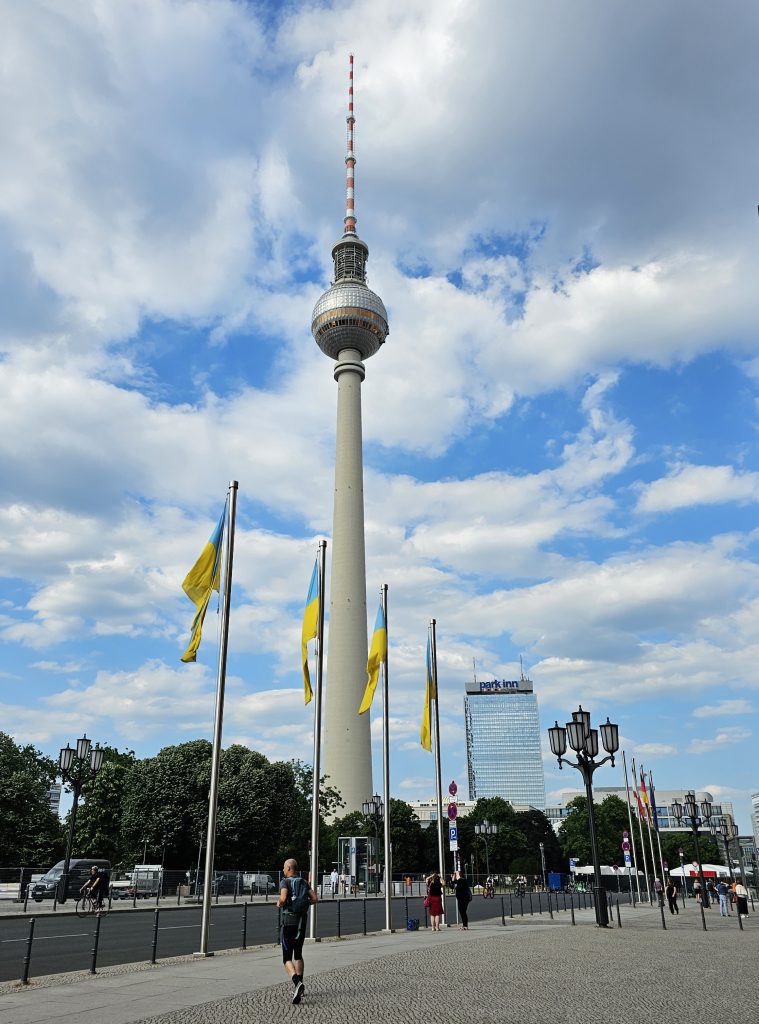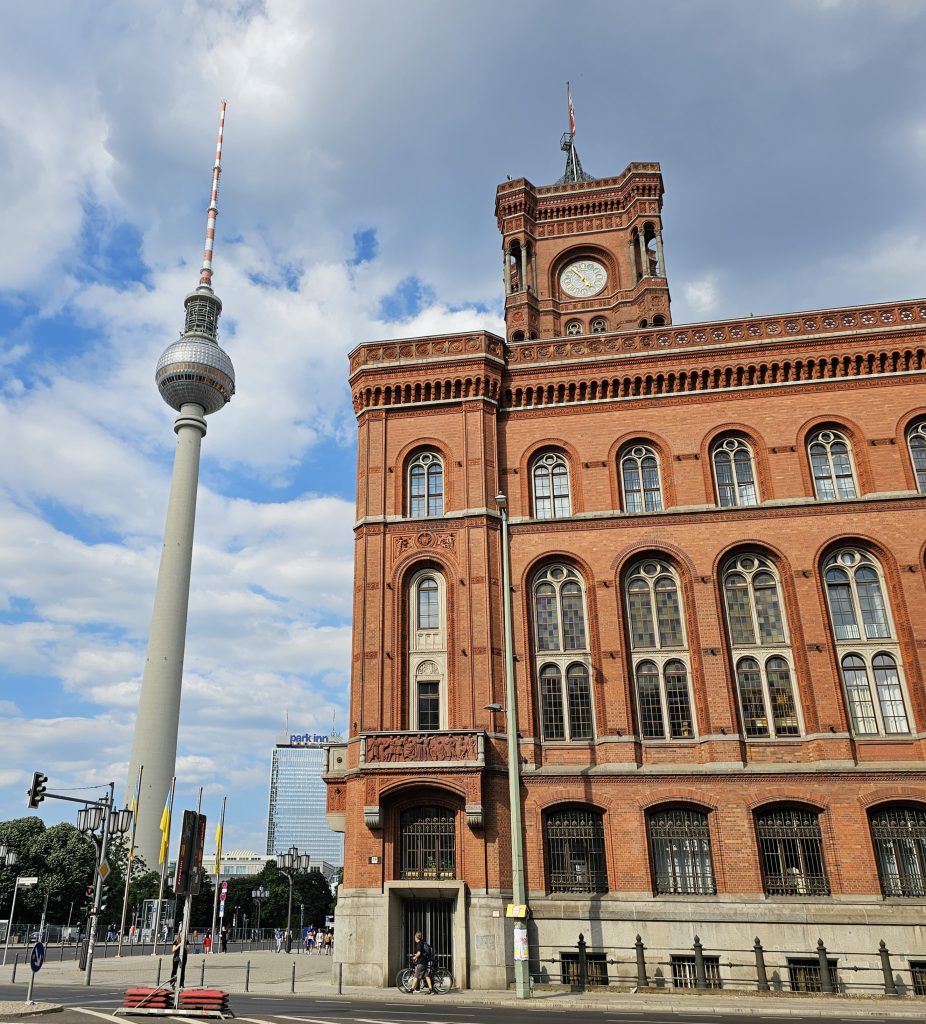 A first look at Nikolaiviertal / Nikolai Quarter, which we would explore over the weekend: the facade of Nikolaikirche / Nikolai Church and a quaint water pump which still works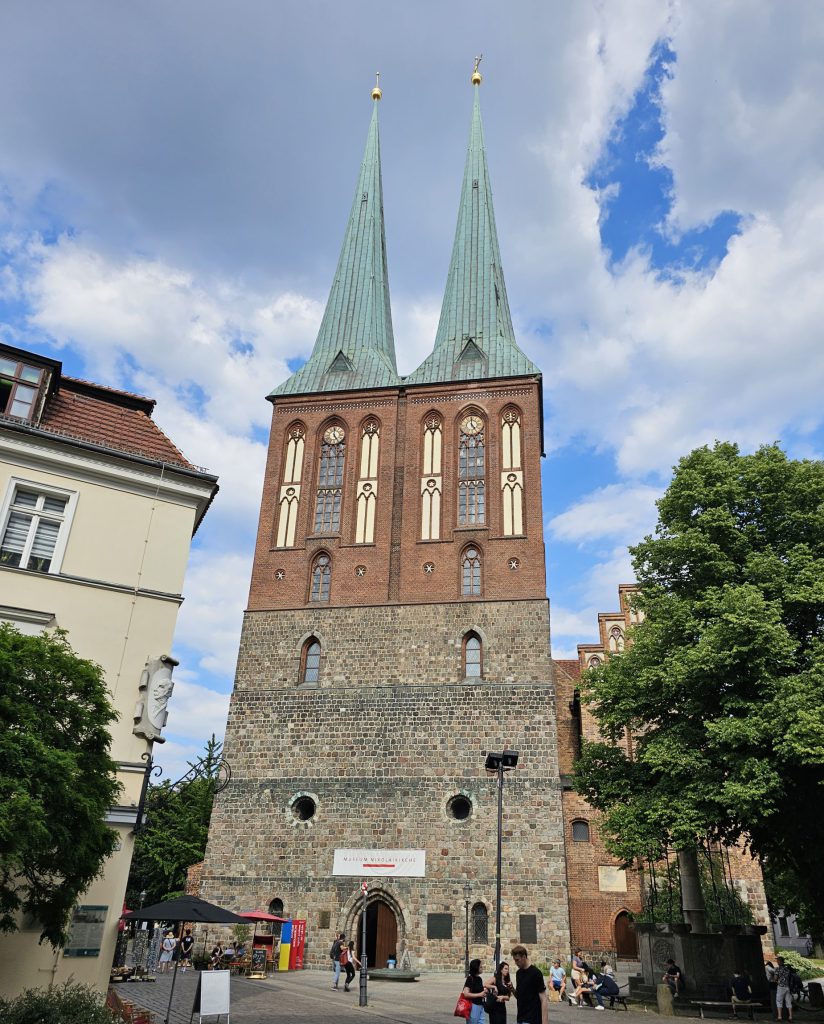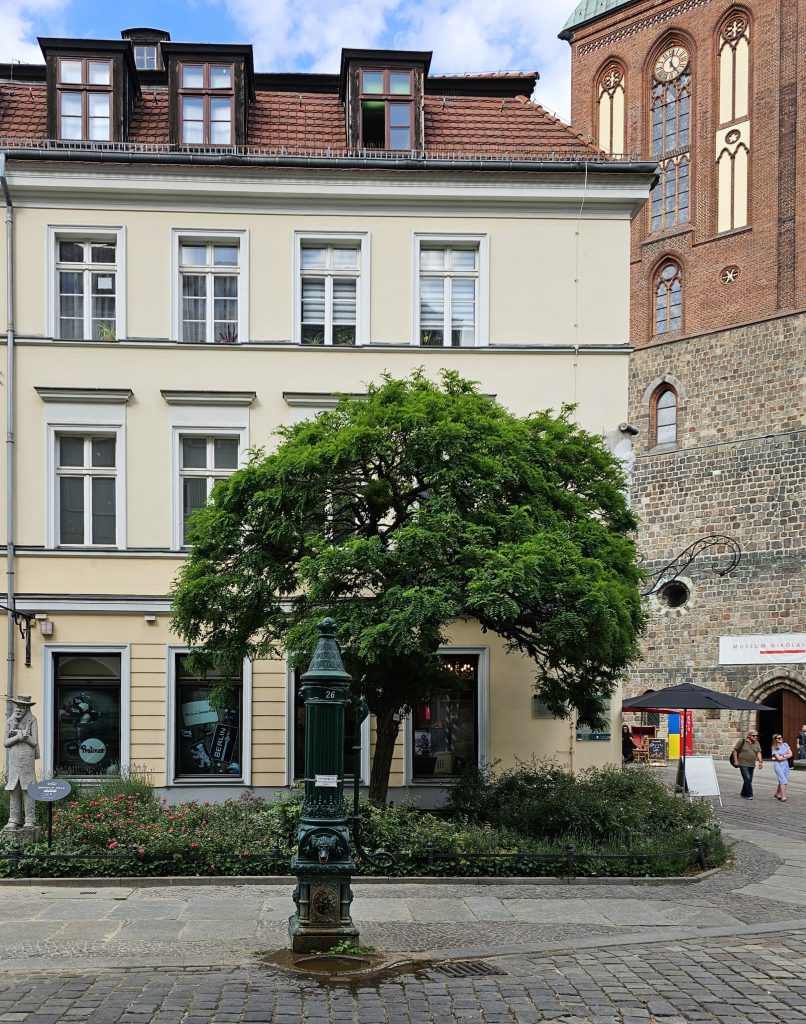 Abendessen / Dinner
As with most popular Berlin restaurants, it is inadvisable to turn up without a prior reservation. The food is superb, the service is lovely and they come round with complimentary alcohol shots during the meal. The lighting inside is very low so photography is difficult. There are tables outside but I had booked way ahead, and did not want the risk of sitting in the cold or in rain.
Make sure you have the Challah Bread (the only photo I have of the food)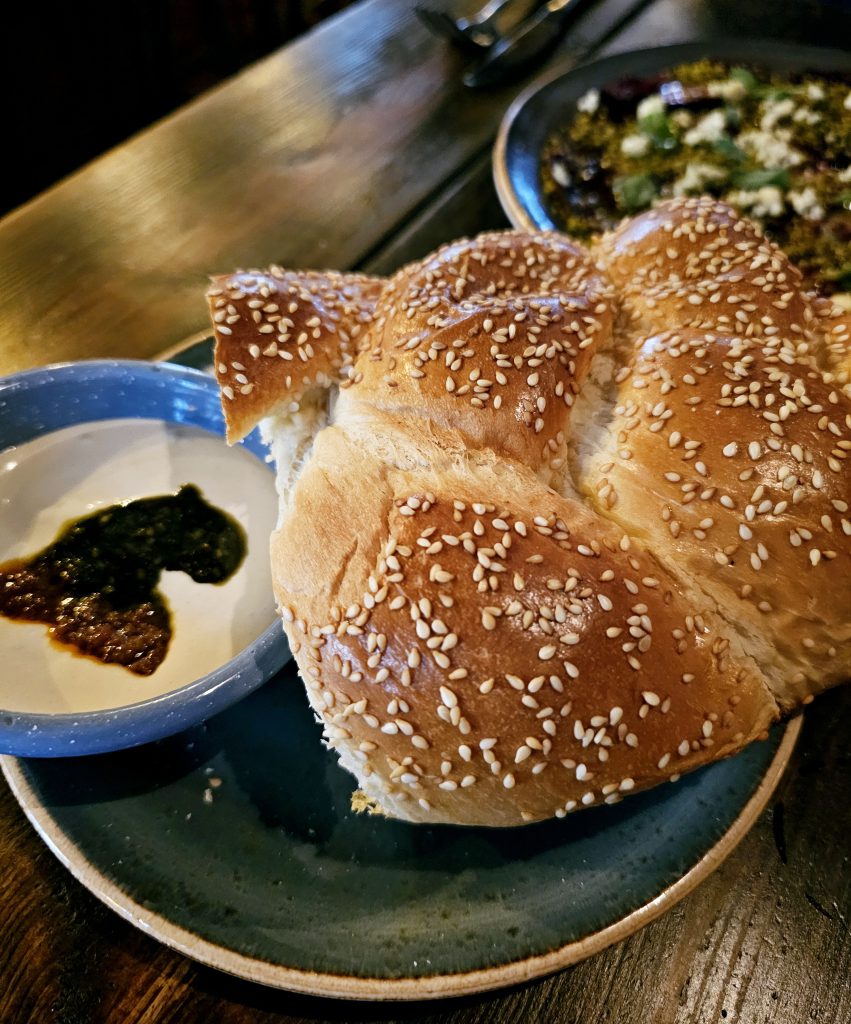 This antique coal-heated iron displayed in the restaurant reminded me of my mother, as she has a few old irons like this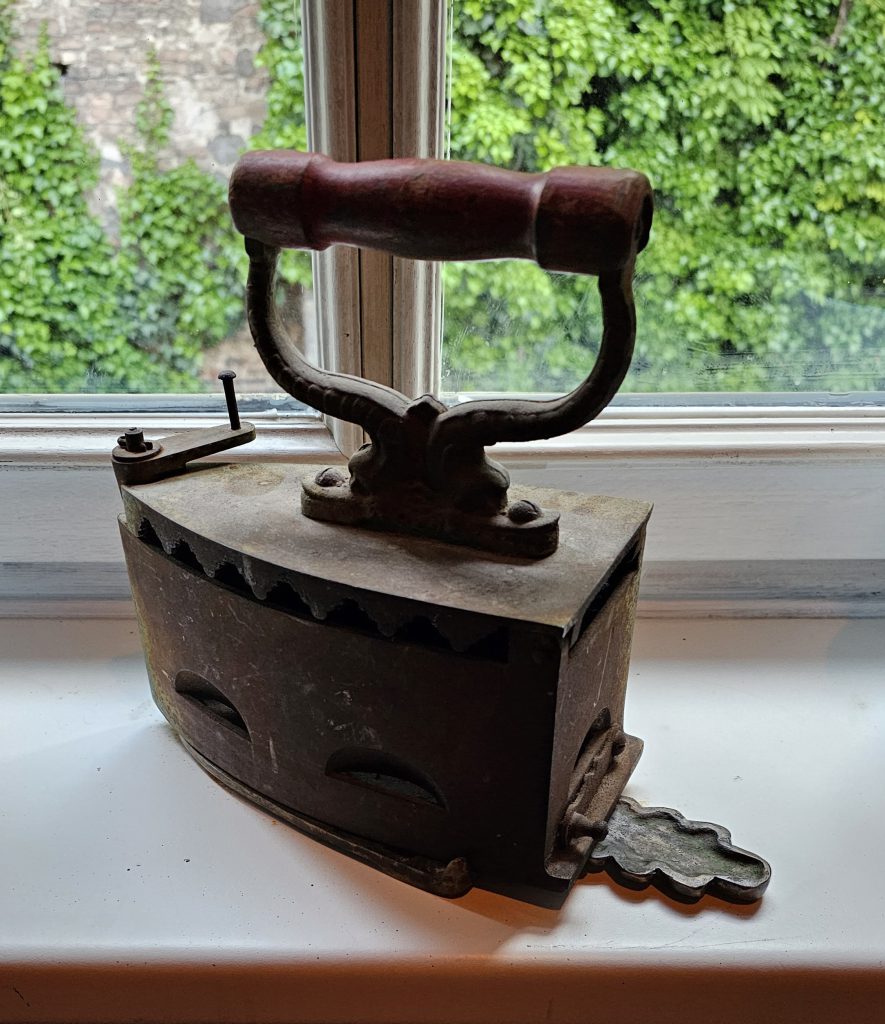 The surrounding streets are lovely for a pre or post-dinner wander. Just round the corner stands the New Synagogue Berlin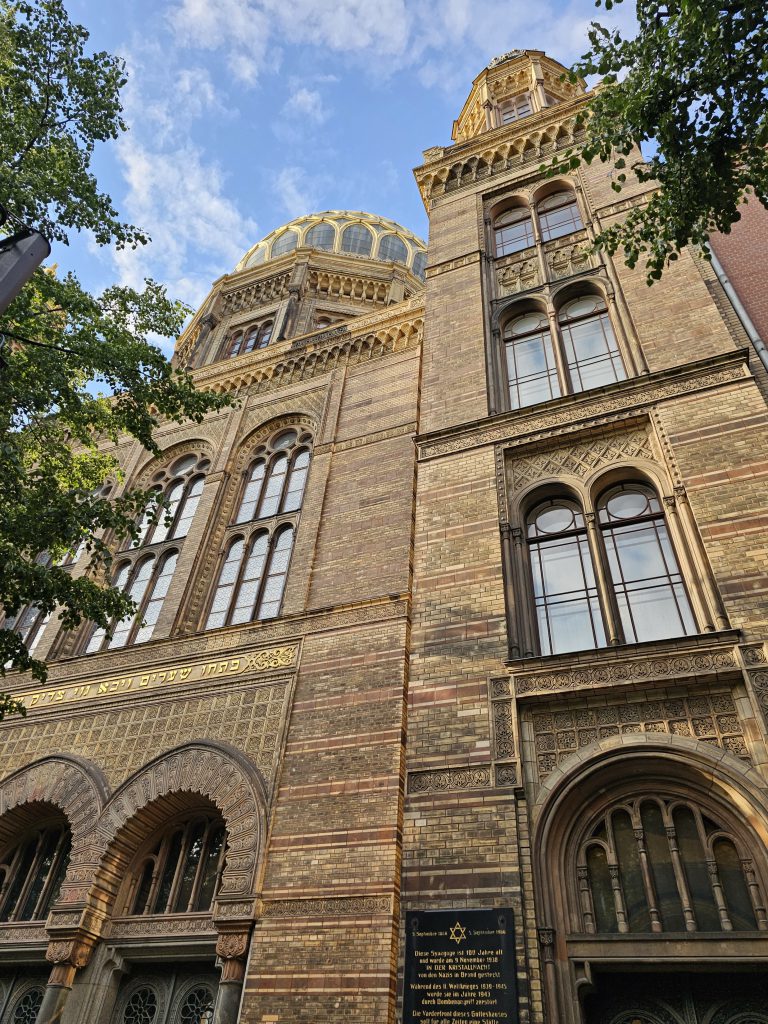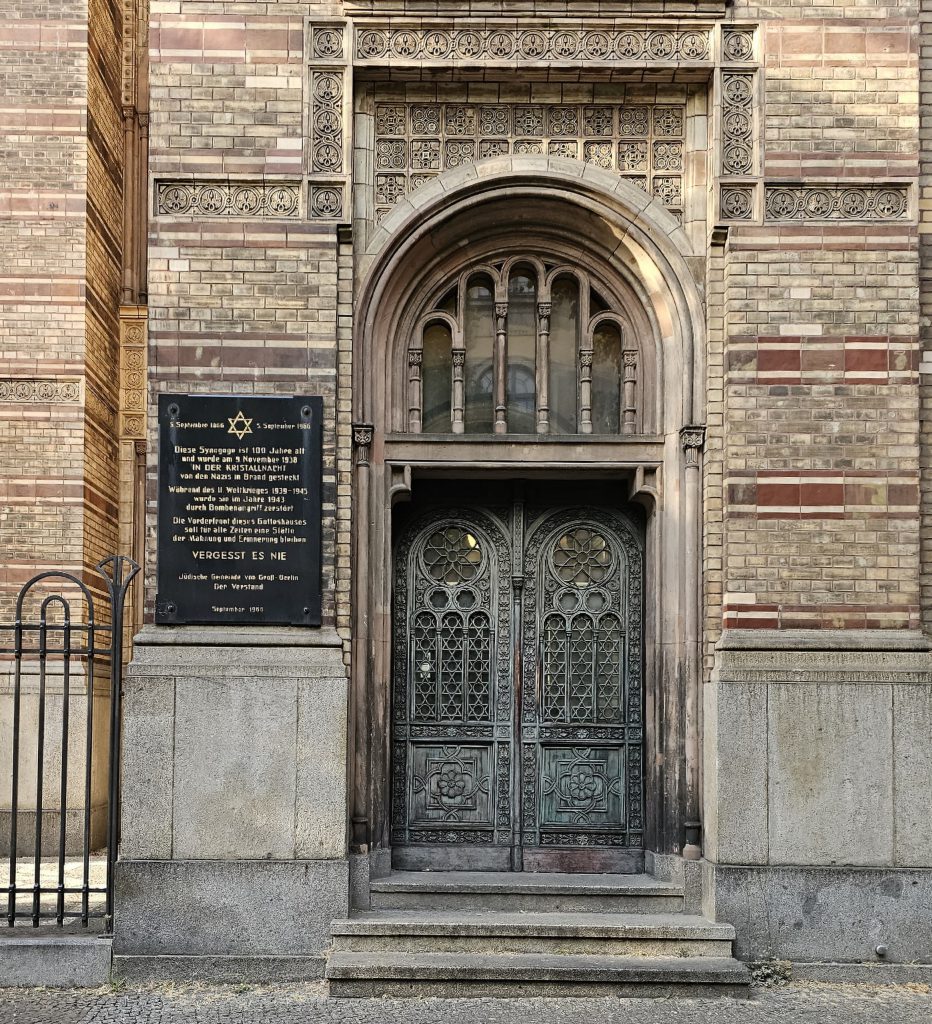 Let's learn some German words!
Some German words appear to be very long. It would be easier to comprehend if the compound words were split into its component parts, with a space in between. Unless I move to Berlin (that would be quite fun for a month or two) I don't think I would have the capacity to learn German, but here is a mini list of some long words I found interesting during my day.
Daten / data
Schutz / protection
Einstellungen / settings
Datenschutzeinstellungen = privacy setting (seen on every website I searched)
Fernsehen / television
Turm / tower
Fernsehenturm = TV Tower
Tag / day
Buch / book
Tagebuch = diary
Früh / early
Stück / piece
Frühstück = breakfast
Morgen / morning
Aktivität / activity
Morgenaktivität = morning activity
Nach / after
Mittag / midday
Nachmittag = afternoon
Abend / evening
Essen / food
Abendessen = dinner
Abfahrt / departure
Zeit / time
Abfahrtszeit = time of departure (there is an optional 's' in between the two words)
Ankunft / arrival
Zeit / time
Ankunftszeit = time of arrival (there is an optional 's' in between the two words)
Part of our train journey to our hotel, with some clues in the second part of the place names.
Allee = avenue, dorf = village, hof = court, wald = forest, strasse = street, bahnhof = railway station, brücke = bridge, platz = place