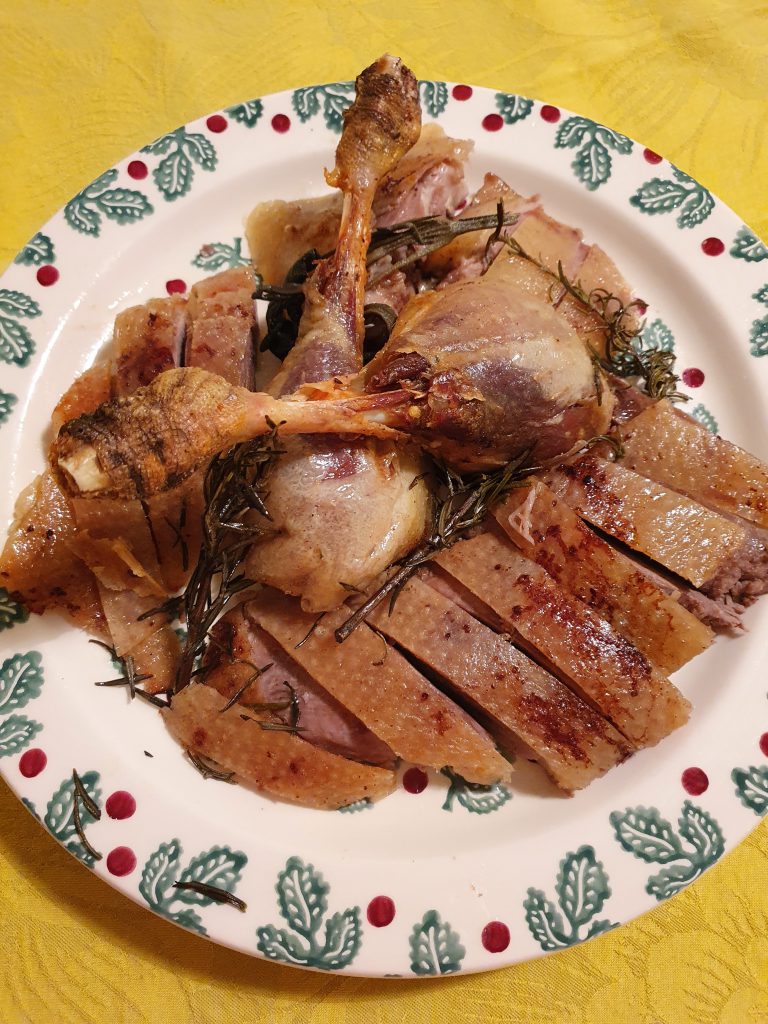 It has been a busy week, and a disruptive one. Up and down the country people have had to alter their Christmas plans. The warning is that too much mixing in the five-day window over Christmas will lead to more infections and covid-19 deaths come the new year. I spent most of Tuesday re-arranging and cancelling visits, including a guided tour of Billingsgate Fish Market.
We are feeling tired as a family, having had a very full term of work, studying, community volunteering and looking after each other. So this Christmas we are aiming to revisit firm favourites and to not wander too much outside of our comfort zone.
There was a special gift of goose on Thursday from Investment Banker Friend and Shoe Lady from Goodman's Geese. I once spoke with Judy Goodman, when seeking advice on whether the geese from her farm would be stubbly. I did not want to be standing in a cold kitchen looking out into a dark morning, plucking the remaining hairs from the bird's skin. Mrs Goodman reassured me that the goose's skin would be as smooth as your legs when you have had them waxed. Thus reassured, I ordered a most lovely goose.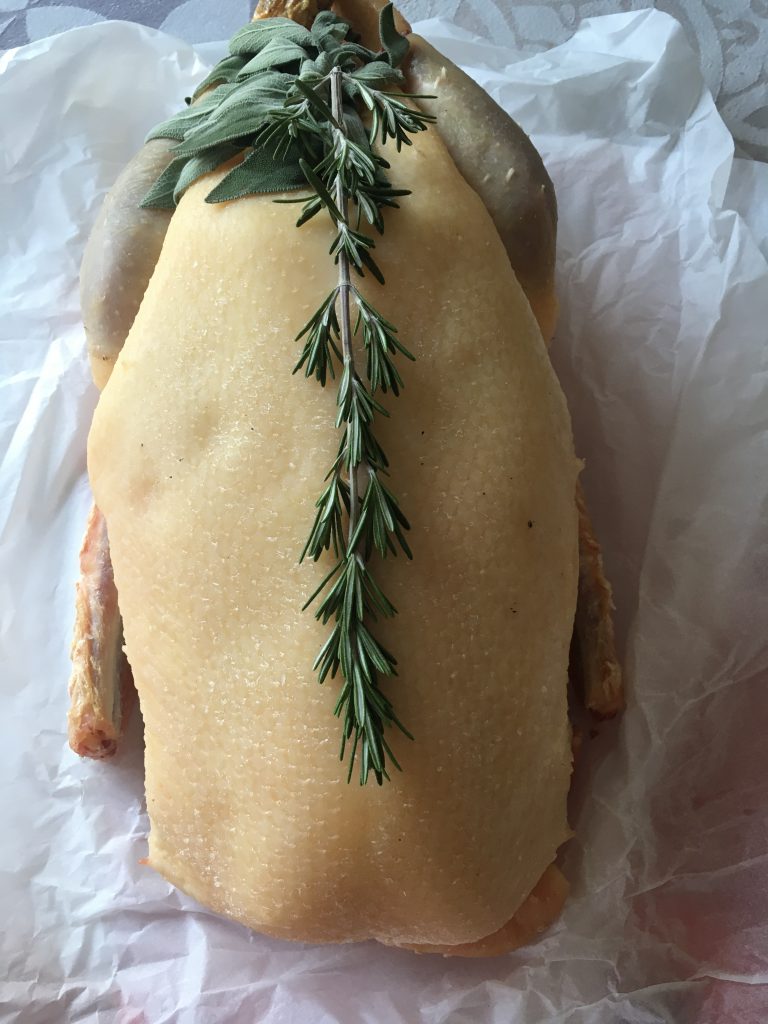 We prepared five types of vegetables to accompany the goose, along with some apples and sour cherries. To drink, we had a bottle of Bordeaux from Berry Brothers and Rudd.
Being in Tier 3 of the government's social distancing and restriction policy is a bit of a bummer. This means no households mixing indoors or outdoors in hospitality venues or private gardens. Junior 1 called to ask if he could have his roast goose dinner as a takeaway. How wonderful to share a meal even if it is not around the same table.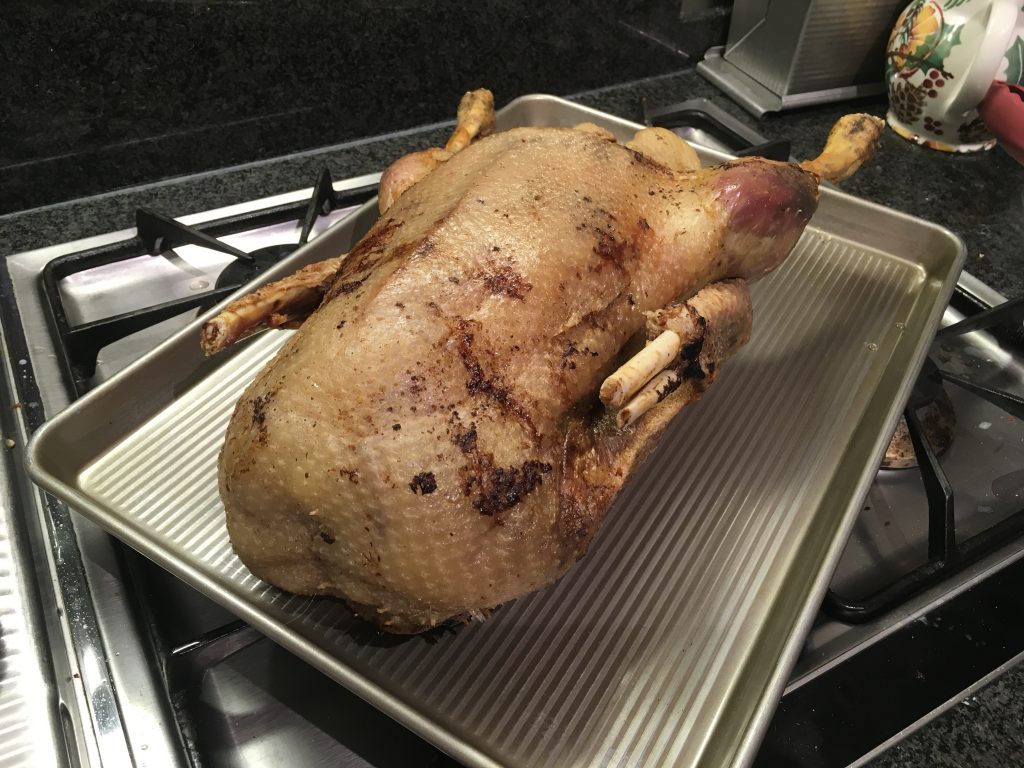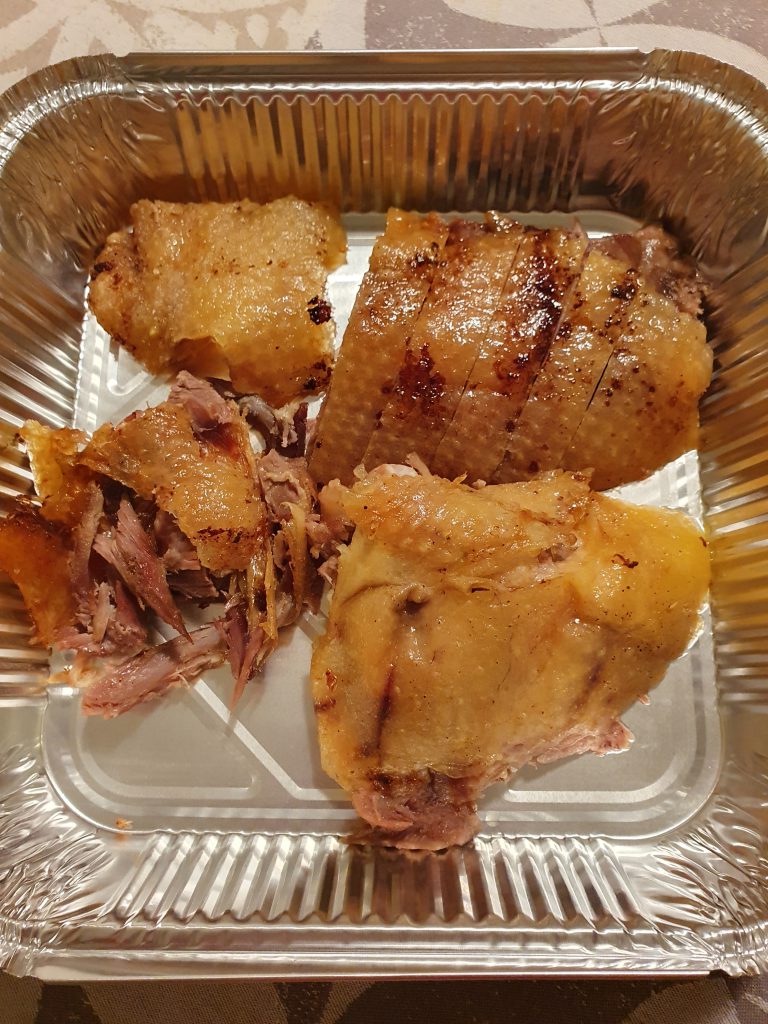 Here are the recipes for the vegetables and apples. We did this all in a day but ideally, you would start the cabbage two days earlier, the swede one day earlier and the apples first thing in the morning of when you are serving the goose. Once the goose is roasted and lifted on to a separate plate to rest, the fat can be poured (yes, poured…there was 1.2 litres of fat) into a large jug and a delicious gravy made with the remaining brown bits.
Christmas Red Cabbage:
650 g red cabbage
200 ml cider vinegar
150 g clementine or orange juice
60 g unsalted butter, diced
150 g light brown sugar
2 star anise
1 cinnamon stick
1 teaspoon fine sea salt
20 turns of the pepper mill
How to Make:
Quarter and very finely shred the cabbage. We use a mandolin for this purpose.
Place the cabbage in a large pan with the vinegar, clementine or orange juice, butter, sugar, star anise, cinnamon stick, salt and pepper.
Cook over a low heat for 1 – 1½ hours, stirring frequently until cooked to a consistency you are happy with.
Strain off any excess liquid and boil this separately until reduced to a syrupy glaze. Pour this glaze over the cabbage and toss to coat, checking for seasoning.
The red cabbage can be prepared ahead of time and microwaved before serving.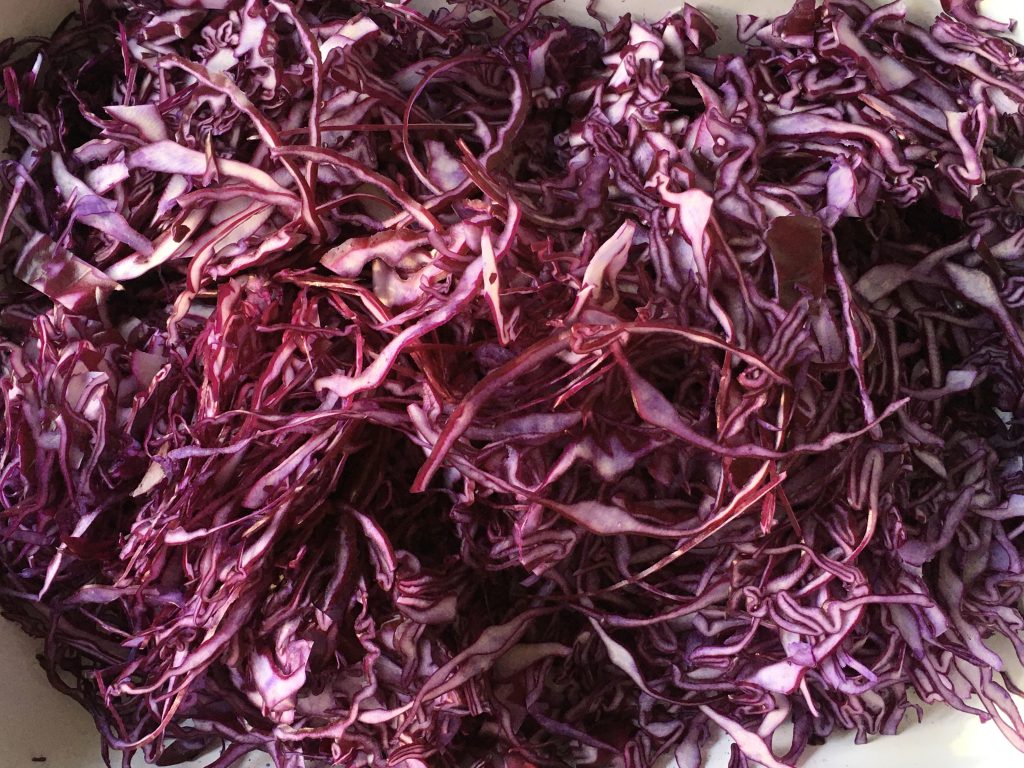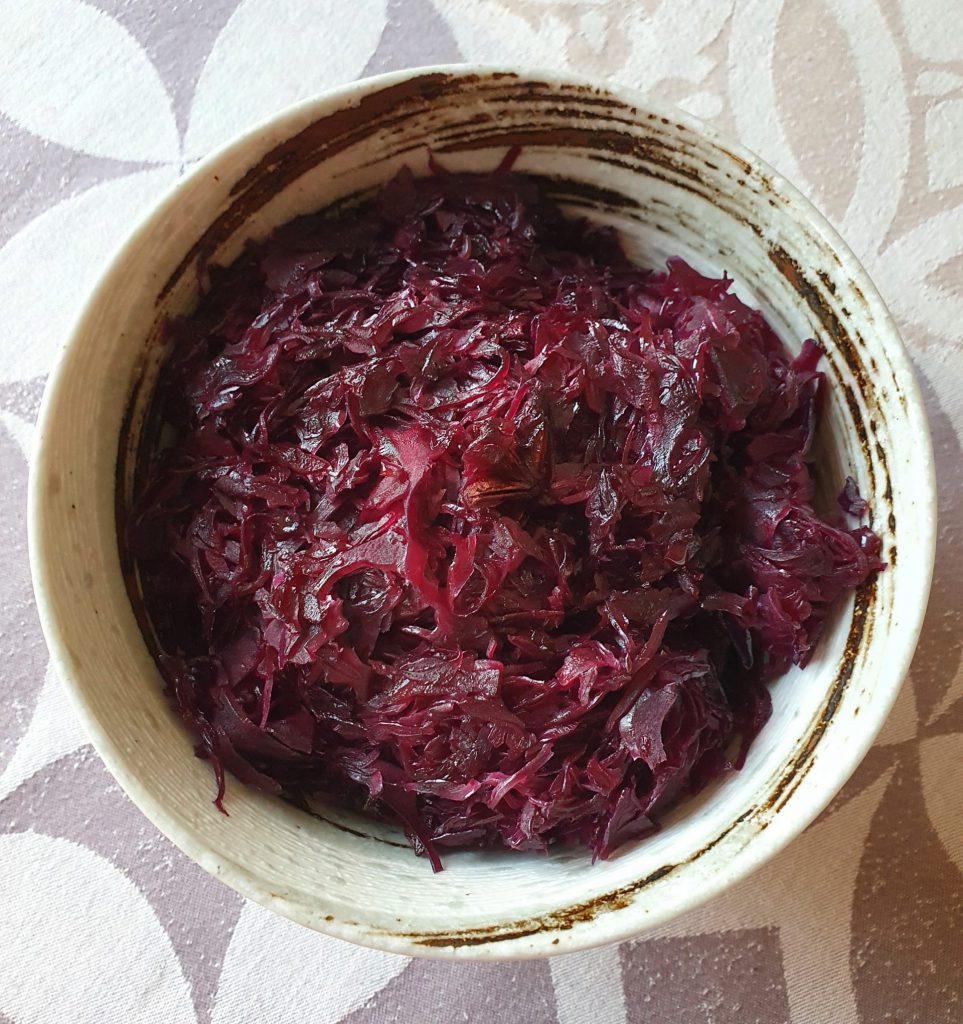 Mashed Swede:
1 kg swede (peeled weight)
60 g unsalted butter
60 g double cream
¾ teaspoon fine sea salt
10 turns of the pepper mill
How to Make:
Cut the swede into small cubes and place in a steamer.
Steam the swede until it feels soft, around 30 minutes.
Place the butter, cream, salt and pepper into a large mixing bowl.
Using a potato ricer, press the cooked swede into the bowl. Alternatively, use a potato masher. The heat from the swede will melt the butter and warm through the cream.
When you have pressed through or mashed all the swede, use a large metal spoon to mix everything up. Taste for seasoning.
The swede can be prepared ahead of time and microwaved before serving.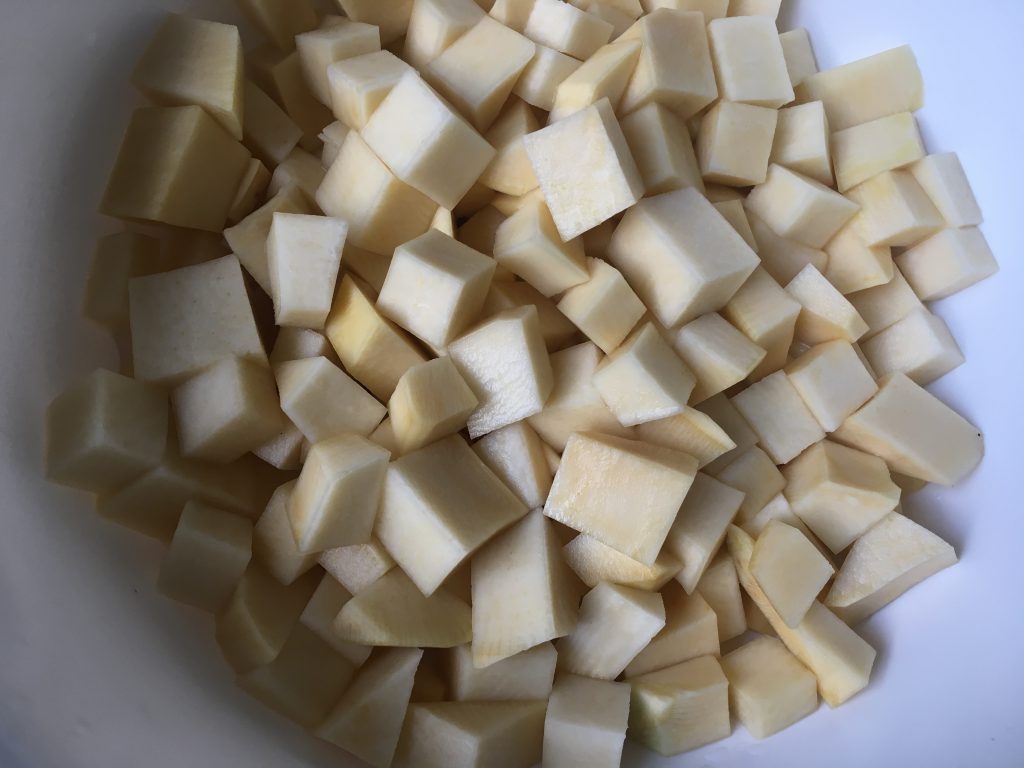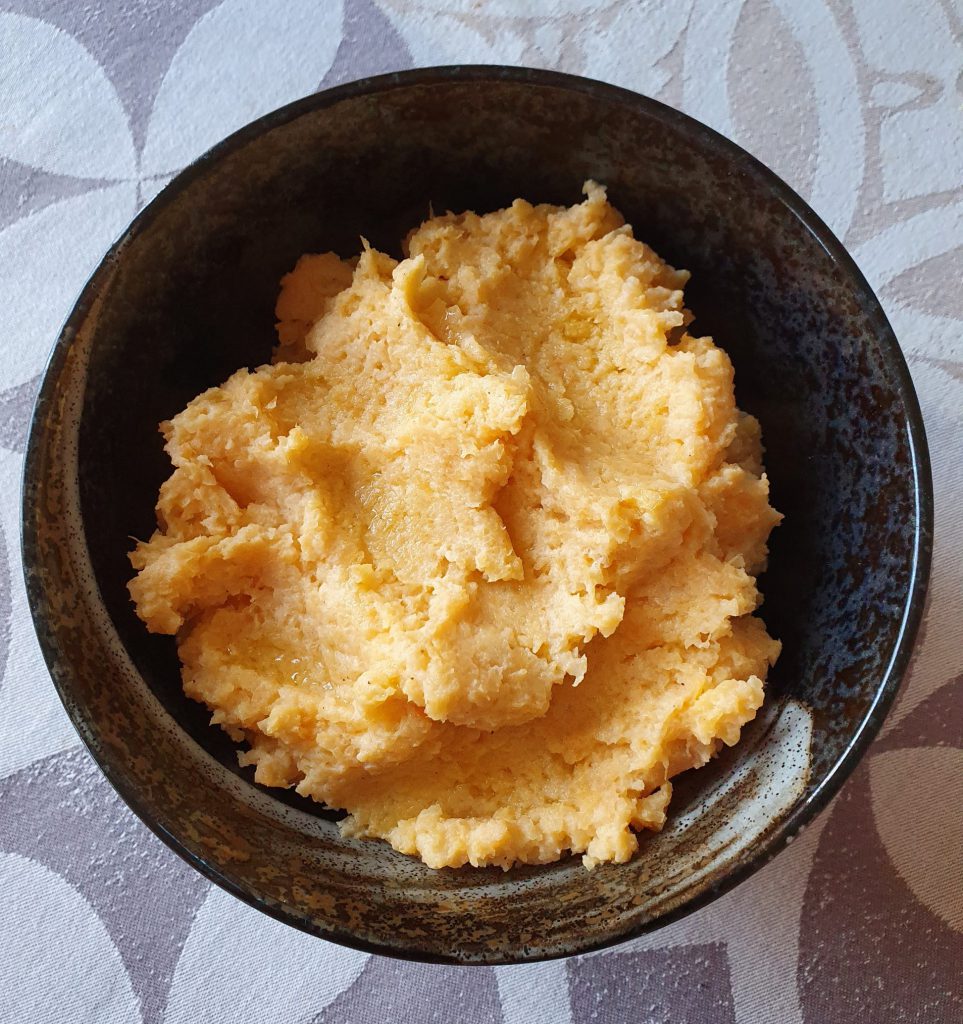 Bramley Apples with Sour Cherries:
1 kg Bramley apples
75 g dried sour cherries, soaked in 1 tablespoon cider vinegar
30 g unsalted butter
2 tablespoons unrefined castor or granulated sugar
How to make:
Peel, core and slice the apples into 4-8 large pieces.
Heat the butter in a pan and fry the apple slices until brown on one side.
Turn them over and sprinkle on the sugar.
The apples are ready when they are softened enough but still retain their shape.
Sprinkle on the soaked cherries before serving.
The apples can be prepared ahead of time and served at room temperature.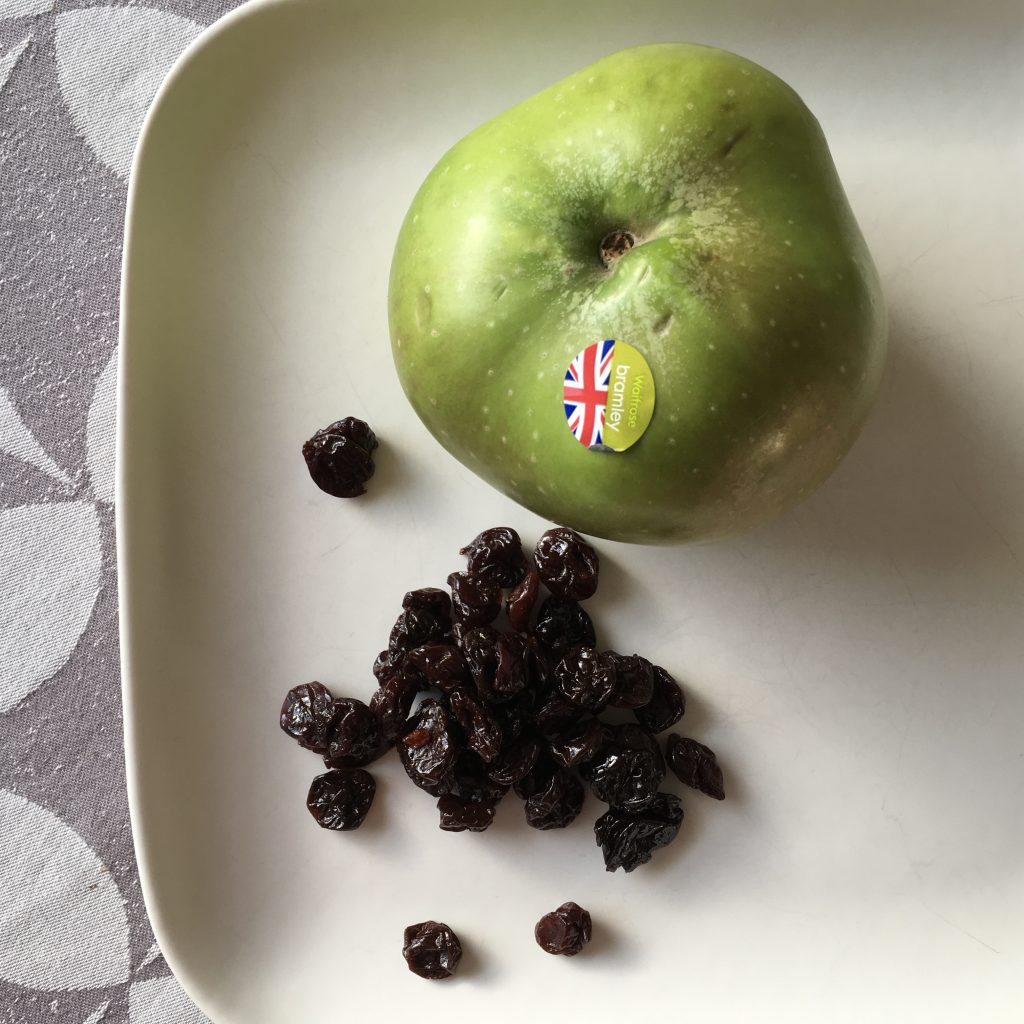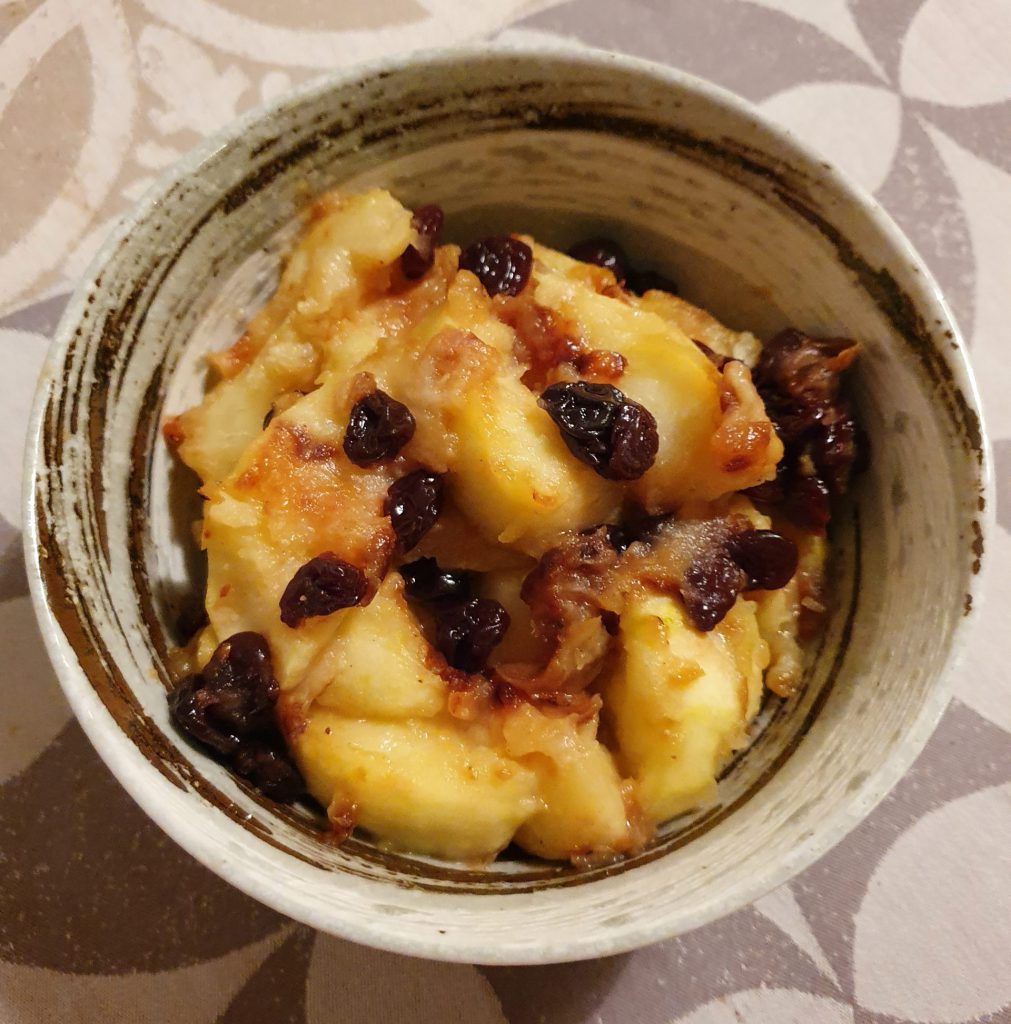 Roasted Potatoes:
Simply peel a quantity of potatoes that are suitable for roasting. Different varieties of potatoes have different qualities, and some are better suited to roasting than others. 3 kg would suffice for 6 – 8 people who love roast potatoes.
Cut the potatoes into equal-sized pieces and boil in a large pan of salted water until they are cooked through but retail some firmness in the centre.
Drain the potatoes and return to the pan. Cover the pan with a lid.
With one hand on the the pan handle and the other hand restraining the lid, proceed to give the potatoes a bash by shaking the pan 2-3 times. Don't go overboard, however fun this might seem.
Whilst the potatoes are cooling down and evaporating some of its moisture, heat a large roasting pan in a hot oven with some olive oil or goose fat. Throw in a broken up head of garlic.
Roast the potatoes until they are crispy, turning them over regularly to ensure even browning. The cooking time and oven heat largely depends on what else you are cooking in the oven.
Drain the fat off and sprinkle on some Maldon sea salt flakes before serving.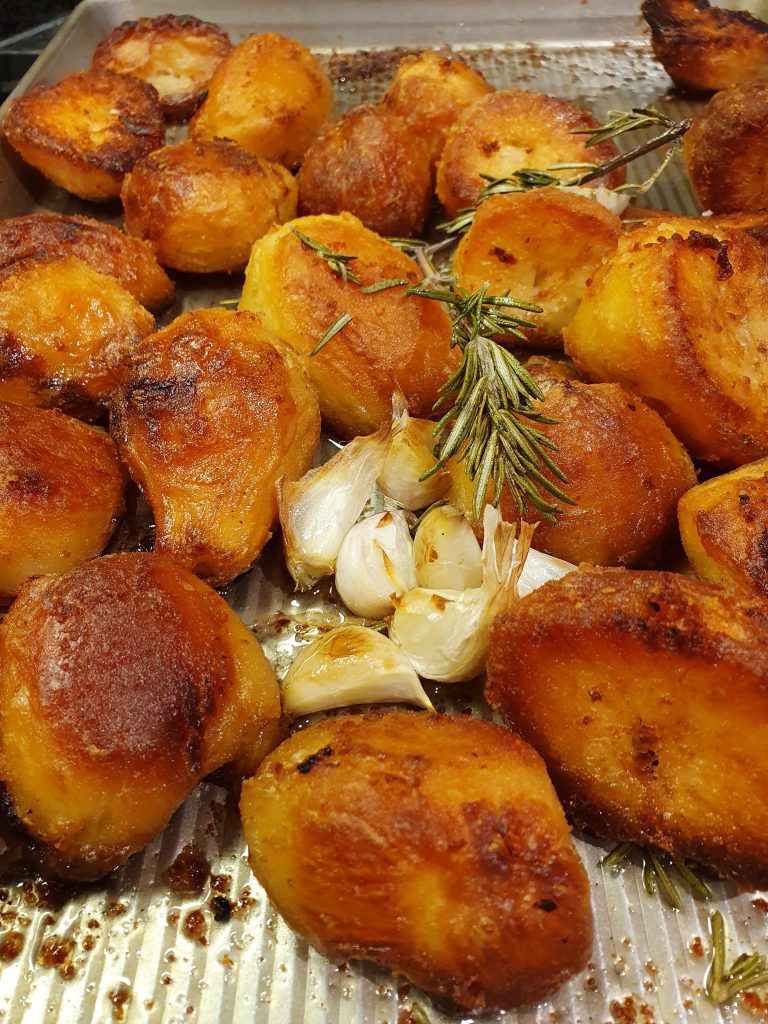 Roasted Carrots and Parsnips:
Simply peel a quantity of carrots and parsnips. Slice lengthways into halves or quarters and place in a roasting tin along with 2-3 tablespoons each of olive oil and maple syrup.
Roast in a hot oven until they are cooked and slightly charred. The cooking time and oven heat largely depends on what else you are cooking in the oven.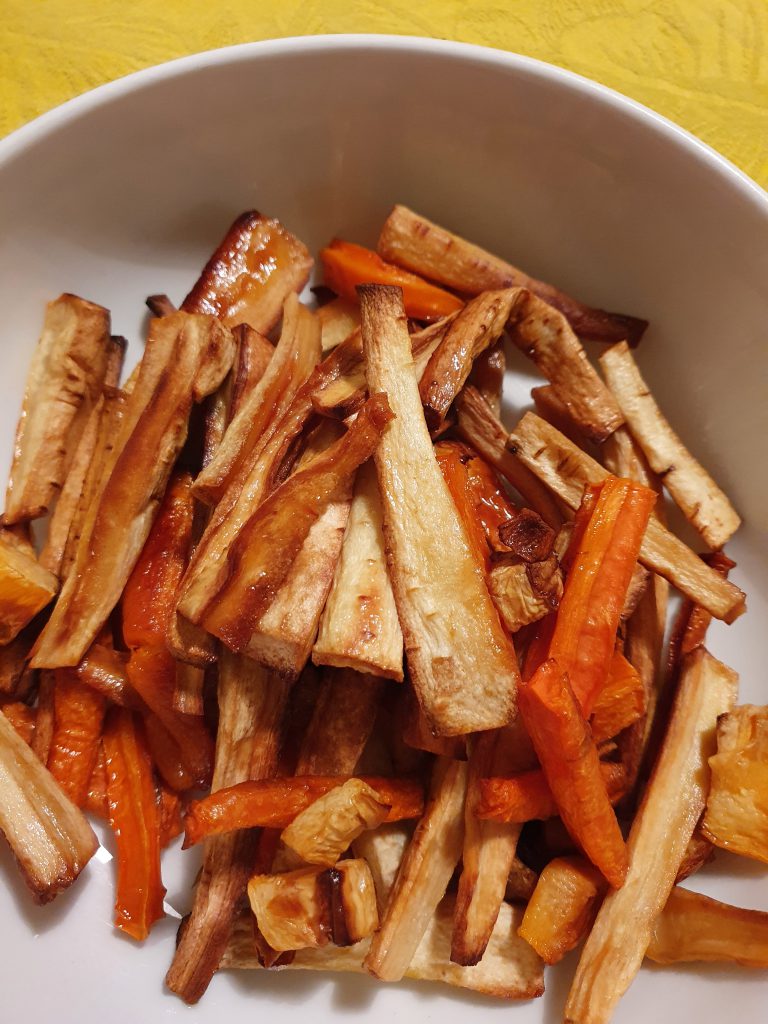 Roasted Brussel Sprouts and Chestnuts:
Simply wash a quantity of Brussel sprouts and slice in half. Place in a roasting tin along with 2-3 tablespoons of olive oil.
Roast in a hot oven until they are cooked and slightly charred. The cooking time and oven heat largely depends on what else you are cooking in the oven.
The sprouts can also be pan fried with some olive oil in a pan.
Either way, add a handful of cooked roasted chestnuts before serving.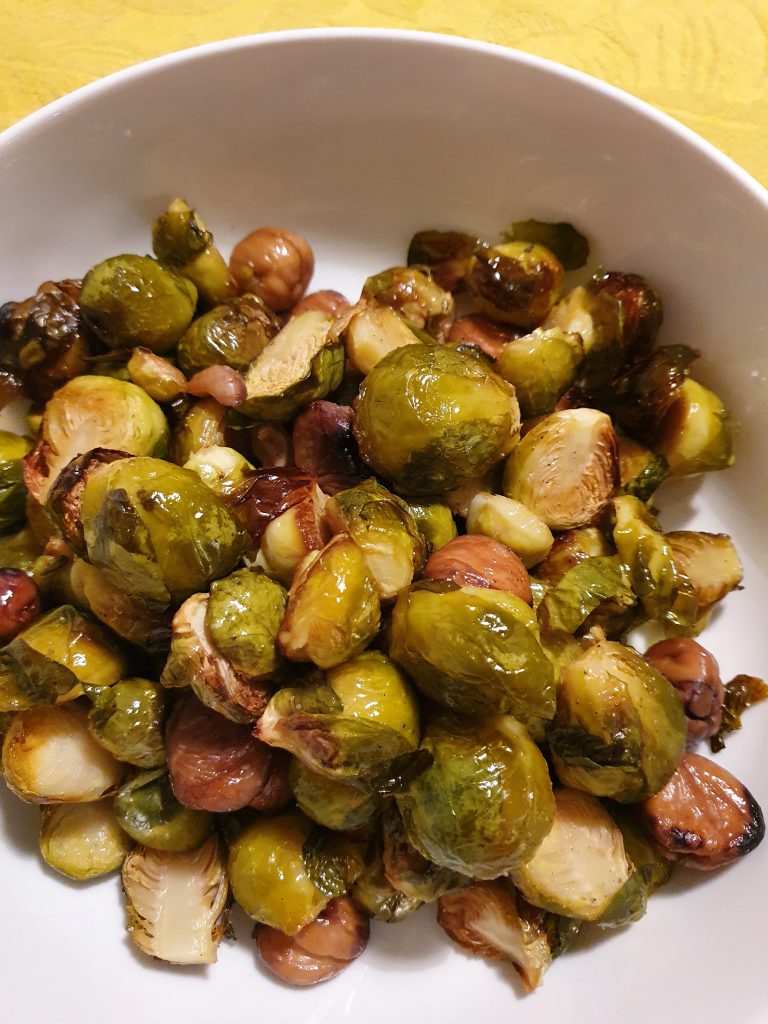 How to Roast your Goose
Junior 3 spent a day poring over multiple recipes to work out the best way to roast goose. Midway through the exercise I said that it was possibly best to trust the recipe that came with the bird, as this is the way I had done it before. The instructions are simple and Junior 3 later explained it this way: Roast the goose breast side up for an hour, turn over and roast the other side, turn over again and roast until the end. Basically you are shallow frying the goose in its oil. 
This method yielded very crispy skin, but the timings could be reduced. For a 5kg goose, the timings are: Roast the goose breast side up for 45 minutes, turn over and roast the other side for 45 minutes, turn over again and roast breast side up for 20 – 30 minutes. There is no need to use any flour on the skin to crisp it, but pricking the skin all over (especially the fatty parts) and sprinkling salt and pepper before roasting is a must.
To check if the goose is cooked, pierce the thickest part of the thigh with a skewer. If the juices run clear then the bird should be ready. You could also use a meat thermometer, to check that the core temperature exceeds 72-74°C.
Remove the goose from the roasting tin and keep aside for 30 minutes to rest before carving. Pour the fat into a large jug or tupperware, which you keep to roast potatoes or to confit meat at a later date. Add 3 tablespoons plain flour into the pan, using a small whisk to mix the flour into the remaining pan juices and scraps. Add 500 ml stock which you have made with the giblets. Continue whisking until you get a thickened gravy.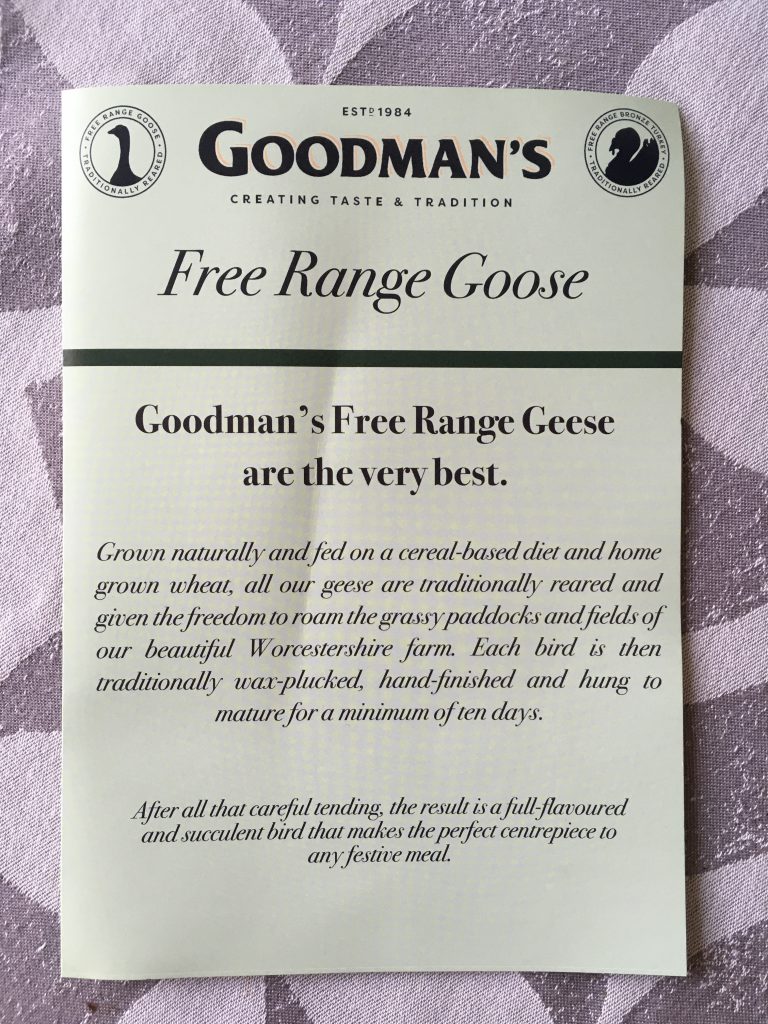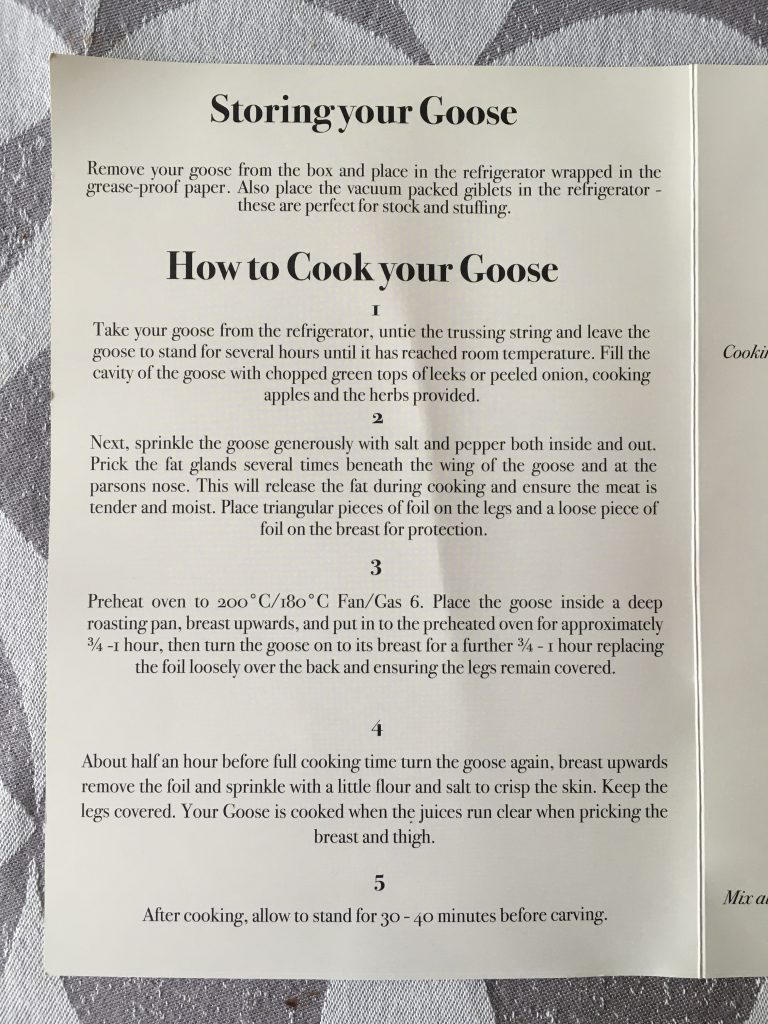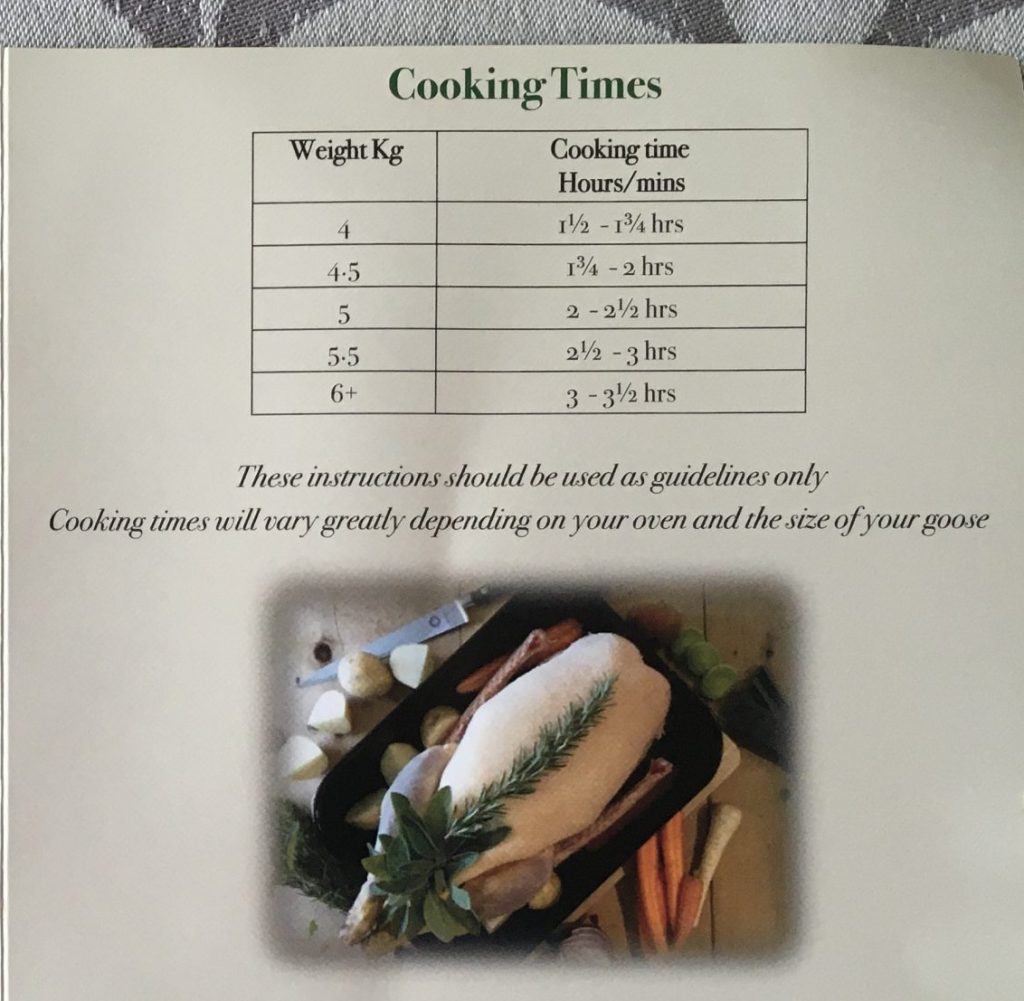 It is now the morning after as I write up the recipes. I honestly think that having a goose the week before Christmas is such a splendid idea as it really gets you into the swing of things. We are now more prepared to face Christmas week. Tomorrow we collect our gammon ham from the Ginger Pig, to prepare for 23 December. Our turkey, also from Goodman's via Farmdrop, will be delivered on Christmas Eve.
Just as I was about to write this up as a model eating plan for 2021, I reminded myself that this time next year I might not want to be in London for Christmas. After such a dreadful year, we might all want a real break and to lie in a beach resort somewhere in the sun. But for the remainder of this year and well into the next few months, we need to hunker down, brighten up and keep going until we see the end of this pandemic.