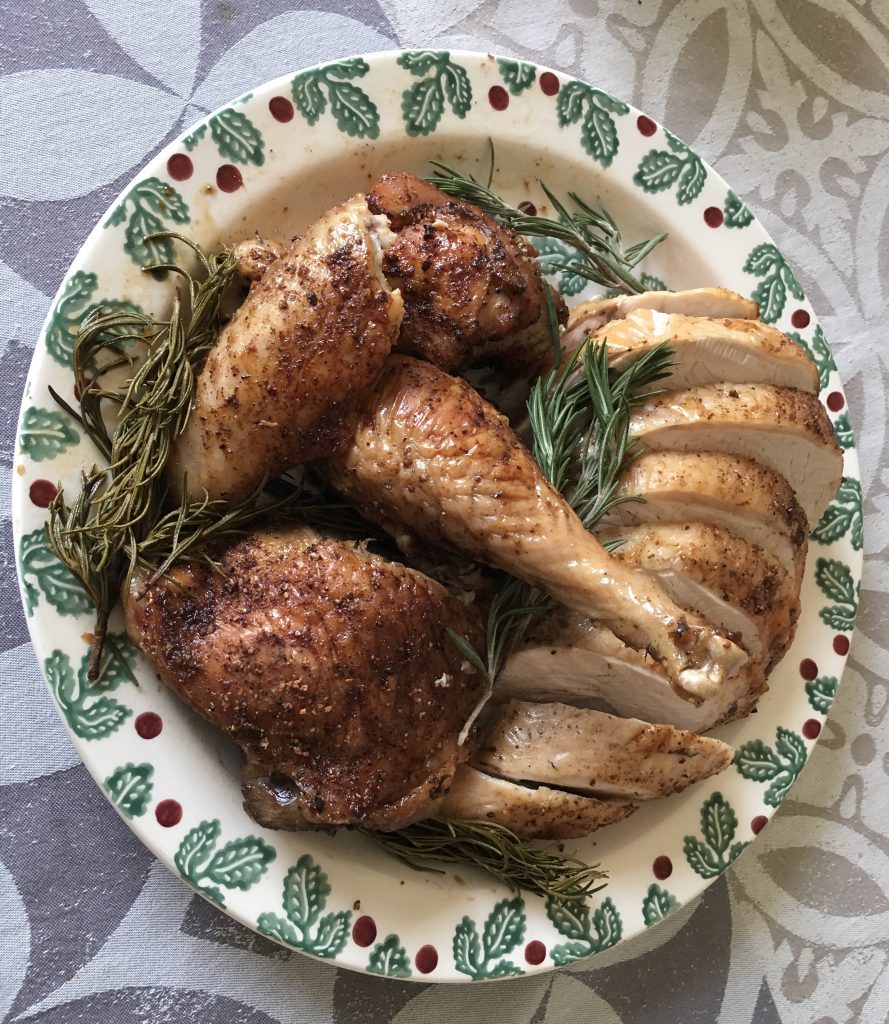 Christmas 2019 will be remembered as the Christmas we did not present a whole turkey at the table, rather it was a turkey presented in parts. It will also be remembered as the Christmas we went hunting for that elusive red cabbage recipe.
I have never had a problem with roasting a whole turkey and have been doing so for over 20 years. The recipe and timings by Delia Smith have served me well all this time.
This year, though, Junior 3 decided to muscle in and do it his way. The recipe for a Spiced and Glazed Roast Turkey is from Bon Appetit. Writing after the big event, I can say that it truly was a delicious way of roasting the turkey and it took a far shorter time than usual. Would I replicate this in future years? I see no reason why not, as it meant getting some of the work done beforehand. The bones and giblets left over from partially deboning the turkey was made into a stock.
Sometimes even when we know everything, it is still wise to remain silent and let the young people get on with it.
Basically the turkey is jointed into several parts, rubbed with a spiced salt rub chilled in the fridge for 1 – 2 days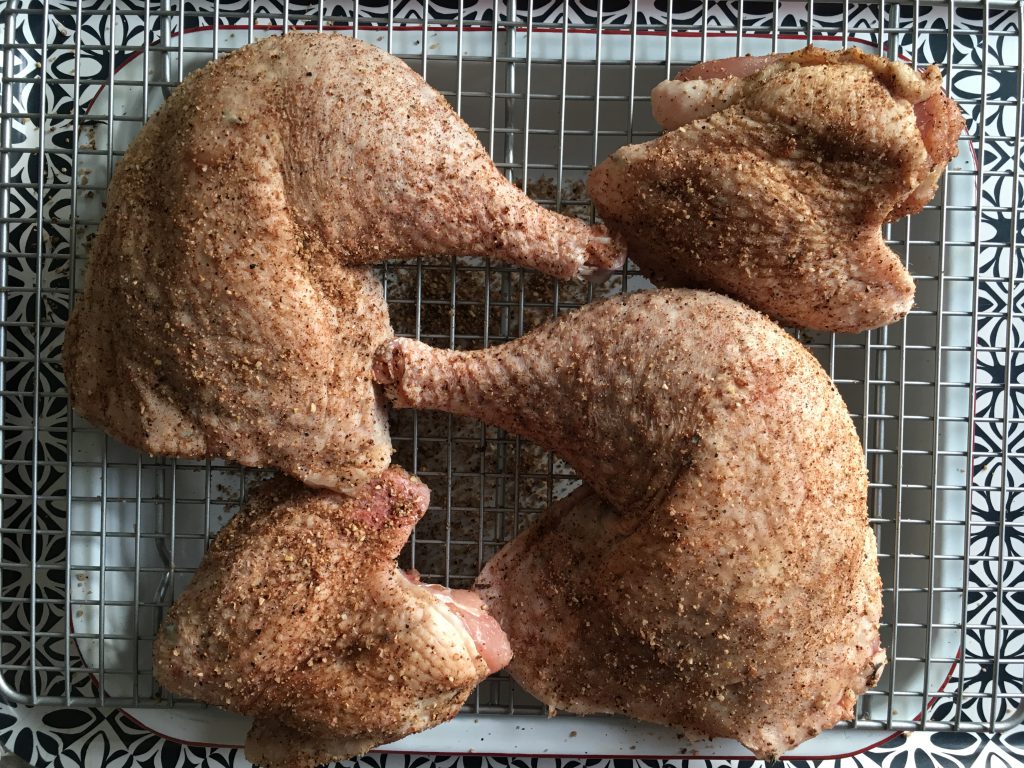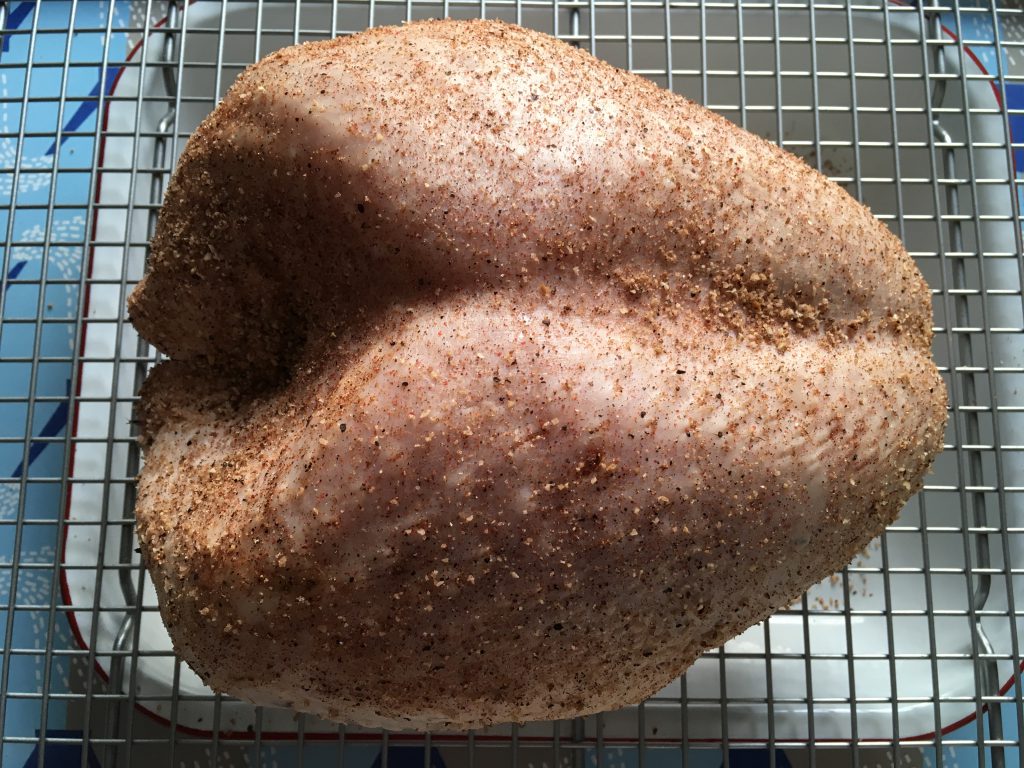 On the day itself, the turkey pieces are roasted in the oven on a high temperature for 1 ½ hours, with a soy-orange-garlic glaze brushed on every once in a while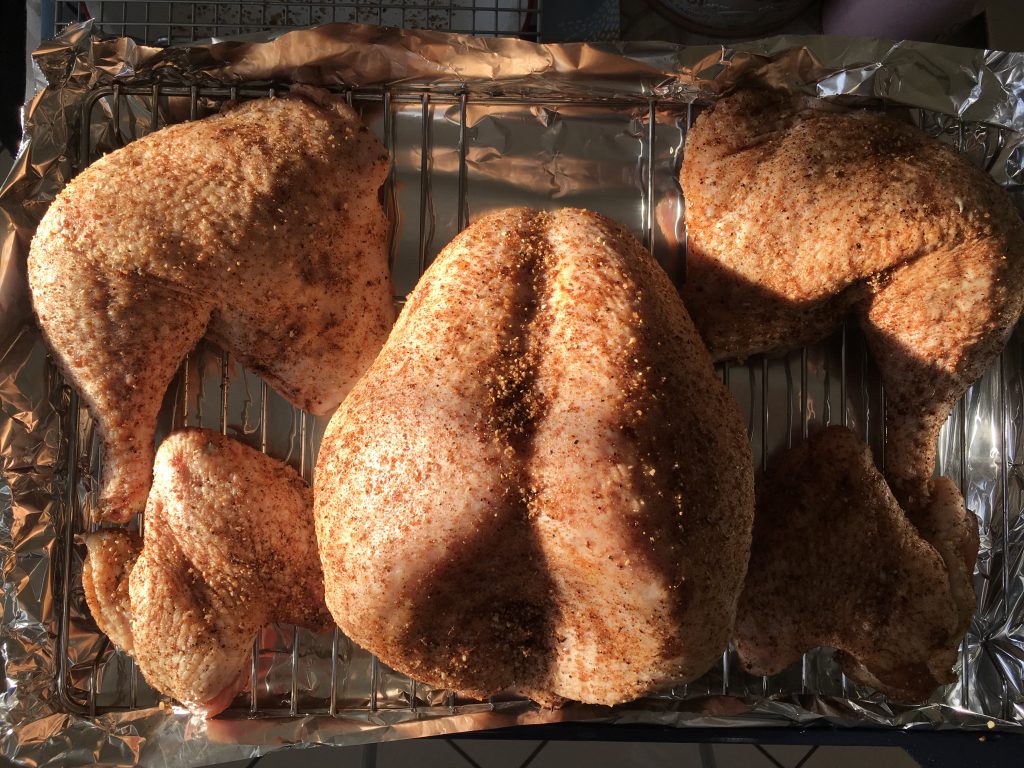 We served the turkey with…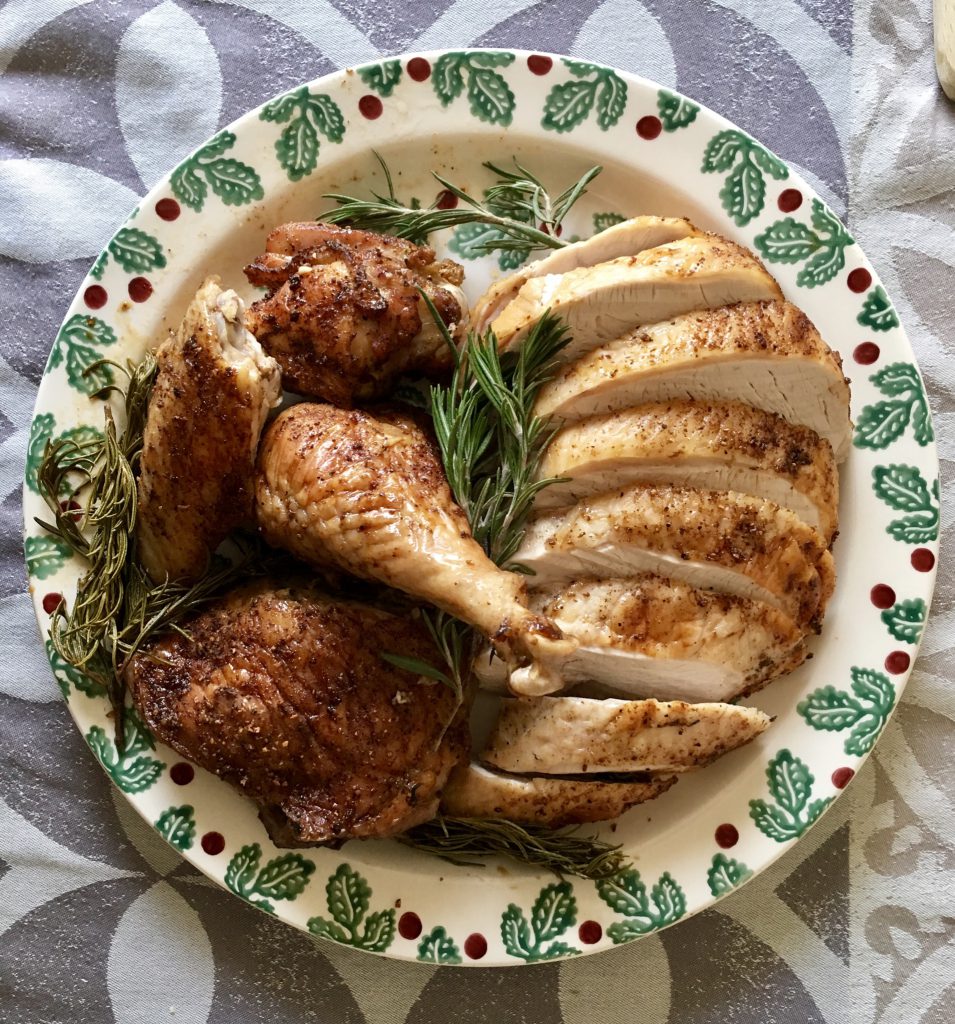 …roast potatoes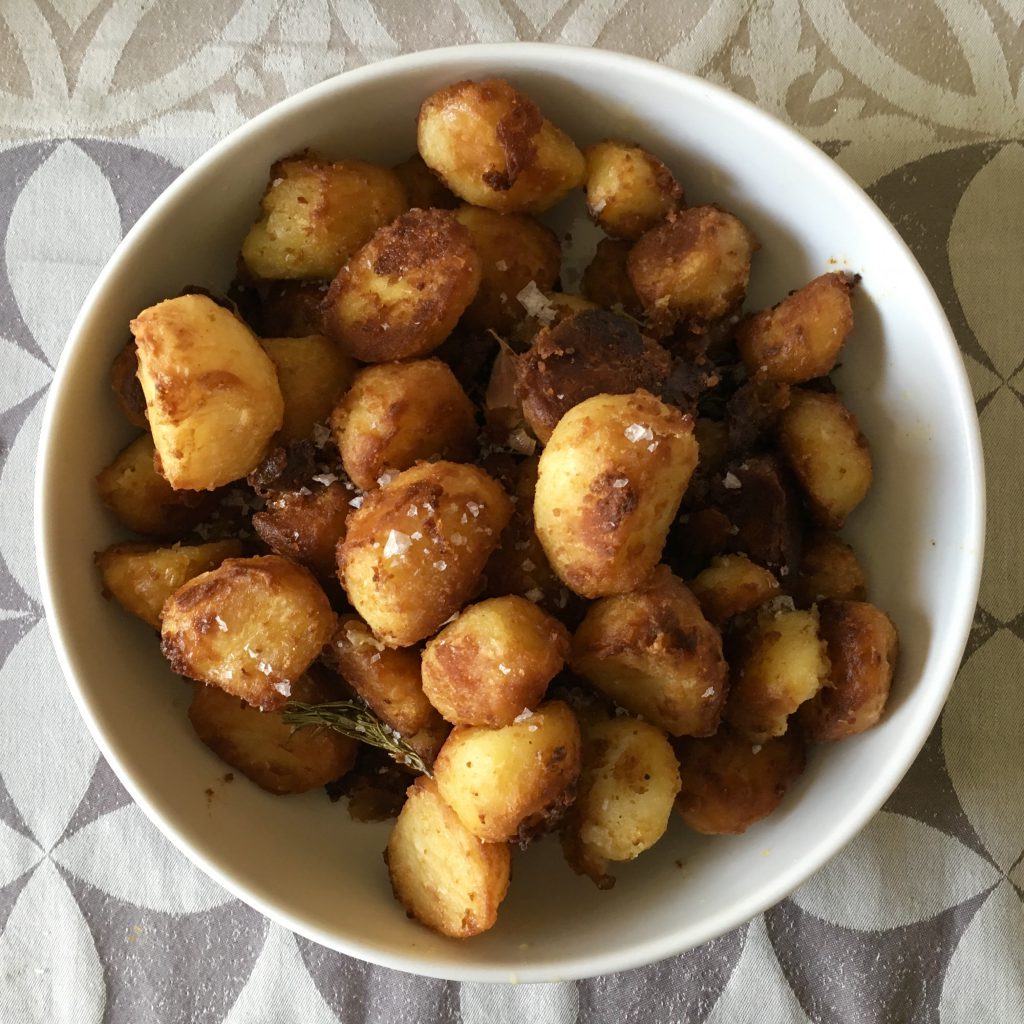 …carrots and parsnips in maple syrup and wholegrain mustard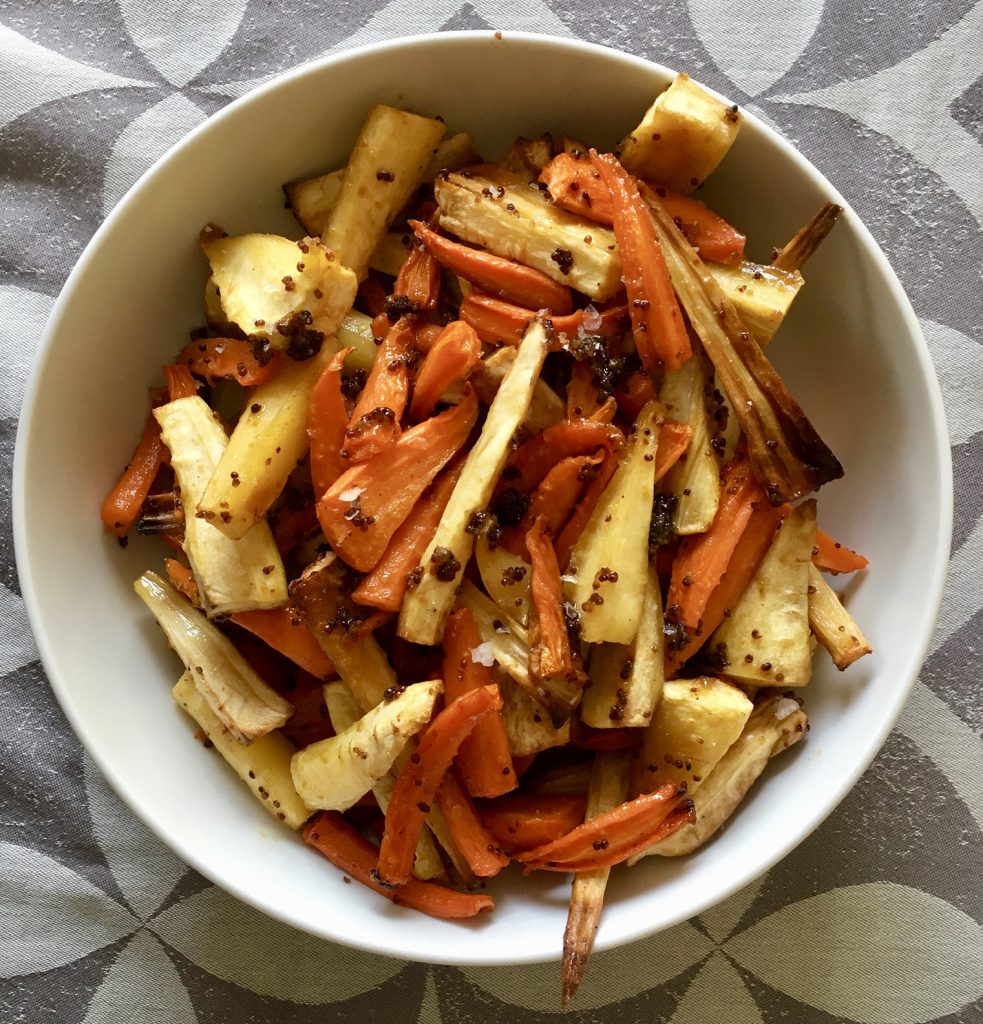 …roasted brussel sprouts with chestnuts and butternut squash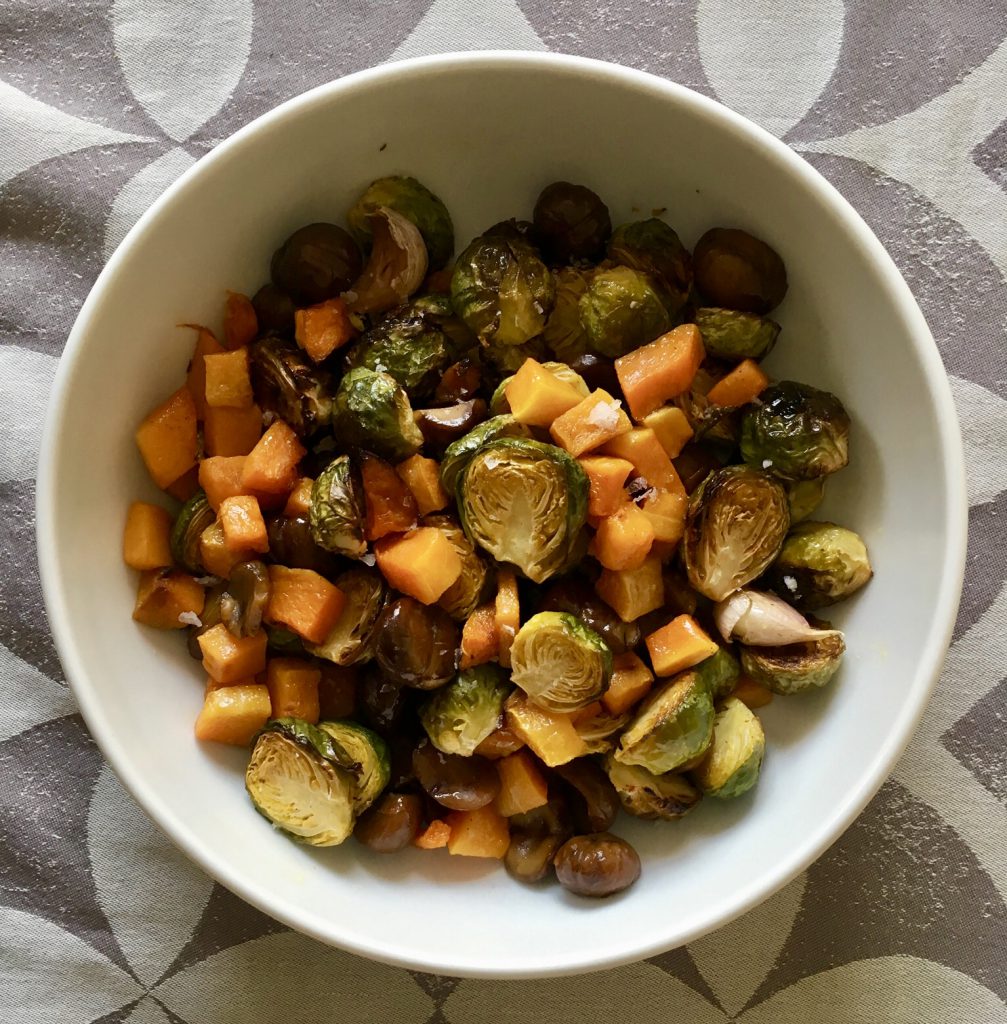 …chipolata sausages wrapped in bacon aka pigs in blankets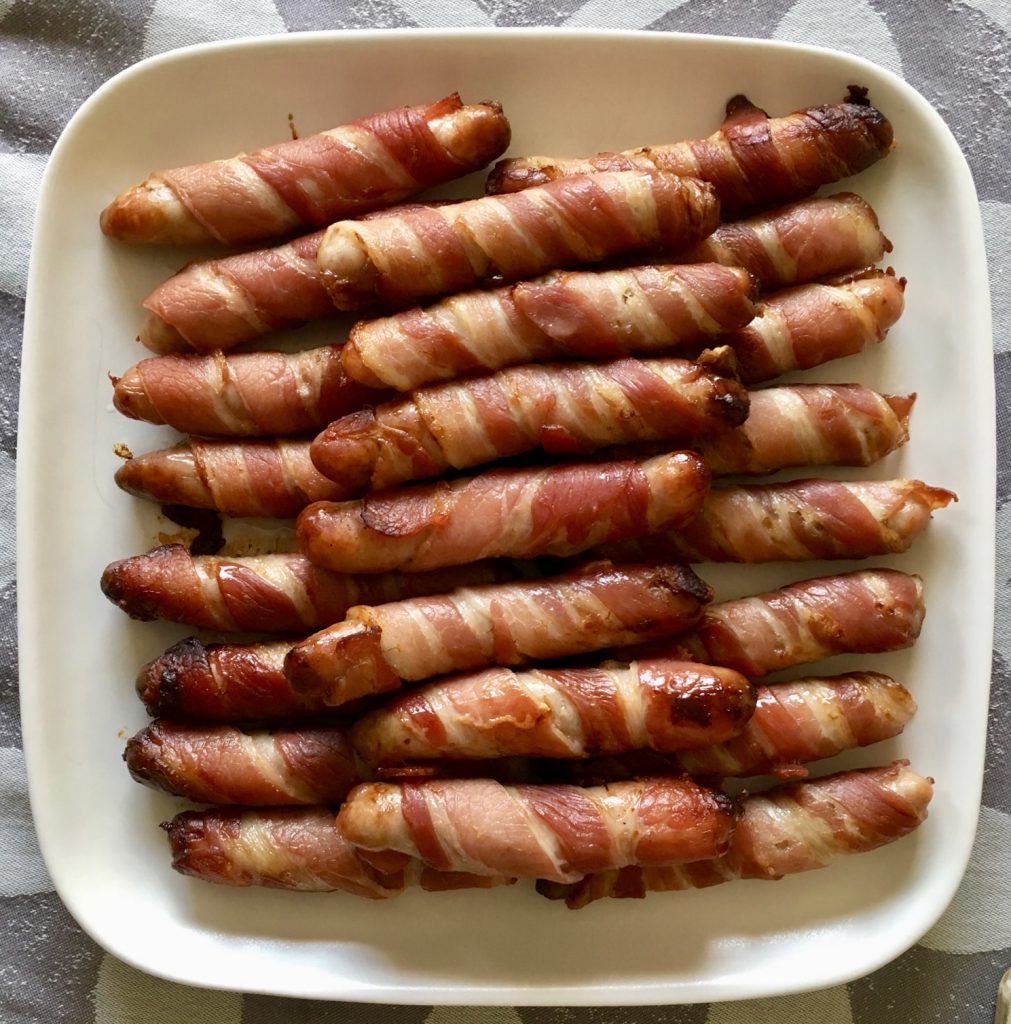 …and finally the bread sauce along with the cranberry and orange sauce I made earlier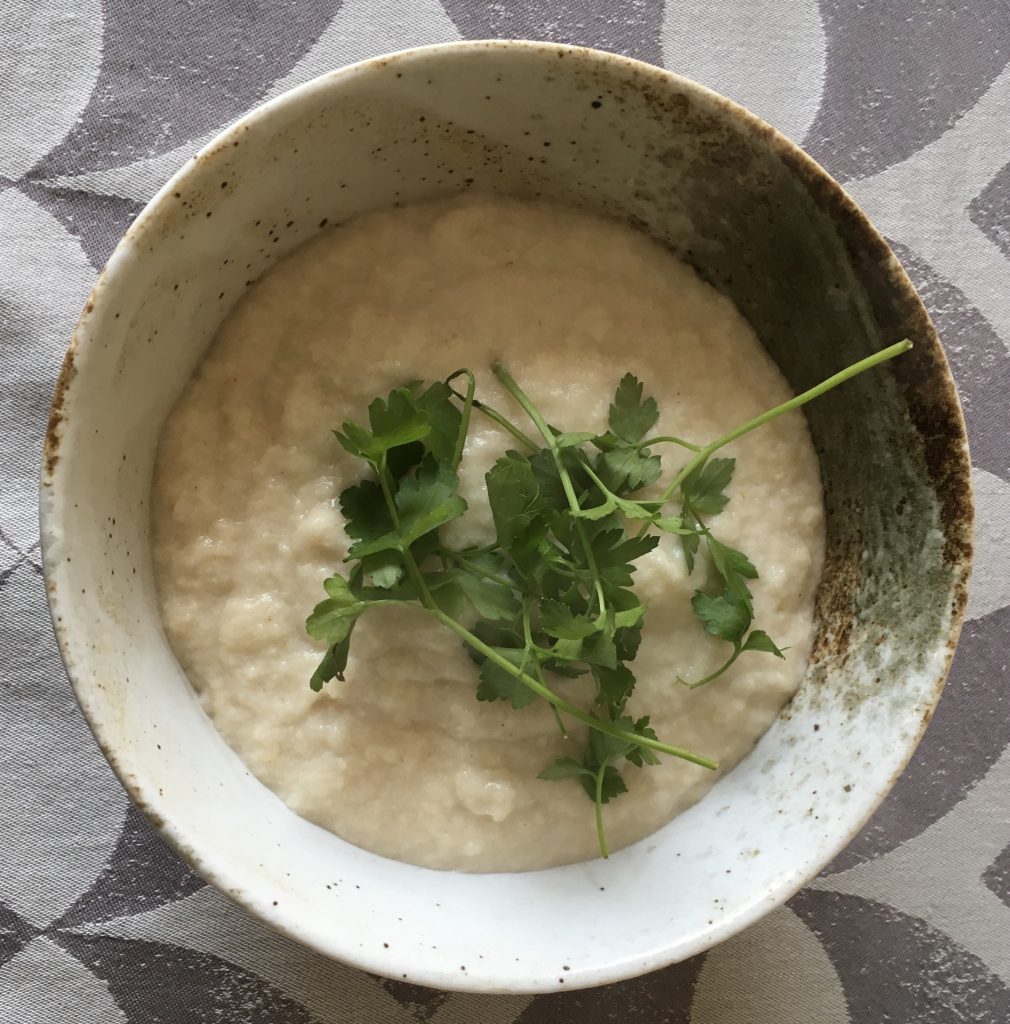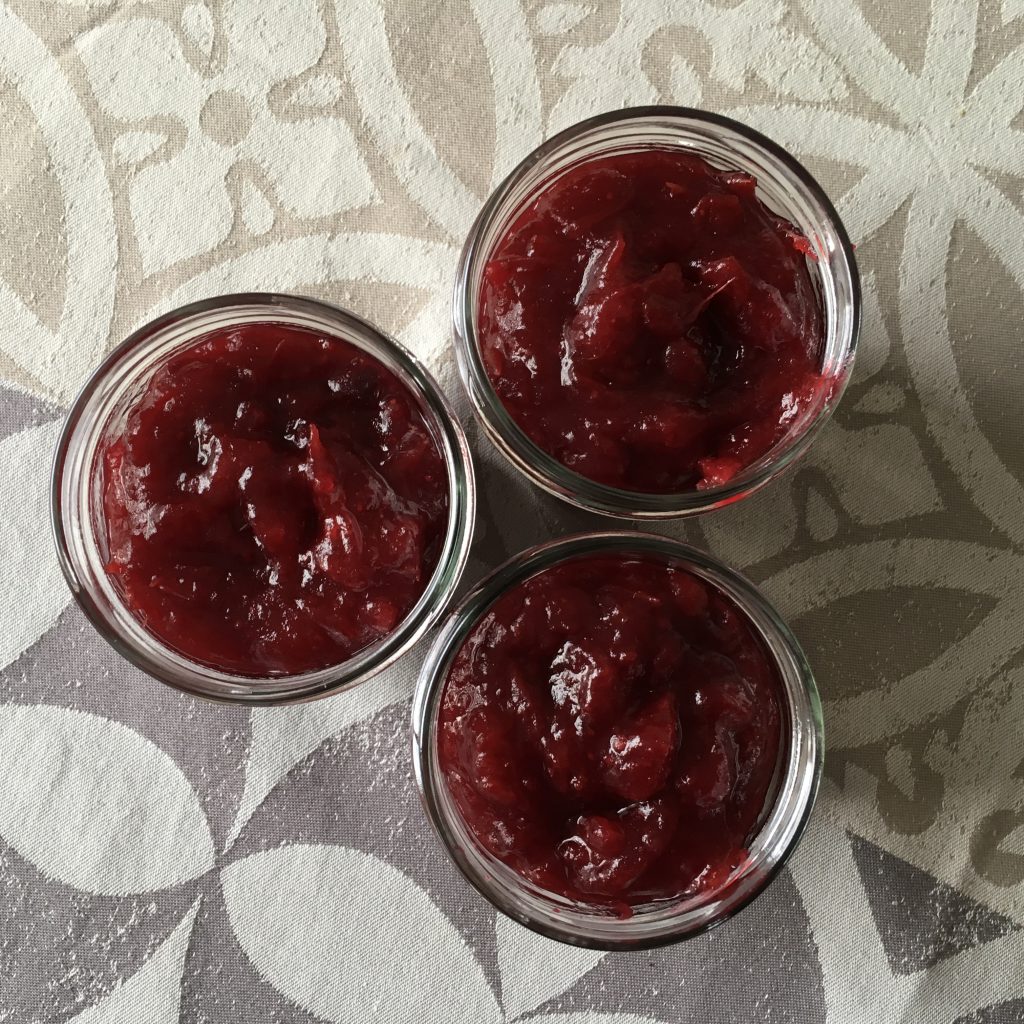 We also served up some red cabbage but here the results were not so good as we struggled to replicate that ideal red cabbage we had once eaten at the Jack in the Green in Devon. Some time ago they had the recipe on their website which I sensibly printed it out. This was on my noticeboard until I thought to place it somewhere safer. So safe that I could not locate it in time for Christmas Day.
I found it after the meal, and so here is the recipe with the addition of a few pointers for clarity. For once I am glad that Winter is long, giving us additional opportunities for communal roast dinners and a reason to make this red cabbage dish.
Jack in the Green's Braised Red Cabbage
For the Cabbage:
1 small red cabbage
200 ml white wine vinegar
100 ml orange juice
150 g diced butter
150 g light brown sugar
1 star anise
1 cinnamon stick
How to Make:
Quarter and very finely shred the cabbage.
Place the cabbage in a large pan with the vinegar, orange juice, butter, sugar, star anise and cinnamon stick.
Season well with salt and pepper.
Cook over a low heat for 1 – 1 1/2 hours, stirring frequently until cooked to a consistency you are happy with.
Strain off any excess liquid and boil this separately until reduced to a syrupy glaze. Pour this glaze over the cabbage and toss to coat, adding a spoonful of redcurrant jelly if you so wish.
For Christmas Eve we had a ham and a vegetarian main course and three salads.
A 3 kg smoked gammon, simmered for 3 hours in a pot with water, celery, carrot, onion, bay leaf and peppercorns, then spiked with cloves and roasted briefly with a brown sugar glaze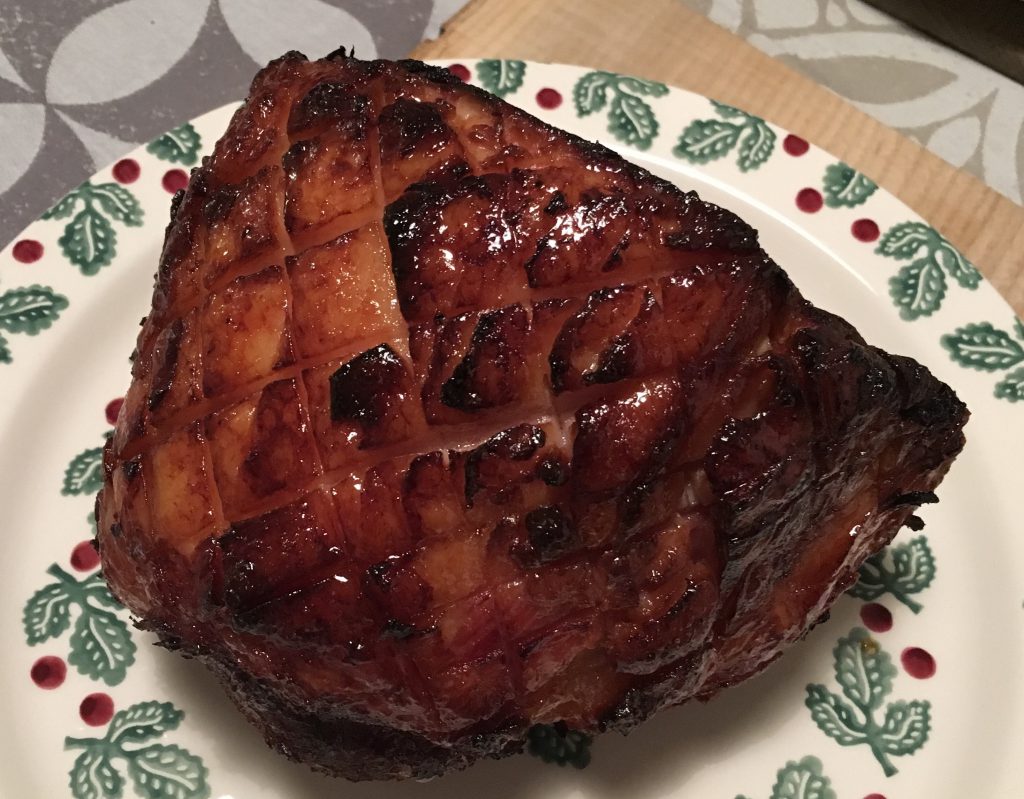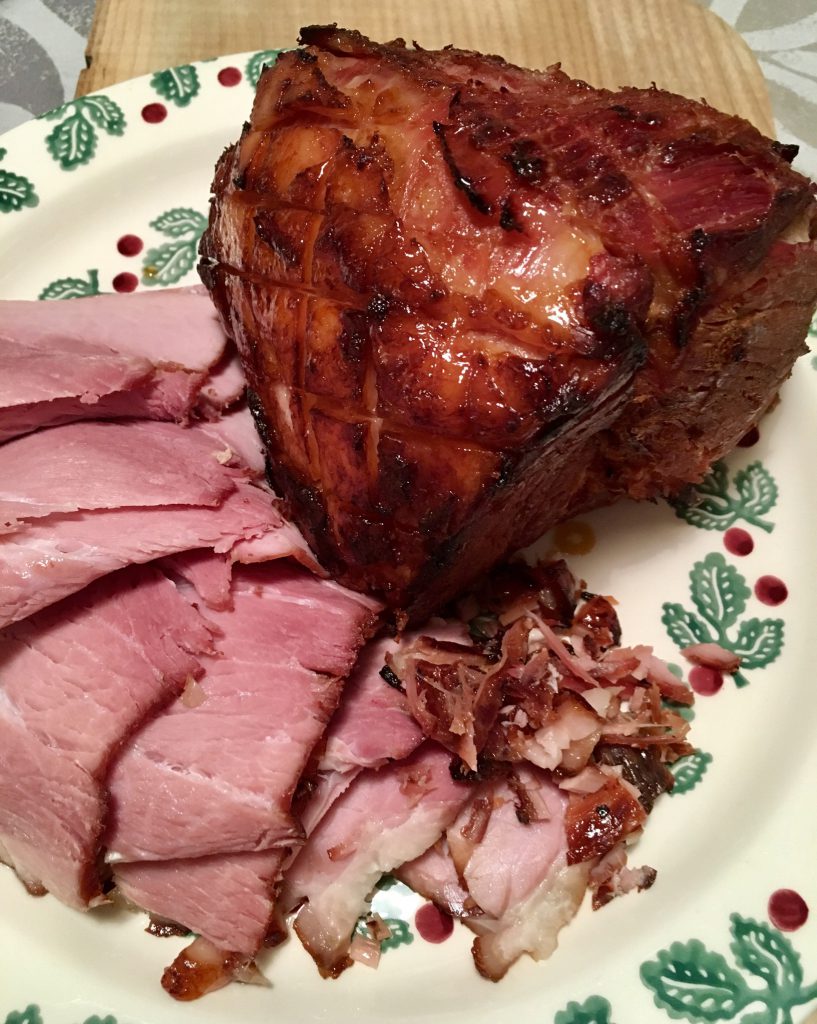 A vegetarian bastila filled with butternut squash, roasted chestnuts, spinach, mushrooms and cheese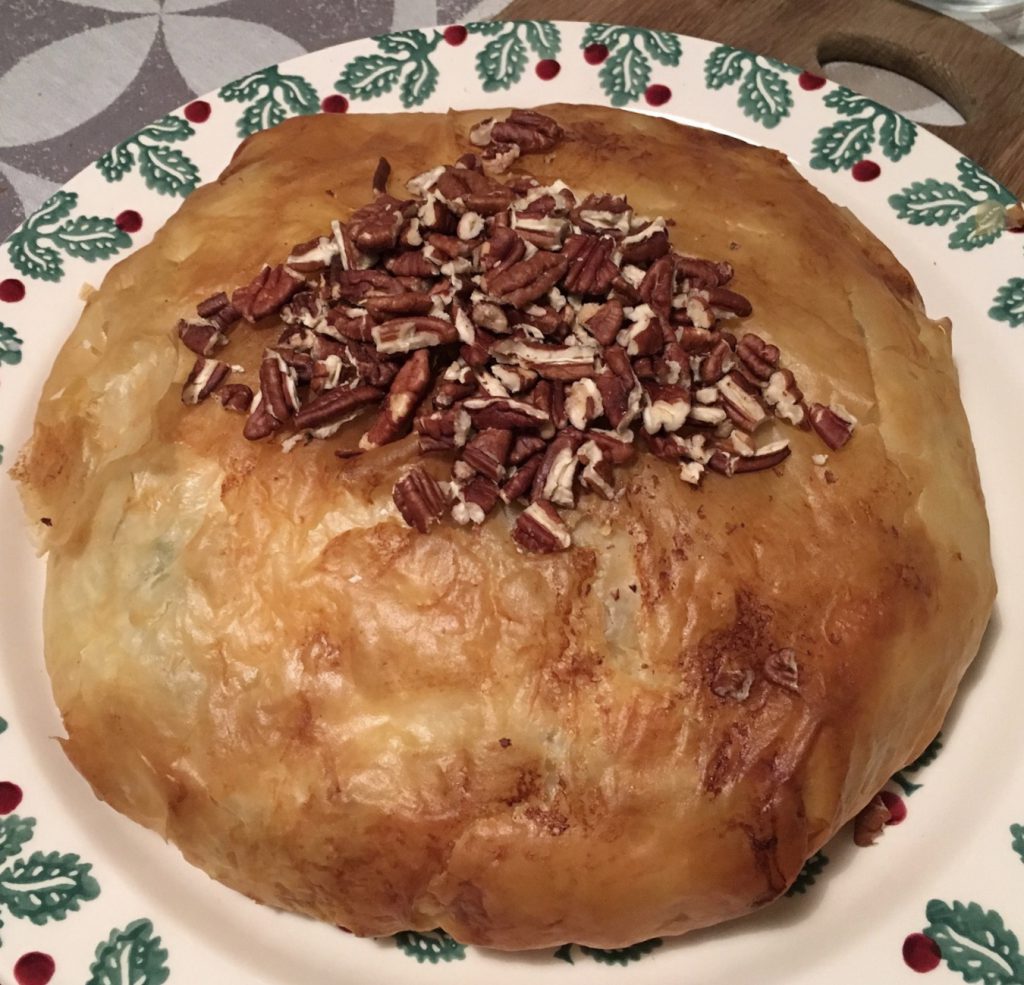 Grated carrots with a French Dressing and toasted sunflower and pumpkin seeds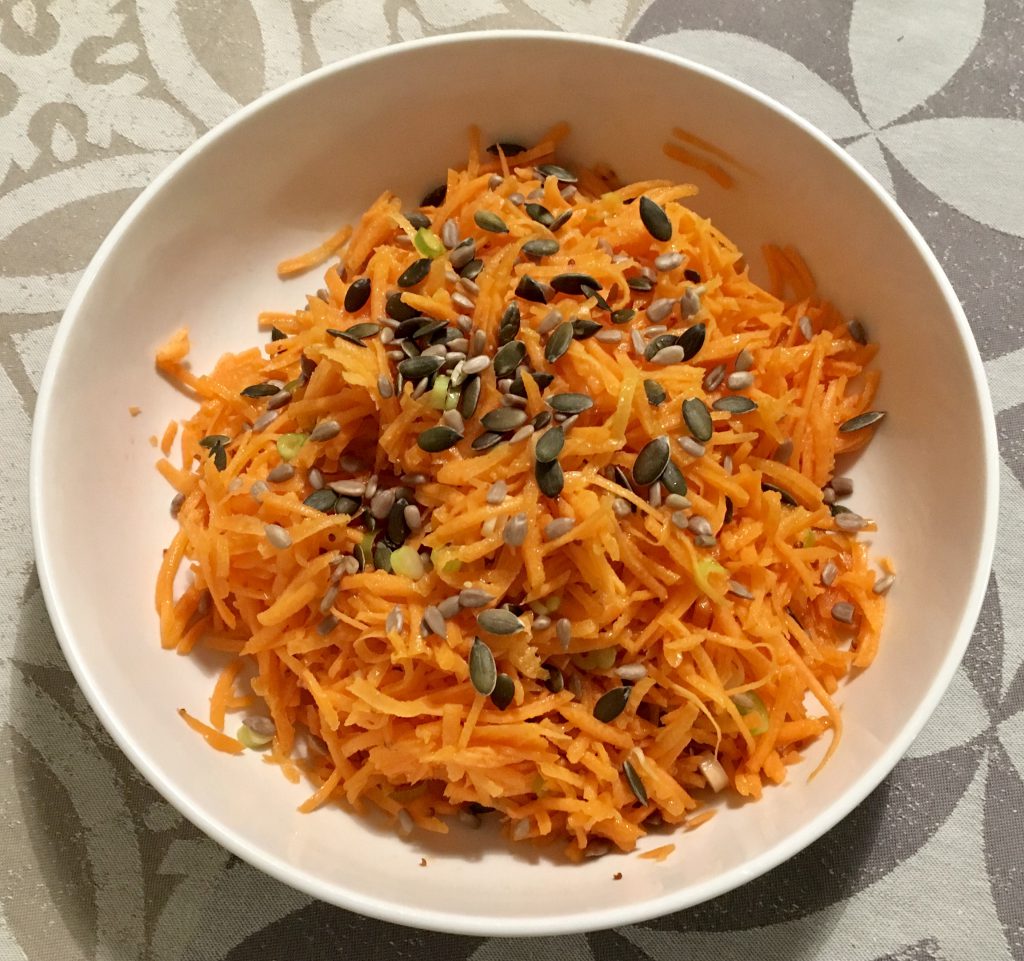 Home-made hummus with olive oil, green olives and a sprinkling of paprika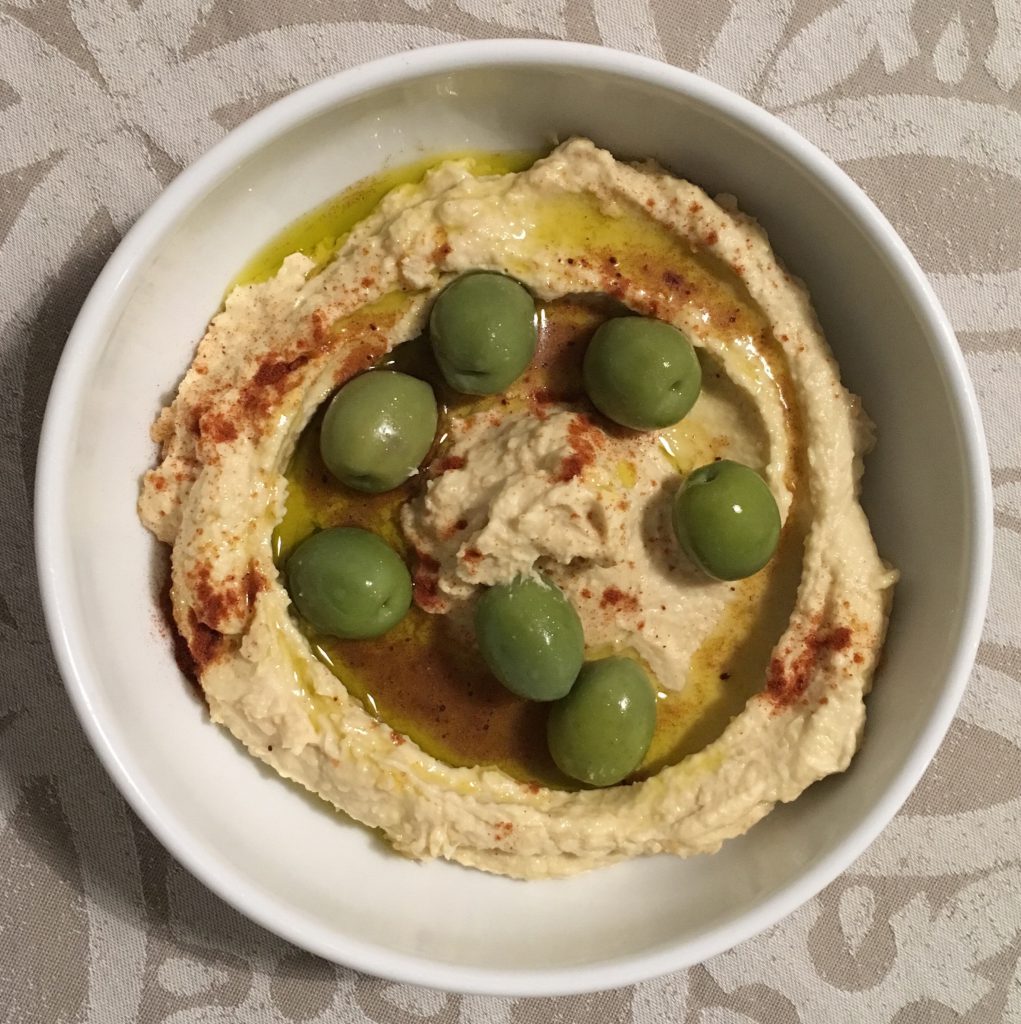 Pan-fried courgettes and roasted butternut squash, with some preserved lemon stirred in and topped with crumbled feta cheese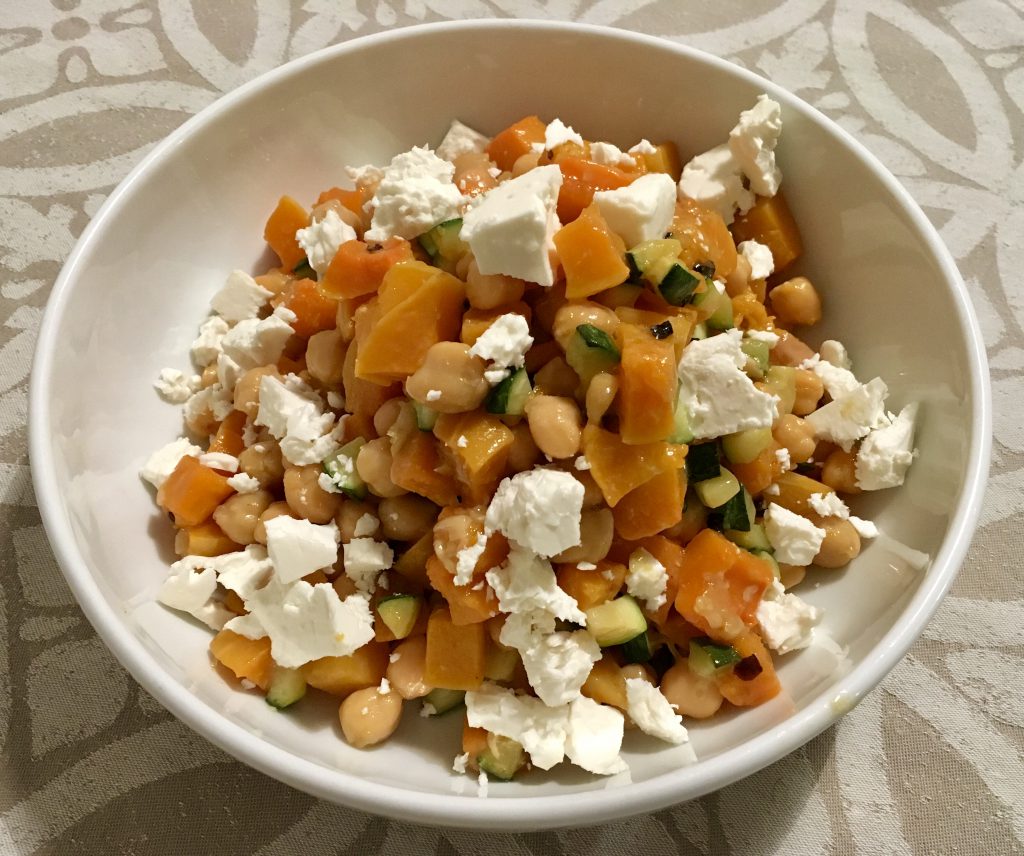 It is Boxing Day as I write and dinner beckons. This time Junior 1 cooked and I am looking forward to an Indian-themed dinner. Yummy…