A quick catch-up on recent news…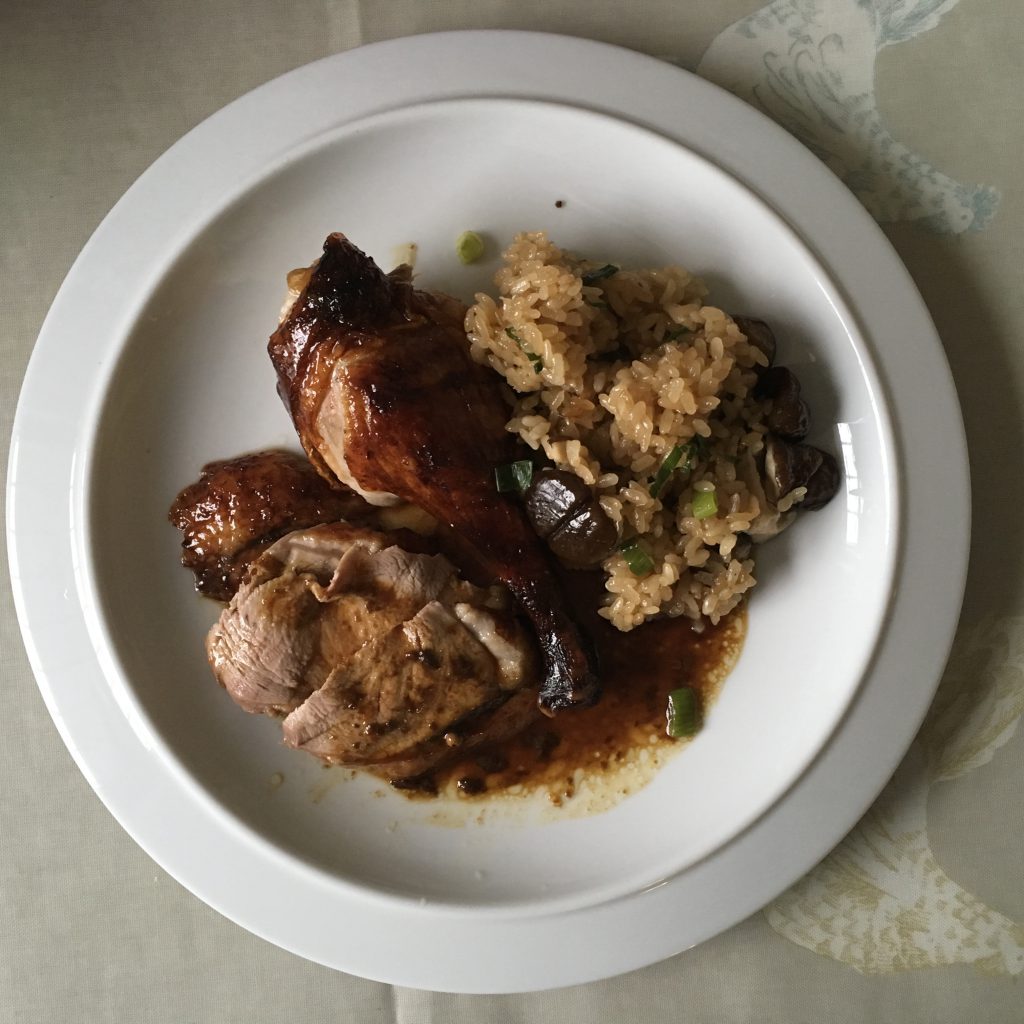 …starting with slow-cooked duck.
I seldom cook duck because even a whole duck doesn't feed four adults, and duck breast can lack flavour, plus what do you do with the thick layer of skin if you haven't taken the precaution of sous-videing then pan-frying it?
In order to compensate for the stinginess (and sometimes stringiness) of duck meat, my mother chops up a whole duck and simmers it with preserved salted mustard vegetable, a large knob of ginger and adding fresh tomatoes towards the end. The combination of fatty duck, salty cabbage and sour tomatoes really goes well with a hot bowl of rice. Simple yet nourishing.
My dad especially seeks out Cantonese Roast Duck wherever he goes. He's tried all the recommended restaurants in London. To name a few from the extensive selection available: Royal China in Baker Street, Gold Mine in Bayswater, Four Seasons in Chinatown…by way of Green Cottage in Swiss Cottage and Pearl Liang in Paddington.
His verdict, now that he is so ill, is that Village Roast Duck in Bangsar Village and The Gardens in Mid-Valley Mall (in Kuala Lumpur) are even better.
And I really agree. Except a few weeks ago it was Mr Gochugaru's 50th birthday and we celebrated in luxury at Park Chinois. We had a private room and shared a wonderful afternoon with seven of our long-standing friends.
You can read the menu here, with the exception that instead of lamb we had Black Bean Angus Beef Short Ribs. The restaurant kindly took the trouble to re-send the menu as I pointed out the error but this was in the end still present.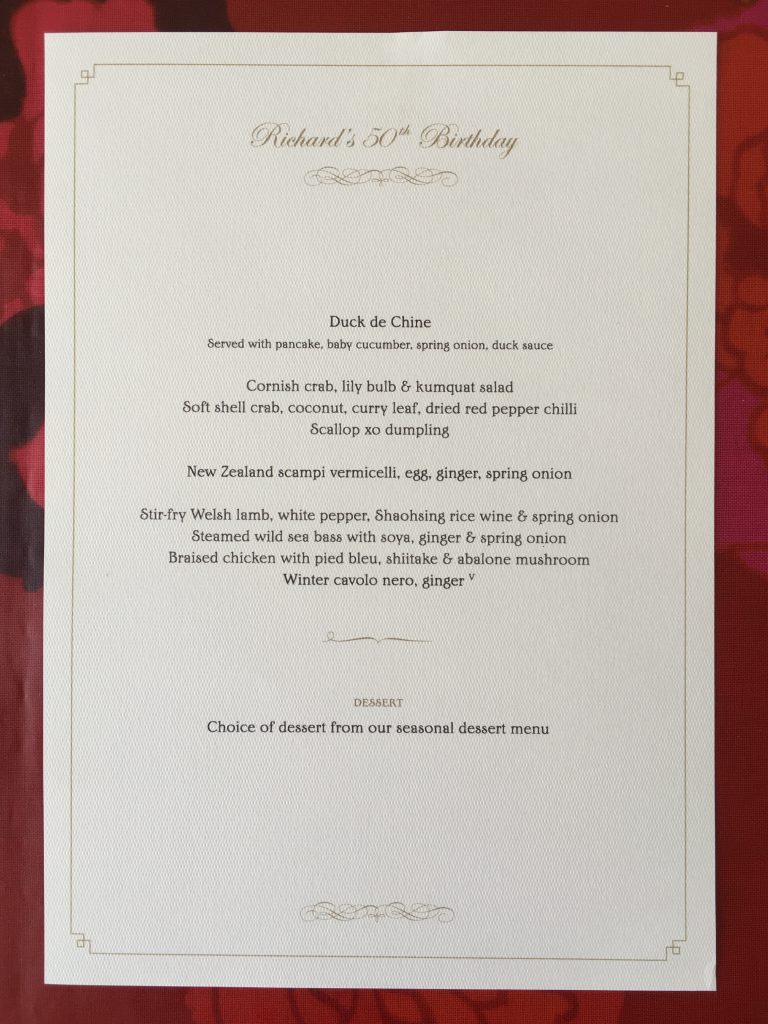 Park de Chine's Duck de Chine is possibly the duck dish to end all ducks dishes. Everyone at the lunch commented that this was the most memorable and succulent roast duck they have ever had. This was accompanied by beautifully moist pancakes and perfectly symmetrical pieces of cucumber and spring onion. None of your half-dried half-steamed pancakes, half peel-on half peel-off cucumber or bad-hair day spring onions (half straight, half curly).
The sad thing is of course I would like to bring my dad there, but this is now not going to be possible. He has not come to London in nearly three years. At the moment, due to nerve damage caused by the chemotherapy treatment, he is not able to use chopsticks and even pouring water into, and holding, his mug is proving a challenge.
On reflective days I sit down and chat with Mr Gochugaru, and say that the best thing we did with my parents was to take them on holiday when we could. At the time it was really a struggle with young children in tow but at least we had the joy of, for example, eating lots of confit de canard in France (where Junior 1 and Niece No 1 got lost in the marketplace in Sarlat) and trips to Beijing, Seoul, Venice…even the local holidays in the Lake District and Gloucestershire were fun, all things considered.
In my larder we have tins of confit in various sizes, so we can cater for any number of guests around the table. They come from Maison Godard, our favourite producer in the South-West of France.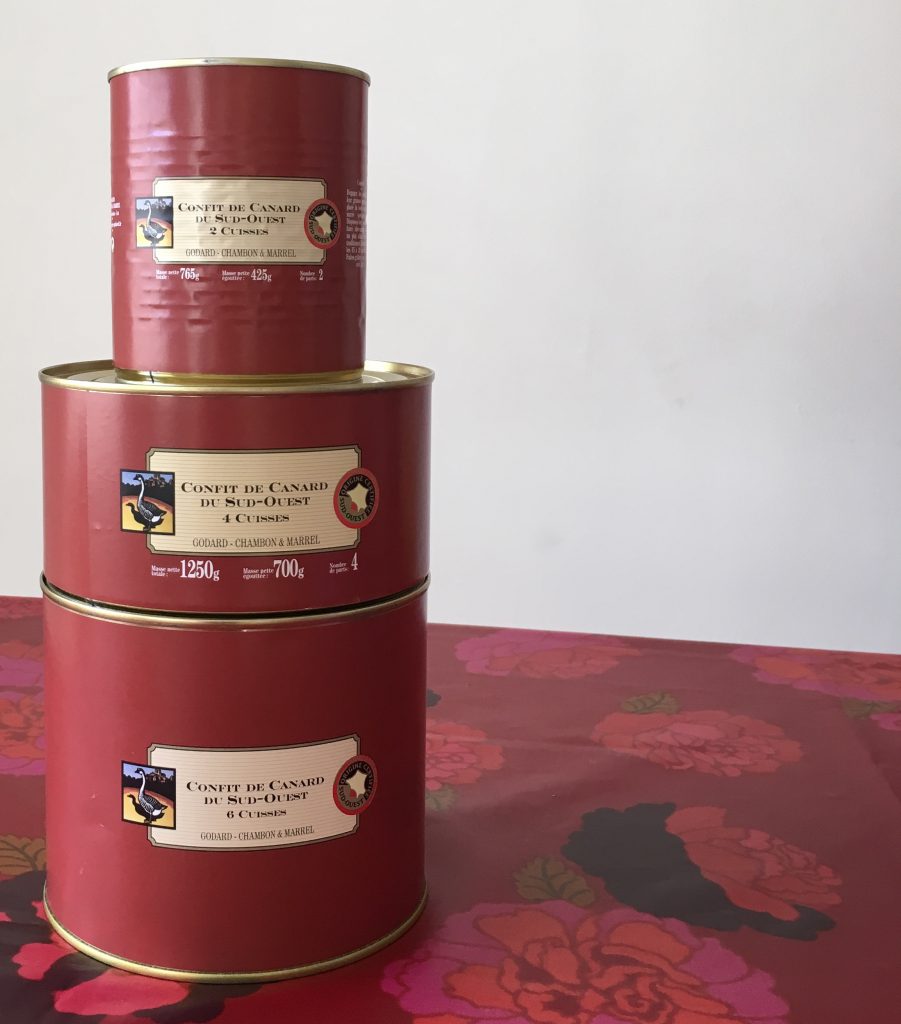 But I do relish challenges, whether in the kitchen or in the family home in Kuala Lumpur (where there are unlimited challenges on a daily basis).
I started the new year with a home-cooked slow roast duck served with steamed glutinous rice. The recipes are in the next two posts.
We leave for KL this Saturday to spend a week with my parents. The children have all had haircuts in preparation to meet their grandparents. Village Roast Duck is on our list of Places to Eat.
Addresses:
Village Roast Duck
Mid-Valley Branch: LG-205, LG Floor, The Gardens Mall, Lingkaran Syed Putra, Mid Valley City, 59200 Kuala Lumpur. Phone 03 2201 5095
Bangsar Branch: Bangsar Shopping Village, 1 Jalan Telawi 1, Bangsar Baru, 59100 Kuala Lumpur. Phone 03 2287 4128
Bukit Bintang Branch: 7.01.05, Level 7, Pavilion Kuala Lumpur Shopping Mall, 165 Jalan Bukit Bintang, Bukit Bintang, 55100 Kuala Lumpur. Phone 03 2110 6682
Park Chinois
17 Berkeley St, Mayfair, London W1J 8EA. Phone 020 3327 8888
Maison Godard has a very efficient on-line order service, with the goods couriered to your doorstep in London and around the UK.