What do people hoard over a lifetime?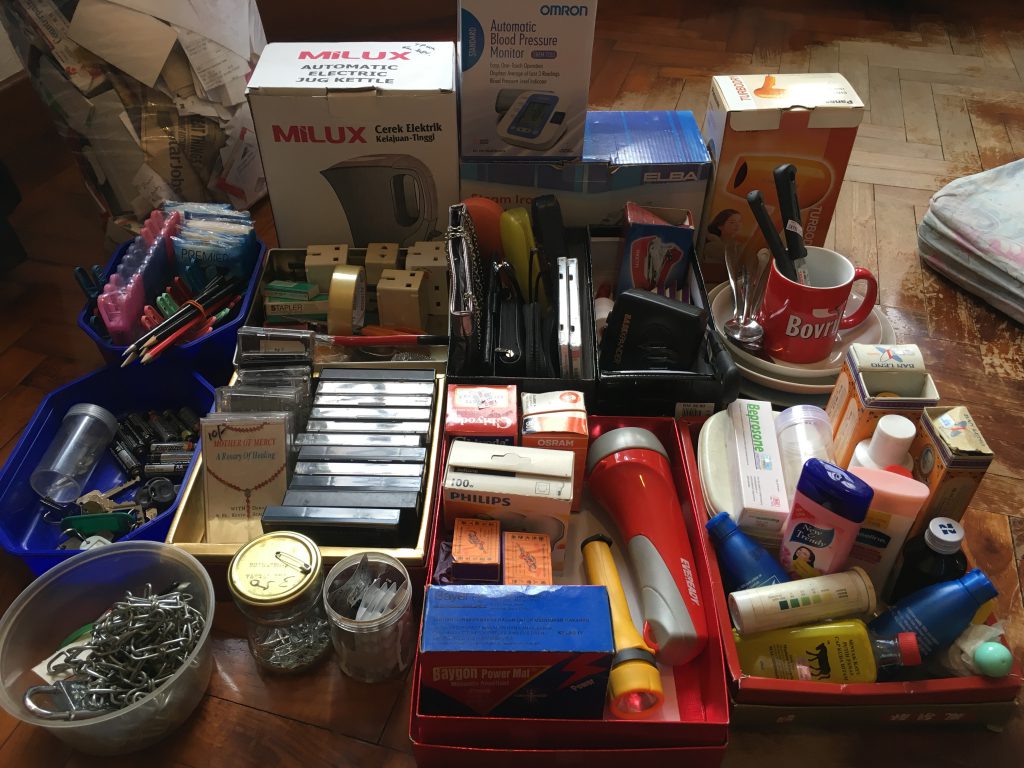 I found out one answer today.
Four days into this 'working trip' and quite a bit of time has been taken up with settling our former housekeeper into the care home. Checking that she is getting used to her new surroundings, even though she can't comprehend or remember much, has taken four visits in three days.
In the meantime I have taken on the task of sorting out the room she used to occupy in our family home.
At first glance, the room looked tidy enough. However, opening the drawers and cupboards was like opening Pandora's Box. Every space and shelf was stuffed full of odds and ends. Multiples of odds and ends. Duplicates of odds and ends.
Previous experience for this job? I am a full time mother. When push comes to shove, I can really shove things into the bin.
Batteries, bag ties, paper clips, safety pins, stationary, cassette tapes, purses, plastic bags, empty tins, bottles and boxes, bank statements, diaries and address books with no entries, sewing things including hundreds of buttons, cutlery, crockery, knives, nail clippers, screwdrivers, two way plugs, phone chargers, pills, medication, earrings, stacks and stacks of paper napkins, lipsticks, hair sprays, face creams but not hand creams, combs but not mirrors.
Large items which would have posed a danger include a kettle and an iron. She was once caught trying to smuggle a rice cooker into the room. There were two bags of salt. Tins of biscuits, all rendered soft by the humidity. A huge tupperware of Quakers Oats which had gone moldy and turned into the texture of compacted sawdust.
Our housekeeper is illiterate so there are no books or reading material. I didn't find any socks or shoes. I think she had one pair of sandals and one pair of slippers, kept out of the house as is customary in Chinese households. She had an assortment of clothes but not a single scarf.
There are nearly a thousand red packets. Usually containing money, and given out during the Chinese New Year, I dutifully open up each one of them. They are empty except for betting slips. There are as many betting slips as there are red packets. One or two envelopes contain coins, a poor return indeed for spending all her wages on staking her luck on 'lucky numbers'.
When KL SIster joined me for one session, she ended up saying this is overwhelming. I said actually this is depressing.
Why do people hoard? I think the answer lies in wanting something for yourself that can form part of your identity. Our housekeeper had multiple copies of her Identity Card, which all Malaysians are obliged by law to carry on their person at all times. She had multiple copies of her birth certificate. She didn't have any photos except for passport sized photos of herself. This is the only clue we have of what she looked like when she was a much younger woman.
Binning things is one thing, but I am told that KL now has a very strict policy on recycling. Well, blow me down. KL, which can't sort out its public transport or housing policy or high crime rate, is leading the way in green initiatives? Unbelievable and I want to cry…because every bottle, tube, box, can and container has to be emptied of its contents and cleaned before recycling.
The picture below represents just the cosmetic containers for recycling. There are glass, metal and paper items too. Everything else that cannot go to a charity shop is in the bin. There are a few more drawers to tackle in the days to come. The car boot is already full.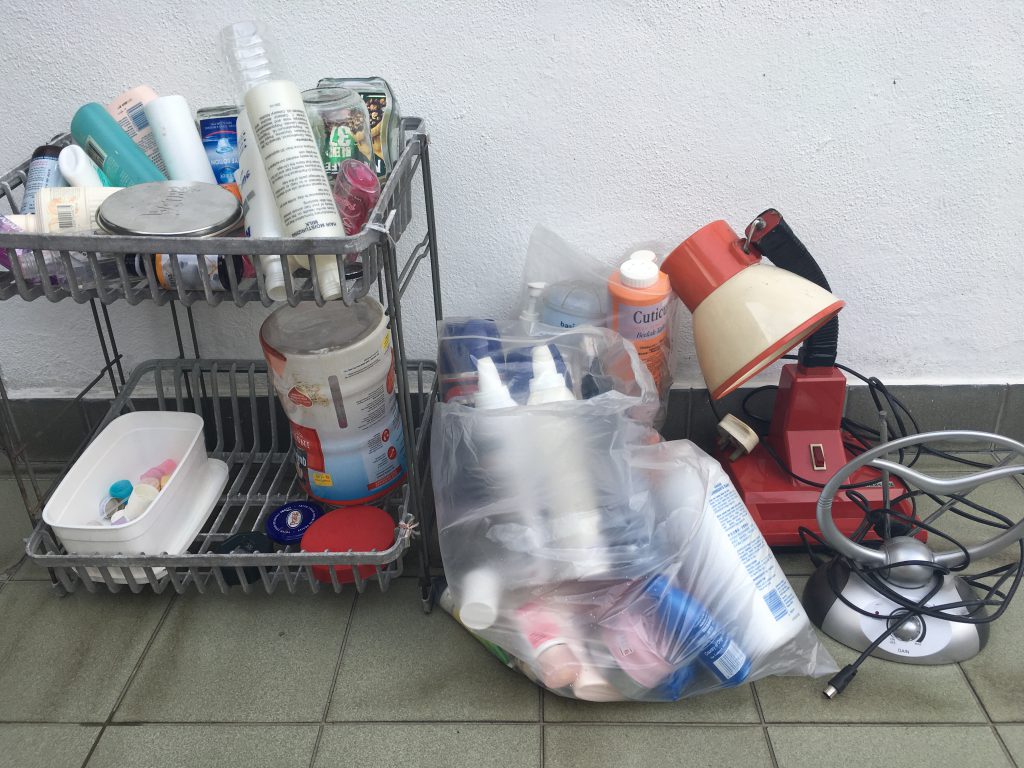 I am exhausted. Note to self: don't ever buy or keep anything you cannot use. Note to Mr Gochugaru: when we get tired of maintaining our house, let's just own a suite in the Four Seasons in Seoul, with enough belongings to fit in one suitcase each.