Diary: Saturday 02 April in YEOSU, SUNCHEON BAY and JINHAE
The day starts off with such military precision…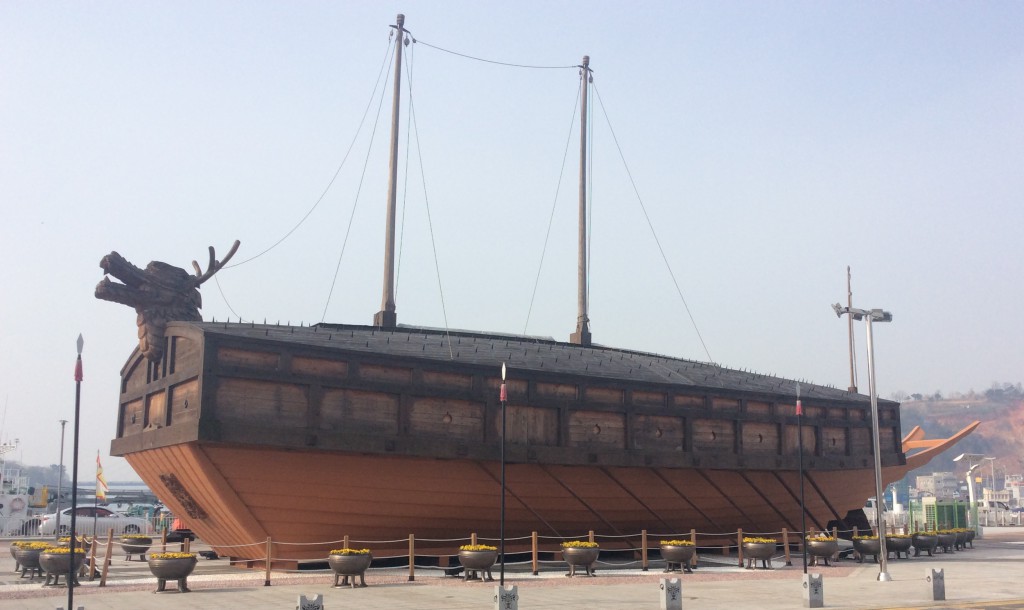 …It was upsetting that it eventually got so out of hand.
This nation has many heroes. Number 1 would be Great King Sejong, who insisted on a common written alphabet for his people.
Number 2 would be Admiral Yi Sun-sin (이순신), the Korean naval commander who led the navy to victory against the Japanese in the Imjin War (1592-1598) with only a small fleet of turtle ships. The ship was so called because there was a protective covering over it which resembled a turtle's shell. The film The Admiral: Roaring Currents will give you an idea of the struggle and challenges facing the Korean navy at the time. If you would prefer to read about it, then here is a scholarly article which places Admiral Yi and the turtle ships in the context of world history.
This morning in Yeosu we head first to Jinnamgwan Hall (여수 진남관) which was the naval base of Jeolla-do Province during the Joseon Dynasty. This site was used by Admiral Yi as his headquarters.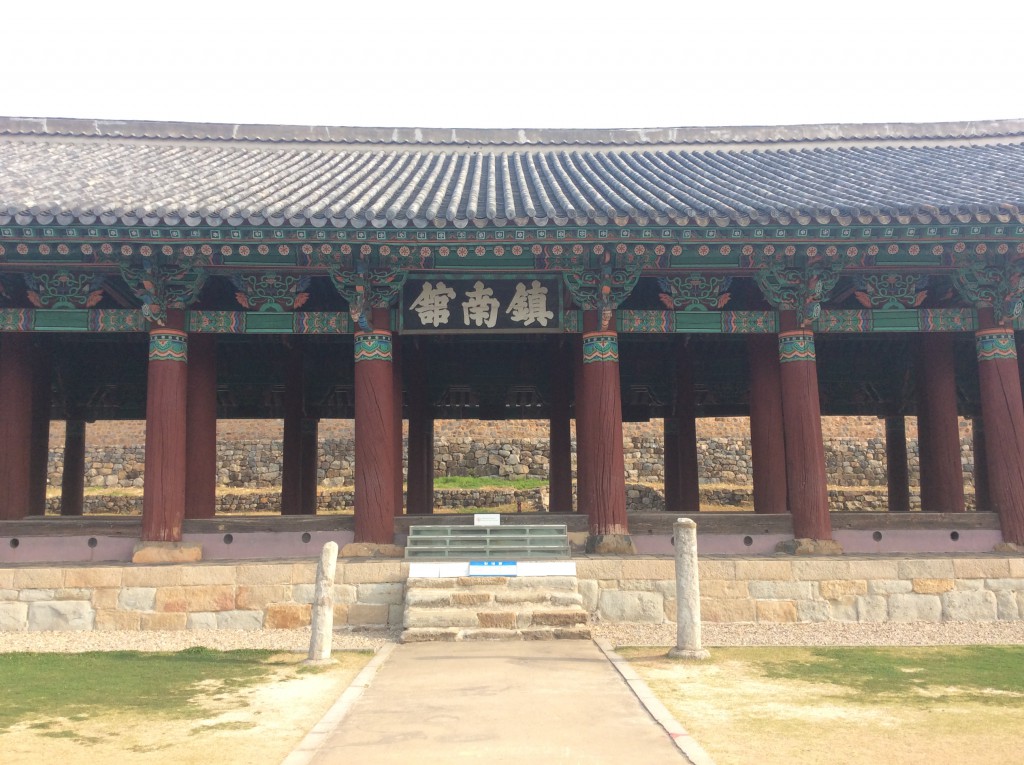 The road leading south from Jinnamgwan is where you find the replica of the turtle ship.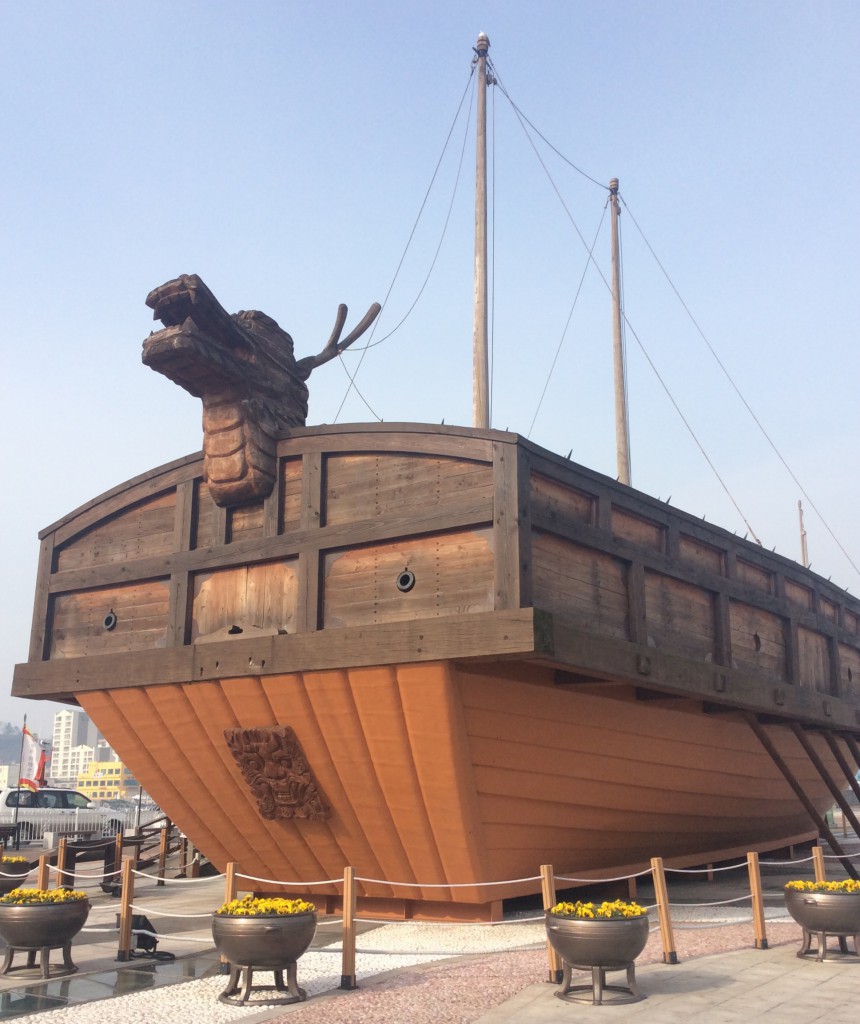 The reward for an early start is a generous and delicious local breakfast. Roteori Restaurant (로터리식당) might as well be called Lottery Restaurant owing to the fact that you would be very lucky to get a table here, such is it's popularity. One thing I love about eating Korean style is that everyone just tucks in with no inhibition. Pick what you like, talk to your fellow diners, have a drink and you are set up for the next activity.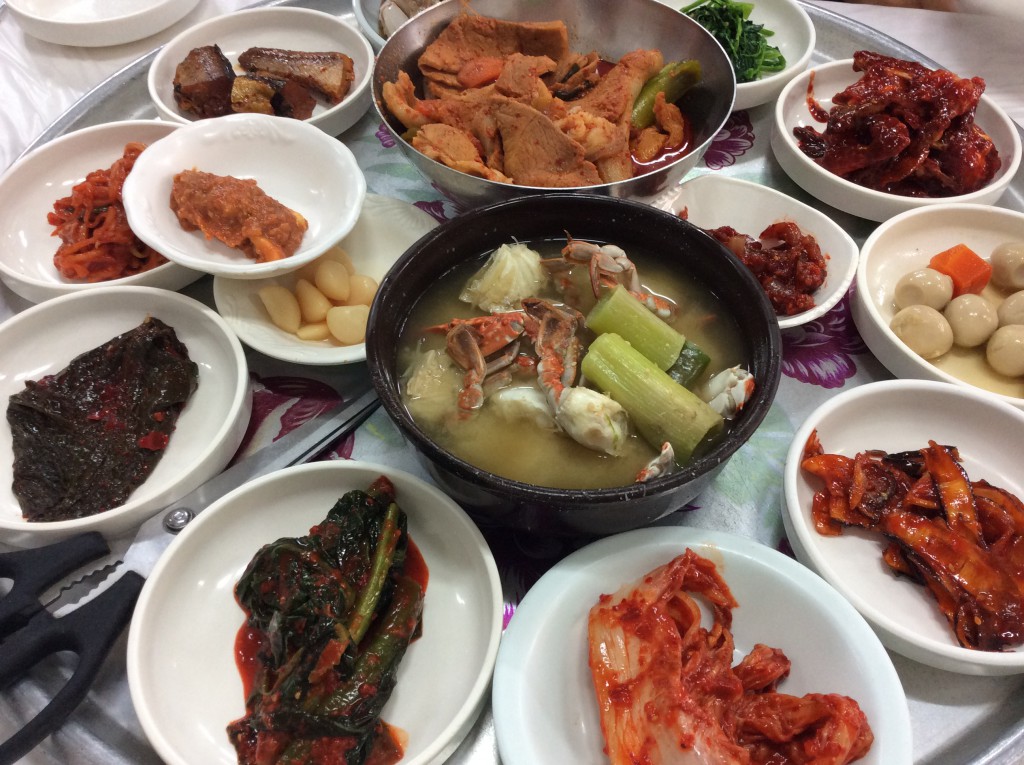 In this restaurant we had tables of families with young children, elderly folks on a morning out, tourists like us who have searched for 'the best breakfast in Yeosu' and dating couples dressed so immaculately it made want to dress up to have breakfast at my local Gail's Bakery in London.
I actually want to skip this next bit and talk about Suncheon Bay Wetland Reserve (순천만습지) but unavoidably I had to visit another doctor. I have now seen Dr Park and Dr Kim so it must now be the turn of Dr Lee (the three most common Korean surnames). In fact he is called Dr Jeong and not only do I get more pills and cough mixture, I get a jab in my derrière and some face masks to prevent any fine dust (from China) settling into my lungs.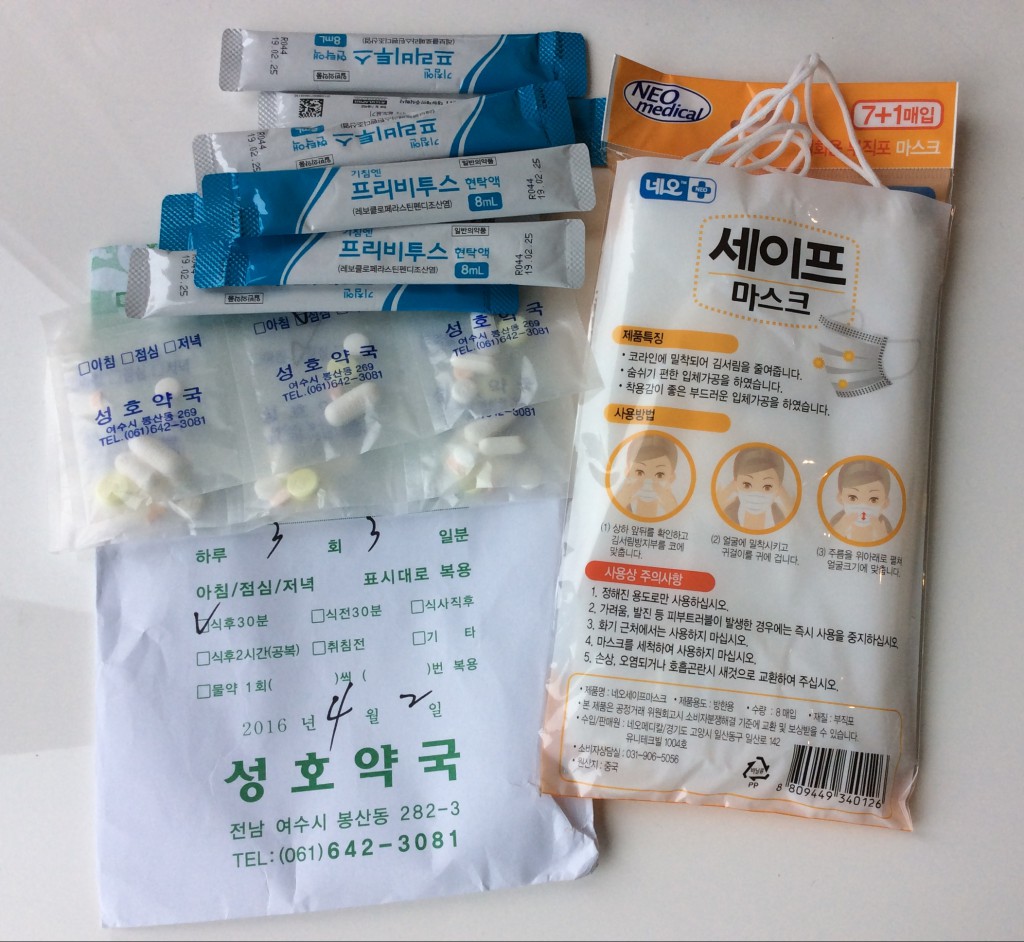 Suncheon Wetland Reserve provides a welcome chance to stretch our legs and I try to be good company whilst listening to the others talk. It is a very pleasant mid morning activity. This time of the year the reed beds are dry and we didn't see as many birds as we would have had we come in Autumn. Nevertheless the whole area is truly an impressive sight.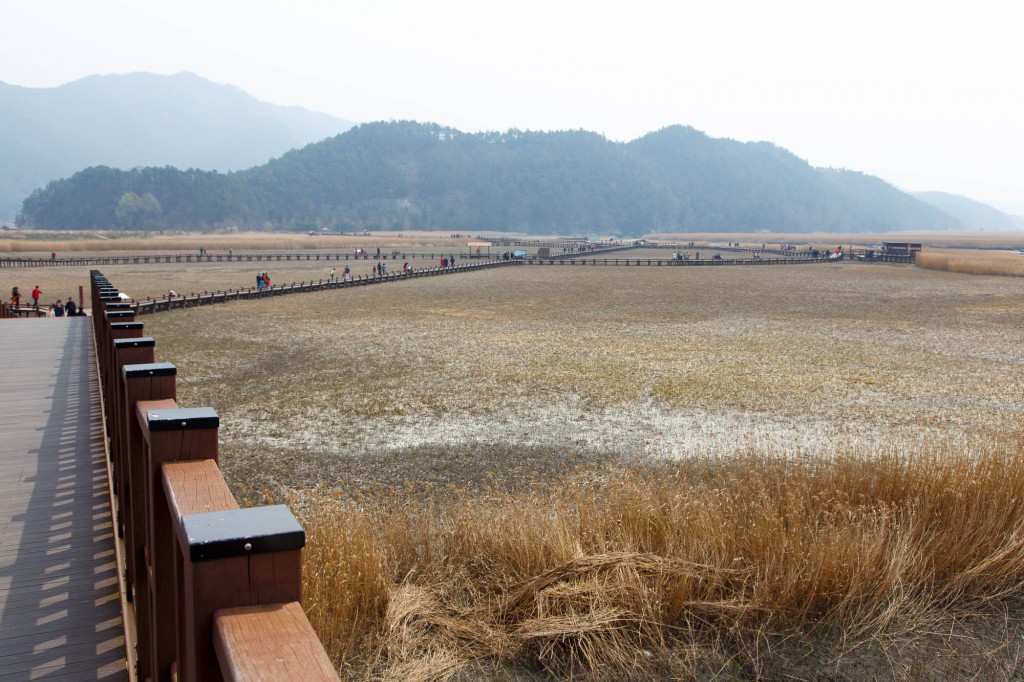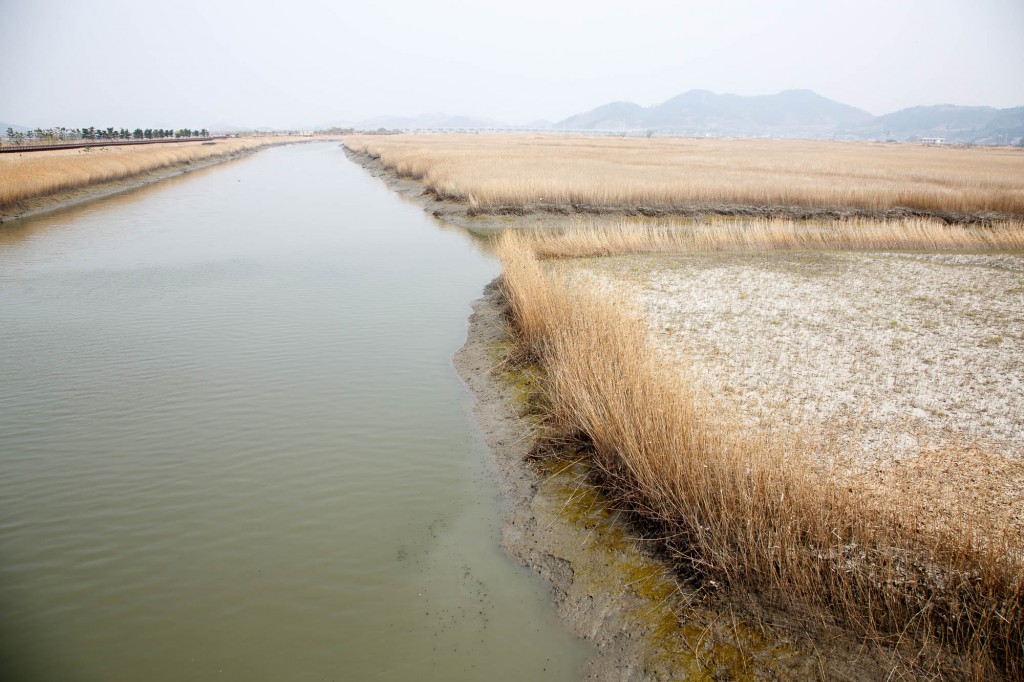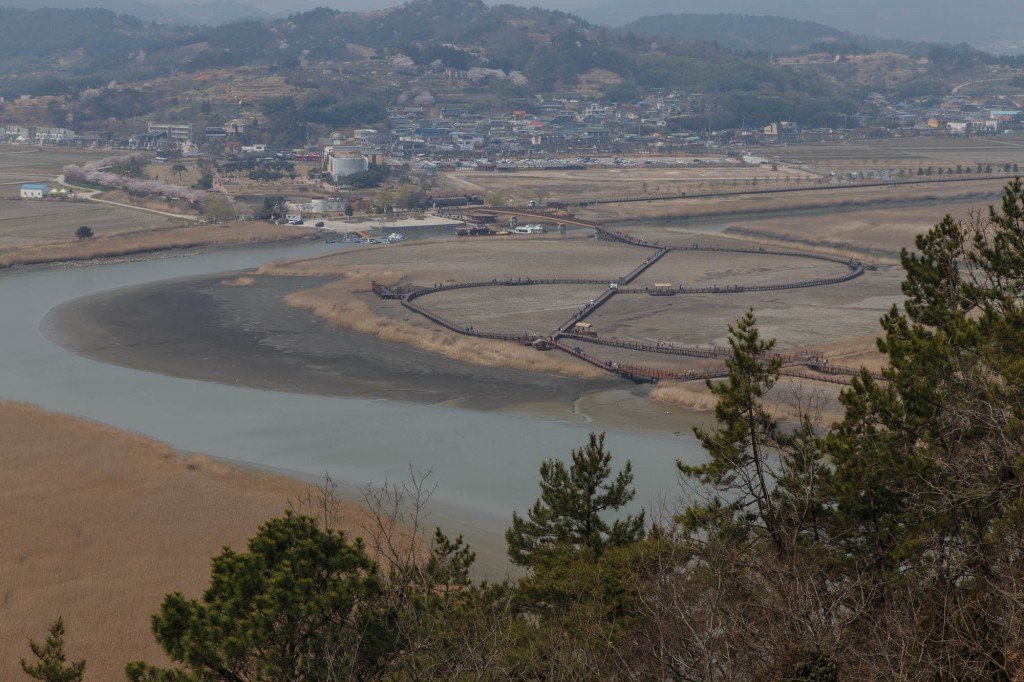 Lunch features the local seafood of baby crabs and cockles. The cockles are fat and juicy and this would be the dream lunch for my dad who loves cockles.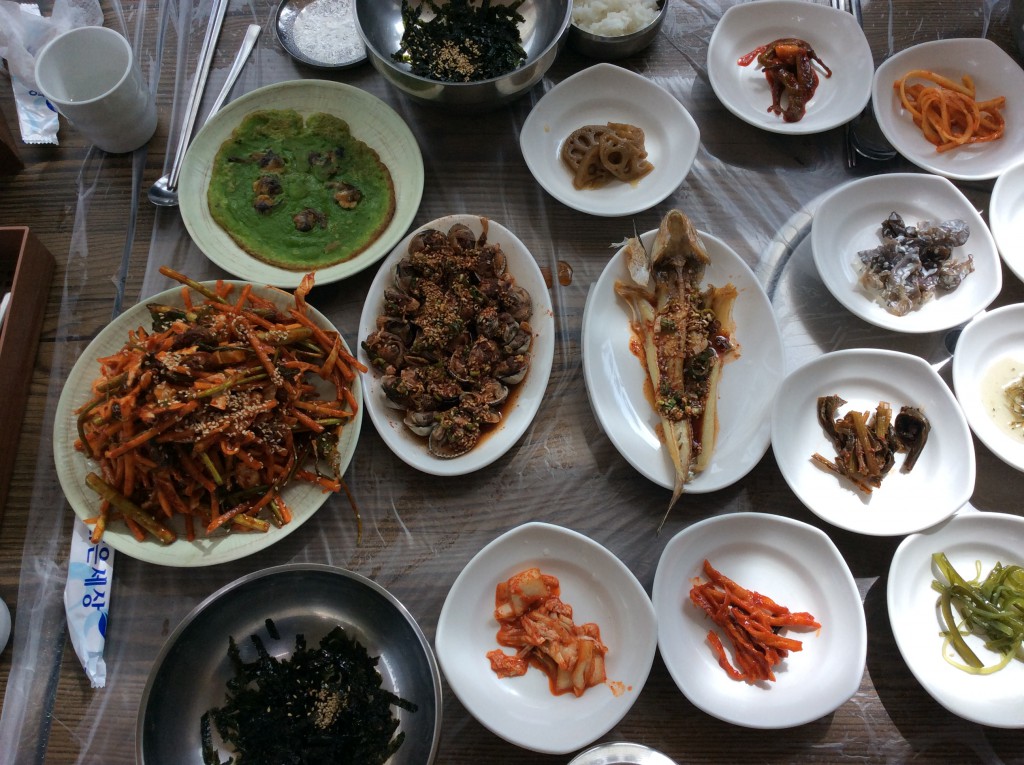 There is now a long drive to Changwon and as soon as we check-in to the hotel, it is time to leave for Jinhae. Jinhae Gunhangje Festival (진해군항제) is Korea's largest cherry blossom festival. It takes us over an hour in heavy traffic to get here by taxi but we soon forget this initial misery. In fact, people back in the UK woke up to Saturday's Times newspaper which featured a beautiful photo from this very festival.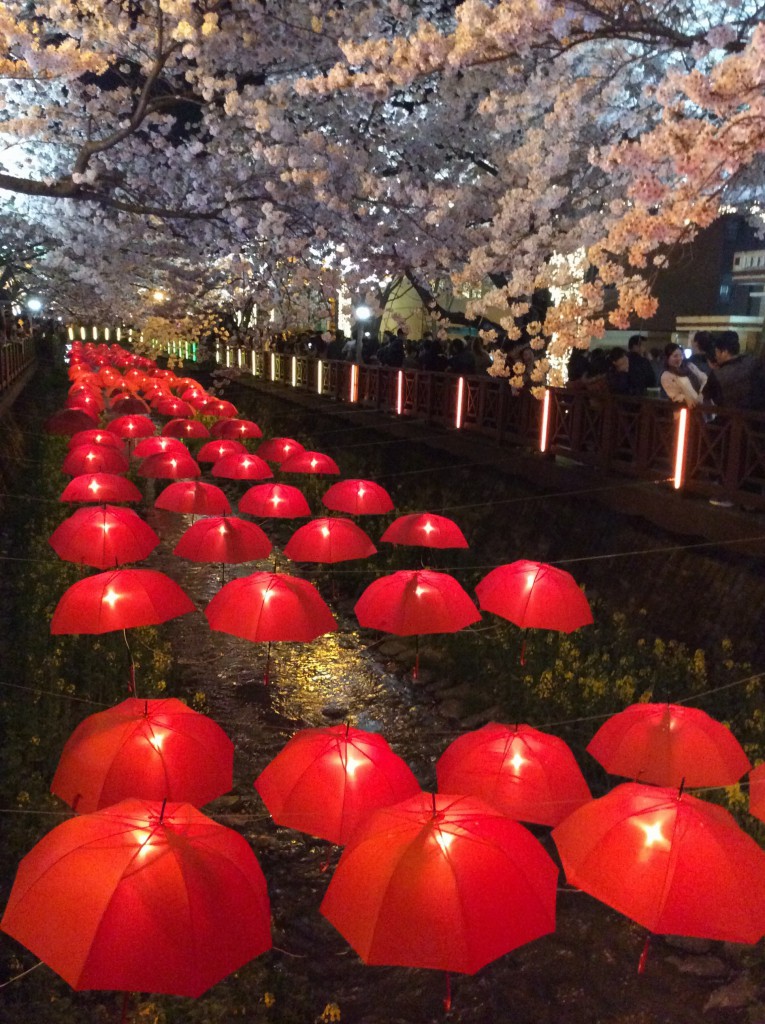 We walk along the Yeojwacheon Stream (여좌천-벚꽃명소) and join the crowds in taking photos of the cherry trees that line it.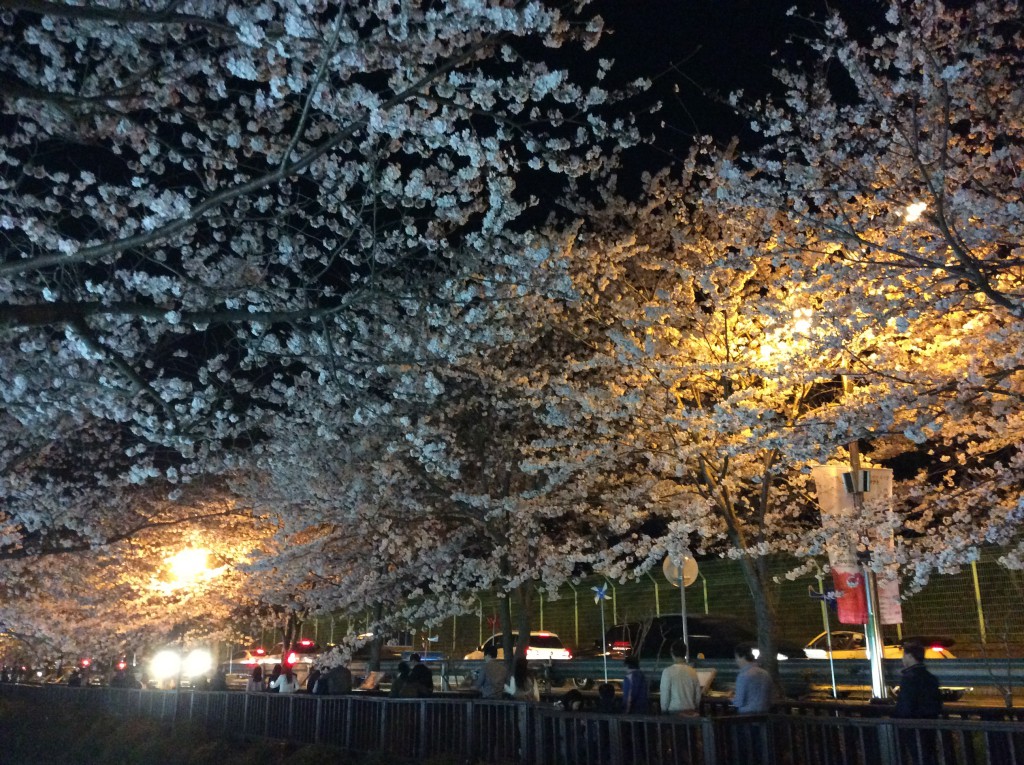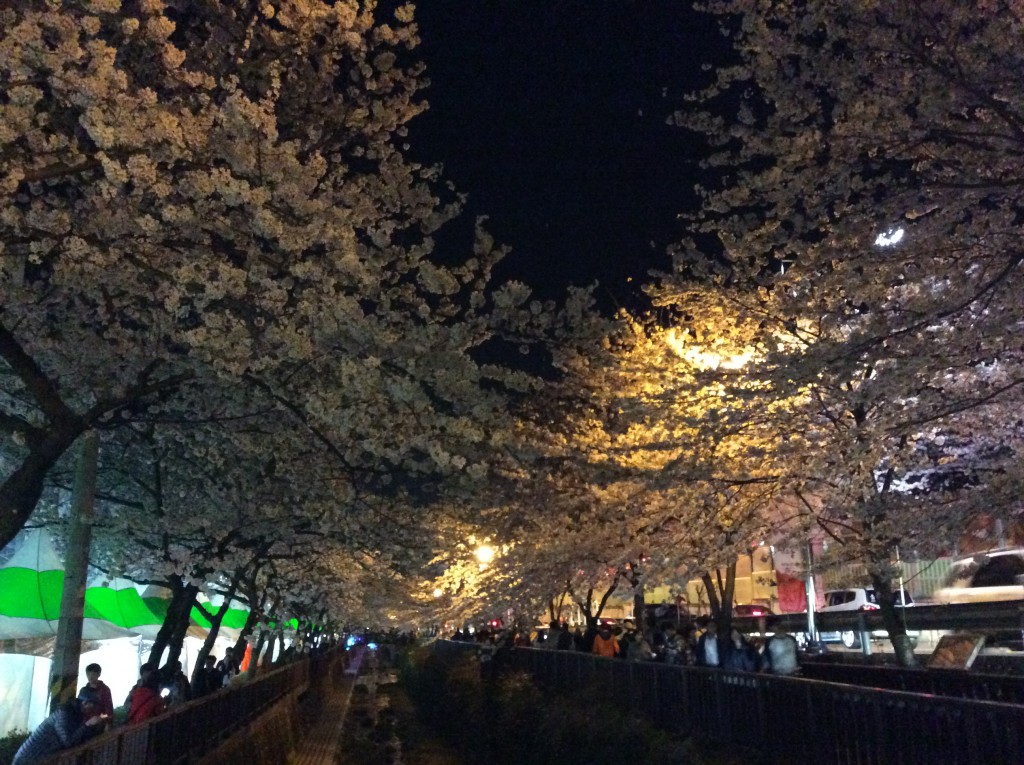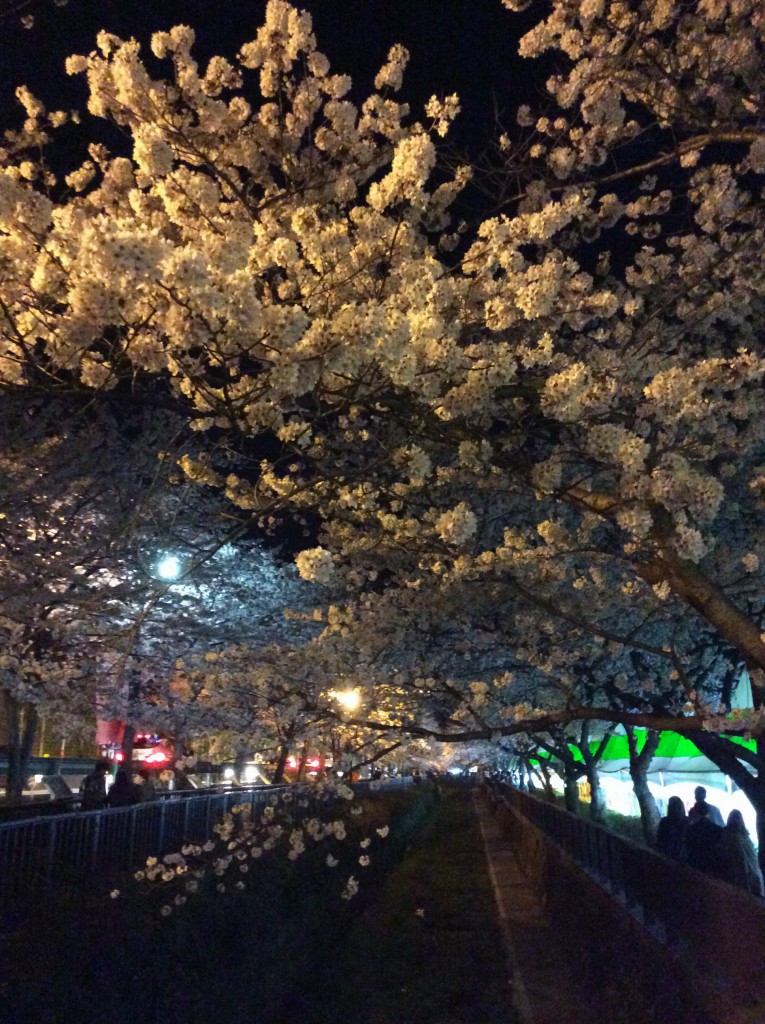 There is a festive atmosphere, the cherry blossoms are heavy and the light installations over the small stream are so pretty. Food vendors are out in full force and everywhere, people are just in a happy mood.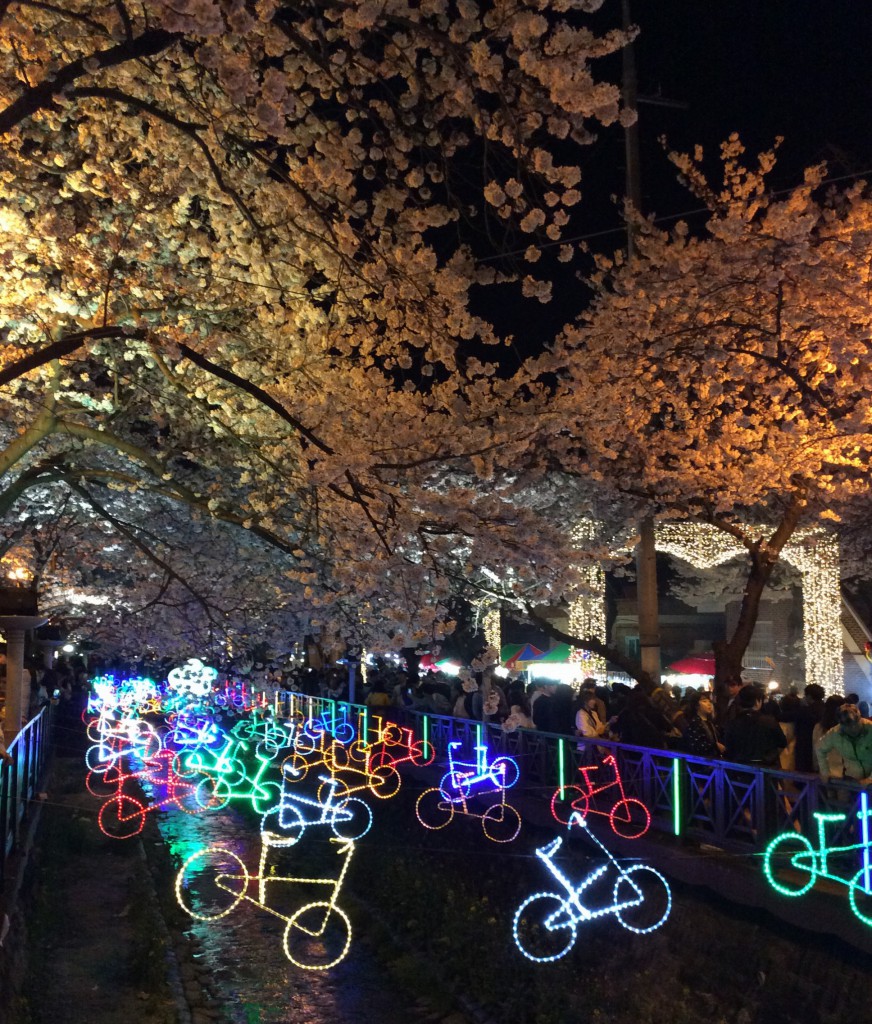 Slowly it dawns on us that it is going to be difficult to find our way back to the hotel because there is simply no public transport: the train station is shut, taxis are not allowed into the city centre and queues for the buses were extremely long. After attempting all sorts of strategies we finally arrived back at our hotel at 12.40am, having left at 6.20pm.
In years to come this episode will provide some choice phrases to be used when travelling with our friends: do you remember that long night in Jinhae? Who is the organiser of this  badly-planned festival…does he come from Jinhae? There is no transport planning here…just like in Jinhae. Of course, we will always wonder who the Mayor is because he should be severely embarrassed by the lack of planning and foresight into the public transportation for this event.
Addresses for all the places featured above will be listed separately at the end of the holiday.
Finally here are some photos from the food stalls that lined one side of the entire stream. The time spent at the festival that was not transport-related was genuinely fun.
Candy Floss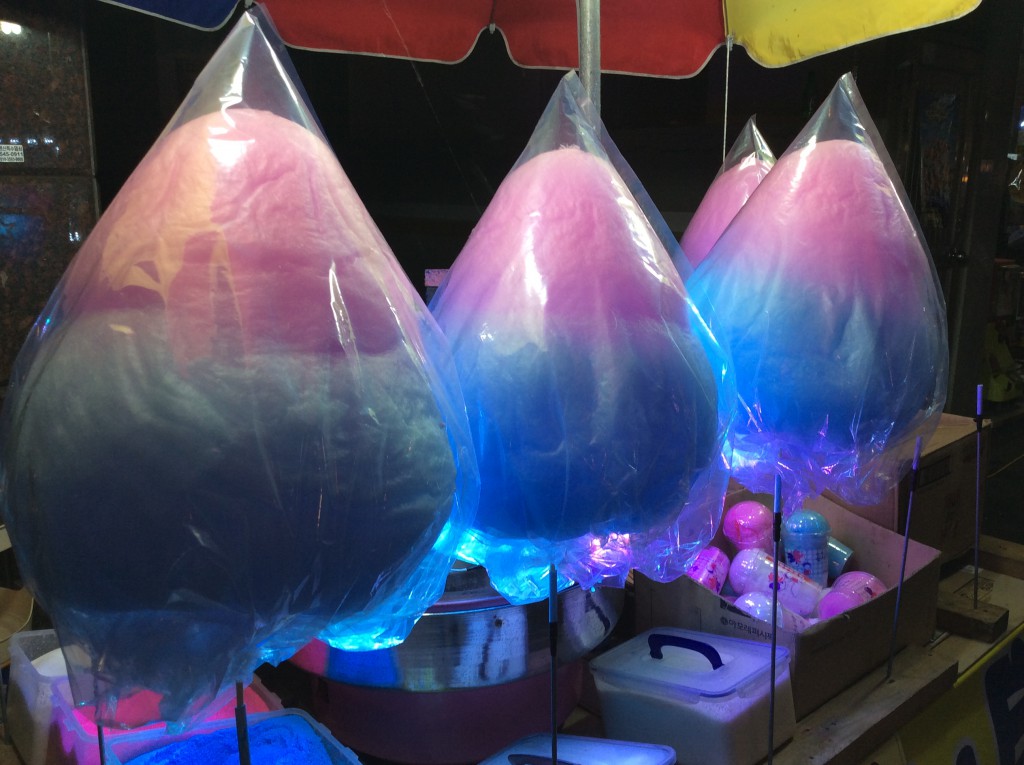 Fishcakes and Sliced Octopus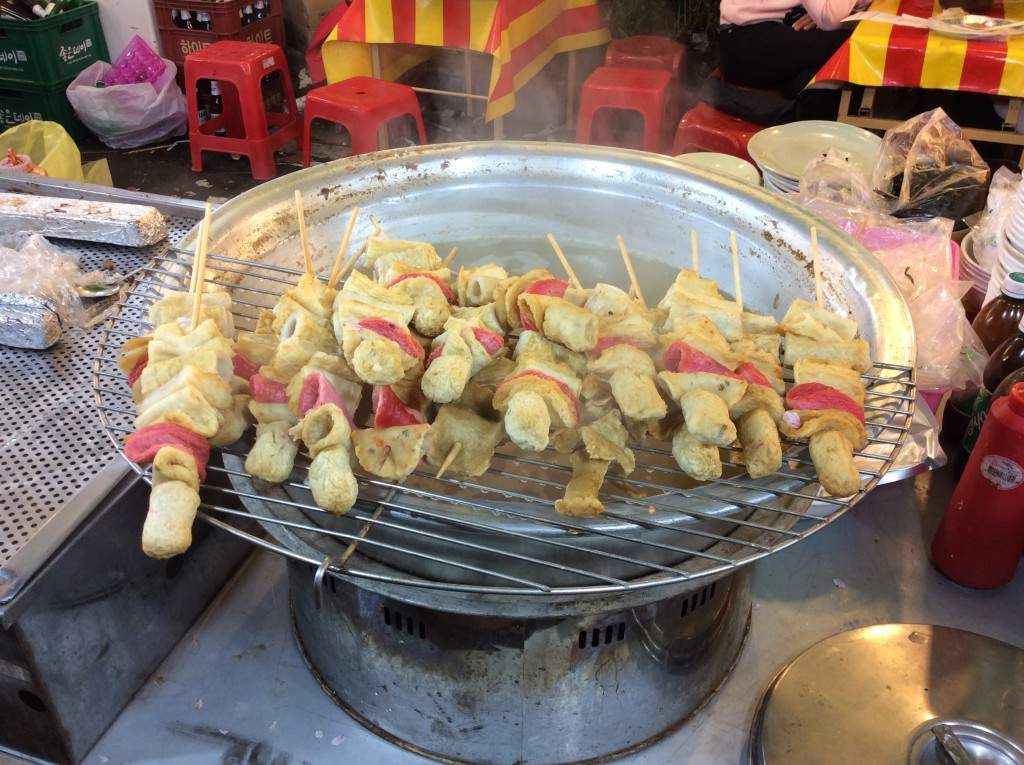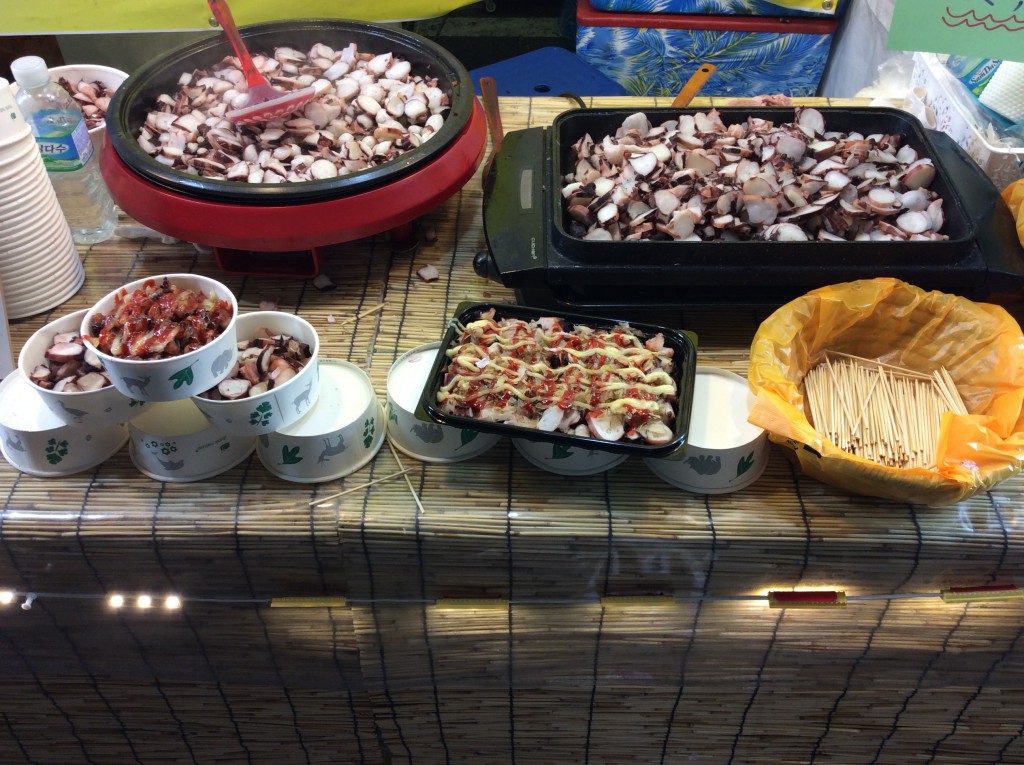 Boiled silkworms to accompany your chicken nuggets and roasted chestnuts…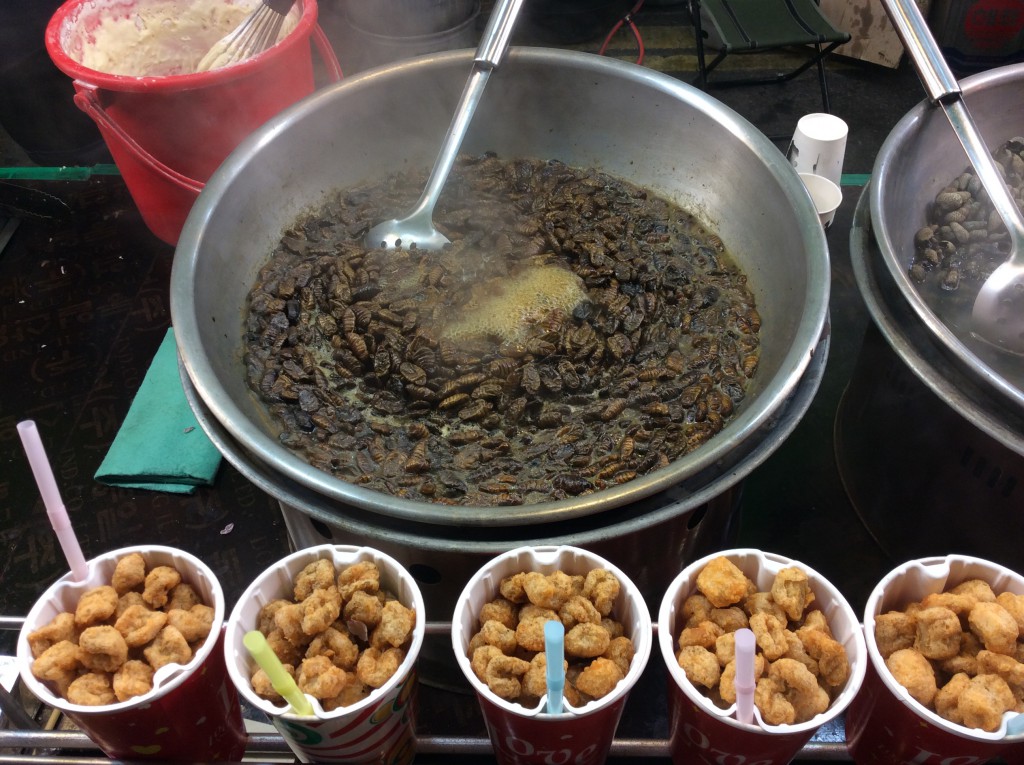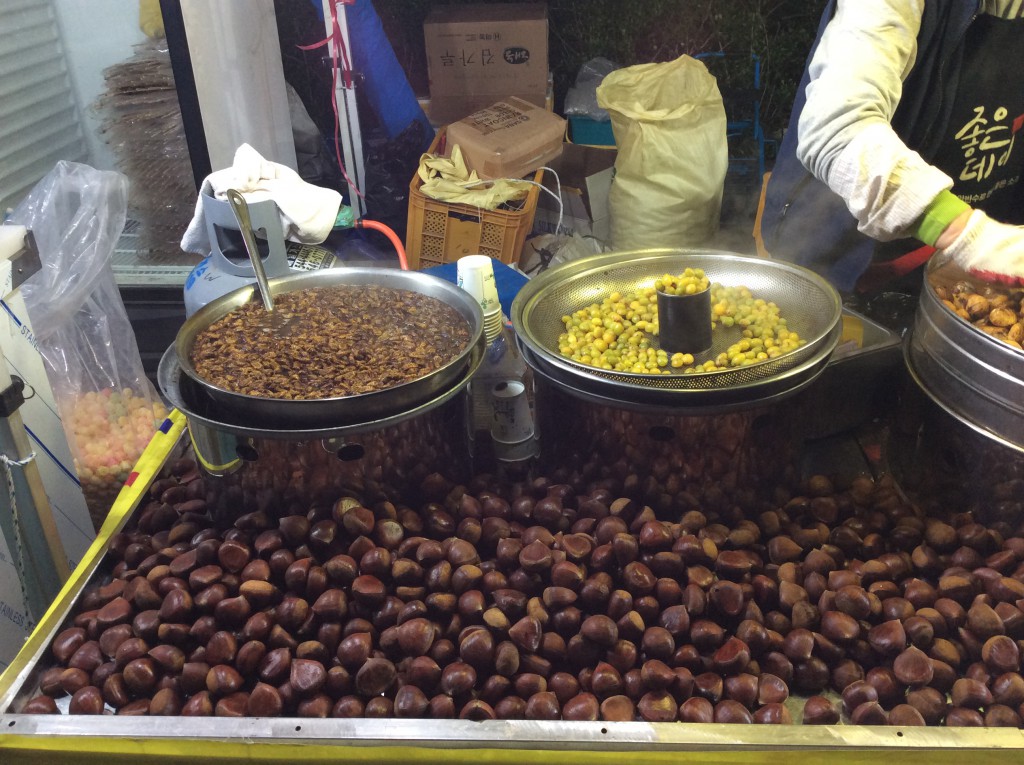 No festival is complete without grilled meat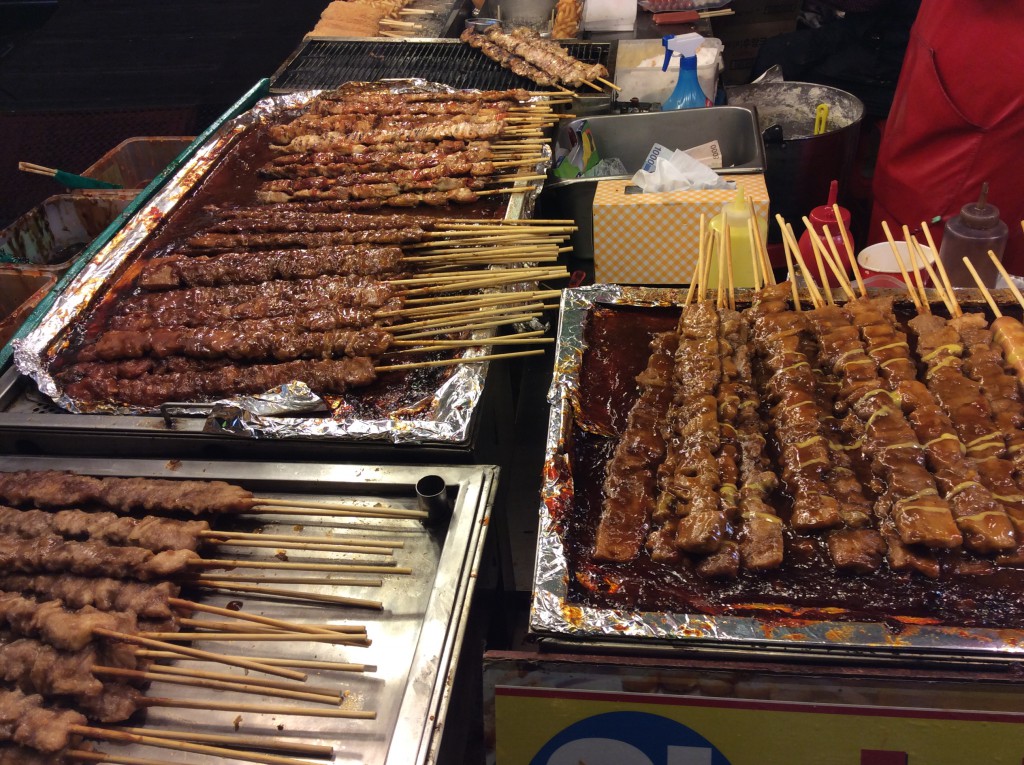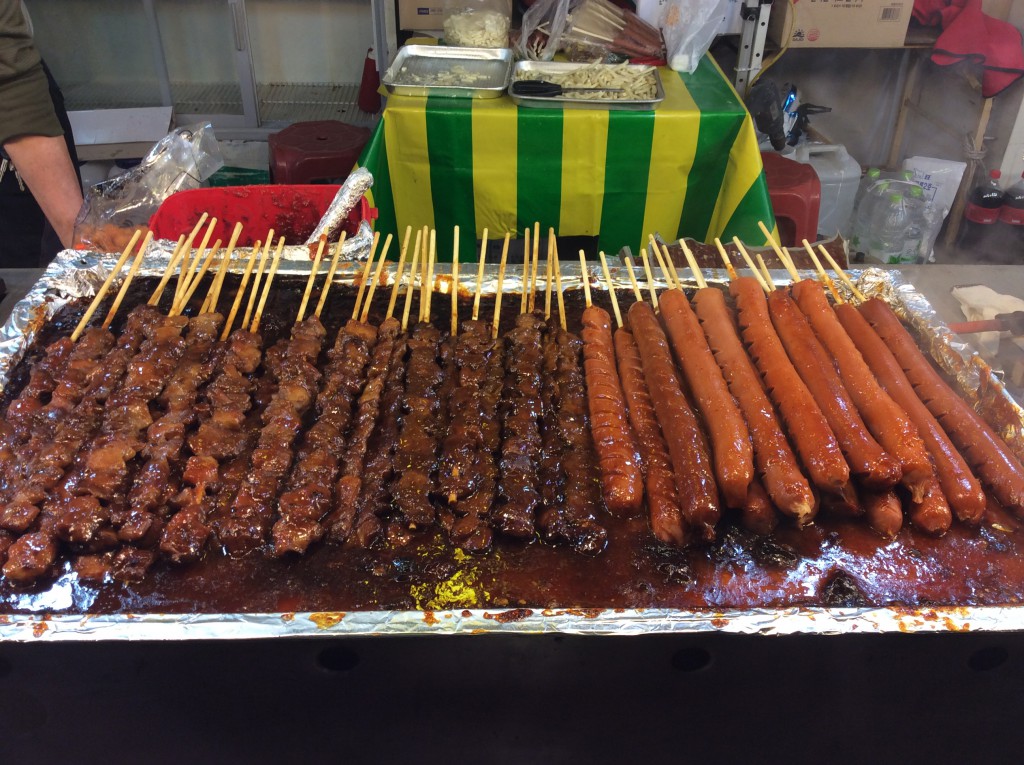 Steamed corn and deep-fried treats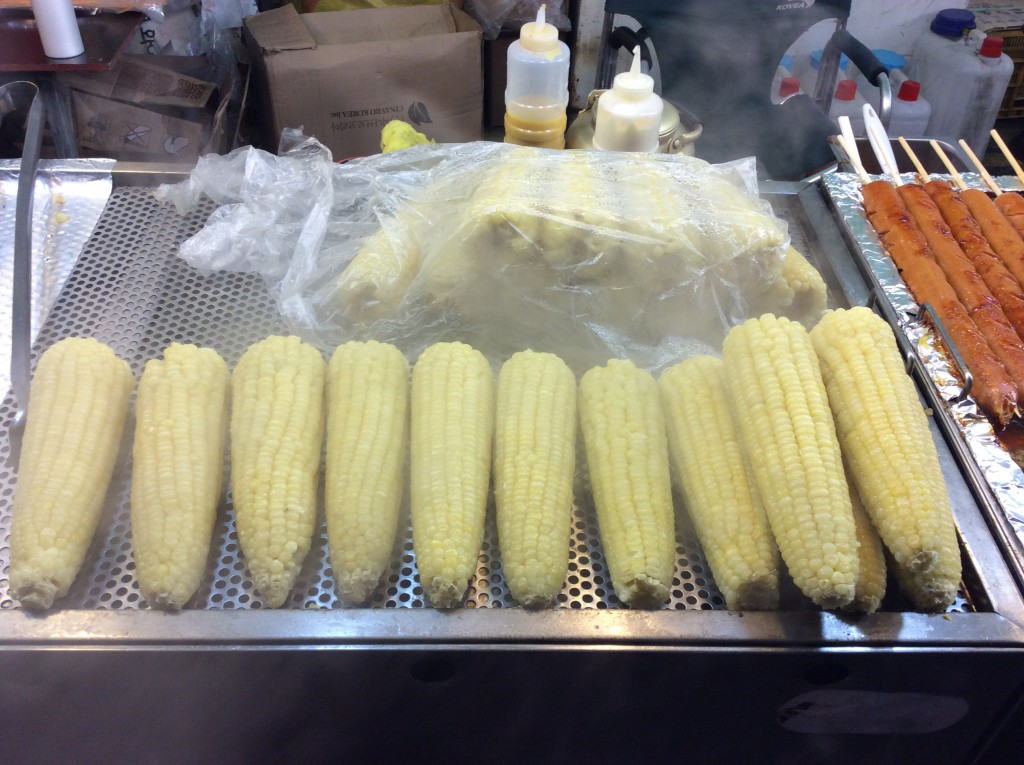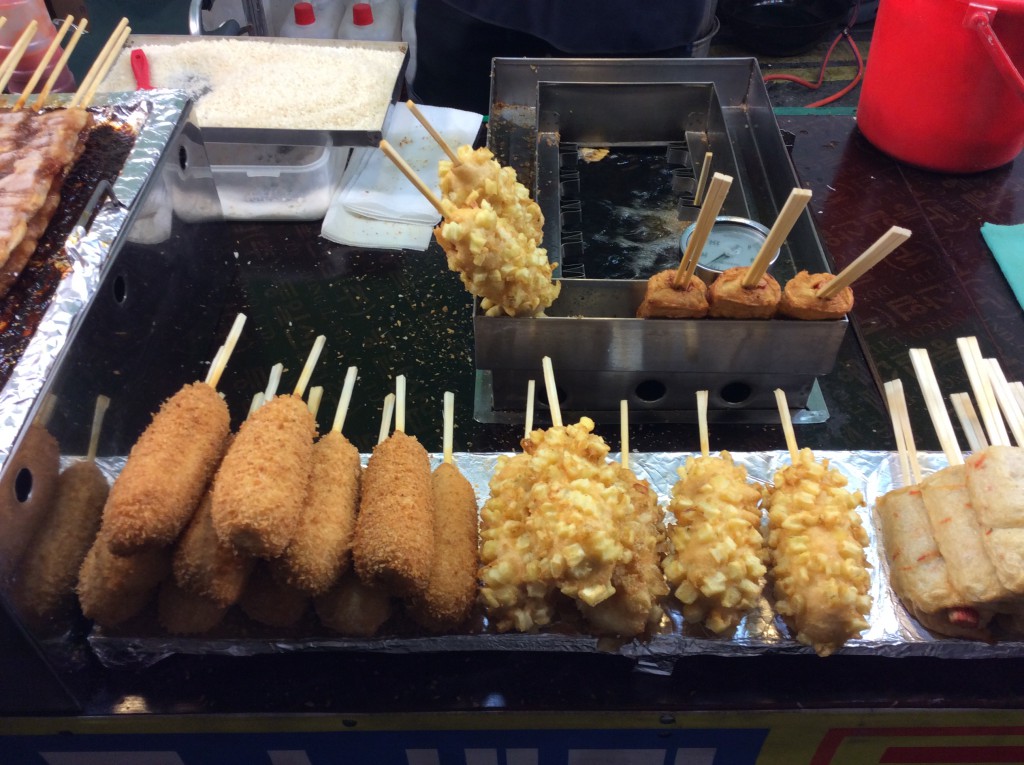 We were extremely grateful to the taxi driver who came in from Changwon to pick us up (a 2 hour return trip in traffic) and the petrol station owner who let us wait in his office for the taxi driver to arrive. Such kindness kept us going through the night and proved that ordinary Korean people are just the BEST.