Gochugaru Girl can't quite believe the weather today.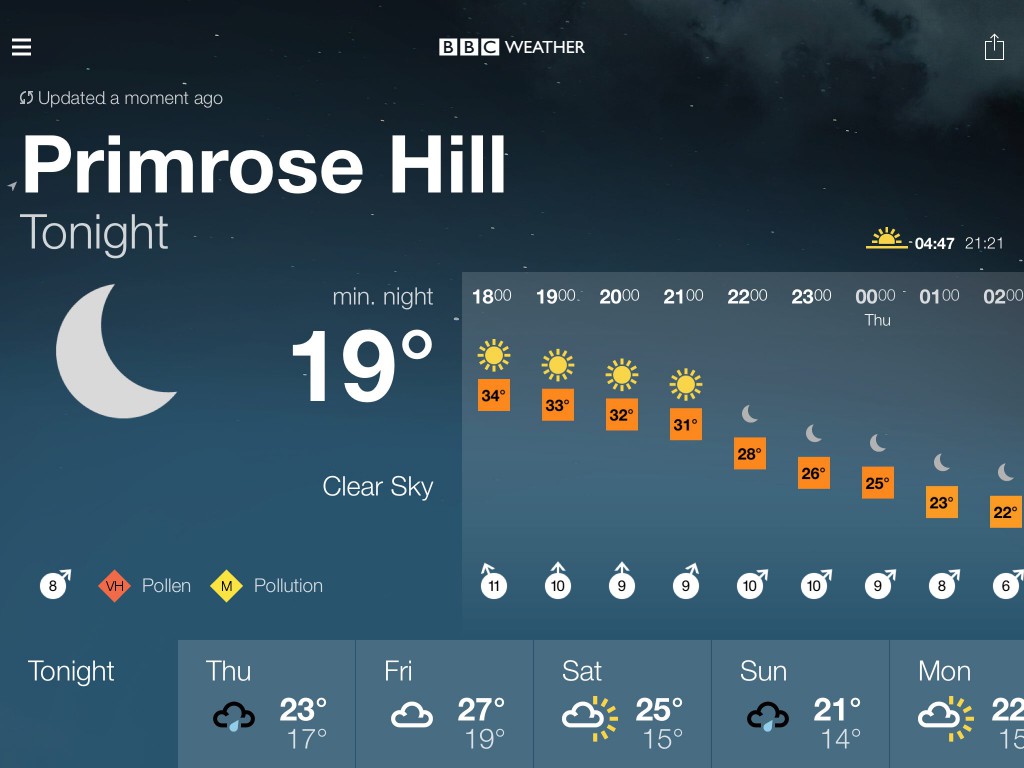 The children say that London today is like being in Kuala Lumpur.
Naturally, our friends in Seoul would say the same: it is similarly hot in Seoul at the moment. Such weather reminds me of the samgyetang I made this time last year.
Although there is another packet of ginseng and samgyetang mix from Junior 2, I thought it was best to keep things simple tonight. The heat really is pervasive and we have zero air-conditioning in our house.
The recipe is very much pared down, but upon eating it, I did feel the added herbs, seeds and nuts from the previous recipe would have added another flavour dimension. The good news is that there should be another opportunity to make samgyetang again before the summer is through and I still have that packet of herbs to use up.
The recipe feeds five because it is just too difficult to contemplate cooking for one at the moment: I would just resort to a ham and cheese sandwich or a bowl of instant ramen.
For the Simple Samgyetang:
5 poussins, weighing 500 g each
350 g glutinous rice, soaked for at least 6 hours or overnight
200 g fresh shitake mushrooms, diced
5 stalks of spring onions, sliced thinly
10 ready cooked chestnuts
1 x 5 cm piece of ginger, sliced
5 cloves of garlic, chopped
20 g flat-leaf parsley, chopped
Fine sea salt and freshly ground black pepper
3 tablespoons sunflower oil
2 litres chicken stock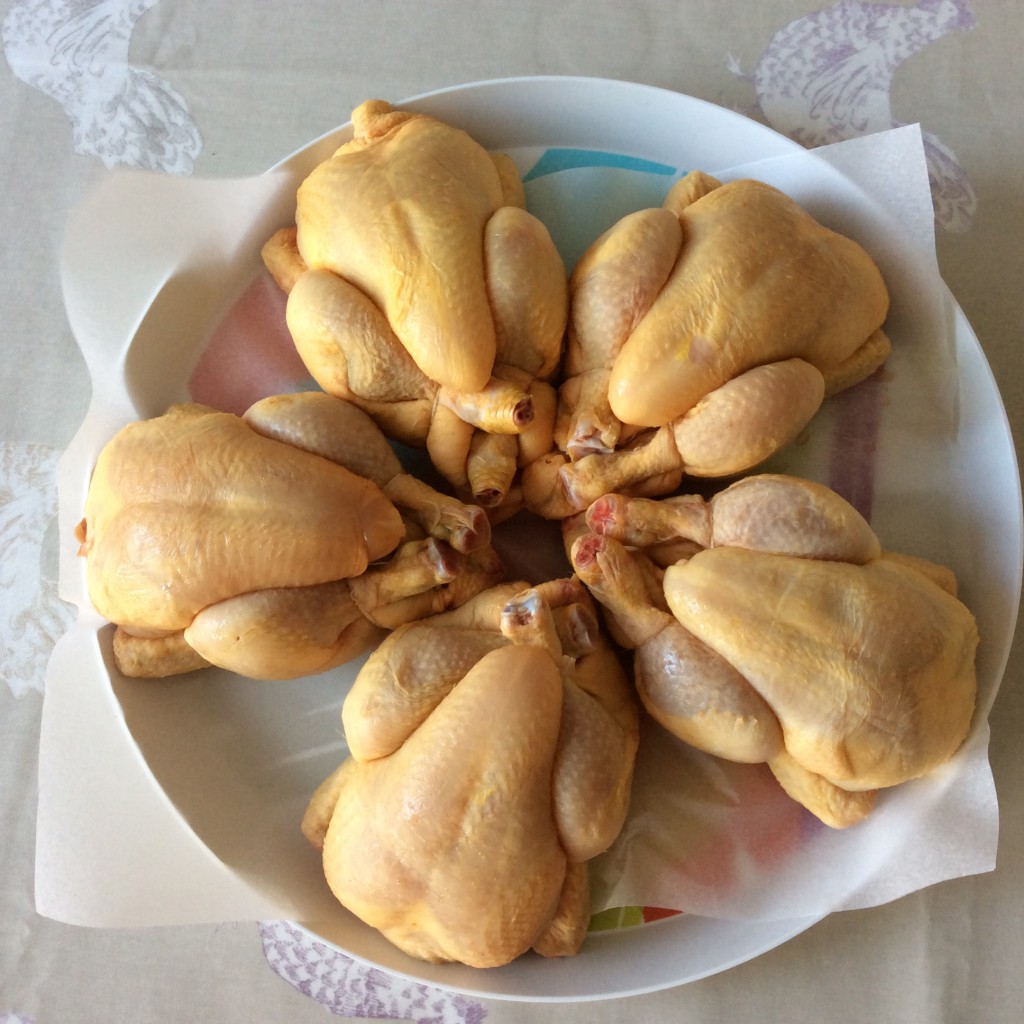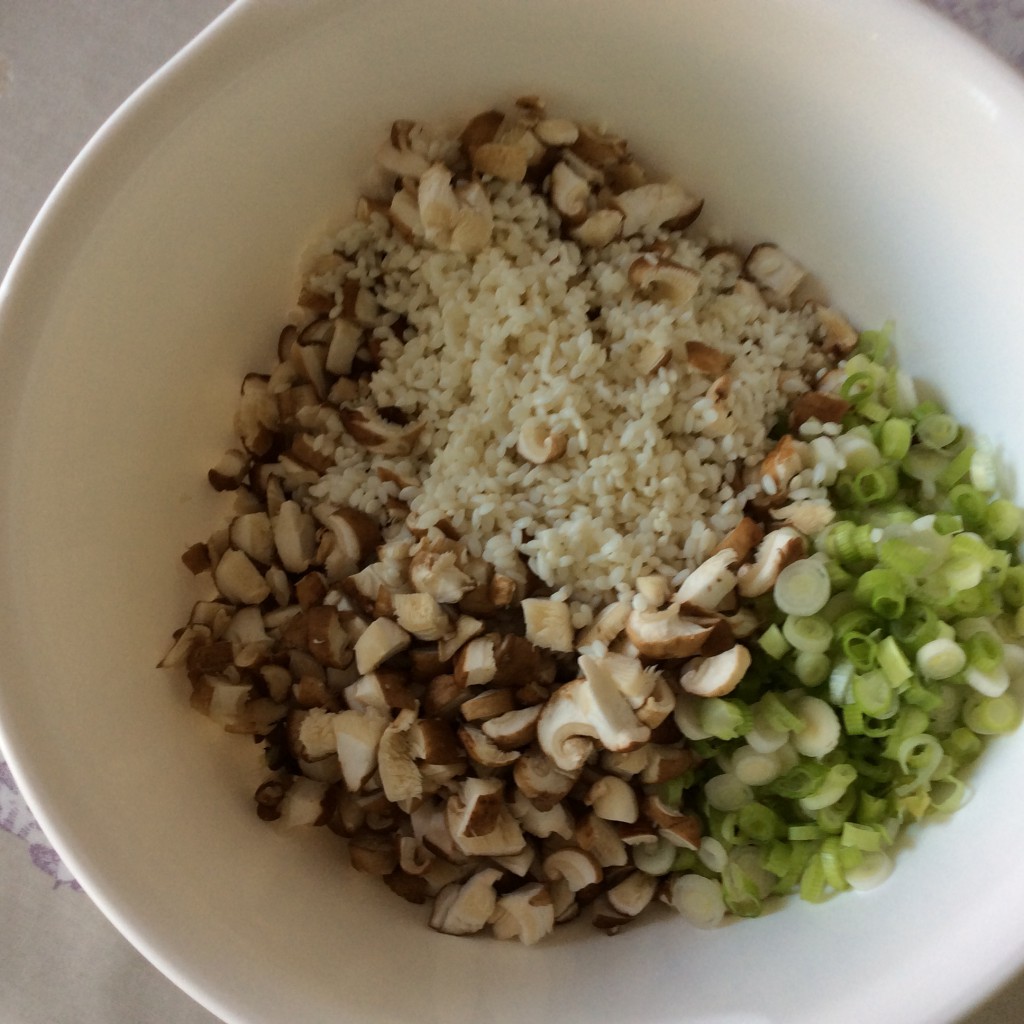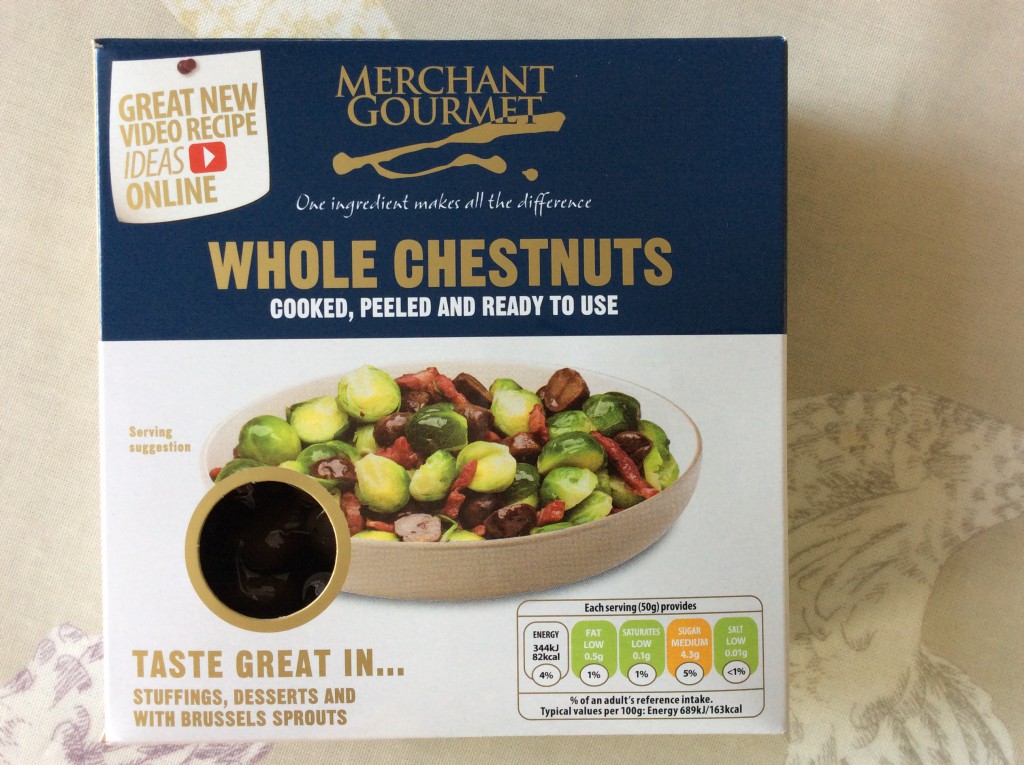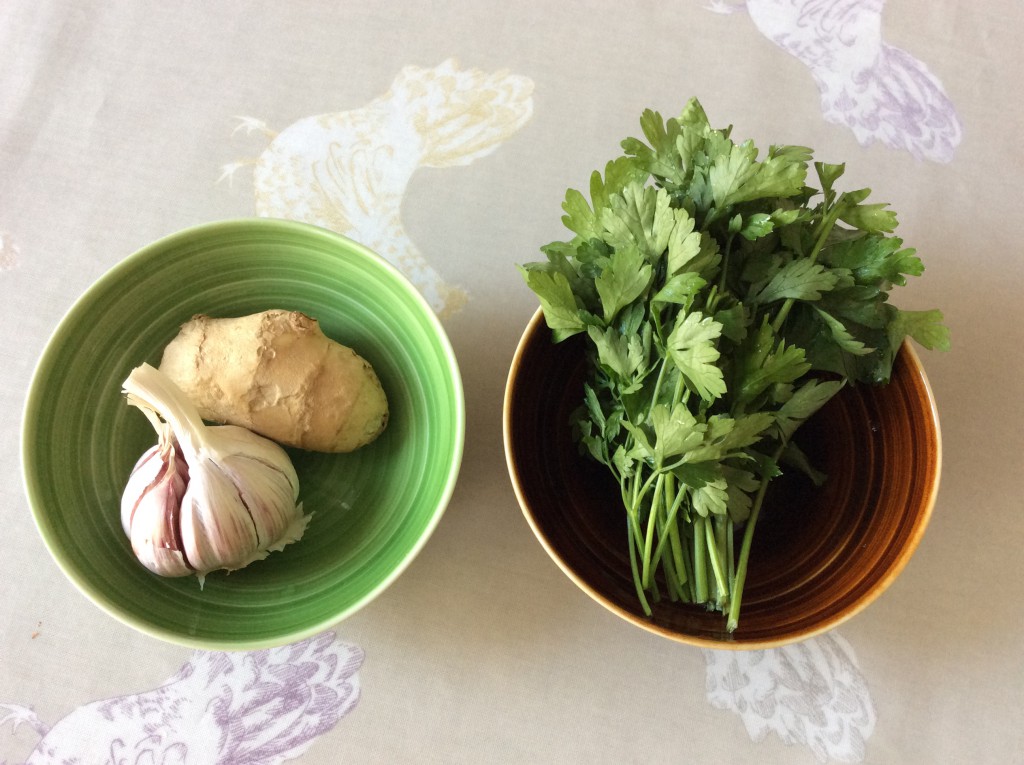 How to Make:
Prepare the poussin by removing any internal organs and plucking any remaining feathers. Rinse under cold water and dry thoroughly.
Mix the soaked rice, mushrooms and spring onions together in a large bowl. Add a bit of salt and pepper.
Stuff the cavity of each poussin with the rice mixture: there may be rice left over which you can fry with a little oil and flavour with some soya sauce.
In a pot big enough to contain the poussins, fry the ginger and garlic in some oil until slightly brownd and fragrant.
Place the poussin in the pot along with the parsley, chicken stock and add a bit more salt and pepper.
Bring to the boil, lower the heat and simmer for one hour.
Just before serving, skim off the fat from the top of the soup.
I used two Le Creuset Pots to cook the poussins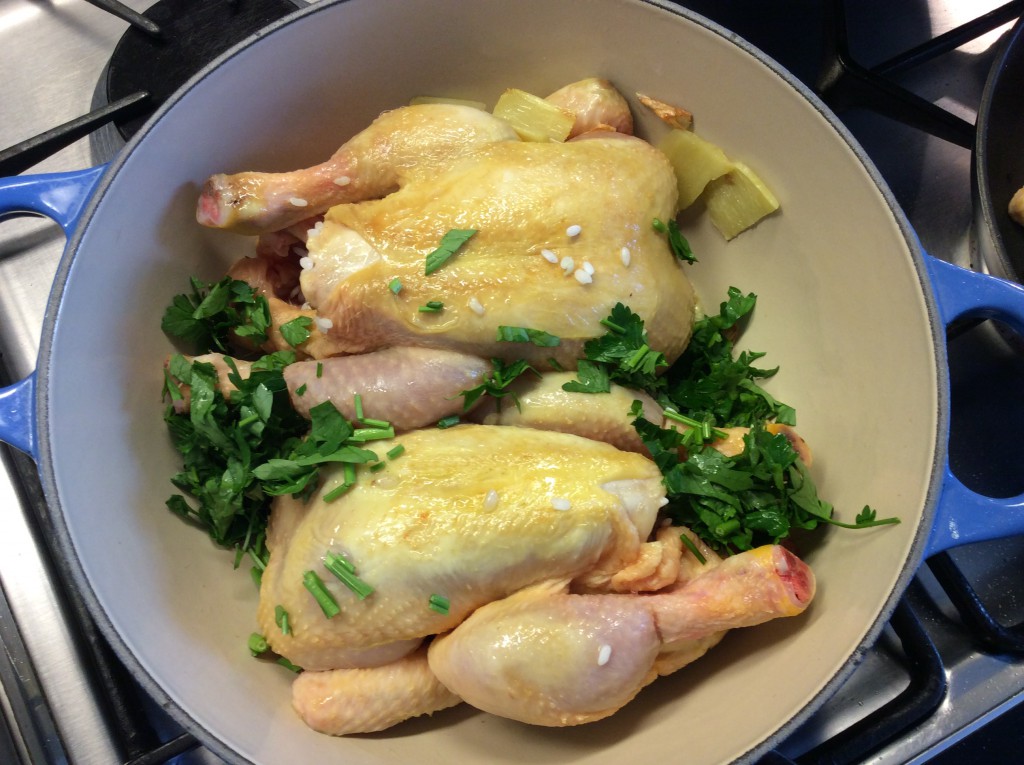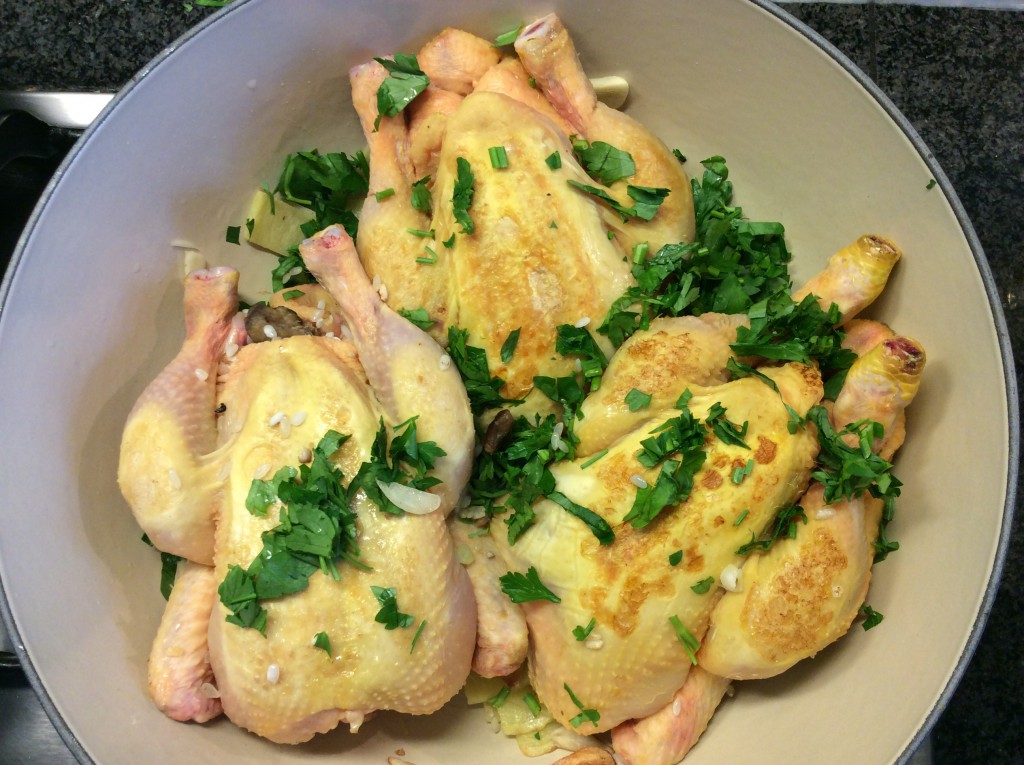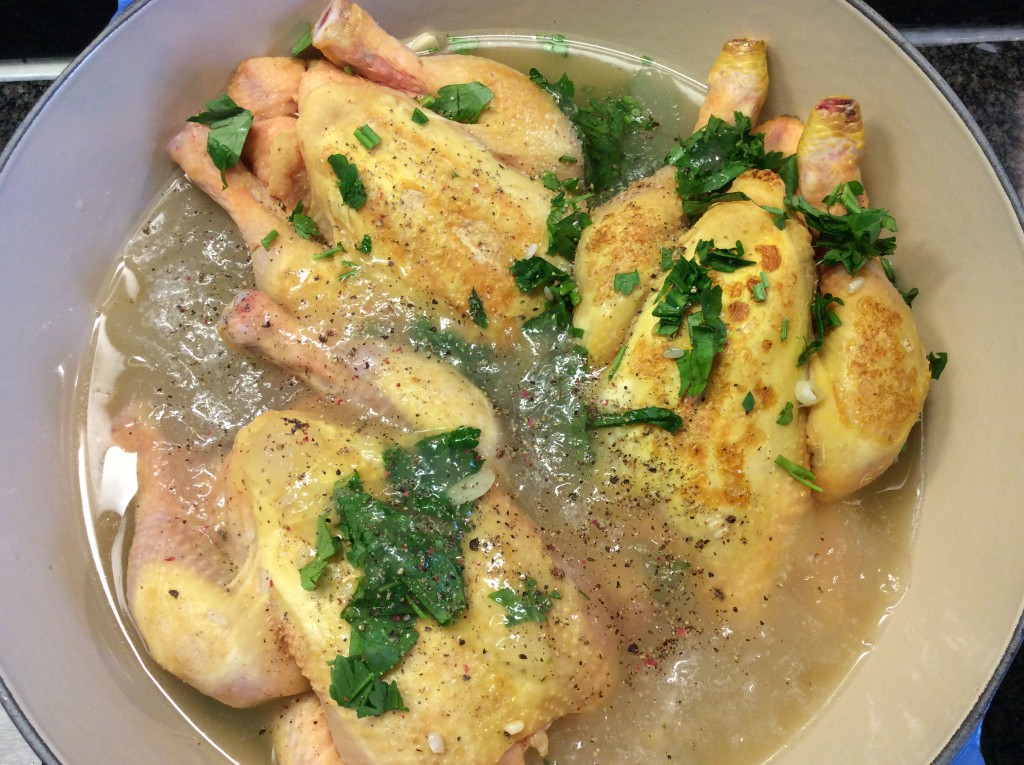 The cooked poussins served with the soup