Gochugaru Girl is waiting for Junior 2 who is coming for a late lunch.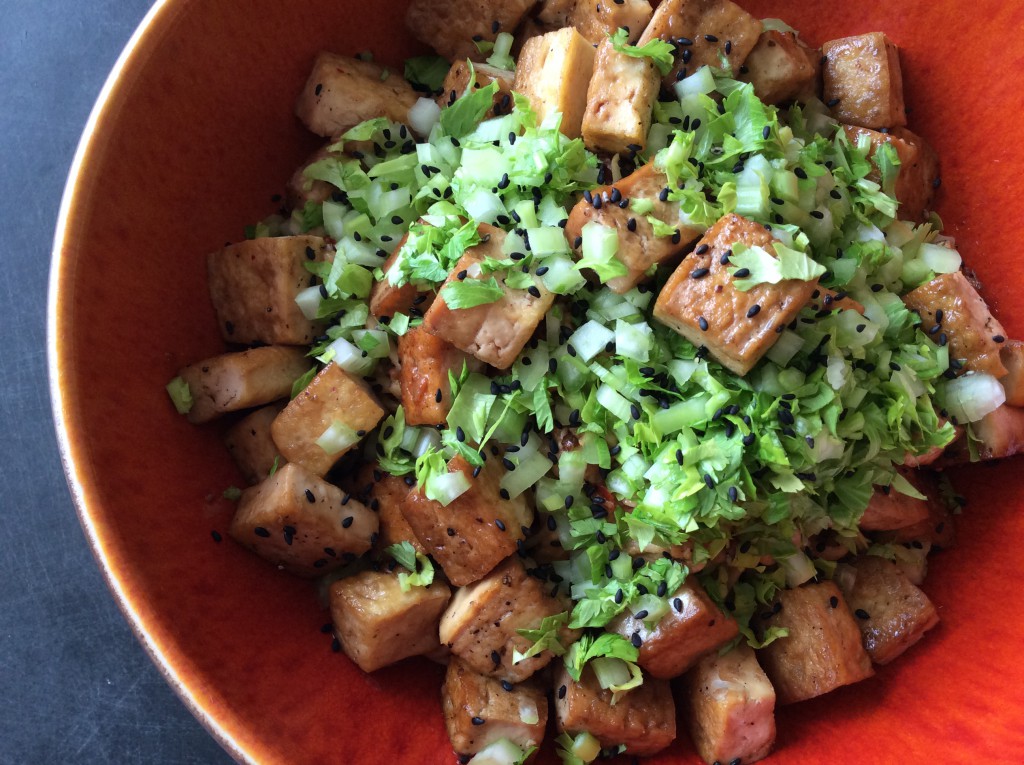 Since she is vegetarian, I am making a meat-free version of Dan Dan Noodles.
Instead of meat, used in regular Dan Dan Noodles, I have used tofu and chopped celery in this recipe (which serves 4 people). Everything was mixed in one large bowl and the leftovers went in a tupperware for a packed lunch/ dinner on another day.
For the Noodles:
300 g dried chinese wheat noodles
500 g fried tofu cubes (see below)
2 sticks of celery with leaves, finely diced
50 g toasted peanuts, crushed
Sliced spring onions and toasted sesame seeds, to garnish
For the Tofu:
1 block of firm tofu (around 500 g)
1 tablespoon sesame oil
1 tablespoon soya sauce
1 tablespoon lemon juice
1 tablespoon dark brown sugar
For the Sauce:
2 tablespoons grated ginger
1 teaspoon finely minced garlic
4 tablespoons chilli oil
2 tablespoons chilli bits (from the chilli oil)
3 tablespoons Chinese sesame paste
2 tablespoons toasted sesame seeds
2 tablespoons light soya sauce
1 tablespoons Chinese vinegar
2 teaspoons sugar
1 teaspoon Szechuan peppercorns, crushed
How to Make:
Drain the tofu and cut into small cubes, about 1½ cm square each.
Heat the oil in a non-stick frying pan, and fry the tofu over a medium heat, turning once.
When the tofu is browned, add the soya sauce, lemon juice and sugar.
Continue frying until all the soya dressing has been absorbed.
Mix the sauce ingredients together and place in a large bowl.
Cook the noodles according to the instructions given on the packet. When this is ready, drain and toss the noodles in the sauce.
Add the tofu, celery and peanuts. Garnish with the spring onions and sesame seeds before serving.
Junior likes her noodles dry, so there was no need to add any extra liquid to loosen the paste. However if you wish to do this, allow for 150ml of vegetable stock per portion of noodles.