…and Gochugaru Girl has a treat in store.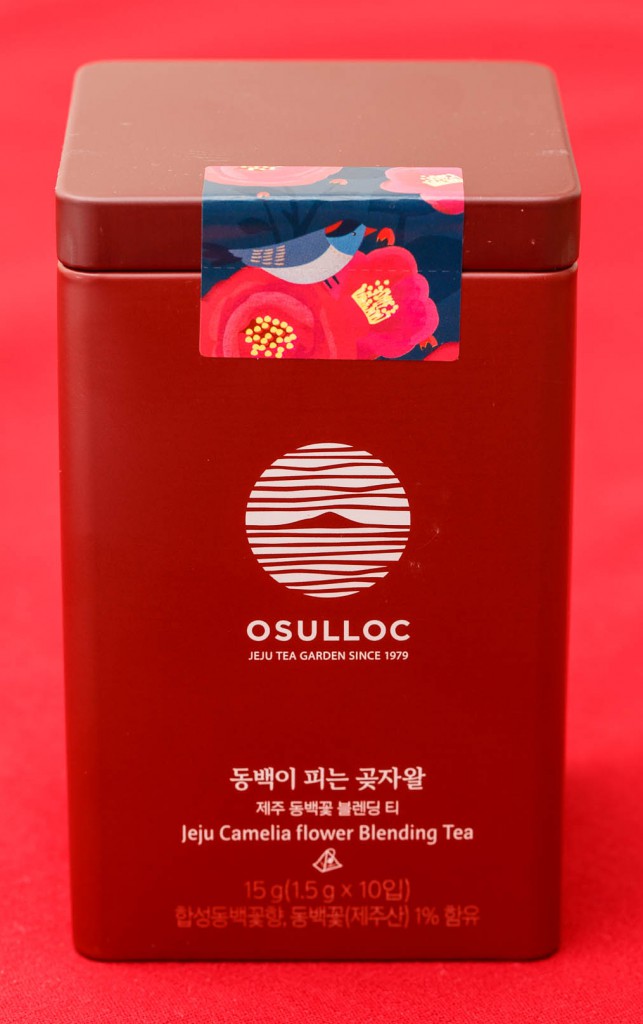 I have been saving this tea for Christmas.
This is Jeju Camelia Flower Blending Tea. I can't explain it any better than the imaginative description given at the back of the tin. Here goes:
O Sulloc Camellia flower blooming forest: The red, red Camellia hill reminds you of the even hotter romance from the past. The blinding attraction and sweetness…tinting the heart with flavour. Floral and Fruity tea with island romance and fantasy and dazzling sweetness of Jeju Camellia flower scent and tropical subtleness.
The question is: who needs this kind of tea, and this reminder of the even hotter romance from the past?
For one, the very quarrelsome couple in Break Up 100, a Chinese movie I watched on the flight back from Hong Kong in October. The story centres on a couple who continually break up and then get back together again (99 times and counting). In a last bid for reconciliation, they open a café in the hope that serving coffee together might stabilise their relationship.
As you can imagine, things don't quite work out. The man (M) is given some 'helpful' advice by his bachelor friend (B):
B: Come and try my new concoction. It's full of intelligent truth about love. It's great, come on…taste it!
B hands a drink to M, which is an affogato – a scoop of vanilla ice cream topped by a shot of espresso.
B  continues: Is it sweet and bitter? Is it hot and cold? Then you get it. Tell me what it means.
M looks wistfully and replies: Love is like an affogato…sweet, bitter, hot and cold.
B shouts at M: You missed the point! It's telling you to switch to tea and nothing bad will happen!
This was one of two memorable scenes in the show (please don't go running to watch it). The other one is where the man puts up a 'Break Up Shelf' where people can leave personal items relating to the end of their relationship.
In response to their heartbreak, he writes a poem to accompany the item. I thought that was a really good idea (does such a café exist?). The Letting Go café? Hmm…
Anyway, there is still a bit of night left before the clock strikes twelve. Juniors 1 and 2 are making tuna toasts in the kitchen so I am settling down to a cup of tea, a slice of Christmas cake and of course, some Korean Drama.
Junior 3 is studying Jane Austen's Pride and Prejudice and I jokingly said he should watch the Korean version. It turns out that there is actually a series running at the moment by the very same name, however it is about the law and political corruption in Korea.
Tea, cake and Mr Darcy…it's a good start to Christmas Day.