Gochugaru Girl has just started watching a new Korean drama.
The drama is called City Hunter and it has elements that remind me of Batman.
Both stories first appeared in comic books.
Both heroes live as men with secret identities: Bruce Wayne is Batman and Lee Yoon-sung is City Hunter.
Batman is an orphan; his parents were murdered when he was a child. City Hunter lives as an orphan; his father was killed in an act of governmental betrayal and he was told his mother abandoned him as a baby. The man who raised him as his son later revealed that in fact he was not his father.
Corruption is rife in both Gotham City and modern-day Seoul, where ordinary citizens struggle to have their voices heard. The political and judiciary systems protect only those who are in power, or those who can afford to bribe those who are in power.
Both heroes vow to fight injustice, using a combination of personal wealth, intelligence and finely-honed fighting skills. That their hearts are with the people is never in doubt.
However, Batman's personality, thoughts and disguise are darker. In some screen interpretations, Bruce Wayne hardly ever smiles.
City Hunter, by contrast, has the most disarming smile. Yoon-sung looks good even when eating ramen. How that can be is a totally Korean phenomenon.
As the story builds up, I have found myself on seat-edge several times in anticipation of the dénouement that is inevitable.
Here is a recipe for some tongue-tingling macadamia nuts, for when the hero is taking a break from chasing villains, pursuing law and order and fighting for democracy: that is to say, when he is going crazy because he can't express his feelings for his love interest, or when he is holding back the tears because he has not been able to help his eomma (mother) sooner.
This is, after all, Korean drama. There is always a mellow song for these wistful moments, and it is the only time I can crunch my teeth on some snacks without missing the action.
A recipe for spiced cashew nuts will follow soon.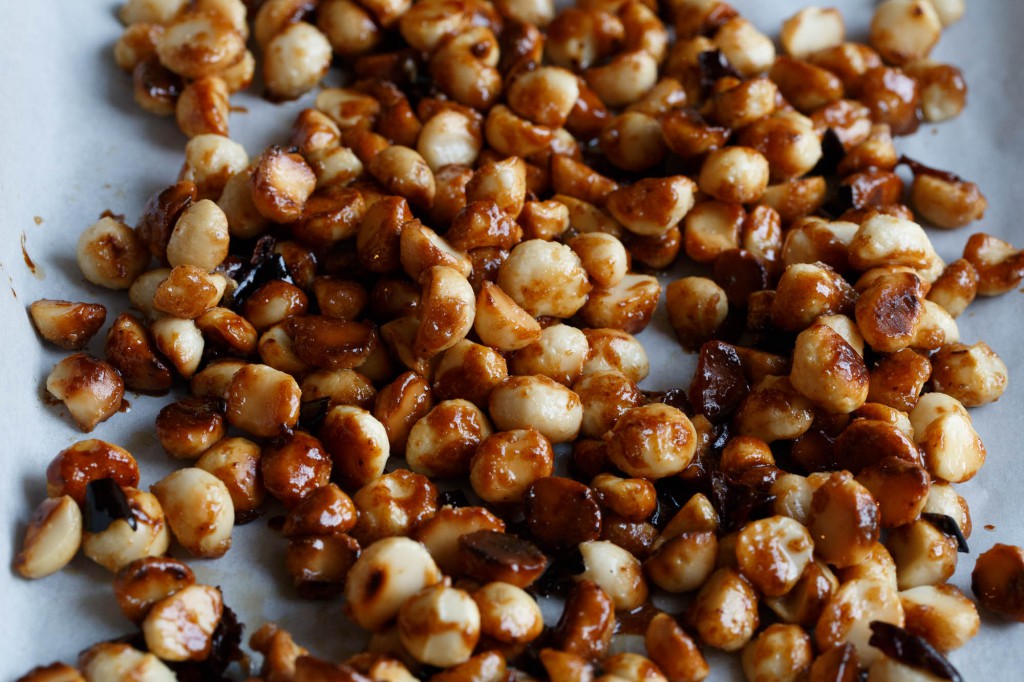 For the Nuts:
300 g macadamia nuts
20 g butter
4 tablespoons golden caster sugar
1 teaspoon fine sea salt
5 Sichuan dried chillies, deseeded and crumbled into large flakes
15 Sichuan dried peppercorns, crushed
You will need a tray lined with greaseproof paper.
How to Make:
Place the macadamia nuts in a frying pan and dry-roast on a low heat until they are brown all over. Watch the nuts carefully as they burn easily due to their high oil content.
Add the butter, followed by the sugar, salt, chilli flakes and crushed peppercorns.
Stir constantly to coat the nuts as the sugar caramelizes.
Pour the nuts onto the tray in a single layer.
The nuts will clump together as the sugar cools. To serve, gently break them back into individual nuts. Store any extra nuts in an airtight container.