Gochugaru Girl is in possession of a much loved recipe book which she still uses after 25 years.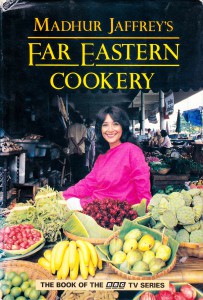 Madhur Jaffrey's Far Eastern Cookery* was a godsend in the early days of my culinary explorations. In particular, I had to rely on it to make my own 'Bull-Dog Sauce'.
Today, it would be unthinkable to make this sauce at home to accompany a helping of hot and crunchy tonkatsu, the much beloved Japanese breaded pork cutlet. Not only can I get Bull-Dog Sauce easily, I can even find a Korean equivalent.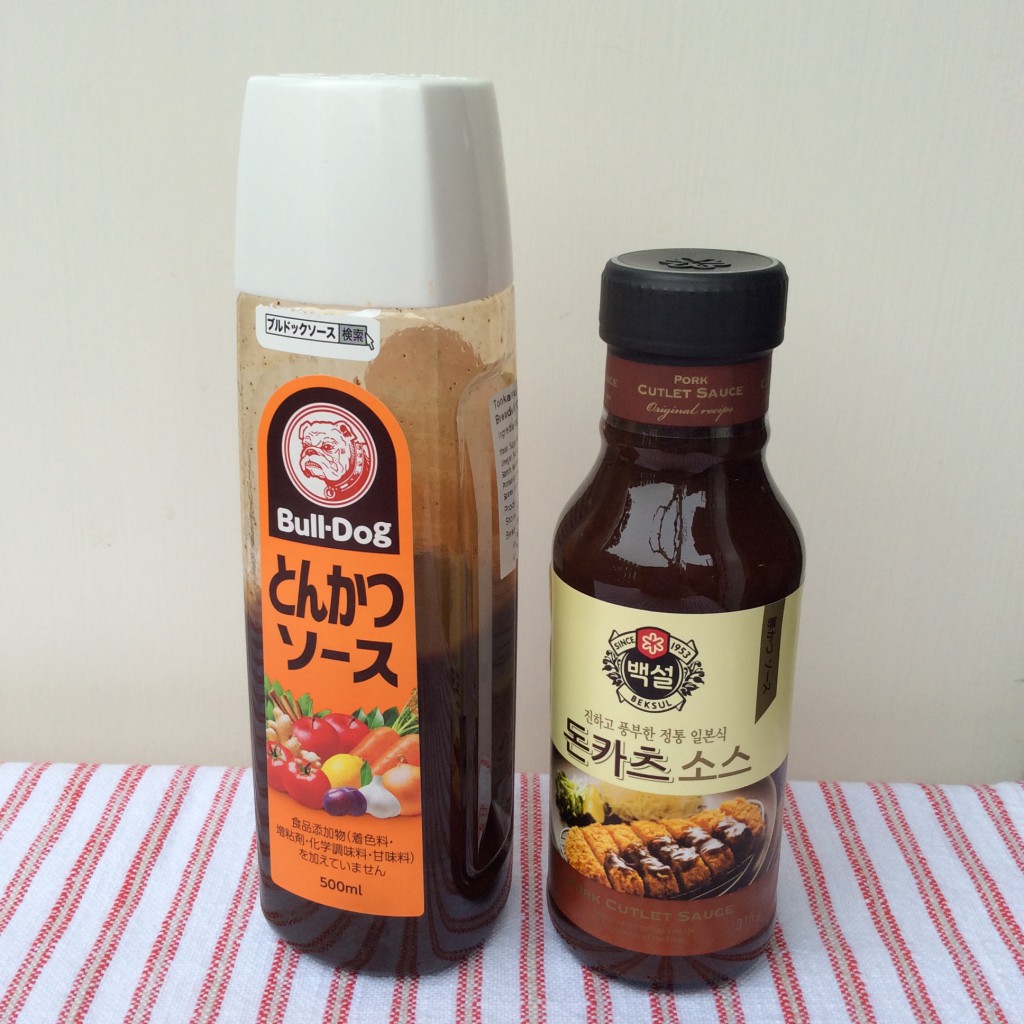 Bull-Dog is, of course, the brand, and not one of the ingredients of this sauce. Here is Madhur Jaffrey's original recipe. She has named it East-West Sauce, on account of the ingredients which come from both the east and the west. The amount is enough to drizzle over 4 – 6 cutlets.
½ teaspoon mustard powder
4 tablespoons tomato ketchup
4 teaspoons sake
4 teaspoons Japanese soy sauce
4 teaspoons sugar
4 teaspoons distilled white vinegar
¼ teaspoon ground allspice
Dash ground cloves
How to Make:
Put the mustard powder in a smallish bowl.
Add 4 teaspoons hot water and mix thoroughly. Add all the remaining ingredients and mix.
Tonkatsu is the raison d'etre of the sauce, and is one of our family's favorite dishes. We can eat it day or night, with rice or bread, at home or out, in this country or another. The following recipe feeds six, and further on I have included the sides – shredded cabbage with carrot and an optional curry sauce – which complete the meal.
Tonkatsu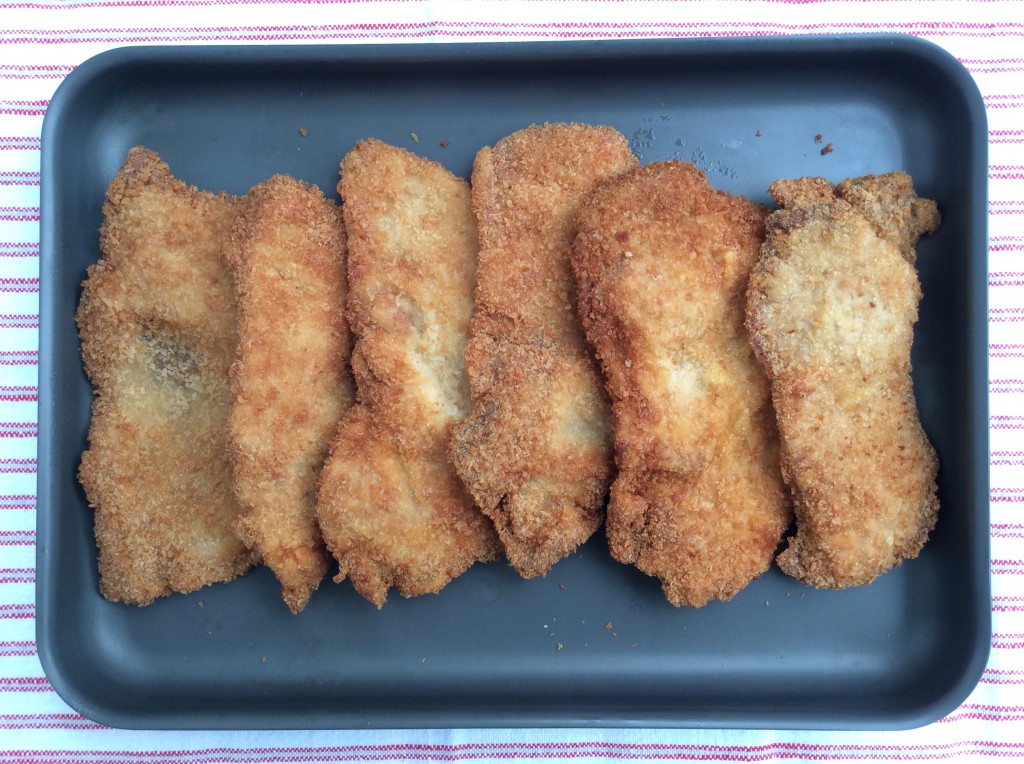 6 pieces of boneless pork loin chops, each weighing around 100 g and about 1 cm thick
½ cup plain flour
1 teaspoon salt
½ teaspoon ground black pepper
1 large egg, beaten
1 – 2 cups Japanese panko breadcrumbs
Sunflower oil, enough to half fill the frying pan
How to Make:
Mix together the flour, salt and pepper in a bowl large enough to hold one piece of pork. Dredge the pieces of pork through this piece by piece.
Dip the floured pork into the egg and then in the breadcrumbs.
Heat the oil to a temperature of 180°C/ 350°F.
Deep fry the pork for two to three minutes each side, or until the meat is cooked through.
Line a tray with kitchen paper and place the tonkatsu on this as it comes out of the oil.
Slice the tonkatsu before serving.
Tools to make the Cabbage and Carrot Salad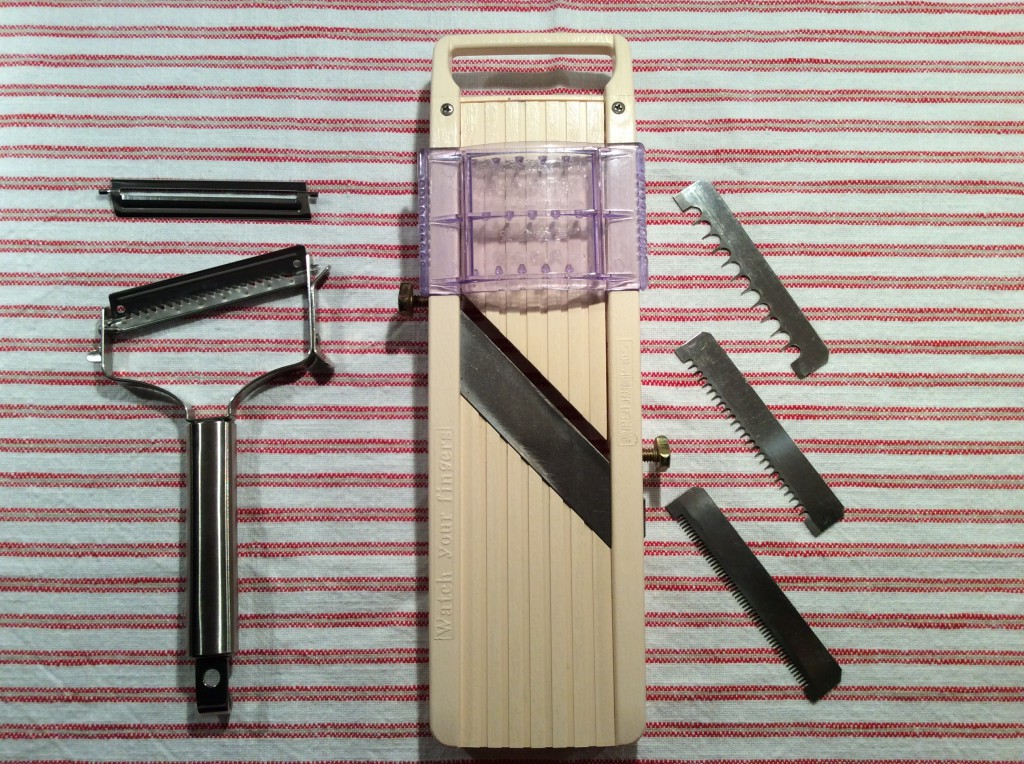 Half a head of white cabbage
2 large carrots, peeled
How to Make:
Using a mandolin shred the cabbage and carrots finely. Mine is made by Benriner in Japan.
Alternatively, use a large peeler and shredder. The one I have is made by Kai and the heads are interchangeable.
Mix together gently with your hands.
Curry Sauce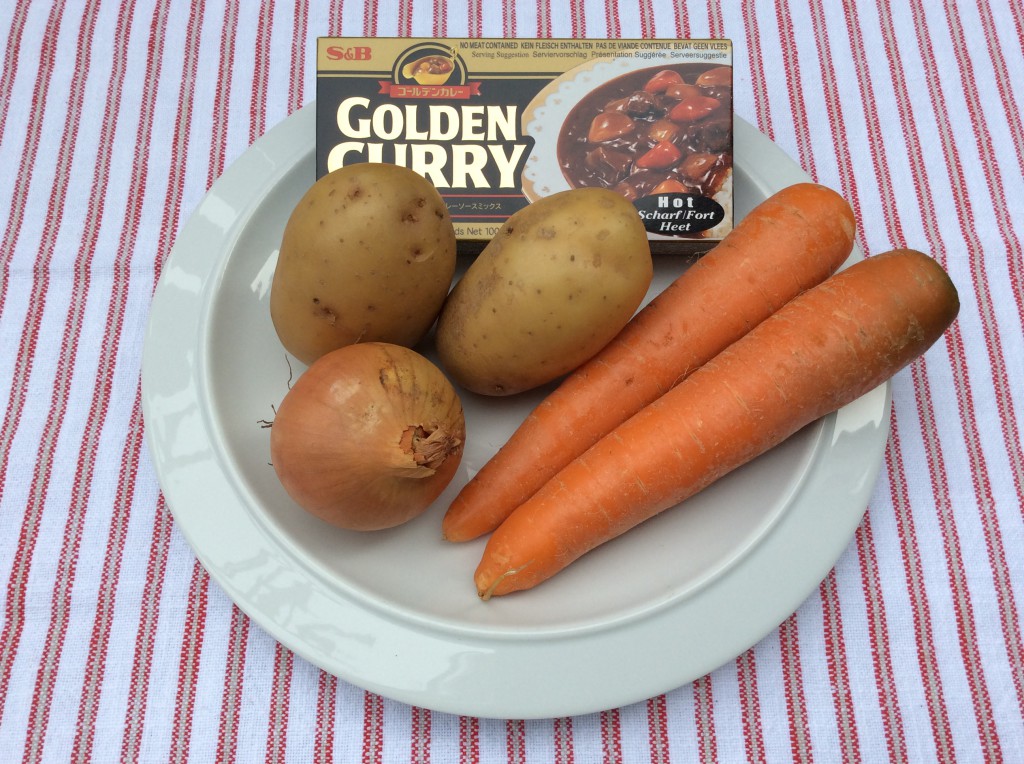 1 medium sized white onion, peeled and cubed
2 medium sized carrots, peeled and sliced
2 medium sized potatoes, peeled and cubed
1 block of curry
Water
How to make:
In a saucepan, fry the onion, carrots and potatoes in a little sunflower oil until they have taken on a little colour.
Add the right amount of water and curry according to the instructions printed on the packaging.
Stir a few times, put on a lid and simmer gently for 15 minutes.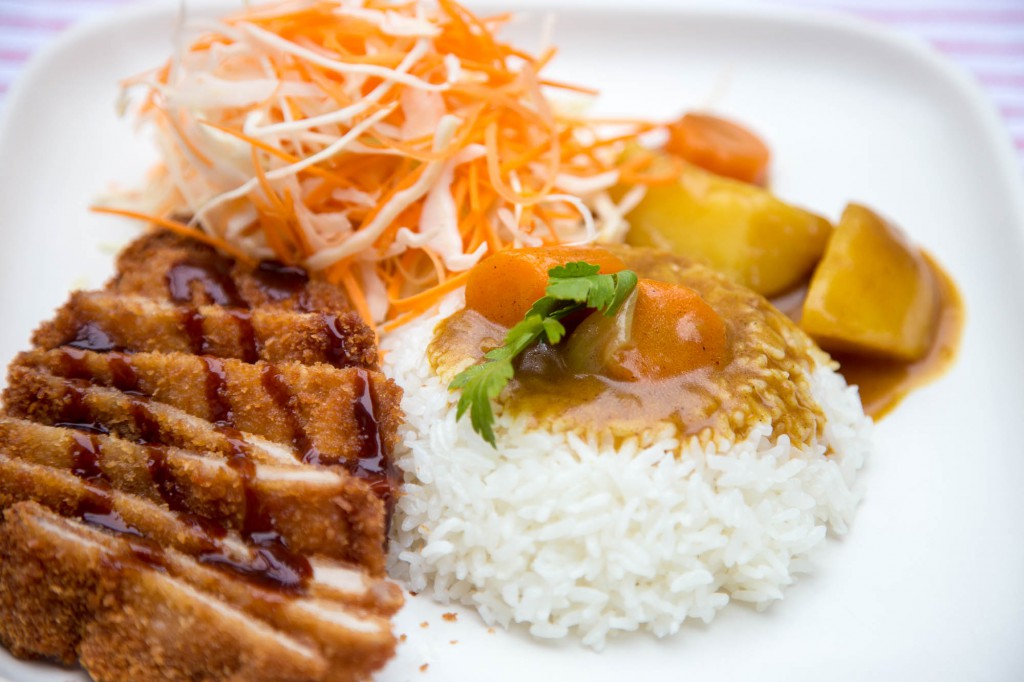 Katsu Curry – tonkatsu with steamed rice, curry sauce, Bull-Dog sauce and shredded cabbage and carrot salad
* Far Eastern Cookery by Madhur Jaffrey, was first published in 1989. This is now out of print but used copies are available through Amazon.