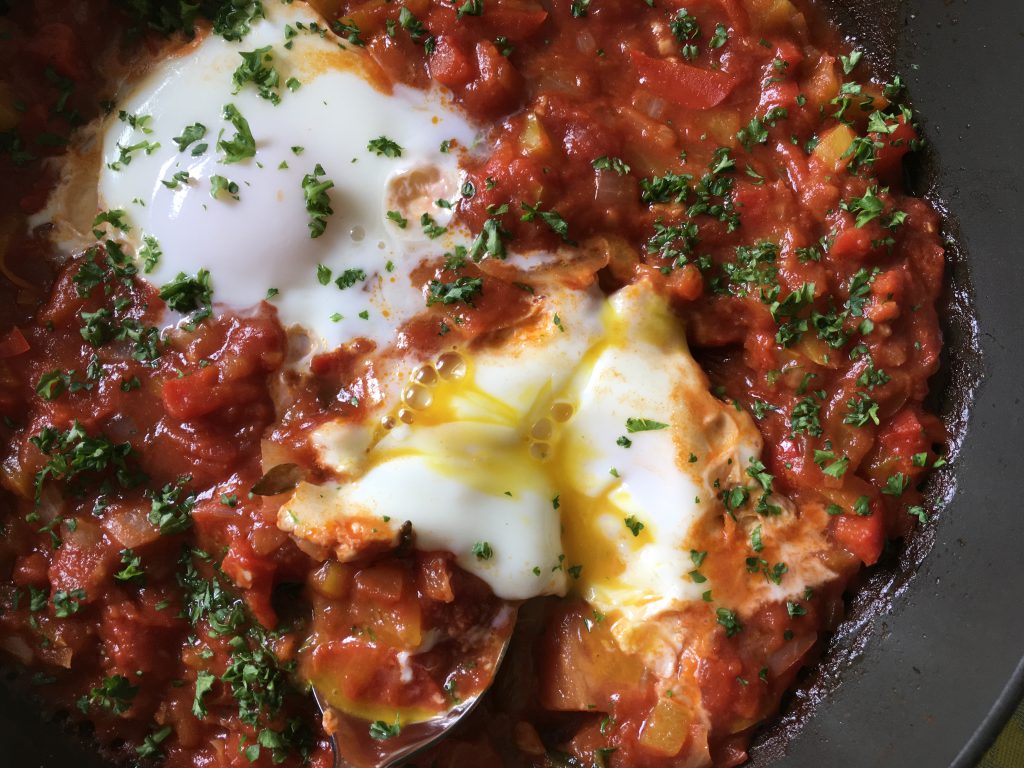 I am trying to remember if I have made shakshuka before and judging by the food stains on both recipes in the pages of Ottolenghi's Plenty and Jerusalem, have come to the conclusion that either I have made it before (and forgotten) or perhaps Junior 2 made it and made a mess of the book in the process.
In any case, what is does show is the popularity of this dish in our household. I first tasted it at NOPI and this is what I always have for breakfast when I am there.
When I decided to make it this time, I sort of had a bit of everything both recipes asked for, and so I made up my own recipe. In essence, it has everything I imagine shakshuka would contain if I had to guess the ingredients.
It was Easter Monday and the five of us shared the shakshuka straight out of the pan for a late breakfast, along with some toasted sourdough bread. I have to be honest, it was really good. So good that I forgot to photograph the finished dish and had to make it again today for this post.
Our Easter Monday shakshuka in the process of being cooked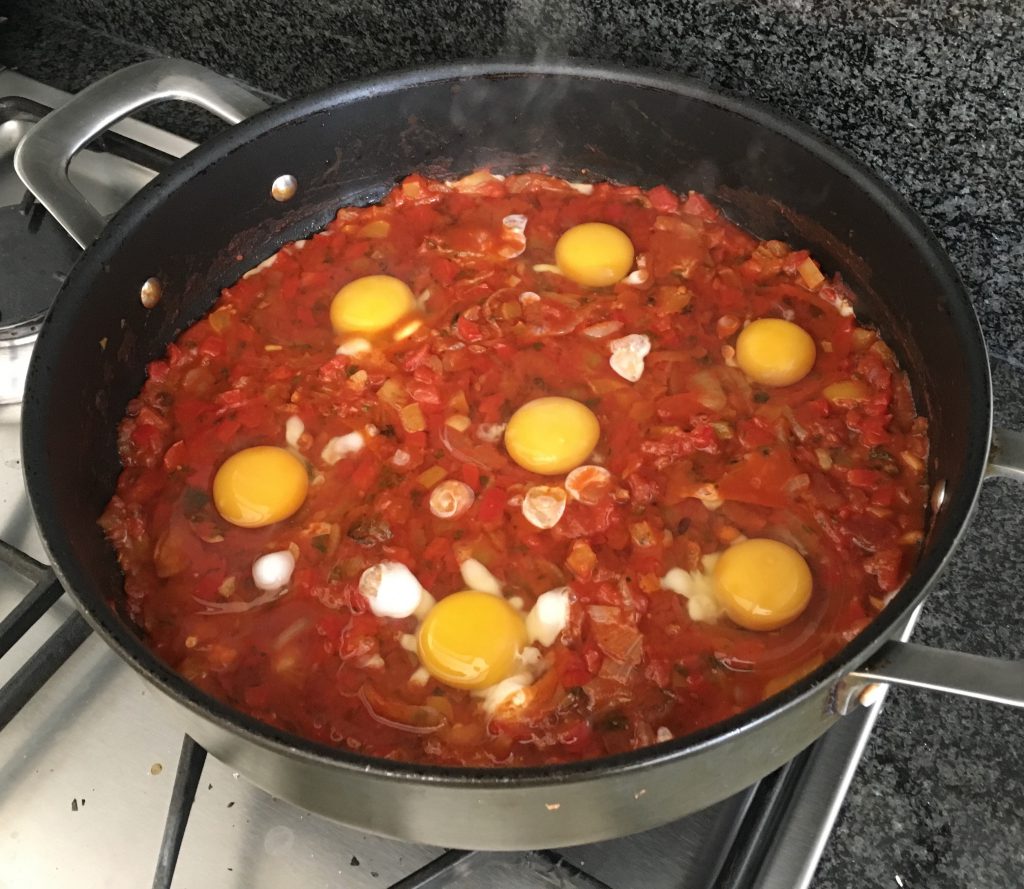 It is not easy to share seven eggs between five adults who all love eggs and so I have adjusted the recipe. The quantity below will serve two hungry or four light eaters. You can use red peppers or a mixture of red, orange and yellow peppers. Labneh is a Middle eastern soft cream cheese made from strained yogurt. It has a tangy taste and here in London I found it at the Lebanese Store Green Valley in Marble Arch. Greek Yogurt is a possible substitute and the Total brand is what I use.
A word about the harissa, which is a spicy chilli paste originating from North Africa. It is possible to make this and I will soon, but this time I used a ready made paste from Tunisia called Le Phare du Cap Bon, available in some supermarkets and specialist food shops. Supermarkets also carry their own version of harissa. By far my favourite for taste and depth of flavour is from Borough Olives. Their Moroccan chermoula is very good too.
When you are short of time, simple store cupboard ingredients are your best friends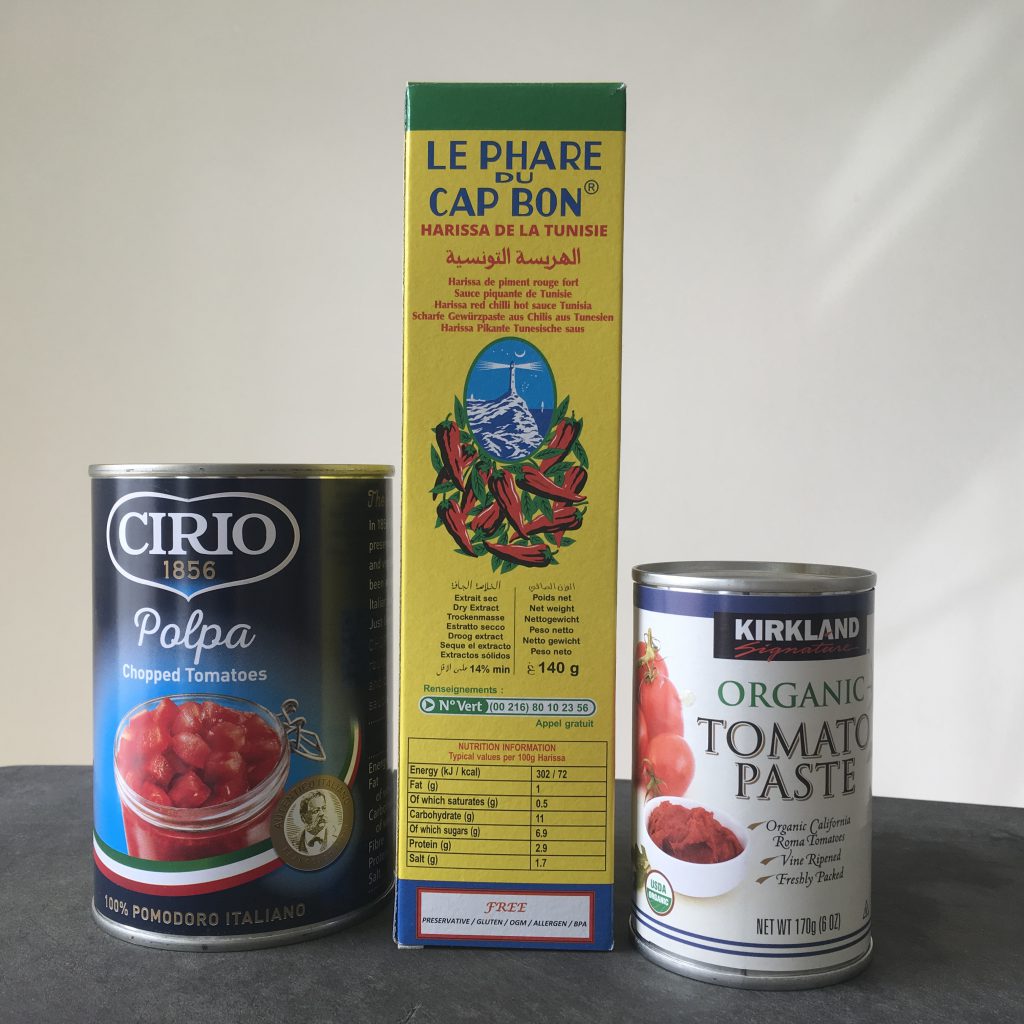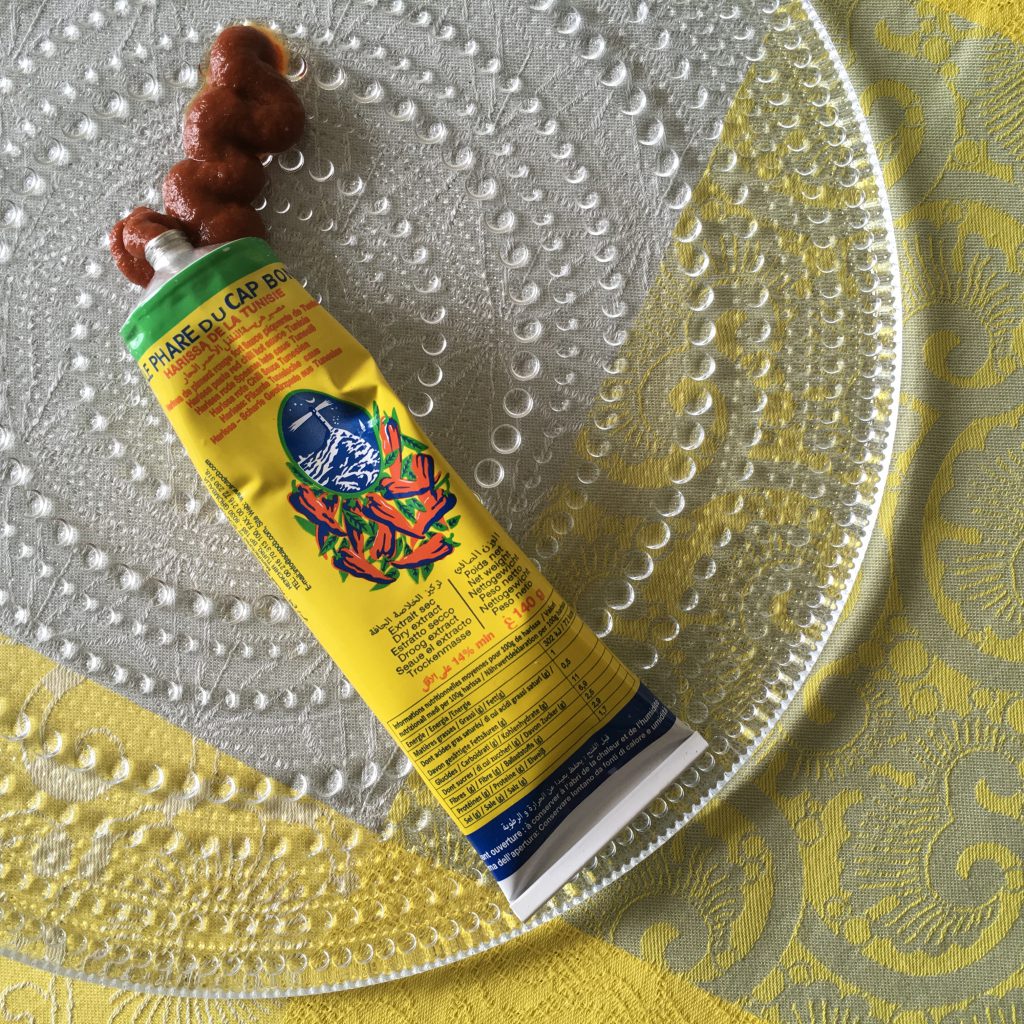 For the Shakshuka:
2 tablespoons olive oil
300 g red peppers, cut into small pieces
70 g white onion, cut into small pieces
2 cloves garlic, crushed
1 tablespoon harissa paste
1 tablespoon tomato paste
½ teaspoon dark brown soft sugar
½ teaspoon ground cumin
Pinch of salt
400 g tinned chopped tomatoes (I use Cirio brand)
A few sprigs of thyme or marjoram (optional)
4 eggs
1 tablespoon fresh parsley, chopped
For serving: Greek yogurt or labneh, and toasted sourdough bread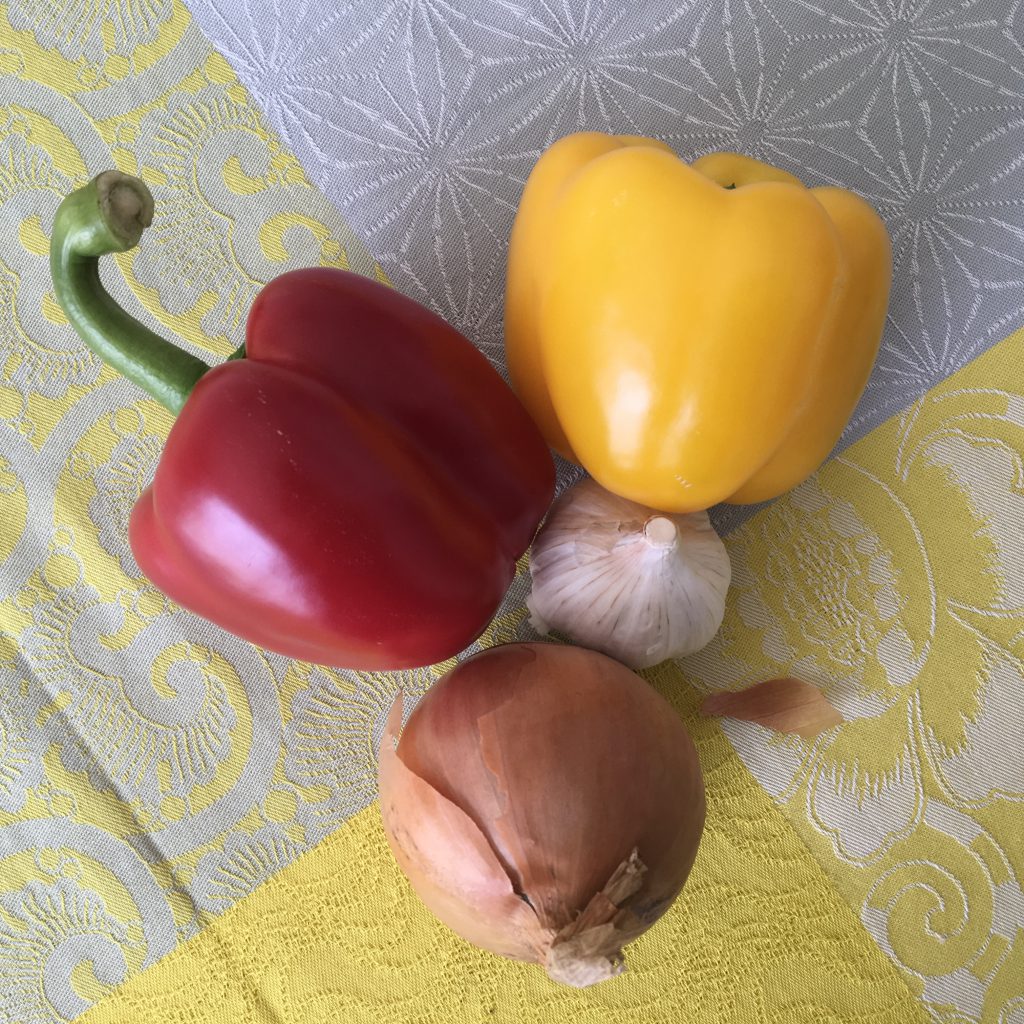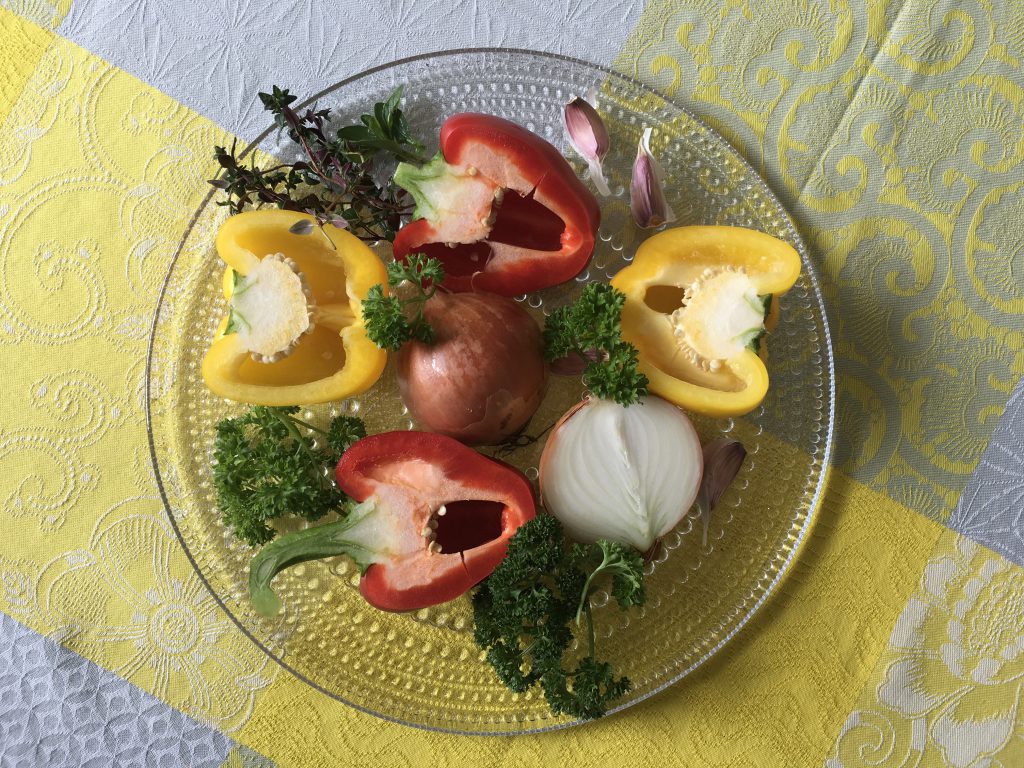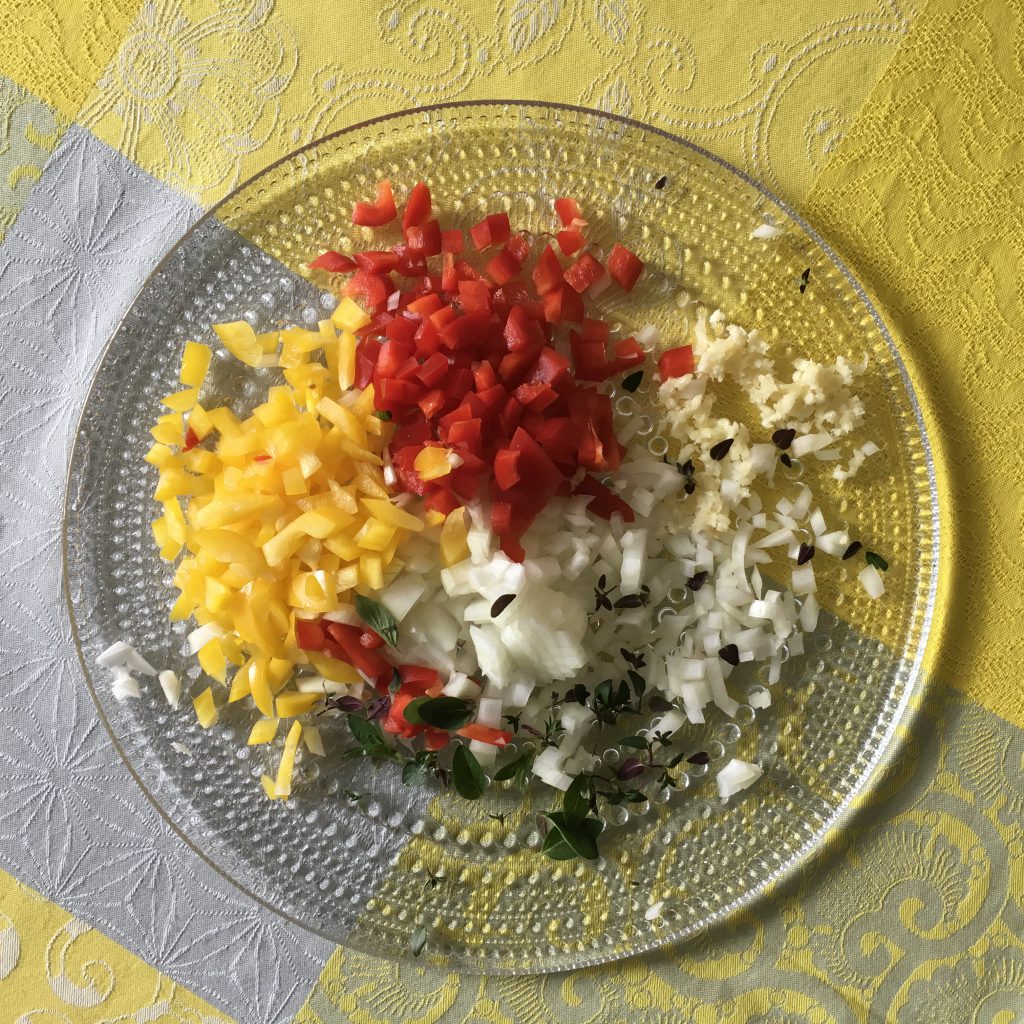 How to Make:
Heat the oil in a pan and cook the onions and garlic over a medium heat until slightly softened.
Add the peppers, harissa, tomato paste, sugar, cumin and salt. Stir everything together then add the tomatoes and the marjoram/ thyme.
Bring everything to a gentle simmer and cover the pan with a lid. Cook for 15 minutes until the peppers are softened.
Crack an egg into a small bowl.
Using the back of a soup ladle, make an indent in the tomato and pepper sauce and slide the egg into the the hole.
Continue to add in the other three eggs this way.
Cover the pan and cook over a low heat for a further 5 minutes, until the eggs whites are set but the yolks are still slightly runny. It is this combination of soft-set eggs and spicy thick tomato sauce that makes shakshuka so attractive.
Sprinkle over the parsley and serve with toasted sourdough and labneh or Greek yogurt on the side.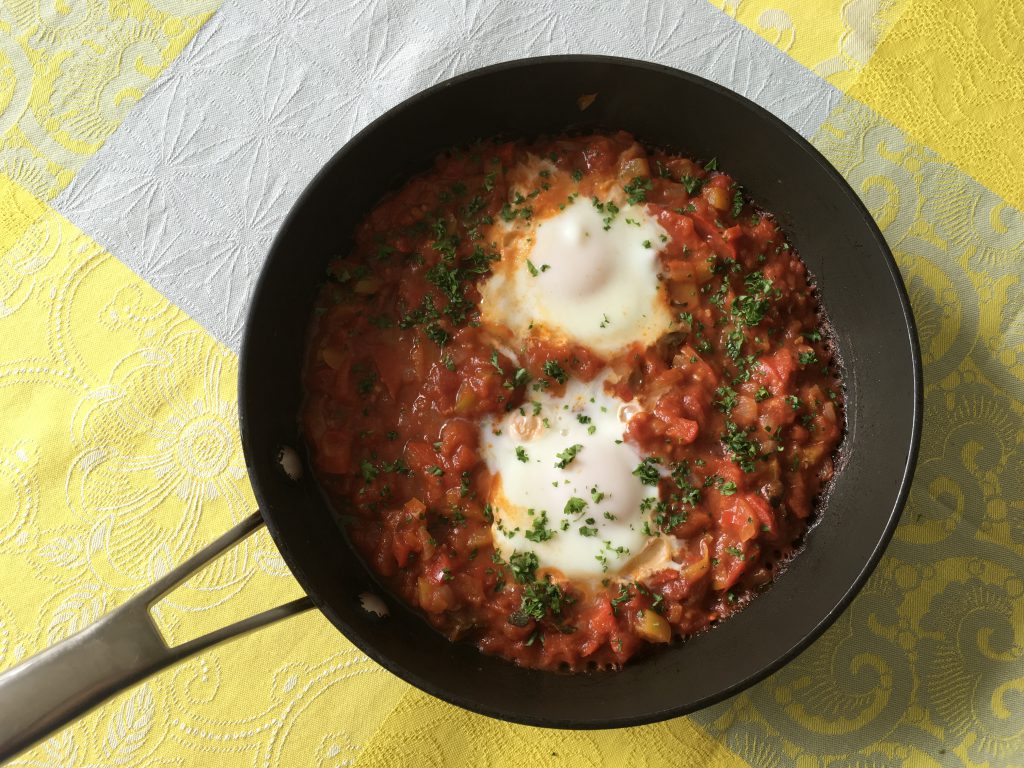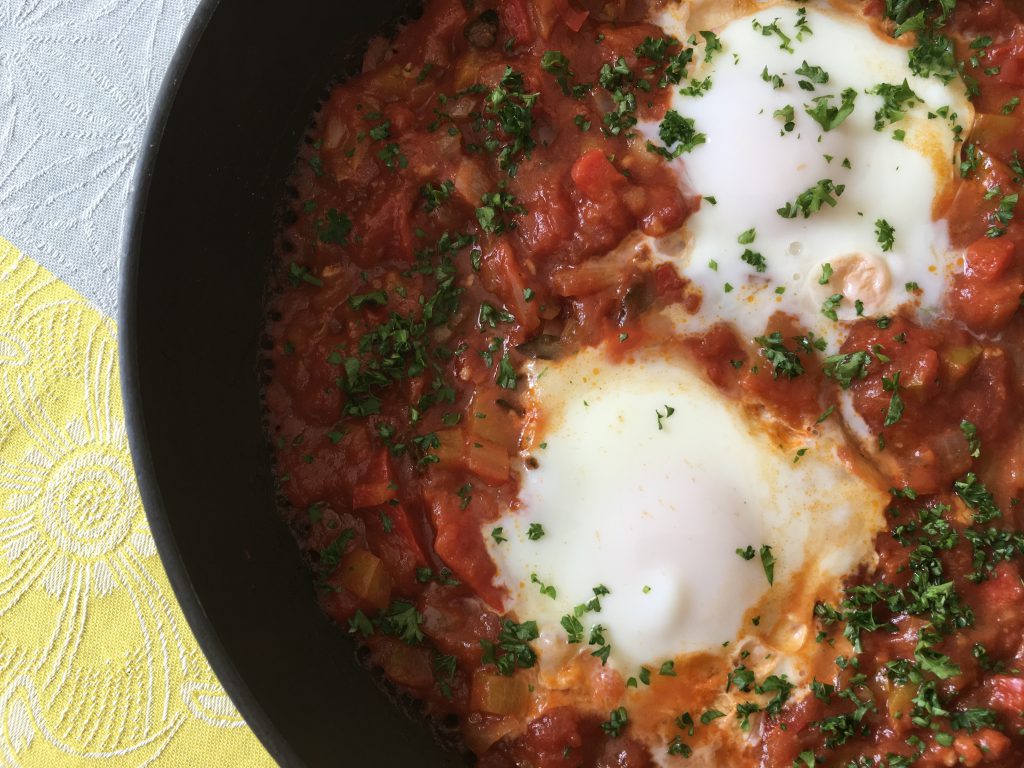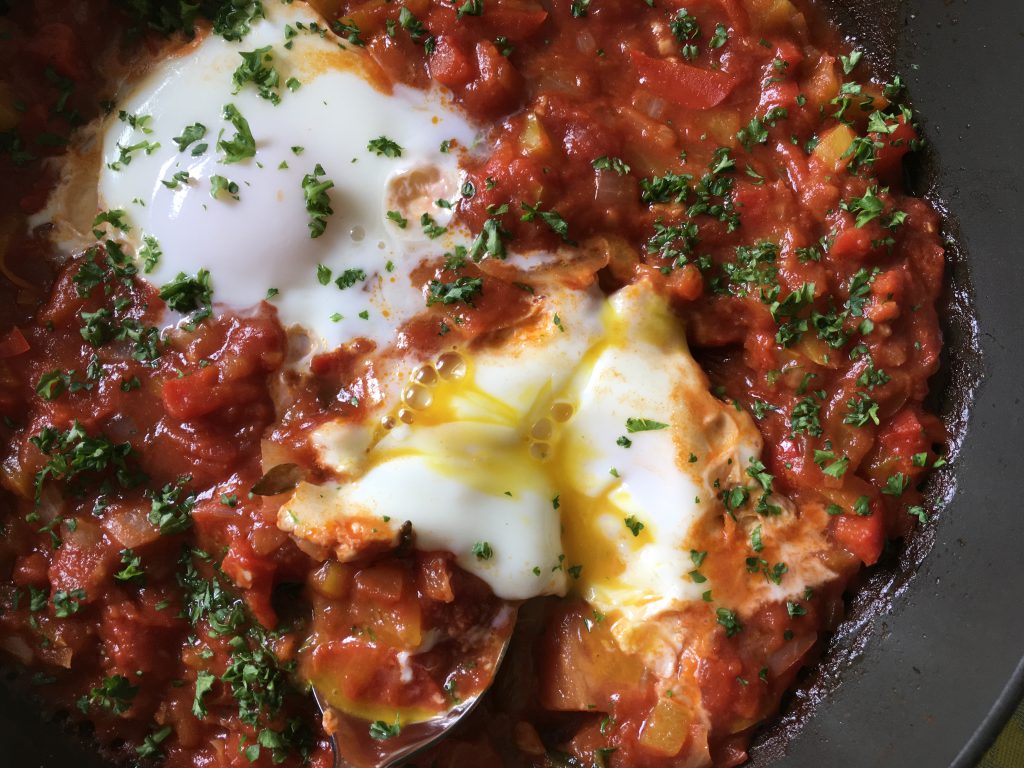 I did pose the the question of whether you could, if desperate, substitute sriracha for harissa and Junior 2 pointed out that the ginger and garlic in sriracha would compromise the integrity of  the dish's North African roots. I subsequently looked at the ingredients of our sriracha, from Huy Fong, and it does not contain ginger. However the harissa from Olives et al lists ginger as one its ingredients. So I think if you had to use sriracha it would be ok, but use a touch more sugar to balance the acidity and also add some ground cumin, coriander, caraway or fennel.